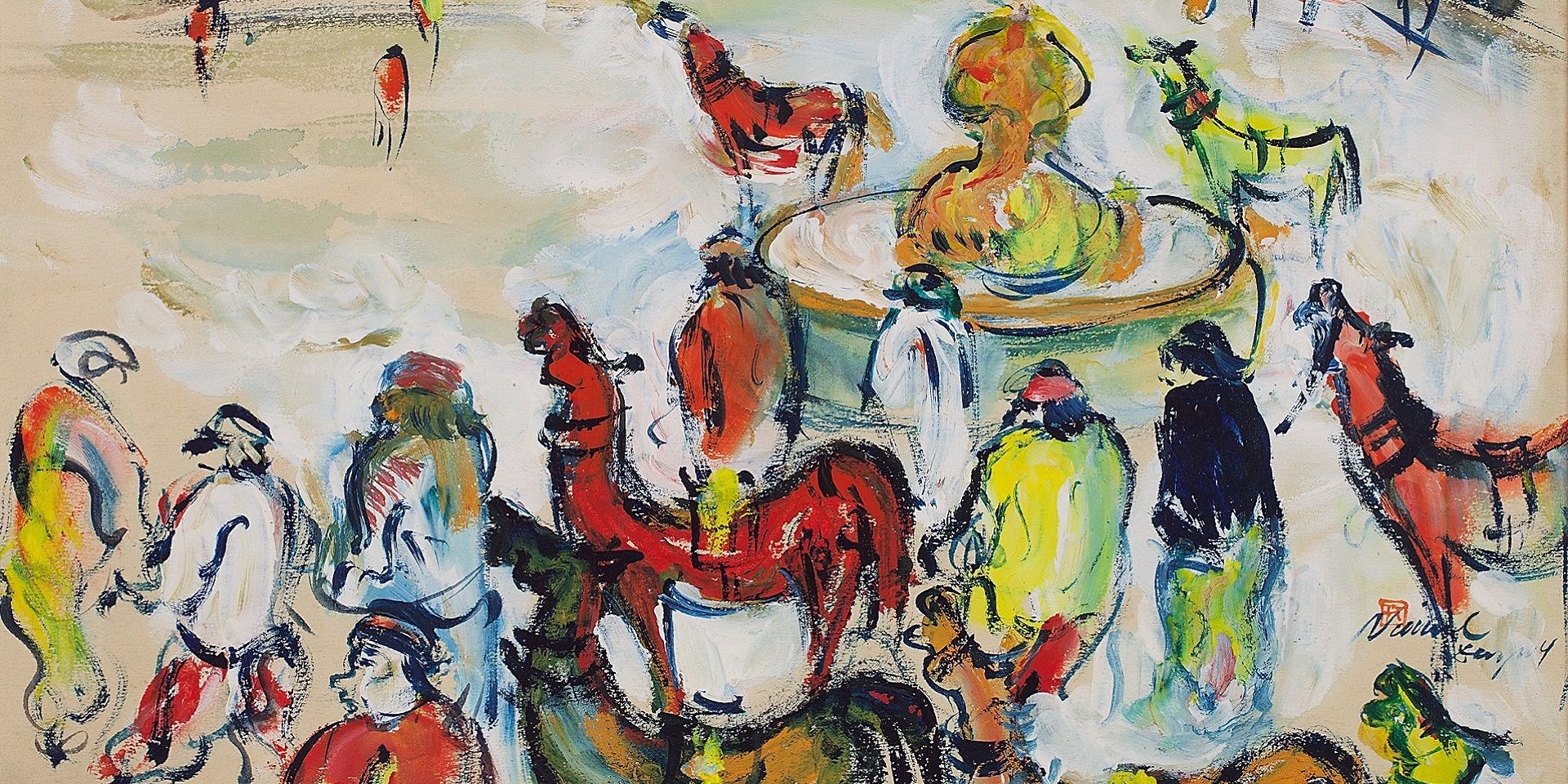 Nikhil Biswas, Untitled (detail), Gouache on paper. Collection: DAG
Blazing a brief, but brilliant, trail, Nikhil Biswas (1930-1966) was one of the most radical art practitioners of the crucial, transitional era, between the passing of the colonial period and the dawn of the postcolonial modern.
He was in his teens when the country gained Independence, but was pushed by the urgency of his time to develop new idioms in painting and artistic thinking. He graduated from the Government College of Arts and Crafts, Calcutta in 1954 and played a pivotal role as a founding member of the Calcutta Painters Group, Chitrangshu Group, and Society of Contemporary Artists, Calcutta. In addition to his artistic pursuits, Biswas served as an illustrator for the Bengali publications Darpan and Janasebak Saptahik, using his work to depict the political and social upheaval of his era. To sustain himself, he also worked as an art teacher at Mitra Institute, a government school.
A self-confessed materialist who sought to divest himself of the spiritual burden of a hide-bound past that manifested itself strictly as 'tradition', Biswas was also a prolific writer—of essays, fragmentary prose-pieces and diary entries—that laid bare the existential anguish of a young artist looking to find their own voice in a new age that was as full of promise as replete with devastation. He often used terms that suggested an effort to reinvent the conception of art from the ground up—often using primordial metaphors—where the focus was trained on human intervention and creativity against any institutional and social mandates for art-making. Even though he was committed to public or collectivist ideas of art-making, inevitably, in his agonizing searches, he frequently found himself alone. What follows are some translated excerpts from his diaries, which can offer the reader a view into the unique psyche of this innovative painter who died in 1966.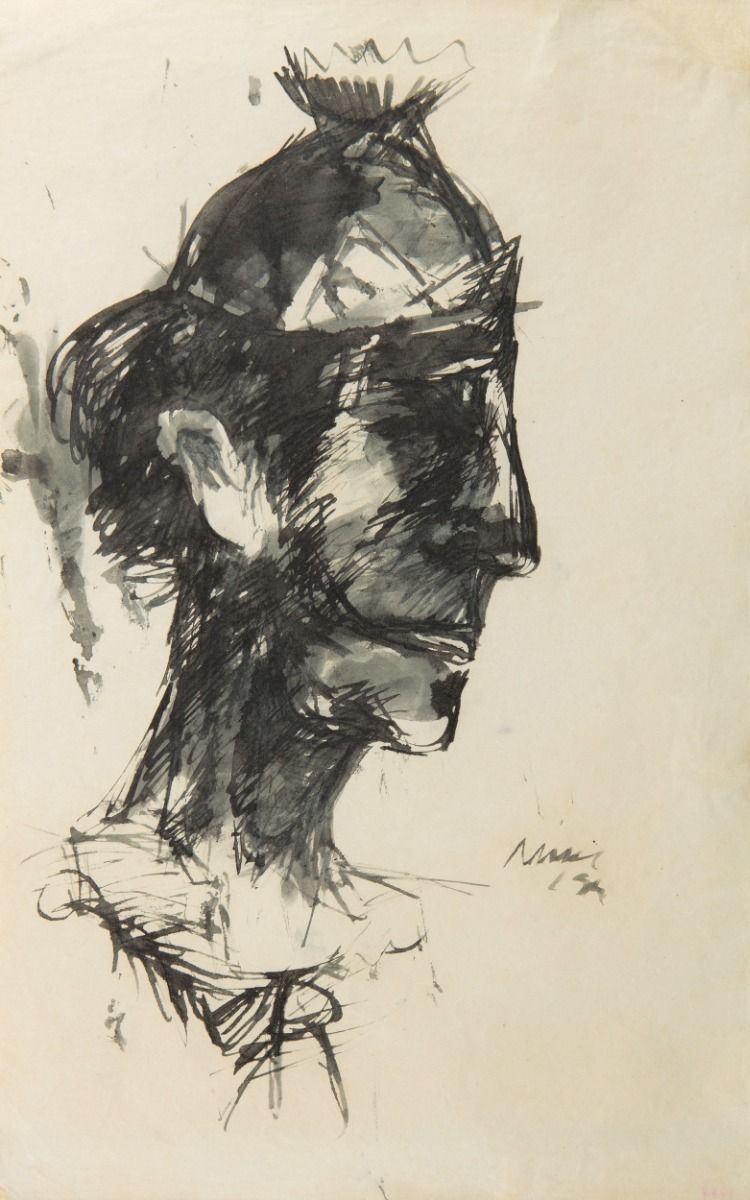 Nikhil Biswas, Untitled, 1954, Ink on paper, 45.7 x 27.9 cm. Collection: DAG
My hateful world, created by my love, belongs to me

Nikhil Biswas
Our epoch is an extraordinary one. And in these strange times I too have developed an odd psyche. The conflicted psychological landscape is the truth of our time. The past is full of calm certainties – and this tranquil state is attractive in itself. On the other hand, the wonderful world of the unreliable future is constantly pushing me forward. So, on one side we have an experienced, reliable agent (the past), and on the other, a painful, uncertain world (of the future). This world is my destiny. This painful world is the only one that truly belongs to me. Even if it is filled with hatred – it is born from my love, and is truly mine. This is why I cannot plunge myself into the past. The stock of certainty, in which artists in the past could invest, has now run dry for someone like me.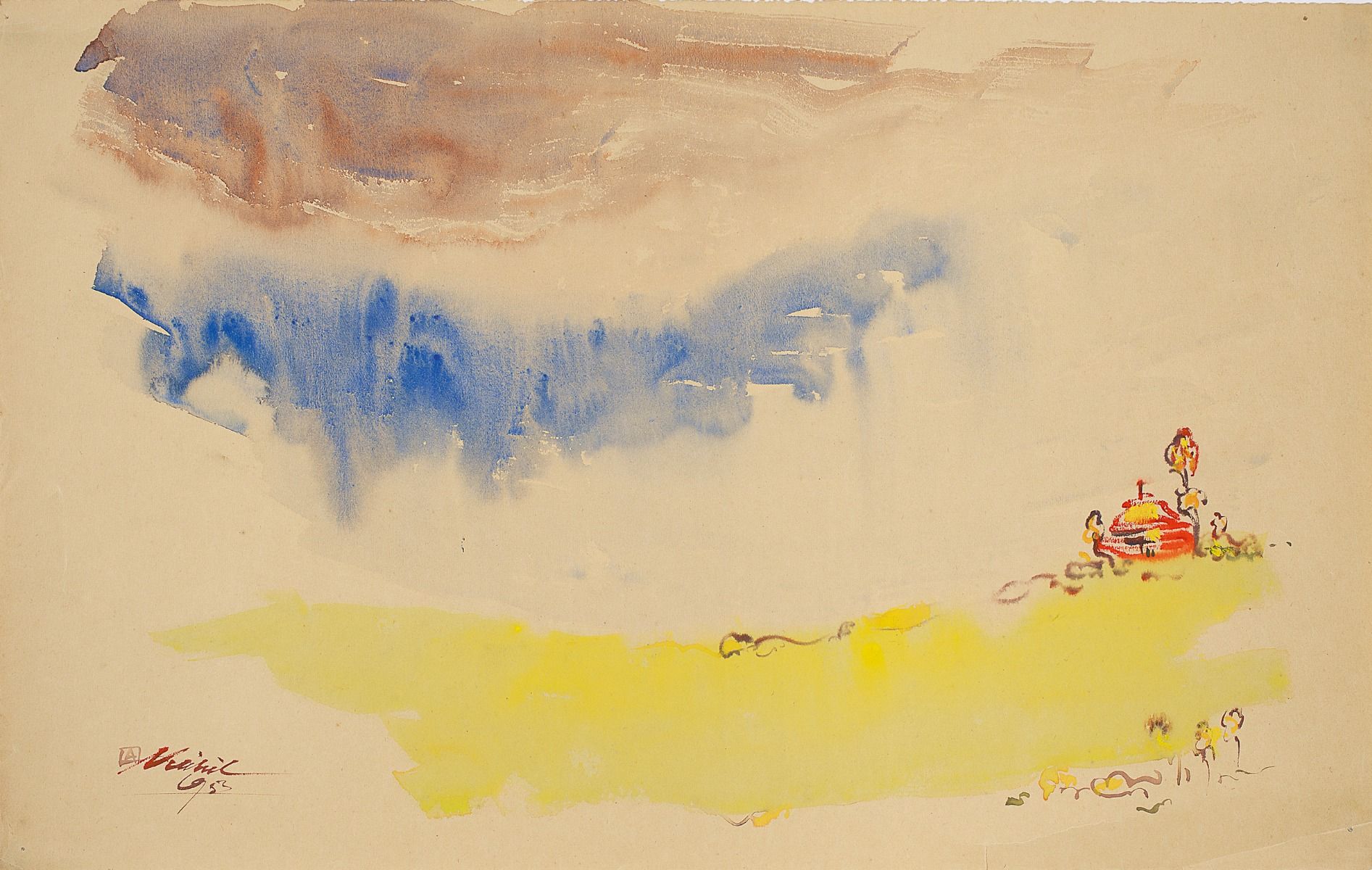 Nikhil Biswas, Untitled, 1953, Watercolour on paper, 24.1 x 38.1 cm. Collection: DAG
The past was a time of religious belief. Religion and philosophy were in alliance, tied together by the old masters' sacred threads. They had also laid down fixed rules for apprehending beauty. It is this laying down of rules that I am against. The beautiful cannot run along any present avenues – this is the truth of our time. Whoever says that there is only one way towards achieving happiness are mistaken.

Here, it is relevant for me to say that great artistic thinking has always brought a sense of joy in people's lives. This joy is the avenue along which life can travel, although it claims a toll tax as well.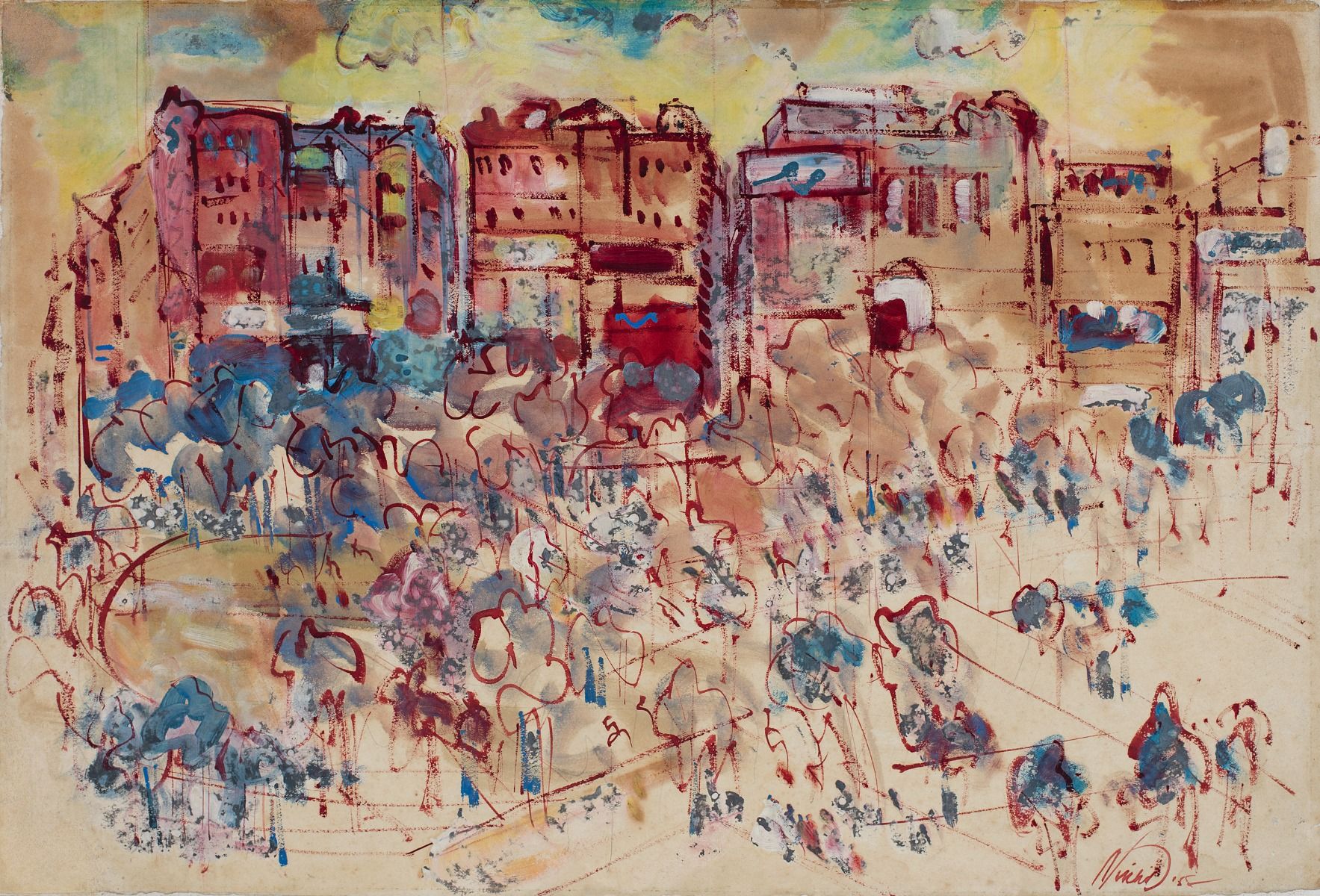 Nikhil Biswas, Untitled, 1958, Gouache on paper, 36.8 x 54.6 cm. Collection: DAG
Having lost our previous values and gained new ones – with which I bought my freedom, as well as the identity of this new world – the same freedom is now about to swallow me up. This freedom is my companion throughout the day and night. The world that has been invented by me is full of light, form, smell and uncertainty, and it has no relationship with the world we see around us. This is because they are all archetypal. They are the primordial images emitted from the caverns of my interior being. Since these images rise from a world deep within myself, their accidental, existential forms have excluded any external appearances. I am always worshipping an incorporeal, platonic relationship with this visible world outside… In this world I am all alone.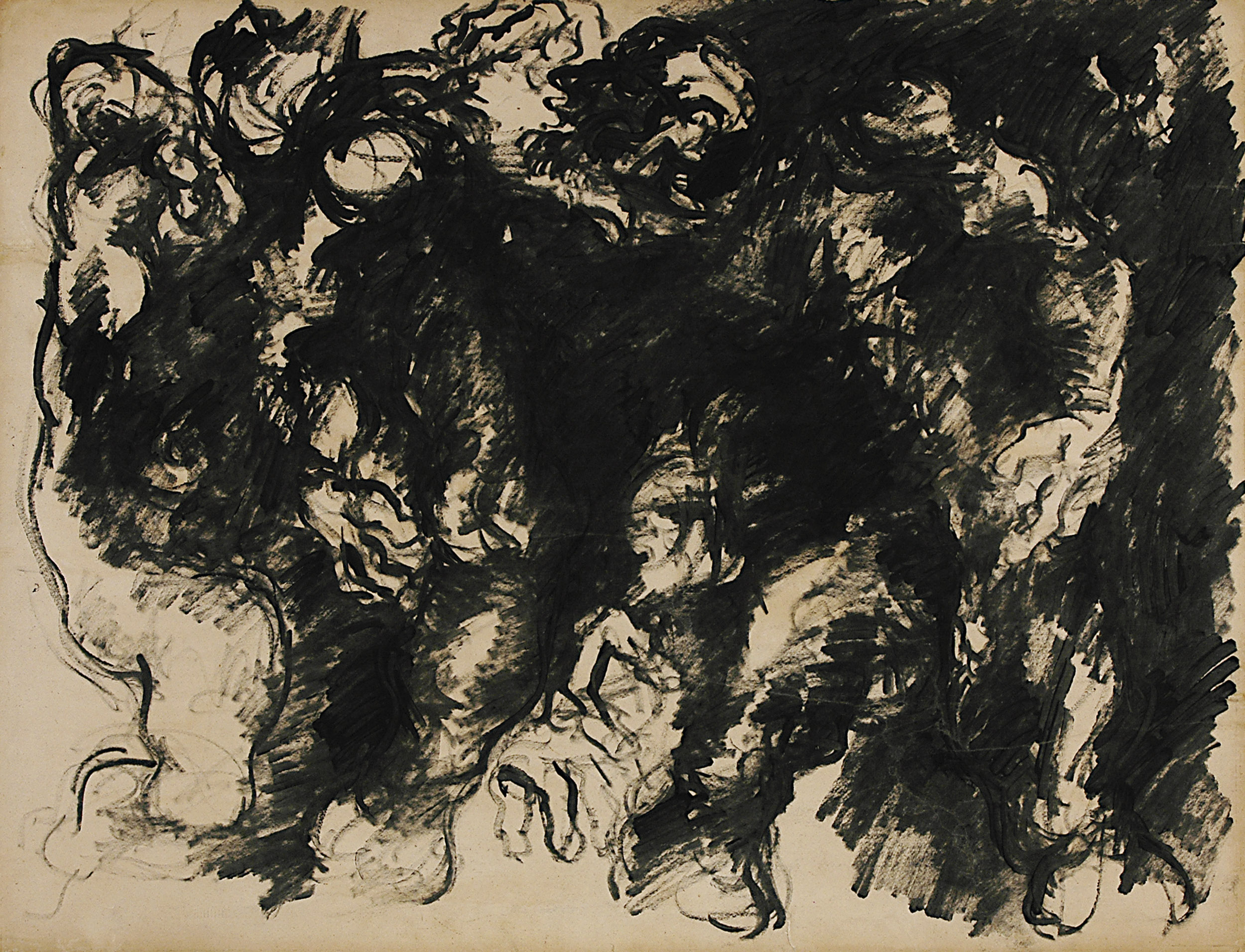 Nikhil Biswas, Untitled, Charcoal on paper. Collection: DAG
Even as artists begin to confront these problems today I see art taking a more conceptual, intellectual turn. People are trying to catch human values within frames of thought or concepts – so that it achieves universal value. Our bodies, sex, our very marrows, are being put to this analytical sword. These concepts often end up dehumanizing the human subject.

I want, instead, a feeling of joy to course through art; which will give me hope to live with my spiritual familiars. I want to express true form in the vocabulary of the popular—whose external shapes may shift, but whose internal significance remains fixed through a universal, ethical integrity. This is the pain that afflicts the modern artist today. This is the civilizational struggle I find myself committed to. This civilization has given me a lot, but it has also taken a lot from me. However, I am not concerned with that. Today's problem is to do with the soul, and the steady dehumanization of people. I do not live in a hermit's cave. Every time I try to associate with the world, I can feel my own spirit getting bleached. But I'm still committed to receiving the forms, taste, smell and light from this world. The world continues to plant seeds of creation in the blood that runs through my veins. I can always hear its call. As a result, I find it easy to sacrifice the past, but never give up the new world unfolding before me, because it is a part of myself. What will it be like then, if I brought this bleached soul out into the world of light and air and soaked its senses in it?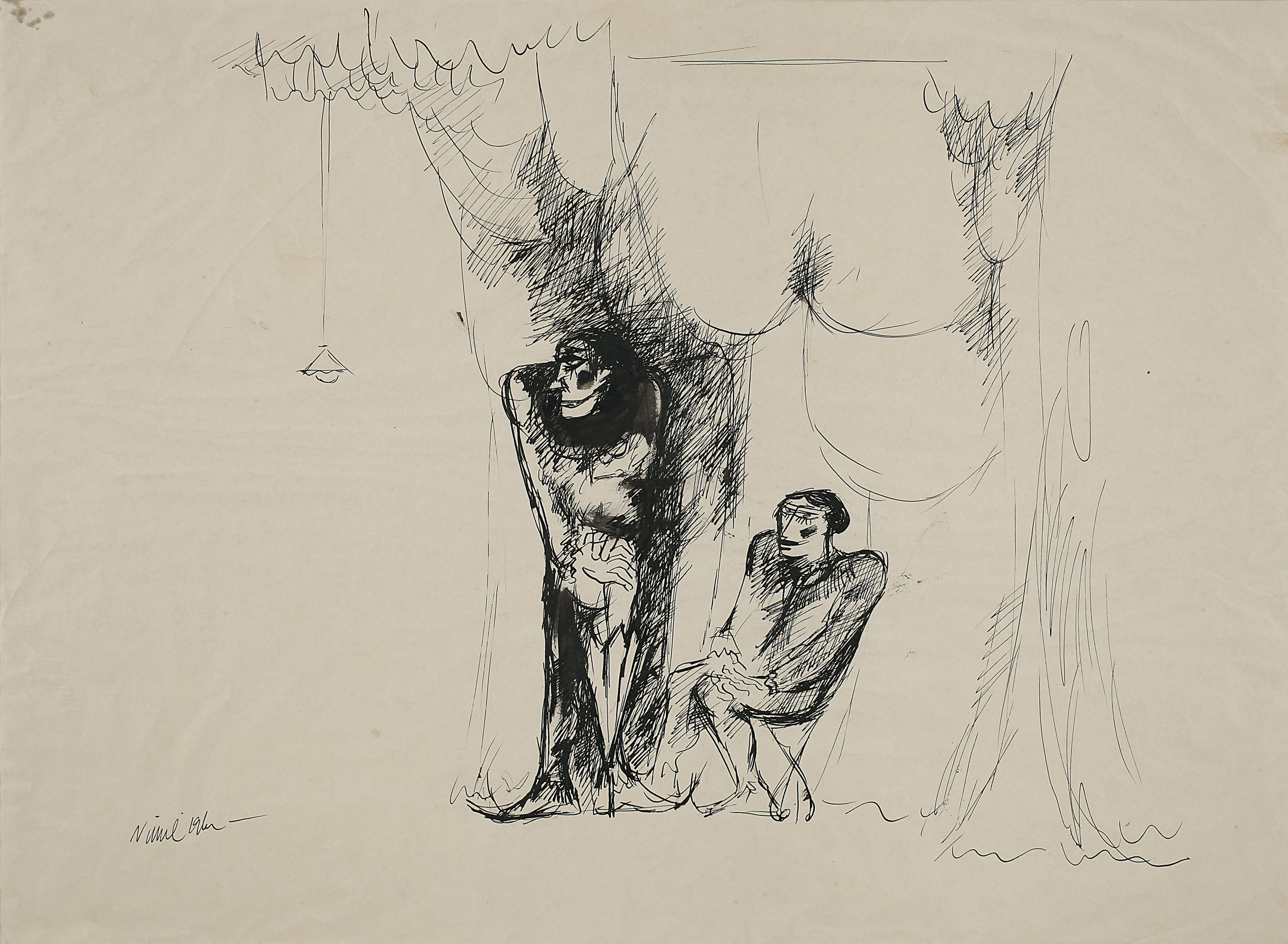 Nikhil Biswas, Untitled, Brush, pen and ink on paper. Collection: DAG