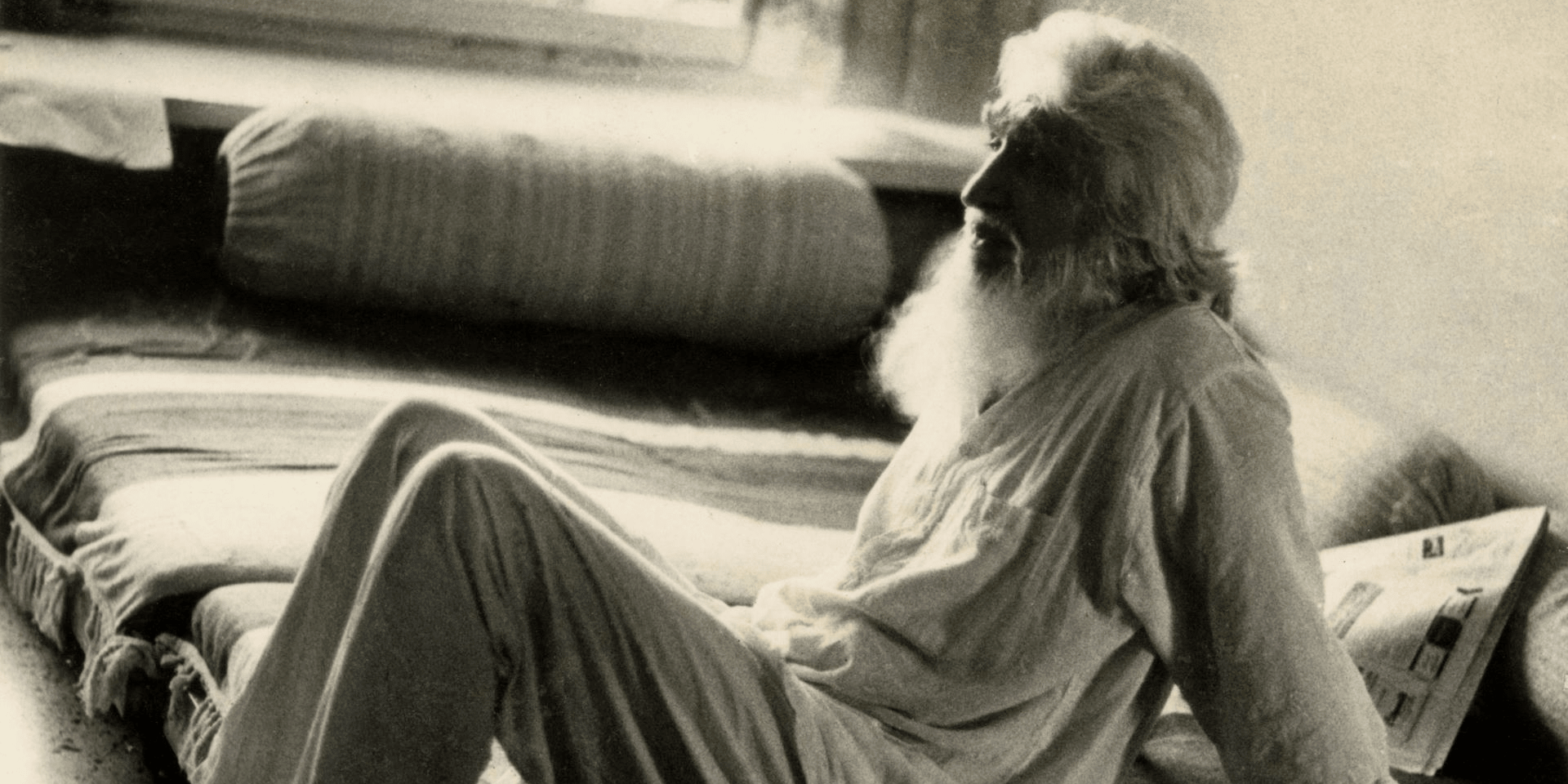 M. F. Husain. Image courtesy: DAG
Twenty years after India's independence, Films Division, the government's documentary and propaganda filmmaking body, was seeking to re-invent itself. It had the mandate of recording the nation's history on film. It was also a project of moulding the citizen through films that were screened in cinema theatres, before the entertainment feature. The films covered varied subjects from development, self-reliance, social issues, to art and culture, making them an invaluable archive of the Indian state's record of the nation's history as a modern, progressive nation. The films remained largely unpopular, like homework, among the unwilling audience of people who waited for the entertainment film to follow the documentary.
In the late 1960s, under Indira Gandhi's Prime Ministership, Films Division (FD) sought to shed its image as a propagandist organisation by re-imagining its mode of filmmaking. Jehangir Bhownagary, a senior UNESCO official based in Paris, was invited to head Films Division as its Creative Producer for a period of three years. That period and the following years are often referred to as the golden period of Films Division by film historians, when the organisation surprised itself and everyone else with unprecedented experiments in the non-fiction film form which worked as a subversive tool to acknowledge and address the failure of state policies as well as the act of propaganda making. In this period, FD filmmakers were encouraged to explore newer languages of expression and independent filmmakers and visual artists were invited to work in the film medium. Bhownagary was a painter, filmmaker, musician, sculptor and magician. His restructuring of FD coincided with the establishment of Film Finance Corporation that helmed the Indian New Wave in fiction filmmaking, by promoting arthouse, socially relevant and 'meaningful' films.
It was as part of this project that Bhownagary invited two of the leading artists of the Progressive Artists Group—M. F. Husain and Tyeb Mehta to make short films. This was the meeting of High Modernist abstraction in Indian art with film. Husain made Through the Eyes of a Painter in 1967 and Mehta made Koodal in 1970.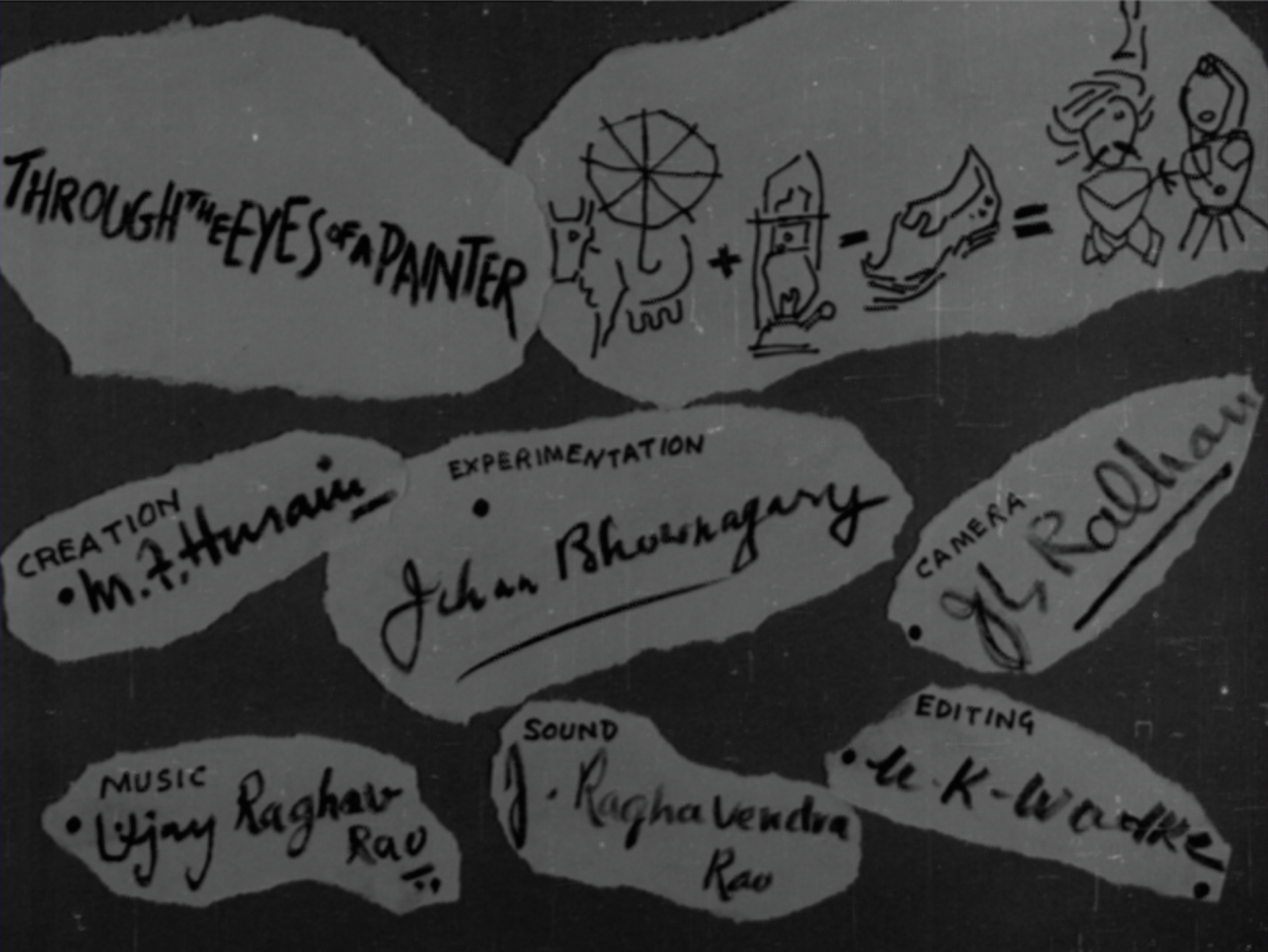 Still from M. F. Husain's Through the eyes of a painter (1967). Image credit: Films Division
Through the Eyes of a Painter —a collaboration between Husain, Bhownagary and Vijay Raghav Rao, who headed FD's music department—is a joyous exploration of spatial, formal and cinematic abstraction, set in rural and peri-urban Rajasthan. The film uses the recurring motifs of a lantern, an umbrella, a cow and a shoe, that appear in unexpected places, as the film looks for abstraction in the landscapes and in people's faces and attire, often with a sense of humour. In the midst of these objects are Husain's iconic images of the Indian peasant—a man and a woman, painted large on the wall of a house. The film, like Mehta's Koodal, frequently suggests meaning in abstraction, and resists narrative in the traditional sense of both painting and film. Both painters place themselves in their films and sign them as works of art. Husain opens the film by addressing the camera with the words, "I have tried to tackle the film medium with the feeling of a painter. There are unrelated moving visuals juxtaposed to create a poetic form, well integrated. No spoken words but the sound of music makes a dialogue between shot sequences in the film." The collection of images is joined together associatively, often in visual similes, with short, independent musical ideas creating an experiential and emotional core.
Koodal is a Tamil word which means a meeting point, union, or an assembly of images, as explained by a card at the beginning of the film. The film reflects on human energy, creation and decay, life and death, through a series of images. The film plays with movement, as young men on the beach play kabaddi with each other and the camera, as percussion and chanting from Bharatanatyam meld sport with dance and cinema. Mehta both embraces and challenges the photorealism of the film medium by framing objects, especially animal figures, to render them abstract, resembling his paintings. Like Husain, he places himself in his film, as he walks around a traffic intersection, framed against the black and white pattern of the zebra crossing. One of the most compelling sequences in the film is made up of short, abstract images of cows mating, followed by an elaborate sequence of objects in a large, clean and empty slaughter-house and then extreme close-up shots of flesh, or meat.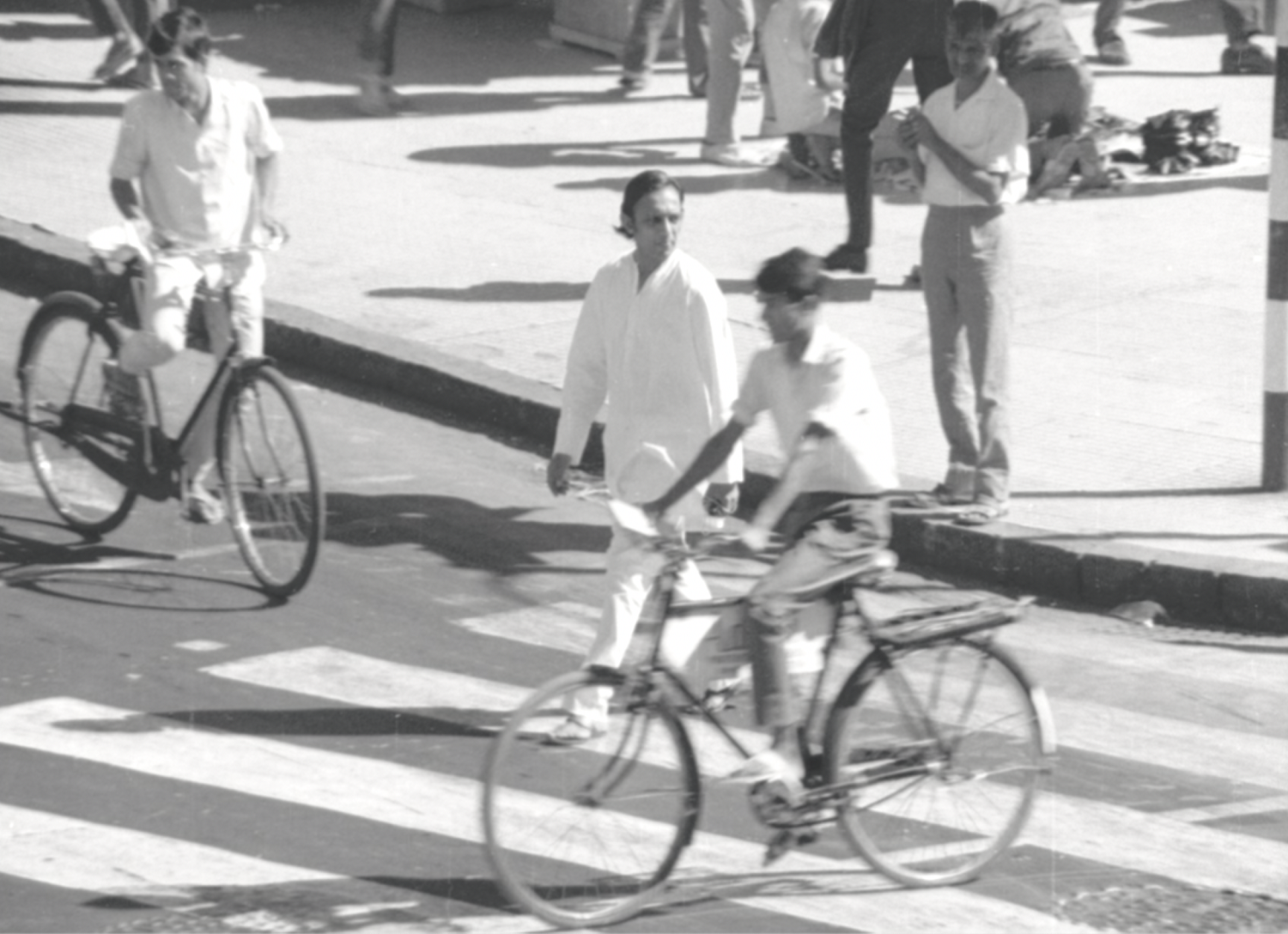 Still from Tyeb Mehta's Koodal (1970). Image credit: Films Division
Both films foreground the artists' subjectivities and individual forms of experimentation and expression, in a clear reversal of the conceit of objectivity and information embedded within the documentary medium. This was the success of Bhownagary's project. This was also the time of the Vision Exchange Workshop helmed by Akbar Padamsee when painters Nalini Malani, Gieve Patel and Padamsee himself, along with filmmakers Mani Kaul and Kumar Shahani, worked on cross disciplinary art projects.
Fifty years later is a good time to reflect on films and inter-disciplinary exchanges that were made twenty years after India's independence, at the height of Modernist abstraction in art. The state played a key role in encouraging and facilitating these processes. However, with the recently announced closure of FD (and its merger with the National Film Development Corporation), its fate now hangs in the balance. Husain and Mehta's films are a great record of the spirit of those times and the expressions they found in their practice.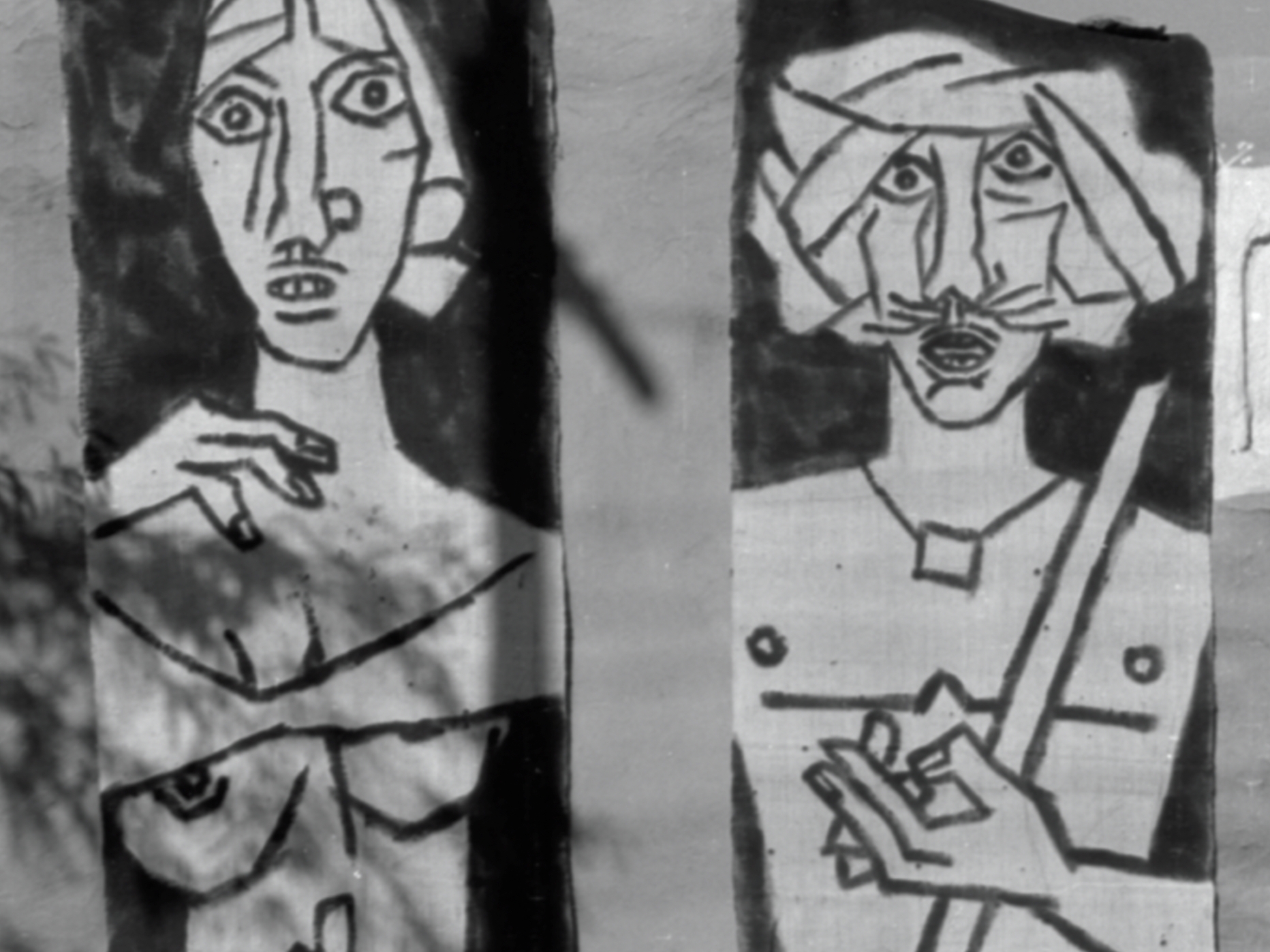 Still from M. F. Husain's Through the eyes of a painter (1967). Image credit: Films Division
'Intersections' is a series that explores the exchanges and cross currents among visual arts, film, performing arts and new media.
Avijit Mukul Kishore is a filmmaker and cinematographer based in Mumbai, India. His areas of interest and specialization have been the documentary film and collaborations with visual artists on video and film based installation.