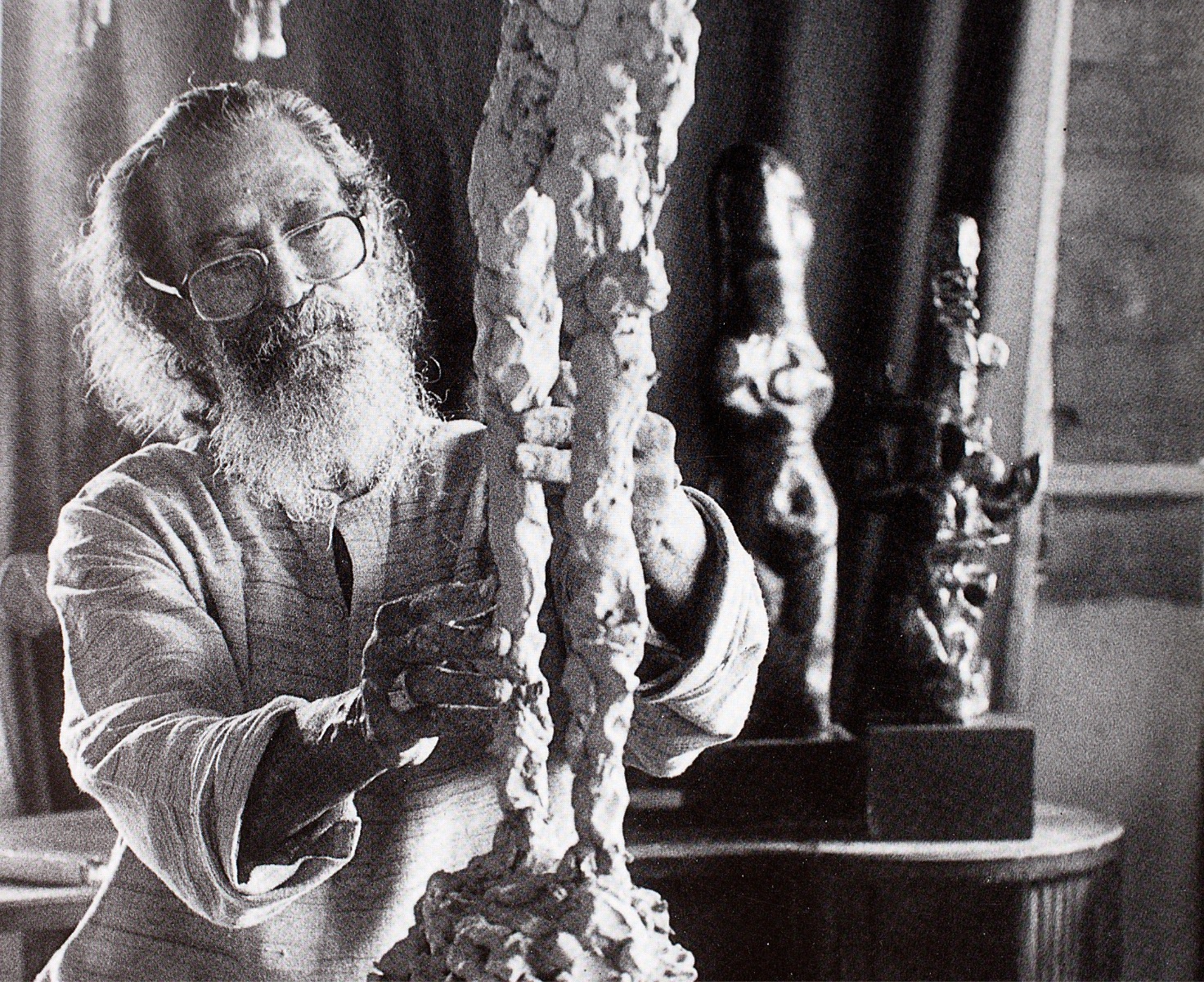 In his initial years, S. Dhanapal was drawn towards the Bengal School style and excelled in line drawing and impressionistic watercolours. But his own evolving style tended to incline towards south Indian temple murals, because of which Roy Chowdhury encouraged him to take up sculpture.
Born on 3 March 1919 in Madras, S. Dhanapal trained under sculptor-teacher D. P. Roy Chowdhury at the city's Government College of Art and Craft. He joined the faculty of his college after completing his studies, and, in 1957, when K. C. S. Paniker was principal, Dhanapal was appointed the head of the sculpture department. He eventually became principal of his alma mater in 1972.
Dhanapal studied ancient Indian sculptures for their thematic divisions, techniques, iconography, and iconometry, particularly the grammar of Chola, Pallava as well as Mathura sculptures of the Gandhara School.
Massive and robust, his sculptures retained the fullness of a three-dimensional form. He experimented with various metals, terracotta and wood with a great command over each medium, exploring varied themes ranging from the biblical and mythological to nudes, portraits and narratives.
Besides being an acclaimed visual artist, Dhanapal also attained fame as a performing artiste—he was an accomplished Bharatanatyam dancer and was part of several dance-drama productions on stage; he learnt the classical dance forms of Kathakali and Kathak too.
Dhanapal won the Lalit Kala Akademi's national award in 1962; the Akademi's regional centre in Chennai held his retrospective in 2001, a year after he passed away.
'An artist like Dhanapal was nurtured in both tradition and modernity'
MULK RAJ ANAND
The 'Manifestations' series of 20th Century Indian Art, Editions VIII, X
'Indian Portraits: The Face of a People'
DAG, New Delhi, 2013; Mumbai, 2014
'The Naked and the Nude: The Body in Indian Modern Art'
DAG, New Delhi, 2013; Mumbai, 2015
'Indian Divine: Gods & Goddesses in 19th and 20th Century Modern Art'
DAG, New Delhi and Mumbai, 2014
'Madras Modern: Regionalism and Identity'
'Navrasa: The Nine Emotions of Art'
DAG, Mumbai and New Delhi, 2020
Lalit Kala Akademi, New Delhi
National Gallery of Modern Art, New Delhi
Regional Centre of Lalit Kala Akademi, Madras
Tamil Nadu Lalit Kala Akademi, Madras