1917 - 1988
Dhanraj Bhagat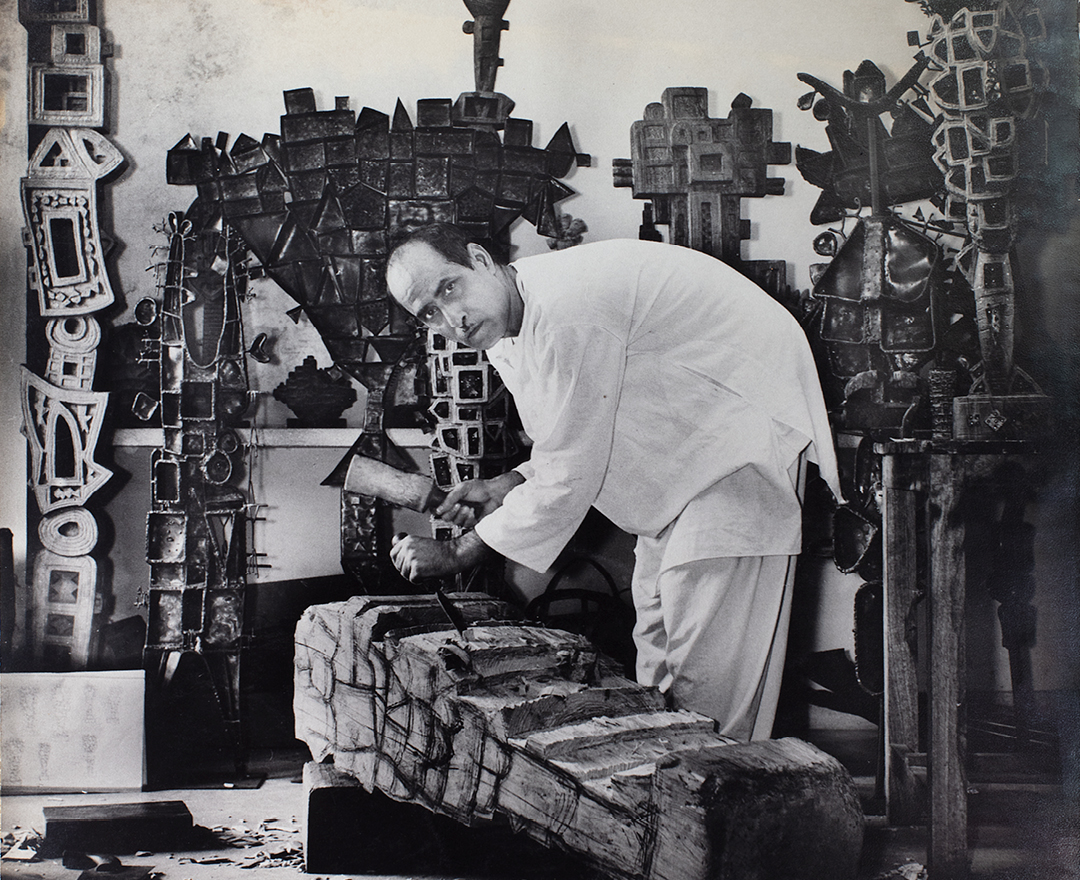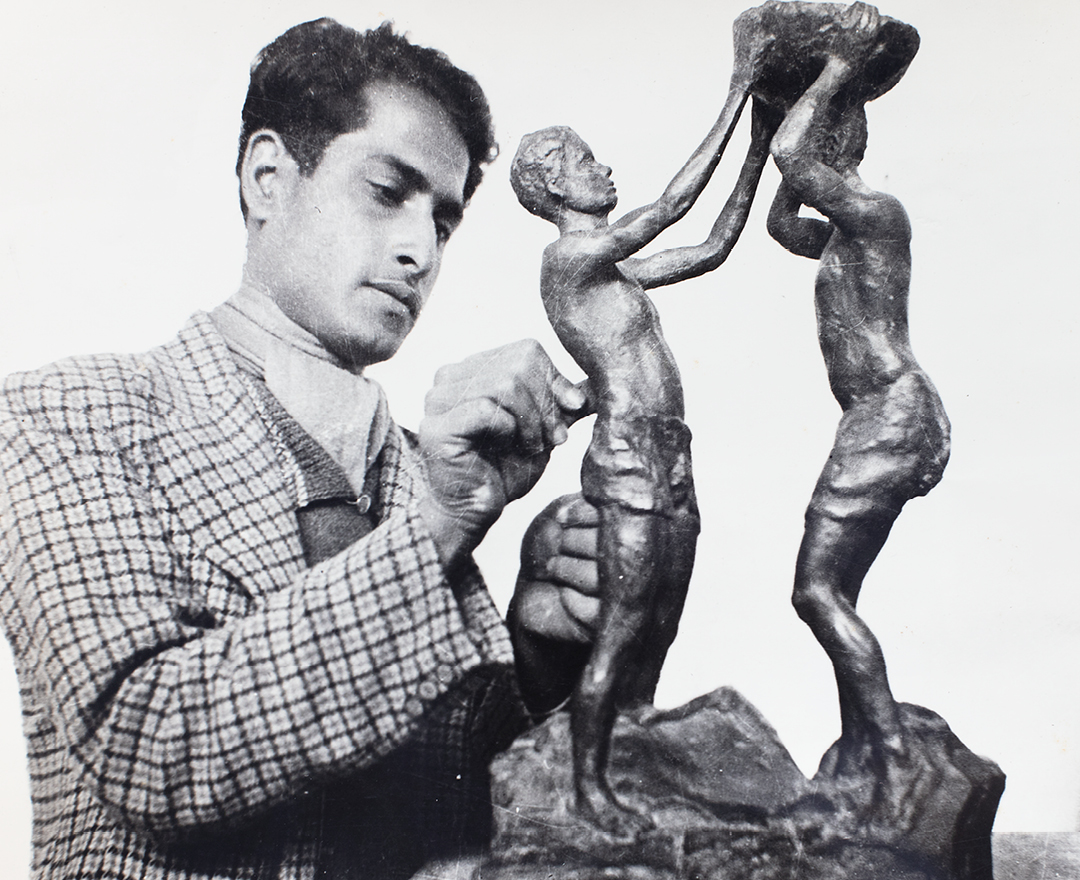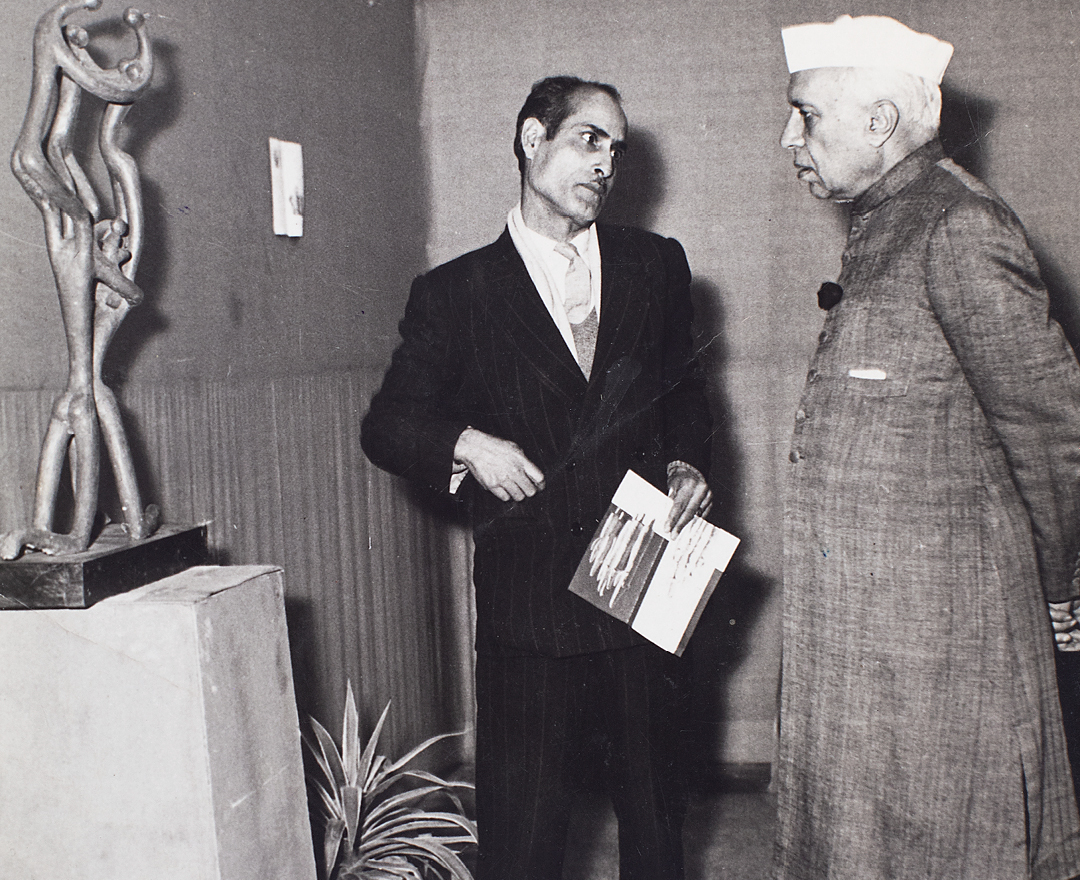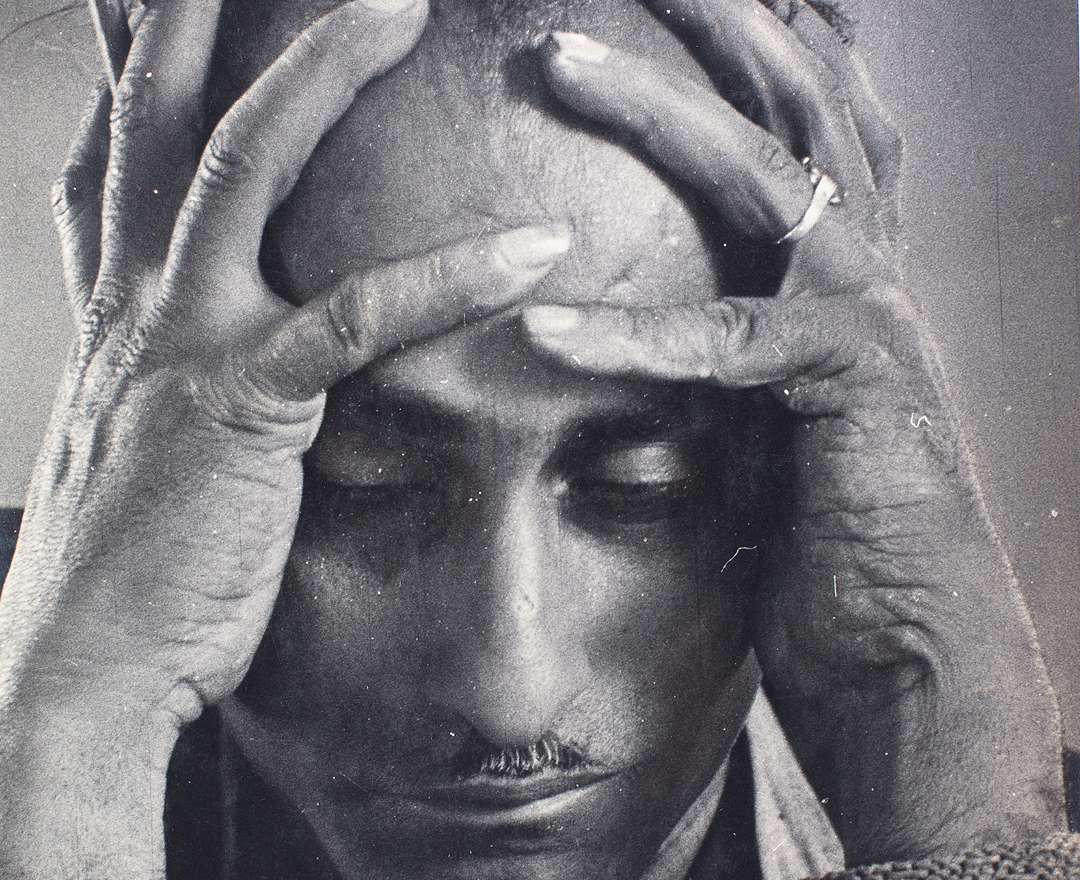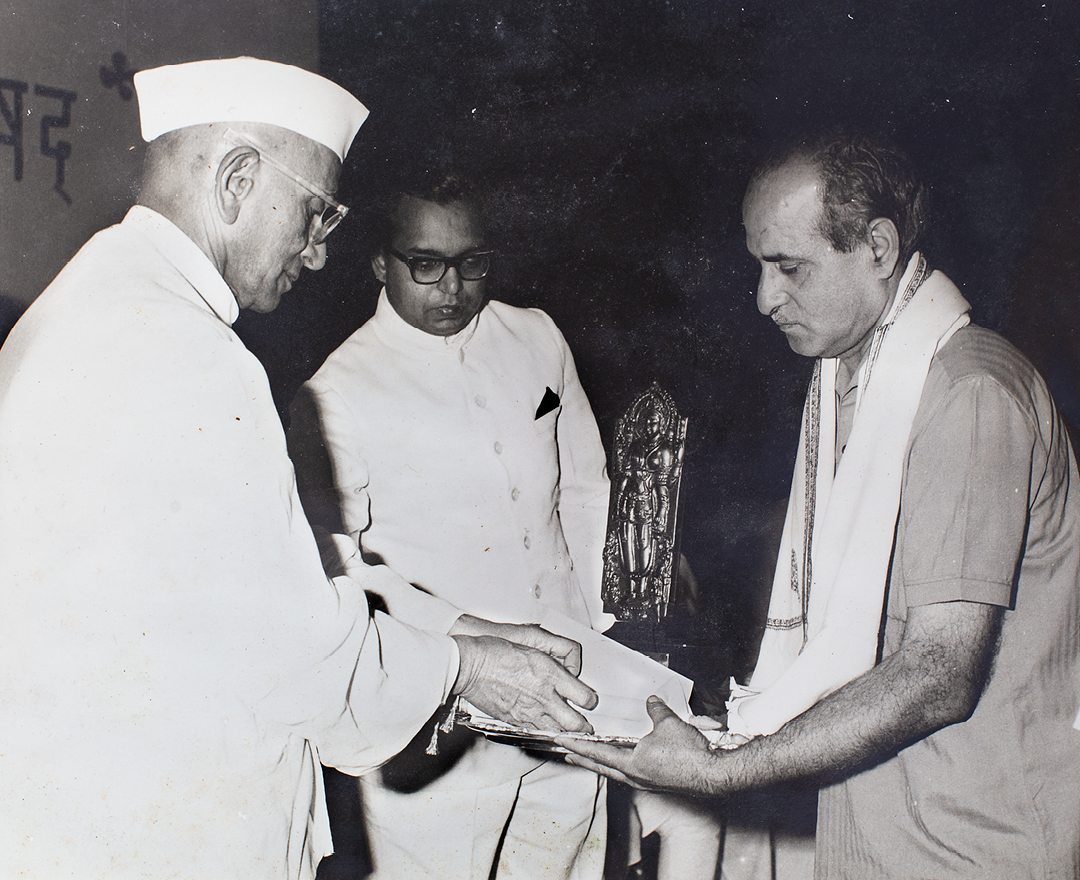 Born in Lahore in British India, Dhanraj Bhagat acquired a diploma in sculpture from the city's Mayo College of Art.
Bhagat began working with clay while studying but it left him uninspired as he found little individuality in its amorphous nature. It was when he got his hands on wood with its uniquely tactile qualities that he felt inspired to carve and create.
Bhagat's early wood sculptures bore liquid, stream-like forms of the sensual feminine, with smooth, elongated lines charged by lyricism and the sensitivity of a young man not yet traumatised by the horrors of Partition. Post the cataclysmic event, the artist's oeuvre started acquiring rough edges and un-smoothed chisel marks. Deeply moving, these works are charged with the intensity of Bhagat's experience as a Partition refugee.
In the 1950s, when Bhagat had settled in Delhi, he began experimenting with different mediums such as cement, papier mâché, aluminium, copper and brass, the inherent qualities of each suggesting to him new forms and contexts. His female figures became large and heavy, steeped in sorrow, far from the earlier, lyrical and smooth wooden ones.
A series of mostly large, powerful sculptures executed in concrete marked his evolution towards abstraction. He won many accolades such as the Lalit Kala Akademi's national award in 1961, the Sahitya Kala Parishad award in 1969, and the Padma Shri by the Indian government in 1977. He taught at the College of Art, New Delhi, from 1947-77, and breathed his last in 1988.
'Dhanraj Bhagat, the humanitarian, the man of religion, the compassionate artist, retains the human element in his abstract art; whilst others have lost man, Dhanraj Bhagat has found him'
CHARLES FABRI
artist timeline
1917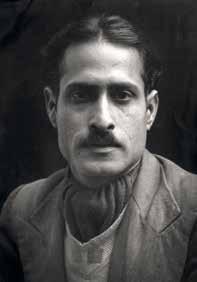 Born in Lahore on December 20.
1937
Wins first prize of Punjab Fine Arts Society, Lahore.
1945
Wins first prize of Punjab Fine Arts Society, Lahore. Comes to New Delhi to study under B. C. Sanyal.
1947
Joins Delhi Polytechnic (now College of Art), New Delhi. Wins first prize of the All India Fine Arts and Crafts Society, New Delhi. Over the years, his style evolves to exhibit a harmonious blend of Indian artistic traditions and Western ideals, reflected in geometric shapes and colours. His evolving style draws comparisons with the works of Hungarian-French artist Victor Vasarely and German painter Paul Klee, both of whose works involve minimalist vocabulary and geometrical shapes. Though he experiments across media such as metal, terracotta, paper pulp, fibreglass, et cetera, it is wood that becomes his preferred medium, in which he produces some of his best sculptures.
1948
Wins the Bombay Art Society award as well as the gold medal of the Academy of Fine Arts, Calcutta.
1949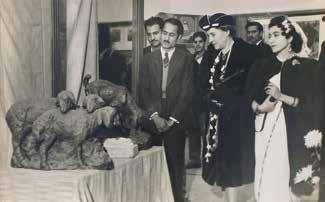 Becomes a founder member of the Delhi Silpi Chakra group with other artists such as B. C. Sanyal, Kanwal Krishna, and Pran Nath Mago. Wins first prize of the All India Fine Arts and Crafts Society (AIFACS ), New Delhi. Wins the Bombay Art Society award.
1950s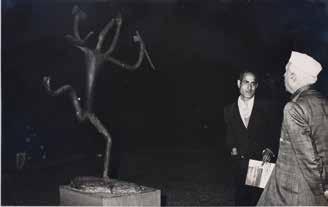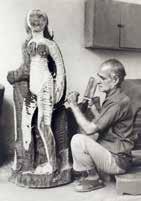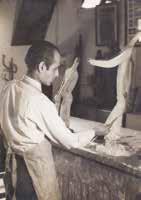 Starts making sculptures and wood carvings that are large and powerful; the cylindrical form dominates his work as seen in Tree of Life (1954) and Siva Dance (1956). Creates his well-known Bull series of sculptures and explores the feminine form in varied manifestations. The artist also begins expressing his religious sentiments through his sculptures, looking to traditional and tribal art for inspiration. Starts teaching sculpture at his alma-mater. Goes on to become the head of the sculpture department, a post from which he retires in 1977.
1953
Creates Burden, showing a migrant female weighed down by the burden of homelessness, a possible reference to the memory of Partition.
1954
Participates in the All India Sculpture Exhibition at the National Gallery of Modern Art, New Delhi.
1958

Creates Mahakala in plaster of paris, considered one of his most important works exploring the Hindu theme, featuring the rarely explored figure of 'time', with its association with death.
1961
Wins the prestigious National Award of the Lalit Kala Akademi, New Delhi.
1964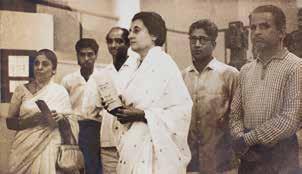 A maturity of style is seen with works like Construction, which he executes in wood. Exhibitions of his works are well attended and he is considered a serious sculptor.
1968
Participates in the first International Triennale, New Delhi.
1969
Wins the state award of the Sahitya Kala Parishad, New Delhi.
1970s
Visits Benaras, a place that impacts his future works; his sculptures start to acquire a tantric influence.
1971
Participates in the second International Triennale, New Delhi.
1974
Participates in the third International Triennale, New Delhi.
1977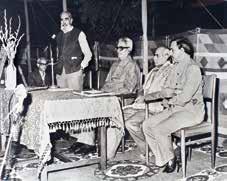 Is honoured with the Padma Shri by the Government of India. India's national Lalit Kala Akademi honours him and hosts his retrospective. During the last years of his life, Bhagat remains wheelchair bound due to ill health. Though unable to make sculptures, he produces an elaborate portfolio of drawings. His drawings and paintings in pen, ink, pencil and watercolour explore the theme of nature and mythology.
1988
Passes away.
2010
Government College of Art, Chandigarh, an offshoot of Lahore's Mayo School of Art, establishes a sculpture park on its premises and names it Dhanraj Bhagat Sculpture Park.
2018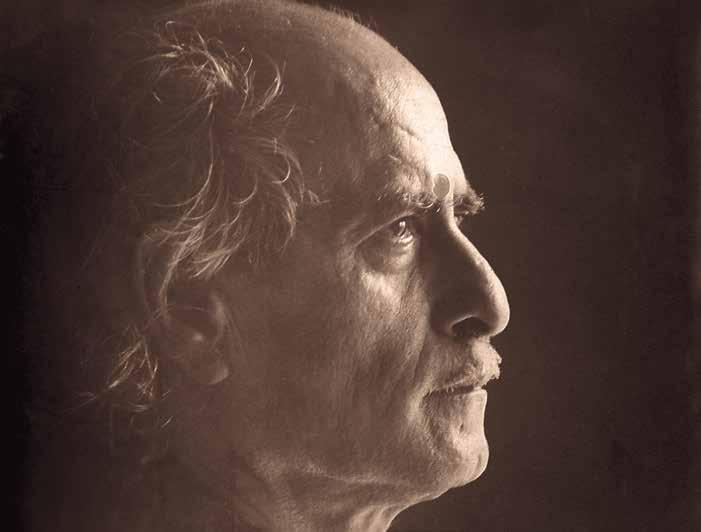 The National Gallery of Modern Art, New Delhi, celebrates Bhagat's birth centenary with a retrospective titled 'Dhanraj Bhagat (1917- 1988): Journey from the Physical to the Spiritual' with a display of over four hundred works.
The 'Manifestations' series of 20th Century Indian Art, Editions V, X, XI
'Indian Divine: Gods & Goddesses in 19th and 20th Century Modern Art'
DAG, New Delhi and Mumbai, 2014
'Indian Abstracts: An Absence of Form'
DAG, New Delhi, Mumbai, and New York, 2014-15
'India Modern: Narratives from 20th Century Indian Art'
DAG, New Delhi, Mumbai, and New York, 2015
National Gallery of Modern Art, New Delhi
The Ben and Abby Grey Foundation, New York