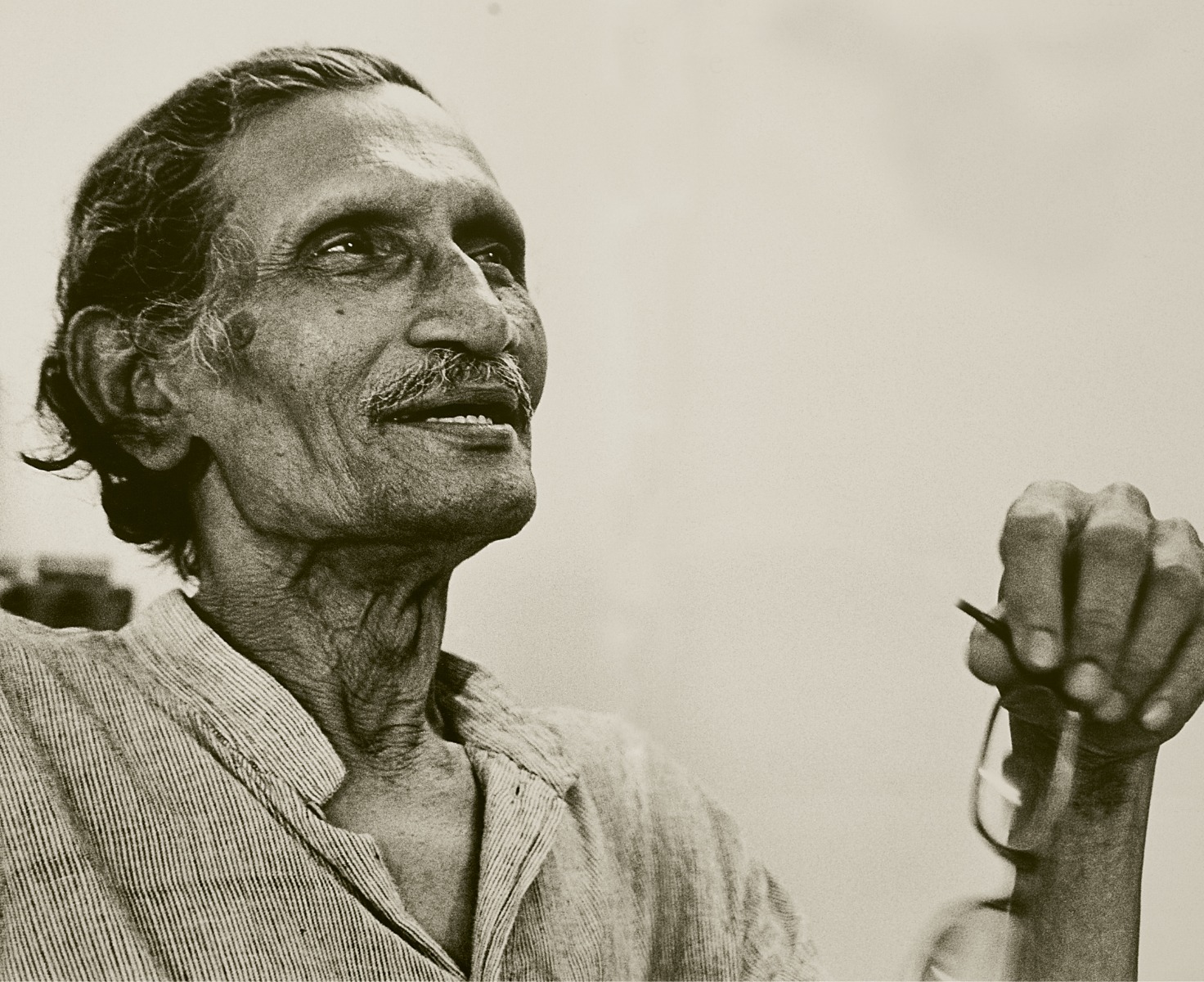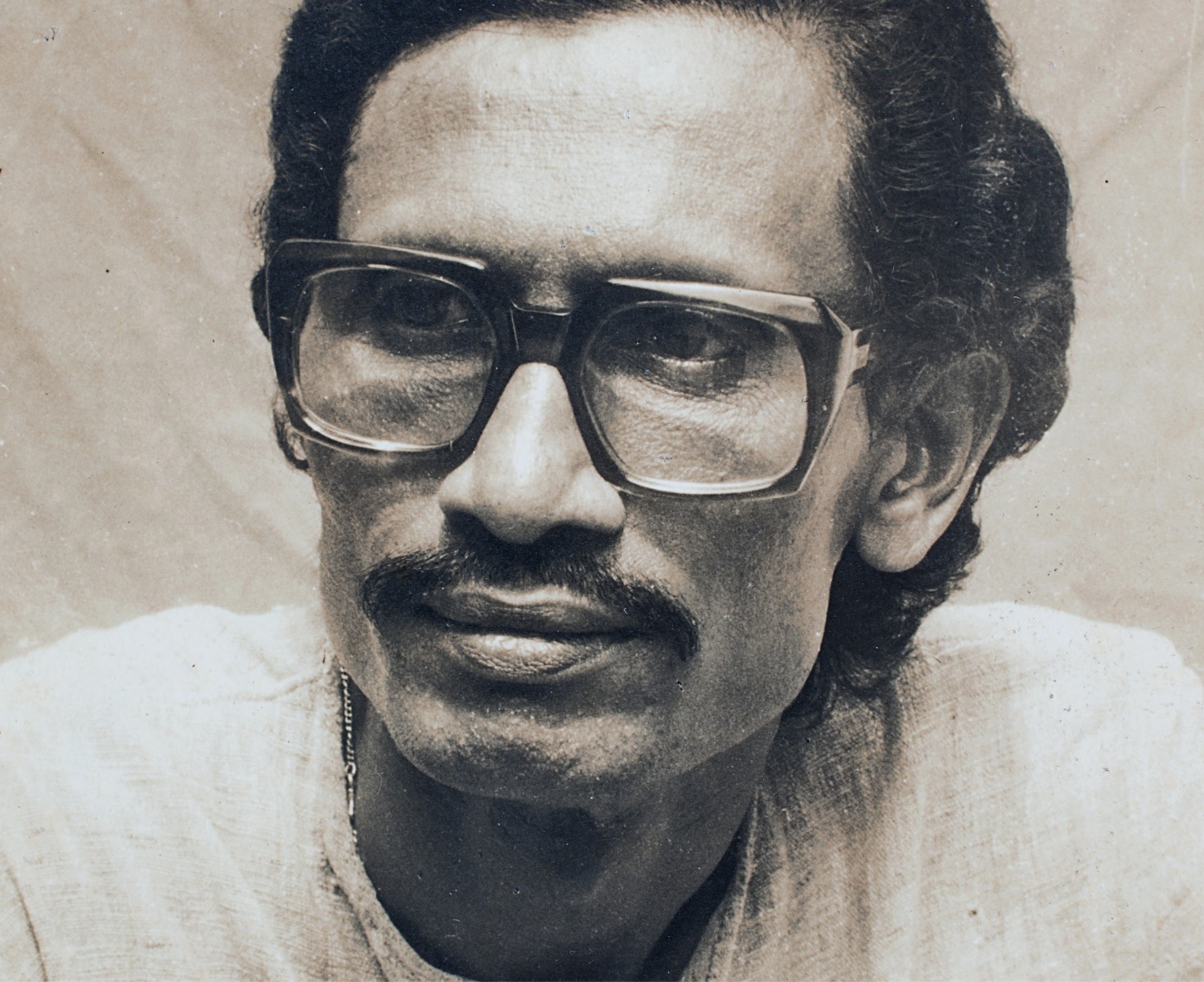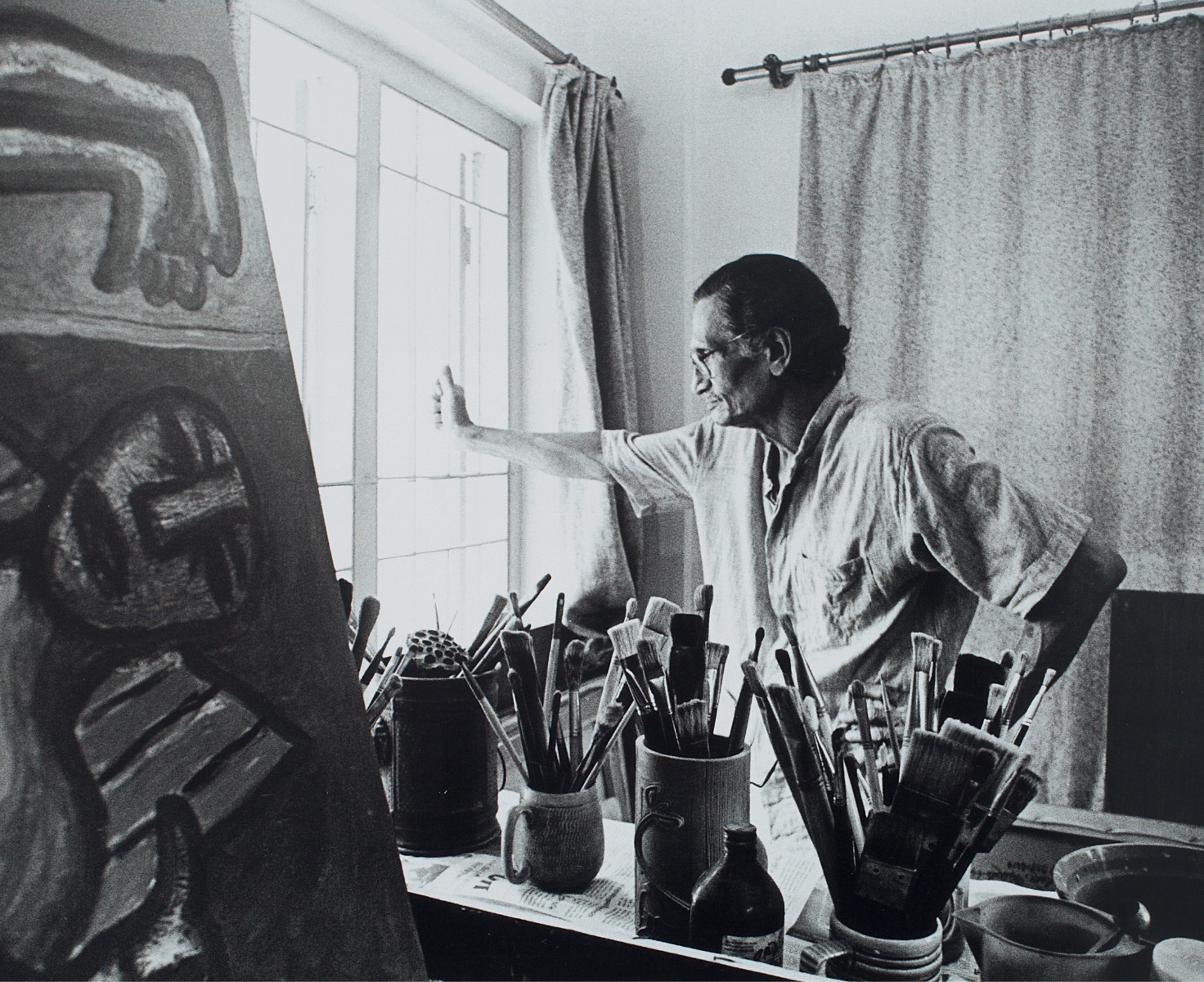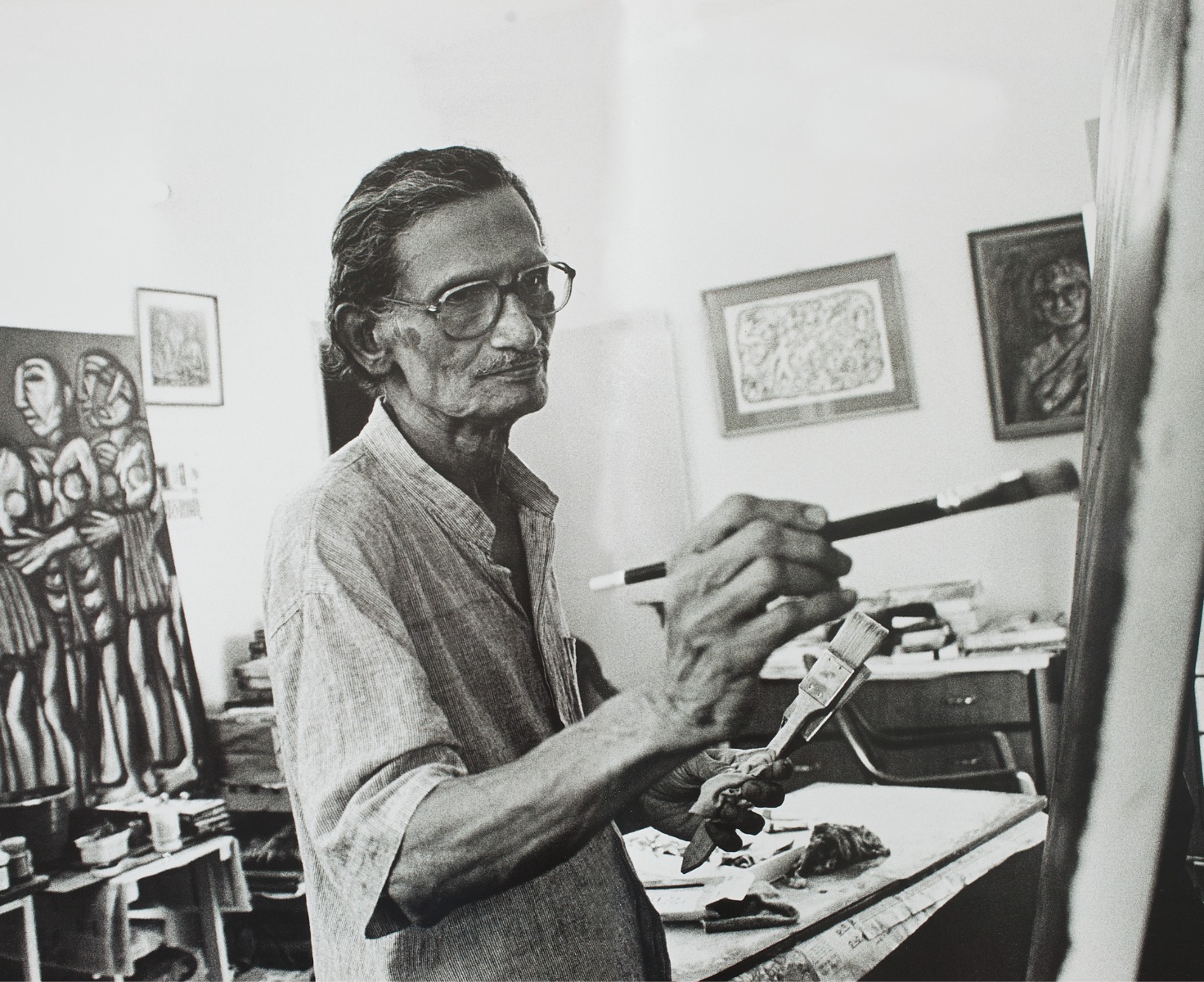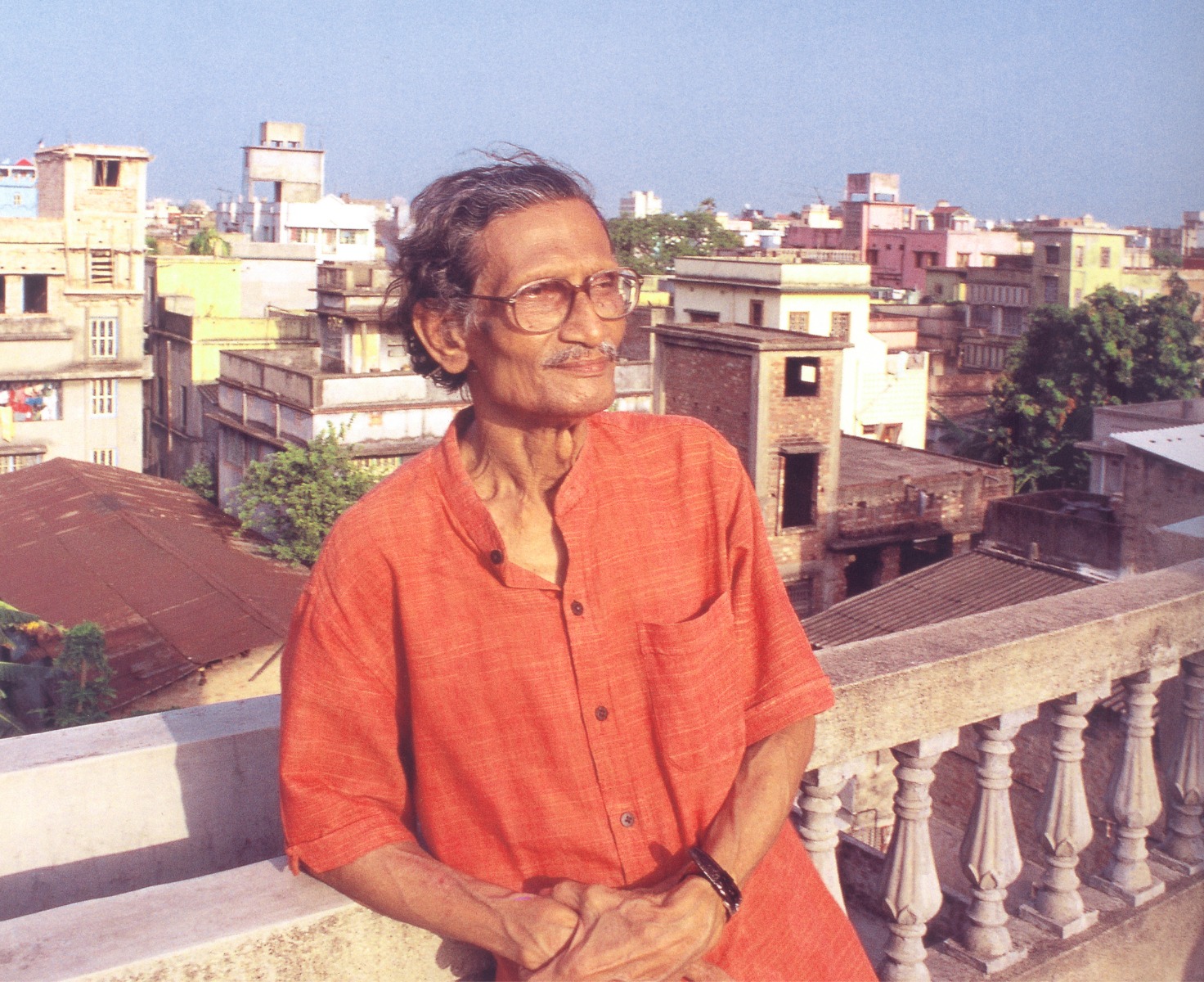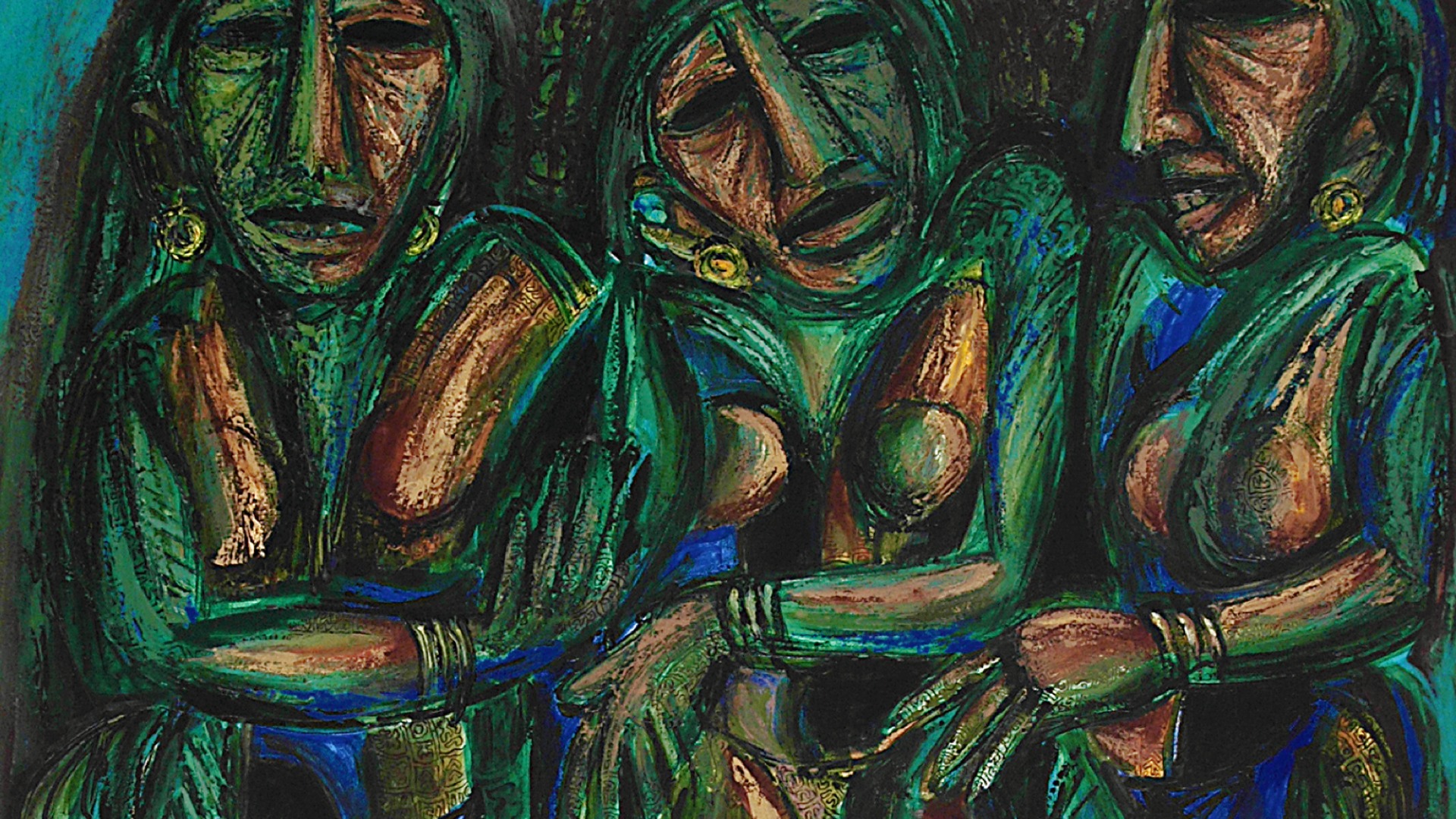 Rabin Mondal was inspired by primitive and tribal art, its potent simplifications and raw energy.
The son of a mechanical draughtsman, Rabin Mondal took to drawing and painting at the age of twelve when he injured his knee and was confined to bed.
The Bengal famine of 1943 and the Calcutta communal riots of 1946 deeply impacted his psyche; he joined the Communist Party and became an activist. Mondal's final refuge was art as the ultimate weapon of protest.
Mondal's figuration derived from a growing abhorrence towards mankind's moral decay in all spheres of life. The cubo-futuristic angularities of forms within the pictorial space arranged around them evolved into a series of paintings depicting highly distinct human figures that struggled to live a hero's life in a mocking but tragic world.
Mondal's images have a deeply felt iconic appearance. The series Queen, King, Man represent figures that are static, totemic, tragicomic, ruthlessly shattered and ruined. Having subverted the classical canons of harmony and beauty, Mondal evolved a vocabulary to express his anguish and rage towards decadence in society. The expressionistic use of splattered colours and the bold application of black are part of that vocabulary.
Beginning his career as an art teacher, with a stint as an art director in films, he was a founder member of Calcutta Painters in 1964, and from 1979-83 a general council member of Lalit Kala Akademi, New Delhi. He passed away in Kolkata on 2 July 2019.
'I will go on painting and exhibiting, and that is not for awards'
RABIN MONDAL
artist timeline
1929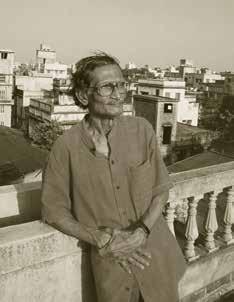 Born in Howrah, West Bengal.
1943
The devastation caused by the Bengal famine scars him.
1946
Makes a charcoal portrait of Subhash Chandra Bose at a school event organised at the Howrah Maidan. The artist's work is praised by Pandit Jawaharlal Nehru.
1949
Joins Government College of Arts and Crafts, Calcutta, but discontinues due to the family's failing finances. Nevertheless, he continues to explore the grotesque in his painting. Deeply affected by the mass slaughter and looting of pre-Partition communal riots in Calcutta, his work becomes an expression of the human turmoil around him.
1952
Graduates in commerce from Vidyasagar College, Calcutta University.
1953-54
Starts teaching at the I. R. Belilious Institute, Howrah.
1955
His work is displayed along with leading artists of Bengal, as part of a group exhibition.
1956-58
Joins evening classes at Indian College of Art and Draughtmanship, Calcutta; works as an art director for two films, one of them being the Bengali film, Ajana Kahini.
1959
Completes an art appreciation course conducted by Calcutta University at Ashutosh Museum.
1962
Holds his first solo show at Academy of Fine Arts, Calcutta.
1963,'64,'65
Is part of Lalit Kala Akademi's national exhibition in New Delhi.
1964
Becomes co-founder of Calcutta Painters with Bijan Choudhary, Gopal Sanyal, Nikhil Biswas, Prokash Karmakar, Ronjon Roodra, and Bimal Banerjee.
1969
Organises Calcutta Art Fair along with fellow artists where he is elected joint secretary.
1970s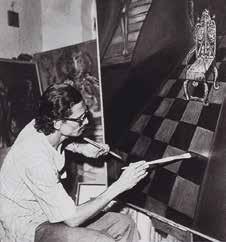 Expresses his dismay at the manner in which society is being inveigled by people in positions of authority through his King series.
1970
Edits Drawings by Contemporary Artists of Bengal; with his use of the colour red in most of these works, Rabin suggests a raging, paranoiac world bursting into flames.
1972
Paints Genocide as part of a series on the tragedy of the poor and marginalised.
1975
Is part of the third International Triennale, New Delhi.
1974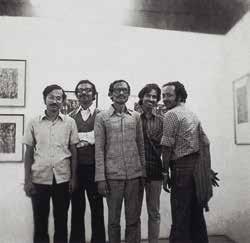 Holds a solo exhibition at Triveni Kala Sangam, New Delhi.
Illustrates Pritish Nandy's book, The Songs of Meerabai.
1976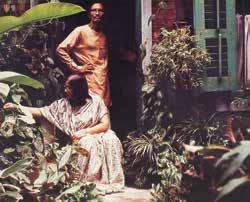 Marries Bani Mitra, eighteen years his junior.
1979-83
Serves as member, general council, Lalit Kala Akademi, New Delhi.
1984
Is part of Tokyo Biennale, Japan.
1985
Is represented in Contemporary Indian Painting, a Films Division documentary.
1987
Joins Department of Visual Arts, Rabindra Bharati University, Calcutta, as visiting lecturer.
1988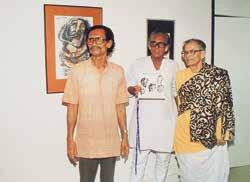 Publishes Rabin Mondal: Drawings 1970-1988, with an introduction by Dr. Ashok Mitra.
1992
Participates in 'Contemporary Indian Art', Dhaka, Bangladesh.
1993
Publishes some of his writings from his journals in his biography, Amar Katha.
1996
Is honoured with the Eminent Painter award by All India Fine Arts and Crafts Society, New Delhi.
1999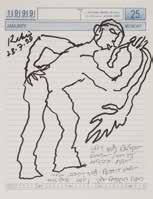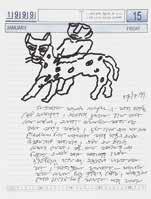 Is elected member of the Charukala Parishad, Department of Information and Culture, Government of West Bengal.
2000
Wife Bani dies; the couple have no children.
2001
Is awarded the Abanindranath Puraskar by the Department of Information and Culture, Government of West Bengal.
2002
His works are part of Osian's exhibition and auction, Mumbai.
2005
After the Fall: The Life and Times of Rabin Mondal, written by Santo Datta, is published by DAG to accompany a retrospective on the artist in New Delhi.
2014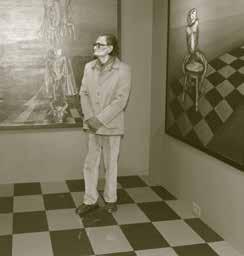 'Kingdom of Exile: A Rabin Mondal Retrospective', accompanies another retrospective on the artist by DAG; the exhibition opens in New Delhi and travels subsequently to Mumbai and New York.
2016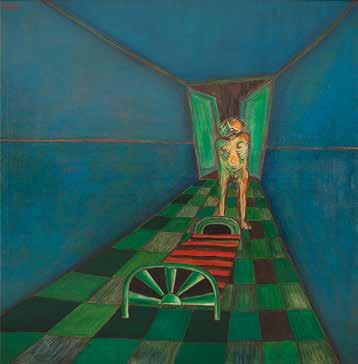 Rabin Mondal's King series is shown at the Shanghai Biennale curated by RAQS Media.
2019
Passes away at the age of ninety.
'After the Fall: The Life and Art of Rabin Mondal'
The 'Manifestations' series of 20th Century Indian Art, Editions V, VI, VII, VIII, IX, X, XI
DAG, New Delhi and Mumbai, 2011-14
'Indian Landscapes: The Changing Horizon'
'The Printed Picture: Four Centuries of Indian Printmaking'
DAG, New Delhi, 2012; Mumbai, 2016; alternate locations in Kolkata, 2013; Jaipur, 2017; Chandigarh, 2018
'Kingdom of Exile: A Rabin Mondal Retrospective'
DAG, New Delhi, 2014; Mumbai, 2015; New York, 2016
DAG, New Delhi, 2012; Mumbai, 2014; New York, 2016
'Indian Abstracts: An Absence of Form'
DAG, New Delhi, 2014; Mumbai and New York, 2015
'Indian Portraits: The Face of a People'
DAG, New Delhi and Mumbai, 2014
'Indian Divine: Gods & Goddesses in 19th and 20th Century Modern Art'
DAG, New Delhi and Mumbai, 2014
'India Modern: Narratives from 20th Century Indian Art'
DAG, New York, New Delhi, Mumbai, 2015; Chandigarh, 2017
'The Naked and The Nude: The Body in Indian Modern Art'
DAG, New Delhi, 2013; Mumbai, 2015
DAG, New Delhi and Mumbai, 2020
'Navrasa: The Nine Emotions of Art'
DAG, Mumbai and New Delhi, 2020-21
'Indian Blue: From Realism to Abstraction'
'Iconic Masterpieces of Indian Modern Art'
'New Found Lands: The Indian Landscape from Empire to Freedom'
DAG, New York, 2021; Mumbai, 2021-22
'Primitivism and Modern Indian Art'
DAG, Mumbai, 2019; New York, 2020; Delhi, 2021-22
National Gallery of Modern Art, New Delhi, India
Lalit Kala Akademi, New Delhi, India
Academy of Fine Arts, Kolkata
Birla Academy of Arts and Culture, Kolkata
Rabindra Bharati University, Kolkata
Rajya Charukala Parshad, Department of Information and Cultural Affairs, Government of West Bengal, Kolkata
Tata Engineering and Locomotive Works, Jamshedpur
Madhavan Nair Foundation, Ernakulam
Tractors India Limited, Kolkata
The Times of India, Mumbai