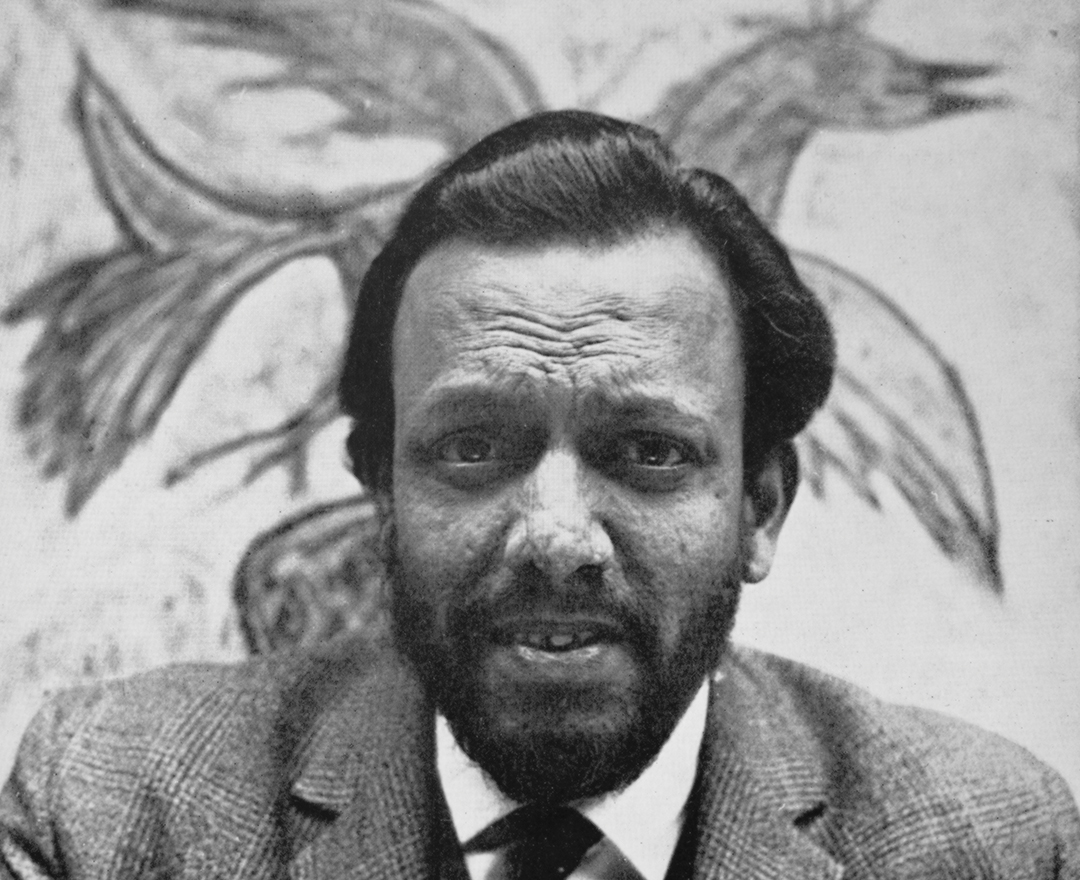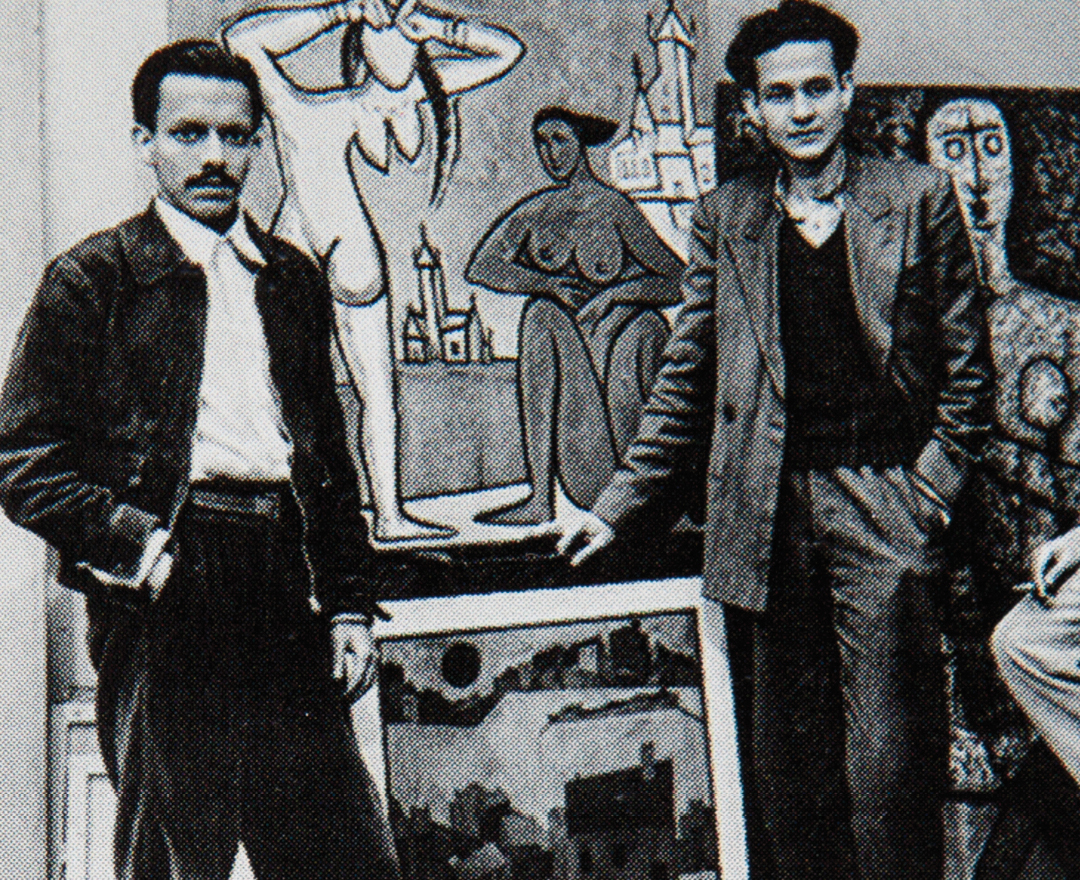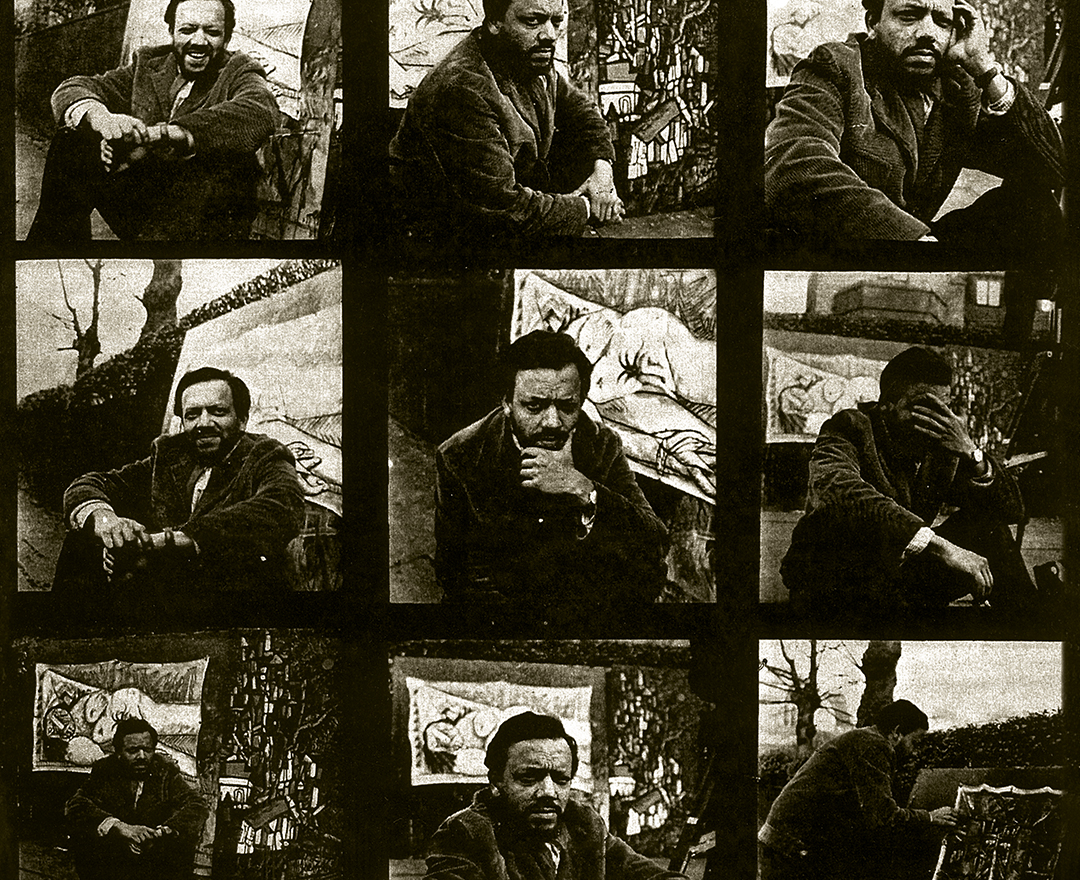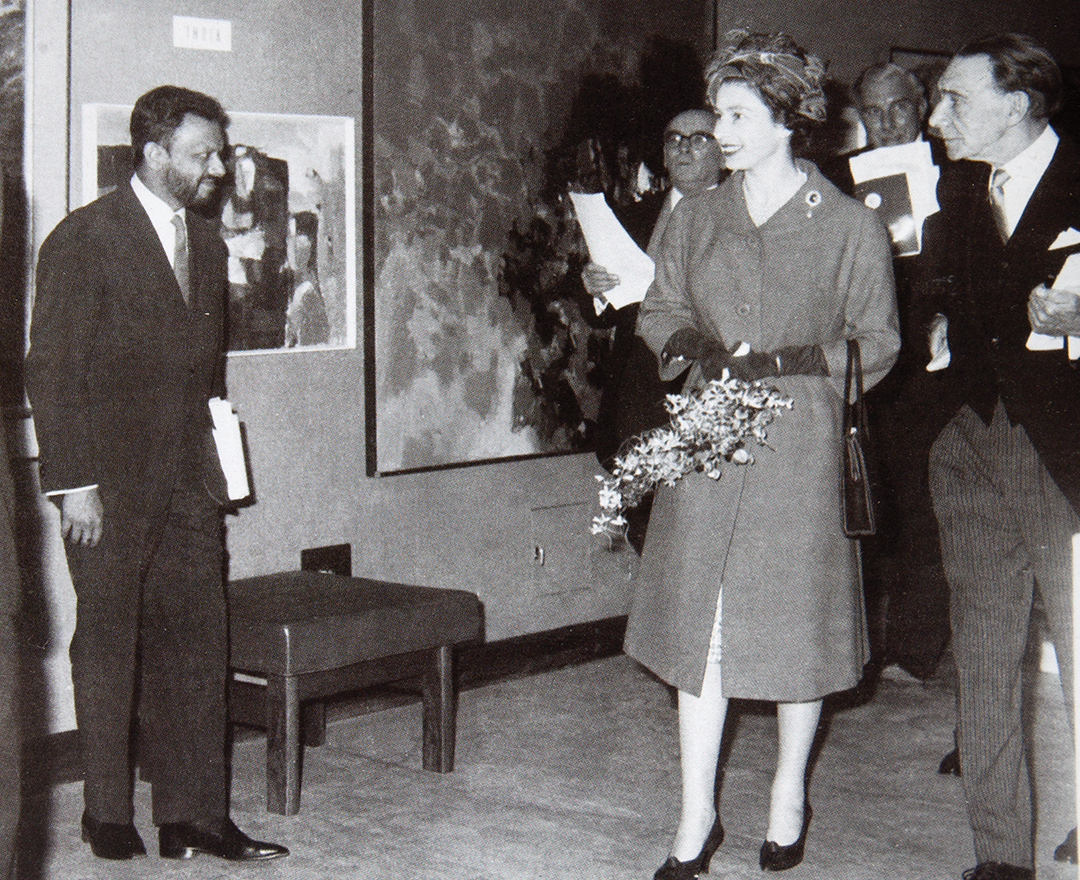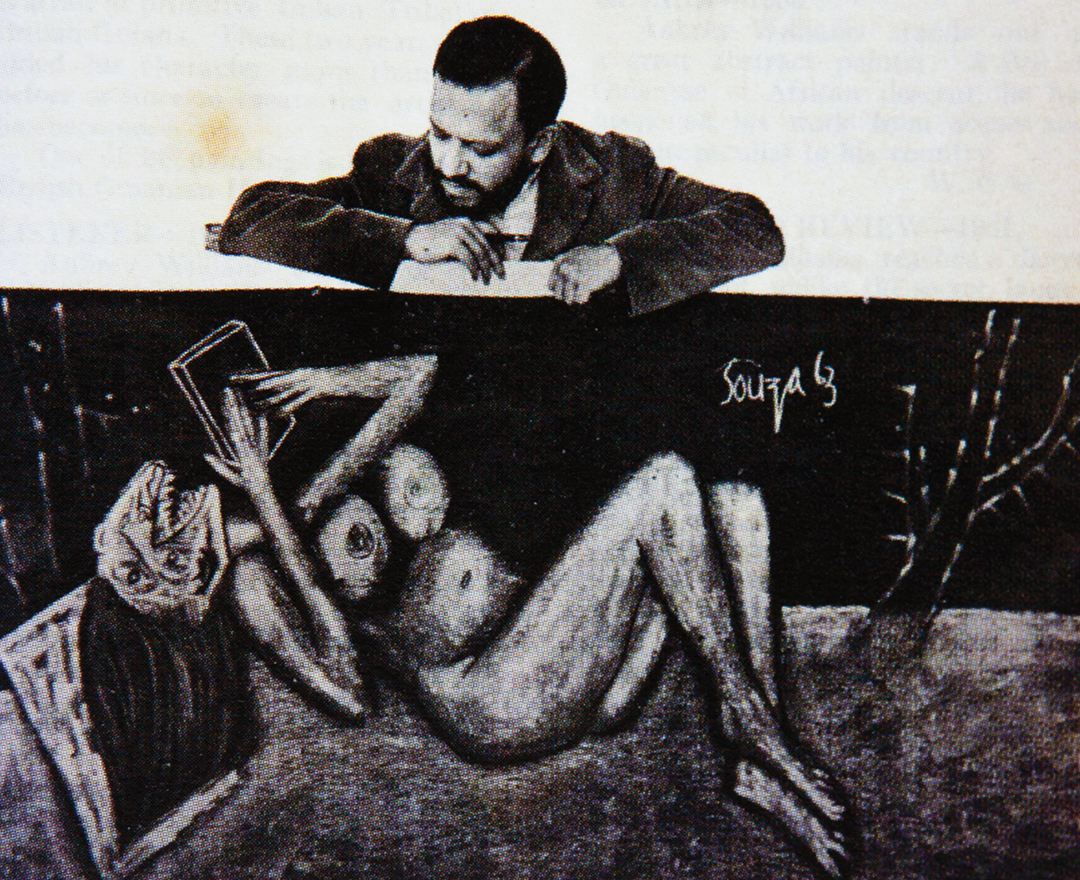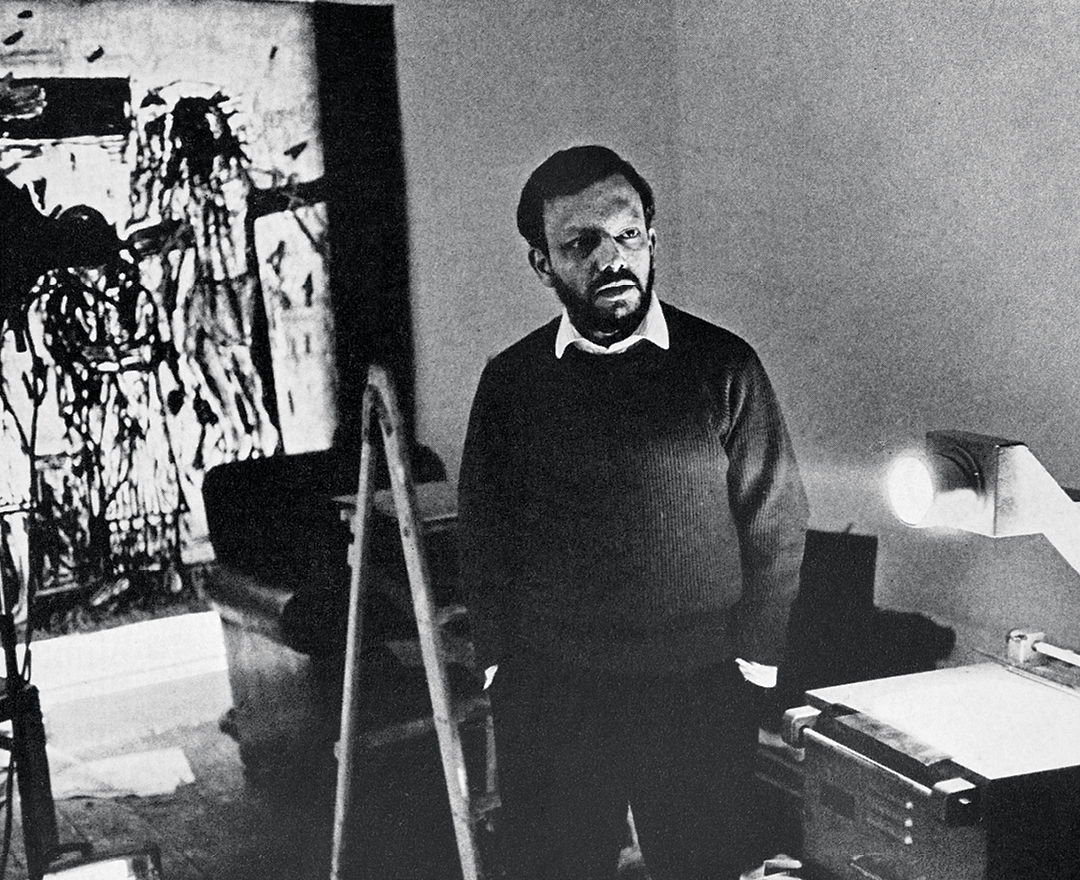 FRANCIS NEWTON SOUZA, BORN ON 12 APRIL 1924, WAS EXPELLED FROM SCHOOL, THEN FROM HIS COLLEGE—SIR J. J. SCHOOL OF ART, BOMBAY—AND LATER, AS HE INSISTED ON SAYING, FROM HIS OWN COUNTRY.
Born in Goa, Souza's Catholic mother brought him up to be a priest, but he showed early signs of rebellion that would become an integral part of his life. While studying in Bombay, he joined the Communist Party but soon left it. He even abandoned the Progressive Artists' Group, of which he was the founder member and spokesperson, to pursue a career in Europe. He would shift continents—living and tasting success in London in the 1950s and '60s—before settling in New York.
Souza found his own blunt, extreme style by combining the expressionism of Rouault and Soutine with the spirit of cubism and the sculptures of classical Indian tradition. He combined fierce lines with cruel humour. Nudes, landscapes, and portraits—he painted in every style and in every medium, even inventing 'chemical alterations', a method of drawing with the use of chemical solvent on a printed page without destroying the glossy surface. This helped him to experiment with the layering of multiple imagery.
Widely exhibited and feted around the world, Souza's pugnacious nature and work failed to win him recognition in the country of his birth, where he was noted but never rewarded. In the later years, he started spending more time visiting India, and passed away in Mumbai on 28 March 2002.
'We were bold and full of fire. We were forging a modern Indian art with a blast!'
F. N. SOUZA
artist timeline
1924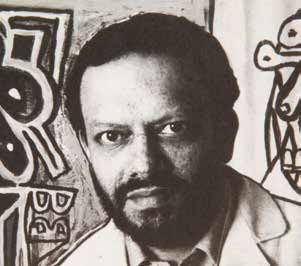 Born to Roman Catholic parents in village Saligao, Goa, then under Portuguese occupation. His father dies when he is just three months old.
1940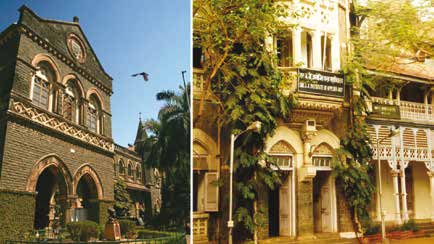 Joins Sir J. J. School of Art, Bombay, for a diploma in painting.
1942
Enters his paintings in the Bombay Art Society Annual Exhibition, only to have them rejected.
1945
Is expelled from the art school for his participation in the Quit India movement; in anger at being expelled, paints The Blue Lady, which he displays at his first solo exhibition the same year. The painting is bought by Dr. Hermann Goetz for the Baroda Museum.
1946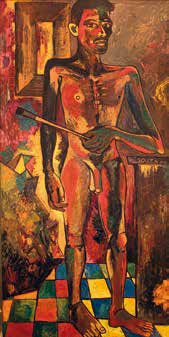 A nude self-portrait that is part of his exhibition at Bombay Art Society receives severe opprobrium; he's forced to 'cover up' the offending parts of the painting, generating controversy.
1947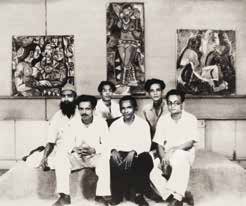 Joins the Communist Party but quits. Forms Progressive Artists' Group with S. H. Raza, K. H. Ara, M. F. Husain, S. K. Bakre and H. A. Gade.
1948
Participates in an exhibition of Indian art at Burlington House, London.
1949
Two of his works are removed from an exhibition and his flat is raided by the police to seize 'obscene' paintings. The Progressives hold their first exhibition at Baroda Museum at the invitation of Dr. Goetz, who also buys their works for the museum collection. Leaves India for England with fellow artists S. H. Raza and Akbar Padamsee.
1950
Indian High Commissioner Krishna Menon commissions him to paint murals for the Indian Students' Bureau on West Cromwell Road; they are destroyed in 1959 when the Bureau is demolished.
1951
An exhibition of Souza's works is organised by Menon at India House.
1953
Holds a joint exhibition in Zurich along with S. K. Bakre and M. F. Husain.
1955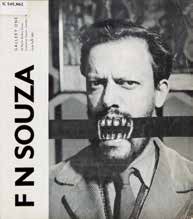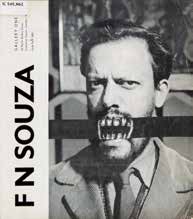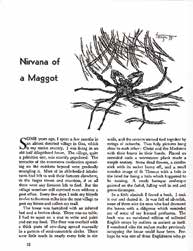 Has his first solo at the newly opened Gallery One promoted by Victor Musgrave which coincides with the publication of his autobiographical piece, 'Nirvana of a Maggot' in the journal Encounter, edited by Stephen Spender. Critic John Berger terms his art 'imaginative vision that is truly moving'.
1956
Harold Kovner, a wealthy New Yorker, patronises Souza with a monthly allowance to paint for him over the next four years.
1957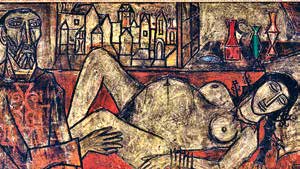 Paints the iconic work, Birth. Is awarded the John Moore exhibition prize.
1958
Represents Britain at the Guggenheim International Award.
1959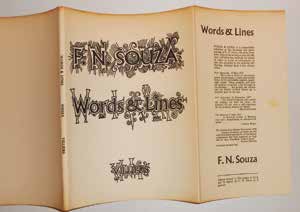 Publishes his book Words and Lines detailing his shocking and brazen approach to art.
1960
Travels to Italy on an Italian government scholarship but finds no takers for his paintings.
Early 1960s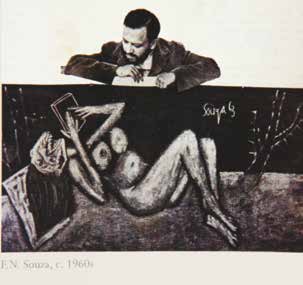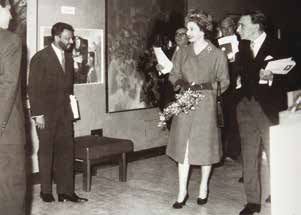 Queen Elizabeth visits his exhibition. Paints some of his best works.
1961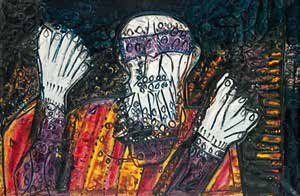 Participates in 'Four Centuries of Indian Painting' at Sao Paulo and Rio in Brazil. Wins the Wakefield Museum's 'collector's choice' recognition. Paints his well-known work, Oedipus Rex.
1962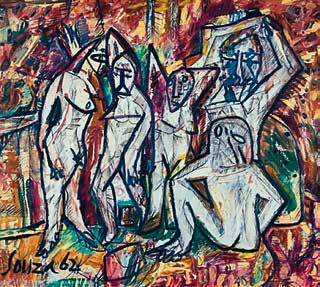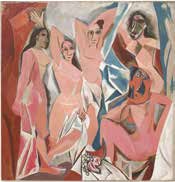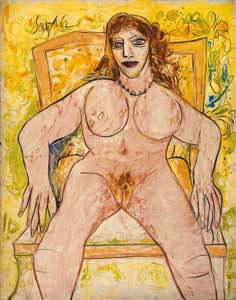 Edward Mullins's book F N Souza: An Introduction is published. Paints Young Ladies in Belsize Park, an adaptation of Picasso's Les Demoiselles d'Avignon. Paints Seated Nude around the same time as Nude on Blue Armchair.
1963
Souza's painting featuring Three Men is used on the cover of the book A Language in Common, printed by the Times Literary Supplement.
1964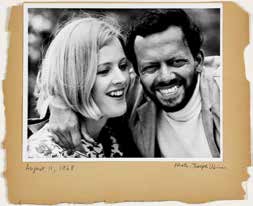 Divorces wife Maria to marry sixteen-year-old Barbara Zinkat. Studio International Art magazine runs an in-depth feature on Souza.
1967
Settles in New York to advance his career; holds a solo show in Detroit.
1969
Creates his 'chemical' paintings, or 'chemical alterations', an invented medium and technique involving the erasure of images on printed magazine paper and painting over it.
1971
Visits California and paints cheerful countryside landscapes in an entirely different style.
1975
Holds a solo exhibition of his oil paintings inspired by Indian mythological themes at Dhoomimal Gallery, New Delhi.
1977
Exhibits his works as part of Commonwealth Artists of Fame, London.
1978
Is part of 'Contemporary Indian Art', curated by Geeta Kapur, Richard Bartholomew and Akbar Padamsee in London. Features in the exhibition 'India: Myth and Reality, Aspects of Modern Art' organised by Museum of Modern Art, Oxford.
1985
Releases New Poems on the occasion of his solo exhibition at Pundole Art Gallery, Bombay.
1987
Curated by Ebrahim Alkazi, a retrospective is held of Souza's works jointly at Shridharani Gallery, Triveni Kala Sangam, New Delhi, and Jehangir Art Gallery, Bombay.
1986-89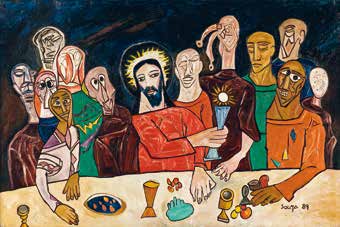 His Last Supper has a significant critical impact and comes to be considered one of his major works.
1993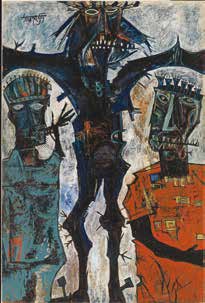 Tate Modern acquires his landmark 1959 work, Crucifixion.
1998-99
Is honoured with the Kalidas Samman by the Madhya Pradesh government.
1999
A retrospective of his works from 1950-99 is held at Kumar Gallery, New Delhi.
2002
Makes his last painting, The Face of the Christ, before passing away in Mumbai. Just a little after his death, Grosvenor Gallery in London holds an exhibition called 'Souza and Friends' in which his contemporaries, S. H. Raza, M. F. Husain, Akbar Padamsee and Ram Kumar participate.
2003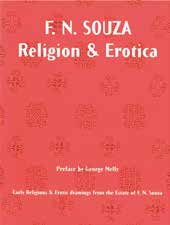 Tate Britain pays tribute to him with a retrospective, 'Religion and Erotica'.
2008
Souza's Birth, painted in 1955, sells at a Christie's auction for $2.5 million, a record price, bought by Harmony Foundation, Mumbai. It is auctioned again in 2015 for $4 million and acquired by the Kiran Nadar Museum of Art, New Delhi.
2010
Yashodhara Dalmia curates an exhibition of Souza's portraits and heads titled Volte Face: Souzas Iconoclastic Vision, at Lalit Kala Akademi, New Delhi. In June 2010 Christie's auction 140 lots from the Souza estate and realises 5 million pounds.
2015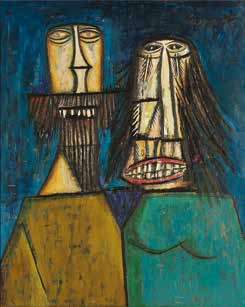 Man and Woman Laughing sets a record at Rs. 16.8 crore at an auction in New Delhi.
2018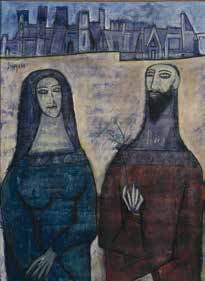 Tate Britain dedicates a room to his works for its exhibition 'All Too Human'
'Continuum: Progressive Artists' Group'
The 'Manifestations' series of 20th Century Indian Art, Editions V, VI, VII, VIII, IX, X, XI
DAG, New Delhi and Mumbai, 2011-14
'The Printed Picture: Four Centuries of Indian Printmaking'
DAG, New Delhi, 2012; Mumbai, 2016; alternate locations in Kolkata, 2013; Jaipur, 2017; Chandigarh, 2018
'Indian Landscapes: The Changing Horizon'
'The Naked and The Nude: The Body in Indian Modern Art'
DAG, New Delhi, 2013; Mumbai, 2015
'Mumbai Modern: Progressive Artists' Group 1947-2013'
'Indian Divine: Gods & Goddesses in 19th and 20th Century Modern Art'
DAG, New Delhi and Mumbai, 2014
'Indian Abstracts: An Absence of Form'
DAG, New Delhi, 2014; Mumbai and New York, 2015
'Indian Portraits: The Face of a People'
DAG, New Delhi, 2013; Mumbai, 2014
'India Modern: Narratives from 20th Century Indian Art'
DAG, New York, New Delhi, Mumbai, 2015; Chandigarh, 2017
'Memory & Identity: Indian Artists Abroad'
DAG, New York and New Delhi, 2016; Mumbai, 2017
Primitivism and Modern Indian Art'
DAG, Mumbai, 2019; New York, 2020
'Navrasa: The Nine Emotions of Art'
DAG, Mumbai and New Delhi, 2020
DAG, New Delhi, 2019; Mumbai, 2020
'Ways of Seeing: Women Artists | Women as Muse'
'Indian Blue: From Realism to Abstraction'
'Iconic Masterpieces of Indian Modern Art'
Kiran Nadar Museum of Art, New Delhi, India
National Gallery of Modern Art, New Delhi, India
Jehangir Nicholson Art Foundation, Mumbai
Tata Institute of Fundamental Research Art Collection, Mumbai
Piramal Art Foundation, Mumbai
Government Museum and Art Gallery, Chandigarh
CITI India Corporate Collection
Glenbarra Art Museum, Himeji
Victoria and Albert Museum, London
The Hepworth Wakefield Art Gallery, Wakefield
Museum of Biblical Art (Dallas), Texas
Jane and Kito de Boer Collection, Dubai and London