1930 - 1966
Nikhil Biswas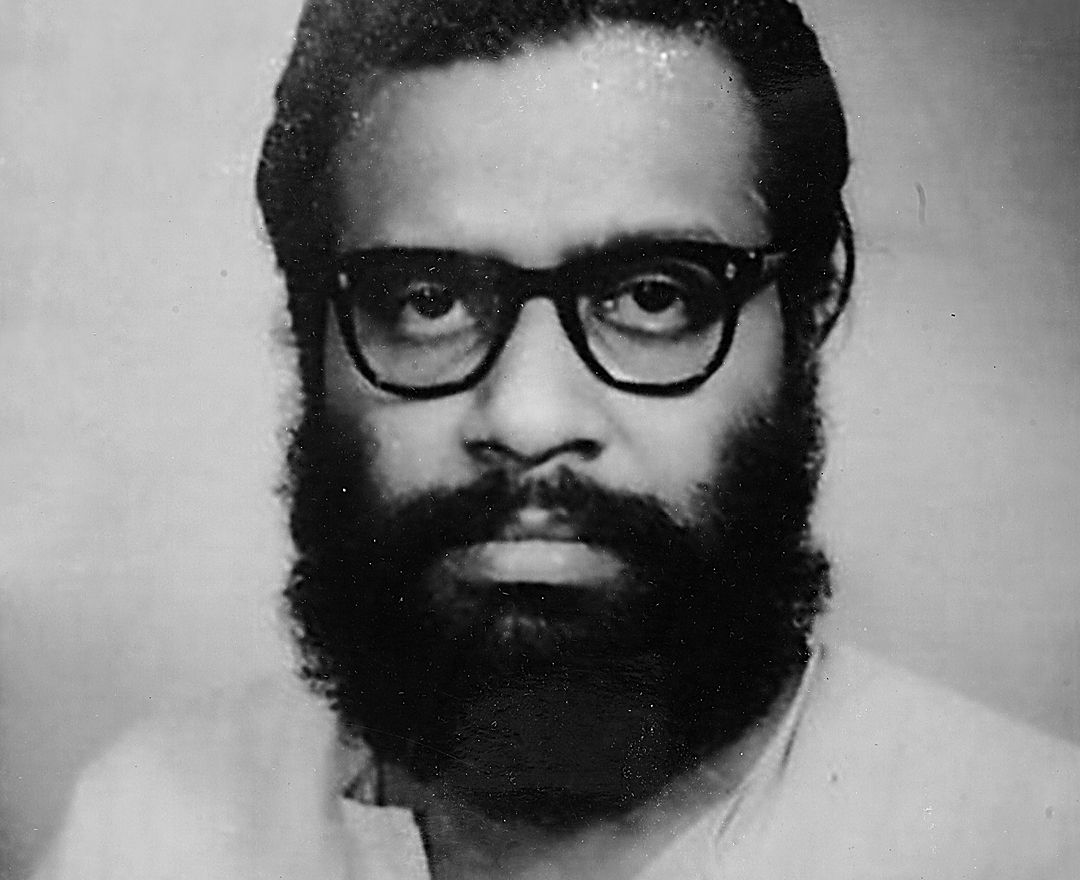 Born in Calcutta, Nikhil Biswas was an indefatigable art activist and a firm believer in collective action. He was a founder member of the Calcutta Painters Group, Chitrangshu Group, and Society of Contemporary Artists, Calcutta.
Biswas was committed to bringing about technical innovations as well as transformations in contemporary artistic thought. After receiving his diploma from the Government College of Arts and Crafts, Calcutta, in 1954, when the Indian art scene was in the midst of the abstract wave, Biswas proclaimed humanist preoccupations.
He worked as an illustrator for Bengali weeklies Darpan and Janasebak Saptahik, searching for significant images to express the political and social turmoil of his time. The struggling artist also worked as an art teacher at Mitra Institute, a government school, for a living.
The bulk of Biswas's drawings emerged from his diaries which he used to maintain to keep up with his wide range of activities. His dark and mysterious figures embrace his iconic clown, a combating soldier, horses and women, and are done in thick black ink or fine lines. His human figures are expressed at the moment of mortal combat through which Biswas consistently tried to provide an outward dimension to the inner manifestation of pain.
Despite a very short life span, the artist produced a large body of work, mostly black and white drawings on paper. His paintings were exhibited in Germany posthumously and are in the permanent collection of Halle Museum in Dresden, Germany.
'I am exiled by society and am solitary and my witness is endless agony'
NIKHIL BISWAS
artist timeline
1930
Nikhil Biswas is born in April in Calcutta in a Mahisya family, a formerly agricultural caste known for their upward mobility. His family background eventually becomes central to his quest for identity.
1949-54
Obtains his diploma in fine arts from the Government College of Arts and Crafts, Calcutta. He and some others form Chitrangshu, a short-lived group committed to bringing technical innovation and transformation in contemporary artistic thought.
Mid-50s
Works as an illustrator for Bengali newsweeklies Darpan and Janasebak Saptahik, making images expressive of the political and social turmoil in Calcutta at the time. Also takes up a job teaching art at Mitra Institute, a government school, to earn an additional income. His works from this time utilise the least expensive material available—packaging paper or newsprint—with viscous ink or pen ink to execute his drawings. The use of thick black ink and fine lines aids him in giving expression to human figures at the moment of mortal combat between the external and the internal self.
1954
Has his first solo exhibition in Calcutta.
1954-56
Is part of group exhibitions in Bombay.
1956
The Lalit Kala Akademi honours Biswas with a gold medal for the best exhibit in modern art.
1959
An exhibition of works of selected artists is held at Banga Sanskriti Sammelan, Calcutta, in an open park. Besides Biswas, the other artists include Somnath Hore, Bijan Choudhury, Arun Bose, Shyamal Dutta Ray, Kamala Roychoudhury, Sanat Kar, Sailen Mitra, and Anilbaran Saha. The exhibition wins critical acclaim and travels to Bombay. Art critic Anibhusan Malik names the group Society of Contemporary Artists.
1959-62
Solo exhibitions in Calcutta.
1962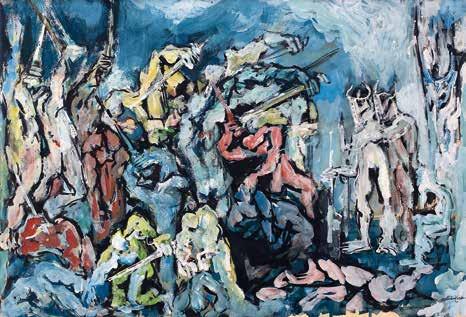 Calcutta 8 is formed by Biswas along with Bijan Choudhary, Prokash Karmakar, Rajan and Gambit Roodra, Gopal Sanyal, Bimal Banerjee, and Rabin Mondal. Biswas remains an active member of the group in his lifetime. Paints his well-known Combat series. Art and Prints Gallery, Calcutta, hosts a solo exhibition of his paintings. Has a joint exhibition with sculptor Sarbari Roy Choudhury at German Cultural Institute, Max Muller Bhavan, Calcutta.
Mid-60s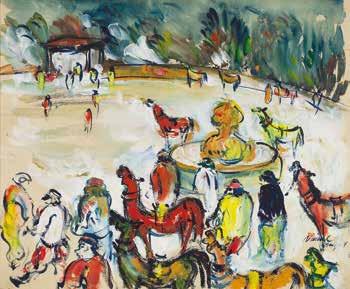 A testimony to humanistic ethics, Biswas's work is filled with gestures of struggle or pain, using powerful, expressive lines, often delineated, bent and twisted, to capture in equal part the rebellion against those very emotions of suffering—as seen in his paintings of the day-to-day lives of men and animals—particularly horses that are used as a symbol of strength and virility. Colour effects, often vividly whorled and complexly structured, are used with similar emotion. Many of his works from this period portray subjects in confrontation with one another—man with horse, or bull and horse—reflecting the temper of a turbulent, conflict-racked period.
1964
Nikhil Biswas, Bijan Choudhary, Prokash Karmakar, Rabin Mondal, Jogen Chowdhury, and Dhiraj Chowdhury form a 'communion of artists' to break free of the traditional idiom of the Bengal School. This group, identified as Calcutta Painters, claims the heritage of the Calcutta Group, the first progressive amalgam of India formed by artists in 1942.
1965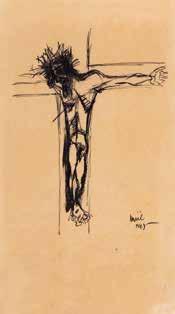 Participates in 'Eight Painters from Calcutta' exhibition at the All India Fine Arts and Crafts Society, New Delhi. Continues his engagement with Christ as a figure of suffering. The clown is another recurring figure in his drawings and paintings.
Max Mueller Bhavan presents a joint show of paintings by Biswas and sculptures by Sarbari Roy Choudhury. The show is critically acclaimed and popular with the press and the public.
1965-66
Shifts from drawings to oil paintings. Prior to this, he had found it difficult to afford this costlier medium.
1966
On 10 November, dies at the early age of thirty-six of infectious hepatitis on the eve of his exhibition in the German Democratic Republic. His works are included posthumously in a exhibition dedicated to the memory of Alberto Giacometti at Artistry House, Calcutta.
1967
After the cancellation of the artist's exhibitions in West Germany and America angers his friends, Lady Ranu Mukherjee donates the ground floor galleries at the Academy of Fine Arts, Calcutta, for his posthumous exhibition, 'Nikhil Biswas: Retrospective (Selections from 1950-1966)' organised by his wife, Bina Biswas. Another exhibition is organised at the same venue in 1975. Impressed with his humanitarian concerns, he is posthumously exhibited in Germany at an exhibition organised by the German- South East Asian Society of the German Democratic Republic.
1968
His work is posthumously showcased in Buffalo, New York.
1975
The Nikhil Biswas Memorial Committee is formed by R. K. Seth and has on board N. S. Bendre, M. F. Husain, Krishen Khanna, Paritosh Sen, Pilloo Pochkhanawala, Kekoo Gandhy, Karl Khandalavala, and Jehangir Nicholson, among others. The Committee organises a solo exhibition of his works at Jehangir Art Gallery, Bombay.
2010
The book, The Passion of Nikhil Biswas, authored by Sandip Sarkar, is published.
The 'Manifestations' series of 20th Century Indian Art, Editions V, VI, VII, VIII, IX, X, XI
DAG, New Delhi and Mumbai, 2011-14
'Indian Landscapes: The Changing Horizon'
DAG, New Delhi, 2012; Mumbai, 2014; New York, 2016
'The Naked and The Nude: The Body in Indian Modern Art'
DAG, New Delhi, 2013; Mumbai, 2015
'Navrasa: The Nine Emotions of Art'
DAG, Mumbai and New Delhi, 2020
'New Found Lands: The Indian Landscape from Empire to Freedom'
'Iconic Masterpieces of Indian Modern Art'
National Gallery of Modern Art, New Delhi
Jehangir Nicholson Art Foundation, Mumbai
Government Museum and Art Gallery, Chandigarh
Academy of Fine Arts, Kolkata
Mukund and Neerja Lath Collection, Jaipur
Prashant Tulsiyan Collection, Kolkata
Jane and Kito de Boer Collection, Dubai and London