1933 - 2014
Prokash Karmakar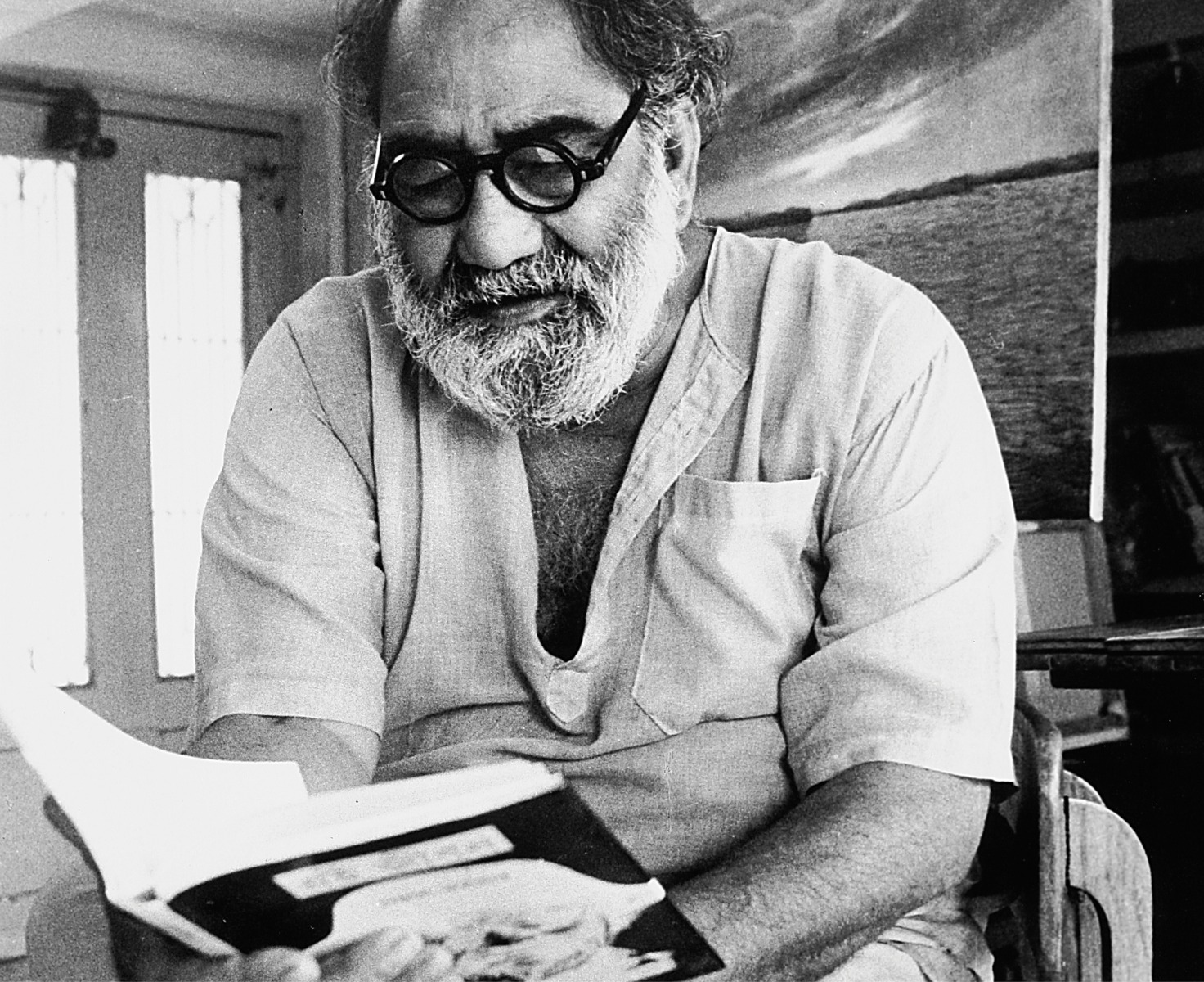 Prokash Karmakar's art emerged from a contemplation of life, through the prism of personal traumatic experiences intermingled with dark moments in India's recent history.
He learnt painting at his father, artist-teacher Prahlad Karmakar's atelier, till the socio-political turmoil of the 1940s and his father's early death put an end to it.
After his matriculation, Karmakar joined Government College of Arts and Crafts, Calcutta, but quit soon thereafter for reasons of poverty. In between, he designed book covers and worked as an illustrator for his livelihood; he even joined the army but absconded after two years, driven by his desire to paint.
Karmakar learnt the techniques of transparent and opaque watercolours from Kamalaranjan Thakur, a former student of his father, and Dilip Das Gupta. However, it was senior artist Nirode Majumdar—once a student of Abanindranath Tagore—who acquainted Karmakar with artistic and philosophical concepts, techniques, coherence of lines, and the breaking of form. Majumdar had recently returned from France after a stay of twelve years, and shared his rich experience with his protégé.
Karmakar held his first exhibition in 1959 on the railings of Indian Museum, Calcutta. In 1969-70, Karmakar visited France on a fellowship to study art museums, an inspiring exposure for the expressionist artist who, being 'primarily a colourist', began to create his figurative monochrome paintings in the 1970s. He won the Lalit Kala Akademi's national award in 1968, and his work is part of important collections globally.
He passed away on 24 February 2014.
'Prokash Karmakar was an eminent artist and a role model for modern and contemporary Indian painters'
PRANAB MUKHERJEE
The 'Manifestations' series of 20th Century Indian Art, Editions V, VI, VIII, IX, XI
DAG, New Delhi and Mumbai, 2011-14
DAG, New Delhi, 2012; Mumbai, 2014; New York, 2016
'Indian Landscapes: The Changing Horizon'
'Indian Portraits: The Face of a People'
DAG, New Delhi, 2013; Mumbai, 2014
'The Naked and The Nude: The Body in Indian Modern Art'
DAG, New Delhi, 2013; Mumbai, 2015
'India's French Connection'
DAG, New Delhi and New York, 2018
'Navrasa: The Nine Emotions of Art'
DAG, Mumbai and Delhi, 2020
'Ways of Seeing: Women Artists | Women as Muse'
'Indian Blue: From Realism to Abstraction'
National Gallery of Modern Art, New Delhi
Birla Academy of Art and Culture, Kolkata
Rabindra Bharati University, Kolkata
Allahabad Museum, Allahabad
Lalit Kala Akademi, Lucknow
Jane and Kito de Boer Collection, Dubai and London
The Illustrated Weekly of India