1939 - 1997
Dharmanarayan Dasgupta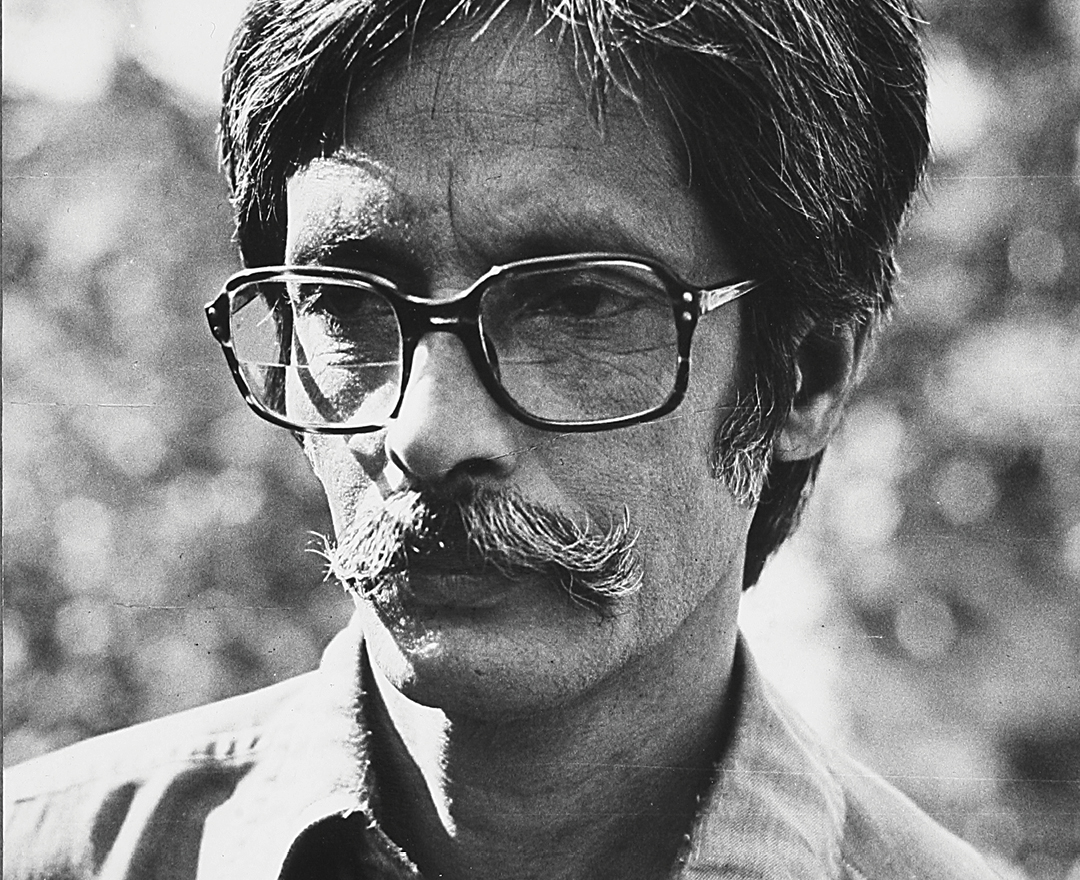 Hailing from Tripura, Dharmanarayan Dasgupta remained almost entirely within the fold of the Calcutta art world throughout his life.
He trained at Santiniketan, from where he received his diploma in fine arts in 1961. In his work, Dasgupta chose to be eclectic, perhaps more than his contemporaries.
By the late 1970s, he had evolved his hallmark style where the primary medium was a special egg tempera on canvas which he applied using a mouth spray for finish. His distinctive artistic style evolved during the
'80s which he defined as a 'kind of satire, fantasy and humour mixed with folk art'.
Dasgupta's painterly voyage was marked by an intimate understanding of human relationships, their pain and agony, joy and ecstasy, humour and wisdom. His art parodied the remnants of the babu culture, a legacy from the British Raj.
As recurring motifs, a voluptuous woman, draped in a striped sari, at times counter-balanced with a man similarly clad in dhoti and kurta, appear in association with a flying tortoise, tiger, bird, flower or such objects as pots, vases or vintage cars, creating a very peculiar vision of human sensibility. The figures and objects appear to float in a mental space where the gravitational pull is decided by the artist. They float, glide and crouch, underlining the varied levels of psychic exegesis.
In 1981, Dasgupta was awarded by the Birla Academy of Art and Culture, Calcutta. His works are held in several public and private collections in India and abroad.
'Dharmanarayan Dasgupta's imagery—his gentlemen, ladies, animals, and even his chairs, tables and clocks—provides a refreshing break. They pull us out of our everyday lives into realms of unending fantasy'
TAPATI GUHA-THAKURTA
The 'Manifestations' series of 20th Century Indian Art, Editions V, VI, VII, VIII, IX, X, XI
'Indian Landscapes: The Changing Horizon'
DAG, New Delhi, Mumbai, and New York, 2012-16
'Indian Abstracts: An Absence of Form'
DAG, New Delhi, Mumbai, and New York, 2014-15
'India Modern: Narratives from 20th Century Indian Art'
DAG, New Delhi, Mumbai, and New York, 2015
National Gallery of Modern Art, New Delhi
Glenbarra Art Museum, Himeji
Victoria & Albert Museum, London