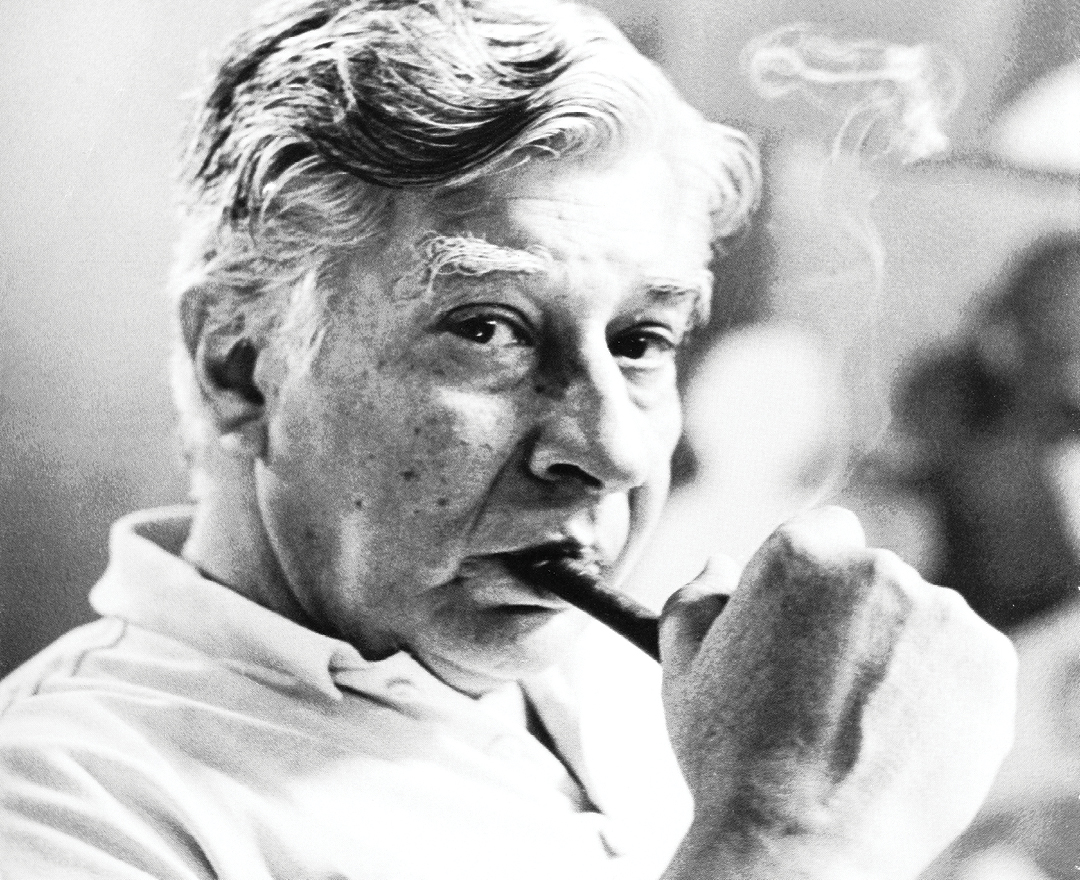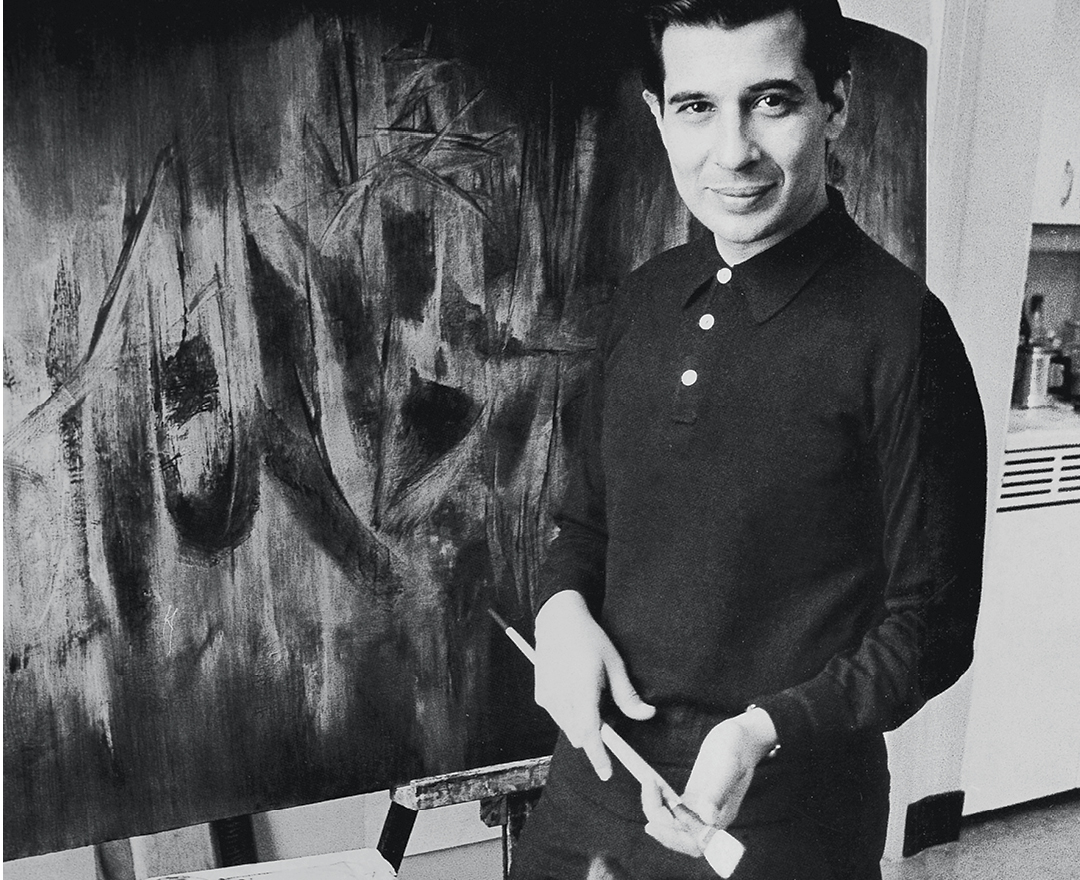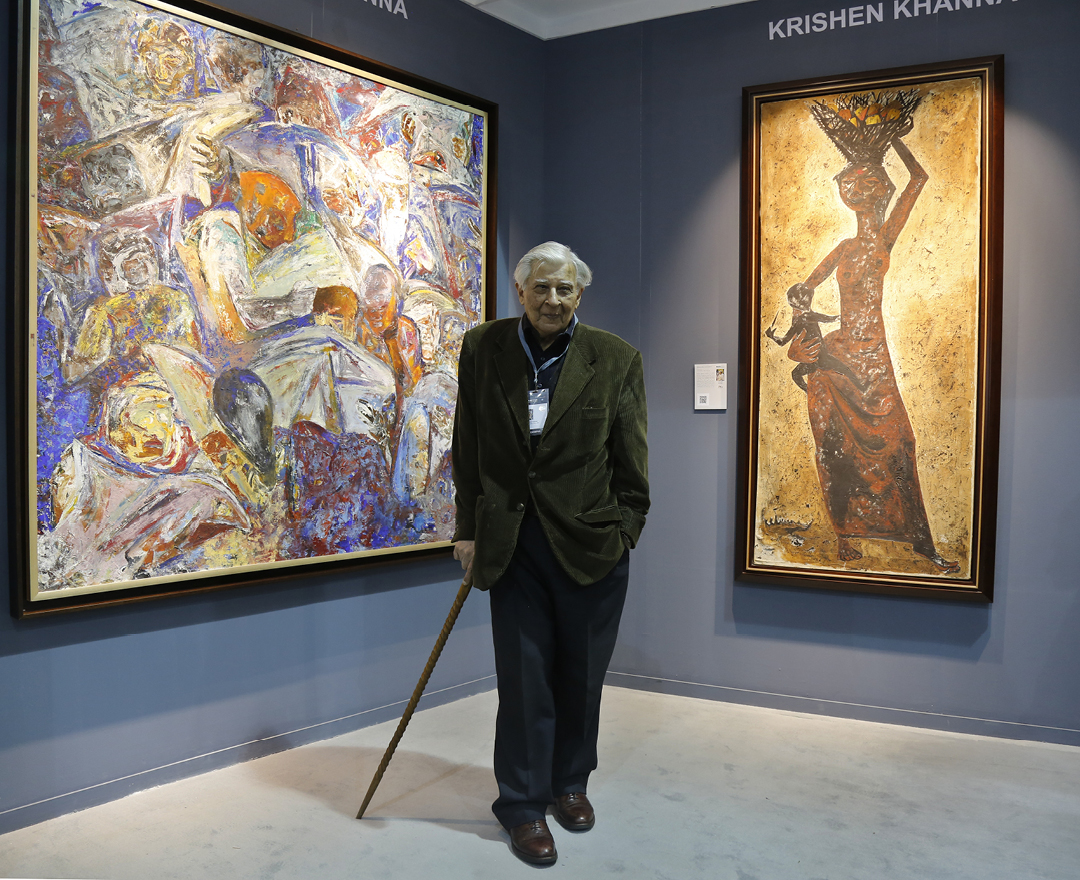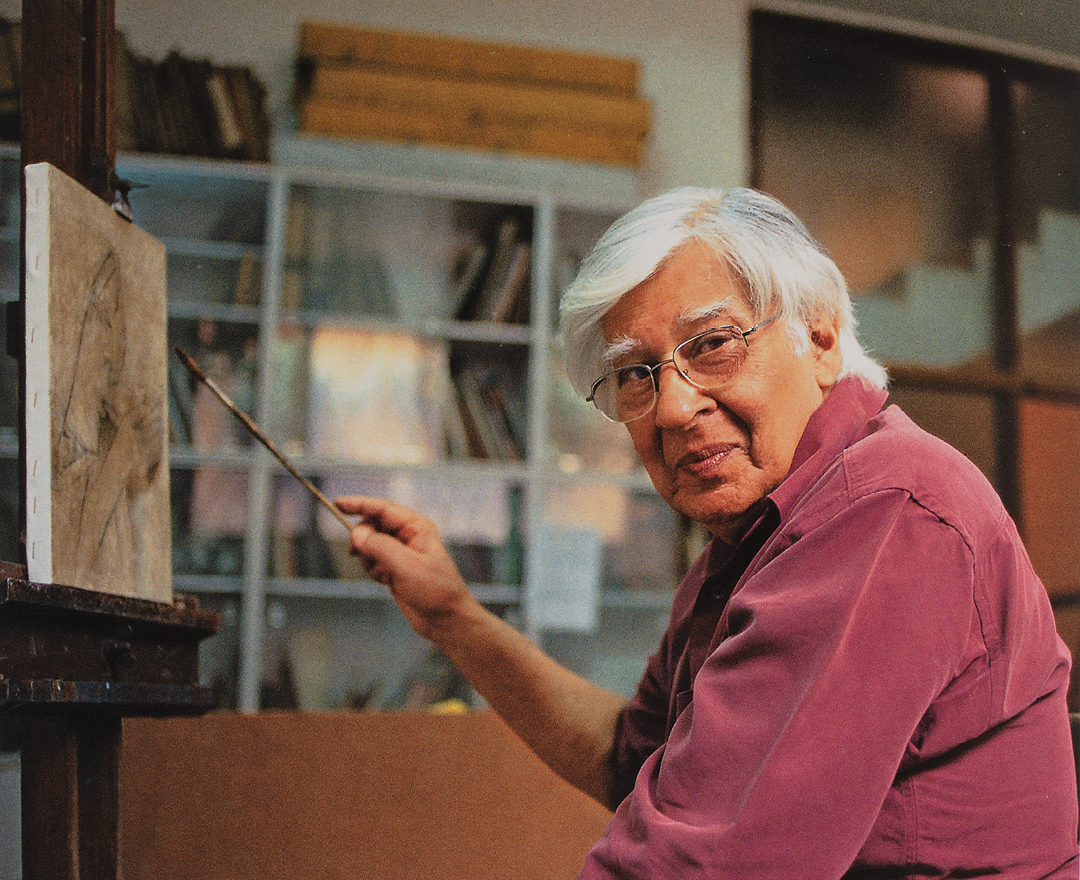 Born in Lyallpur in pre-Partition Punjab, Krishen Khanna grew up in Lahore, and studied at the Imperial Service College, England, from 1938-42 as a Rudyard Kipling scholar.
Returning to Lahore for a course in English literature at the Government College, he simultaneously took evening classes at the Mayo School of Art. Khanna briefly worked as a printer at Kapur Art Press, Lahore, before his family moved to Simla upon Partition. He worked at the Grindlays Bank in Bombay and Madras from 1946-61, subsequently resigning from his job to devote himself to art.
In Bombay, he became part of the extended Progressive Artists' Group. Largely self-taught, Khanna's art bears imprints of the traumatic experience of the socio-political chaos in the country in his youth. He first exhibited his works in 1949, when his first painting was bought by nuclear physicist Dr. Homi Bhabha, the founder director of Tata Institute of Fundamental Research. In 1955, Khanna held his first solo show at U.S.I.S., Madras. His support for the marginalised and downtrodden shines through in his paintings depicting bandwallahs, dhabas, pavement fruit-sellers, and migrant labourers in trucks.
In 1962, Khanna became the first Indian artist to be awarded the Council on Economic and Cultural Affairs (later renamed the John D. Rockefeller III Fund) fellowship, and was artist-in-residence at the American University in Washington in 1963-64. In 1965, he received Lalit Kala Akademi's national award. Prominent honours bestowed upon him include the Padma Shri in 1990, the Lalit Kala Ratna in 2004, and the Padma Bhushan in 2011. He lives in Gurugram.
'All great art has to be local… At the same time, great art transcends the ordinary moment and strives to a moment in infinity'
KRISHEN KHANNA
artist timeline
1925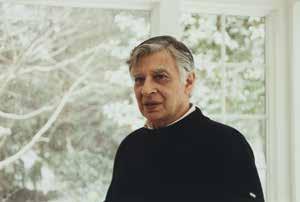 Born in Lyallpur (now known as Faisalabad), in pre-partition Punjab
1930
Father Kahan Chand Khanna leaves for England to pursue a doctorate in British Indian history.
1932
Upon his father's return from doctoral studies in Europe, he brings with him a copy of Leonardo da Vinci's The Last Supper, which Khanna keenly studied. He also spends his summer holidays at the vicarage of the Franciscan Brother, Joseph Gardener, who reinforces his readings of the Bible. This inspires Khanna's first painting of St. Francis, which became a recurring subject in his painting from the 1960s on.
1936
The Khanna family moves to Multan.
1938-42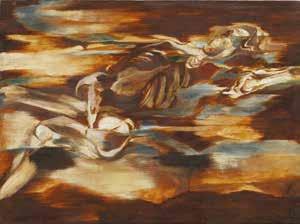 Receives Rudyard Kipling Scholarship to study at Imperial Services College in Windsor, England. The Second World War interrupts the artist's education. Returns to Multan and witnesses the untimely death of his cabinmate at sea. This memory is reflected in the artist's later works where he dwells on drowning.
1944
Family moves to Lahore. Joins Government College to complete his Bachelor of Arts. Starts attending evening classes at Mayo School of Art.
1946
Starts working at Grindlays Bank in Lahore. Joins Sheikh Ahmed's Studio One to study drawing. Exhibits at the annual exhibition of Punjab Art Society where his painting, Dead Tree, is commended.
1947
Moves with family to Simla as a result of Partition. The socio-political chaos will be reflected in his work.
1948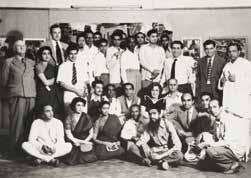 Moves to Bombay with Grindlays Bank. Develops close proximity with members of the Progressive Artists' Group and begins to paint every evening.
1949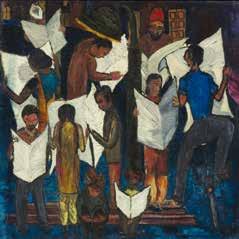 His iconic painting, News of Gandhiji's Death is included in Bombay Art Society's Golden Jubilee Exhibition. It wins praise from Rudy von Leyden, art critic at The Times of India. The artist is formally inducted into the Progressive Artists' Group by M. F. Husain.
1950
Marries his childhood friend, Renu Chatterji.
1953-58

Is posted in Madras where the couple patronises musicians and dancers. Khanna's art reflects his love of music.
1955
Has his first solo show at U.S.I.S., Madras, and has since exhibited widely in India and abroad.
1956
American collector Tom Keehn organises an exhibition of eight painters, including Khanna, at the Indian and Eastern Newspaper Society, New Delhi. Sir Kenneth Clark encourages Khanna to show at Leicester Galleries, London.
1957
Solo exhibition at All India Fine Arts and Crafts Society, New Delhi; also participates in Tokyo Biennale, Japan.
1959
Has exhibitions at Leicester Galleries, London; Graham Gallery, New York; and is part of the Sao Paulo Biennale, Brazil.
1961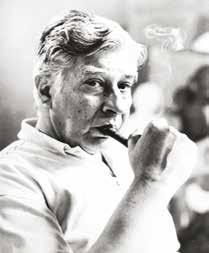 Resigns from Grindlays Bank, after fourteen years to paint full-time. Moves to New Delhi where he accepts a monthly contract of Rs 500 to paint for Kumar Art Gallery. Exhibits at Tokyo Biennale.
1962-63
Is the first recipient of the John D. Rockefeller III Fund fellowship (known at the time as Council on Economic and Cultural Affairs), and travels to New York with wife Renu via Dacca, Rangoon, Singapore, Indonesia and Japan, adapting the ancient Asian art of Sumi-e in his work.
1964
Is an artist-in-residence at American University, Washington D.C. Lives in Chelsea Hotel during this time; converts one of the bathrooms in his hotel room into his studio. Has a solo show at Watkins Art Gallery, American University, Washington D.C.
1965
Exhibits at Egan Gallery, New York, where one of his Sumi-e paintings is acquired by the Museum of Modern Art. His Window into Winter wins the national award at Lalit Kala Akademi's annual exhibition.
1966
Exhibits at Lincoln Center, New York.
1968
He is commissioner of the International Triennale, New Delhi, for compiling its Indian section along with Prodosh Das Gupta. His exhibition entry at the Triennale wins an award which he refuses to accept because of the controversy triggered by it.
1969
Is part of exhibition 'Contemporary Art, Dialogue between East and West', organised by the Museum of Modern Art in Tokyo, Japan. Has a solo exhibition of photographs at Kunika Chemould Gallery, New Delhi, and Pundole Art Gallery, Bombay.
1970s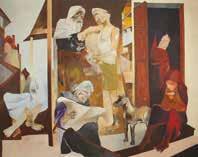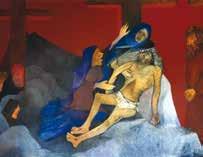 Paints his celebrated series of works on Christ and the Apostles, Pieta, Bandwallahs, and the roadside Dhaba.
1971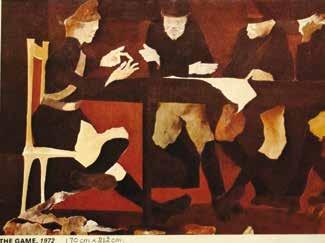 Begins to paint his The Game series based on political and military violence and atrocities committed while leading up to the Bangladesh war.
1972
Exhibits in 'One World through Art' organised by Ben and Abbey Grey Foundation, St. Paul, Minnesota, U.S.A.
1974
Meets Henri Cartier-Bresson and helps him with his series of photographs on Delhi.
1975
Exhibits in the third International Triennale, New Delhi. Completes a mural in graphite for ITC's Chola Sheraton in Madras, allegedly the largest work in graphite ever created. The mural has since been relocated to the group's headquarters in Gurugram.
1979
Is part of the 'Modern Asian Art' exhibition organised by Fukuoka Art Museum, Japan.
1980-84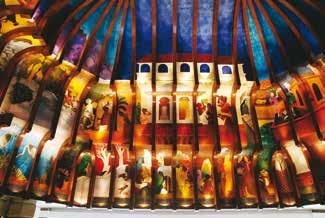 Paints his famous mural, The Great Procession, on the ceiling of ITC Maurya, New Delhi.
1982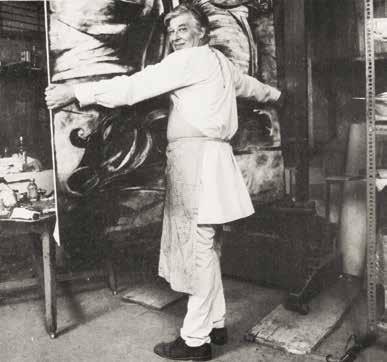 Is part of 'Modern Indian Painters' at Hirschhorn Museum, Washington D.C., and 'Myth and Reality' at Museum of Modern Art, Oxford, U.K.
1986
Receives the President's Award at Baghdad International Festival of Art in Iraq.
1987
Exhibits in the Coups de Coeur at Geneva, Switzerland.
1989
Wins gold medal at first International Biennale in Lahore, Pakistan. Receives the Sahitya Kala Parishad Award, New Delhi.
1990
Receives Padma Shri from the Government of India.
1991
Exhibits in the Fifth Biennale, Havana, Cuba.
1994
Exhibits as a special invitee at the second Indian Drawing Biennale.
1996
Is part of the inaugural exhibition of the National Gallery of Modern Art, Mumbai, titled 'The Moderns'.
1997
Receives Kala Ratna from All India Fine Arts and Crafts Society, New Delhi
1999
Solo show 'Mahabharat' at Gallery 7, Mumbai.
2001
Gayatri Sinha's Krishen Khanna: A Critical Biography is published.
2002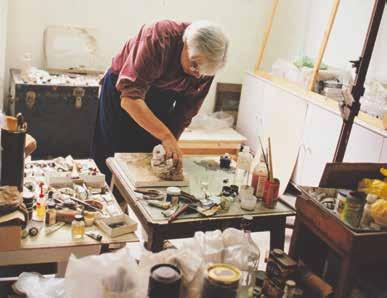 The artist releases his memoir, The Time of My Life: Memories, Anecdotes, Tall Talk.
2004
Received Lalit Kala Ratna from the President of India.
2005
Saffronart and Berkley Square Gallery organise an exhibition of the artist's work in London. The Embrace of Love by Gayatri Sinha is published by Mapin.
2007
Solo exhibition at Royal Academy of Arts, London, inaugurated by writer Vikram Seth. Krishen Khanna, Images in my Time and The Great Procession: A Mural by Krishen Khanna are published as part of the Contemporary Indian Artists Series by Mapin.
2008
The artist's solo, 'The Savage Heart', at Cymroza Art Gallery, Mumbai.
2010
'Krishen Khanna: A Retrospective' is organised by Saffronart at Lalit Kala Akademi, New Delhi.
2011
Receives Padma Bhushan from the Government of India.
2013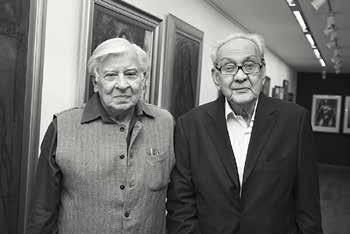 Raza Foundation publishes My Dear: Letters Between Sayed Haider Raza & Krishen Khanna, an intimate glimpse into their camaraderie as well as the art scene in the second half of the twentieth century.
2015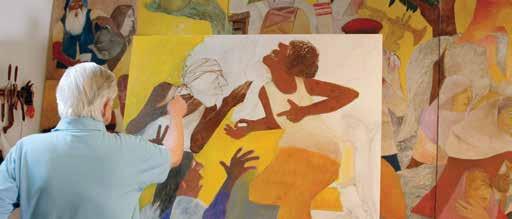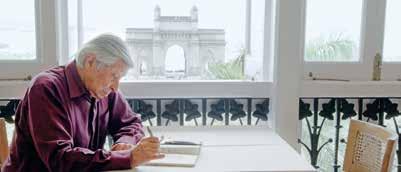 A film is made on Krishen Khanna's practice called A Far Afternoon, based on a painting with the same title. Produced by the Piramal Art Foundation, the film is screened in London, Mumbai, and New Delhi. The artist's solo 'When the Band Begins to Play...' opens at Grosvenor Gallery, London. His works are part of 'After Midnight: Indian Modernism to Contemporary India 1947/1997' organised by Queens Museum of Art, New York, U.S.A.
2017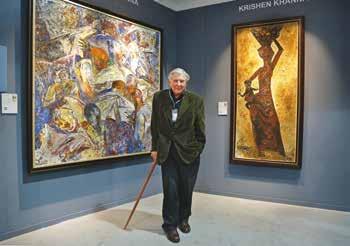 Newspaper Readers is exhibited at DAG's booth at India Art Fair, New Delhi
2018
Is part of 'The Progressive Revolution: Modern Art for a New India' organised by Asia Society and Museum, New York.
2020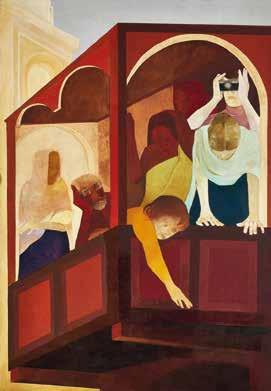 His Untitled (Road to Calvary) fetches a record of Rs. 2.4 crore at a Pundole's auction in Mumbai.
2021
'Krishen Khanna: Paintings from the Front Room' opens at Grosvenor Gallery, London.
The 'Manifestations' series of 20th Century Indian Art, Editions V, VIII, XI
DAG New Delhi and Mumbai, 2011-14
'Mumbai Modern: Progressive Artists' Group 1947-2013'
'Indian Divine: Gods & Goddesses in 19th and 20th Century Modern Art'
DAG, New Delhi and Mumbai, 2014
'Indian Portraits: The Face of a People'
DAG, New Delhi, 2013; Mumbai, 2014
'India Modern: Narratives from 20th Century Indian Art'
DAG, New York, New Delhi, Mumbai, 2015; Chandigarh, 2017
'India's Rockefeller Artists: An Indo-US Cultural Saga'
DAG, New York, 2017; Mumbai, 2018
'Navrasa: The Nine Emotions of Art'
DAG, Mumbai and New Delhi, 2020
'Ways of Seeing: Women Artists | Women as Muse'
'Iconic Masterpieces of Indian Modern Art'
National Gallery of Modern Art, New Delhi
Kiran Nadar Museum of Art, New Delhi
Jehangir Nicholson Art Foundation, Mumbai
Piramal Art Foundation, Mumbai
Tata Institute of Fundamental Research Art Collection, Mumbai
Roopankar Museum of Fine Arts, Bharat Bhavan, Bhopal
CITI India Corporate Collection
Glenbarra Art Museum, Himeji