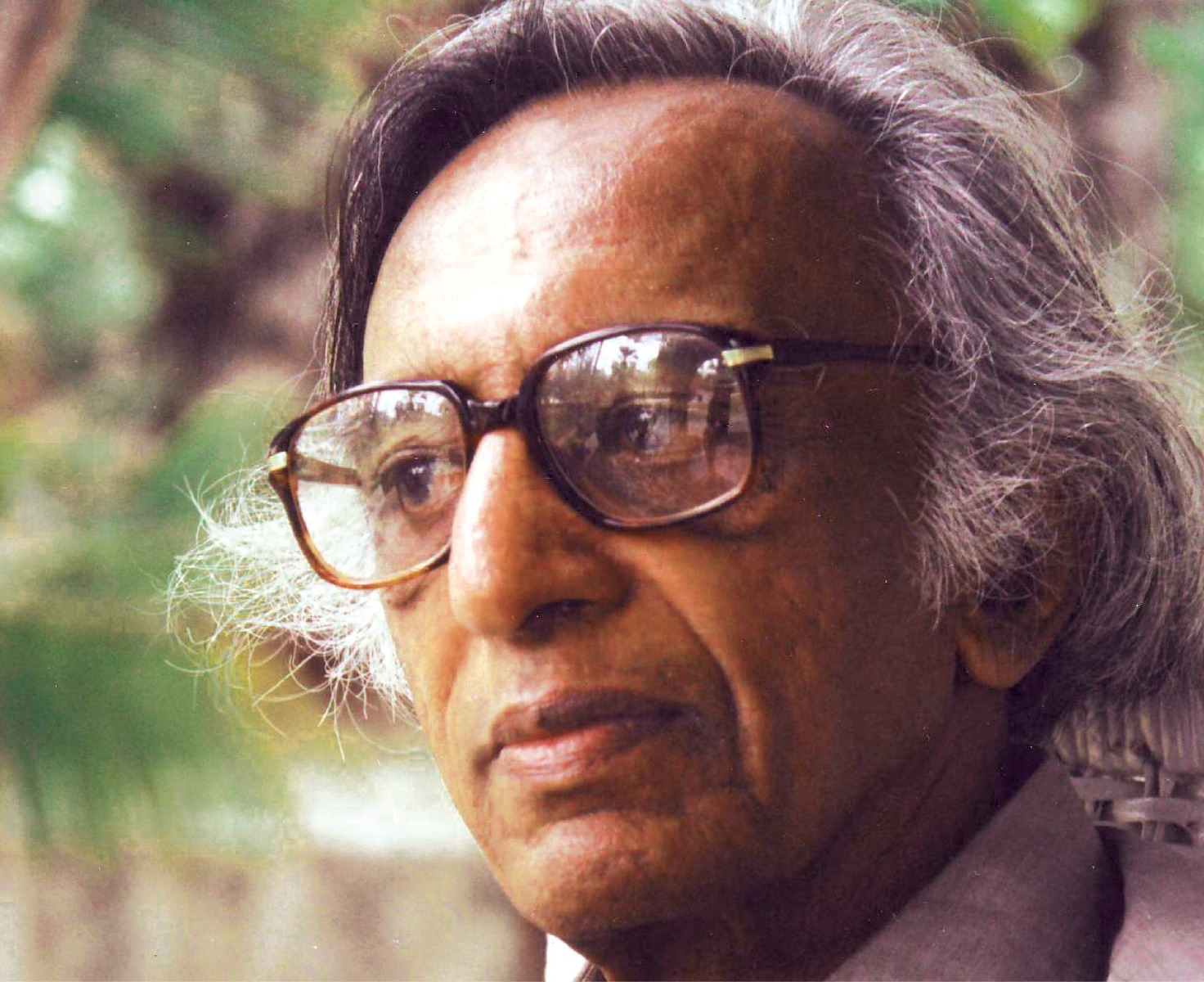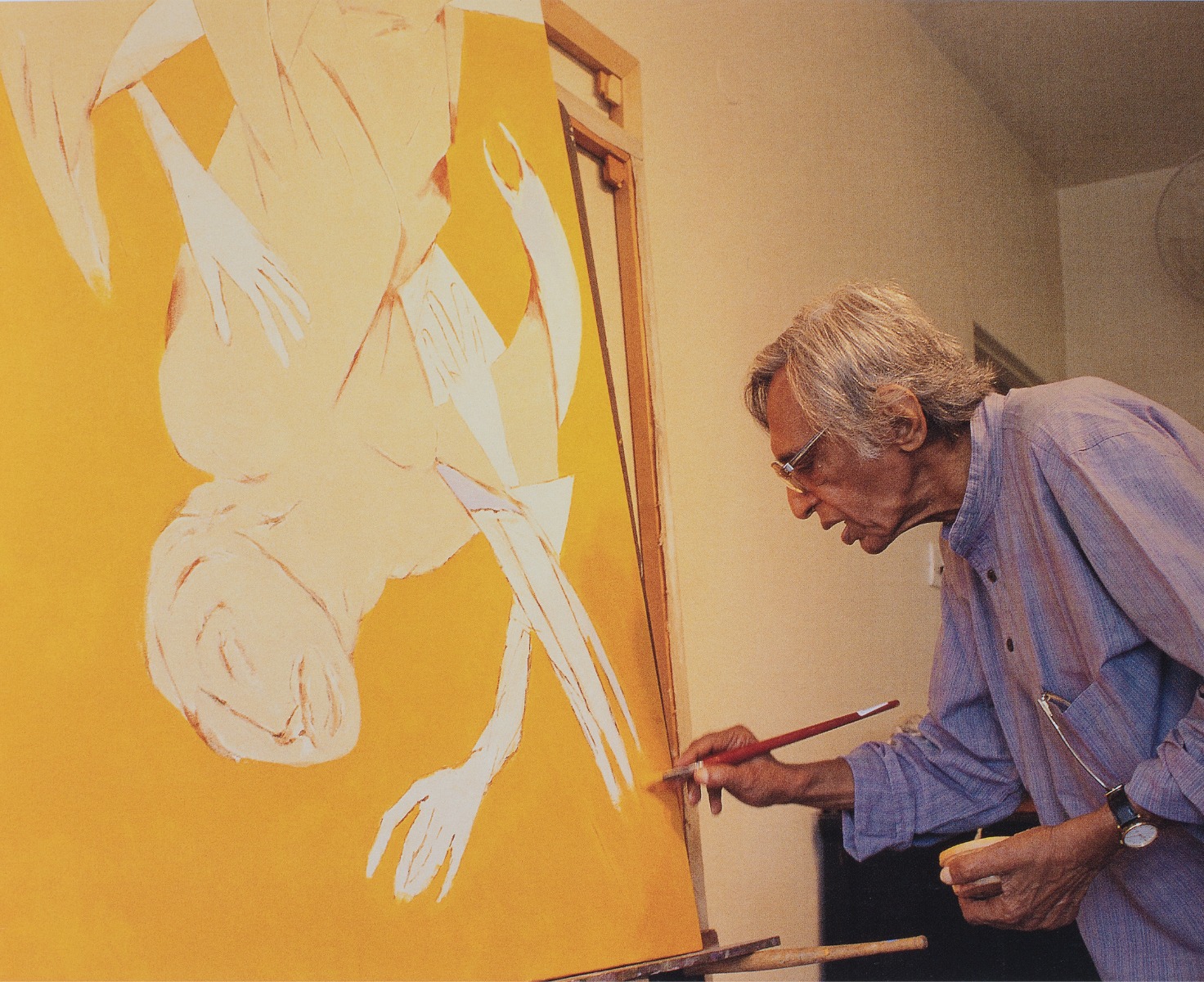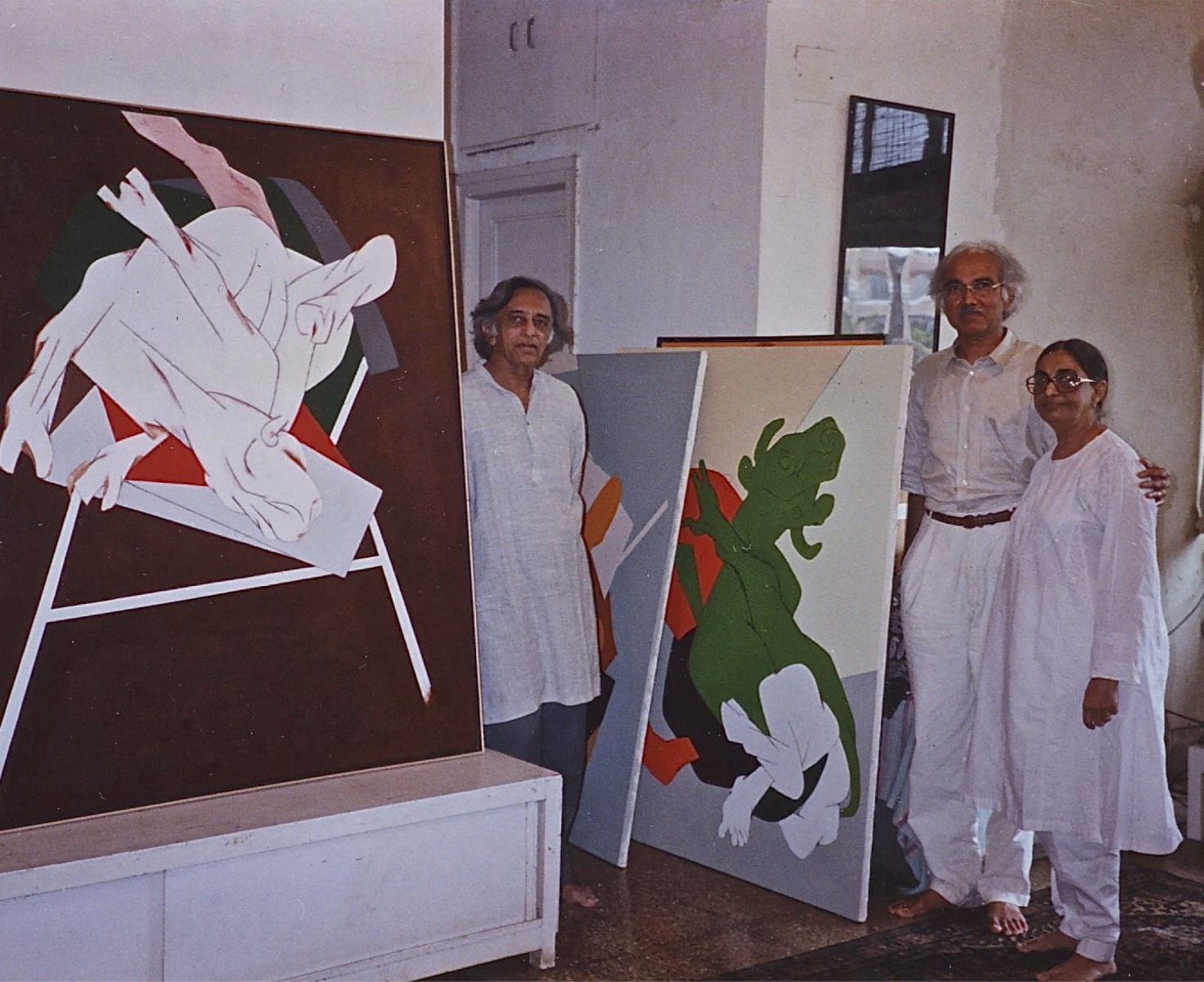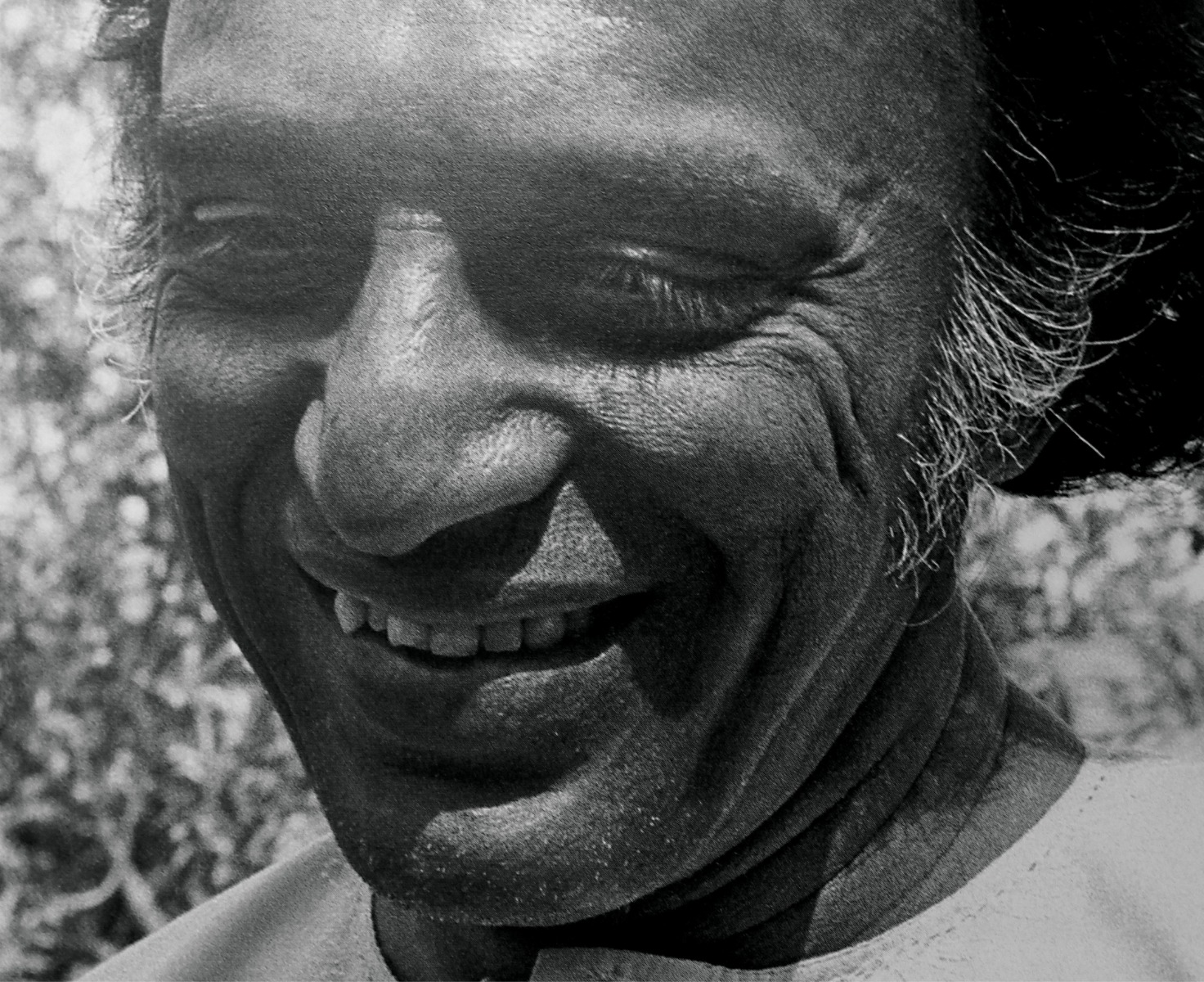 It is ironical that works by Tyeb Mehta, who did not attach much merit to the financial value of art, were the first ones to sell for more than Rs 1 crore by a living Indian artist, and, soon, for more than a million dollars, indicating a beginning of interest in Indian art in the international market.
His works Celebration, Kali and Mahishasura marked the beginning of the boom in the Indian art market at the start of this century.
Born in Kapadvanj in Gujarat in 1925 and brought up in Bombay, Mehta graduated from Sir J. J. School of Art in 1952, by when he was already an associate of the Progressive Artists' Group founded in 1947. The riots ensuing Partition the same year affected the young artist, appearing in his later works such as Falling Figures. The anguish of the disenfranchised, and the reinterpretation of mythological figures, were his frequent tropes. Referred to sometimes as the Francis Bacon of India, Mehta's use of primary colours and bold outlines resulted in a language in which opposing forces are represented figuratively, without moral judgement, but symbolic of horror and violence.
Mehta mostly lived in Mumbai except for short stints in London, New York (on a John D. Rockefeller III Fund fellowship), Santiniketan (as artist-in-residence), and New Delhi, each of which brought a significant shift in his art style. Rather less known is his film career—he worked as a film editor in the initial years, and his 1970 short film Koodal won the Filmfare critics award. 
Honoured by the Kalidas Samman in 1988, the Dayawati Modi Foundation award in 2005, and the Padma Bhushan in 2007, Mehta passed away on 2 July 2009 in Mumbai.
'Sentimentalism has no place in Mehta's work. If I were asked to describe his works in one word, I would say that they have dignity'
EBRAHIM ALKAZI
artist timeline
1925
Born on July 26 in Kapadvanj, Gujarat. Grows up in the Crawford Market neighbourhood of Bombay.
1947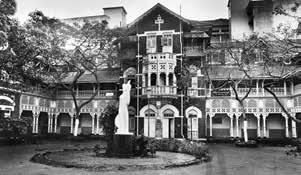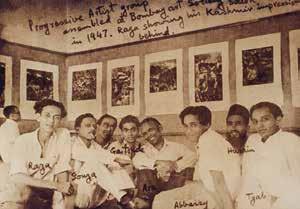 With encouragement from noted art director A. A. Majid, Mehta joins a course in painting at Sir J. J. School of Art, Bombay. Through S. H. Raza, he meets the artists of the Progressive Artists' Group. He becomes an associate member of the group.
1950
Receives an award from the Bombay Art Society.
1951
Marries Sakina Kagalwala, his first cousin.
1952
Receives his diploma in painting from Sir J. J. School of Art.
1953-54
Looks after the family business from Poona.
1954
Goes to Paris and London for four months to study the works of classical and modern masters. Irish-born British artist Francis Bacon becomes a major influence in Mehta's work—the notable overlaps being themes of human angst and anguish represented with grotesque imagery.
1956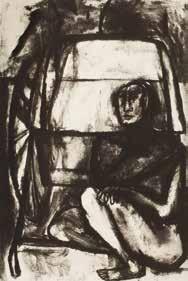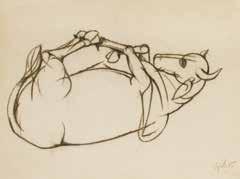 Known already for his significant series, Rickshaw Pullers, inspired by images from his childhood summers spent visiting his maternal grandmother in Calcutta, Mehta executes his major work, Trussed Bull, drawing from memories of having seen the slaughter of the animal. This becomes a theme that he returns to time and again.
1957
Joins the Faculty of Fine Arts at M. S. University, Baroda. After this brief interlude, he returns soon to Bombay, painting and working in wood and plaster of paris. The Shilalekh Group is established in Bombay by M. F. Husain, Ram Kumar, Tyeb Mehta and V. S. Gaitonde.
1959
Tyeb Mehta's first solo exhibition at Bal Chhabda's newly opened Gallery 59 is inaugurated by Ebrahim Alkazi. The sales from the exhibition enable him to finance a second trip to London, accompanied by his family.
1961-64
Lives and works in London and has exhibitions at Gallery One (with Paritosh Sen), and Bear Lane Gallery, Oxford.
1965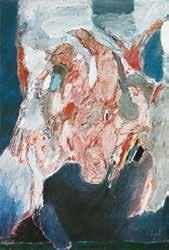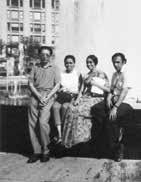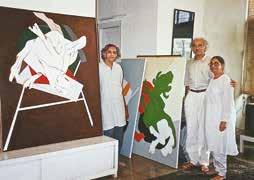 Moves to New Delhi, where he renews contact with Krishen Khanna, Ram Kumar, A. Ramachandran, E. Alkazi, among others. In the same year, he paints his first Falling Figure, exhibited at Lalit Kala Akademi first International Triennale in 1968. He is awarded a gold medal for it. Is awarded the John D. Rockefeller III Fund grant to study and work in the U.S.A. for a year. His time there overlaps with Adi Davierwalla, and he also becomes friends with Natvar Bhavsar. He travels there via Europe, showing his works at London's Commonwealth Art Gallery. His encounter with minimalism during this time is a revelation.
1969
Begins the Diagonal series after accidentally coming upon it when, in a moment of creative frustration, he flings a streak of paint across his canvas. He starts using it in his compositions to better organise large planes of colour.
1970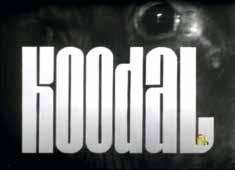 Trained as a film editor, Tyeb Mehta makes an experimental, sixteenminute film, Koodal, which he shoots at the Bandra slaughterhouse. It wins him the Filmfare Critics Award for the year.
1974
Visits Paris with sponsorship from the Indian Council for Cultural Relations, and exhibits six of his works at Cagnes-Sur-Mer and Menton Biennale, and wins a merit certificate. Mehta's father passes away, and he moves to Bombay to be with his mother while Sakina continues to live in New Delhi with their children.
1978-79
Makes his move to Bombay permanent, and soon after he suffers from a severe bout of jaundice.
1983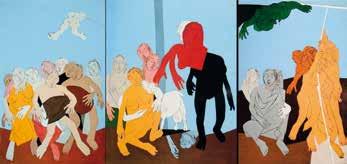 After a heart-attack, Tyeb Mehta spends two years at Santiniketan as artist-in-residence, where he comes to greatly admire the works of Somnath Hore. He strongly feels the presence of Kali, the figure of which appears on his canvases later. Mehta also paints his well-known Santiniketan triptych.
1985
'Contemporary Indian Painters', Festival of India in the U.S.A., at Grey Art Gallery, New York, comprises seventy-five works from the Chester Herwitz Family Collection. The chosen artists include Tyeb Mehta, M. F. Husain, Bikash Bhattacharjee, S. H. Raza, Vinod Dave, Gieve Patel, and Ranbir Kaleka.
1988
Is awarded the Kalidas Samman at Bharat Bhavan, Bhopal.
1991
Undergoes a heart bypass surgery in New Delhi.
1994
Participates in 'Seven Indian Painters', an exhibition at Gallery Le Monde de l'Art in Paris. The show is curated by fellow artist S. H. Raza.
1995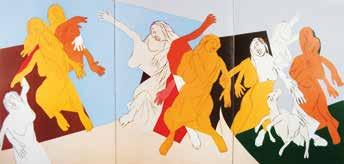 Times Bank in Bombay commissions Mehta to paint his triptych, Celebration, which in 2002 sells for Rs 1.5 crore ($317,500) at a Christie's auction.
1997
Participates in 'Fifty Years of Art in Bombay 1947-1997', National Gallery of Modern Art, Bombay.
1998
Participates in the group show 'Tryst with Destiny: Art from Modern India' at Singapore Art Museum.
1999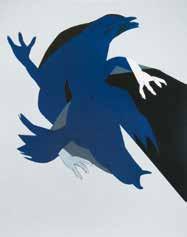 Makes his first Falling Bird painting.
2000
Participates in 'A Global View: Indian Artists at Home in the World', a group show curated by Bernhard Steinbrucke for the Fine Arts Resource in Bombay and Berlin. The exhibition is held at Jehangir Art Gallery in Mumbai.
2004
Receives the gold medal at Lalit Kala Akademi's golden jubilee celebration in New Delhi. Receives a 'Manpatra' from the state government, Maharashtra.
2005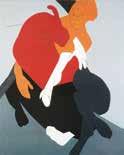 Receives the prestigious Dayawati Modi Foundation Award for Art, Culture and Education in New Delhi. 1969 1970 1983 Mahishasura, 1997, sells at Christie's New York for $1,580,000, becoming the highest amount ever paid for a work of Indian contemporary art till then.
2007
Receives the Padma Bhushan award from the Government of India.
2009
Passes away on July 2 at the age of eighty-four.
2018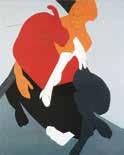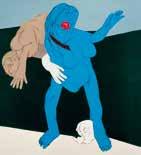 In the first ever auction of Sotheby's India, Durga Mahisasura Mardini 1994 fetches Rs. 20 crore; the same year, Kali, 1989 is sold at Rs 26.4 crore at Saffronart, setting a new world record for the artist.
The 'Manifestations' series of 20th Century Indian Art, Editions VI, VIII, IX
'Mumbai Modern: Progressive Artists' Group 1947 – 2013'
'India's Rockefeller Artists: An Indo-US Cultural Saga'
DAG, New York, 2017; Mumbai, 2018
'Navrasa: The Nine Emotions of Art'
DAG, New Delhi and Mumbai, 2020
Jehangir Nicholson Art Foundation, CSMVS, Mumbai
Kiran Nadar Museum of Art, New Delhi
National Gallery of Modern Art, New Delhi
Times of India, Sunday Review