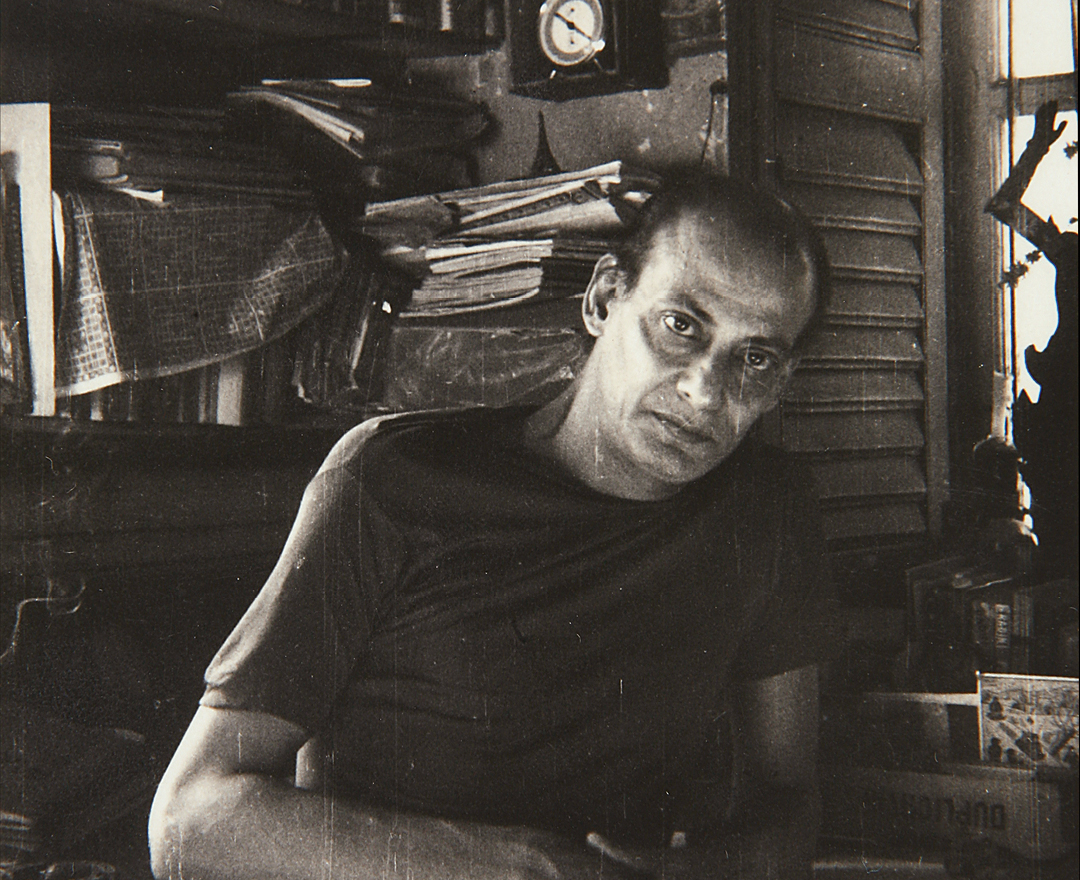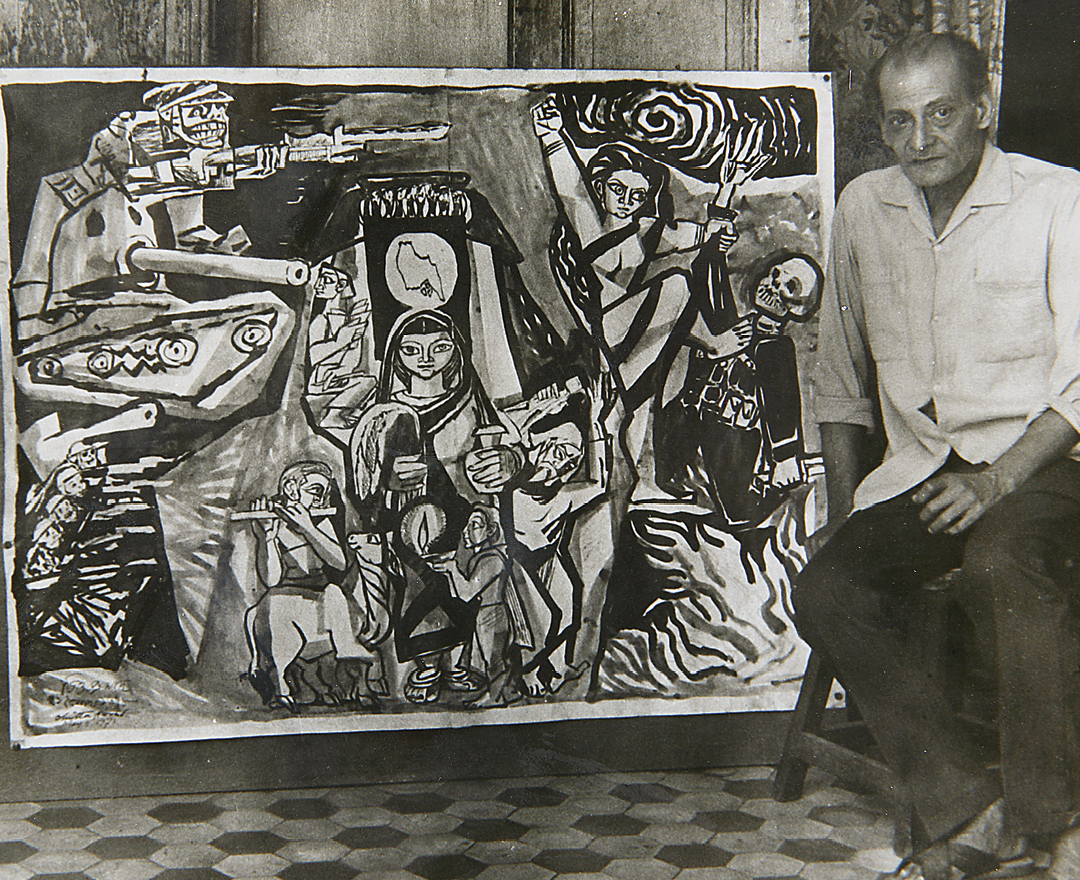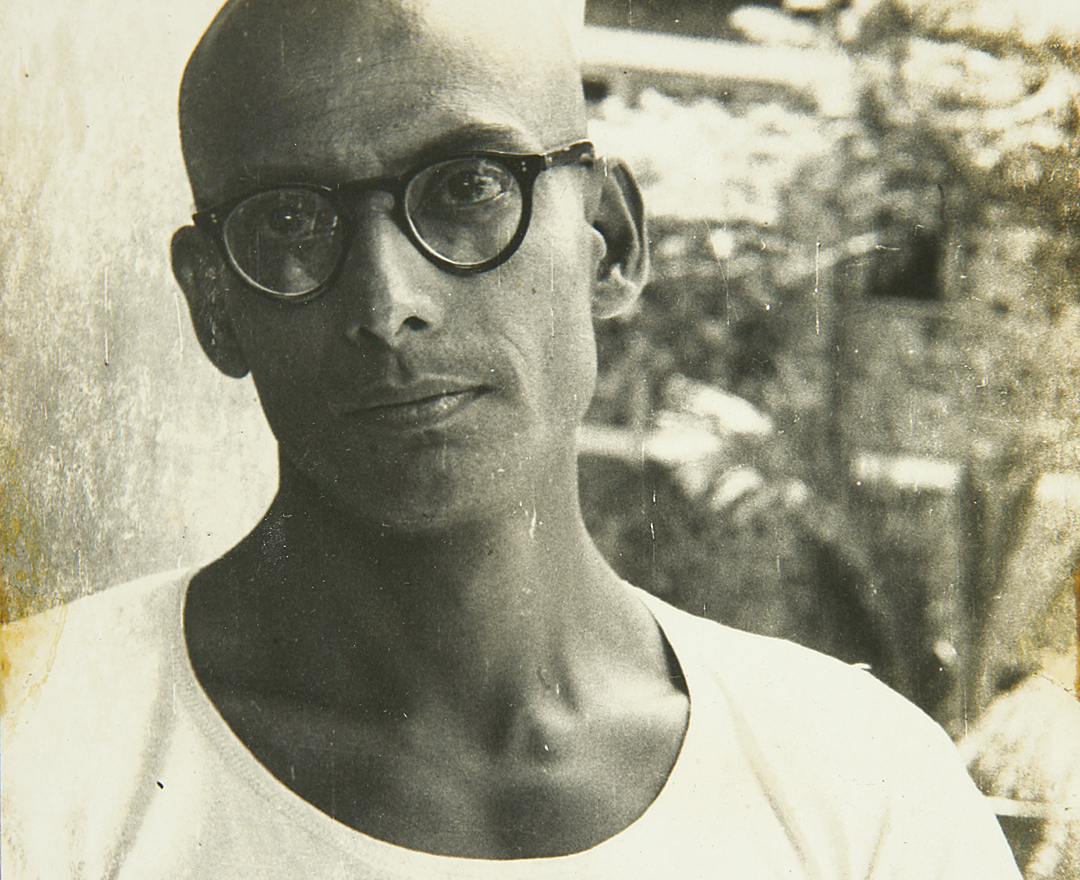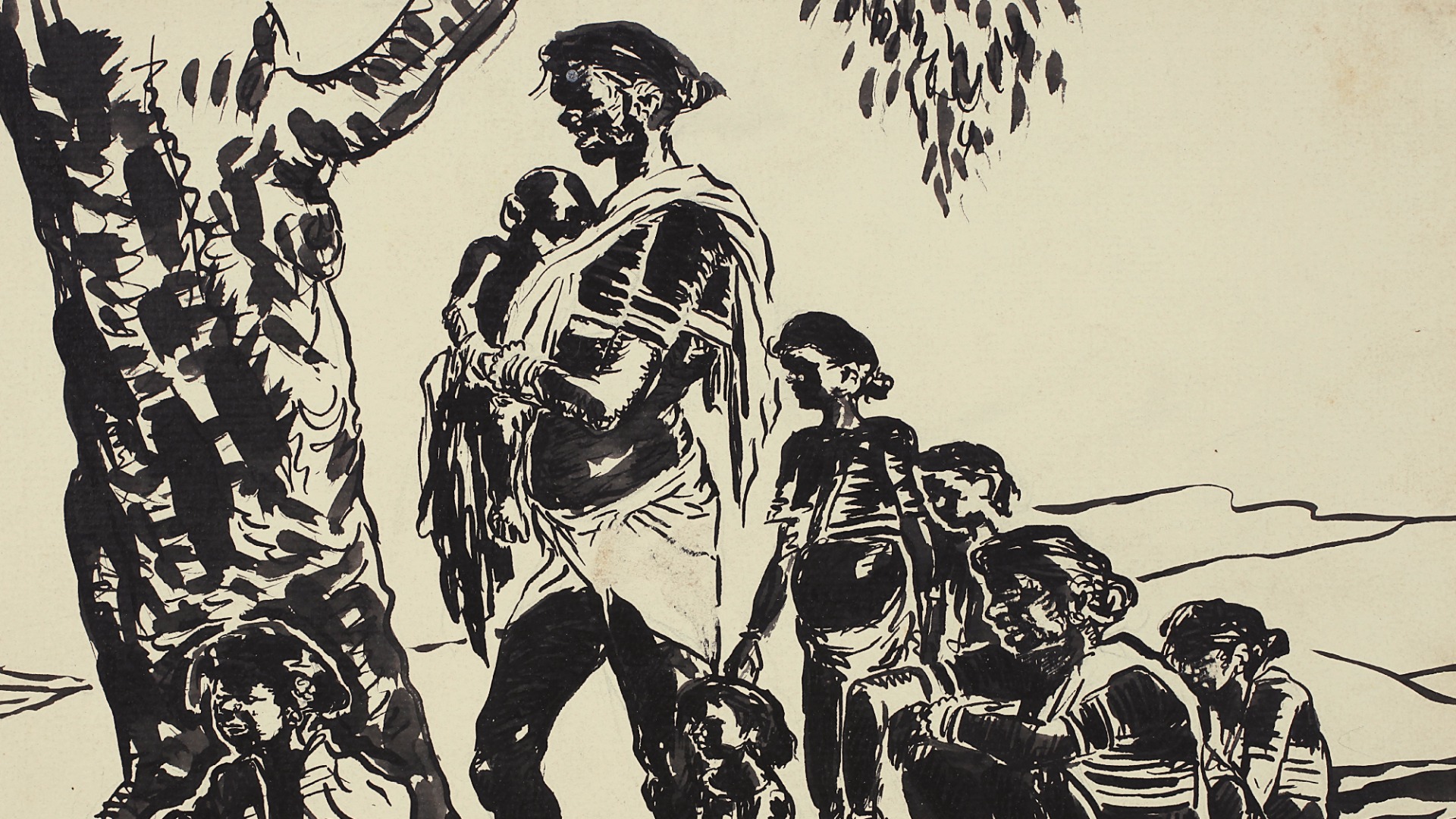 A self-taught artist, poet, storyteller, and an active member of the Communist Party of India, Chittaprosad was born on 21 June 1915.
Chittaprosad drew inspiration from village sculptors, artisans and puppeteers. The devastating Bengal famine of 1943-44 resulted in his brutally honest depiction of human suffering in stark drawings and sketches made in pen and ink. These drawings and reports were published in People's War, and culminated in Hungry Bengal, a shocking eyewitness report on the man-made tragedy, copies of which were seized and destroyed by the British.
Powerful and emotive, his art of caricature emerged as a statement in favour of the oppressed masses, and as a forceful denunciation of the tyranny of the ruling class and indictment of the prevailing conditions. Underlying the biting humour was a compassionate humanism and his images were essentially an appeal on behalf of the marginalised.
Apart from his body of works representing human suffering, Chittaprosad did several landscapes and cityscapes, portraits, female figures, nudes, still-lifes, and illustrations for books, while based in Bombay in the later years of his life. A defining moment was his meeting with Frantisek Salaba, a Czech puppeteer who lived briefly in Bombay. This association led to the making of a film on Chittaprosad's life, titled Confession, by Pavel Hoble in 1972. It won a special prize from the World Peace Council. Chittaprosad relocated to Calcutta in the last years of his life where he passed away on 13 November 1978.
'In India an artist cannot long remain without expressing his moral and political views, without searching for a way to create a tradition which will make art the popular language of this country'
CHITTAPROSAD
artist timeline
1915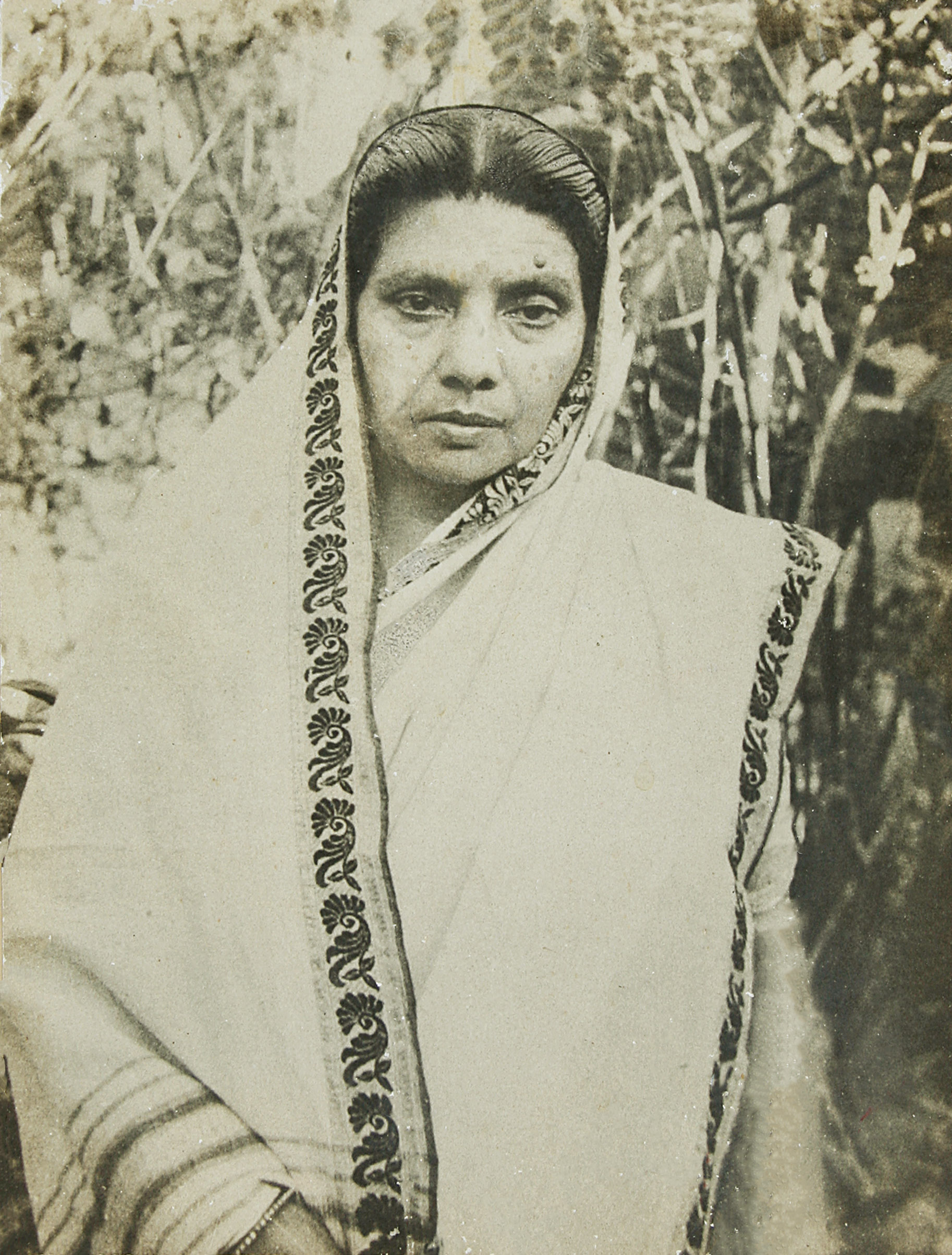 Born on 21 June at Naihati, in present-day North 24 Parganas district, West Bengal, as the elder son of Charuchandra Bhattacharya, a government officer, and Indumati Devi, a homemaker.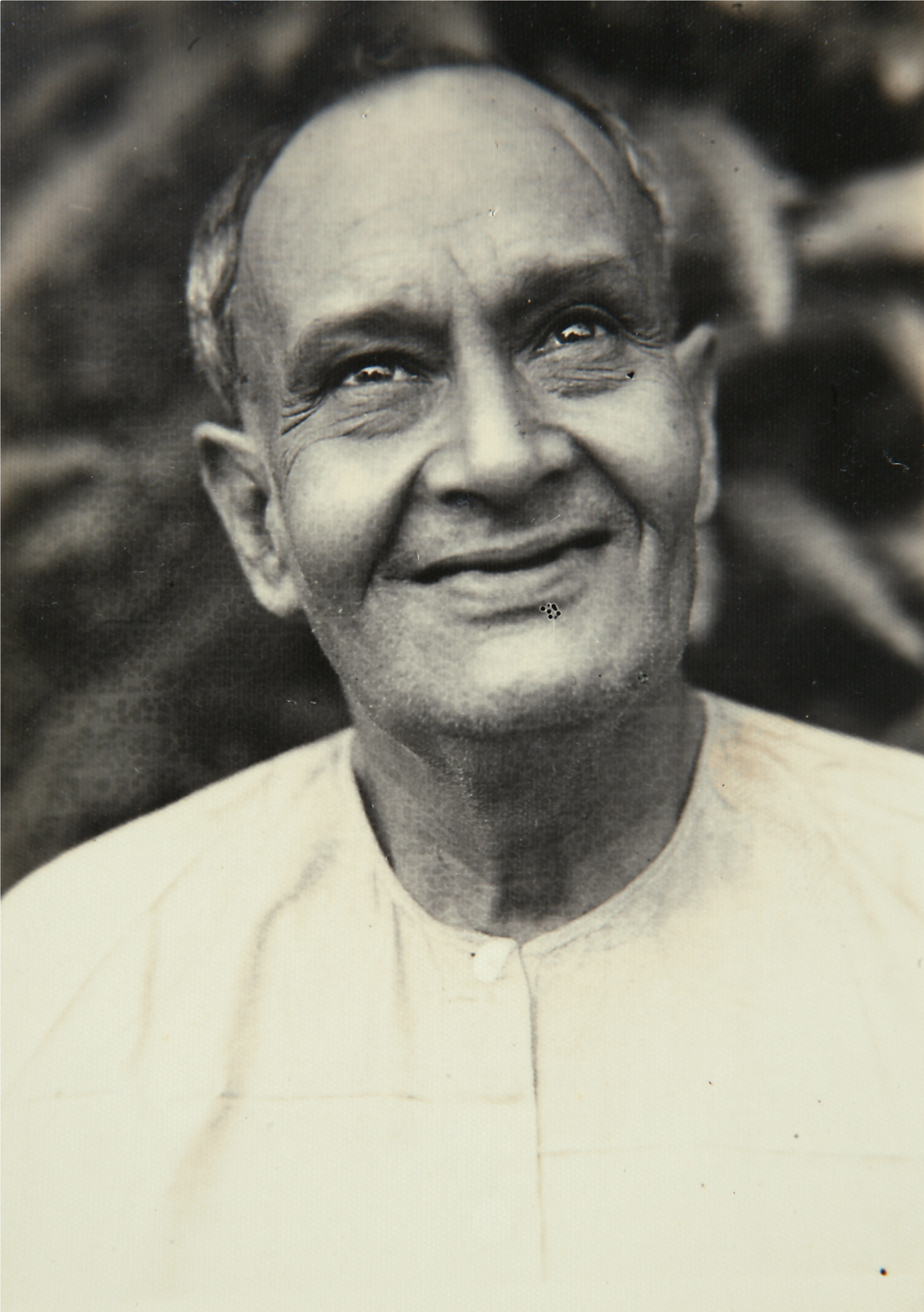 As his father has a transferable job, Chittaprosad grows up in Chattagram (Chittagong in present-day Bangladesh), attending the municipal school.
1932-36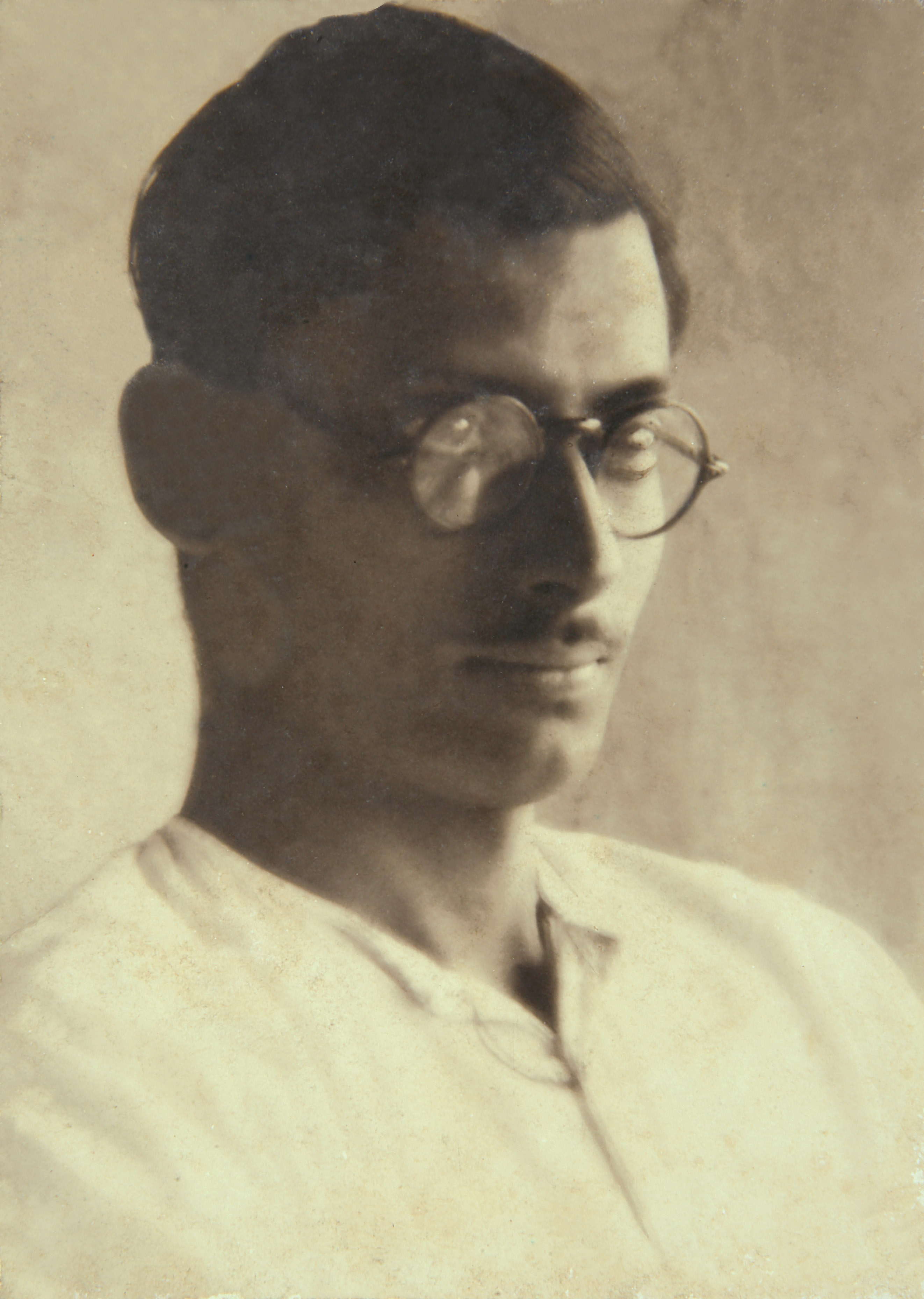 Studies at Chittagong Government College for a degree course in humanities. Develops into a self-taught artist with no academic or formal training in art from an institution or individual.
1934-39
Gets involved in the national movement during his college years.
1935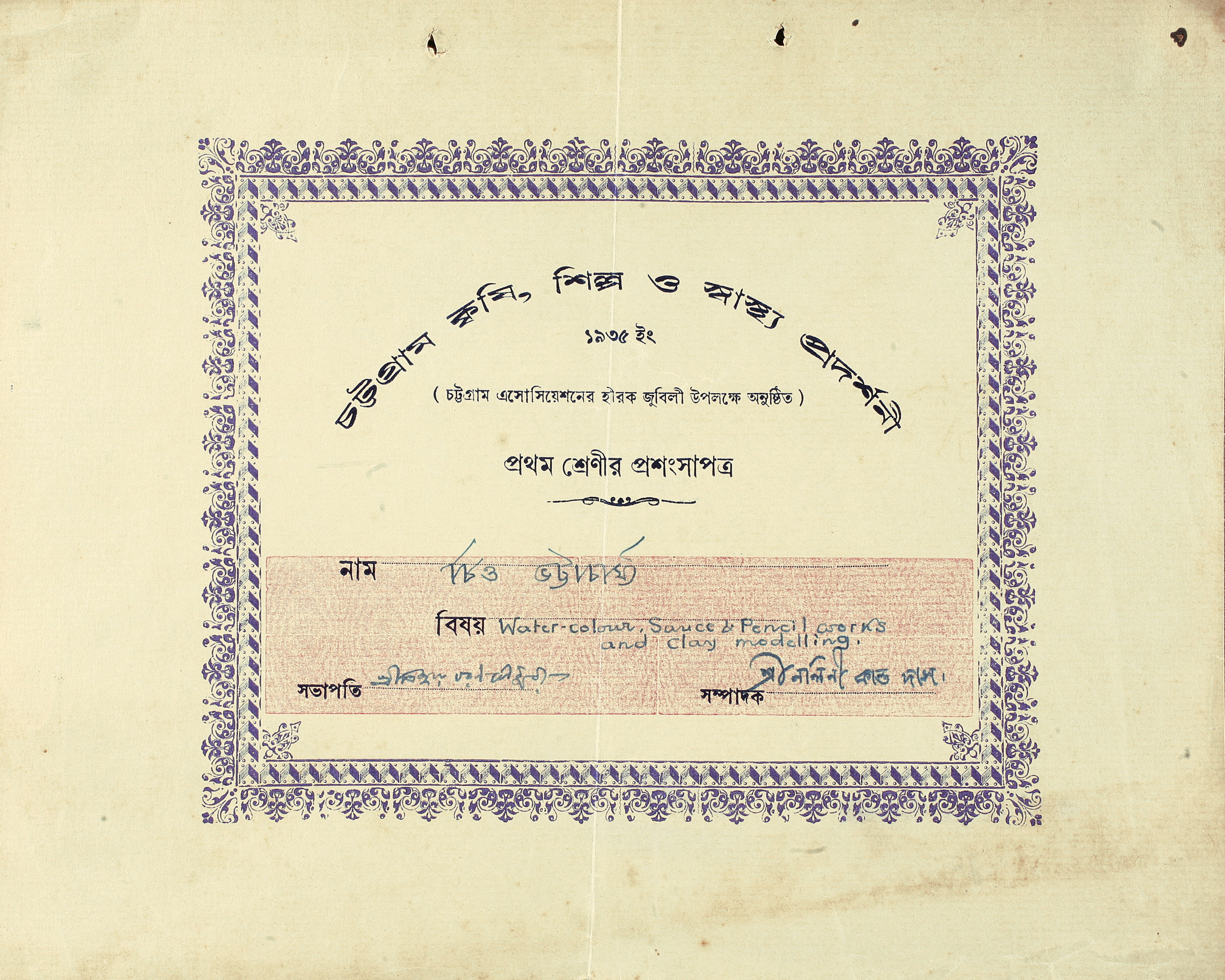 Is awarded a first-class certificate in arts by the Chattagram Krishi Shilpa and Swasthya Pradarshani, commemorating the silver jubilee of the Chattagram Association.
1937-38
Comes in contact with the rising Communist movement while at college.
1940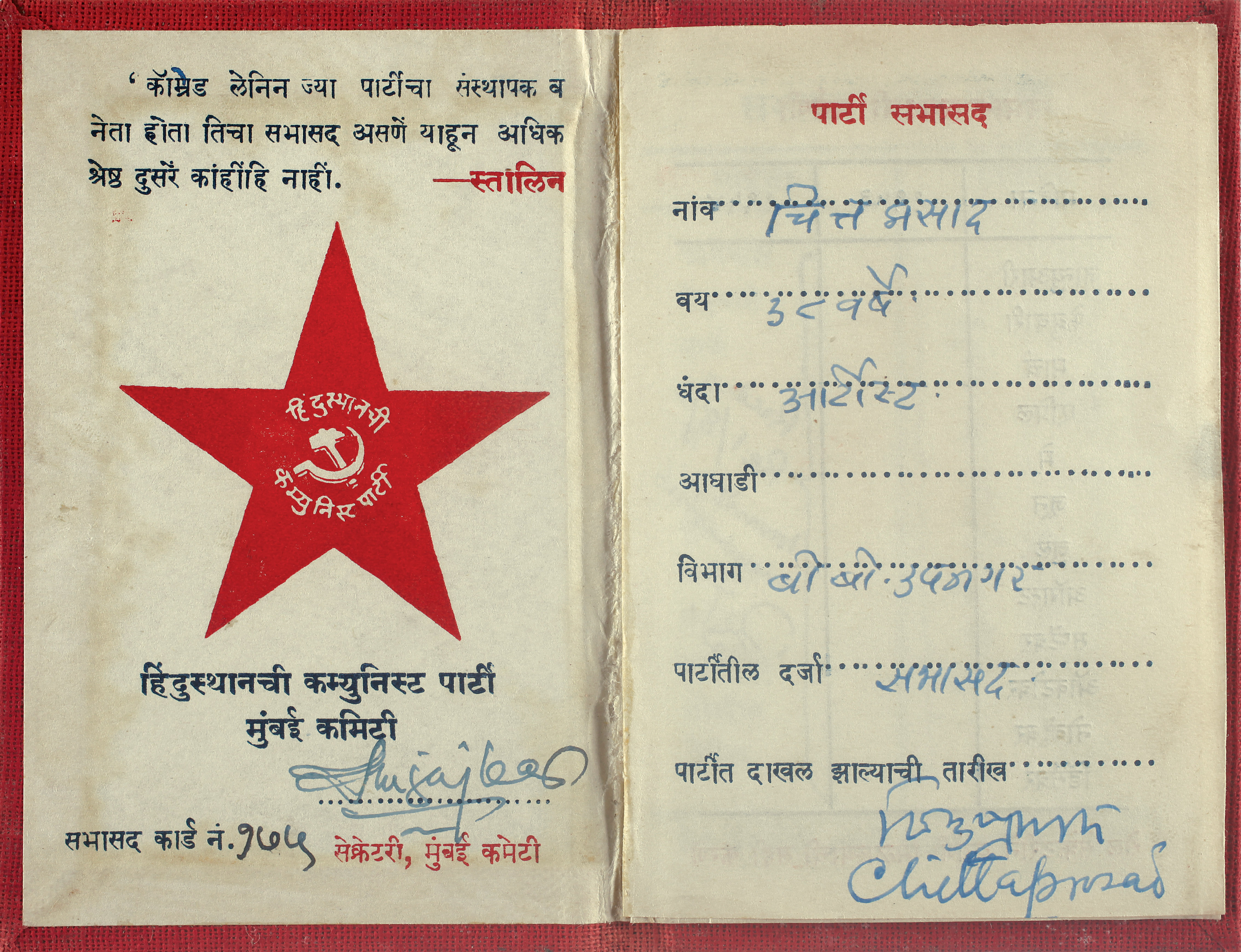 Becomes an active member of the Communist Party of India (C. P. I.) upon introduction by the secretary, P. C. Joshi, who admires his artistic proclivities; he starts working as an artist for the Party press.
1941
Participates actively in the Communist movement against the British 'scorched earth policy' in Chittagong to resist Japanese invasion. This brings him face to face with the rural community, and initiates his active engagement with posters and drawings for the Communist Party. C. P. I. first brings him to Calcutta and then shifts him to the party headquarters in Bombay, where Chittaprosad participates in activities organised by I. P. T. A. (Indian People's Theatre Association), designing costumes for the ballet India Immortal (1945, Bombay) and the play Nabanna (1944, Calcutta).
1943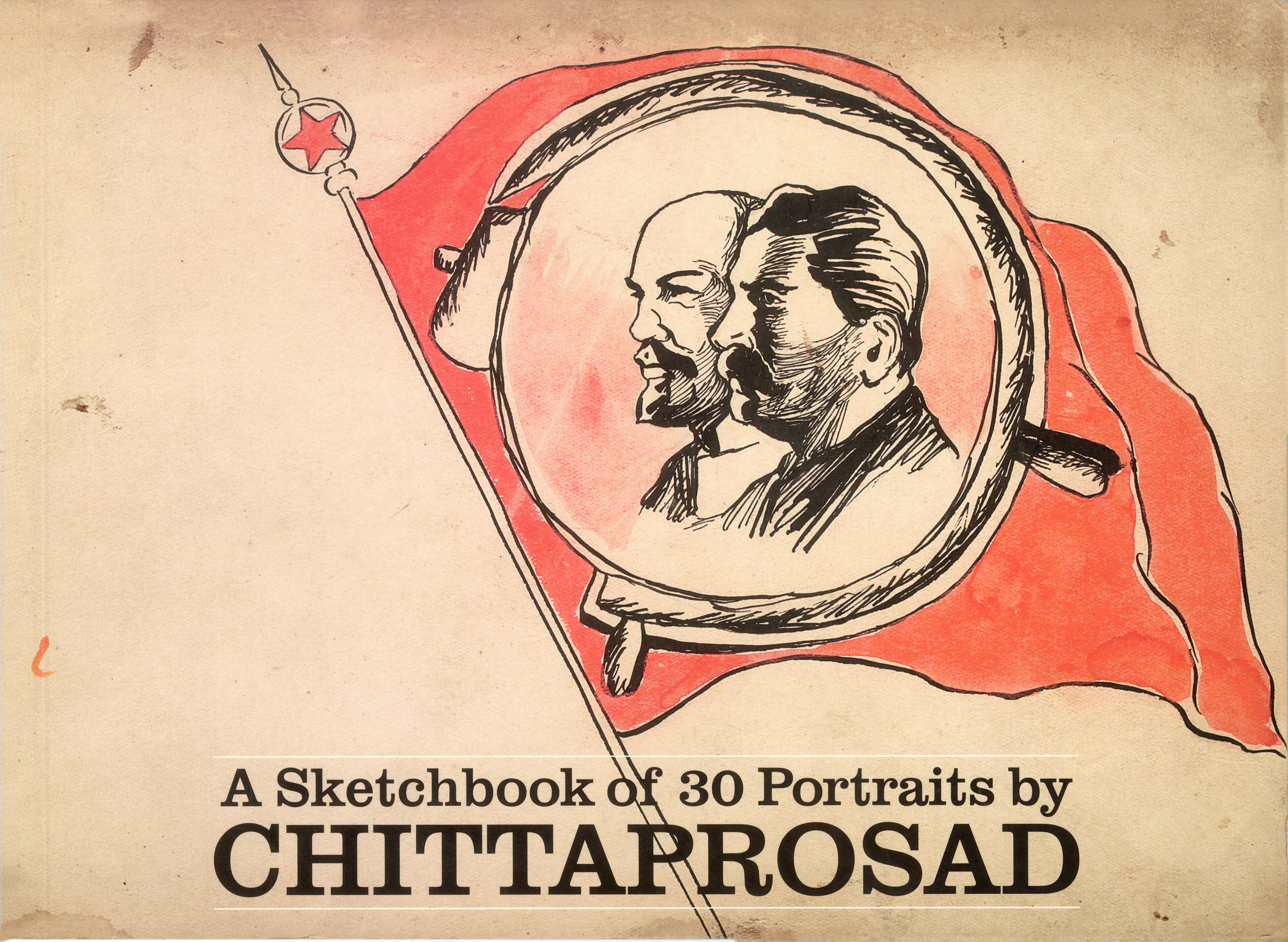 As part of All-India Students' Federation, he makes drawings for its journal, The Student. And as part of the Communist Student Faction, does a sketchbook consisting of portraits of all the Communist leaders, on Lenin Day.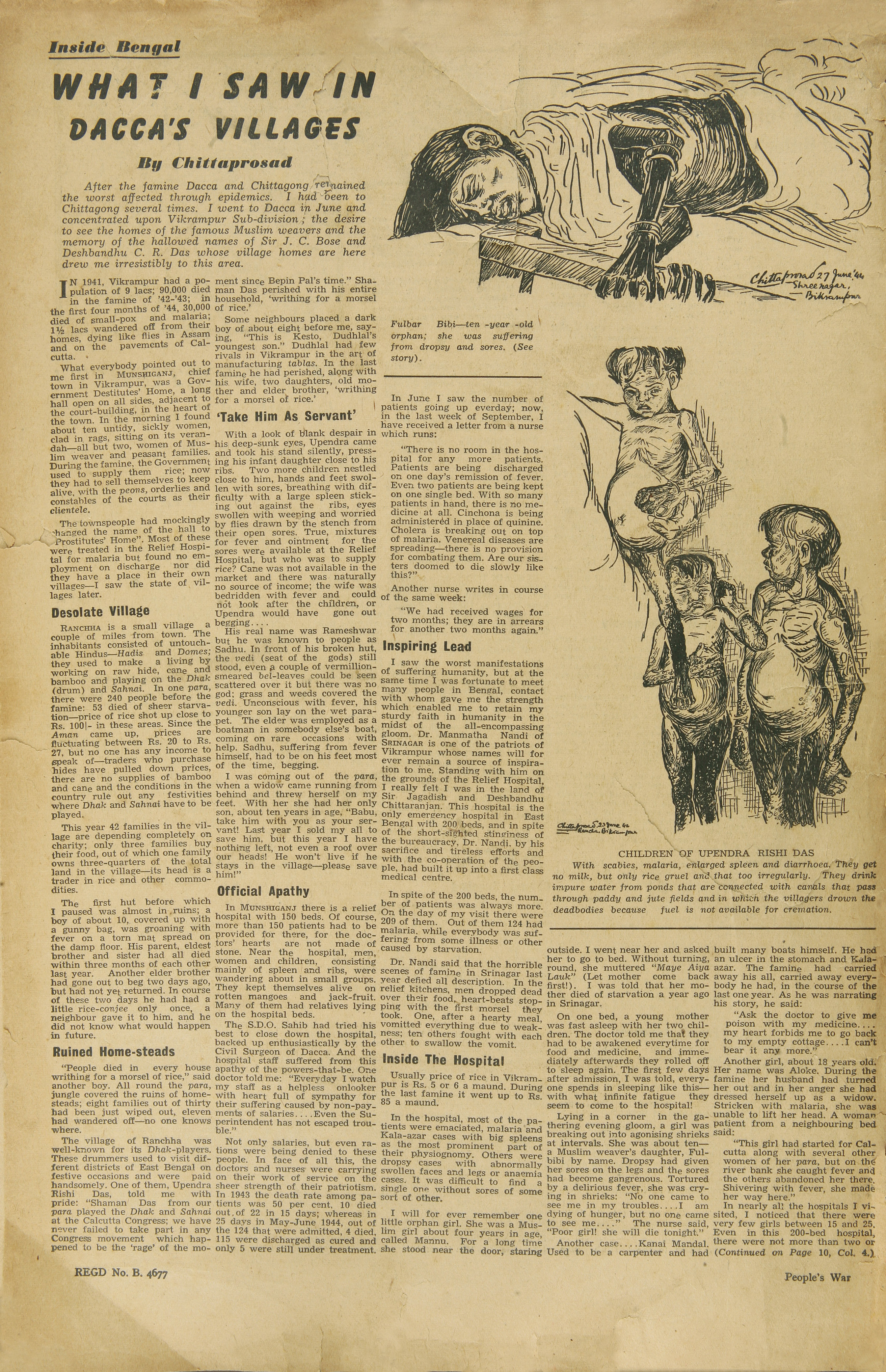 Does powerful, sensitive, black-and-white drawings on the Bengal famine which are published in Communist Party journals like People's War (later renamed People's Age) and Janayudha. Twenty-two of his sketches and reports from visits to famine-stricken areas, particularly Midnapore, are published by the People's Publishing House, Bombay, in the form of a booklet titled Hungry Bengal—A Tour Through Midnapur District in November 1943; it is printed by Sharaf Athar Ali of New Age Printing Press, Khetawadi, Bombay.
The British ban the book as soon as it is published and burn nearly all its copies; only one survives, which Chittaprosad had sent to his mother from Bombay. It is now in the collection of DAG. His sister Gouri Chatterjee would recount afterwards, 'A few days later, a parcel reached my mother from Bombay. She showed it to my father, to us all—it was my elder brother's book! It was a month-long eye-witness description through words and images, Hungry Bengal. Perhaps that single copy sent to my mother survives as the sole evidence of the awful terror of the times…'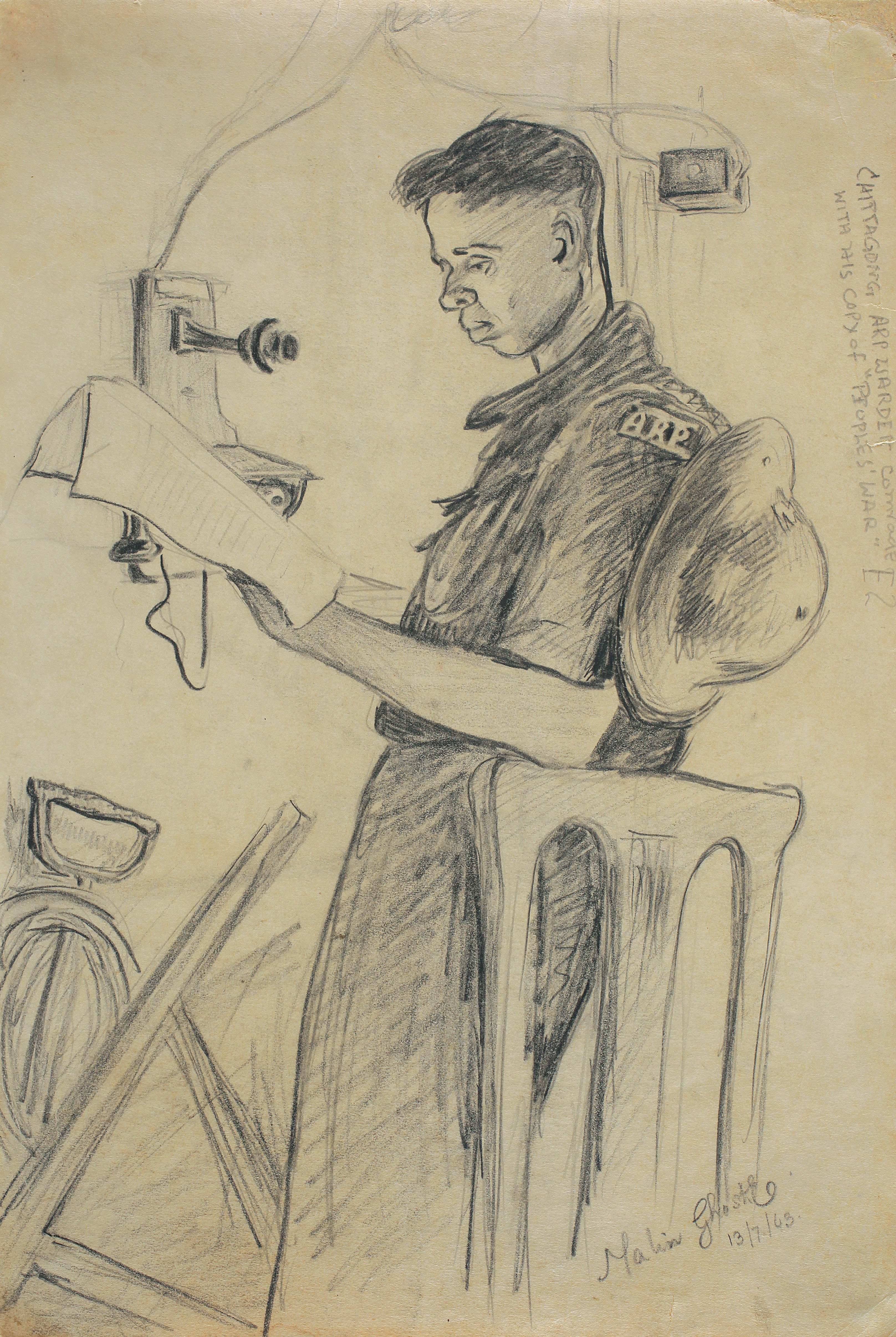 Alongside, he also continues to make images that are neither famine drawings nor posters or caricatures. These give a glimpse of the artist's career prior to his evolved stylistic characteristics of his famine drawings.
1944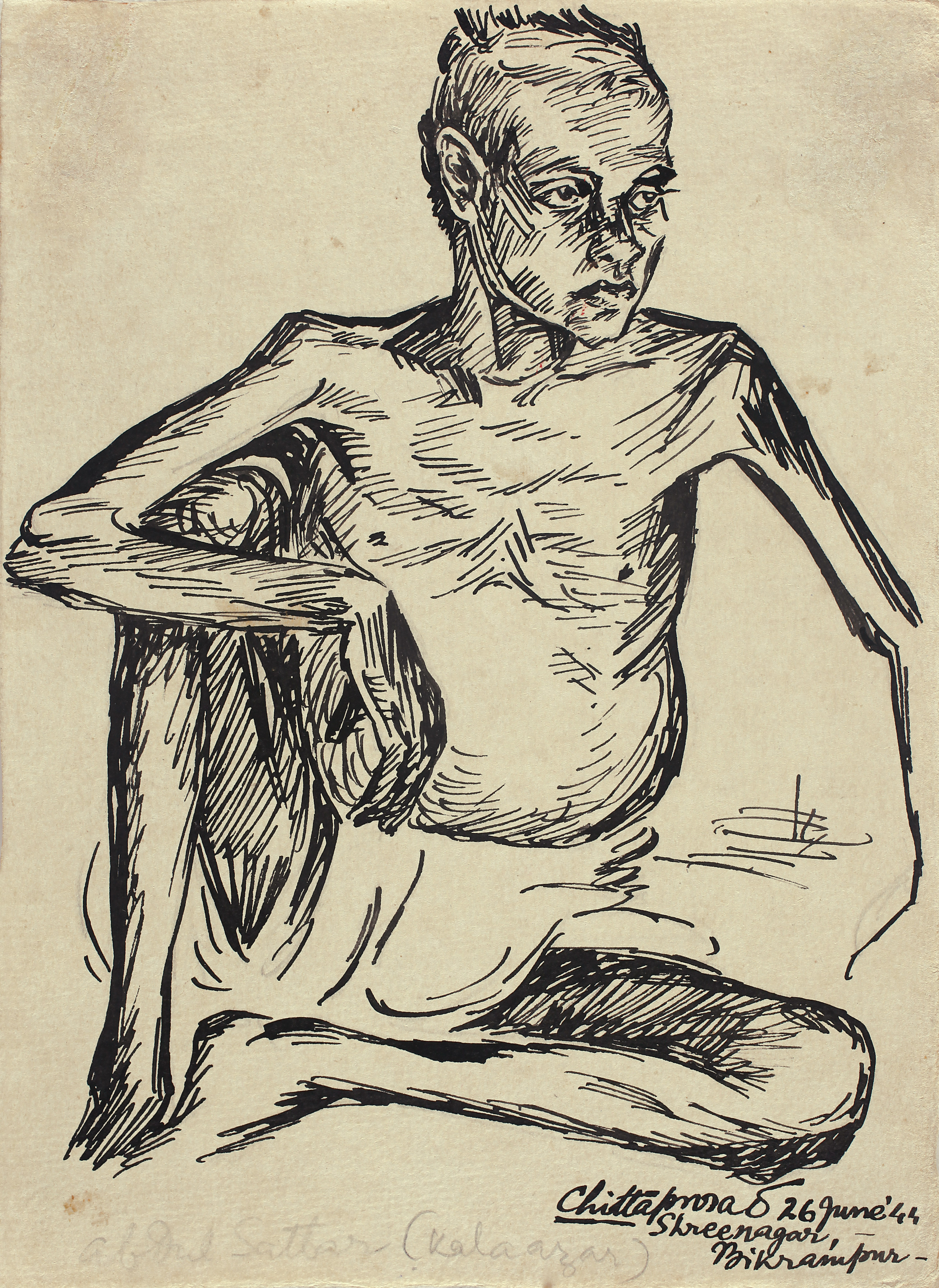 Follows up his Midnapore sketches with further pictorial records in Bikrampur, Cox's Bazar, Munshiganj and Chittagong regions between June and August. The example above is from Bikrampur, dated 26 June 1944, featuring a famine victim called Abdul Sattar, showing the documentation as well as dignity the artist reserved for the victims of the famine.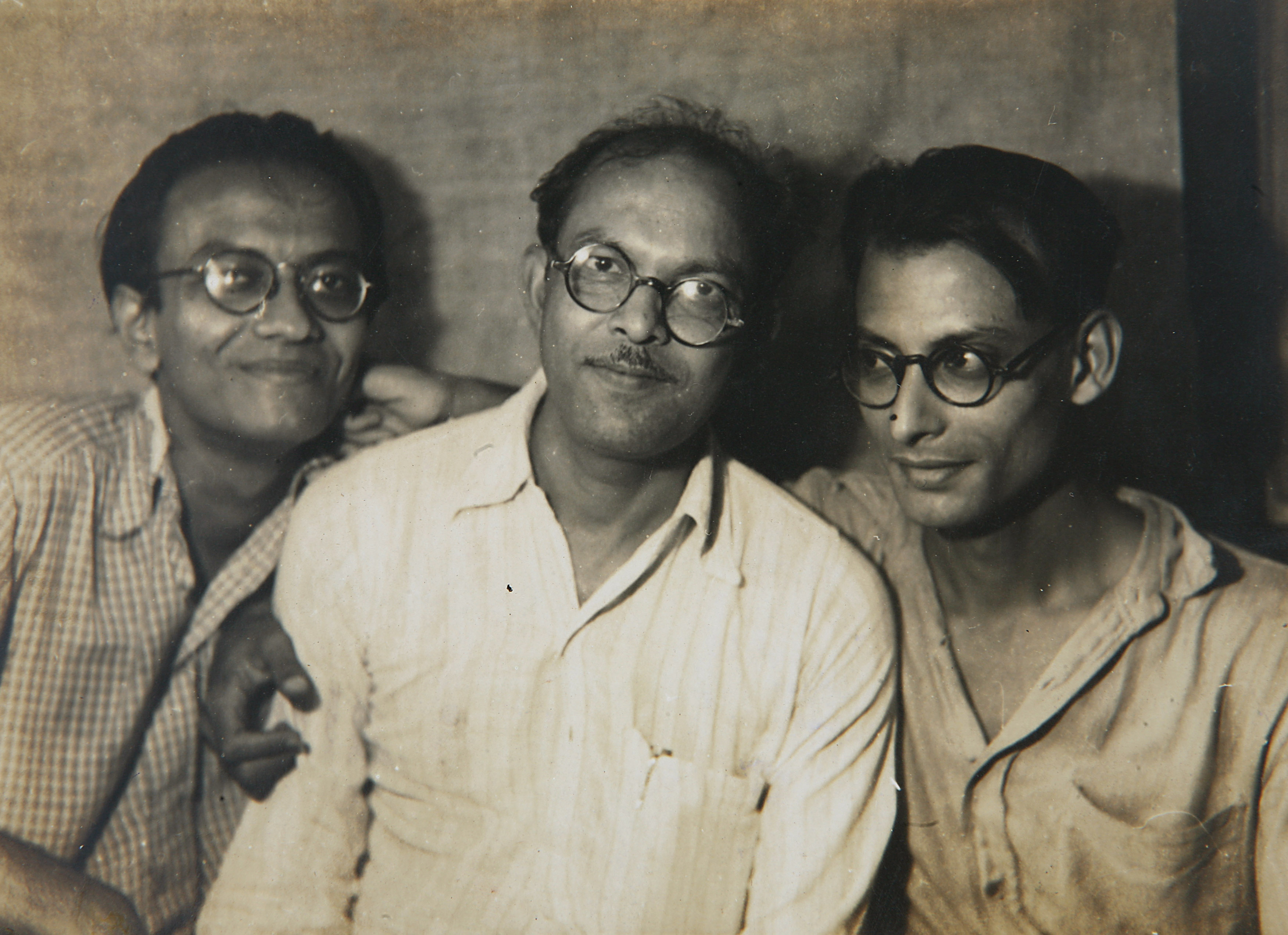 C.P.I. has also commissioned photographer Sunil Jannah to record the famine and Chittaprosad makes his acquaintance. He is seen here with Janah (left) and a friend in the photographer's dark room in Khetwadi, Bombay.
1946
Settles more permanently in Bombay but continues to make occasional visits to Calcutta. Makes works depicting the Telangana peasants' armed struggle against the Nizam's regime in Hyderabad.
1947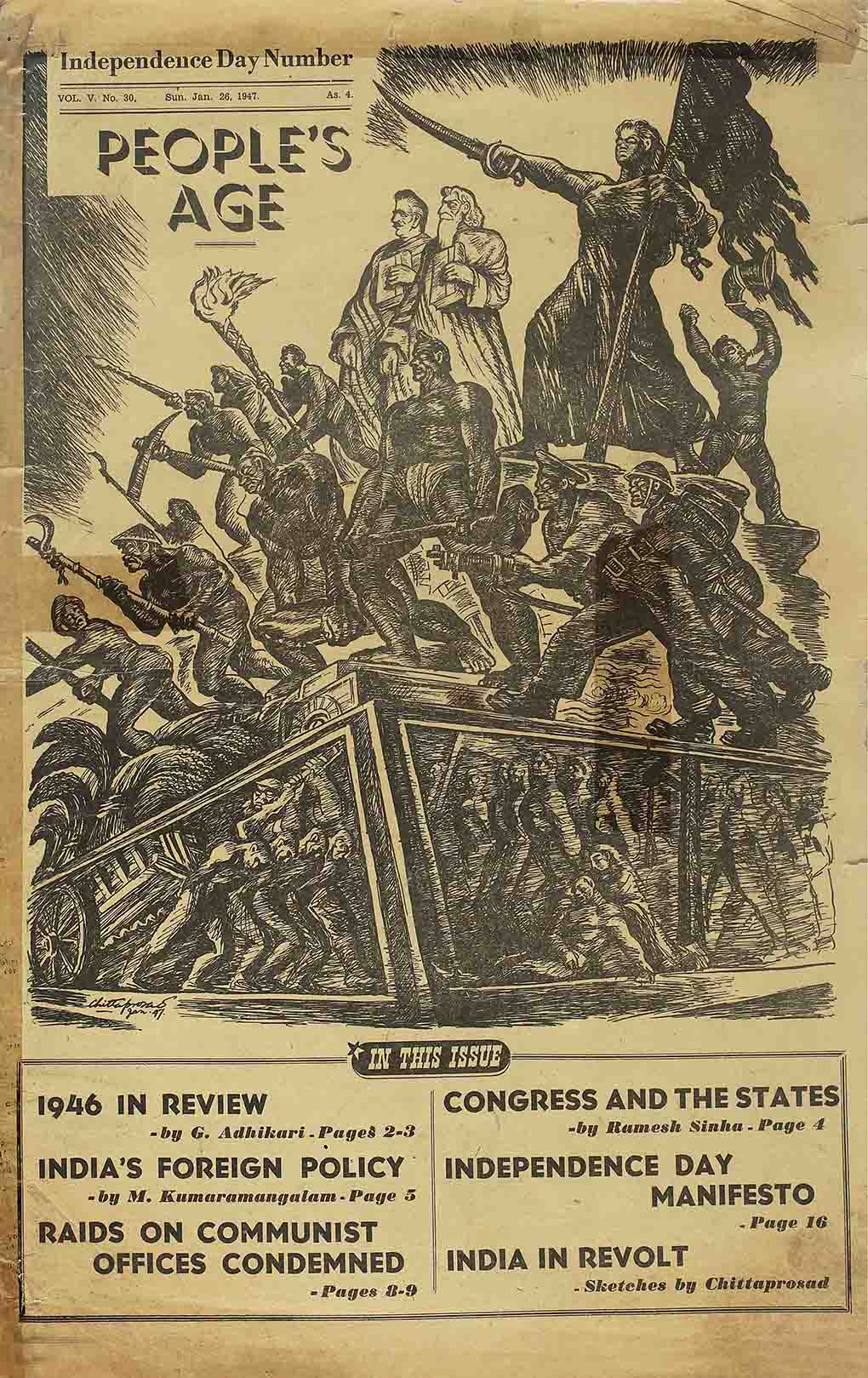 Chittaprosad's drawing appears on the cover of the Independence Day issue of People's Age, Sunday, January 26, 1947, Vol. V. No. 30.
Late 1940s-early 1950s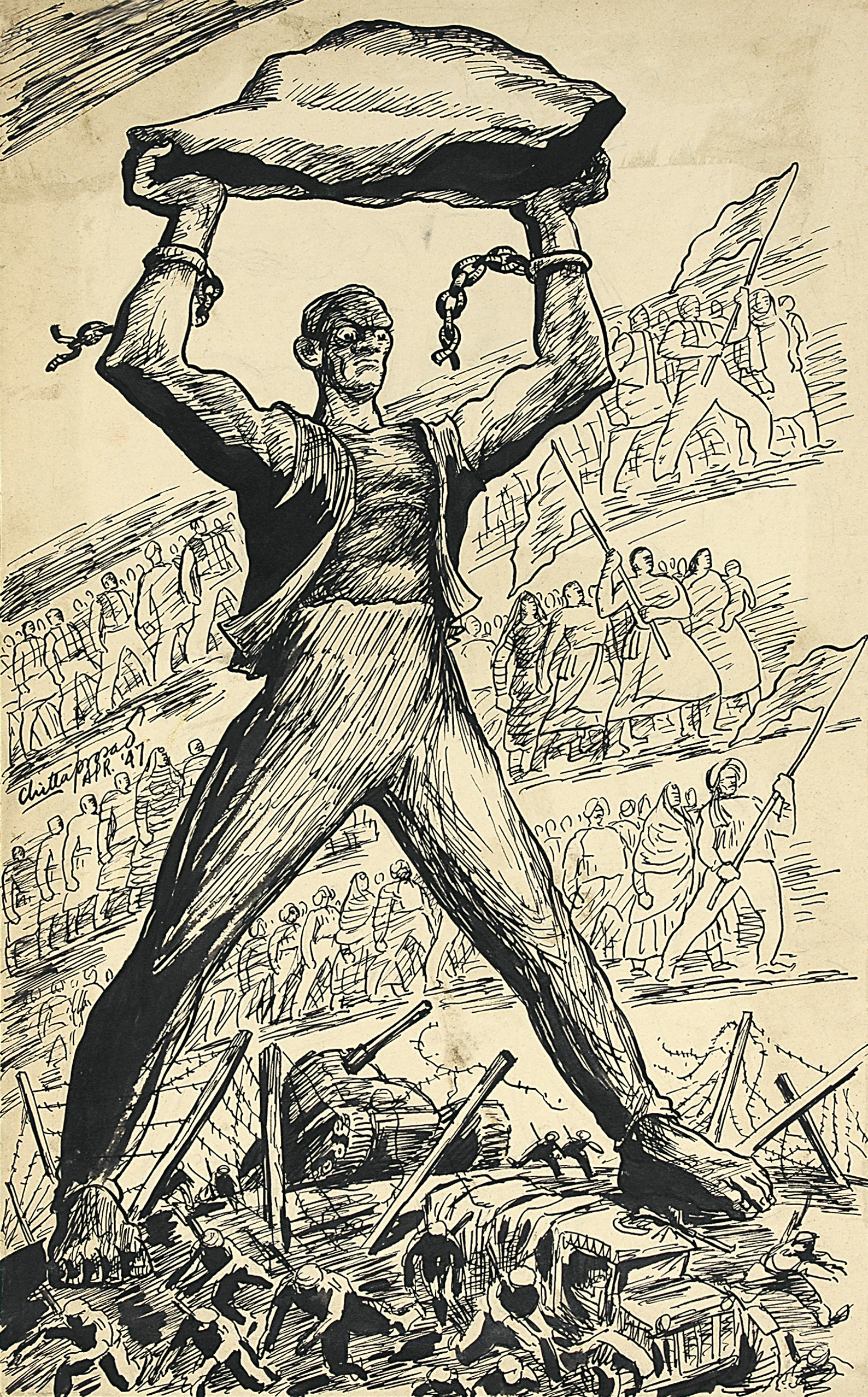 Continues to give expression to the voices of the oppressed through his linocuts, drawings, and posters, some of which become visual accounts of the final stages of India's struggle for independence, and the struggle of the people of India to become free of oppressive forces other than colonialism.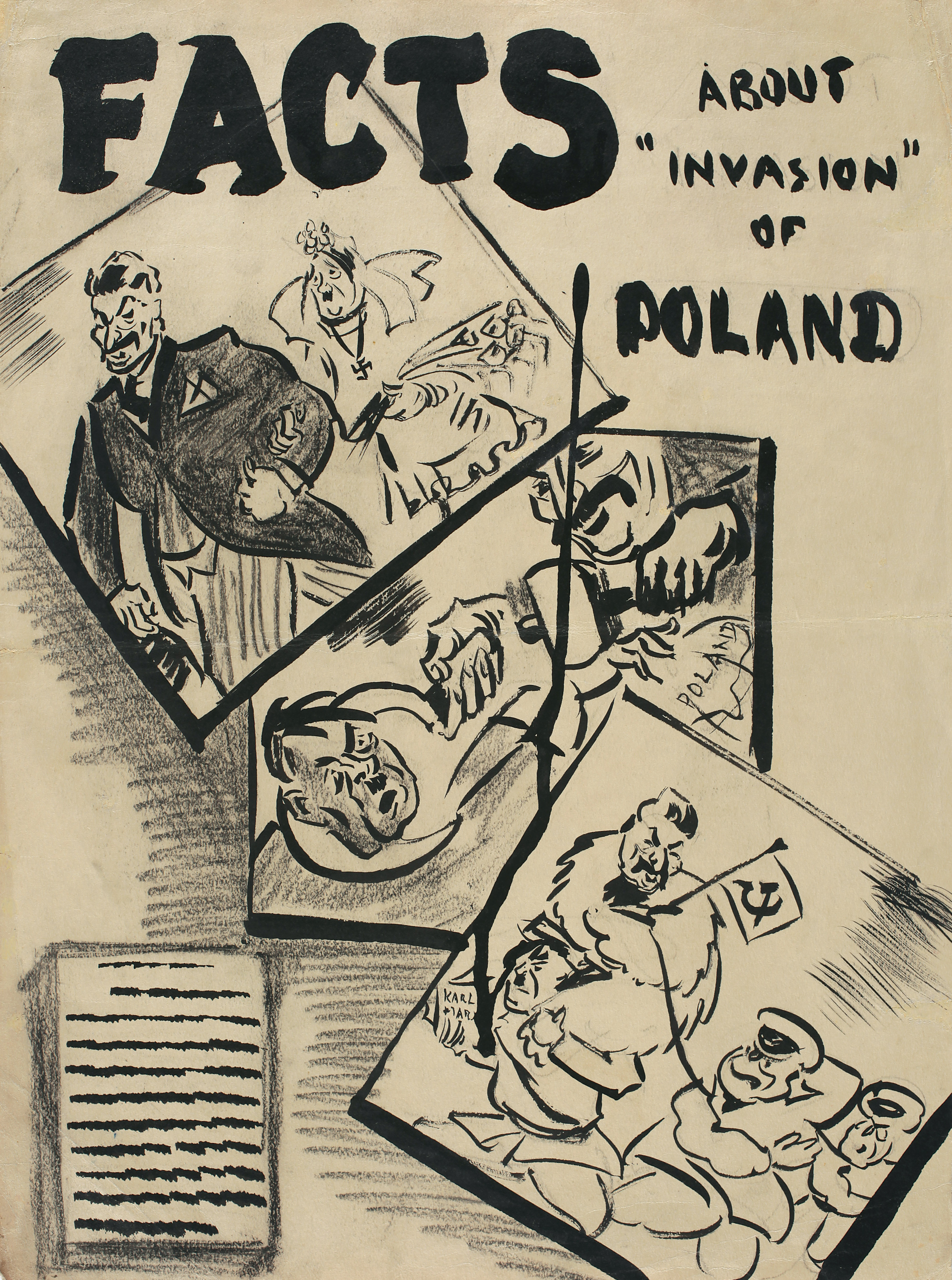 He uses his pictorial language of protest to give expression to oppressed people elsewhere in the world as well.
1948-49
Chittaprosad distances himself from the Communist Party of India due to a change in its leadership but his creativity continues to be aligned to his keen sense of realism and his social consciousness and commitments. Responds to the call of the World Peace Movement at its inception, goes on to contribute regularly to Indian Peace Review. From this period onwards, Chittaprosad starts expressing himself more in the medium of prints taken from linoleum sheets, mostly black and white, very occasionally in colour.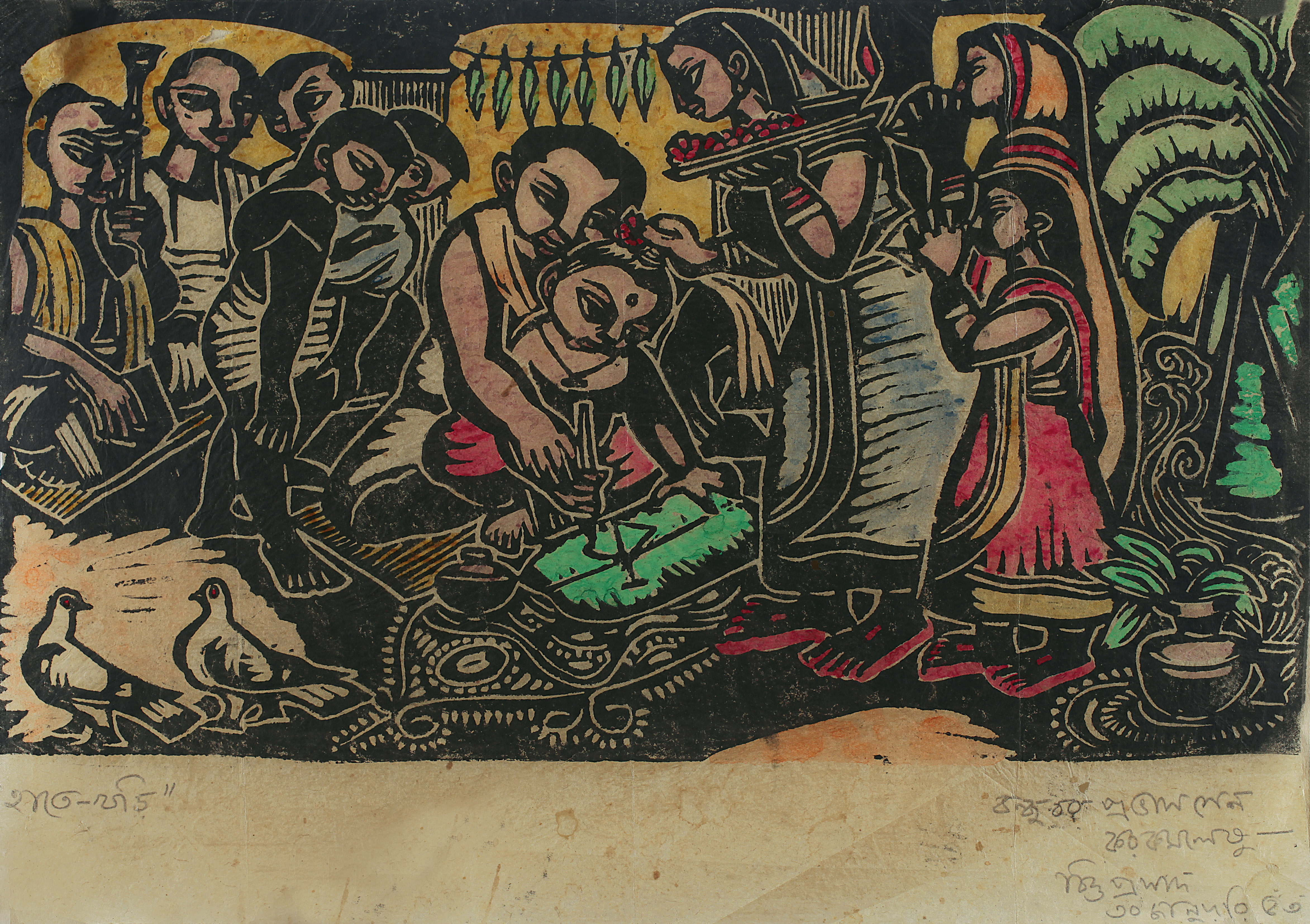 Not all of these works are realist renditions of the suffering in society, some also paint idyllic pictures of life in rural Bengal, inside cosy homes with mothers narrating stories to children, scenes of daily life, couples in embrace, nudes, still-lifes, flowers, et cetera.
Early 1950s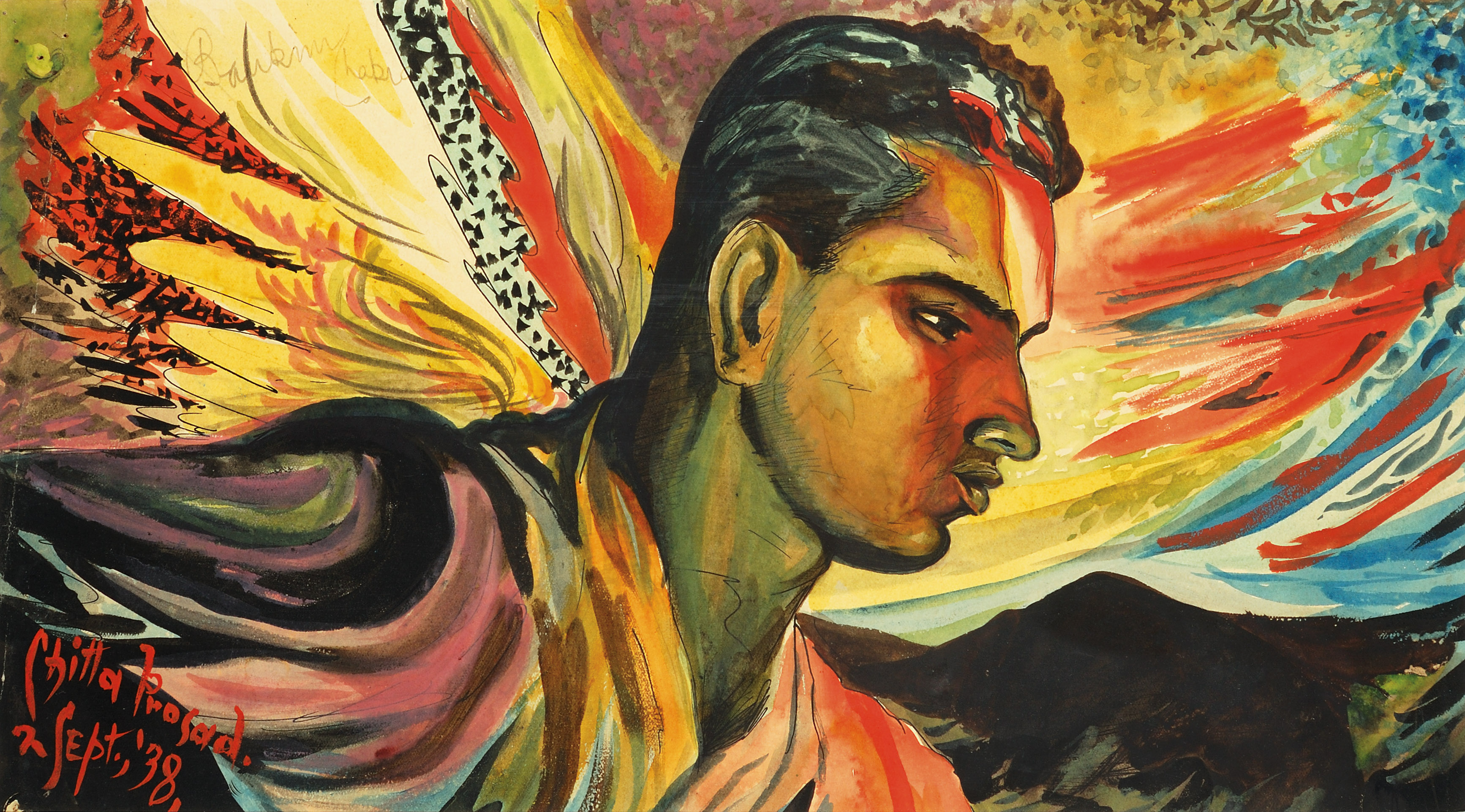 Is drawn to painting in the full range of the colour palette from this decade onwards. Works as a screen painter and costume designer for Little Ballet Troupe, Bombay, with Shanti Bardhan and Gul Bardhan for plays like Panchatantra and Ramayana.
1952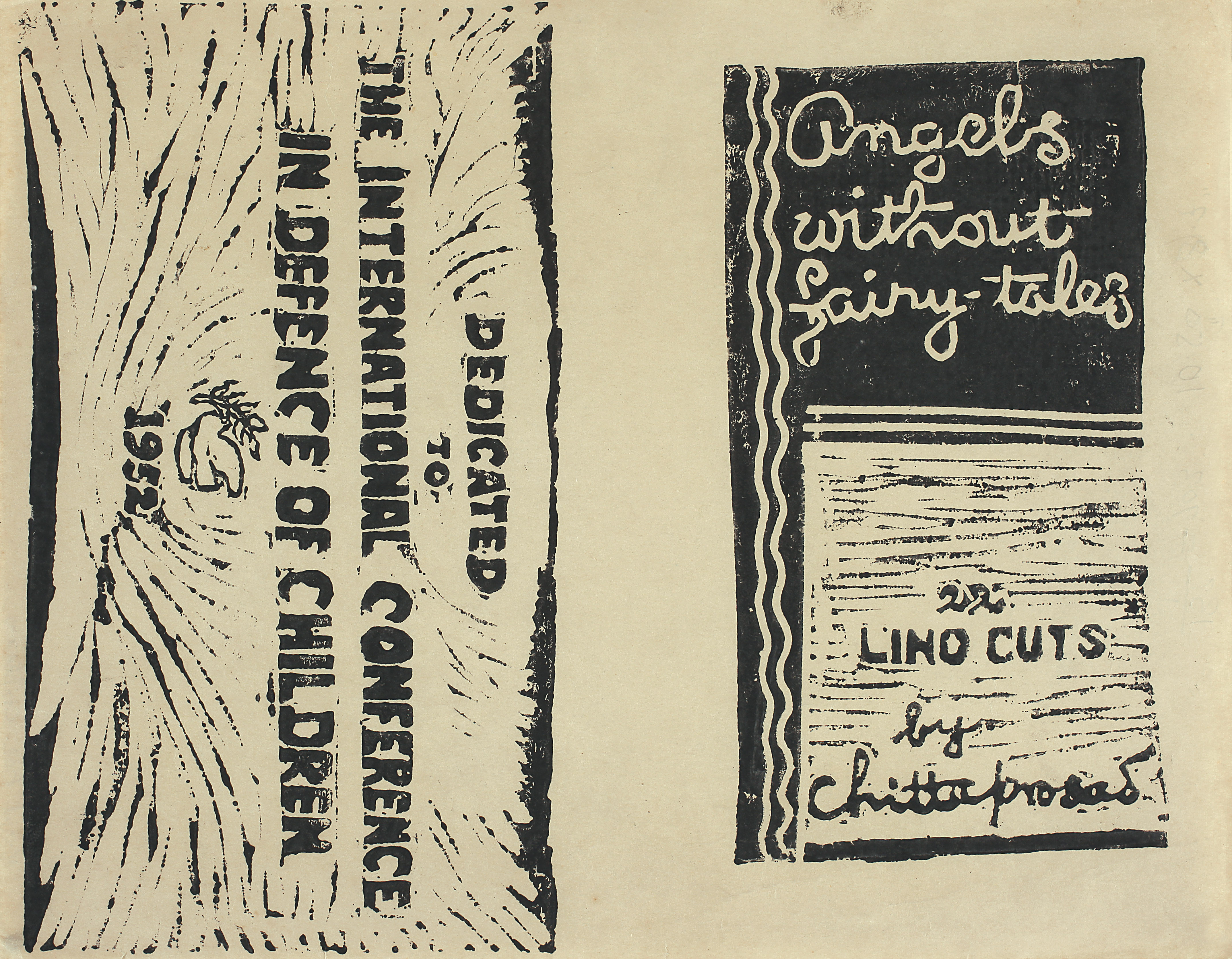 Makes a series of linocuts, titled Angels without Fairy-tales on the theme of children deprived of their childhood.
1953
Makes illustrations for the children's edition of Rajni Palme Dutt's book India Today, published by People's Publishing House.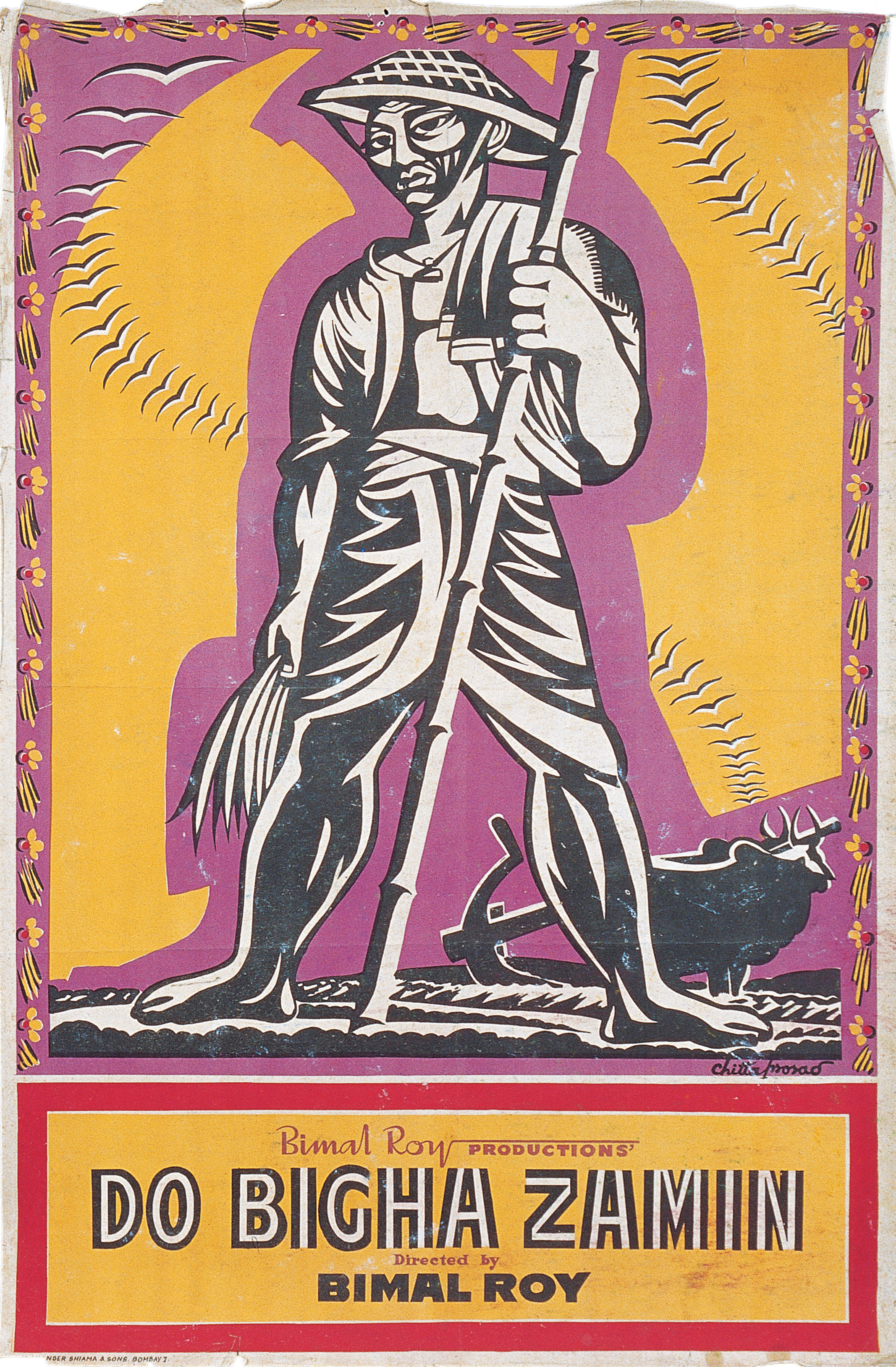 Designs a hand-painted lithograph poster for Bimal Roy's Hindi film, Do Bigha Zameen, which goes on to be a big success.
1955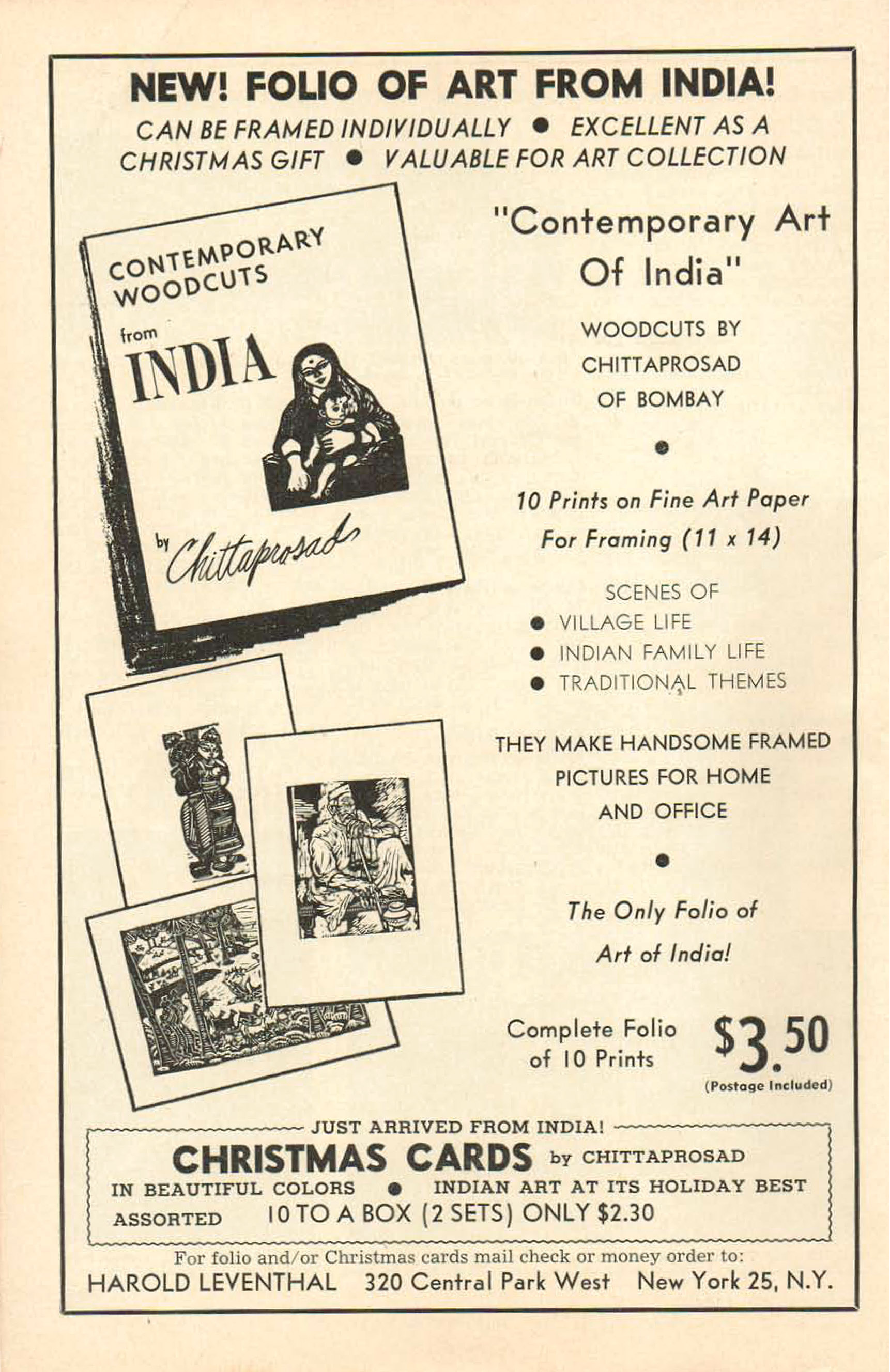 Around forty black-and-white prints by Chittaprosad are exhibited at India House, New York, for two weeks in a group exhibition. This folio is published by Harold Leventhal, and the exhibition is reviewed in New York Post, National Guardian and The New York Times in November 1955.
1956
His first major solo exhibition is held in Prague, Czechoslovakia. The largest public collection of his work is also at the National Museum of Prague. Other important exhibitions are held in Denmark, Holland, Germany, and U. S. A.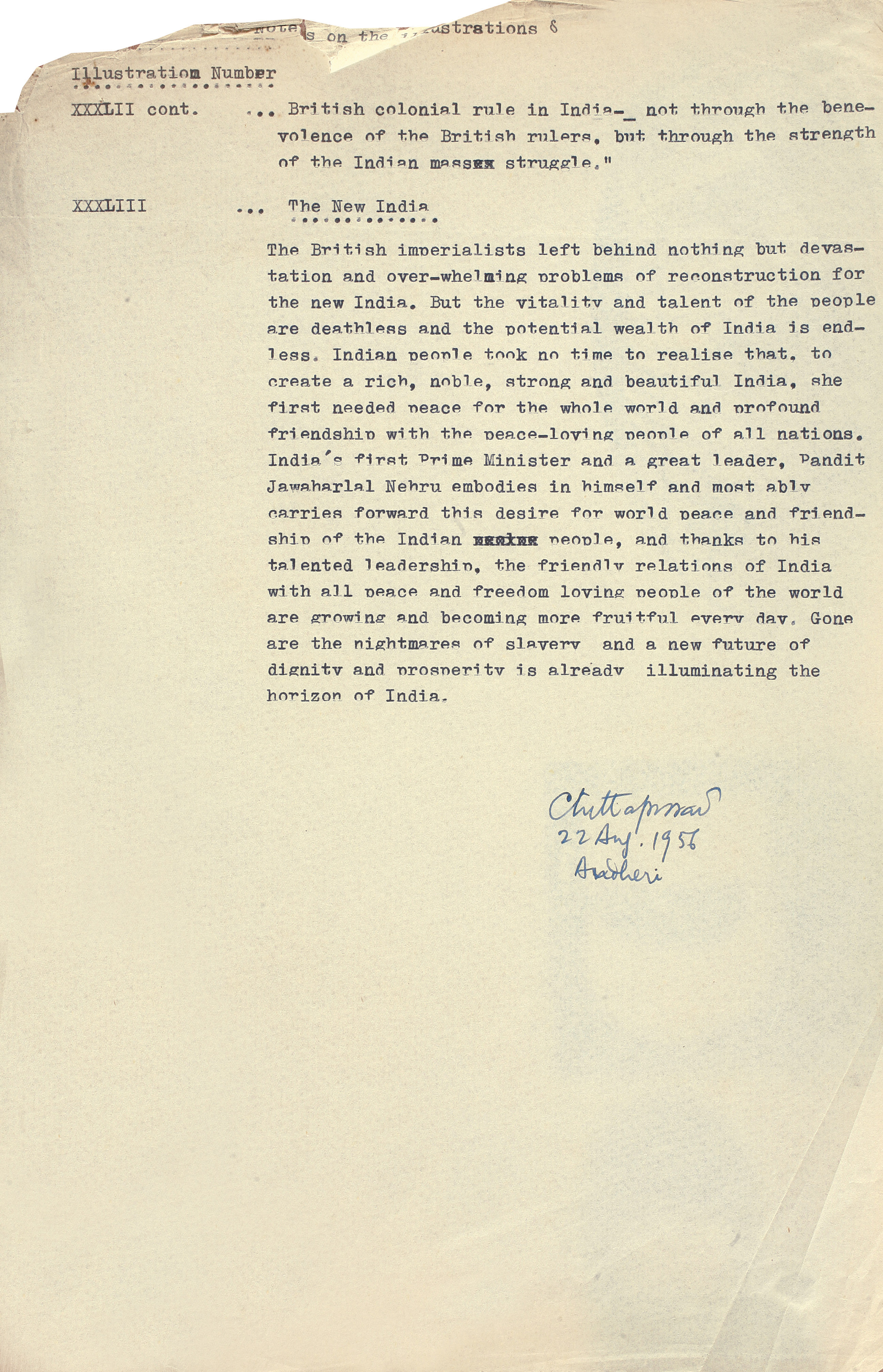 Writes The Story of Modern India, which remains unpublished.
Mid-1950s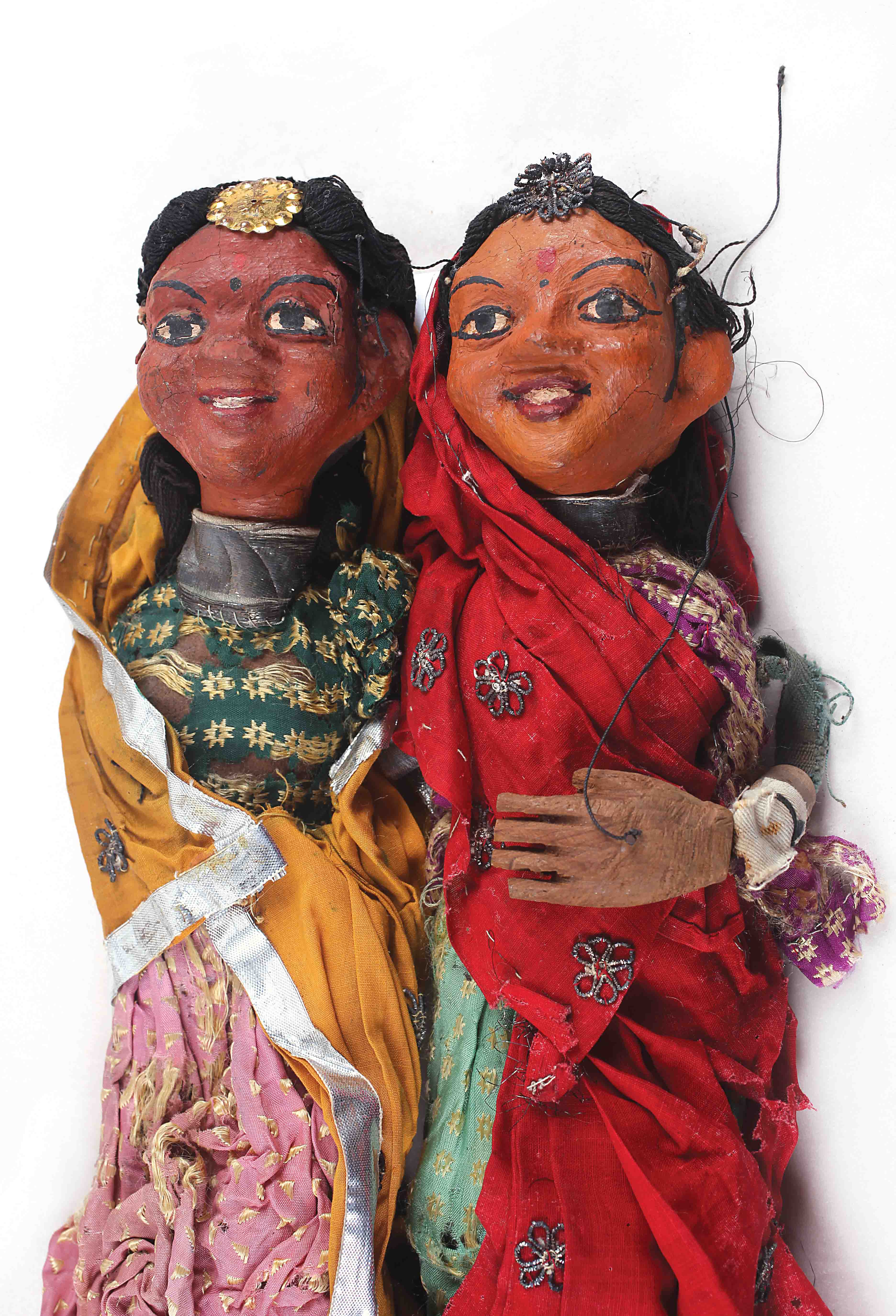 Learns the techniques of Czech puppetry from Ing Frantisek Salaba, a Czech amateur puppeteer living in Bombay, and working with the Czech Embassy. His acquaintance with Salaba and subsequent deep friendship opens a new horizon of admirers for Chittaprosad in Czechoslovakia, where most of his exhibitions are held during his lifetime; unfortunately, very few of his exhibitions are held in his lifetime in India.
1959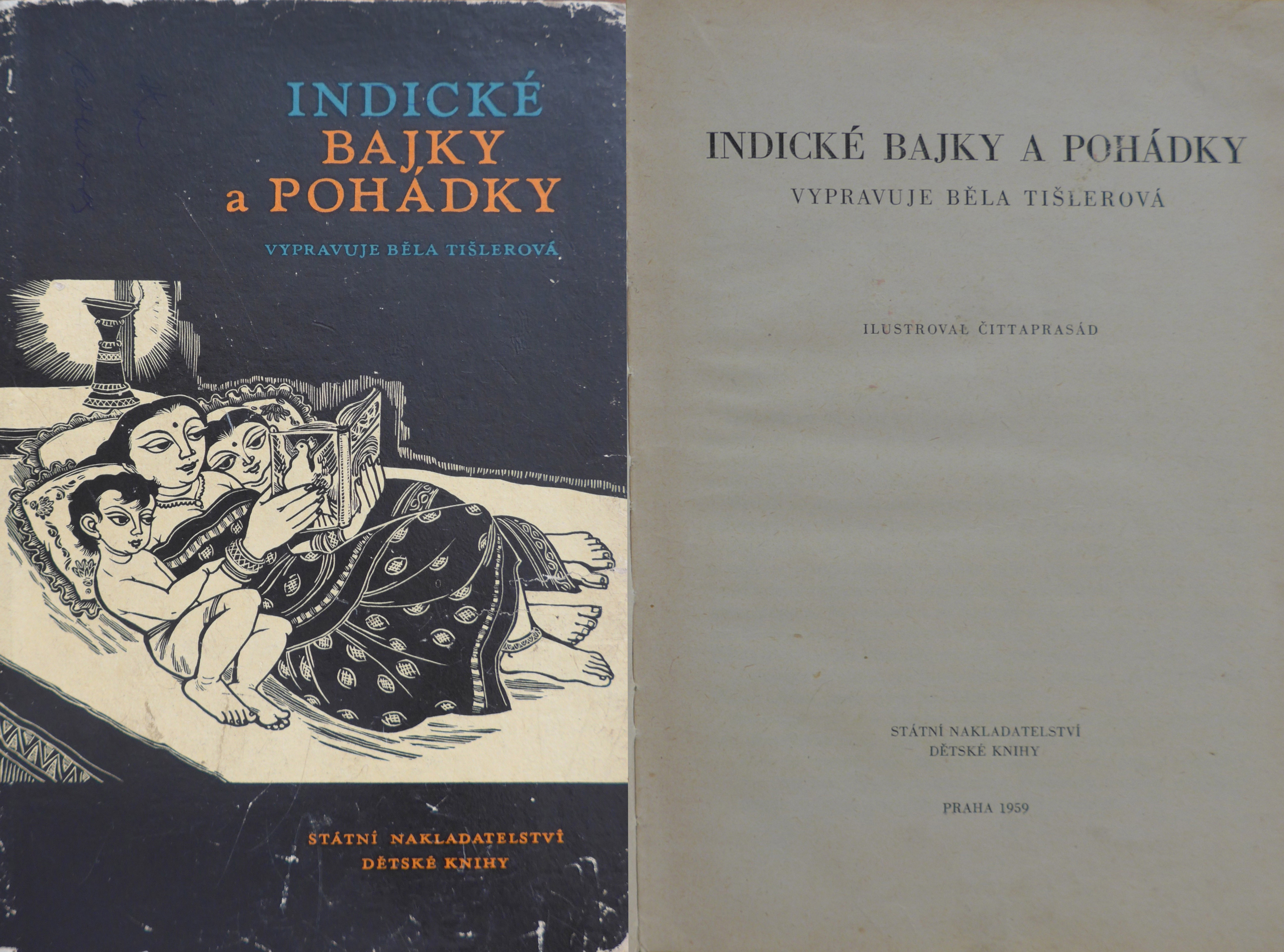 Book, Indian Fables and Fairy Tales by Czech author Bela Tislerova, is published which carries illustrations by Chittaprosad.
Late 1950s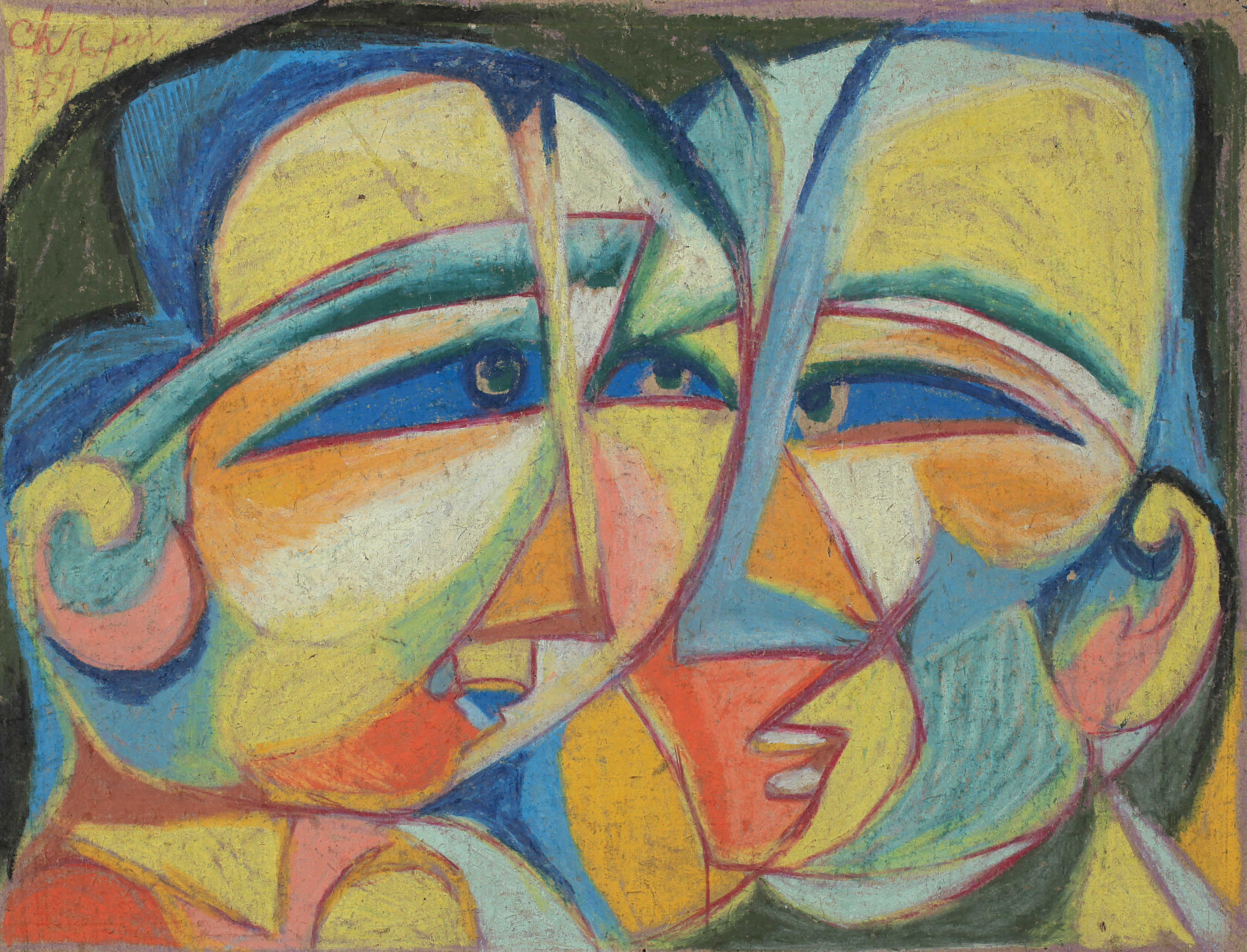 Explores the expressive potential of post-cubist vocabulary.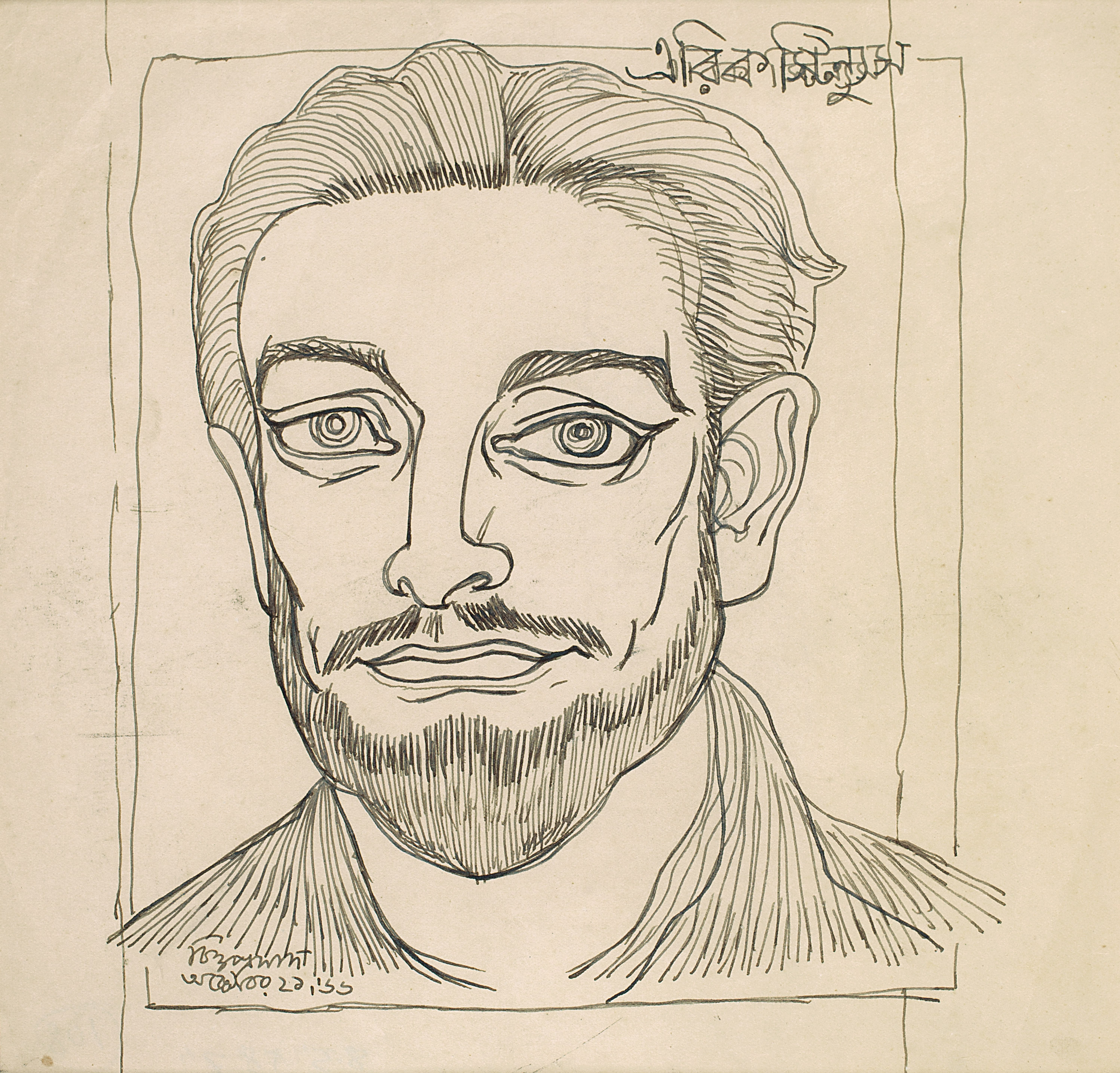 Becomes friends with Danish poet Erik Stinus (1934-2009) and his Indian wife Sara.
Early 1960s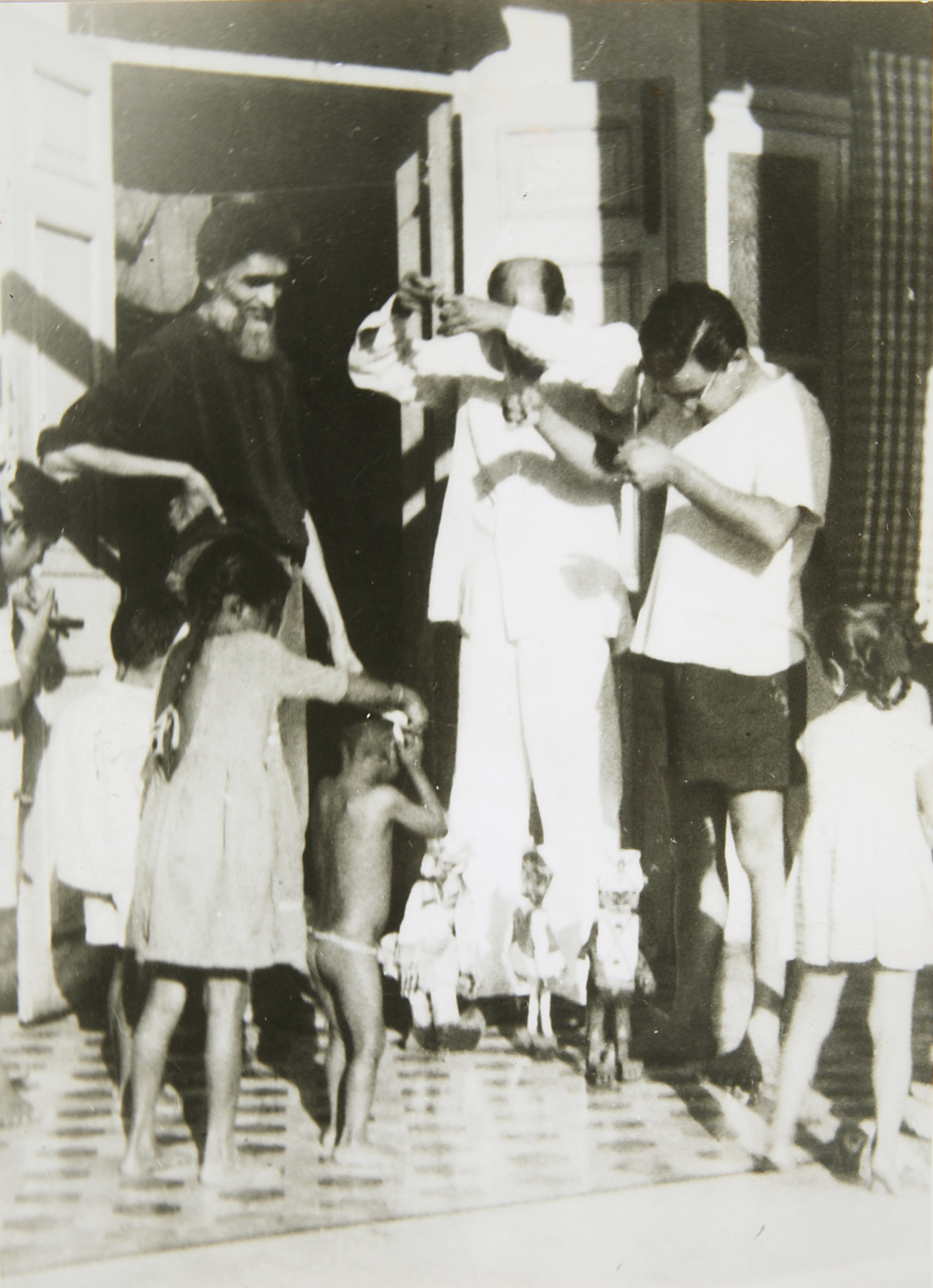 Salaba inspires Chittaprosad to create a puppet theatre for children and presents him with a small puppet stage. After some initial experiments, he starts his puppet theatre, 'Khelaghar'. Creates puppets out of wood and coconut shells, hosts shows for children in his neighbourhood, writing, directing and designing costumes for plays like Sakuntala, Prithviraj and Sanyukta, and also comedies from folk tales.
1964
Solo exhibition is held at Academy of Fine Arts, Calcutta, organised by Shilpayan Artists Society, and the Institute of Progressive Art and Literature.
1967
Drawings and Poetry by Chittaprosad is published by Shilpayan Artists Society and Shilpayan Serigraph Press, Calcutta. Later, another book of his anthologies, Dunhu, Prem Douha, is published by Shilpayan and the Institute of Progressive Art and Literature.
1968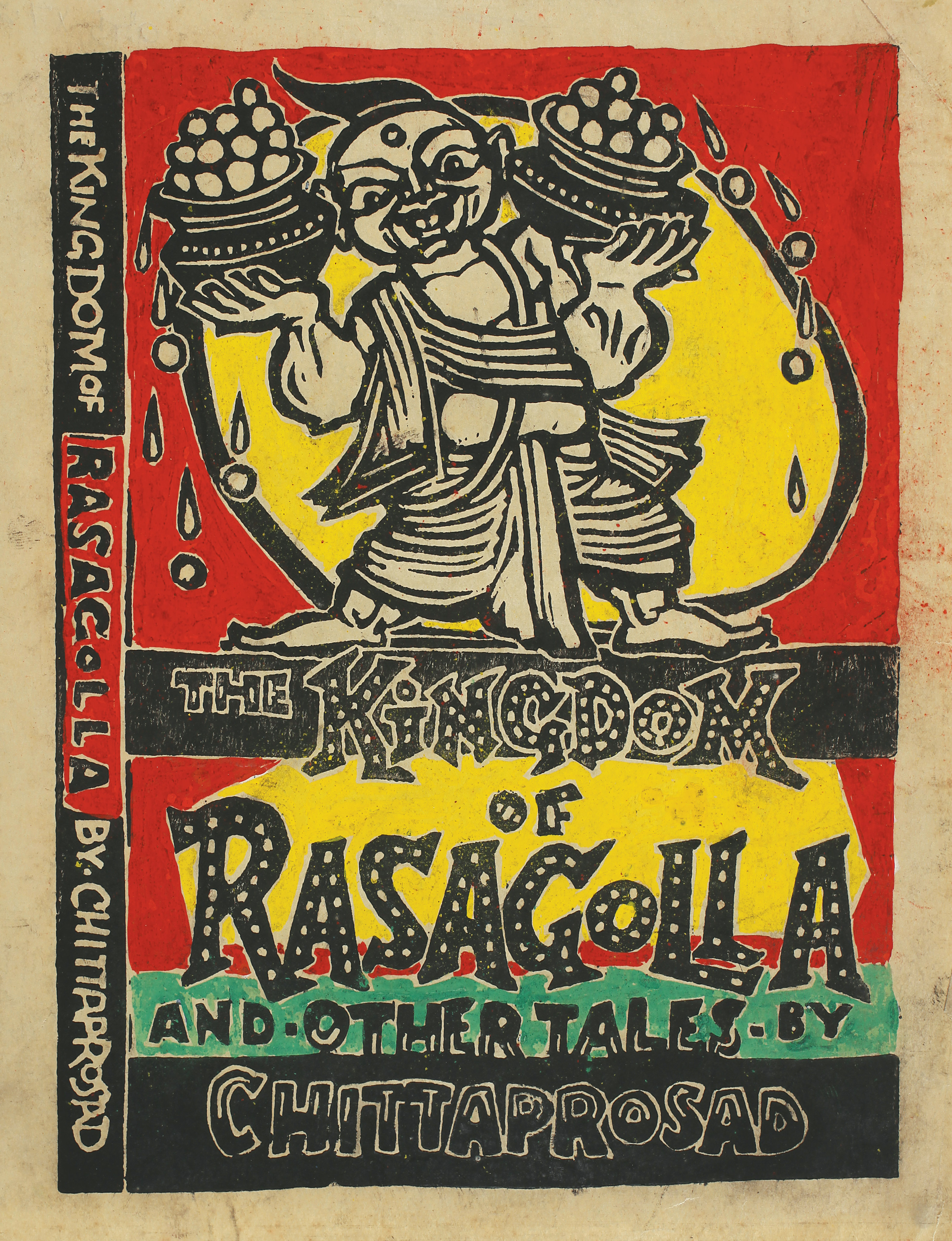 The Kingdom of Rasagolla and Other Tales by Chittaprosad is published by India Publishing House, Bombay. The 80-page book is priced at Rs 3.50 and has four stories—The Kingdom of Rasagolla, A Brahmadaitya Deliverance, The Blackbird and the King, and The Tragic Story of a Shankh-Chunni.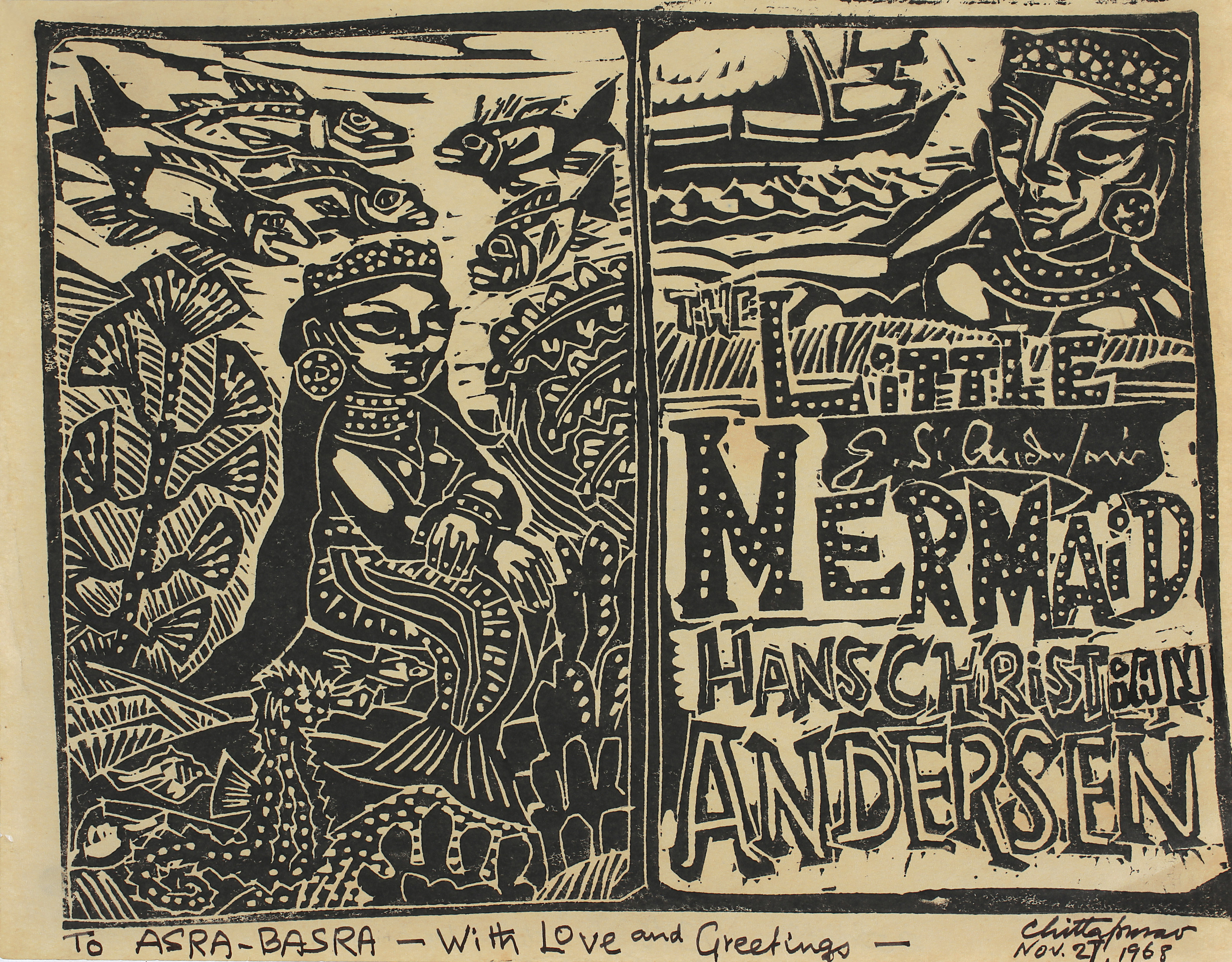 Illustrates several stories for children by Danish author of fairy tales, Hans Christian Andersen (1805-1875), such as The Little Mermaid, The Angel, and Holger the Dane among others. Illustrates other story books for children as well, of which Tell Me a Story is especially charming.
1969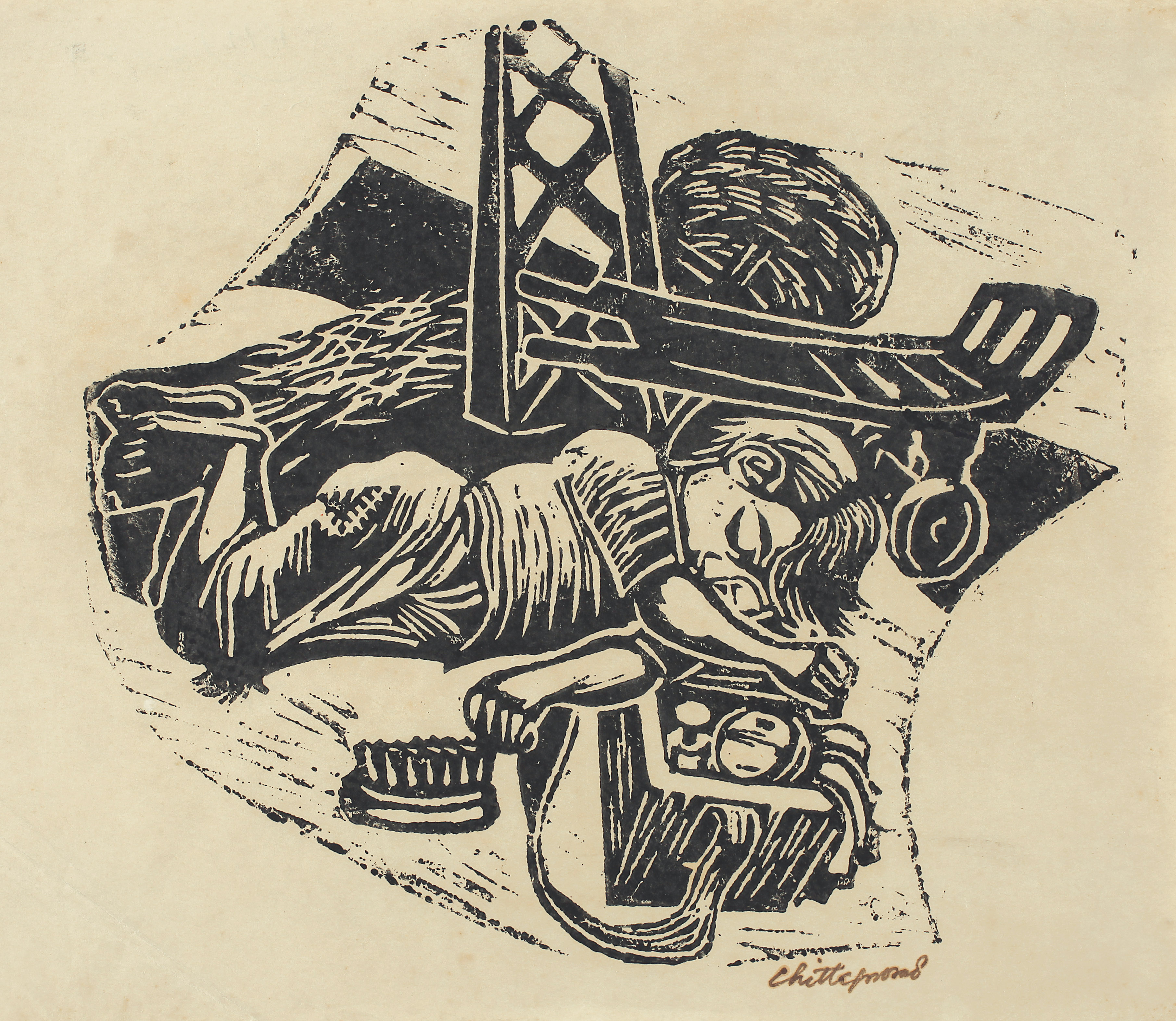 His set of linocut prints, Angels Without Fairy-tales, is published as a collection by the Danish U.N.I.C.E.F. committee, showing children as working members of the poor and oppressed families. Also donates his Neglected Childhood series of paintings to the U.N.I.C.E.F. committee, Denmark.
Late 1960s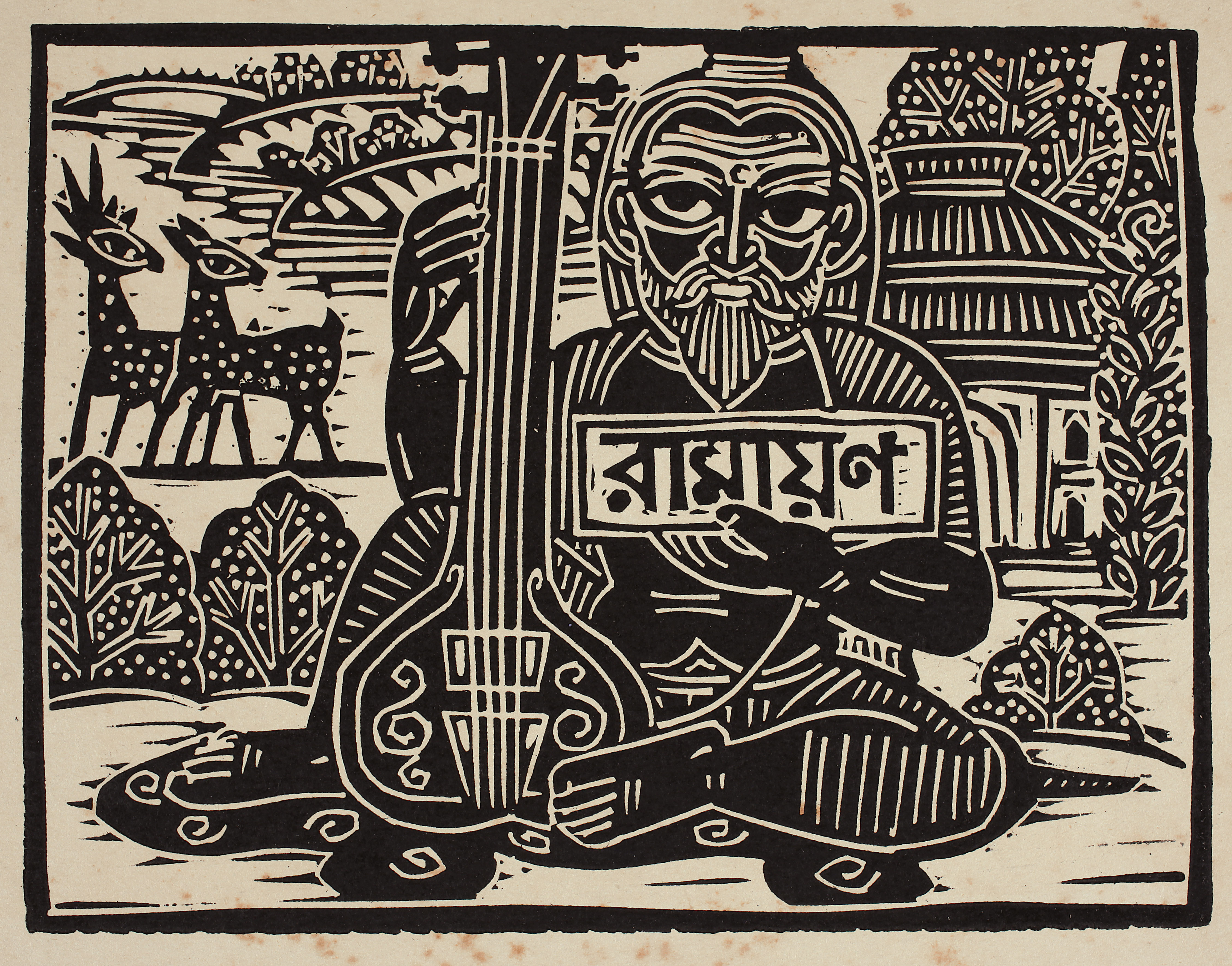 Embarks on a project of stories from the epics Ramayana and Mahabharat, illustrated and written in Bengali verses composed by himself while battling failing health.
1972
Documentary film on Chittaprosad titled Confession made by Czech director Pavel Hobl is released.
1978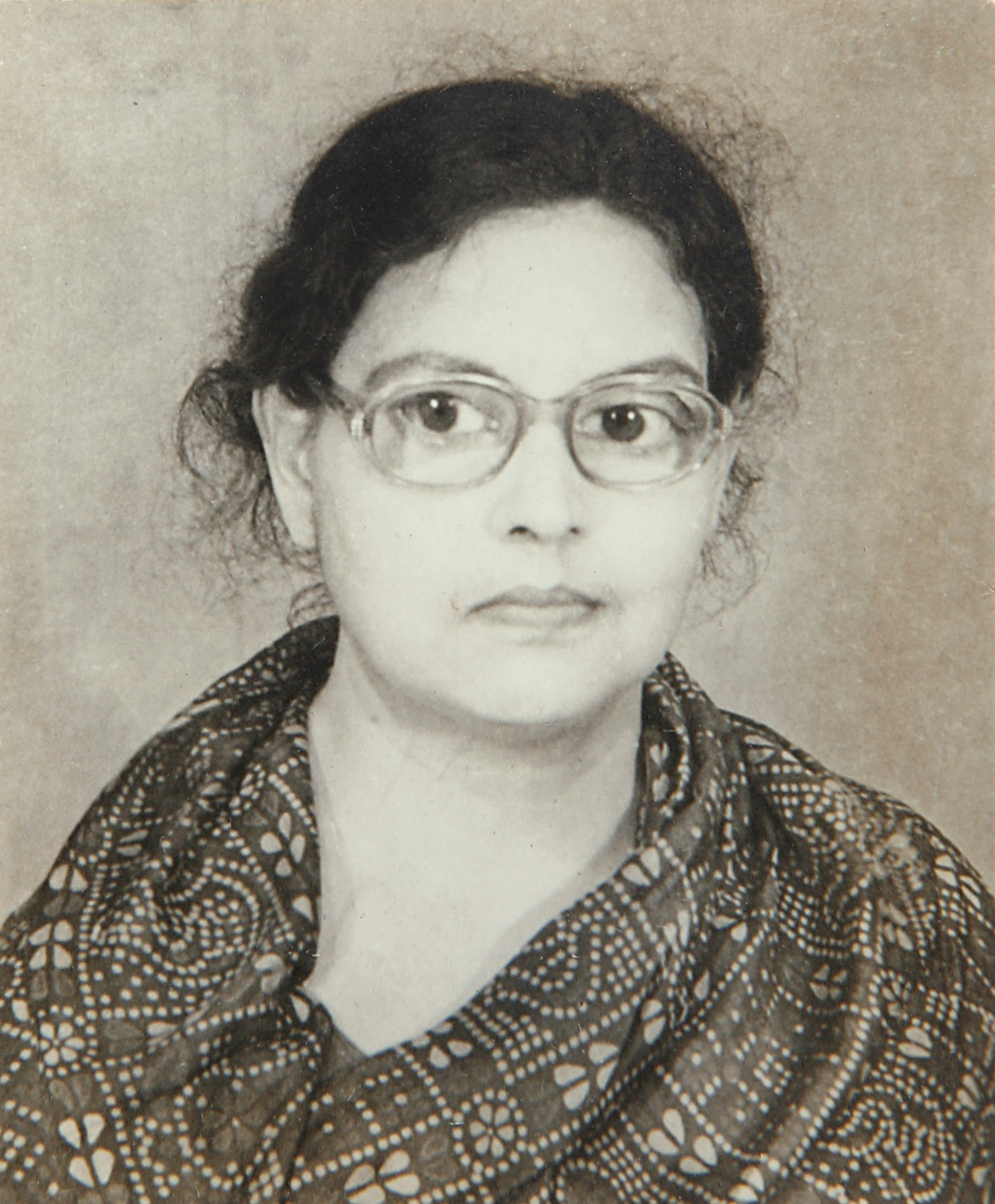 His sister Gouri Chatterjee brings him to Calcutta from Bombay because of his prolonged illness. He succumbs to chronic bronchitis and passes away on 13 November in Calcutta. On that very date, his sister establishes Chittaprosad Art Archive, an institute of research on Chittaprosad's life and works. A felicitation programme is organised by Shilpayan, Mime Academy, Calcutta, on 4 December.
1979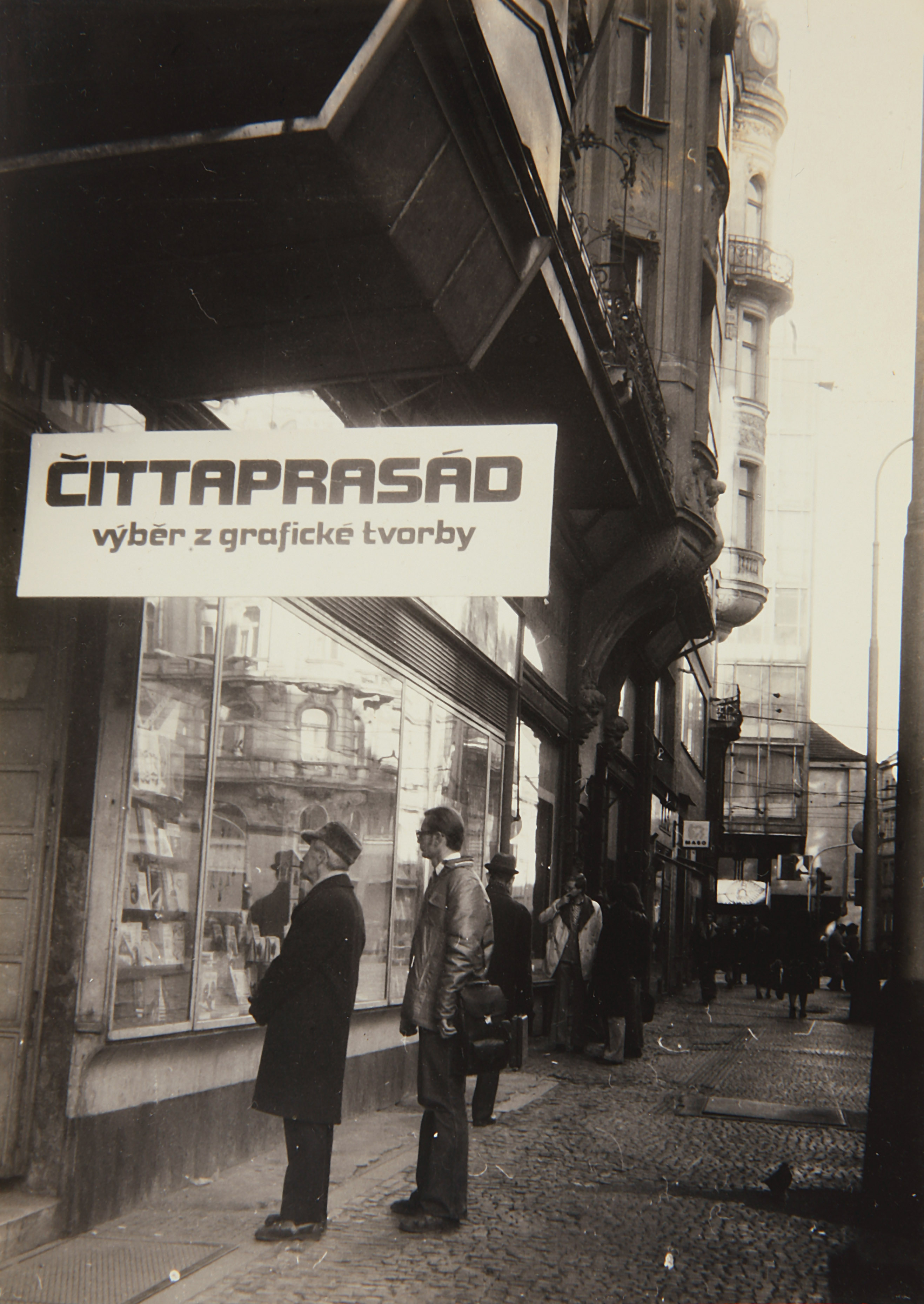 A retrospective of the artist's works is held at at Calcutta Information Centre, sponsored by the Government of West Bengal. Another retrospective is held at Mlada Fronta Gallery, Prague, Czechoslovakia, organised by the National Gallery of Prague, the Czechoslovak-Indian Section of the Czechoslovak Society for Foreign Relations, and the publishing house Mlada Fronta. His friend Ing F. Salaba selects the works for the exhibition along with Indologist Dr. Miloslav Krasa.
1980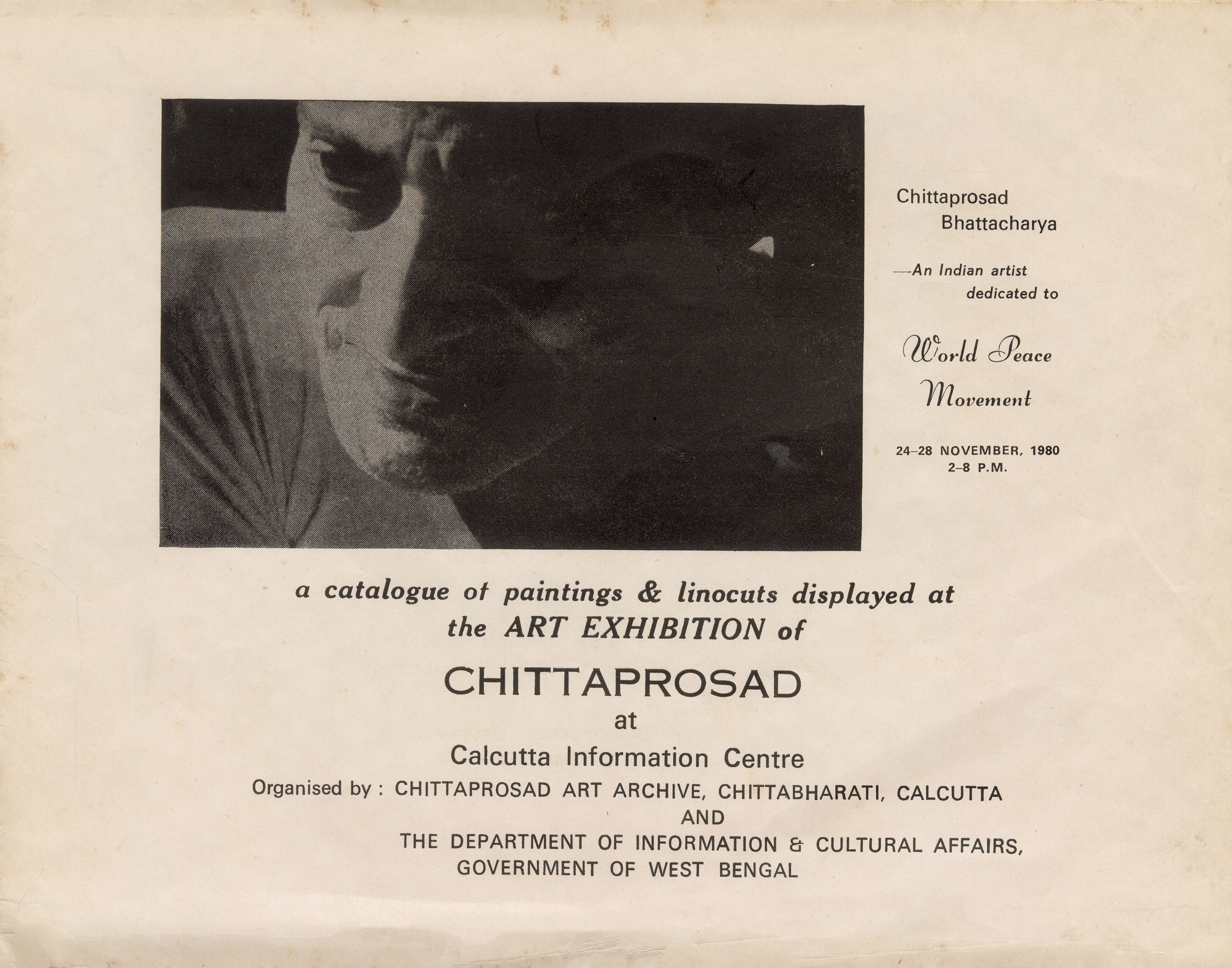 An exhibition, 'Chittaprosad', is held at Calcutta Information Centre, organised by the Chittaprosad Art Archive, Chitta Bharati, Calcutta, and the Department of Information and Cultural Affairs, Government of West Bengal.
1981
The largest exhibition of Chittaprosad's works since 1956 is held at Prague's National Gallery.
1985-86
A solo exhibition is held at Art Heritage, New Delhi, for which works from various private collections in India and abroad, and the National Museum, Prague, are brought together.
1988
Exhibition 'Remembering Chittaprosad on his 10th Death Anniversary' is held at Rekha Forum of Fine Arts, Hyderabad.
1989
His works are part of a group exhibition at the 11th West Bengal Youth Festival, Presidency College Campus, Calcutta.
1992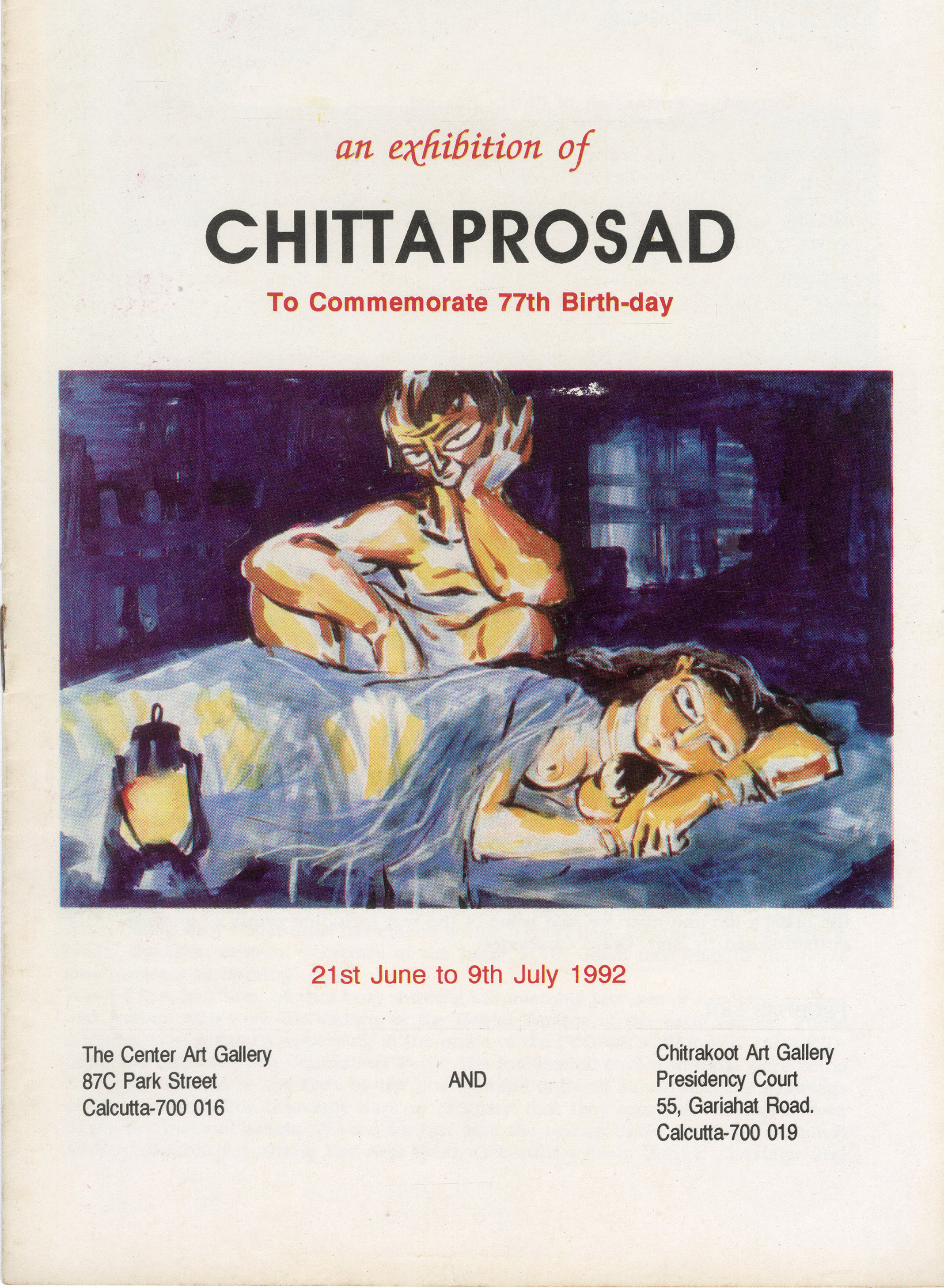 Chitta Bharati Organisation is established in his honour on his birth anniversary. It hosts a solo exhibition along with Centre Art Gallery and Chitrakoot Art Gallery, Calcutta. An exhibition commemorating his fourteenth death anniversary is held at Alliance Française, Calcutta.
1994
Exhibition 'Chittaprosad' is held at Nandan, Kala Bhavana, Santiniketan, featuring works gifted to the Kala Bhavana Museum by his sister Gouri Chatterjee.
1995
Exhibition of drawings, linocuts and woodcuts is held at Galerie Romain Roland, Alliance Française de Delhi.
2004
His work is part of DAG's exhibition, Manifestations II, at DAG, New Delhi, and Jehangir Art Gallery, Mumbai.
2005
DAG exhibition, Manifestations III, held at Lalit Kala Akademi, New Delhi, and Nehru Centre, Mumbai, features an important work by Chittaprosad.
2010
His work is part of DAG exhibition, Manifestations IV, at DAG, New Delhi.
2011
DAG exhibition, Manifestations 5, at DAG, New Delhi, features a work by Chittaprosad. DAG hosts a comprehensive retrospective on his lifetime's oeuvre, titled 'Chittaprosad 1915-1978', in New Delhi; the show travels to Mumbai in 2014 and to New York in 2018.
The 'Manifestations' series of 20th Century Indian Art, Editions V, VI, VII, VIII, IX, X, XI
DAG, New Delhi and Mumbai, 2011-14
'Chittaprosad: A Retrospective | 1915-1978'
DAG, New Delhi, 2011; Mumbai, 2014; New York, 2018
'The Printed Picture: Four Centuries of Indian Printmaking'
DAG, New Delhi, 2012; alternate locations in Kolkata, 2013; Mumbai, 2016; Jaipur, 2017; Chandigarh, 2018
'Indian Landscapes: The Changing Horizon'
'Indian Divine: Gods & Goddesses in 19th and 20th Century Modern Art'
DAG, New Delhi and Mumbai, 2014
'The Naked and the Nude: The Nude in Indian Modern Art'
DAG, New Delhi, 2013; Mumbai, 2015
'Indian Portraits: The Face of a People'
DAG, New Delhi, 2013; Mumbai, 2014
'New Found Lands: The Indian Landscape from Empire to Freedom'
DAG, New York, 2021; Mumbai, 2021-22
'Navrasa: The Nine Emotions of Art'
DAG, New Delhi and Mumbai, 2020-21
'Home is a Place / Interiority in Indian Art'
'Indian Blue: From Realism to Abstraction'
National Gallery of Modern Art, New Delhi
Jehangir Nicholson Art Foundation, Mumbai
Kiran Nadar Museum of Art, New Delhi
Academy of Fine Arts, Kolkata
Jane and Kito de Boer Collection, Dubai and London