1934 - 2019
Bipin Behari Goswami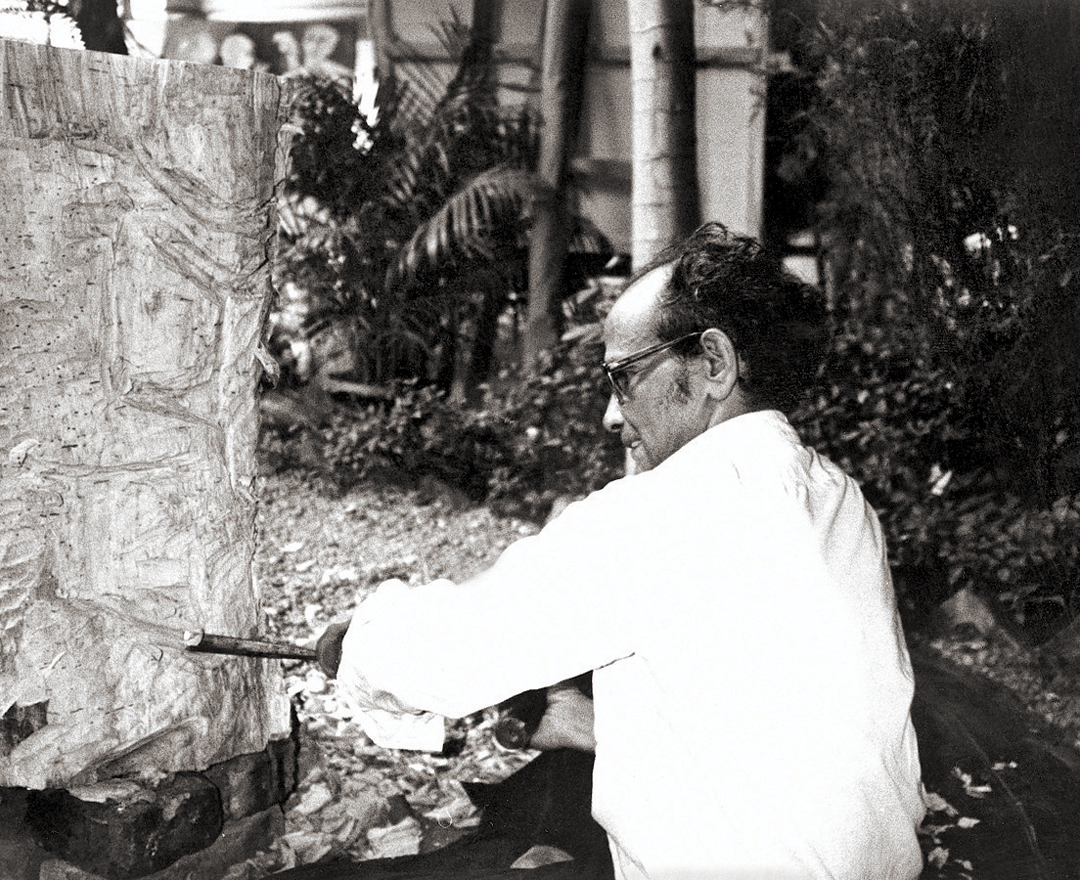 Born in Calcutta, Bipin Behari Goswami studied at the city's Government College of Arts and Crafts, from where he graduated in 1956 with a diploma in sculpture and modelling.
In 1959, he received a two-year scholarship from the Yugoslavian government to study sculpture and bronze casting. It was during this time that he represented India at the VII International Students Meet held at Dubrovnik and Lubljana, Yugoslavia, organised by U.N.E.S.C.O. The artist contributed articles and writings on Indian art in Yugoslavian publications during this phase of his scholarship.
Goswami's art, given his early exposure to the Western masters, didn't appear strictly traditional even as it revealed subconscious traces of Kalighat pata-chitras in the stylisation of his voluminous figures, and even in the choice of themes. The artist's sculptures, particularly, gave a rich sense of experimentation. As an accomplished sculptor, known for his casting and patina skills, he was commissioned by the Indian government to restore and cast Ramkinkar Baij's outstanding Santhal Family in bronze in 1983.
In the early 1960s, after returning from overseas, Goswami joined the sculpture department of Indian College of Art and Draftsmanship, Calcutta. He continued working there for almost a decade, eventually becoming the principal of the college. In Santiniketan, Goswami taught in the department of sculpture between the mid-'80s and late-'90s. He was also a visiting fellow in the visual arts faculty at the Banaras Hindu University.
A vital member of the Calcutta Painters group, Goswami was the recipient of the Shiromoni Puraskar in 1994.
'Bipin Goswami sought to make a mark, taking ideas from the West but shaping them with an Indian sensibility'
INA PURI
DAG, New Delhi, Mumbai, and New York, 2012-16
'Manifestations IX: 20th Century Indian Art
'Indian Portraits: The Face of a People'
National Gallery of Modern Art, New Delhi
Lalit Kala Akademi, New Delhi
Department of Culture, Government of West Bengal, Kolkata