1906 - 1980
Ramkinkar Baij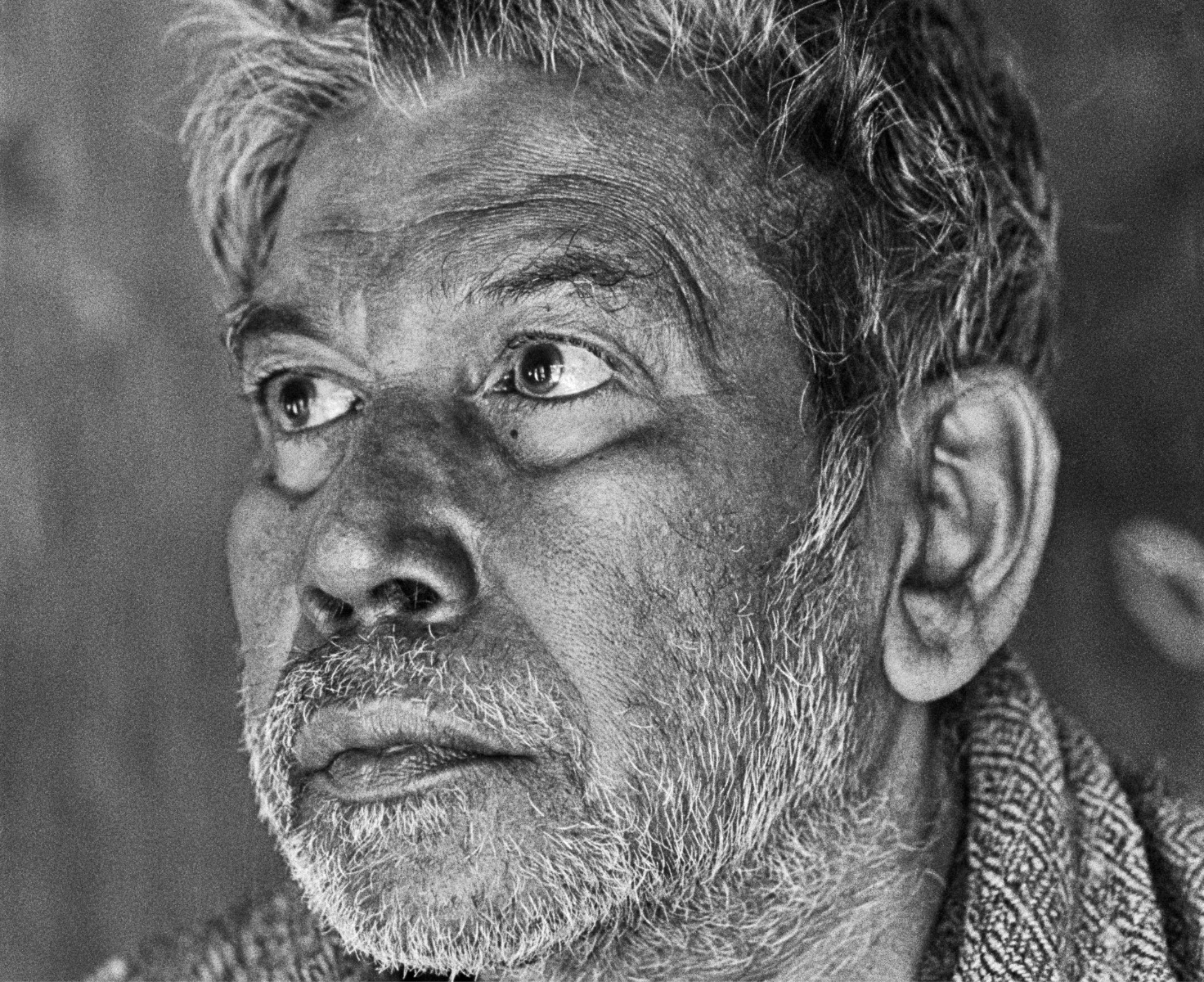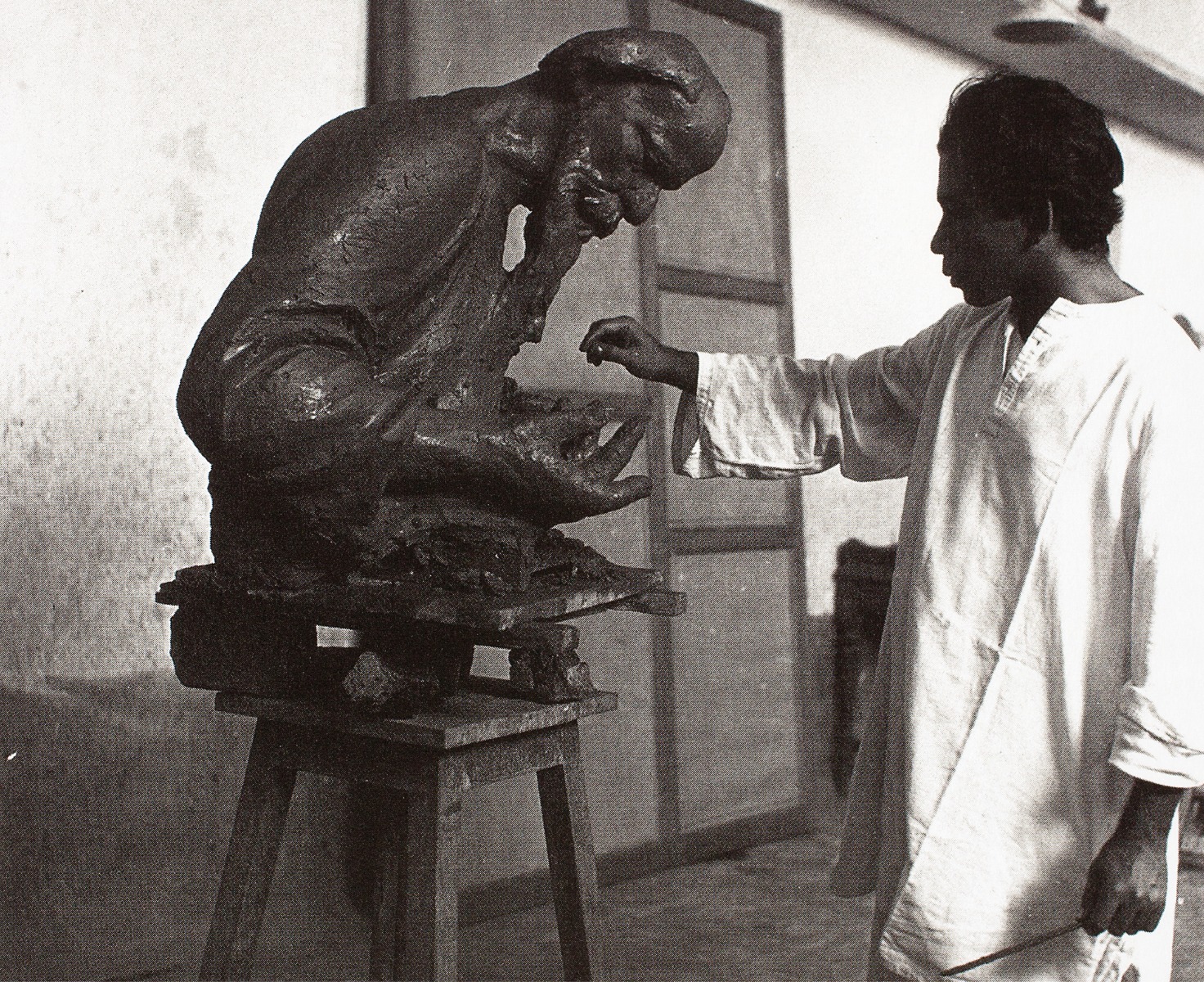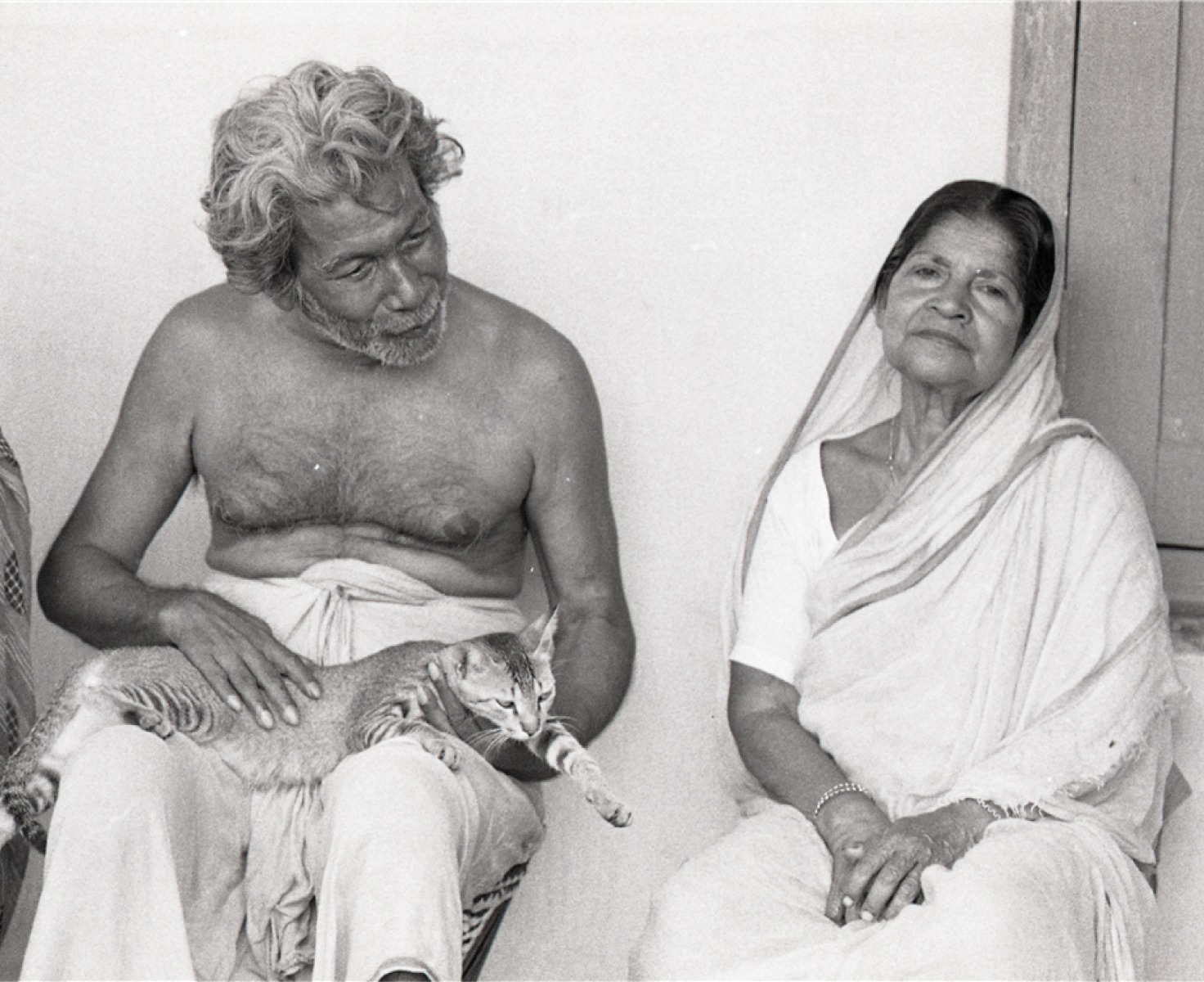 Born on 25 May 1906 in Bankura in Bengal, Ramkinkar Baij was an iconoclast who defied the artistic norms of Santiniketan, where he had enrolled on the advice of journalist Ramananda Chatterjee.
One of the pioneers of modern Indian sculpture, Baij created art spontaneously, driven by intuition and energy and disregarding the artistic standards accepted by the institution.
A brief introduction to modelling by a visiting French sculptor led Baij to engage with clay in a unique manner and evolve a personal, innovative style that was largely untrained. He introduced cement concrete casting as an alternative to expensive plaster. The first artist in Santiniketan to use oil paint and create distinctly modern and abstract works, Baij painted on Santhal wraps with packet colours thinned with linseed oil and drew his figures on silk with a shoe brush as part of his innovations.
Drawn from life, Baij's figures breathed a bold realism, an earthy strength and spontaneity seen in his sculptures, drawings, and paintings. A similar spontaneity of action is visible in his transparent watercolours and drawings, particularly in the sequence of nudes. The country's first truly 'modern' sculptor, Baij's sculptures were often monumental and possessed an inner movement, as seen in the Santhal Family or Mill Call, two of his best-known open-air sculptures in Santiniketan.
The colossal Yaksha and Yakshi sculptures at the Reserve Bank of India, New Delhi, brought Baij recognition, even though they differed in style from his other work. He was awarded the Padma Bhushan by the Government of India in 1970.
'It repeatedly occurred to me when I did paintings or sculptures, that
I have to be independent. Fiercely independent'
RAMKINKAR BAIJ
artist timeline
1906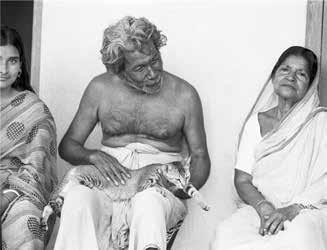 Born on 25 May at Bankura to an economically weak family. Though 1906 is the generally accepted year of his birth, alternate dates vary from 1904 to 1910.
1925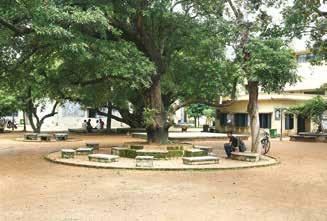 Takes admission at Kala Bhavana on the advice of Ramananda Chatterjee, a friend of Rabindranath Tagore, and publisher of Bengali periodicals, Prabasi and The Modern Review.
1928
Viennese sculptor Liza von Pott takes sculpture classes at Kala Bhavana with Baij and Sudhir Khastgir as students.
1929
Completes his course at Kala Bhavana.
1932-33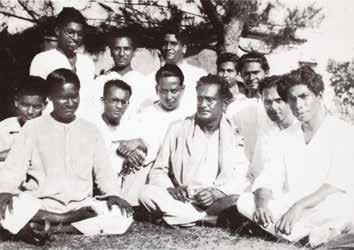 He teaches art briefly at Modern School, New Delhi. Makes a relief sculpture of Saraswati for the hostel at Modern School. Joins the faculty of the sculpture department at Kala Bhavana alongside Nandalal Bose and Benode Behari Mukherjee, where he remains for most of his career.
1935
Makes a sculpture portrait of Ustad Allauddin Khan on the latter's visit to Santiniketan.
1936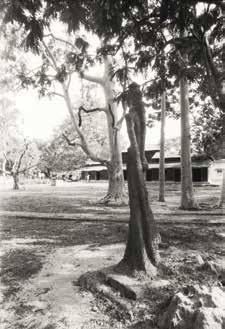 He makes the tall sculpture Sujata, modelled on Jaya Appasamy, a student at the time in Kala Bhavana, who went on to be a noted critic and art historian.
1938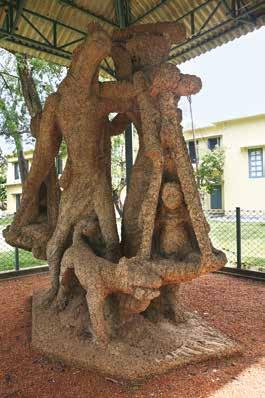 Completes Santhal Family, arguably India's first modernist public sculpture, made with cement and laterite mortar and depicting tribal peasants. The same year, he makes The Poet, a study in cement of Rabindranath Tagore's head that stands out for its startling distortion. It is his most abstract sculpture and the only such strongly subjective and nonhagiographic portrait of Tagore by any artist.
1940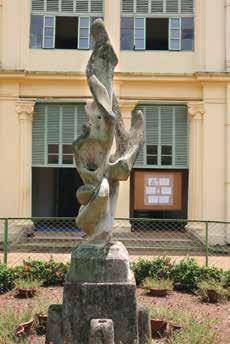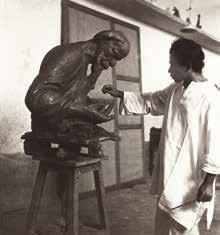 Completes Lamp Stand, considered the country's first abstract sculpture. The same year, a few months before Tagore's death, he makes a highly realist bust of the Nobel laureate from life. An ailing Tagore appears frail and brooding, without arms, his back bent.
1944
A student organises a joint exhibition of his works along with those of Benode Behari Mukherjee at New Delhi.
1945
He is invited by the Government of Nepal to make sculptures.
1946-47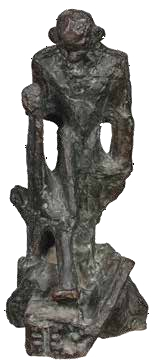 Makes a sculpture portrait of Abanindranath Tagore based on three sittings of fifteen minutes each.
1948
Visits Shillong, and paints several atmospheric watercolours of its mountainous landscape. Makes a small sculpture of Mahatma Gandhi, now in the collection of the National Gallery of Modern Art, New Delhi. It is cast in the mid-1970s by Bipin Behari Goswami for Lalit Kala Akademi.
1949
Visits the north Indian hills and paints several mountainscapes.
1950
Participates in the Salon des Réalités Nouvelles, Paris, and with the Salon de Mai the following year.
1956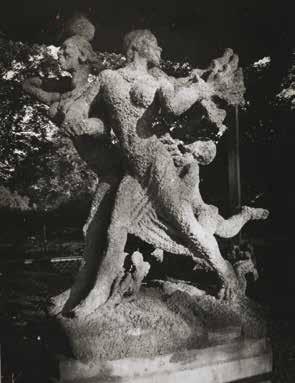 Makes Mill Call, his last monumental outdoor sculpture.
1956-57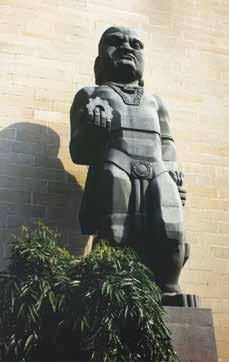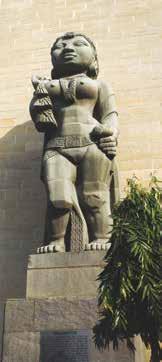 He is commissioned by the Reserve Bank of India to make two sculptures based on classical Indian sculpture. The two monumental works, Yaksha and Yakshi, are completed and installed on site at the entrance to the RBI headquarters in New Delhi only a decade later.
1968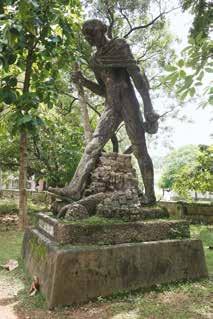 Makes a sculpture of Mahatma Gandhi in Santiniketan.
1969
Paints a cubist oil, Atomica, on the dropping of the atomic bomb on Japan.
1970
Is awarded the Padma Bhushan by the Government of India.
1975
Ritwik Ghatak makes a documentary on him that remains incomplete.
1976
Is made a fellow of the Lalit Kala Akademi, New Delhi. Is conferred an honorary doctoral degree, Desikottama, by Visva-Bharati.
1979
Receives an honorary D. Litt from Rabindra Bharati University, Calcutta.
1980
Dies in Calcutta following a brief illness.
2012
A posthumous retrospective of Baij's work is held at the National Gallery of Modern Art, New Delhi, curated by his one-time student at Santiniketan, the sculptor, K. S. Radhakrishnan.
The 'Manifestations' series of 20th Century Indian Art, Editions V, VI, VII, X
DAG, New Delhi and Mumbai, 2011-14
'Indian Landscapes: The Far Horizon'
'The Naked and The Nude: The Body in Indian Modern Art'
DAG, New Delhi, 2013; Mumbai, 2015
'India Modern: Narratives from 20th Century Indian Art'
DAG, New York, New Delhi, and Mumbai, 2015; Chandigarh, 2017
'The Art of Santiniketan'
DAG, New Delhi, 2015; Mumbai, 2016
'Primitivism and Modern Indian Art'
DAG, Mumbai, 2019; New York, 2020
'Indian Blue: From Realism to Abstraction'
'Iconic Masterpieces of Indian Modern Art'
'New Found Lands: The Indian Landscape from Empire to Freedom'
DAG, New York, 2021; Mumbai 2021-22
National Gallery of Modern Art, New Delhi
Lalit Kala Akademi, New Delhi
Kiran Nadar Museum of Art, New Delhi
Reserve Bank of India, New Delhi
Kala Bhavana, Santiniketan
Academy of Fine Arts, Kolkata
Government Museum and Art Gallery, Chandigarh
Jehangir Nicholson Art Foundation, Mumbai
Kejriwal Museum, Karnataka Chitrakala Parishath, Bengaluru
Jane and Kito de Boer Collection, Dubai and London
The Sunday Times of India