1922 - 1975
Adi Davierwalla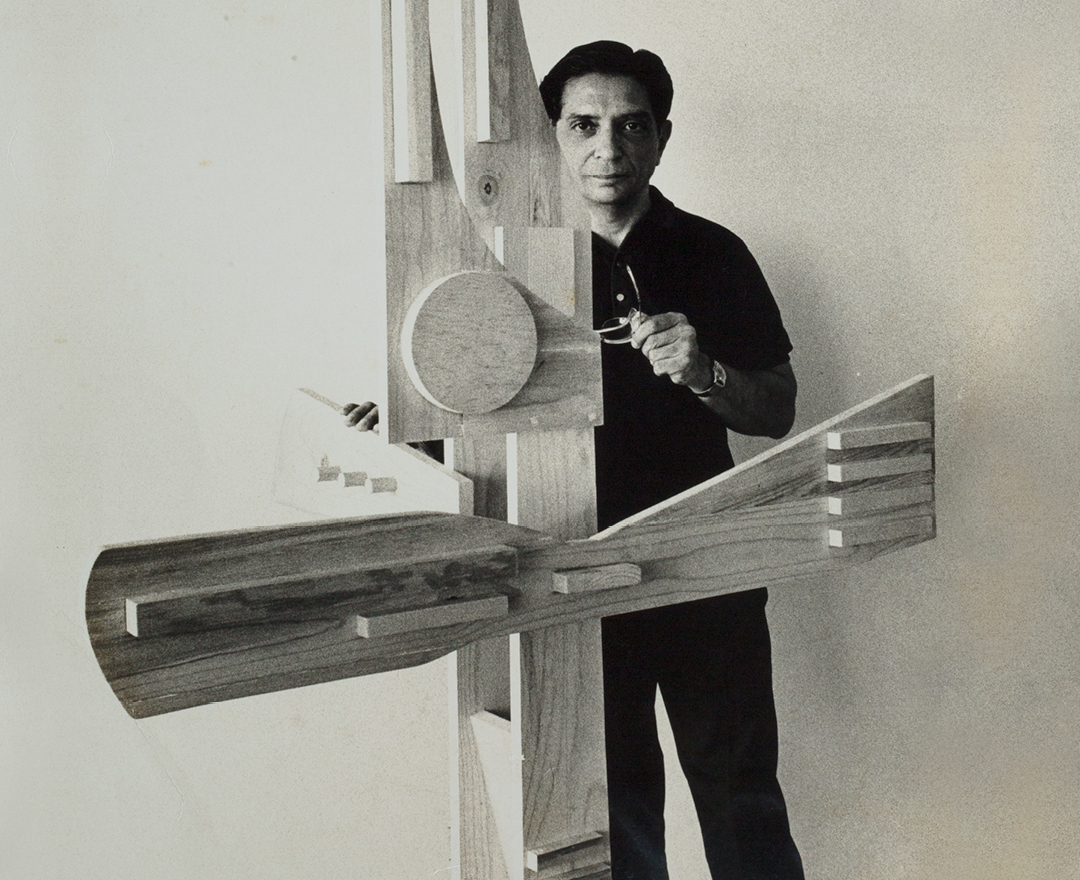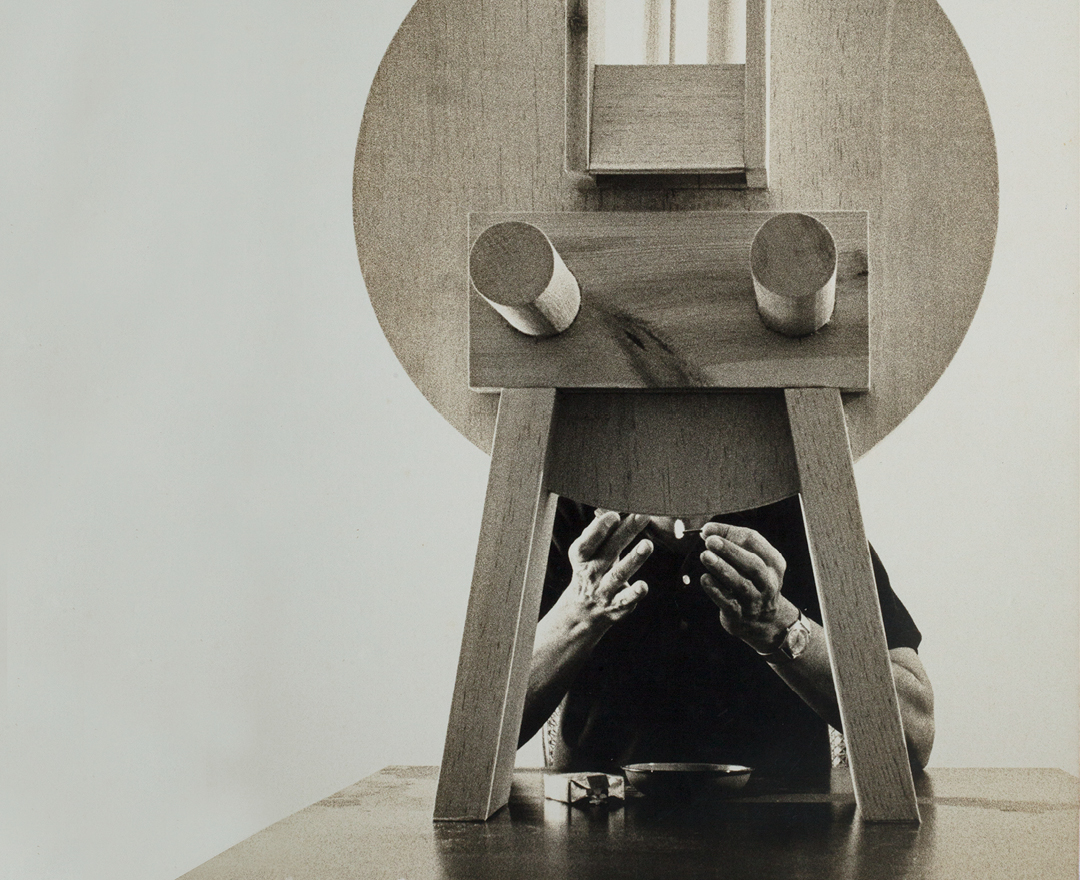 Born in 1922, pioneering modernist sculptor
Ardeshir M. Davierwalla—fondly called Adi—was a pharmaceutical chemist by training.
Davierwalla went to school in Coonoor, Tamil Nadu, and studied pharmaceutical engineering at the Victoria Jubilee Technical Institute (now known as the Veermata Jijabai Technological Institute) in Bombay.
After his studies, Davierwalla worked at the Continental Drug Company but gave up the job three years after holding his first show in 1956, to devote himself fulltime to art.
A self-trained artist, Davierwalla learnt the basics from noted sculptor N. G. Pansare. Choosing not to work with moulds, he took to carving directly in wood, lead, steel, and stone. Inspired by ancient Indian sculpture, Western myth, and the grandeur and mystery of the Christ themes, his works like The Foundling, Oedipus Rex, and Judas, are proof of such influence. Many of his later works acquired a more abstract vocabulary, echoing the language of twentieth century greats such as British sculptors Barbara Hepworth, Henry Moore, and Jacob Epstein. His stay in New York in 1968 on a John D. Rockefeller III Fund grant, to which he was nominated by Akbar Padamsee, further chiselled his modernist language. 
With the use of contemporary and unconventional materials, his abstract works aimed at a fusion of the geometrical and the metaphysical. He made several large works on commission and counted scientist Dr. Homi J. Bhabha as a patron. He passed away at the age of fifty-three in Bombay.
'My mother was a big influence on my father's interest in art. She asked him to give up a career in pharmaceuticals and was sure that should there be financial hardships, she would be there to support him'
ZARINE DAVIERWALLA
artist timeline
1922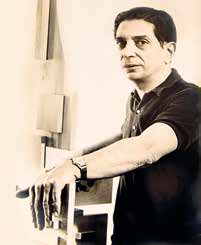 Is born in Bombay.
Late 1940s
Drawn to art, from 1945 onwards he begins to devote his time outside work to reading, listening to music and drawing. He tries his hand at painting but realises that colours hold no appeal for him and he needs 'more resistant material to express' himself. He decides on initial training under N. G. Pansare and begins to experiment with sculptural art. Chooses to carve directly in wood, stone and marble as opposed to sculpting in plaster and preparing a mould for the final work. In his works there is a tendency towards conventional idealisation of the human form but gradually expressionistic and bold distortion begins. to take its place. After experimenting in wood and marble, he begins to explore metal as a medium and executes works in small sizes.
Early 1950s
Too shy to get involved with artist groups, Davierwalla begins to showcase his works in the annual shows of Bombay Art Society. His early works carry influences of sculptors Jacob Epstein and Henry Moore. But soon he discards these influences to strive for originality. Is awarded a bronze medal at the annual exhibition of the Bombay Art Society.
1952
Travels to Europe. Is greatly impressed by modern European sculpture, and his works from this period register this influence.
Mid 1950s
Begins to experiment with genres and themes. On the one hand, works carry suggestions of the derivative and the academic in an attempt to forge a link with universal traditions. But in the same breath, he explores Greek myth and Biblical lore, executing these works in semiabstract style, examples of which are Christ Head (1953), Flagellation (1955), Judas (1955). At the same time, he executes the head of Picasso (1953) in a language which is semi-academic.
1955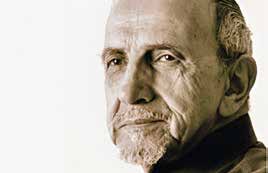 Is awarded the silver medal at the annual exhibition of the Bombay Art Society. Creates Crucifixion, initially as a backdrop for Ebrahim Alkazi's staging of T. S. Eliot's Murder in the Cathedral. He goes on to make other iterations on the same theme.
1956
Has his first solo show at Jehangir Art Gallery, Bombay.
1957
Wins gold medal at All India Sculptor's Show and first prize at the State Art Exhibition. Executes Blind King/Oedipus in pink Agra sandstone. Continues to experiment which leads him to execute a diverse body of works carved in stone, wood and marble, assemblages of scrap and industrial material, pieces cast in lead and bronze and others.
1960s
According to Dnyaneshwar Nadakarni, 'A new subtlety of metaphor, a poetic originality of symbol now begins to make itself felt in Adi's work. He reaches out from the area of mere physical perception to the soaring heights of the metaphysical.'
1961
After winning critical acclaim, Davierwalla finally gives up his factory job and turns to sculpture as a full-time profession.
1962
Executes Falling Figure on a commission from the Atomic Energy Establishment. The huge sculpture is a muscularly conceived torso, like a falling rider, the stance suggestive of a tentative setback with the promise of hope and understanding of the power of the atom presaging the future.
1963
Participates in the Sao Paulo Biennale.
1963,'70,'74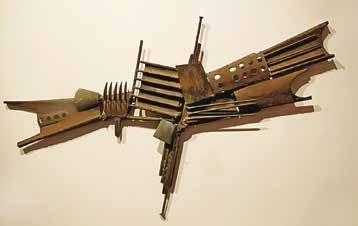 Executes three different versions of Icarus. These versions, spread over a little more than a decade, can be seen as an evolution in Davierwalla's works from 'the quintessential but still naturalistic to the virginally abstract'. The wings play a metaphorical role in all the three sculptures.
1965
Receives national award for sculpture at the annual Lalit Kala Akademi exhibition.
Mid 1960s
Davierwalla discovers that scrap is an excellent material to work with. He executes some stunning and thoughtful pieces like Don Quixote (1965) and Pathfinder (1965).
1966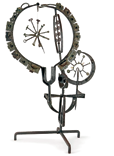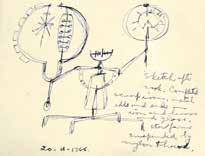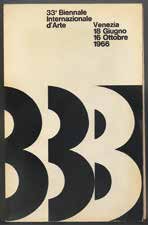 Creates the iconic sculpture Galaxy with metal and glass. It recalls a primitive, anthropomorphic representation of the universe. Participates in the Venice Biennale.
1967
Executes Suryadev, a public sculpture installed in a Bombay housing project.
1968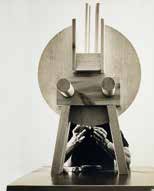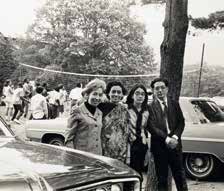 Is awarded the JDR 3rd Fund grant and tours America and Europe with his wife and daughter. This is his second big international trip and he develops a deep understanding of not just art but also of a variety of sophisticated material. Executes Study in Light and Colour in Perspex, a type of plastic which he discovered during one of his foreign excursions. He soaks in a lot of ideas and techniques during his American sojourn and executes some important works in small sizes—New York I and New York II (1968) and Circle and Cross (1970), Linear Analysis of a Standing Figure (1970). Holds a solo show sponsored by Bertha Schaifer Gallery, New York.
1969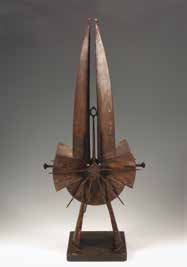 Executes Flame, possibly the simplest of his works by way of form and metaphor. However, the work is laden with multiple meanings beginning with the simple concept of fire being sacred for Parsis; the metal construction with an upward projection is indicative of an environment typified by technological reality. His works get included in a travelling exhibition in the U.S.
Late 1960s - Early 1970s

Begins to experiment with metal sculptures in big sizes in mediums such as steel and aluminium. In the final decade of his life and work, Davierwalla executes monumental sculptures in welded steel. His themes and style remain the same as in his smaller works, but there is, along with his struggle for scale, an attempt to achieve a transcendental symbolism.
1970
Executes Animated Suspension where he makes use of magnets in a unique but appropriate context. He executes large sculptures for the Atomic Energy Establishment, Larsen and Toubro, and the Life Insurance Corporation. Participates in a group show organised by the Coray Gallery in Zurich.
1975
Succumbs to cancer at the age of fifty-three in Pune.
2008-2009
'Expanding Horizons: Contemporary Indian Art', a travelling exhibition, is presented by Bodhi Art at Ravinder Natya Mandir, P. L. Despande Kala Academy Art Gallery, Mumbai; Sant Dyaneshwar Natya Sankul Art Gallery, Amravati; Platinum Jubilee Hall, Nagpur; Tapadia Natya Mandir Sports Hall, Aurangabad; Hirachand Nemchand Vachanalaya, Solapur; Acharya Vidyanand Sanskrutik Bhavan, Kolhapur; PGSR Sabhagriha, SNDT, Pune; Sarvajanik Vachanalaya Hall, Nashik.
2016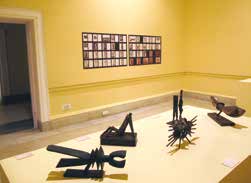 A landmark show, 'No Parsi is an Island', curated by Ranjit Hoskote and Nancy Adajania, with fourteen artists across hundred and fifty years, opens at National Gallery of Modern Art, New Delhi. The exhibition highlights how artists of Parsi origin negotiated the interior world of that community and the cosmopolitan landscape that was opening up and depicts these artists as working in contexts wider than just their art.
'Manifestations X, 20th Century Indian Art'
'Indian Abstracts: An Absence of Form'
DAG, New Delhi, Mumbai, and New York, 2014-15
'India's Rockefeller Artists: An Indo-US Cultural Saga'
DAG, New York, 2017; Mumbai, 2018
'Iconic Masterpieces of Indian Modern Art'