b - 1941
Rameshwar Broota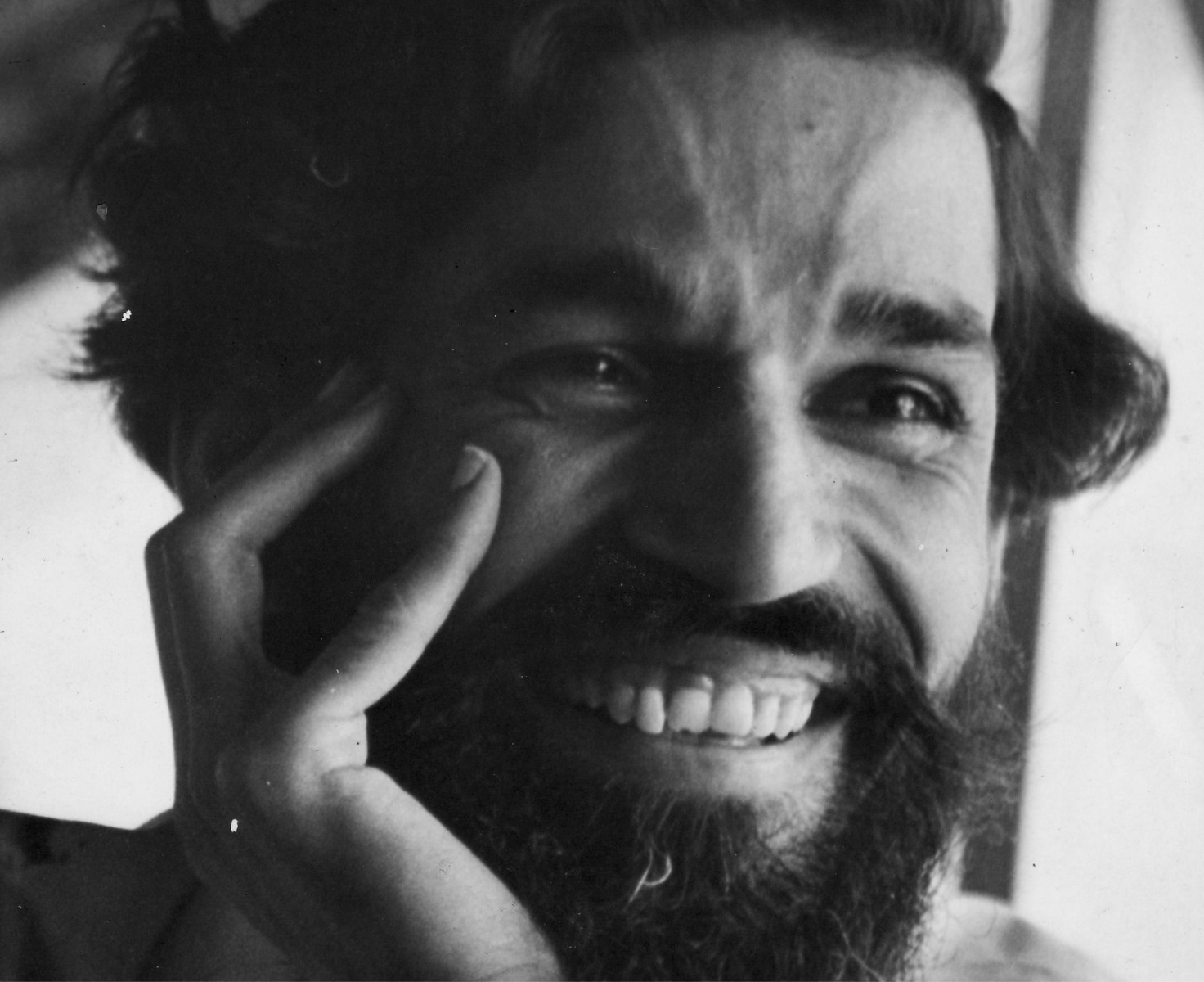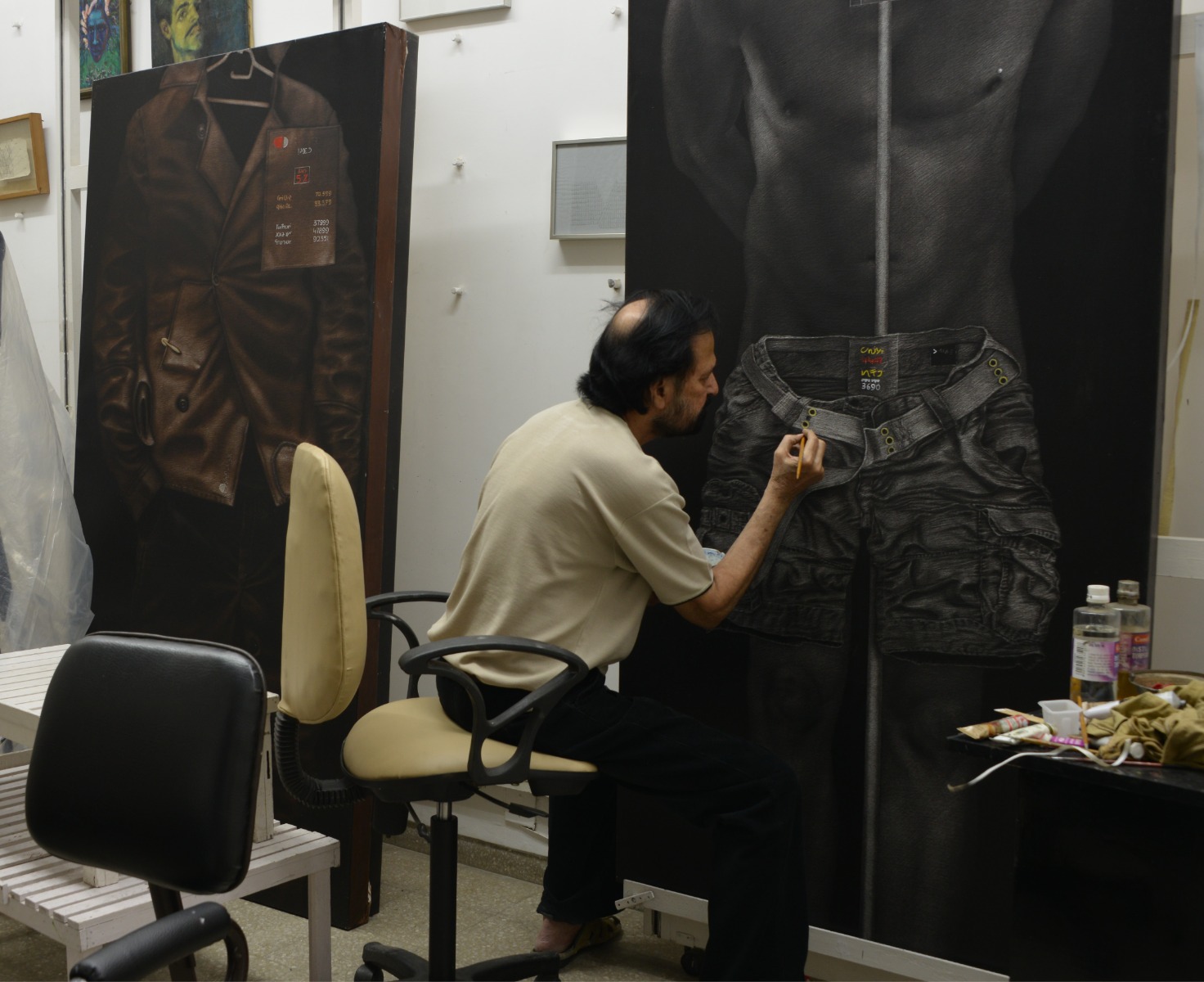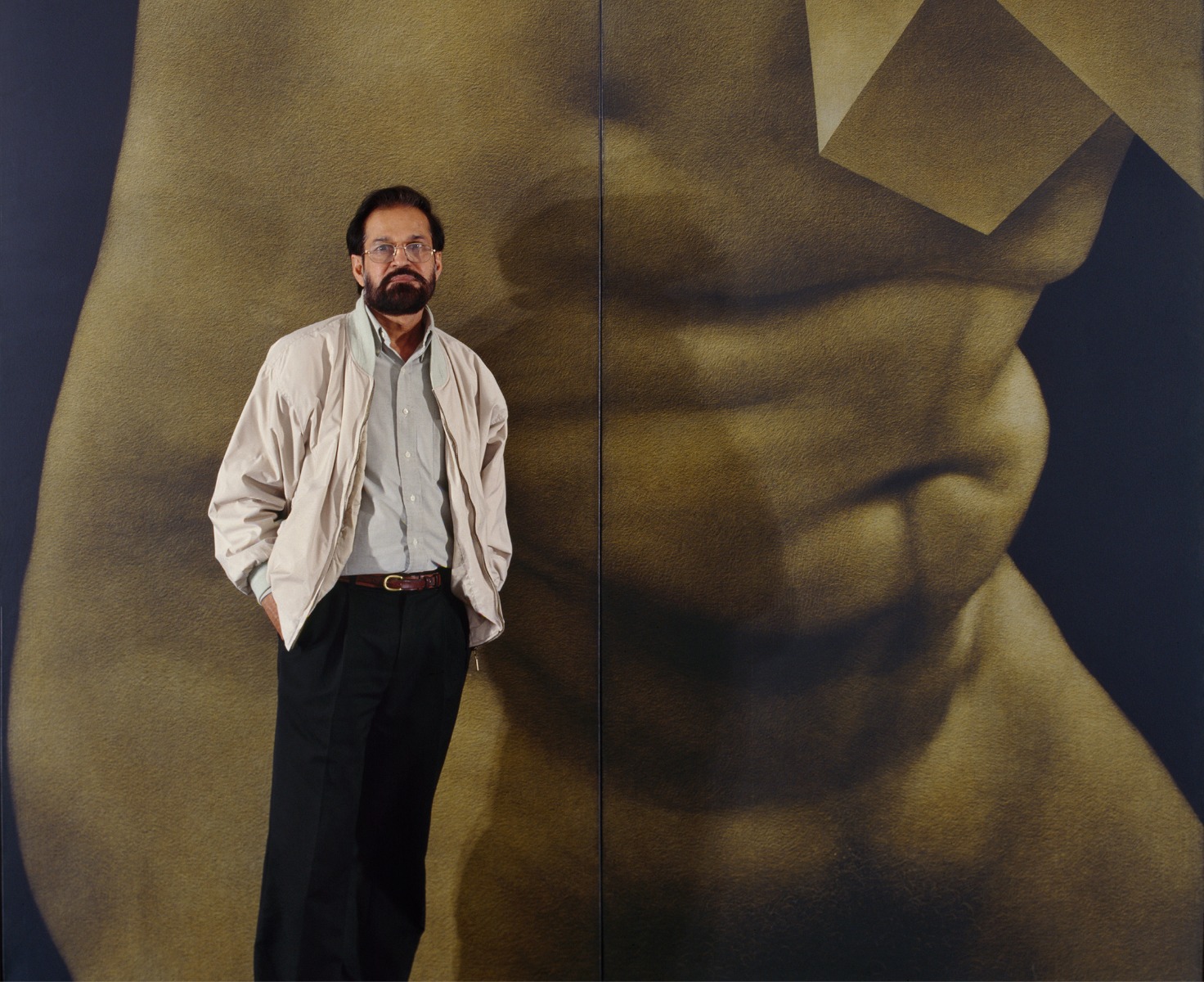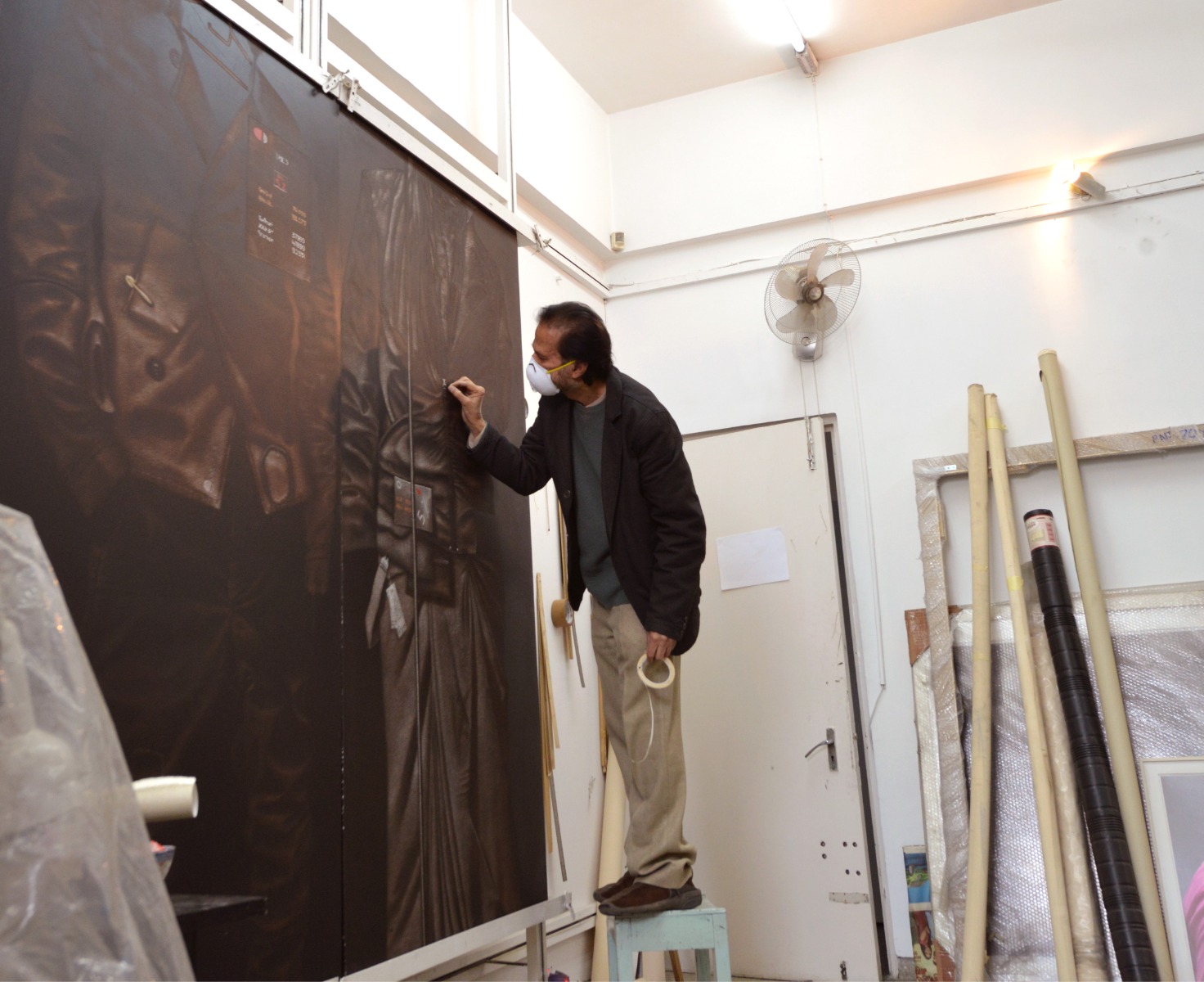 Experimenting across styles, Rameshwar Broota's artistic concerns have evolved around crass materialism in society and the juxtaposition of the primitive man.
A graduate of Delhi College of Art, he has been an art teacher throughout his career. He was a lecturer at his alma mater before moving to Jamia Millia Islamia University and then Sarda Ukil College, eventually taking over as head of department at Triveni Kala Sangam, a position he has held since 1984.
Starting as a representational painter, Broota dabbled in abstraction before returning to the figurative style. His visual language bears elements of realism and expressionism.Allegorical, grotesque, satiric representations manifested in his Ape series of the 1970s in which he critiqued the corruption and decadence among the elite. Later, Broota moved to the realm of the timeless, exploring the opposing pulls of matter and spirit.
The leitmotif of Broota's imagery in his series Man, Faces and Scripted in Time is the 'man' who, collectively, represents mankind. His paintings of the male nude have arisen from the suggestion of strength and force as symbolised by the masculine torso. Browns, greys, blues, whites, and metallic tones of gold, silver, and copper, dominate these works.
In the '70s, Broota invented his scratching technique involving scratching through layers of paint with blades. The result is a powerful depiction of sometimes inimical forces—the human body juxtaposed against architecture, for instance—that have marked him as a painter of major significance. His experimentation with cinematographic language resulted in video art films in the mid-'80s, and his recent interest in photography has been critically acclaimed. The artist lives and works in New Delhi.
'Broota's outward journey may appear to have taken many different paths. His inner journey, however, has been constant. The constant is his dialectic strength between yin and yang, between light and dark, between the individual and the collective'
KITO DE BOER
artist timeline
1941
Is born in New Delhi.
1963-67
Begins his career in the city as a teacher at Jamia Millia Islamia Higher Secondary School, Sarada Ukil School of Art, and, intermittently, at his alma mater, as a visiting lecturer.
1964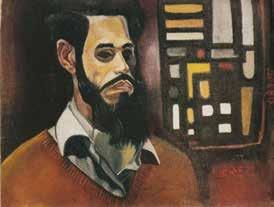 Becomes involved with Silpi Chakra group, holding office as its secretary and chairman over the years. Continues to paint portraits and self-portraits.
1967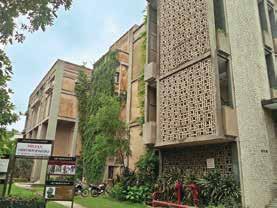 Joins as head of department of fine arts at Triveni Kala Sangam. Breaks away from portraiture to use the 'body', absent from his portraits, as the core medium of his expression. Paints a series of large format paintings depicting emaciated labourers.
1970
Begins his Ape series depicting grotesque, hybrid, gorilla-like figures to express his concern about materialism in society.
1971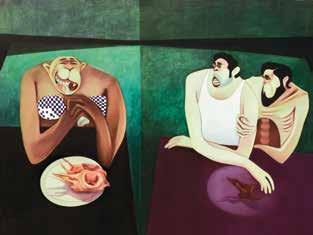 Exhibits the Ape paintings in 'Words and Lines' exhibition with artist K. Khosa.
1973
Receives the All India Fine Arts and Crafts award, winning it again in 1975.
1974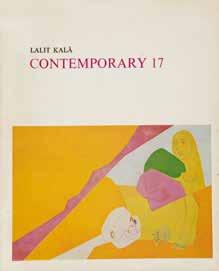 Keshav Malik writes, 'Broota's are competent paintings in the best painterly sense, and that is why they generally succeed as images that disturb one's complacence' in an essay in Lalit Kala Contemporary 17.
1975
Participates in the third International Triennale in New Delhi organised by Lalit Kala Akademi.
1976
Travels to France to participate in the Cagnes-Sur Mer international art fair.
1977
Participates in Lalit Kala Akademi's group show, 'Pictorial Space'.
1978
Is part of the fourth International Triennale in New Delhi.
1980s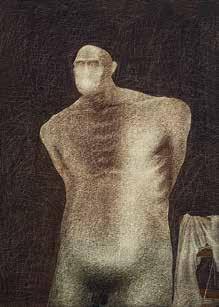 Begins his Man series, shifting his focus from outward concerns to looking inwards; evolves a new technique in his painting in which he meticulously scrapes out layers of flat monochromatic paint with the sharp edge of a broken blade.
1980,'81,'84
Receives Lalit Kala Akademi's National Award.
1981
Is part of the fifth International Triennale, New Delhi.
1982
His works feature in Museum of Modern Art, Oxford, England, as part of 'India: Myth and Reality'; and group show 'Contemporary Indian Paintings' at Kunsthalle Darmstadt Museum, Germany.
1985
Experiments with photography and directs the video, The Body and Biography of Life. Takes part in Asia Art Biennale, Bangladesh, and Tokyo Biennale Japan.
1986
Has his first Man series exhibition at Calcutta Art Gallery. Participates in Baghdad International Festival for Art Biennale, Iraq; Havana Biennale in Cuba.
1987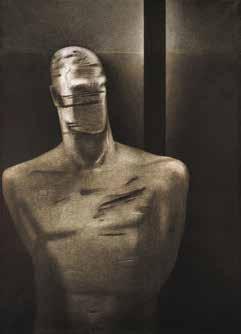 The artist's painting, Prisoner of War, is among the top sales at Sotheby's Modern and Contemporary South Asian Art Auction. Participates in Coup de Coeur Festival of India in Geneva, Switzerland
1988
Receives the L. N. Gupta Memorial Award from Max Muller Bhavan, Hyderabad.
1990s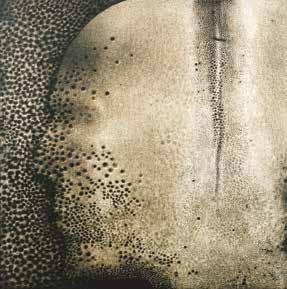 Broota eliminates the human body to move towards the abstract. In his Traces of Man series, the human figure is almost absent from the imagery.
1995
Incorporates the use of the computer in his creative process, using it as a sketchbook to make and manipulate images for his own reference.
1996
Is part of Pyeongtaek International Art Festival in South Korea.
1997
Receives Kala Vibhushan from A.I.F.A.C.S. Is part of 'Tryst with Destiny' at Singapore Art Museum. Broota's works are shown at two group exhibitions organised at National Gallery of Modern Art—those featuring Masanori Fukoka's comprehensive Indian art collection, and the 'Colours of Independence' exhibition organised by Kolkata's C.I.M.A.
1998
His work is part of 'Contemporary Art of India' at Peabody Essex Museum, U.S.A.
2000s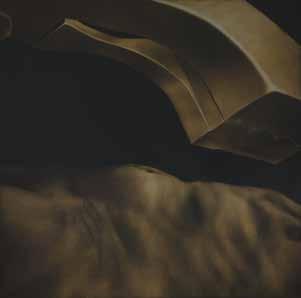 Conceptualises his Confrontation series in which he briefly returns to depicting close-ups of faces or the body juxtaposed threateningly with heavy objects or machinery.
2001
His exhibition, 'Edge of Precipice', opens at Shridharani Gallery, Triveni Kala Sangam, New Delhi.
2004
His 'Archaeology of Experience' is displayed in New Delhi, Mumbai and Kolkata. Three of the artist's films—Shabash Bete (1991), The Body (1985), and Biography of Life (1985)—screen as part of Art and Cinema (celebrating 50 years of Lalit Kala Akademi) at the National Museum, New Delhi.
2006
Broota's painting, Numbers, is auctioned by Christie's for Rs. 6.7 crore, the highest in the Indian art section.
2008
His videos are part of 'Still Moving Image' at Devi Art Foundation, Gurgaon.
2010
In interviews marking the opening of the Kiran Nadar Museum of Art, New Delhi, Kiran Nadar says the first painting she bought was a work by Broota.
2013
Receives Lifetime Achievement Award at Lalit Arpan Festival, Asavari, New Delhi.
2014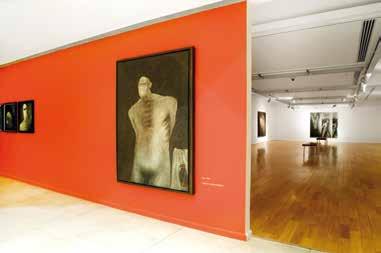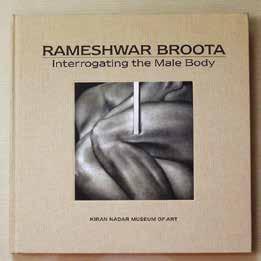 Kiran Nadar Museum of Art organises the artist's retrospective, 'Visions of Interiority: Interrogating the Male Body'. His 1987 painting, Prisoner of War, is among the top sales at Sotheby's Modern and Contemporary South Asian Art auction.
2016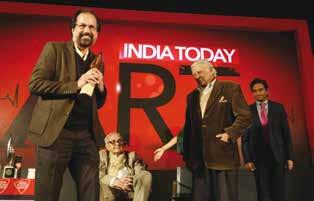 Begins experimenting with epoxy resin to create translucent sculptures and paintings. Wins India Today's Artist of the Year award.
2018
The Stare of Destiny is exhibited at DAG's booth at Masterpiece London.
2020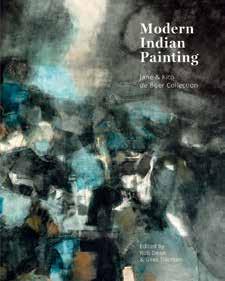 Is featured prominently in the book Modern Indian Painting featuring works from the Jane and Kito de Boer collection. Is ranked second second-most successful artist alive in the Hurun India Art List 2020.
The 'Manifestations' series of 20th Century Indian Art, Editions V, VI
'The Naked and The Nude: The Body in Indian Modern Art'
DAG, New Delhi, 2013; Mumbai, 2015
DAG, New Delhi and Mumbai, 2020
'Navrasa: The Nine Emotions of Art'
DAG, Mumbai and New Delhi, 2020
National Gallery of Modern Art, New Delhi
Rashtrapati Bhavan, New Delhi
State Lalit Kala Akademi collections across India
Kiran Nadar Museum of Art, New Delhi
Rajshree Pathy Collection, Coimbatore
Josip Broz Tito Museum, Belgrade
Jane and Kito De Boer Collection, Dubai
Chester and Davida Herwitz Collection, Peabody Essex Museum, Salem