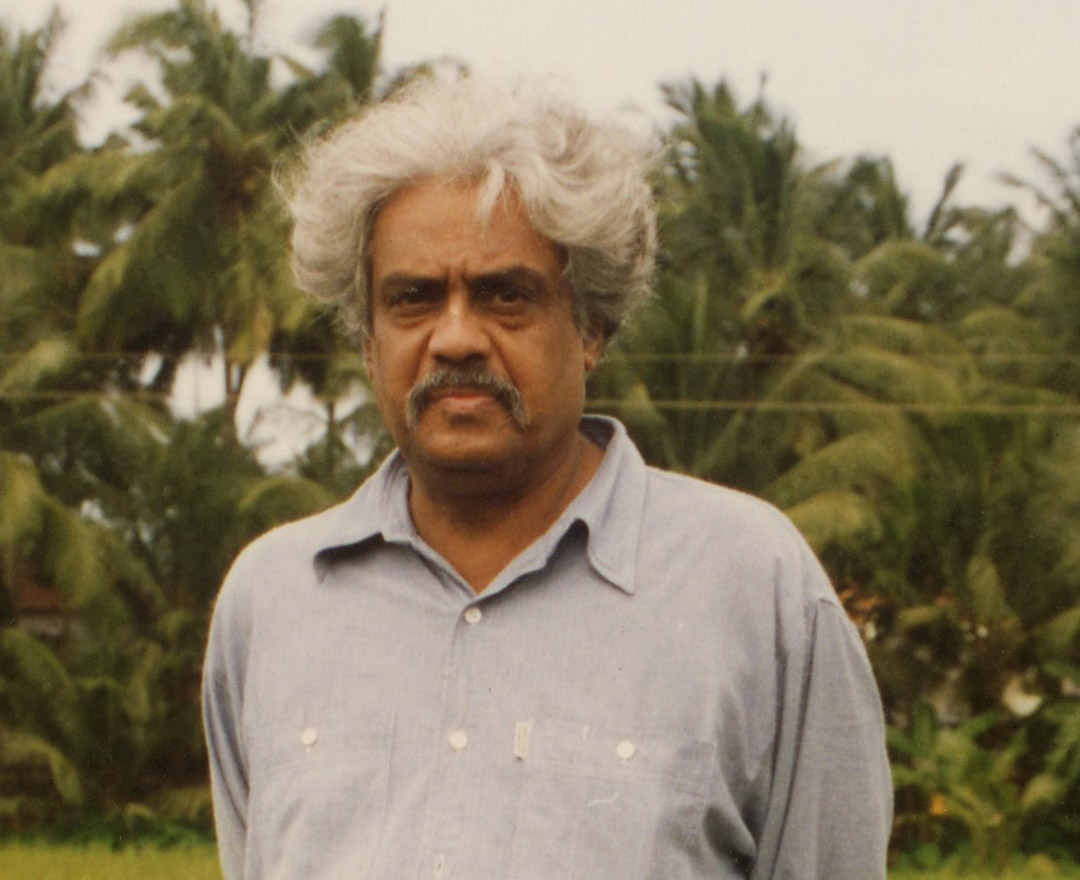 Achutan Ramachandran Nair, popularly known as A. Ramachandran, was born in 1935 in Attingal, Kerala.
He studied Malayalam literature before pursuing art at Kala Bhavana, Visva-Bharati University, Santiniketan. Under the tutelage of Nandalal Bose and Ramkinkar Baij, he developed both the muralist's monumentality of scale and the intimate ambit of the miniaturist.
Ramachandran devoted the first half of his career to the exploration of the modern man in his urban environment, before reversing that trajectory to a celebration of life in rural India—focussed on a community of Bhil tribals living near Udaipur, Rajasthan. As a result of this, his works encompass a mammoth range—from the depiction of Kerala's socio-political situation through dark and tortured images in the early years, to classical art replete with decorative elements, motifs and exuberant colour, followed by an altogether seductive form, featuring women, birds, and beasts, in later years.
Ramachandran has also been an art teacher, and was associated with children's literature, writing and illustrating fifty picture books between 1961 and '92 that were published in India and abroad, most prominently in Japan. Some of these original illustrations are on permanent display at the Museum of Children's Books in Miyazaki, Japan. He has conducted workshops on children's book illustrations in many countries for U.N.E.S.C.O.
Ramachandran became the chairman of the Kerala Lalit Kala Akademi in 1993 and has been honoured with several awards, including the Padma Bhushan in 2005. He lives and works in New Delhi.
'I was fortunate to study drawing under Ramkinkar Baij in Santiniketan who gave me a new outlook and philosophy to explore as a modern Indian artist'
A. RAMACHANDRAN
artist timeline
1935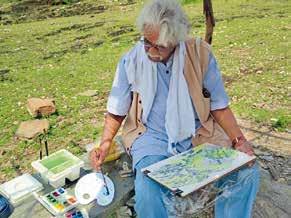 Born in Attingal, Kerala, to S. J. Bhargavi Amma and Poovalam Achutan Nair; learns classical Carnatic music for ten years.
1954
Becomes a vocal artiste for All India Radio.
1957
Passes M.A. in Malayalam literature from Kerala University, joins Kala Bhavana, Visva-Bharati University, Santiniketan, on a scholarship from Kerala University. As a member of the students' council at Santiniketan, organises retrospective exhibitions of the works of Benode Behari Mukherjee and Ramkinkar Baij.
1961
Completes his diploma course and joins Vidya Bhavana, Visva-Bharati University as a research scholar for a Ph.D. on the mural paintings of Kerala. Is commissioned to copy the 'Kumar Sambhava' panels of Cochin's Mattancheri Palace murals for Kala Bhavana Museum, assisted by Tan Chameli. Illustrates about forty books for children written by eminent Malayalam writers for Sahitya Pravarthaka Sahakarana Sangam, Kottayam.
1963-64
Participates in a group show at All India Fine Arts and Crafts Society in New Delhi along with Dharmanarayan Dasgupta and Debi Prasad Saha. Virendra Kumar of Kumar Gallery offers him a contract. Shifts to New Delhi.
1965
Joins Jamia Millia Islamia as a lecturer in art education. Later, along with Paramjit Singh and other colleagues, develops a full-fledged art department awarding B.F.A. and M.F.A. degrees in painting, sculpture, applied art and art education.
1966
Takes part in group exhibition 'Ten Indian Painters' at MIT (Massachusetts Institute of Technology) and New Jersey State Museum, U.S.A. Holds first one-man show at Kumar Gallery, New Delhi. All his exhibitions are reviewed by art critics and writers such as Charles Fabri, Richard Bartholomew, Jaya Appasamy, O. V. Vijayan, Krishna Chaitanya, Keshav Malik, Santo Datta, Prayag Shukla, and Vinod Bharadwaj.
1967
Marries Tan Chameli. Participates in Tokyo Biennale.
1968
Participates in the first International Triennale, New Delhi. Takes part in a graphic workshop in Santiniketan organised by Somnath Hore, Ramkinkar Baij, Benode Behari Mukherjee, K. G. Subramanyan and others.
1969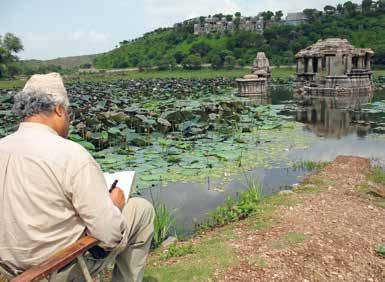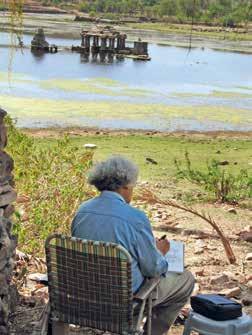 Receives Lalit Kala Akademi's national award for painting. Is commissioned to execute a mural for Gandhi Centenary at Gandhi Darshan, New Delhi.
1970
Moves to Jamia Millia Islamia campus to devote more time to working in the department studio and sketching in the villages. Comes in close contact with Bhaskar Kulkarni who initiates him into folk and tribal art. Is part of group shows at Museum of Modern Art, Tokyo, and Kyoto Municipal Museum, Japan.
1972
Visits Japan to write and illustrate two books for Fukuinkan Shoten Publishers; stays as a guest of the Matsui family in Tokyo and Akino family in Kyoto; meets Iri and Toshi Maruki for their 'Hiroshima paintings'; he will visit Japan frequently hereafter. Designs a stamp commemorating the silver jubilee of I.S.I. for Department of Post and Telegraph, India. Exhibits copies of Kerala murals done in 1962 at Kyoto Municipal Museum; these are later destroyed in a fire in Japan.
1974
Creates a set of twelve sculptures in bronze. Participates in a group show of Indian art in Sofia (Bulgaria), Skopje and Titograd (Yugoslavia), Warsaw and Kosalin (Poland) and Brussels (Belgium).Participates in Menton Biennale, France. Designs postage stamp for Union Postale Universalle centenary, the Department of Post & Telegraph, India. Is elected to the general council of the Lalit Kala Akademi as Eminent Artist.
1975
Visits Japan at the invitation of the Japan Foundation and meets several renowned artists, illustrators and authorities on children's picture books. Song of Circles is published by Fukuinkan Shoten Publishers in Japan and translated into Japanese
1976
Participates in an exhibition organised to mark the 25th Pugwash Conference, Madras. Visits U.S.S.R. and Poland on a cultural exchange programme along with Geeta Kapur and Bhupen Khakhar.
1977
Is commissioned to do a mural and sculpture for Maurya Sheraton Hotel, New Delhi. Participates in an artists' camp at Kasauli, Himachal Pradesh.
1978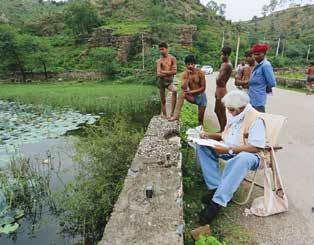 Is appointed one of three member commissioners for the fourth International Triennale, New Delhi, along with Pranabranjan Ray and Nagji Patel. They select twenty-two significant younger artists including folk artist Ganga Devi and tribal artist Jivya Soma Mashe to break the barrier between rural and urban art expressions. This unorthodox selection generates controversy and a powerful lobby of the Lalit Kala executive board rejects the list and appoints new commissioners. In protest, Ramachandran resigns from the Lalit Kala Akademi. Receives Noma Award for children's picture book illustration from Japan; and again in 1980.
1979
Participates in Sao Paulo Biennale, Brazil. Participates in 'Silver Jubilee Exhibition of Sculptures' of Lalit Kala Akademi, at New Delhi, Bombay, Madras and Calcutta.
1980
Participates in 'Silver Jubilee Exhibition of Paintings in Miniature Format', Lalit Kala Akademi, in New Delhi, Bombay, Madras and Calcutta. Designs a set of two commemorative stamps on Mahatma Gandhi's Dandi March for the Department of Posts and Telegraph, India.
1982
Is part of shows overseas at the Festival of India (London and Oxford), as part of Indira Gandhi's visit to the U.S., and the 'Indische Kunst Heute' exhibition in the Federal Republic of Germany. Takes part in the inaugural exhibition of Bharat Bhavan, Bhopal. Designs a set of two stamps for the ninth Asian Games and another one marking the centenary of the discovery of Tubercle bacillus.
1983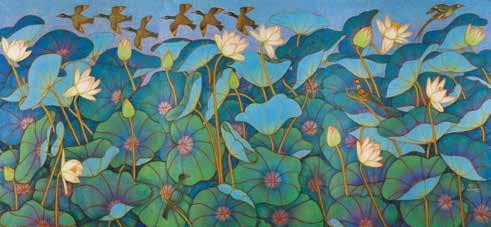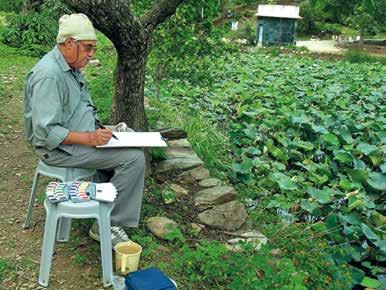 At the initiative of Ebrahim Alkazi, a retrospective exhibition of Ramachandran's eighteen years of work is held at Jehangir Art Gallery, Bombay.
1984
Creates a set of eight ceramics, titled Water Bodies, at the Lalit Kala's Garhi studio during his short tenure as its honorary director. Is affected by tubercular infection in the right eye because of which he is unable to work for six months.
1985
Visits France to participate in the International Festival of Arts at Cagnes-sur-Mer.
1986
Completes a large mural, 60 ft. x 8 ft., and a group of thirteen bronze sculptures, Yayati, commissioned by Ebrahim Alkazi in 1984; the work is exhibited at the Shridharani Gallery, New Delhi.
1989
Participates in group exhibitions: 'Nature', commemorating birth centenary of Jawaharlal Nehru, organised by the Lalit Kala Akademi, New Delhi; 'Art for Cry' in Bombay, New Delhi, Calcutta and Bangalore; 'Artist Alert', a fundraising exhibition/auction for artist/activist collective Sahmat. Visits China as part of an artists' delegation along with Akbar Padamsee and Nilima Sheikh.
1991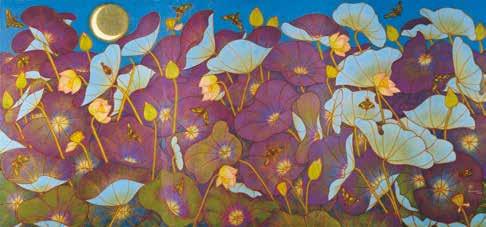 Urvashi Pururavas and the Lotus Pond series of paintings is exhibited at the Shridharani Gallery, New Delhi. One-man show of paintings and watercolours at Kala Yatra, Bangalore. Shows his collection of nineteenth century miniature paintings and drawings of the Nathdwara School in an exhibition, 'From an Artist's Collection,' at C.M.C. Gallery, New Delhi. Receives Parishad Samman from Sahitya Kala Parishad, New Delhi. Is appointed chairman of the Kerala Lalith Kala Akademi.
1992
Participates in the silver jubilee exhibition of Birla Academy of Art and Culture, Calcutta. Participates in the show 'Works on Paper' at Gallery Espace, New Delhi. Takes voluntary retirement from Jamia Millia Islamia after twenty-seven years of teaching and nurturing the institution's art department.
1993
Organises the first major exhibition of Raja Ravi Varma outside Kerala while chairman of Kerala Akademi, in collaboration with and at the National Museum, New Delhi. Is Visitor's (President of India) Nominee for the Visva-Bharati University appointments.
1994
Solo show, 'Reality in Search of Myth', is shown in Calcutta, Madras, Bangalore, Bombay and Delhi. Simultaneously, Art of the Muralist, written by Rupika Chawla and documenting visuals of the artist's work, is published by Kala Yatra and Sista's. Government of India commissions him to do a monumental bas-relief in granite for Rajiv Gandhi Ninaivakam (memorial) at Sriperumbudur, Tamil Nadu.
1995
Participates in the inaugural exhibition of Art Today Gallery, New Delhi.
1997
Holds an exhibition of paintings and watercolours, 'The Lotus Pond at Obeshwar', organised by Kala Yatra and Sista's Art Gallery, Bangalore. Participates in several group shows in New Delhi, Calcutta, Mumbai and Peru. K. Bikram Singh makes a documentary film on the artist for Doordarshan.
1998
Holds exhibitions of bronze sculptures and drawings: 'Icons of the Raw Earth: Part I', at Shridharani Gallery, New Delhi; 'Icons of the Raw Earth: Part II' at Art Today, New Delhi. Is appointed trustee-member of the Indira Gandhi National Centre for the Arts, New Delhi.
2001
Exhibition 'Imagined Territory' at Vadehra Art Gallery, New Delhi. Art of A. Ramachandran by Ella Datta is published by Roli Books. Receives Manaviyam Award by Manaviyam Cultural Mission, Government of Kerala.
2002
Yayati, a landmark group of paintings, sculptures, and drawings, at Art Heritage, New Delhi, sixteen years after its first showing. Is elected fellow of Lalit Kala Akademi.
2003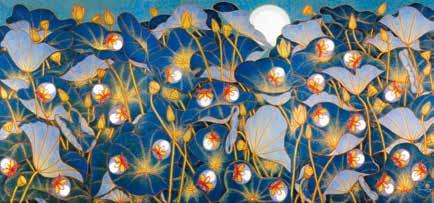 NGMA hosts 'A. Ramachandran: A Retrospective' of forty years of the artist's work; a two-volume publication by R. Siva Kumar is released.
2004
Lotus Pond: The World of Ramachandran, a documentary on the artist, is produced by K. Bikram Singh and Sudesh Unniraman.
2005
Is conferred Padma Bhushan by the President Dr. A. P. J. Abdul Kalam, for his unique contribution to the field of fine arts. Is made Professor Emeritus of Jamia Millia Islamia, New Delhi. Painted Abode of Gods: Mural Traditions of Kerala, documenting forty years of Ramachandran's research, is published by the Indira Gandhi National Centre for the Arts.
2006
Vadehra Art Gallery organises the artist's second major exhibition in Kolkata following which it travels to New Delhi.
2007
'Face to Face' at Guild Gallery, New York, is a solo show of his watercolours and head studies in oil accompanied by a book.
2008
Exhibitions at Grosvenor Gallery, London, and Jehangir Art Gallery, Mumbai.
2009
'Bahurupi', curated and conceptualised by Ranesh Ray and Rupika Chawla, present the artist's works from 2005 to 2009.
2014
Lalit Kala Akademi hosts 'Ekalinji Fantasy' at Rabindra Bhavan, New Delhi, curated by Ranesh Ray; a two-volume book, A. Ramachandran: Life and Art in Lines, edited by R. Siva Kumar with an autobiographical essay by the artist, is released.
2018
'The Changing Moods of Lotus Pond & Insignificant Incarnations' of the artist's recent paintings and drawings is organised at Shridharani Gallery, Triveni Kala Sangam, New Delhi. Is honoured with the 'Kalidas Samman (2014) by representatives of the Madhya Pradesh government at his residence.
2019
A selection by R. Siva Kumar of fifty years of art practice is exhibited at the National Gallery of Modern Art, Mumbai. Kerala Lalith Kala Akademi hosts 'The Mahatma and the Lotus Pond' featuring the artist's recent work at its Darbar Hall.
'Manifestations VI, 20th Century Indian Art'
'Indian Landscapes: The Changing Horizon'
'The Naked and the Nude: The Body in Indian Modern Art'
'Iconic Masterpieces of Indian Modern Art'
National Gallery of Modern Art, New Delhi
Kiran Nadar Museum of Art, New Delhi
Museum of Children's Books, Miyazaki, Japan