1861 - 1941
Rabindranath Tagore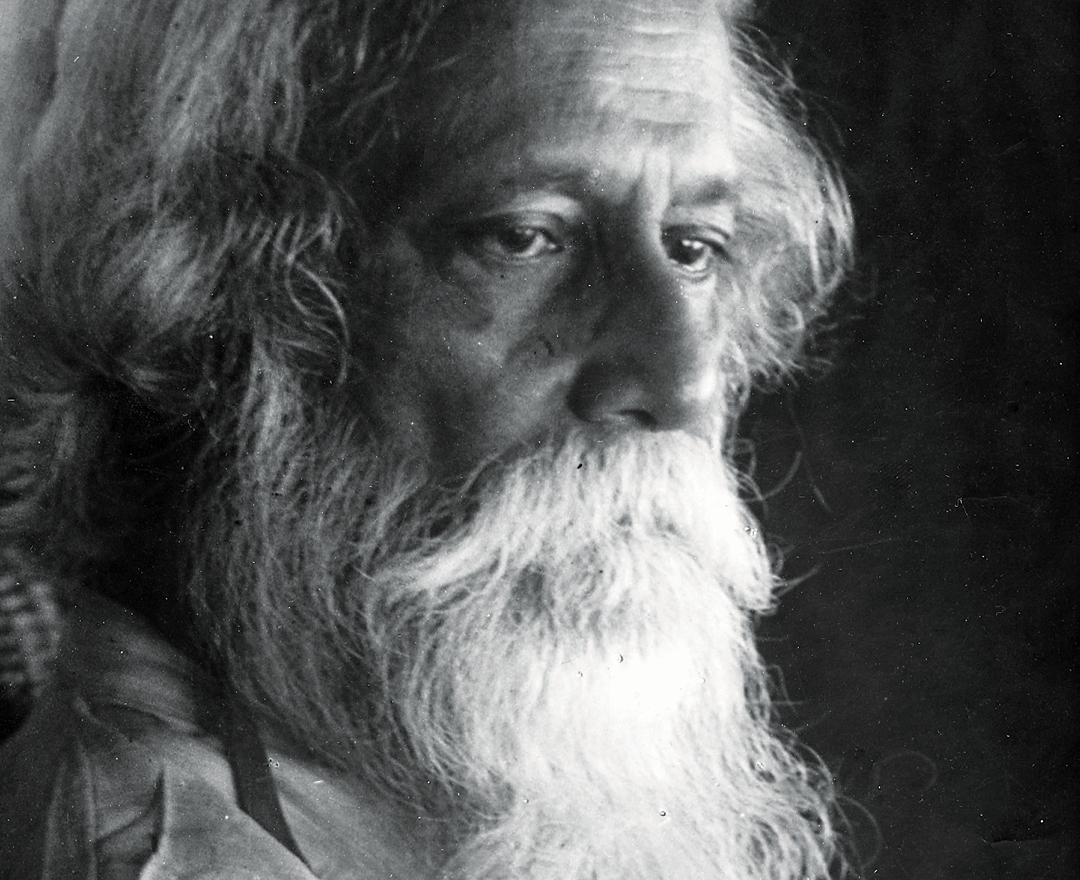 Poet, novelist, musician, playwright, and Asia's first Nobel Prize awardee—which he won for literature in 1913—Rabindranath Tagore was born on 7 May 1861, and took to painting and drawing only in his sixties.
His paintings, with their intense, semi-expressionist faces of men and women inhabiting a twilight world and a nebulous dreamscape, conveying suppressed emotions and a deep, brooding interiority, had no national connection but belonged to the modern international diction of painting.
Tagore's paintings represented a break with himself as a poet and philosopher. His belief in harmony, ultimate goodness and beauty of mankind and the world, appeared in direct dissonance with the subject of his paintings, with the latter subverting the former.
Representing a distinct break from the Indian classical tradition and the Bengal School—initiated by his nephew Abanindranath Tagore and enriched by other members of his family—Tagore's paintings and drawings reflected the influence of artists like Wassily Kandinsky, Paul Klee, Gerhard Marx, Georg Muche, Nicholas Roerich, and Gropius, as well as the impact of Freudian psycho-analysis. The deeply agonised, distorted faces seemed to be looking into their own fathomless self, and the images emerging from the subconscious depths.
Tagore's first exhibitions were in Paris, and successful, but were less well received in India at the time. Tagore, who set up Visva-Bharati University in Santiniketan, was instrumental in establishing Kala Bhavana, its art department, with Nandalal Bose as its head. His works were declared a National Treasure under the Antiquities and Art Treasure Act, 1972. Tagore passed away on 7 August 1941 in Calcutta.
'What is Art? It is the response of man's creative soul to the call of the Real'
RABINDRANATH TAGORE
'Faceoff 1900-1980's: An Exhibition of Indian Old Masters and Moderns'
'Changing Images: An Exhibition of 20th Century Indian Art'
Jehangir Art Gallery, Mumbai; DAG, New Delhi, 2001
'Poetry and Patriotic Fervour: An Exhibition of Indian Art Pre-Independence'
'Manifestations: Indian Art in the 20th Century'
World Trade Centre, Mumbai; DAG, New Delhi, 2003
'Manifestations II: Indian Art in the 20th Century'
Jehangir Art Gallery, Mumbai; DAG, New Delhi, 2004
'Manifestations III: 100 Artists'
Nehru Centre, Worli, Mumbai; Rabindra Bhavan, Lalit Kala Akademi, New Delhi; DAG, New Delhi, 2005
'Manifestations IV: LXXV Artists'
'Manifestations VIII: 75 Artists, 20th Century Indian Art'
DAG, New Delhi, 2012; Mumbai, 2014; New York, 2016-2017
'Manifestations IX: 75 Artists, 20th Century Indian Art'
'Manifestations X: 75 Artists, 20th Century Indian Art'
DAG, New Delhi, 2013-2014
'Indian Portraits: The Face of a People'
'20th Century Indian Modern Art'
India Art Fair, DAG Booth, New Delhi, 2014
'Masterpieces of Indian Modern Art'
'Masterpieces of Indian Modern Art, Edition II'
'The Art of Santiniketan'
DAG, New Delhi, 2015; Mumbai, 2016
'Ghare Baire: The World, The Home, and Beyond: 18th-20th Century Art in Bengal'
'Iconic Masterpieces of Indian Modern Art'
National Gallery of Modern Art, New Delhi
Government Museum and Art Gallery, Chandigarh
Rabindra-Sadana (Tagore Museum), Santiniketan
Rabindra Bharati University Museum, Calcutta
Victoria & Albert Museum, London