1913 - 1941
Amrita Sher-Gil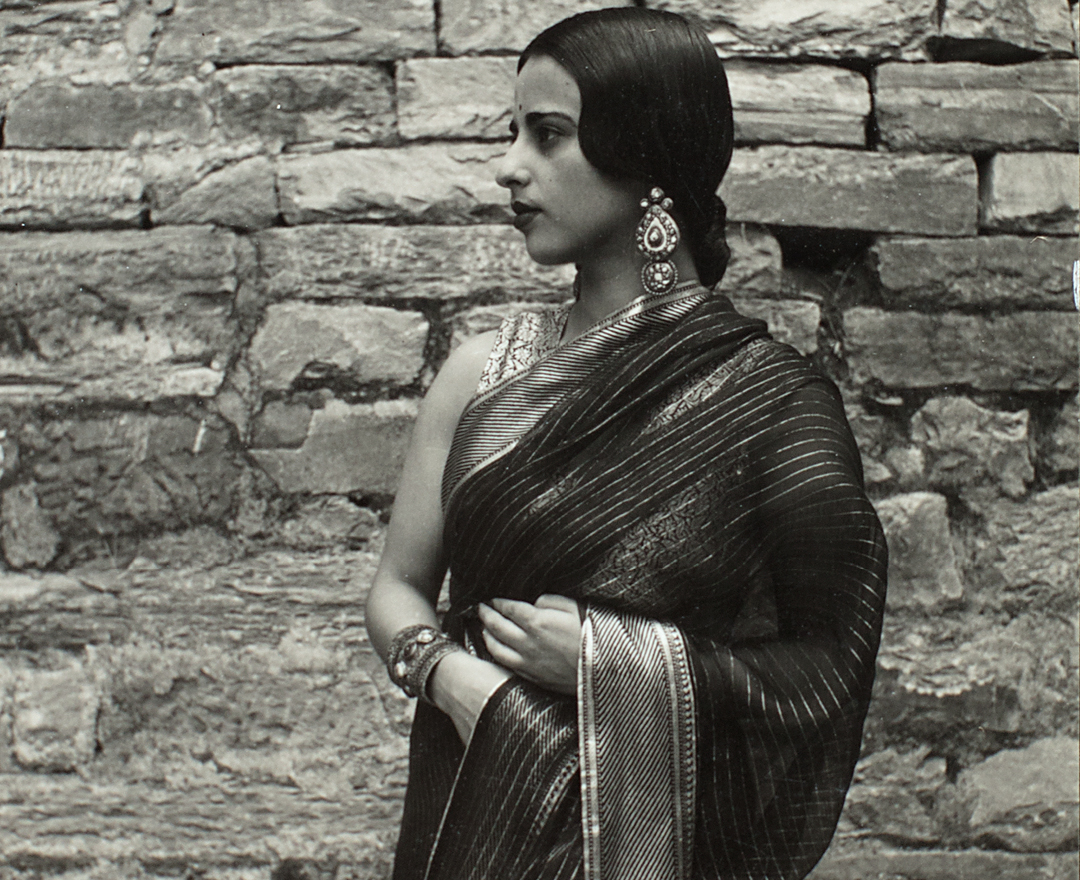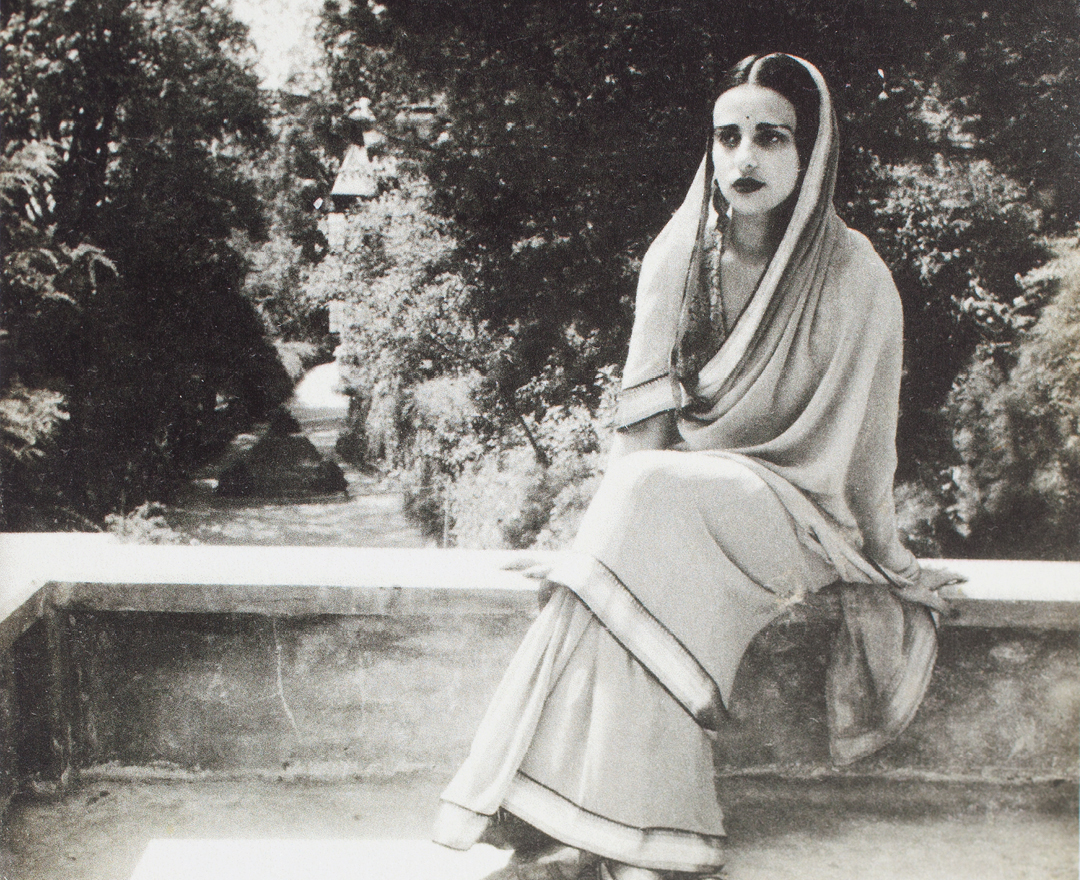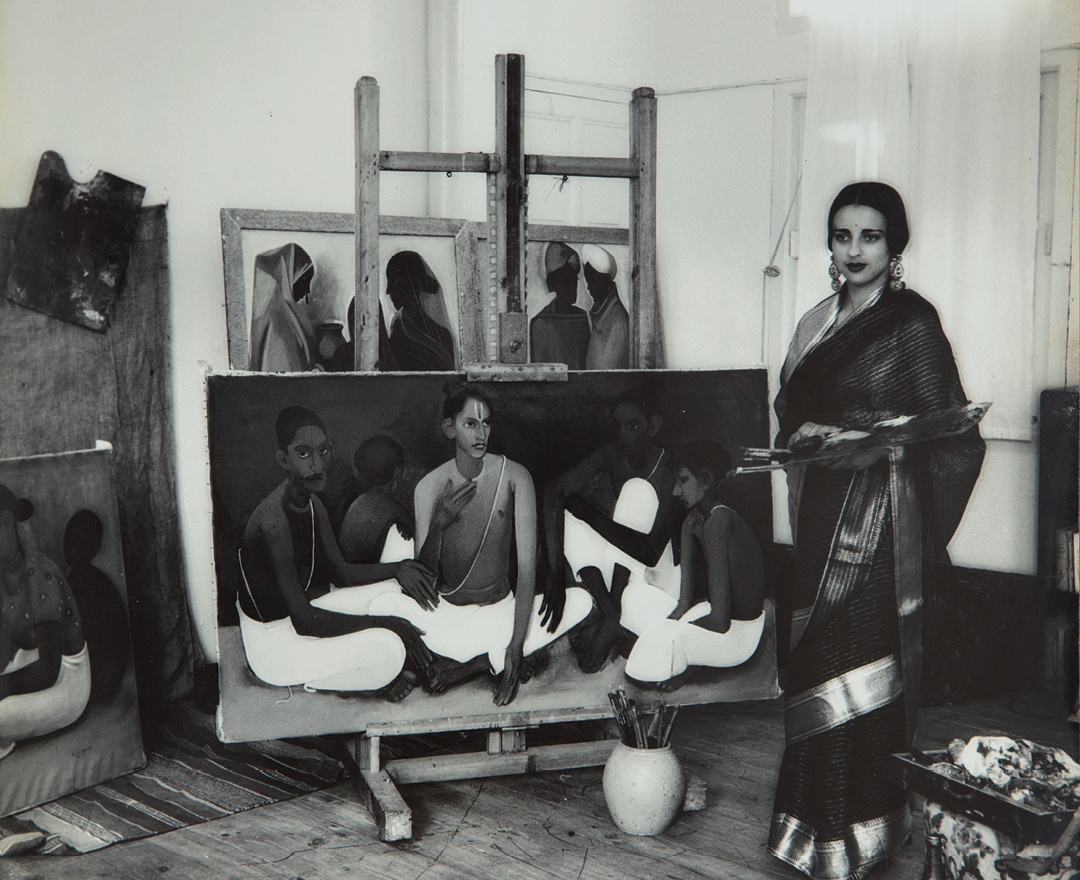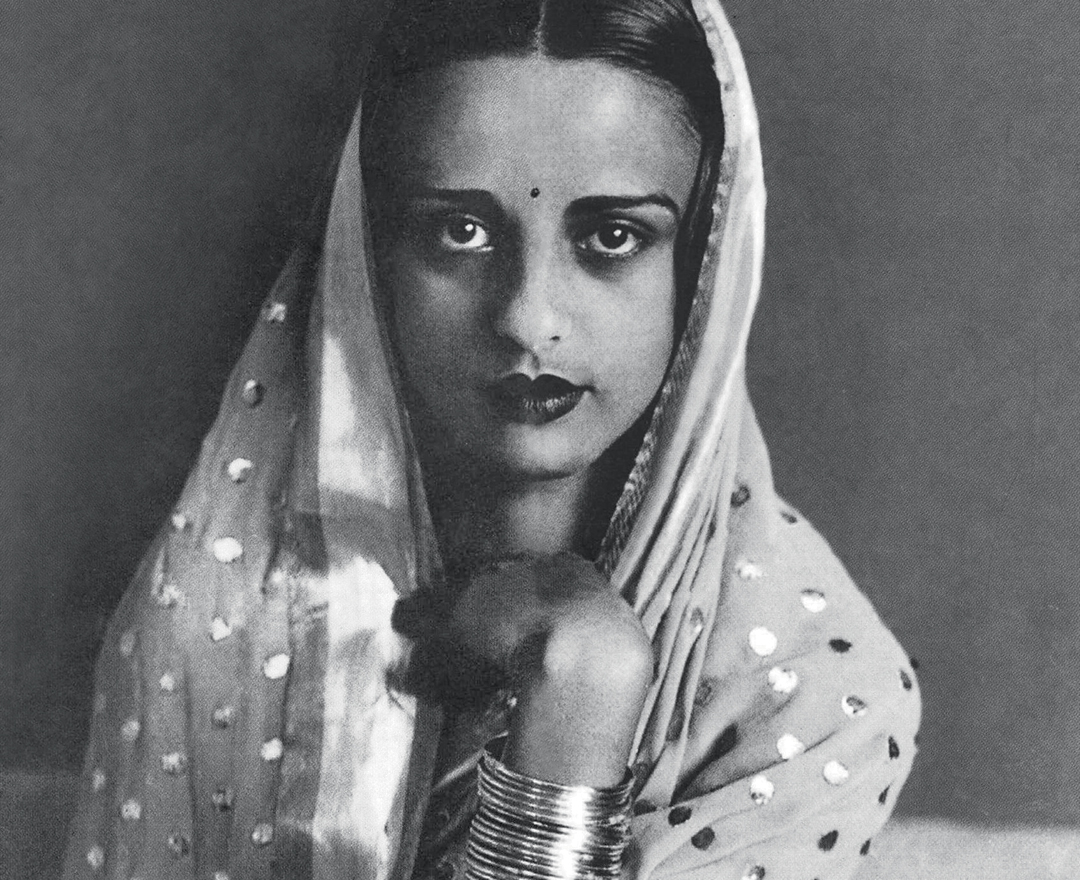 Amrita Sher-Gil was born in Budapest on 30 January 1913, to a Sikh aristocrat father and a Hungarian mother, who was an opera singer.
Her family moved to Simla in 1921, where Sher-Gil was home-schooled in art by Major Whitmarsh. She later joined classes to study painting under an artist named Beven Pateman. Following encouragement from her Hungarian uncle, Ervin Baktay, Sher-Gil travelled to Europe to continue her education.
In France, she was enrolled at École Supérieure des Beaux-Arts where she studied the academic style of painting, becoming the youngest artist and the only Asian to be awarded a gold medal; she was also elected an associate member of the Grand Salon. Outside of the rigours of an academic schooling, the time spent among the French Bohemians played an important role in developing her artistic personality.
In her struggle to carve a unique artistic identity, Sher-Gil decided to move back to India. She travelled the country, visiting Bombay and further south, including the caves of Ajanta and Ellora, in a bid to explore the rich diversity of Indian culture. She strove to interpret the life of Indians, particularly the poor, through her own visual vocabulary which led her to paint various iconic canvases in her short artistic career.
Despite her untimely death on 5 December 1941, she became the first woman artist to be recognised from India for her extraordinary boldness and felicity as a painter. In 1976, she was declared a National Treasure artist by the Government of India.
'It was a matter of temperament that her blood-and-guts attitude to the figure could neither be contained by the realist traditions nor by stylisations of the miniatures'
YASHODHARA DALMIA
artist timeline
1913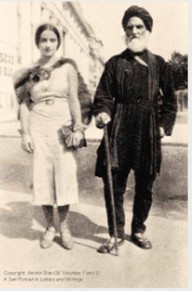 Born in Budapest on 30 January to Sikh father Umrao Singh Sher-Gil and Hungarian mother Marie Antoinette. She is christened Dalma-Amrita upon birth. Her father belongs to an aristocratic Sikh family of Lahore while her mother comes from a middle-class Hungarian family. Spends the first few years of her life in Hungary.
1914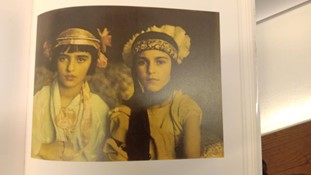 Sister Indira is born on March 28, in Budapest.
1916
In September, the family moves to Marie Antoinette's family home in Dunaharaszti, a popular holiday resort on the outskirts of Budapest. Life in Hungary is frugal due to the ongoing World War I, but Sher-Gil grows up surrounded by affectionate family members—aunts, uncles, cousins—that results in deep emotional bonds. She goes on to develop a close relationship with her older cousin, Victor Egan, whom she would later marry.
1917
Is re-christened Maria Magelena by her mother fearing reprisal for the family's part-Jewish origins.
1918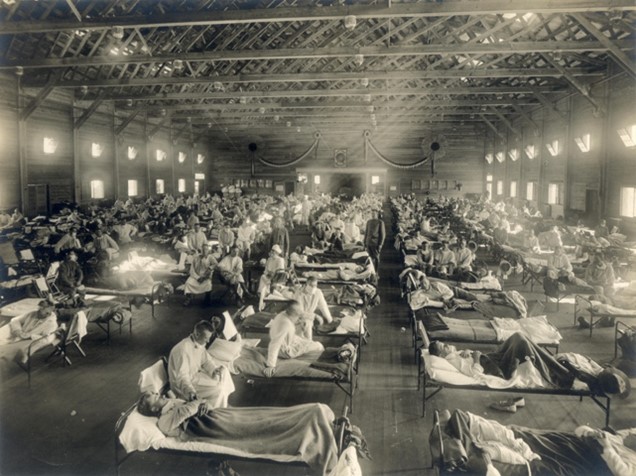 Spanish flu epidemic brings Sher-Gil very near her death in October.
1919
Is admitted to the local school at Dunaharaszti, where she draws using coloured pencils to illustrate Hungarian folk stories and fairy tales by the Grimm brothers and Hans Christian Andersen. Starts writing her own poems and stories, and records events with coloured crayons. Her talent is appreciated by the legendary actress Jászai Mari, writer Pastor Arpad, and the psychoanalyst Dr. Ujhelyi.
1920
On January 23, receives a certificate from her school in the name of Sher-Gil Maria Magdolna. In June, the family moves from Dunaharaszti, first to Marie Antoinette's sister's house in Budapest, and then to the famous Margaret Island Grand Hotel on the Danube.
1921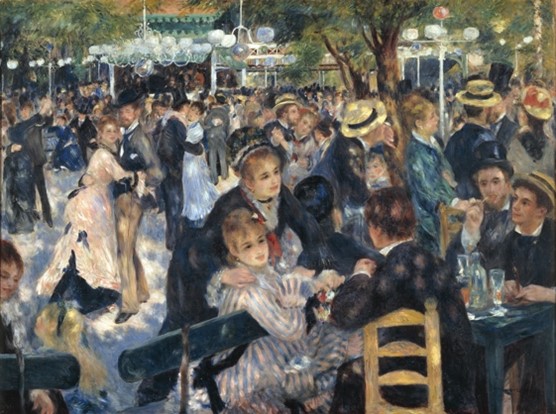 On January 2, days before her eighth birthday, the family sets sail for India aboard S.S. Malva, from Marseilles to Bombay. They stop in Paris on the way as her mother wants to give her a quick tour of the world's art capital. The family lands in Bombay on February 2, staying in Delhi for two weeks, before proceeding to Lahore to stay with Sher-Gil's uncle, Sunder Singh (Umrao Singh's brother)—a powerful figure in Punjab politics—for a couple of months. The family eventually settles down in Simla. They buy a house in Summer Hill at one end of the township of Simla. The house was built for the British viceroy and is called L'Holme. The Sher-Gil sisters are schooled at home, learn English and French, and to dance and play the piano. Their father continues with his passion for photography.
1922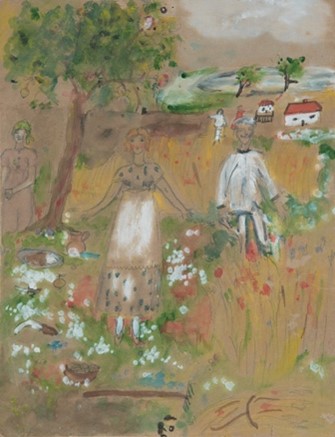 Continues to paint in watercolours. In her diary written this year, in English, she makes vivid observations of an Indian child bride.
1923
Paints her first responses to cinema and wins a first prize for art, a Rs. 50 cash award. She paints several impressions, mainly of women characters from films, such as Queen of Sheba, Messalina, Carmen, and from novels. Italian sculptor Giulio Cesare Pasquinelli makes busts of Amrita and Indira; Pasquinelli has arrived in India after his appointment as court sculptor by Maharaja Bhupendra Singh of Patiala.
1924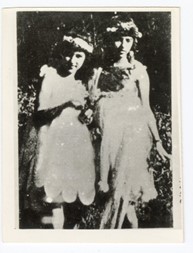 Upon their mother's insistence, the Sher-Gil sisters are taken to Genoa, Italy, for further education. They are admitted to the Santa Annunciata Paggio Imperiaion school in Florence, which Amrita notes in her diary as an 'enormous, elegant but hateful school'. In a diary entry dated 23 March 1924, young Amrita writes about her trip to Italy: 'Oh, how our heart was aching [when] Apuka [father] went away from us [and] the ship started moving. And in a few hours we only saw the outlines of India, dear India where our only Apuka watched how our ship disappeared on the horizon…' Several of her diary entries from Florence reveal that shifting to Italy was an ill-conceived project (on the part of her mother who had entered into a relationship with the Italian sculptor Giulio Cesare Pasquinelli). Sher-Gil revolts and the family eventually returns to India in June. Pasquinelli doesn't return to the Sher-Gil house but goes on to name his daughter Carla-Amrita-Indira Pasquinelli. The sisters are admitted to Simla's Jesus and Mary Convent school from where Amrita is expelled as she declares herself an atheist. Soon after, Sher-Gil starts taking art lessons at home from the artists Hall Beven-Petman and Whitmarsh. She continues to choose subject matters from among American romantic and German expressionist films, from her reading of Tolstoy and Dostoevsky, and from the music of Chopin, Beethoven, Tchaikovsky, and Debussy.
1926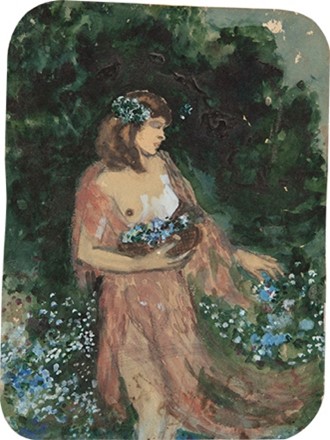 Her uncle Ervin Baktay (Marie Antoinette's brother), a student of Indian thought, comes to stay with the Sher-Gils in summer. A painter himself, he recognises the talent in his niece, and guides her to move away from her highly emotional early paintings to draw from reality, emphasising structure rather than naturalism.
1929
Upon the collective suggestions of Hall Beven-Petman and Ervin Baktay, and persuasion by Marie Antoinette, her father decides to send her to Paris to study art. The family leaves Simla for Bombay in February and sets sail for Europe aboard the Austrian liner, The Lloyd. The ship anchors in Venice and the family travels around Italy—Lake Como, Bellaggio, Lake Lugano and Rome—before arriving in Paris by train. Hungarian painter József Nemes, a friend of Ervin Baktay, suggests Amrita to enroll at Grande Chaumière and not the other better known art schools of Paris as she has little academic training in art. She joins under Professor Pierre Vaillant who does her portrait before she leaves the school a few months later. Along with sister, she is also admitted to the Alfred Cortot school of music, but leaves after a few months as she feels she cannot master two creative disciplines. In October, she enrolls as a part-time student under Lucien Simon at École des Beaux-Arts.
1930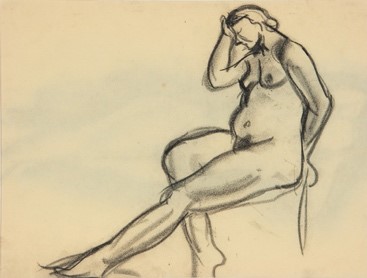 In May, she sees an exhibition of Rabindranath Tagore's works at Theatre Pigalle, Paris; this is the first public exhibition of the works by the Nobel laureate. Sher-Gil exhibits at the same venue at the same time, with the Beaux-Arts Students Circle of Women. Then seventeen-year-old Sher-Gil remarks on Tagore's works: 'I like his drawings better than his poetry even…' Years later, in 1937, she would write to Karl Khandalavala: 'I am fond of Rabindranath Tagore's work and am of the opinion that he is the only one of the Indian artists who has anything to say.' In June, travels to Hungary with the family. Subsequently, she spends every summer there, till 1934. Paints Portrait of a Young Man, a likeness of fellow student and one-time lover, Boris Tazlitsky.
1931
Her portrait of Boris Tazlitsky wins her a prize at an exhibition at École des Beaux-Arts.
1931-41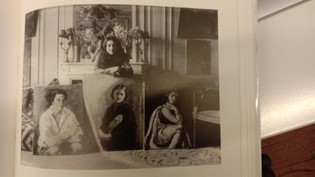 Makes 172 oil paintings in the last decade of her life.
1932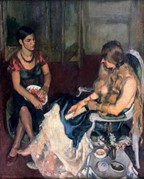 Paints Young Girls in June; it wins a Gold Medal at the Grand Salon the following year. Her sister Indira poses for the painting.
1933
Visits National Gallery in London in June and encounters the paintings of Paul Gauguin. Leaves École des Beaux-Arts in July and sets up studio with friend Marie-Louise Chassany, whose portrait she had earlier painted. Paints Reclining Nude, Professional Model, Sleep. Sister Indira poses for Sleep, a bold, nude rendition for a woman artist of her time. Is elected associate member of Société Nationale, its youngest member ever, and the first Asian.
1934
Meets Hungarian writers Deszö Szabo and Frigyes Karinthy in Budapest in February. Paints Study of Model (2), Study of Model (3), Self-Portrait as a Tahitian. The last is inspired by Paul Gauguin's Tahitian nudes that she has seen the previous year at National Gallery, London. Returns to India with parents in December, stays in Amritsar with the family of uncle Sunder Singh.
1935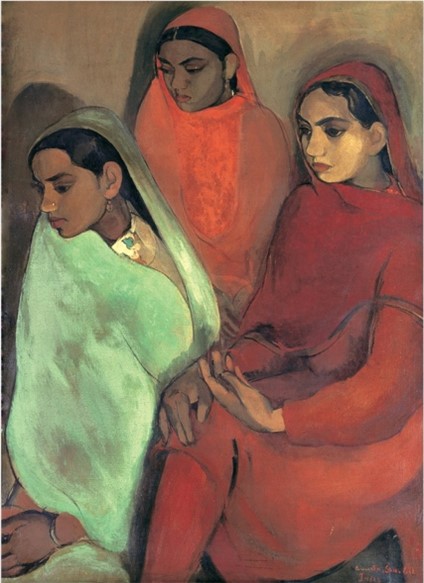 Paints Group of Three Girls in January. This is the first painting she does after her return to India. Paints Mother India in Simla in May-June. Meets English journalist and satirist Malcolm Muggeridge in Simla in June, paints his portraits. Rejects an award by the Simla Fine Art Society in September. Paints Hill Women in November, and Hill Men in December. Both these works show the influence of early Indian sculpture, the earliest examples of Indian art to which Sher-Gil has been exposed.
1936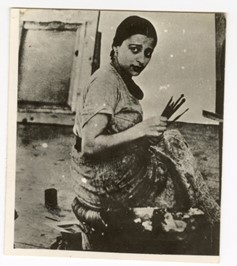 Undertakes an extended tour of India. Her subsequent paintings reflect a desire to create a modern style of painting that is quintessentially Indian yet uniquely her own. Exhibits with the Ukil brothers (Sarada and Barada) at the Taj Mahal Hotel in Bombay in November. Meets Karl Khandalavala—the earliest champion and the most perceptive critic of her work during her lifetime—who introduces her to Pahari, Basholi, Rajput, and Mughal miniatures. The two form a strong, lifelong friendship. Visits Ajanta and Ellora with Barada Ukil. Her elation is palpable in the letters she writes to her sister about the visit: 'This is a wonderful place, the most silent place I have ever experienced. One does not know what silence is, what it can be, till one has been to Ellora.' Exhibits in Hyderabad in December; meets Sarojini Naidu, about whom she says, 'I have met a wonderful woman at last. Sarojini Naidu.' Visits Trivandrum (now Thiruvananthapuram), Kerala, the same month.
1937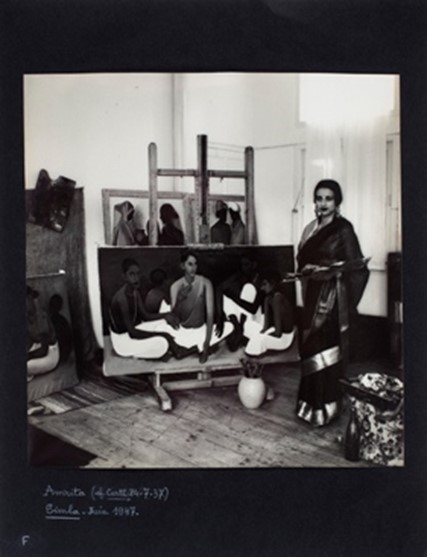 Visits Cape Comorin (Kanyakumari) in January, where Mahatma Gandhi is addressing a meeting. In later years, her husband Victor, in media interviews, confirms his wife's 'ardent' admiration for Gandhi. Paints Fruit Vendors the same month, while still on tour of south India. Also wins a Gold Medal for Group of Three Girls at the 46th annual exhibition of the Bombay Art Society, in January; visits Cochin (Kochi) and sees the seventeenth-century frescos at Mattancheri Palace, which is an important highlight of her tour. In February, meets R. C. Tandan, secretary of the Hindustani Academy in Allahabad, with whom she has been in touch through letters. He organises her solo exhibition that opens on February 2 at the Roerich Centre for Art and Culture, Allahabad University. In the same month, she exhibits at Imperial Hotel in New Delhi, and meets Jawaharlal Nehru. Returns to Simla and between April and November, paints Bride's Toilet, Brahmacharis, Siesta, The Story Teller, South Indian Villagers Going to Market—all renowned paintings. Khandalavala describes three paintings—Bride's Toilet, Brahmacharis and South Indian Villagers Going to Market—as Sher-Gil's south Indian trilogy. In December, exhibits at the Faletti's Hotel, Lahore, one of her largest and most impressive shows.
1938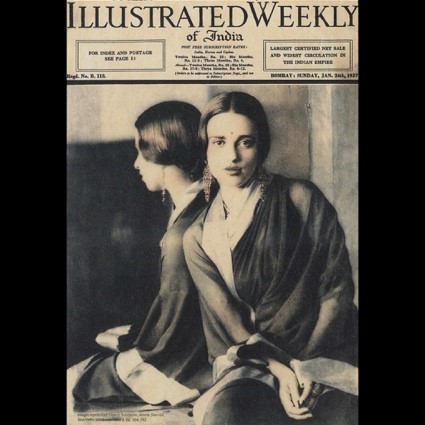 Spends time in Saraya (in Gorakhpur district in present-day Uttar Pradesh) at her uncle's estate in February-March and paints Village Scene, Elephants Bathing in a Green Pool, Red Clay Elephant, Hill Scene, and Hill Side. Spends the month of April in Simla and paints Red Verandah. In June, sets sail for Hungary from Bombay.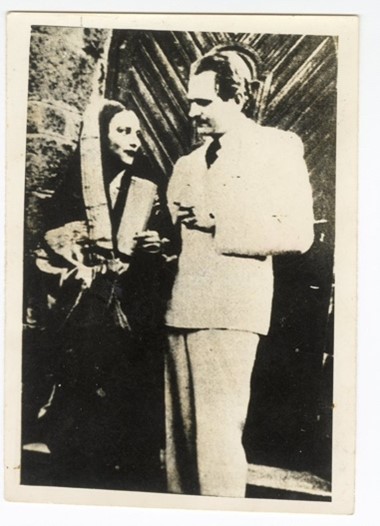 Marries her cousin, Dr .Victor Egan, in Budapest on July 16. Declares 'Europe belongs to Picasso, Matisse and Braque and many others. India belongs only to me.'
1938-39
Paints Potato Peeler, Two Girls, and A Hungarian Market Scene between August 1938 and May 1939.
1939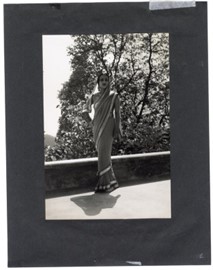 Returns to India with husband in June. Visits Saraya. Enroute to Saraya, visits Lucknow Museum where she encounters Kushan, Mathura and Mauryan art. Settles down at her parents' home in Simla with her husband. Paints Resting. In December, goes to the Majitha family estate in Saraya to settle there. Victor is employed as a doctor at the Saraya Sugar Factory.
1940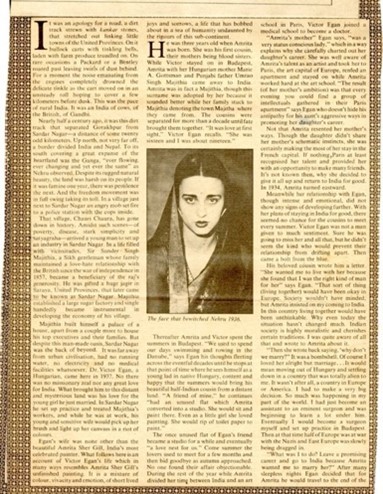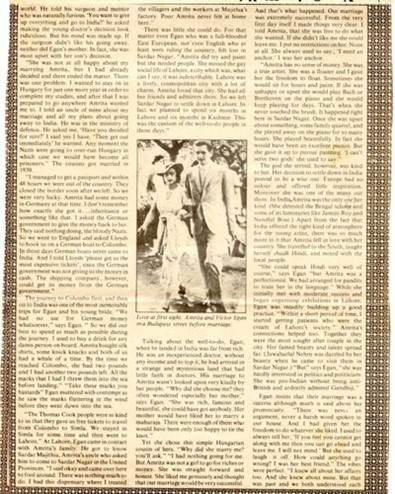 Meets Jawaharlal Nehru in Saraya in October. While press articles refer to the artist as 'the face that bewitched… dazzled Jawaharlal Nehru…when he came to visit…in Sardar Nagar', Victor clarifies that 'she was hardly interested in politics and politicians'. Meets Karl Khandalavala in Saraya in December.
1940-41
Paints Ancient Story Teller, Woman at Bath, Woman Resting on Charpoy, The Swing, Bride, Elephants, Camels.
1941
Stays in Simla in August, gives a talk on All India Radio. Goes to Lahore in September to settle there, paints The Last Unfinished Painting (a later title to the painting she calls On The Roof while working on it). Passes away at midnight of December 5-6 in Lahore, after a brief illness. A posthumous exhibition of her paintings is held in December at Punjab Literary League Hall, Lahore.
1942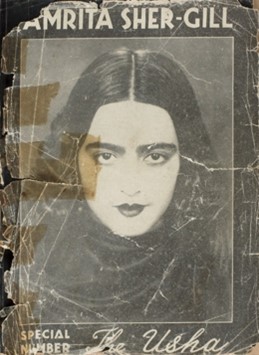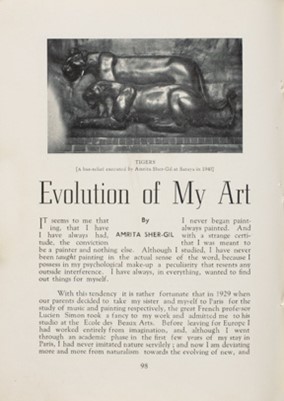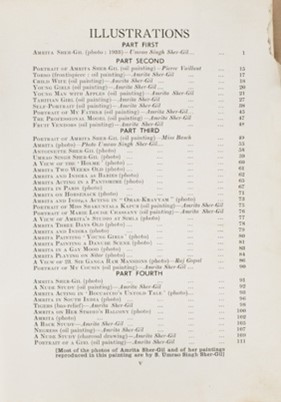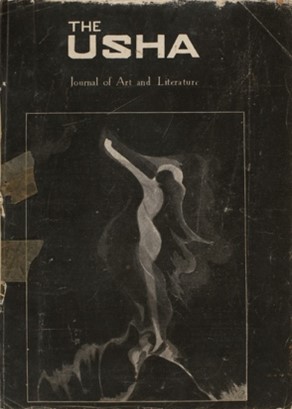 The Usha Journal of Art and Literature publishes a special report on the artist that also includes an authored piece by the artist, 'The Evolution of my Art'.
1944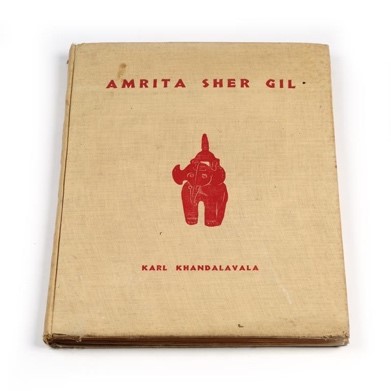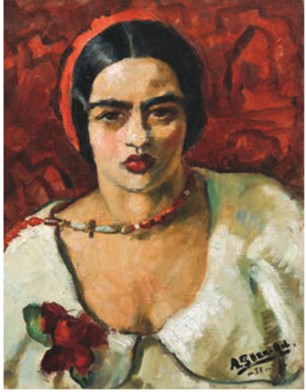 Karl Khandalavala writes a monograph on Sher-Gil.
1948
Sher-Gil's mother commits suicide.
1949-50
Her father, Umrao Singh Sher-Gil, and brother-in-law, K. C. K. Sundaram (sister Indira's husband) donate her paintings to the National Gallery of Modern Art; her husband Victor Egan sells forty-four paintings to the N.G.M.A. This corpus is an important highlight of the N.G.M.A. collection.
1954
Her father passes away.
1965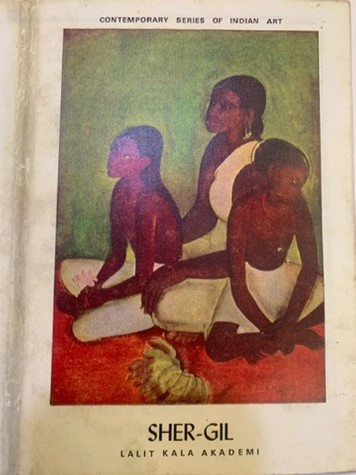 Lalit Kala Akademi publishes Sher-Gil, a monograph on the artist, under its Contemporary Series of Indian Art collection.
1969
Amrita Sher-Gil, a documentary on her life is produced by Government of India's Films Division. Directed by Bhagwan Das Gupta, it wins the National Film Award for best non-feature film.
1970s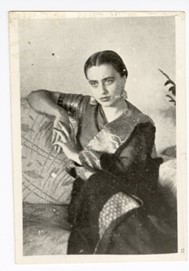 Is declared one of nine National Treasure Artists of India; her works, therefore, are non-exportable.
1970
Her solo, 'Amrita Sher-Gil', is organised by the National Gallery of Modern Art and Lalit Kala Akademi.
1972
Nephew Vivan Sundaram organises a retrospective exhibition of Amrita Sher-Gil's paintings.
1978

A postage stamp depicting Hill Women is released by India Post, Government of India.
1982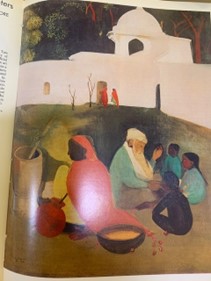 Ancient Story Teller (1940) is shown at Tate Gallery, London, as part of 'Festival of India', a six-month celebration of Indian culture and art in Britain. Co-curated by Geeta Kapur, Akbar Padamsee, and Richard Bartholomew, the festival receives attention from the international media with newspapers such as The New York Times describing the exhibition as the 'most comprehensive collection of Indian painting and sculpture ever assembled anywhere'.
1995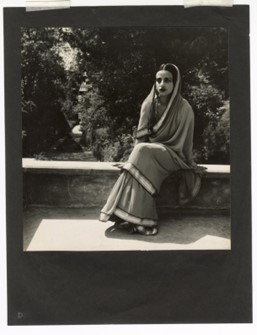 She is the inspiration behind the female painter Aurora Zogoiby in Salman Rushdie's The Moor's Last Sigh. The author shares in the foreword of the book Amrita Sher-Gil, A Self-Portrait in Letters and Writings, by Vivan Sundaram, 'It was only after the book was done that I permitted myself to know the real Amrita a little better, and I discovered at once that she and my Aurora had much more in common than I suspected. Indeed, in some ways—her sexual proclivities, for example—Amrita Sher-Gil was a more bohemian, less inhibited figure than the flamboyant woman I had made up.'
2006
Haus der Kunst, Munich, organises the exhibition 'Amrita Sher-Gil: An Indian Artist Family of the Twentieth Century'. Her painting, Village Scene, sells for ₹6.9 crore at a New Delhi auction.
2007
Tate Modern, London, hosts the exhibition, 'Amrita', featuring thirty of her paintings, all shown in Britain for the first time. It is the first solo exhibition of any Indian artist at Tate.
2018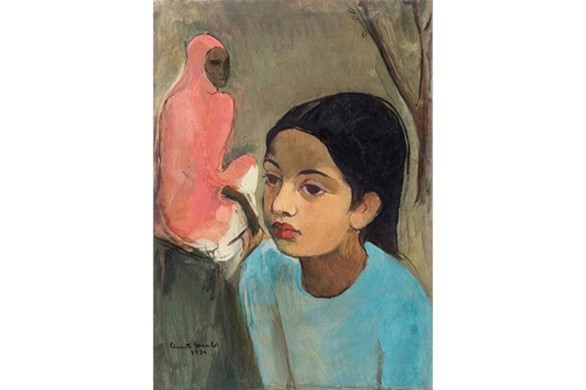 The New York Times publishes a belated obituary of Amrita Sher-Gil. Her 1934 painting, The Little Girl in Blue, sells for Rs 18.68 crore at the Sotheby's auction, 'Boundless: India', in Mumbai on 29 November.
2019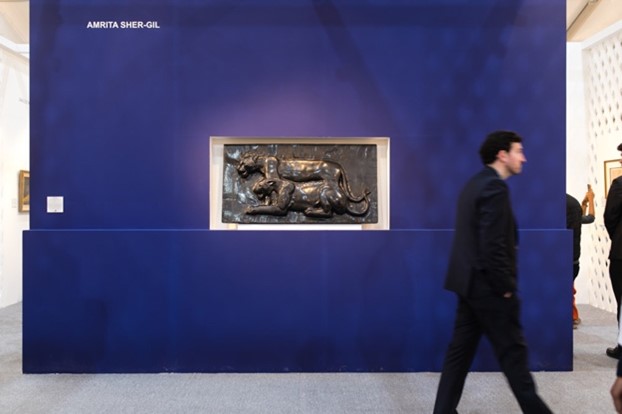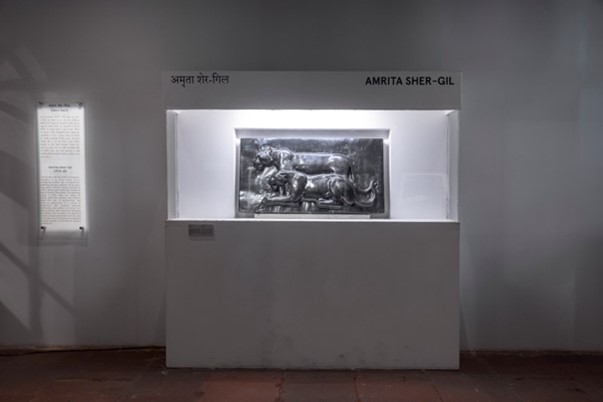 Tigers, plaster of paris, the artist's work from 1940, is exhibited at Drishyakala, DAG's collaboration with Archaeological Survey of India at Red Fort, New Delhi. The same work had been shown a year earlier in DAG's booth at India Art Fair.
2020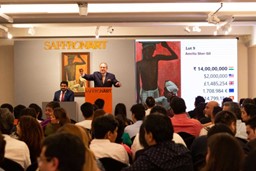 Her 1935 oil, Boys with Lemons, sells for ₹15.68 crore ($2,240,000) at Saffronart's Spring Live Auction on 5 March.
2021
On July 13, her 1938 oil painting, In The Ladies' Enclosure, sells for ₹37.80 crore ($5,142,8567), at an auction. It is currently the third-most expensive Indian painting ever sold.
'India's French Connection: Indian Artists in France'
'Primitivism and Modern Indian Art'
'Ways of Seeing: Women Artists | Women as Muse'
National Gallery of Modern Art, New Delhi