1867 - 1944
M. V. Dhurandhar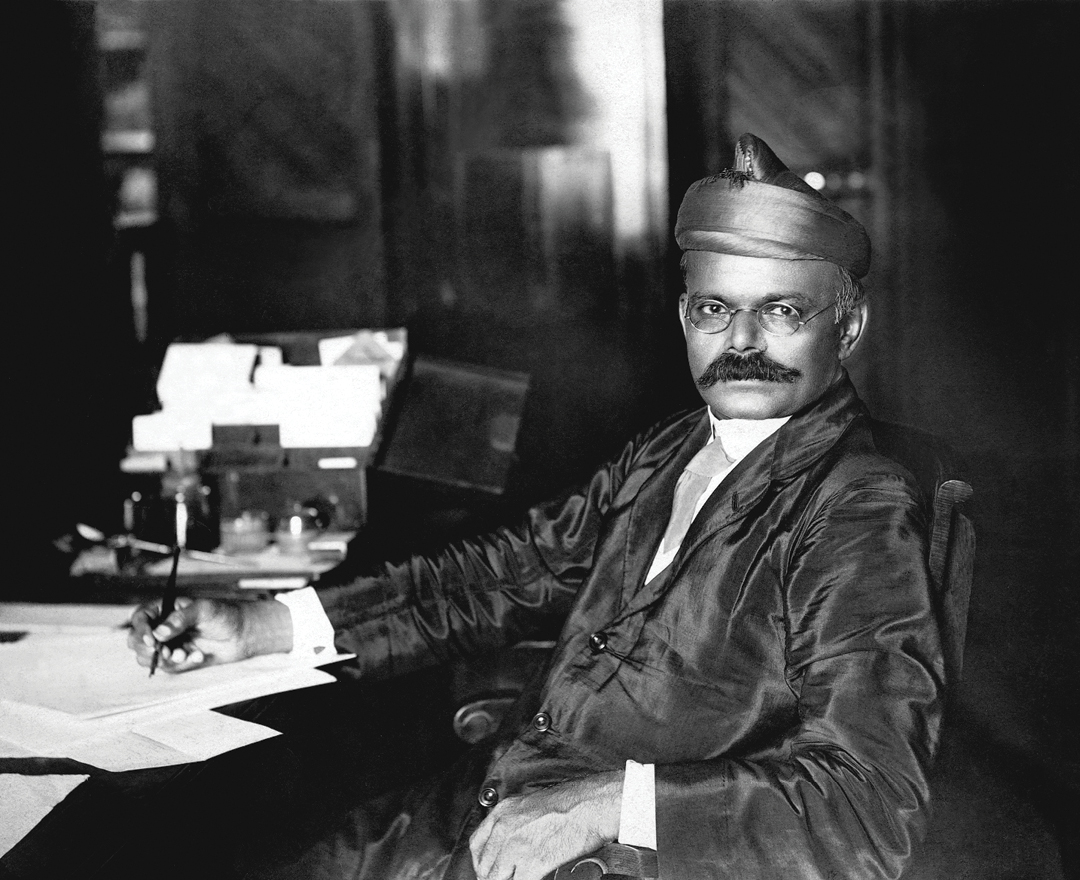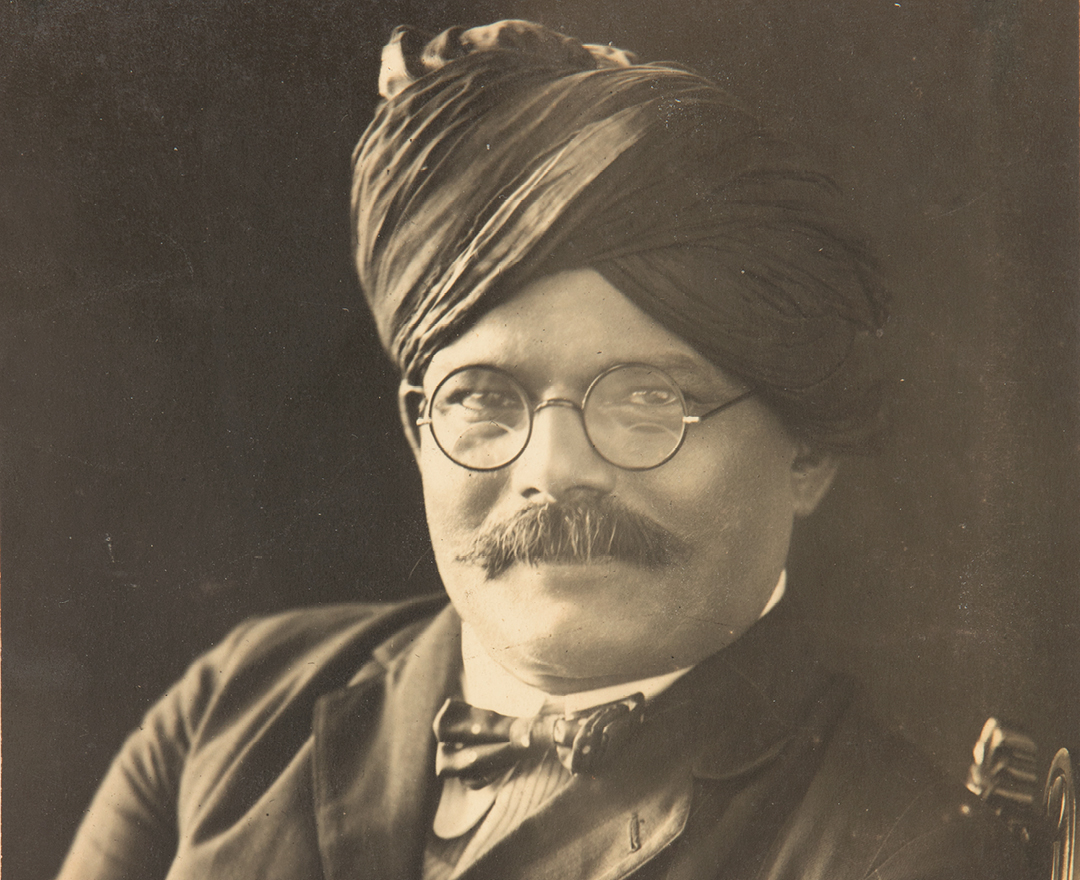 Possibly the most popular academic Indian artist after Raja Ravi Varma, M. V. Dhurandhar was born in Kolhapur.
An early interest in drawing led his father to admit him to Sir J. J. School of Art, Bombay, where he received special encouragement from its principal, John Griffiths.
Dhurandhar tasted early success with a gold medal from Bombay Art Society for his oil painting, Have You Come Laxmi? just as he completed his five-year course in 1895, becoming the first Indian to be awarded this prestigious medal. He continued to be associated with his alma mater, joining as a teacher soon upon graduation. At the end of an illustrious teaching career, he became the school's first Indian director in 1930.
The Abanindranath Tagore-led revivalist movement had taken hold of Bengal as a reaction to British academic dominance in the late nineteenth-early twentieth centuries. Bombay artists, on the other hand, were doing commissioned works that were academic in their rendering and technique but within an indigenous context, becoming known as history painters. Dhurandhar remained the most significant among them, maintaining a balance between academic realism and popular commercial art.
Through his prolific output, Dhurandhar chronicled contemporary society in his paintings and popular postcards. His well-known works include a series on Bombay and its people, scenes from Hindu mythology, illustrations for the Rubaiyat of Omar Khayyam, among others. Otto Rothfeld's book Women of India, published in Bombay in 1920, was illustrated by Dhurandhar, as was Percival and Olivia Strip's The Peoples of India in 1944.
'Dhurandhar's encounter with European art was the stuff of romance. In 1890, smitten with the antiques at art school, the young lad resolved to be an artist'
PARTHA MITTER
artist timeline
1867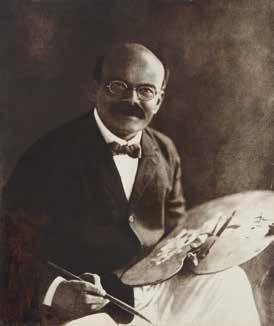 Mahadeo Vishwanath Dhurandhar is born on March 18 in a Prabhu Pathare family of Bombay; spends his childhood in the princely state of Kolhapur where his father is head clerk in the Political Agent's office; his early schooling is at Rajaram High School in Kolhapur where his senior is Abalall Rahiman, his older brother's friend, who later joins Sir J. J. School of Art in Bombay and wins a gold medal at an industrial exhibition sponsored by the British in Pune.
1891
Wins the school's Waddington Prize for certificate design open only to senior students; he is allowed to enter the competition on the strength of his proposal that the teachers find exceptional. Soon thereafter, his parents die in quick succession; starts teaching art at Alexandra Girls' High School to support his studies; secures this job with the help of his teacher and vice-principal of Sir J. J. School of Art, E. Greenwood; the latter also secures a scholarship to help Dhurandhar financially.
1892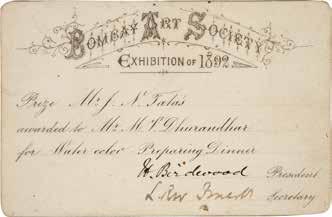 Still a student of Sir J. J. School of Art, obtains permission from the school vice principal E. Greenwood and debuts at the Bombay Art Society's annual exhibition; wins an award for his charcoal painting, Household Work; becomes the first Indian to receive an award of the Bombay Art Society.
1894
Wins the Mayo Medal for being the most capable student in the painting class; wins several other medals and awards during his student days at Sir J. J. School. Completes his graduation. Travels to Ajanta caves as part of a project of the principal of Sir J. J. School, John Griffiths. Gets married to Bapubai in Kolhapur.
1895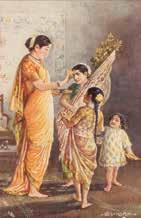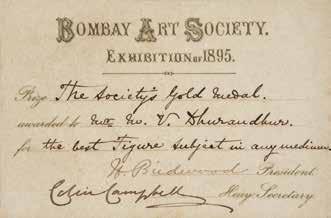 Paints Do You Come Laxmi? using oil on canvas for which he wins the Bombay Art Society's gold medal.
1896
Joins the faculty of Sir J. J. School on a short-term assignment to teach; however, he spends the rest of his career at the school, gradually rising up the ladder to become its head in 1930. His career as an artist grows steadily, and he goes on to become the most popular academic Indian artist after Raja Ravi Varma. His style is a commingling of the academic realism favoured by the British colonials and Indian subjects drawn from history, mythology and contemporary society. Gets to meet his early inspiration Raja Ravi Varma at the eighth exhibition of the Bombay Art Society, where one of his paintings, The Music Lesson, impresses the stalwart; Varma buys the painting and Dhurandhar goes on to make many works for the Raja Ravi Varma Press.
1898

The plague epidemic in Bombay claims his wife, who leaves behind an infant son, Ganapati; Dhurandhar's painting of his wife, She is Dead, becomes the first known instance of a mourning or deathbed portrait by an artist of the Bombay School.
1899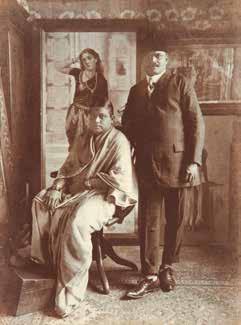 Marries Gangubai in June. Makes full use of opportunities available for a painter like him by making commissioned illustrations for books, periodicals such as Gujarati magazines Amar and Bhoot, calendars, advertisements, postcards and so on.
1890s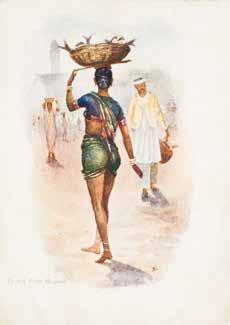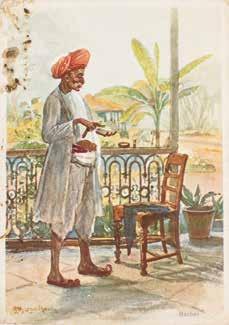 Becomes especially popular for his postcards at a time of postcard explosion in the West. Ethnographic postcards are chiefly used by the British to write home and succeed the earlier ethnographic paintings. His postcard painting Ayah is widely pirated. Phenomenon of outdoor painting takes root in western part of India and outflow of this kind of work becomes prodigious from the late nineteenth century; Dhurandhar is one of the leading artists of the genre besides Abalall Rahiman, N. R. Sardesai and S. L. Haldankar.
1901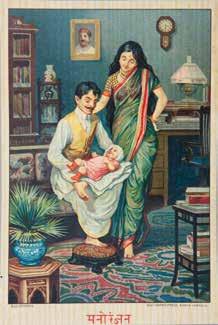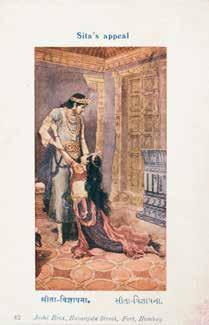 Art patron, author and publisher Sheth Purushottam Vishram Mavji assigns Dhurandhar to make illustrations for his periodical Suvarnamala this work goes on till 1913 during which time Dhurandhar makes illustrations for numerous books and magazines. Sir J. J. School principal Cecil Burns tasks Dhurandhar and other students to paint the scene on the river Shannon, commissioned by the British government.
1905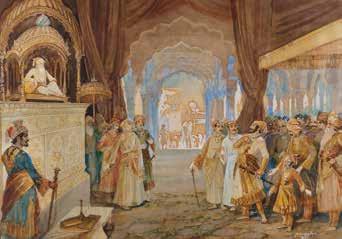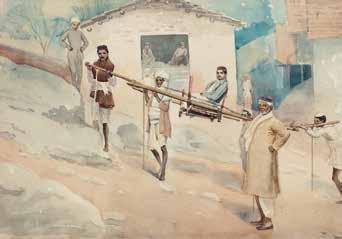 Sheth Purushottam Mavji commissions Dhurandhar to paint the history of Maratha ruler Shivaji; he also commissions the artist to make paintings of his trip to Vaishnodevi in Jammu. Cecil Burns appoints Dhurandhar and students to paint a bird's eye view of Alexandra Docks, commissioned by the British government.
1907
Wins gold medal for his painting Naivedyam, at the Pandharpur industrial exhibition; it is purchased by Bombay industrialist Narottam Morarji.
1908
Paints a watercolour work featuring a number of figures, titled Hindu Marriage Ceremony.
1910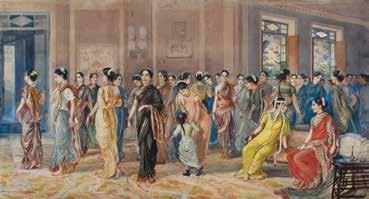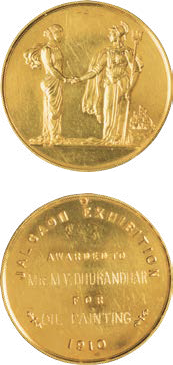 Appointed head master of the painting department at Sir J. J. School of Art. His painting, Bride's Maids wins gold medal at the industrial exhibition in Jalgaon.
1911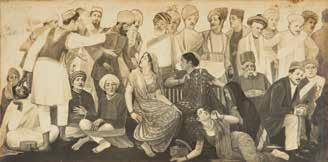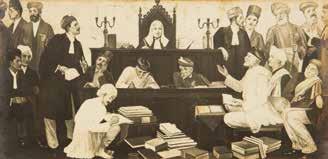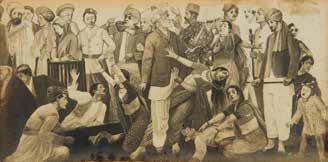 Delhi is announced the new capital of British India; Dhurandhar leads the J. J. team to Delhi to study the buildings to be painted, he is subsequently assigned the painting of the Law Members' Chambers; executes four panels of the size 4 ft x 24 ft comprising two panels on the Hindu Civil Code, one on Sharia and another one on the Last Will and Testament.
1912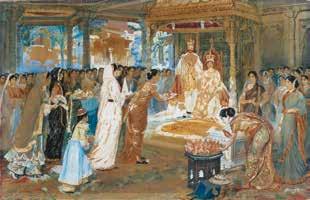 Provides illustrations for By-Ways of Bombay by S. M. Edwardes. Daughter Ambika is born on January 4; she goes on to become the first female graduate of Sir J. J. School of Art in the 1930s. Wins fifth gold medal for his painting Homage to their King at the Gwalior fair; this watercolour is an elaborate court scene depicting King George V and Queen Mary in India for the Delhi Durbar of 1911.
1914
Makes illustrations for Deccan Nursery Tales or Fairy Tales from the South, a book by C. A. Kincaid, published in London.
1918
Becomes inspector of drawing at Sir J. J. School of Art, the first Indian to be appointed to the post.
1920
Makes illustrations for the book Women of India by Otto Rothfield, published in Bombay by D. B. Taraporewala.
1920s
Gladstone Solomon introduces regular drawings from undraped figures into the Bombay Art School's curriculum. It is at this time that the artist, who is already passionate about figure paintings, tries to understand the nude figure through photographs and prints.
1921
Illustrates the book Tales of King Vikramaditya by Humphrey 1942 Milford, Oxford University Press; also illustrates an undated publication, Meghdoot by Kalidasa, published by Purushottam Vishram Mavji.
1926
Is commissioned by the ruler of the Aundh state (in present-day Maharashtra), Bhawanrao Pantpratinidhi, to make paintings on the life of Maratha ruler Shivaji.
1927
Awarded the title of Rao Bahadur by the British colonial government, becoming the first Indian painter to be thus honoured.
1930
Becomes the first Indian director of Sir J. J. School of Art; appointed to officiate for six months from May to October in the absence of the school principal, Capt. Gladstone Solomon; Dhurandhar retires shortly thereafter.
1933
Receives a commission from the Maharaja of Chhota Udepur to do a series of paintings; goes on to do commissioned work for other royal families such as those of Aundh and Baroda.
1937
Travels to Europe on his maiden trip.
1942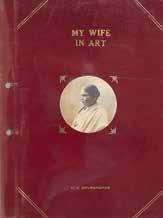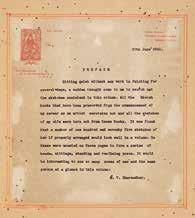 Compiles his paintings and sketches of his two wives—in all one hundred and seventy-five—and binds the collection, My Wife in Art, with a preface written by himself.
1943
Starts sketching for the book, The Peoples of Bombay, being produced by his old acquaintance Percival Strip and his sister Olivia Strip.
1944
Illustrates Fitzgerald's version of The Rubaiyat of Omar Khayyam, published in Bombay by Thacker & Co. Ltd. Falls ill in May, is bedridden for days; passes away on June 1 in Bombay.
2018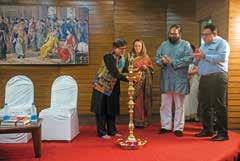 National Gallery of Modern Art, Mumbai, supported by DAG, holds a retrospective of the artist, titled 'M. V. Dhurandhar: The Romantic Realist'. Curated by Suhas Bahulkar, chairman, advisory committee, NGMA, Mumbai, the exhibition runs from September 11 to October 13.
2021
My Wife in Art is part of DAG's exhibition, 'Home is a Place: Interiority in Indian Art', at its gallery in New Delhi.
The 'Manifestations' series of 20th Century Indian Art, Editions V, VI, VII, VIII, X, XI
DAG, New Delhi and Mumbai, 2011-14
'The Printed Picture: Four Centuries of Indian Printmaking'
DAG, New Delhi, 2012; Mumbai, 2016; alternate locations in Kolkata, 2013; Jaipur, 2017; Chandigarh, 2018
'Indian Landscapes: The Changing Horizon'
'Indian Portraits: The Face of a People'
DAG, New Delhi, 2013; Mumbai, 2014
'Indian Divine: Gods & Goddesses in 19th and 20th Century Modern Art'
DAG, New Delhi and Mumbai, 2014
'M. V. Dhurandhar: The Romantic Realist'
'New Found Lands: The Indian Landscape from Empire to Freedom'
'Ways of Seeing: Women Artists | Women as Muse'
'Home is a Place / Interiority in Indian Art'
'Iconic Masterpieces of Indian Modern Art'
National Gallery of Modern Art, New Delhi
Dr. Bhau Daji Lad Mumbai City Museum, Mumbai
Government Museum, Kolhapur
Government Museum, Aundh, Pune
Sir J. J. School of Art, Mumbai
Directorate of Archaeology, Government of Maharashtra