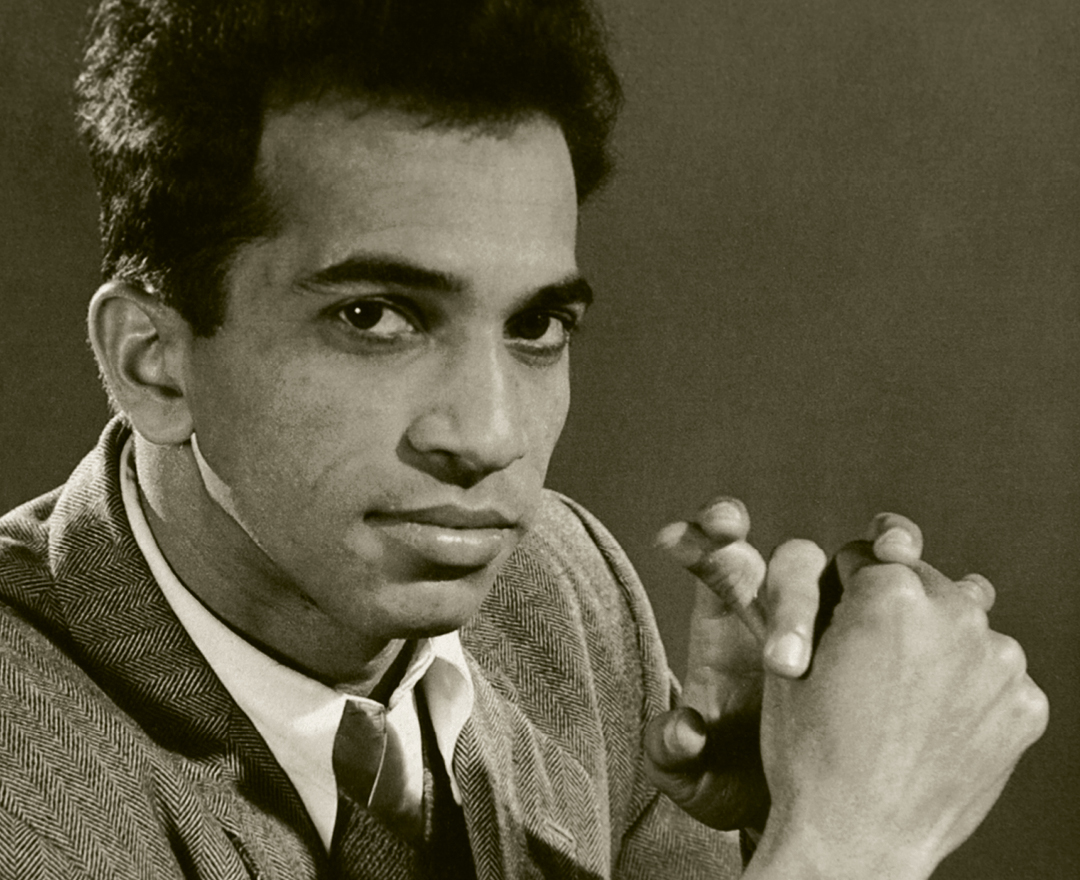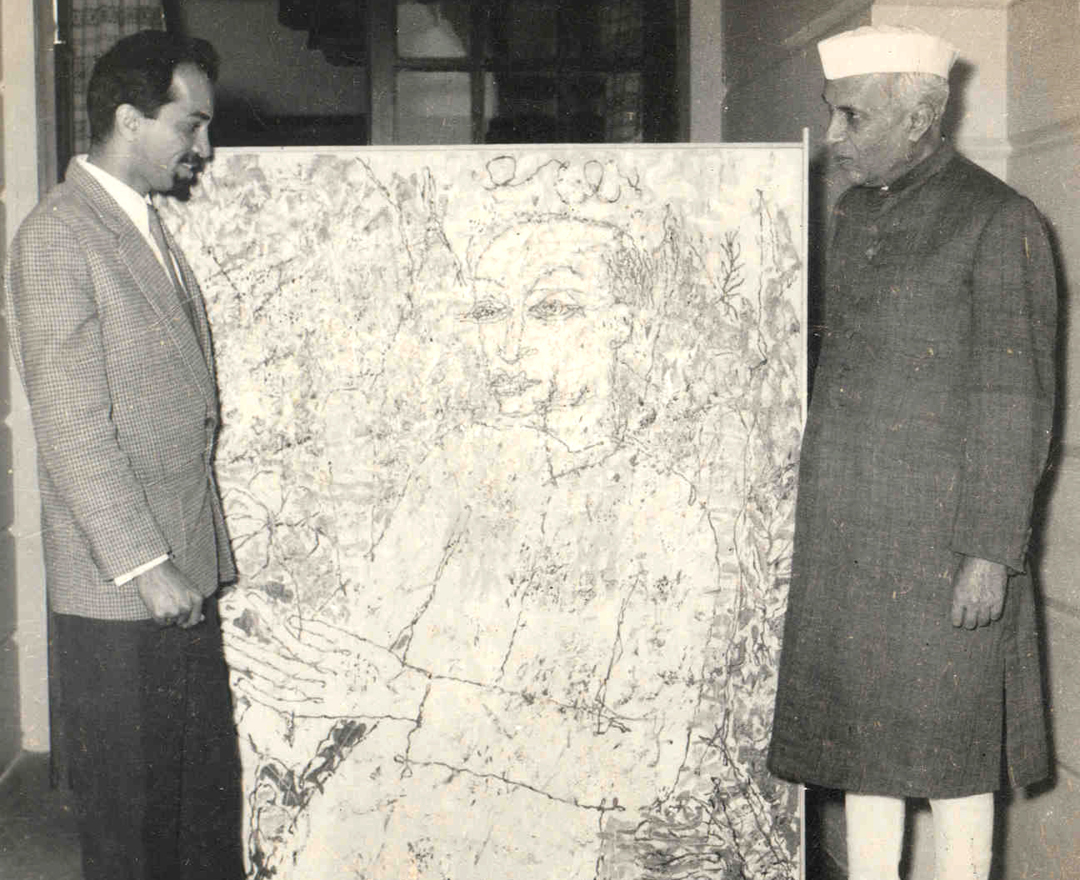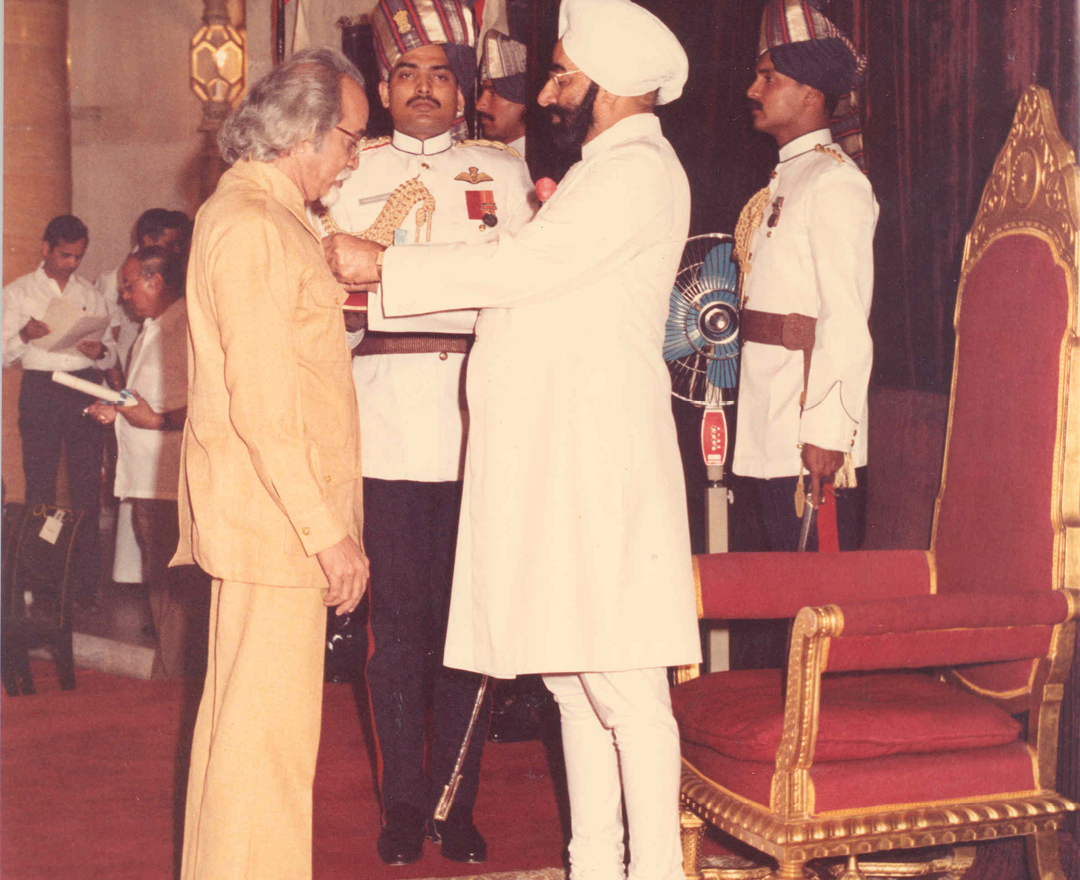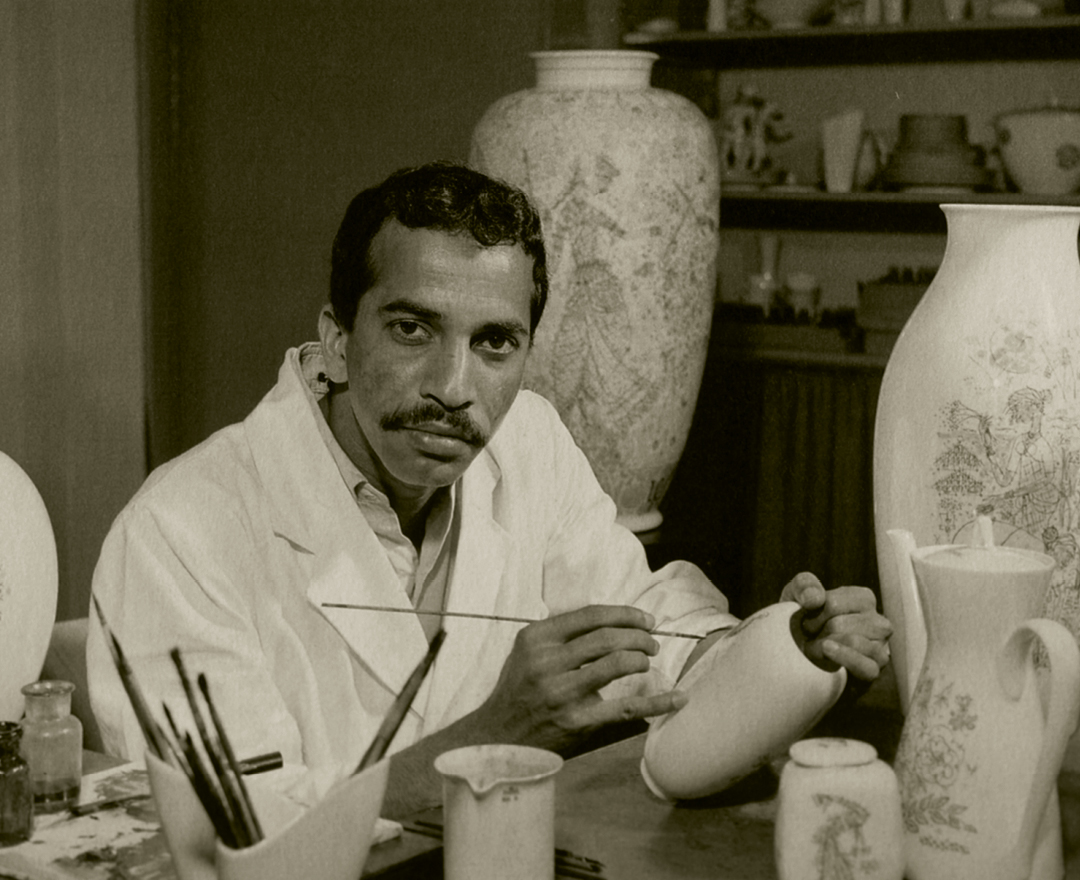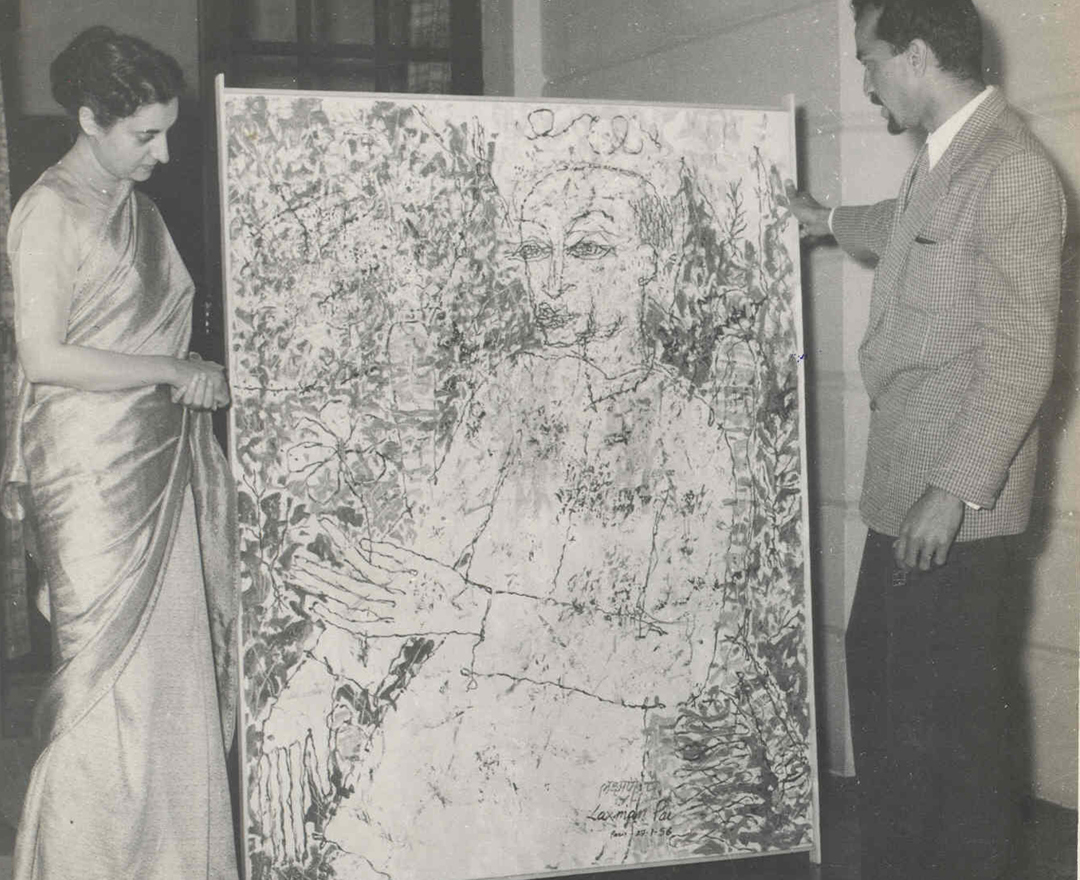 The artist from Goa who brought alive the lush landscape and vibrant life of his home state in his canvases, Laxman Pai studied and later taught at
Sir J. J. School of Art, Bombay.
Born in Margao, Goa, on 21 January 1926, Pai participated in Mahatma Gandhi's Satyagraha movement against the British rule that led to his imprisonment. Later, he participated in the movement to liberate Goa from centuries of Portuguese rule.
Yet, it was not the political climate of his youth but Goa that remained a source of inspiration for him. A contemporary of the other renowned artist from Goa—F. N. Souza—Pai gave expression to life's experiences in his canvases with vigour and a richness of colour, but devoid of any commentary or moralistic narrative.
He called himself his own guru, creating a highly individual vocabulary, which was accentuated during his ten-year stay in Paris. Influenced by the works of Paul Klee, Mark Chagall, and Joan Miró, Pai created an eclectic intermingling of the traditional and the modern in his work. He explored the stylisation of Indian folk art with modern techniques such as angular simplification and flatness of the pictorial surface.
Upon his return from Paris, Pai served as the principal of the Goa College of Art (1977-87). He won many prestigious honours, such as the national award of the Lalit Kala Akademi in 1961 and 1963; Gomant Vibhushan Award, the highest civilian award of the Goa government; and the Padma Shri and Padma Bhushan from the government of India, among others. He passed away in Dona Paula, Goa, on 14 March 2021.
'My personal observation is that art is mental nourishment and not physical food for survival'
LAXMAN PAI
artist timeline
1926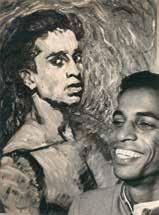 Is born in Margao, Goa, under Portuguese occupation, to a Brahmin Hindu family. Schooling in Marathi from Damodar Vidyalaya, and in Portuguese and English from New Era High School. The state's lush beauty and landscapes will become a recurrent source of inspiration for his work and provide him the initial impetus to pursue a career in the arts.
1946
Is part of India's struggle for independence by joining the Goa Liberation Movement during his final years at college, suffering political repercussions as a minor. Is tortured in police custody in Goa.
1947
Is awarded the prestigious Mayo medal. Starts teaching at Sir J. J. School of Art (till 1951).
1949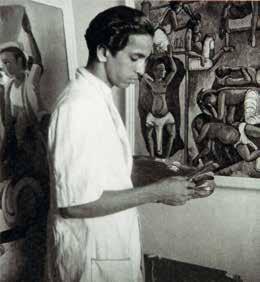 Exhibits with Shankar Palsikar at Bombay Art Society.
1950
Has a solo exhibition at Bombay Art Society.
1951-61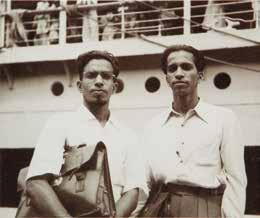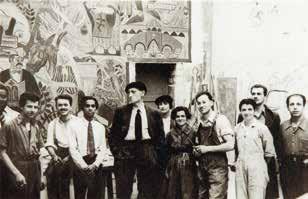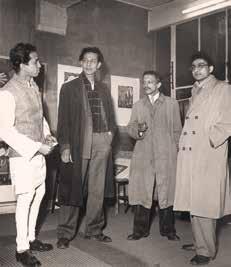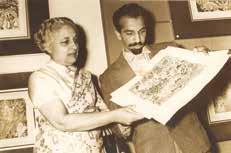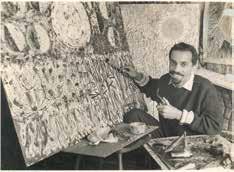 Sails for Paris with his artist friend Sadanand Bakre; they are met by artists S. H. Raza, F. N. Souza, and Akbar Padamsee, who have preceded them. While studying at École des Beaux-Arts, he is exposed to works by Paul Klee, Joan Miro, and Mark Chagall. His artistic style begins to include elements like angular simplification, the exceptional flatness of the pictorial surface and the use of expressive, rhythmical lines. During this period, he has one-man shows in Paris (frequently), London, Munich, Stuttgart, Bremen, Bombay, and New Delhi.
1953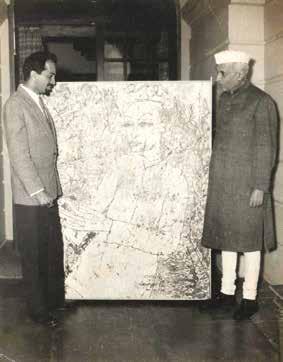 Pai presents a portrait of Prime Minister Jawaharlal Nehru to him at the latter's residence in New Delhi. At a time when academic portraits are still popular, Pai's experimentation with modern portraiture sets him apart from his peers, even when they are not always considered flattering by the hoi-polloi.
1959
Exhibits at Galerie Dauphine, Paris.
1961
Participates in Biennale de Paris, France, and in Le Printemps, Galerie d' Arts, Paris. Returns to India and settles down in Bombay.
1961,'63,'72
Wins Lalit Kala Akademi's national award.
1962
An exhibition of his works from 1948-62 is held at Jehangir Art Gallery, Bombay.
1963
Takes part in Tokyo Biennale, Japan, and Sao Paulo Biennale, Brazil. Has an exhibition at Raj Bhawan, Bombay.
1964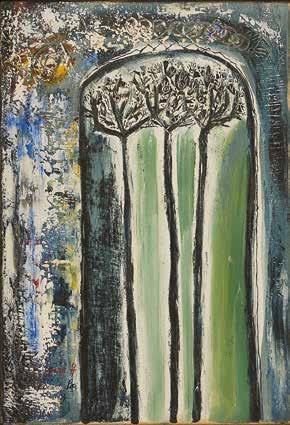 Has an exhibition at Shridharani Gallery, Triveni Kala Sangam, New Delhi.
1965
Is part of 'Musical Moods', a series of paintings inspired by Indian ragas, organised by Kanika Art Centre, New Delhi, and Taj Art Gallery, Bombay.
1966
His 'Purusha and Prakriti' exhibition opens at Triveni, New Delhi.
1967
Participates in a group show, 'Dance Forms and Selection, 1947-67', organised by All India Fine Arts and Crafts Society, New Delhi.
1970
Pai's works are part of solo exhibitions in Bangkok, Kuala Lumpur and Singapore.
1971-72
His increasingly mythological works are exhibited in Goa, New Delhi and Bombay at an exhibition titled 'Ramayana'.
1973
'Human Forms' exhibition at Jehangir Art Gallery, Bombay.
1975
'Kangra Valley' exhibition at Kumar Art Gallery, New Delhi.
1976,'79,'85,2000
Exhibitions at Dhoomimal Art Gallery, New Delhi.
1977-87
Is principal of Goa College of Art.
1985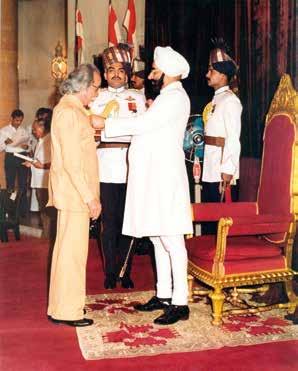 Is awarded the Padma Shri by the Government of India. The recognition is for Pai's contribution as a painter as well as an educator. He is among a handful of artists to have won several national awards, and his penchant for exploring traditional Indian contexts through the language of modernism wins him many admirers.
1987
Is honoured by the Government of Goa. 'Retrospective 1947-87' sponsored by Kala Academy for Goa, Diu, and Daman, Panaji.
1989
An exhibition at Rabindra Bhawan, Lalit Kala Akademi, New Delhi, is organised by Kumar Gallery.
1991
His 'Navras' series is exhibited at Triveni, New Delhi; another solo exhibition follows at the same venue in 1993.
1994,'97,'98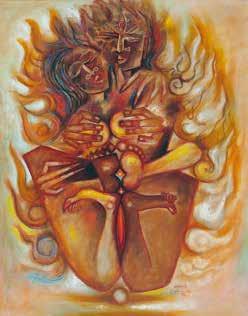 Pai's sensual, erotic works take centre stage at the 'Purush Prakriti in Kamasutra' exhibition and 'Kaama and Fantasies Series', both at Dhoomimal, New Delhi, and 'Kaama-Krodh-Moha-Moksha', also in New Delhi.
1995
Is awarded the Nehru Award, Goa.
2006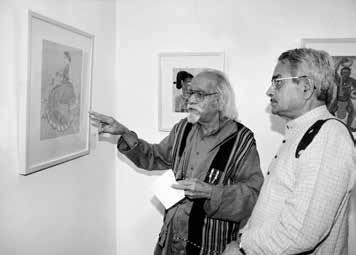 DAG's 'Pai in Paris: Early Works' looks at the artist's practice in the European city with an exhibition curated by Roobina Karode.
2018
Receives the Padma Bhushan from the Government of India.
2021
Breathes his last on March 14 at his Dona Paula residence in Goa.
The 'Manifestations' series of 20th Century Indian Art', Editions V, VI, VII, VIII, IX, X, XI
'Indian Landscapes: The Changing Horizon'
'Indian Divine: Gods & Goddesses in 19th and 20th Century Modern Art'
DAG, Delhi and Mumbai, 2014
'Indian Abstracts: An Absence of Form'
DAG, New Delhi, 2014; Mumbai and New York, 2015
'Indian Portraits: The Face of a People'
DAG, New Delhi, 2013; Mumbai, 2014
'The Naked and The Nude: The Body in Indian Modern Art'
DAG, New Delhi, 2013; Mumbai, 2015
'India Modern: Narratives from 20th Century Indian Art'
DAG, New York, New Delhi, Mumbai, 2015; Chandigarh, 2017
'India's French Connection: Indian Artists in France'
DAG, New Delhi, 2018; New York, 2018-19
'Navrasa: The Nine Emotions of Art'
DAG, Mumbai and New Delhi, 2020
'New Found Lands: The Indian Landscape from Empire to Freedom'
DAG, New York, 2021; Mumbai, 2021-22
'Indian Blue: From Realism to Abstraction'
'Iconic Masterpieces of Indian Modern Art'
National Gallery of Modern Art, New Delhi
Kiran Nadar Museum of Art, New Delhi
Jehangir Nicholson Art Foundation, Mumbai
Government Museum and Art Gallery, Chandigarh
CITI India Corporate Collection
Musée d'Art Moderne, Paris
New York Public Library, New York
Ben and Abby Grey Foundation, Los Angeles
The Illustrated Weekly of India