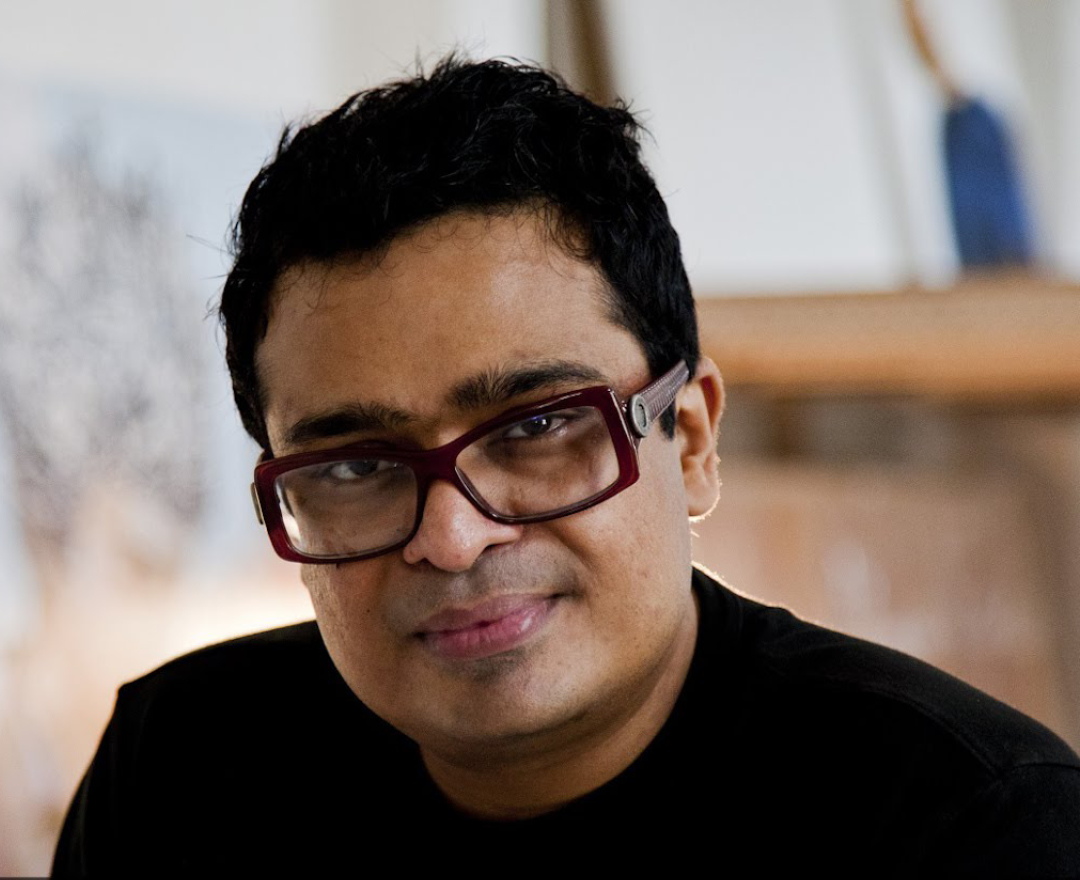 Born in Bombay, Jitish Kallat's earliest memory of art was of helping his elder sister as a five-year-old for a drawing in her biology book. By the time he was in his mid-teens, he was, in his own words, 'persistently and obsessively drawing'.
Kallat secured a degree in fine arts in 1996 from Sir J. J. School of Art. An internationally acclaimed artist, his work includes painting, photography, collages, sculpture, installations, and multimedia.
His works have been exhibited widely in museums and institutions across the world, including Tate Modern (London), Martin-Gropius-Bau (Berlin), Mori Art Museum (Tokyo), Gallery of Modern Art (Brisbane), and the Institut Valencia d'Art Modern (Spain), among several others. He was the curator of Kochi-Muziris Biennale, one of the largest contemporary art events of its kind in India and the second-largest running Biennale in the world after the Venice Biennale, in 2014.
Kallat was twenty-two years old when he had his first solo exhibition titled 'P.T.O.' in Mumbai. While his art has undergone significant changes, '…the ideas of time, sustenance, birth, death and mortality… still continue to preoccupy me.' Referencing both, Asian and European artistic traditions along with popular advertising imagery that fuels urban consumerism, Kallat's work is layered and replete with metaphor.
A significant contemporary artist, Kallat's work has been exhibited at numerous biennales and triennales, including those in Havana, Gwangju, and Kiev. In 2017, National Gallery of Modern Art, New Delhi, organised his retrospective, titled 'Here After Here', examining his work from 1992 to 2017.
'…my work is not wedded to any single medium, style or language, and stays open and responsive to the inquiries that trigger the work in the first place'
JITISH KALLAT
National Gallery of Modern Art, New Delhi
Museum of Art and Photography, Bangalore
Piramal Museum of Art, Mumbai
Devi Art Foundation, New Delhi
Art Gallery of New South Wales, Sydney
Art Gallery of South Australia, Adelaide
Centre Georges Pompidou, Paris
Birmingham Museum, Birmingham
Victoria and Albert Museum, London
National Gallery of Canada, Ottawa
Art Institute of Chicago, Chicago
Brooklyn Museum, New York
Museum of Contemporary Art, Los Angeles
National Museum of Asian Art, Smithsonian Institution, Washington, D. C.
San Jose Museum of Art, San Jose