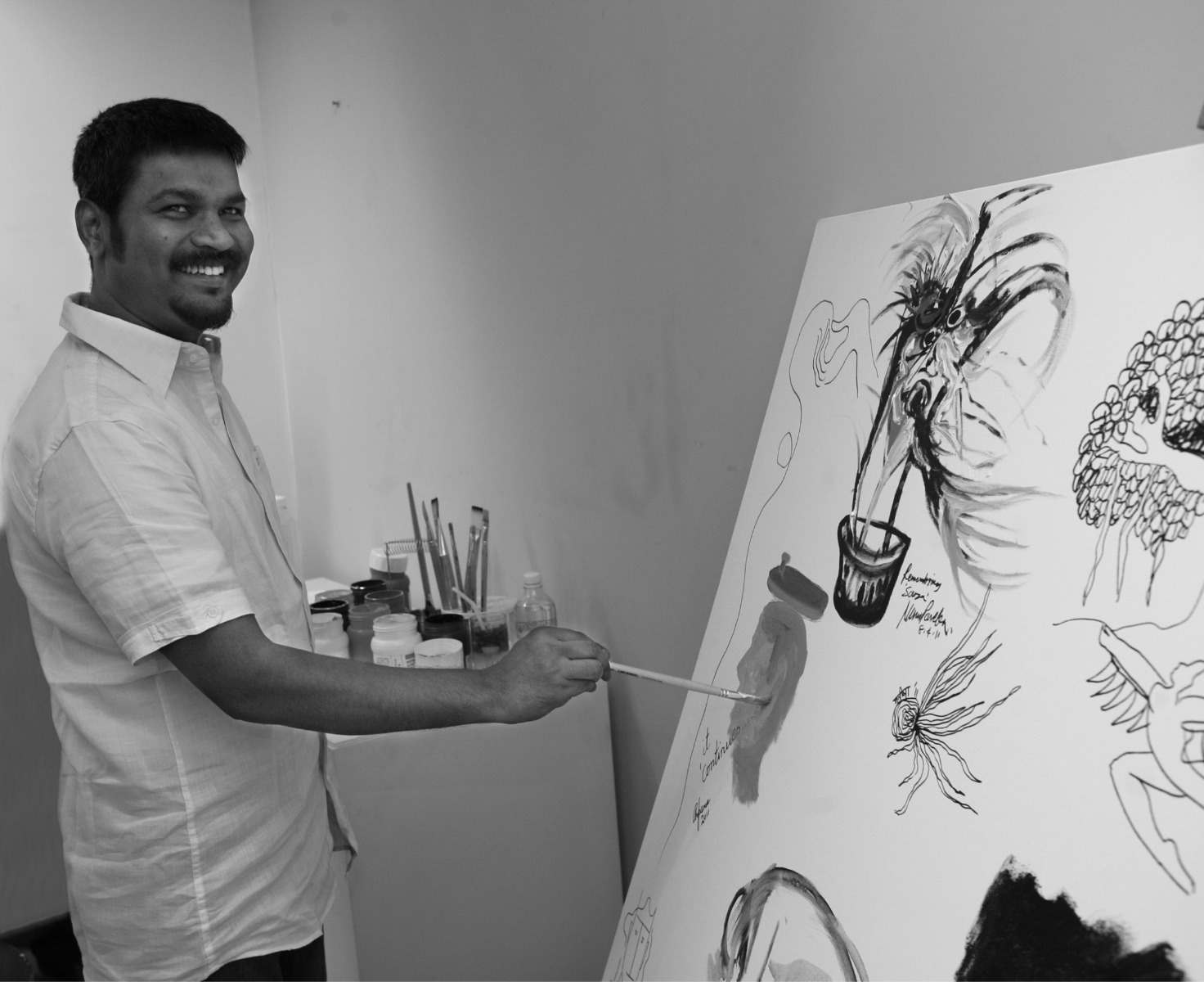 Born in Sindgi, Karnataka, Iranna G. Rukumpur, popularly known as G. R. Iranna, grew up on his father's farm, worked in the fields, and studied in Sarang Math (a traditional village school or an ashram) where he discovered his early interest in drawing and painting.
As a child, freshly laid-out roads were Iranna's earliest canvases on which he drew images of Hanuman, the monkey-god, with chalk.
Early encouragement from his guru in the ashram allowed Iranna to pursue art as a lifetime commitment. He graduated from College of Visual Art, Gulbarga, in 1992. Later, in 1994, he received his master's in fine arts from the College of Art, New Delhi. In 1999, he was awarded the Charles Wallace scholarship by the British Council, which took him to Wimbledon School of Art, London.
The artist works in various mediums, propelling him to understand the meditative quality and the language of each medium. Iranna's art is a homage to the childhood lived in the village: 'The deeper impressions of form come through your seeing in childhood,' he said.
From small pastels and drawings to large diptychs, lithographs, and majestic sculptures in bronze, Iranna's art, experimented on various surfaces and mediums, closely studies the complexities of people, their fates, their power—or powerlessness—and their struggles. The artist lives and works in New Delhi with his wife and fellow artist, Pooja Iranna.
'My work and my figures are illustrative of the spirit of human experience that is timeless and immortal'
G. R. IRANNA
National Gallery of Modern Art, New Delhi
Lalit Kala Akademi, New Delhi
Kiran Nadar Museum of Art, New Delhi
Rajshree Pathy Collection, New Delhi
Singapore Art Museum, Singapore
David Robert Collection, London
Chester & Davida Herwitz Collection, Peabody Essex Museum, Salem
Seattle Art Museum, Seattle