1929 - 1997
G. R. Santosh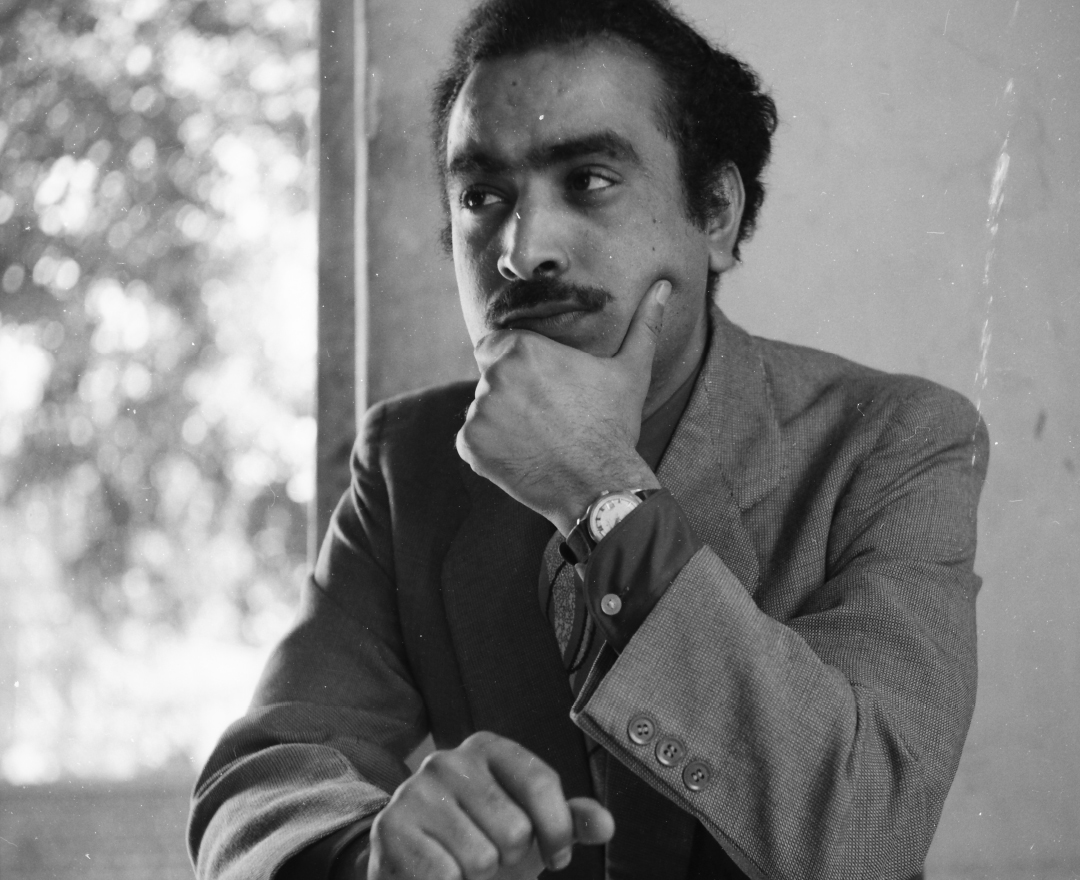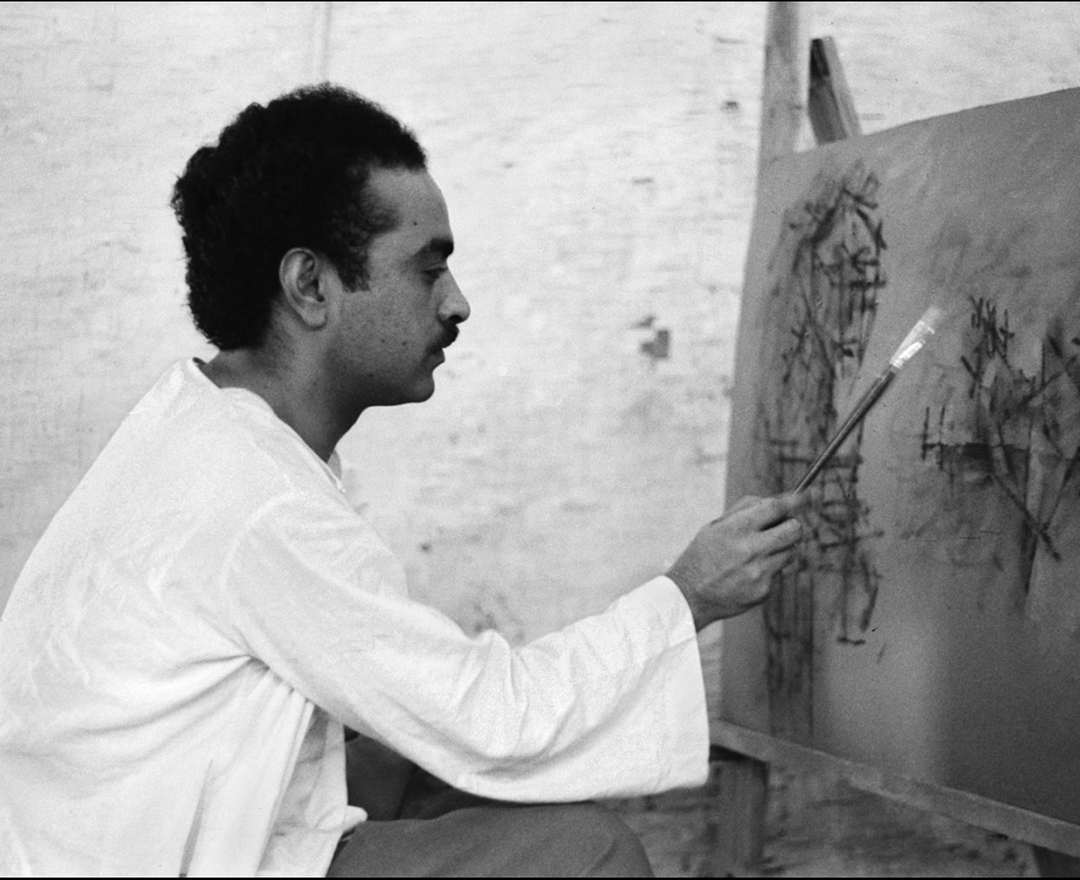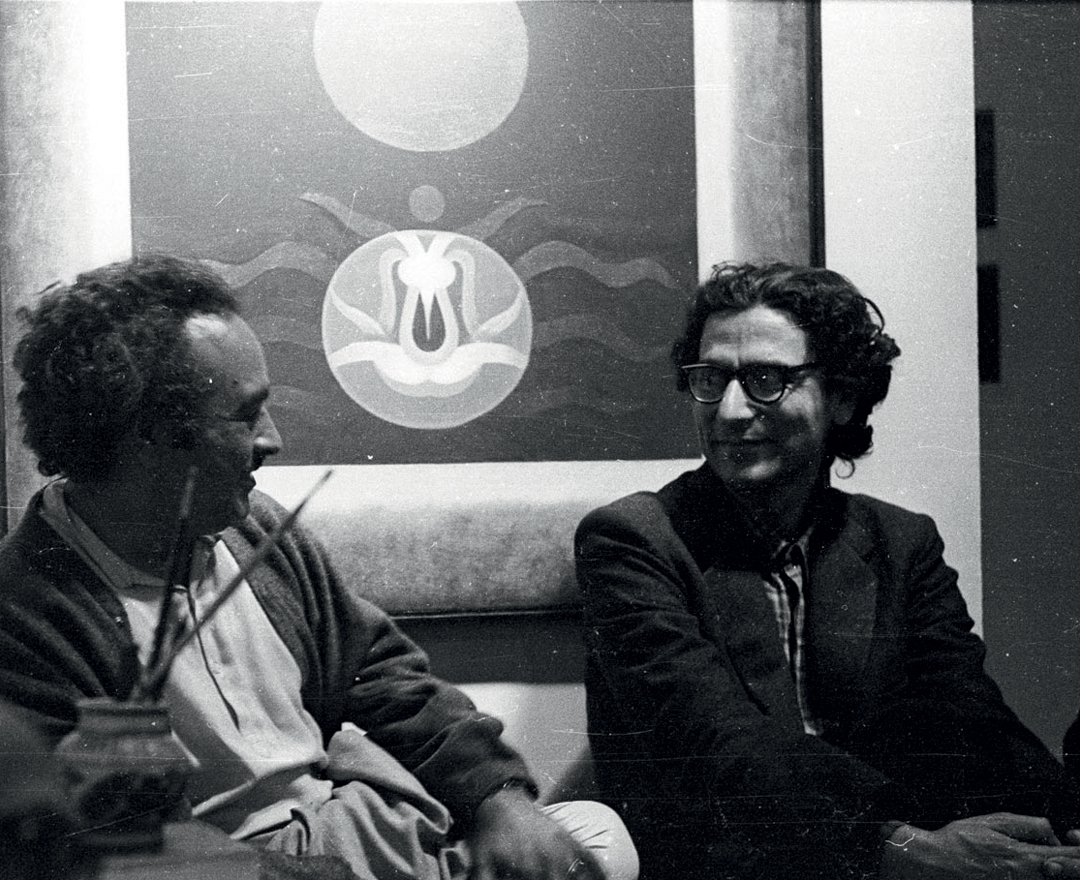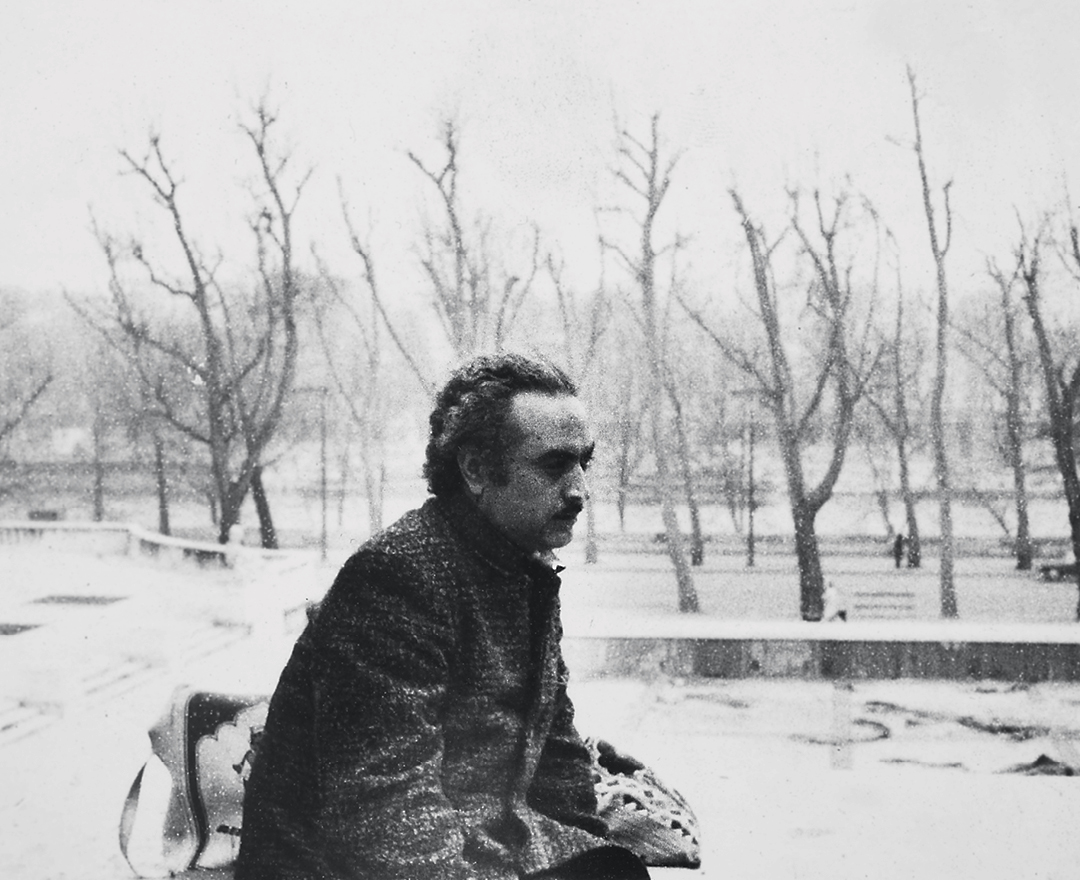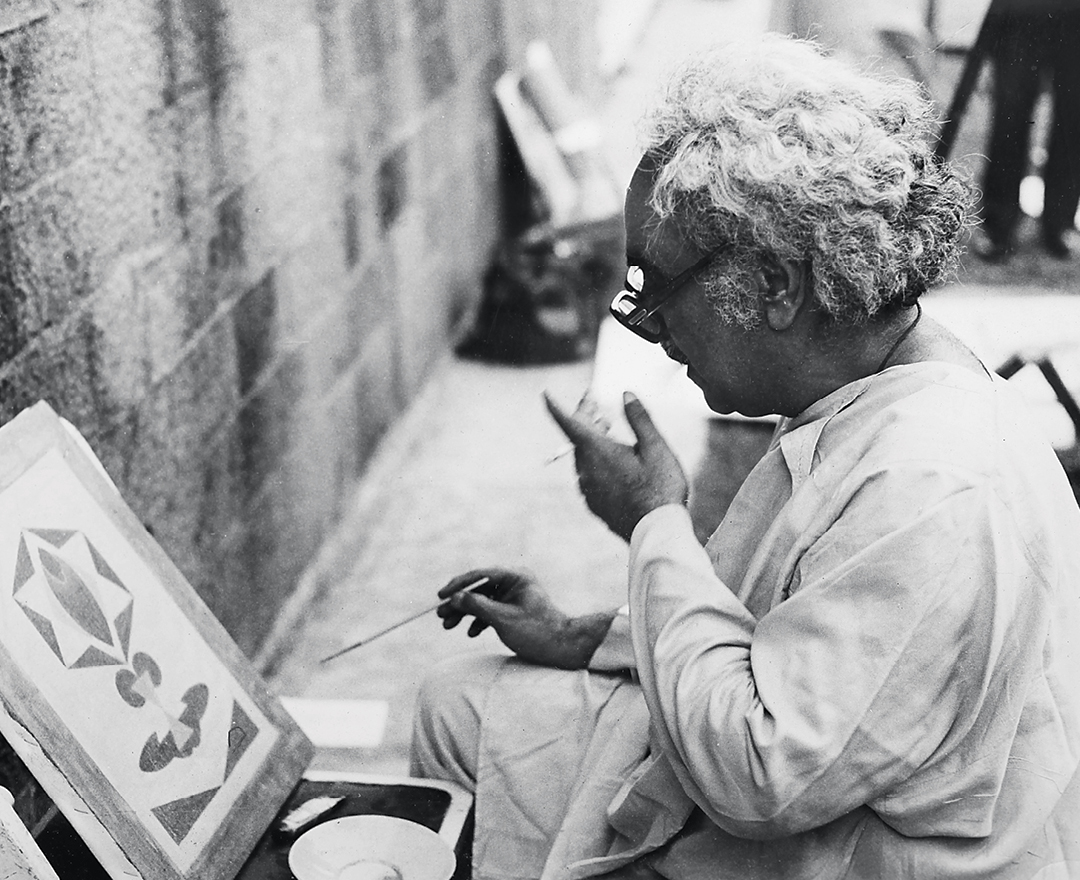 Born Gulam Rasool Dar in a Shia Muslim family in Srinagar in Kashmir on 20 June 1929, the artist took on his wife's Hindu name 'Santosh' as his own, in a move opposing patriarchy and religion.
His father's death forced a young Gulam to work as a signboard painter, papier-mâché artist, and weaver. He learnt to paint watercolour landscapes from Dina Nath Raina in Kashmir before studying under N. S. Bendre at M. S. University, Baroda, on the recommendation of S. H. Raza. In Baroda, he produced a large body of figurative and landscape works, mainly in the cubist style.
In Kashmir, Santosh found inspiration in the Hindu and Buddhist tantric cults that had coexisted with the region's Sufi mysticism for centuries. At the Amarnath cave in Kashmir in 1964, Santosh had a deeply spiritual experience that turned him towards the philosophy of tantra. Driven by the primordial purusha-prakriti concept of cosmic creation, he expressed the fusion of the sexual and the transcendental in his works and pioneered the neo-tantra school. An acclaimed writer and poet in Kashmiri and Urdu, Santosh wrote on tantric philosophy in English as well.
Santosh was awarded the Lalit Kala Akademi's national award thrice, in 1957, 1964 and 1973, the Kala Ratna Award by All India Fine Arts and Crafts Society, New Delhi, in 1991, and received the Padma Shri from the Government of India in 1977. He also won the Sahitya Akademi award for his collection of poems, Besukh Ruh, in 1979. He passed away on 10 March 1997.
'The common perception about tantra has been one of magic. Art relating to tantra has been informed by the same perception'
G. R. SANTOSH
artist timeline
1929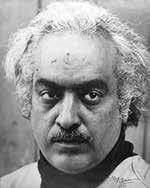 Is born in old Srinagar, Kashmir, in a Shia Muslim family; his name is Gulam Rasool Dar.
1947-53
To survive through the financially harrowing years, he takes up a miscellany of jobs like painting watercolour landscapes for tourists, weaving, and fashioning papier-mâché works to support his family. His artistic practice is influenced by the artist Dina Nath Walli.
1950
Joins Progressive Artists Association in Kashmir, owing to eminent painter S. H. Raza's endeavours to mobilise Kashmiri painters.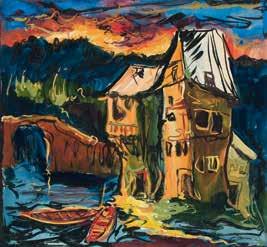 Paints expressionist landscapes bringing the everyday life of Kashmir valley into focus. Kashmir remains a key inspiration for the artist throughout his life as he seeks his artistic idiom in his traditional roots and culture.
1953
First solo exhibition in Srinagar, Kashmir.
1954-56
Receives a government scholarship to study at Faculty of Fine Arts in Baroda under N. S. Bendre as a noncollegiate student. These years are marked by figurative paintings executed in a cubist style.
1956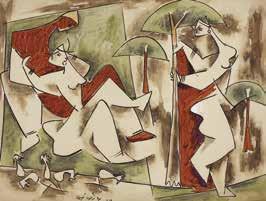 Participates in the National Art Exhibition with expressionistic landscapes. Returns to Kashmir and continues to paint in the cubist vein till 1959. Gold medal at Industrial Exhibition, J&K Government, Srinagar. Wins Bombay Art Society's President Sir Cowasji Jehangir Bart prize.
1957
First exhibition in Bombay. Receives his first national award from Lalit Kala Akademi, a feat he would repeat in 1964 and 1973.
1959
Wins first prize at Kalidasa Jayanti Exhibition, Ujjain.
1960s
Paints abstract works.
1960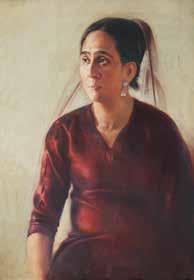 Marries a Kashmiri Pandit girl, stirring up a controversy in the valley. Takes her first name, Santosh, as his surname, and relocates to New Delhi. Wins the state award from the J&K Academy of Arts & Culture, Srinagar.
1961
Is part of Paris Biennale, France; also, exhibits at National Gallery of Canada, Ottawa.
1962
Has exhibitions at well-known galleries in New York, Kabul, Tel Aviv, Los Angeles, Chicago, and New Delhi.
1963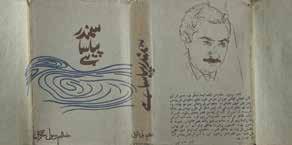 Finishes composing his Urdu novel, Samandar Pyasa Hai. Additionally, his participation in the National Poetic Symposium establishes his identity as a major poet of Kashmiri language.
1964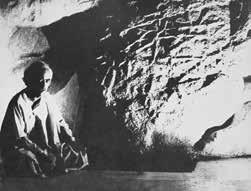 A mystic epiphany on a pilgrimage to Amarnath in Kashmir proves a turning point and becomes the catalyst that steers his practice towards a philosophical approach to art. He begins his study of Shaivite philosophy—the Kashmiri approach to the worship of Shiva. Exhibits at Gallery Revel, New York. In 1963-64, the artist's works are extensively exhibited in U.S.A., Hong Kong, Manila, and Singapore.
1965
Art critic Keshav Malik praises the 'distinct improvement' in Santosh's work on exhibit at Kumar Gallery, New Delhi.
1966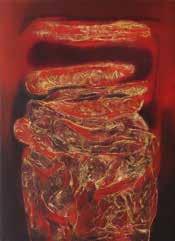 Holds his last exhibition of works as a 'modernist' before the transition to tantra. Ajit Mookerjee's book Tantra Art is released and is a publishing sensation worldwide. Santosh paints his early tantra works and the Shiva-Shakti series.
1966-68
The artist's exploration of tantric art shows abstracted bodies in copulation.
1967
Dr Karan Singh, India's minister of tourism and civil aviation at the time, inaugurates his exhibition at Kunika Chemould Art Centre, New Delhi.
1968
Participates in U.C.L.A.'s exhibition 'Neo-Tantra Art' in Los Angeles.
1968,'78,'82
Participates in the I, IV and V International Triennales organised by Lalit Kala Akademi, New Delhi
1969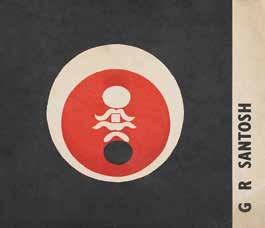 Pundole Art Gallery, Bombay, exhibits his works.
1972
Is part of Sao Paulo Biennale, Brazil.
1977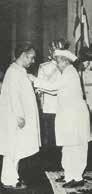 Receives the Padma Shri from Government of India. Designs the Lalit Kala Gallery in New Delhi.
1979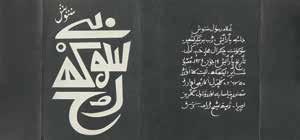 The artist's poetry collection, Besukh Ruh, wins the Sahitya Akademi award.
1980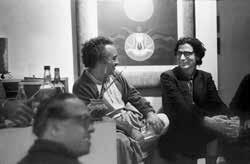 Publishes Shakti Vichaar and Vakh in Kashmiri. Is director of Garhi Studios, Lalit Kala Akademi, New Delhi. Paints in the miniature format and exhibits them at Lalit Kala Akademi, New Delhi. Is part of Lalit Kala Akademi's exhibitions in Dubai and Japan. Keshav Malik, who had not reconciled to Santosh's transition to neotantra art, writes an excoriating review: 'His composition is cast by a calculating brain too impersonal both in its formal geometry and colour', the latter proving to be 'loud, louder, loudest'. A media slugfest follows, and though Malik's later reviews are kinder, the two fail to patch up and become friends.
1982
As part of Festival of India, participates in 'Contemporary Indian Art', London.
1983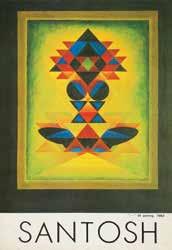 'Santosh' opens at Gallery Tai In in Seoul, South Korea; his 'Tantra' exhibition is shown in Stuttgart, Germany, and South Korea.
1984
Sahitya Kala Parishad honours him as 'Artist of the Year'. Is awarded by All India Fine Arts and Crafts Society, New Delhi.
1985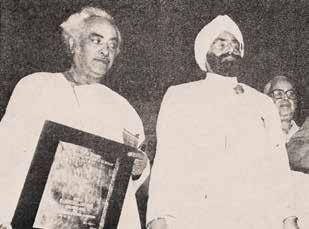 Receives the Kalhana Award from the Kashmir Education and Science Society, New Delhi, and the Bakshi Memorial Committee Award (J&K State) for Art and Culture. His works are shown as part of Festival of India in Los Angeles.
1988
His works are part of Festival of India in Japan. He participates in the second National Biennale at Bharat Bhavan, Bhopal.
1989
Exhibits at Jehangir Art Gallery, Bombay.
1991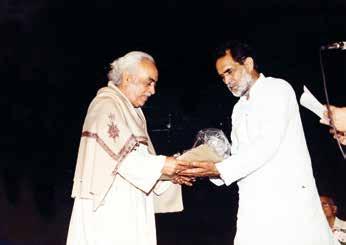 Receives Kala Ratna from All India Fine Arts and Crafts Society, New Delhi.
1992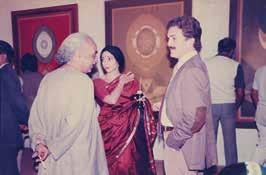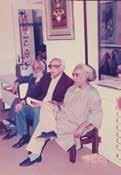 Has an exhibition at Jehangir Art Gallery, Bombay, and at Dhoomimal Gallery, New Delhi.
1997
Dies on March 10. Is awarded D.Litt. posthumously by the University of Jammu. Government of Jammu and Kashmir felicitates his 'extraordinary contribution in the field of art and literature' posthumously.
2000
Shantiveer Kaul's book, The Art of G. R. Santosh, is published by Lustre Press.
2011
A major exhibition, 'Awakening: A Retrospective of G. R. Santosh' opens at DAG, New Delhi. It is accompanied by a book.
The 'Manifestations' series of 20th Century Indian Art', Editions V, VI, VII, VIII, IX, X, XI
DAG, New Delhi and Mumbai, 2011-14
'Indian Landscapes: The Changing Horizon'
'Awakening: A Retrospective of G. R. Santosh'
DAG, New Delhi, 2012; Mumbai, 2014
'The Naked and The Nude: The Body in Indian Modern Art'
DAG, New Delhi, 2013; Mumbai, 2015
'Indian Portraits: The Face of a People'
DAG, New Delhi, 2013; Mumbai, 2014
'Indian Divine: Gods & Goddesses in 19th and 20th Century Modern Art'
DAG, New Delhi and Mumbai, 2014
'Indian Abstracts: An Absence of Form'
DAG, New Delhi, 2014; Mumbai and New York, 2015
'India Modern: Narratives from 20th Century Indian Art'
DAG, New York, New Delhi, Mumbai, 2015; Chandigarh, 2017
'Ways of Seeing: Women Artists | Women as Muse'
'Home is a Place / Interiority in Indian Art'
'Indian Blue: From Realism to Abstraction'
'Iconic Masterpieces of Indian Modern Art'
National Gallery of Modern Art, New Delhi
Jehangir Nicholson Art Foundation, Mumbai
Government Museum and Art Gallery, Chandigarh
Kejriwal Museum, Karnataka Chitrakala Parishath, Bengaluru
Amar Mahal Museum and Library, Jammu
CITI India Corporate Collection
Glenbarra Art Museum, Himeji
Hirshhorn Museum and Sculpture Garden, Washington D.C.
Peabody Essex Museum, Salem, Massachusetts