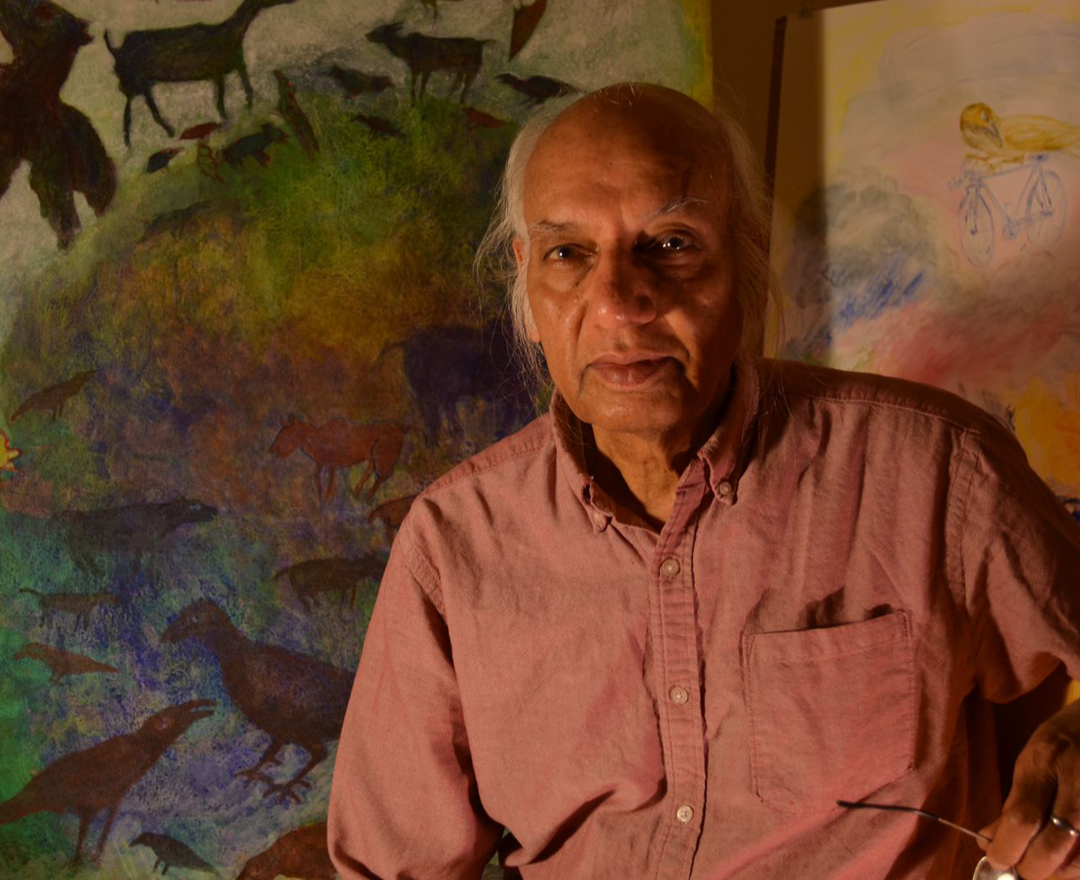 Devraj Dakoji was born in Dharmaji Gudem village in West Godavari district of Andhra Pradesh to a family of Ayurveda practitioners.
Picking herbs for his father every morning before going to school proved to be a lasting influence in Dakoji's life, making nature the leitmotif of his art.
Growing up in Hyderabad, he joined the city's Government College of Fine Arts and Architecture in 1959. In 1966, he joined M. S. University, Baroda, to learn printmaking. Interaction with teachers like K. G. Subramanyan and Jyoti Bhatt led to a deeper understanding of art, both as a craft and a way of life.
Primarily a printmaker, Dakoji's works are inspired by Indian culture in which nature and animals predominate. An early work, the Stone series, depicts primordial boulders dotting his hometown's landscape. On a trip to San Diego in 1985, the familiar call of the peacock turned into an epiphanic moment, revealing to him the primal connection of life across the globe. This led him to explore pranamu, or life force, in a series of etchings and lithographs, veering towards abstraction. On The LIRR (Long Island Rail Road) is another of his series, created over eight years on LIRR ticket stubs, when he used to transit between Manhattan and Babylon, New York.
In 1992, Dakoji learnt 'collaborative printmaking' at the Tamarind Institute, University of New Mexico, Albuquerque, U.S.A., where the artist and the printer interact closely on the most appropriate means to heighten the work. Dakoji is based in New York.
'…the good thing with a print is that you can reach out to a larger audience, as [Raja] Ravi Varma and Rembrandt did'
DEVRAJ DAKOJI
'Indian Landscapes: The Changing Horizon'
'Indian Abstracts: An Absence of Form'
DAG, New Delhi, Mumbai, and New York, 2014-15
'New Found Lands: The Indian Landscape from Empire to Freedom'
National Gallery of Modern Art, New Delhi
Lalit Kala Akademi, New Delhi
Library of Congress, Washington, D. C.