1940 - 2006
Bikash Bhattacharjee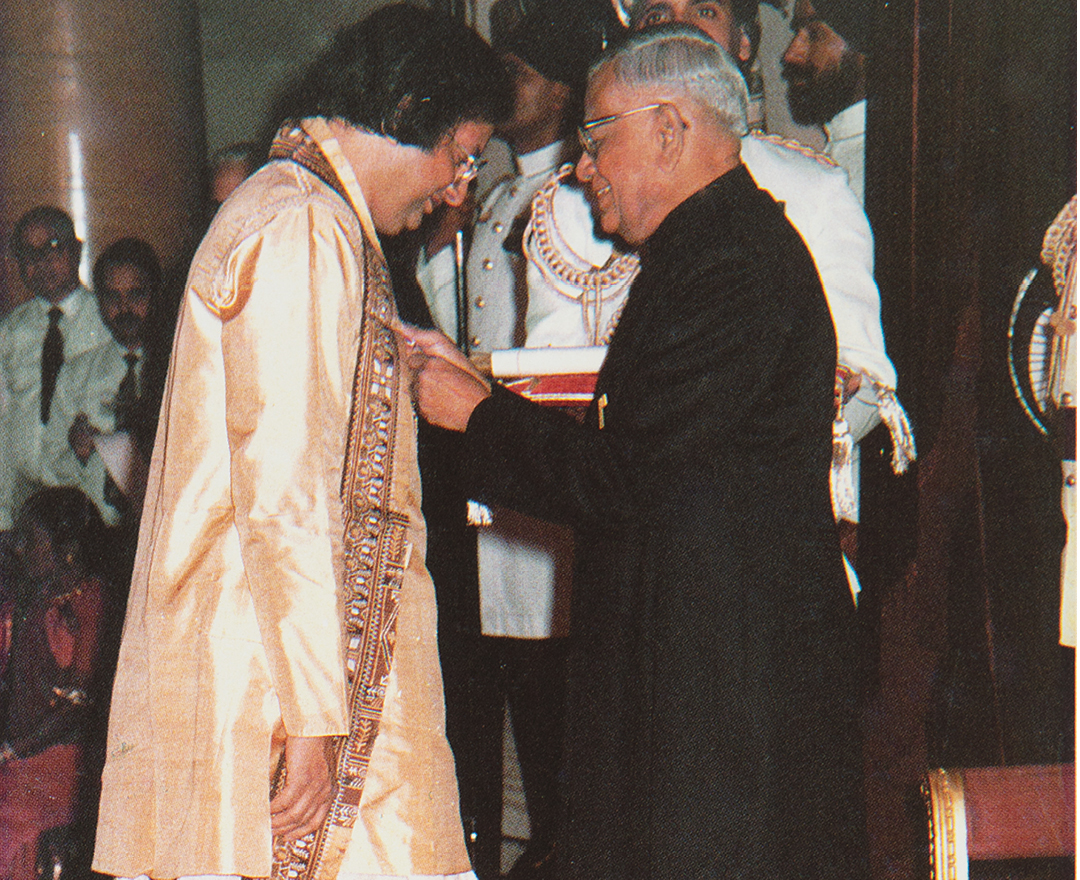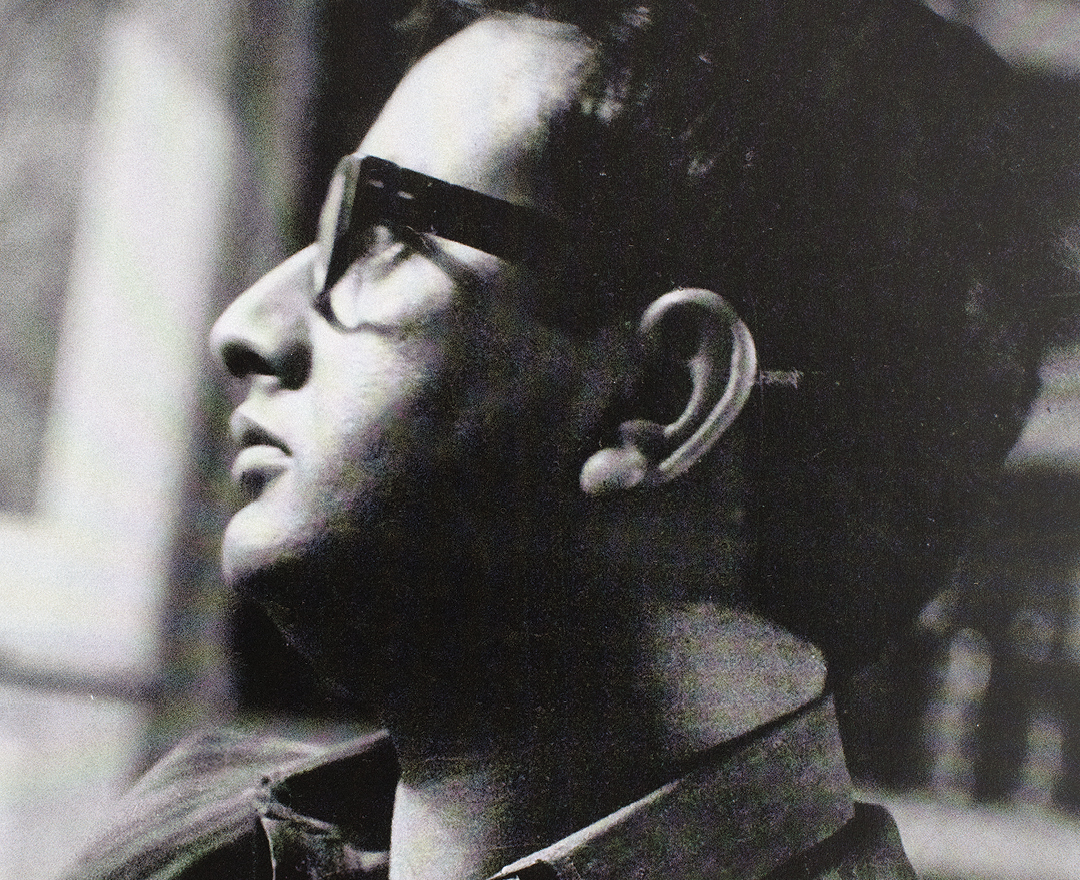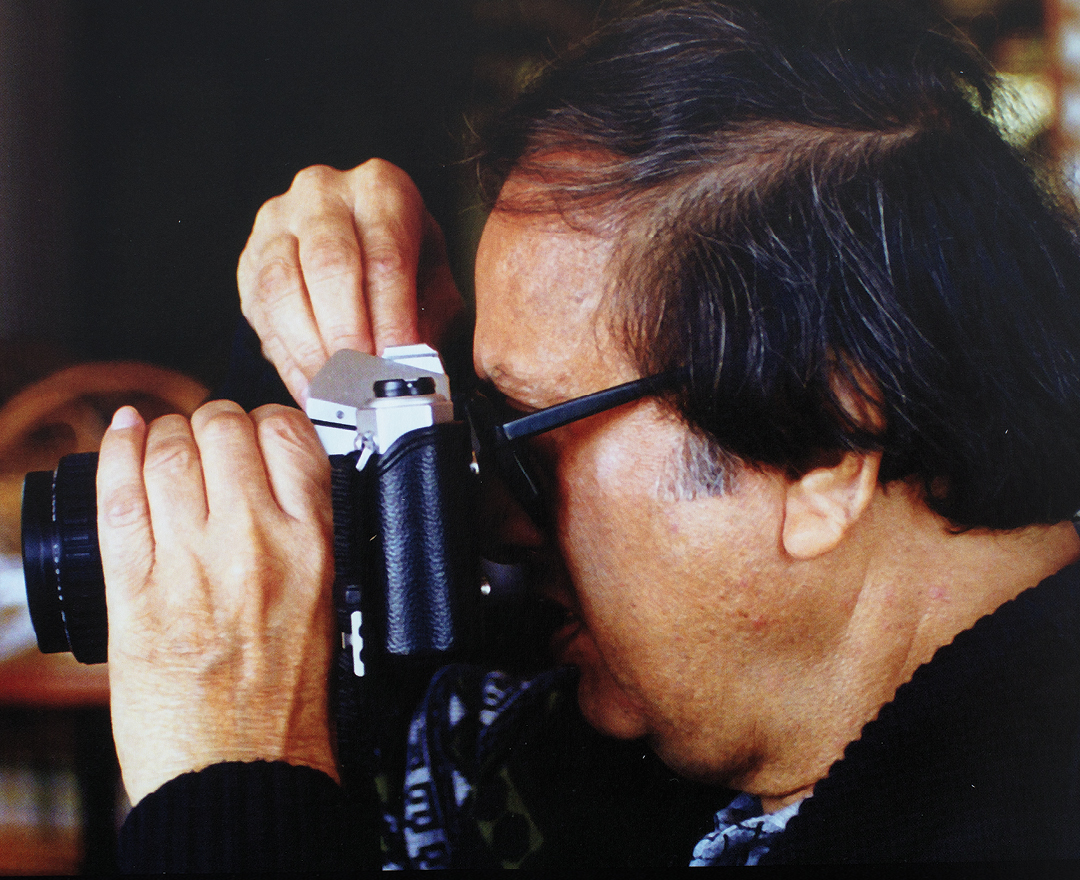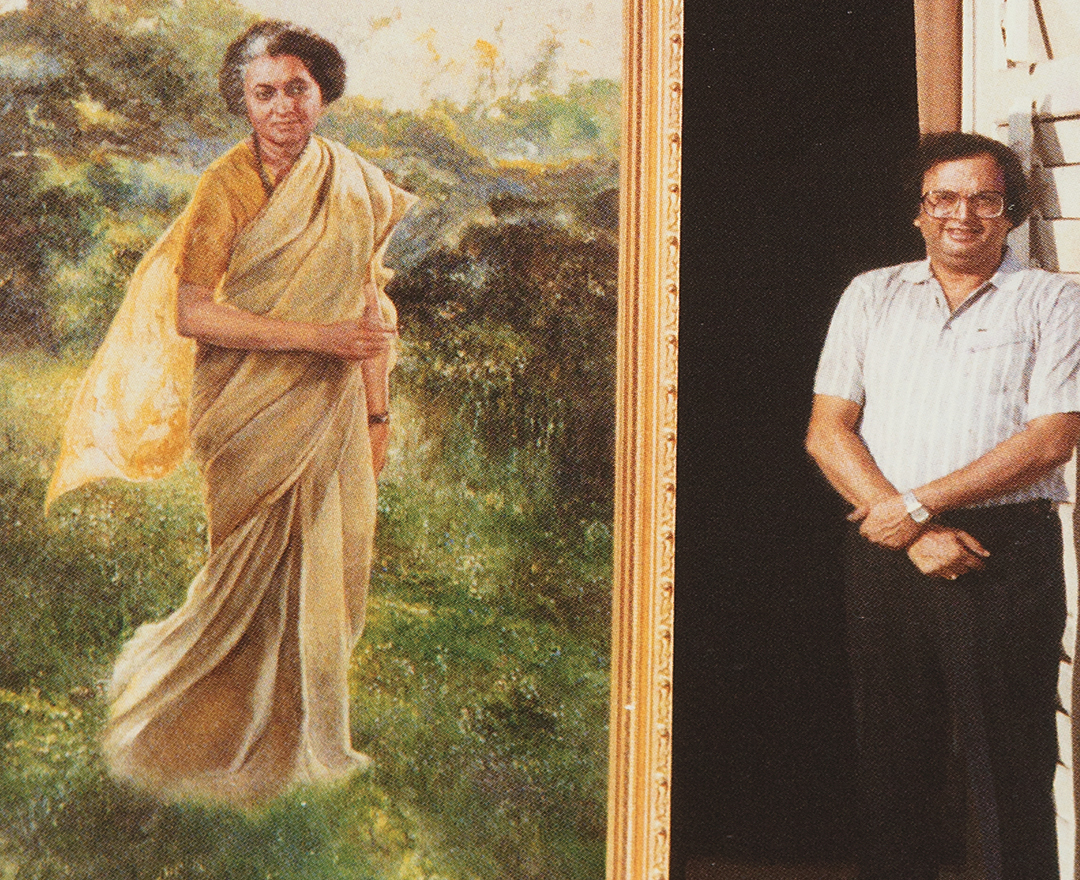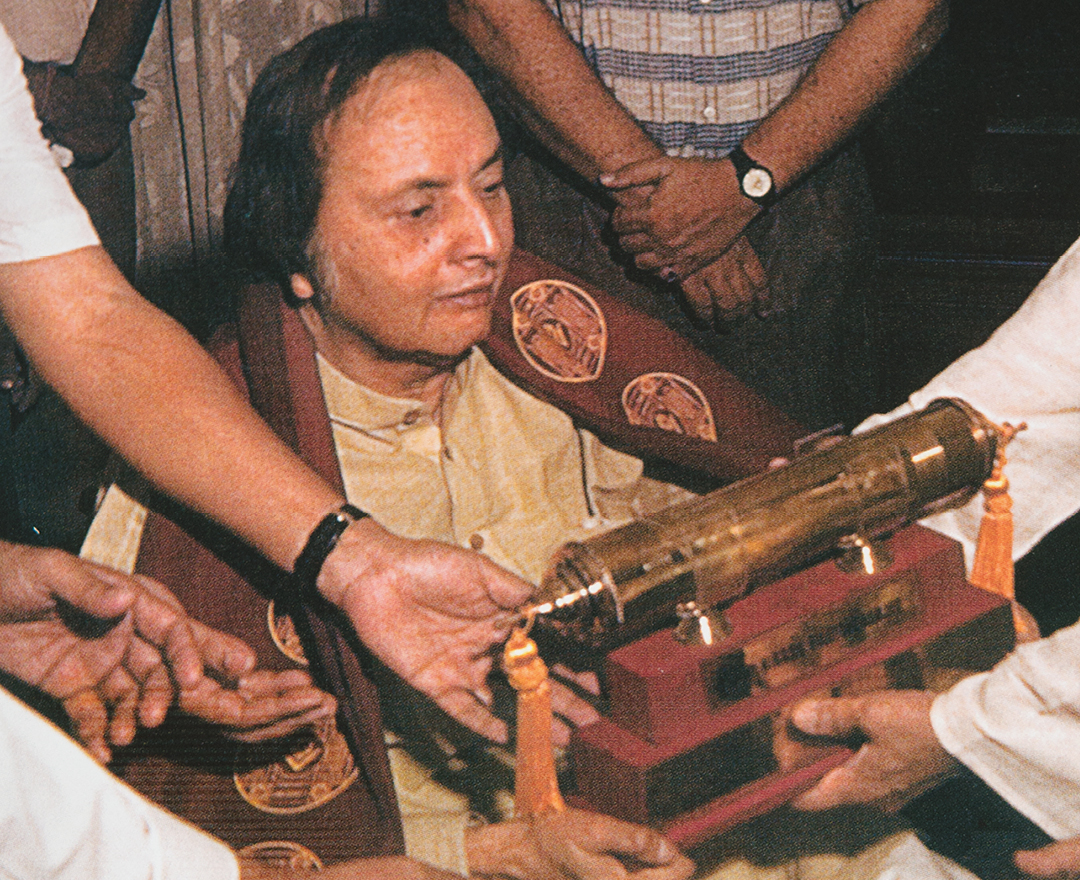 Born in a middle-class Bengali family on 21 June 1940, Bikash Bhattacharjee gathered his visual and intellectual ideals from the politically charged atmosphere of Calcutta during his growing up years.
Like many of his contemporaries, he was sympathetic to the principles and cultural values of the Communist Party. But his highly individualised perception of the world differed from the imagery representing either political leaders or suffering people. His characters were more than just representative of their class; they were imprinted as individuals, each with a well-etched subjectivity.
The end of the 1960s up to the mid-'70s was marked by a series of surreal paintings with a subtext of the demonic or subhuman in a setting of either dark fantasy or farce. The Doll series, conceived in 1971, was Bhattacharjee's emotional response to the violence that erupted across Calcutta at the time as a result of the Naxal movement. Here, Bhattacharjee came close to the abstract mode by portraying humans as dolls with erased eyes, wiping out any individuality. The allegoric vision of the subverted feminine in his portraits of prostitutes, middle-class women, or women with extreme sexual appeal—rendered in photo-realist style—was another prominent theme in his work.
Bhattacharjee was honoured by the Academy of Fine Arts, Calcutta, in 1962, and received the Lalit Kala Akademi's national award in 1971, the Bangla Ratna from the state government in 1987, and the Padma Shri from the Government of India in 1988. He passed away on 18 December 2006.
'The vibes that Bikash visually and intellectually gathered in his growing years from his immediate urban environs with an instinctual awareness of their social and moral significance went a long way in deciding not only what but also how he was going to paint'
MANASIJ MAJUMDER
artist timeline
1940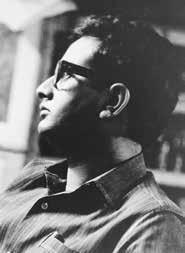 Born on June 21 in Calcutta
1958
Joins the Indian College of Art and Draftsmanship for a diploma in fine arts
1962
Receives an award from the Academy of Fine Art, Calcutta
1963
Graduates with a diploma in fine arts. Develops a style that is simultaneously traditional as well as realist; his subjects hail from the Bengali middle class, their daily lives, aspirations as also the crumbling buildings and rooftops of north Calcutta, where he grew up; he also paints violence, a common feature on the turbulent streets of Calcutta at the time.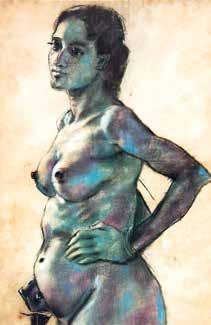 Right from his student days, and throughout his career, the artist paints the female figure in a variety of forms—as ordinary women going about their daily chores, upper class women mocked in their refined existence, women in red light districts with their practical wisdom and indignations; some of these develop into well-known series such as She and Durga.
1964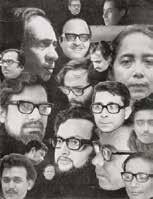 Is inducted as a member of the highly influential Society of Contemporary Artists, Calcutta, which was formed in 1959.
1965
Holds his first solo exhibition at Artistry House, Calcutta, and at the Tata Iron and Steel Company, Jamshedpur.
1968
Participates in the first International Triennale held in New Delhi. Joins his alma mater, Indian College of Art and Draftsmanship, as professor.
1969
Participates in the IV Triennale in Paris.
1970-72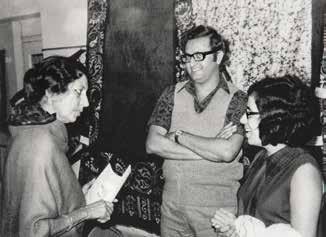 Has exhibitions in Yugoslavia, Romania, Czechoslovakia, and Hungary. Moves into a shared studio with Parsi artist Katayun Saklat at 52, Chowringhee Lane. This transition marks his shift to larger canvases.
1971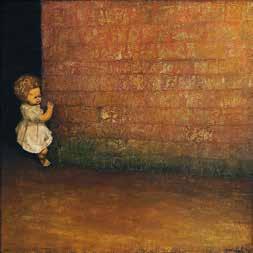 Birla Academy of Art and Culture, Calcutta, holds an exhibition on the artist's famous Doll series. Receives Lalit Kala Akademi's national award, and again the following year. Participates in the second International Triennale, New Delhi. Makes an ink and wash portrait of Rabindranath Tagore. Goes on to develop a robust body of portraits of well-known past and contemporary personalities such as Jagadish Chandra Bose, M. F. Husain, Mother Teresa, Indira Gandhi and more; does a portrait of Indira Gandhi after her assassination too; becomes popular with patrons seeking commissioned portraits.
1973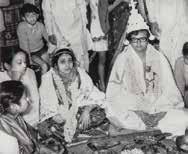 Starts teaching at the Government College of Art and Craft, Calcutta; continues for the next nine years. Marries Parbati.
1975
Participates in the third International Triennale, New Delhi.
1980s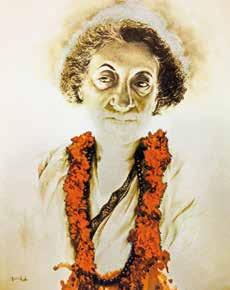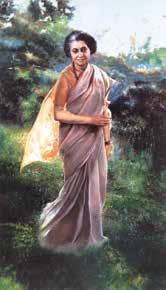 Starts making illustrations for a book by Bengali novelist Samaresh Basu on the life of Ramkinkar Baij, the renowned sculptor-painter. Considered some of his best works, the illustrations remain unpublished as the book is not completed due to the death of the author.
1982
Is part of the Festival of India's exhibition, 'Contemporary Indian Art', at the Royal Academy of Arts, London.
1986
Exhibits works from his She series at the Taj Art Gallery, Bombay, and Chitrakoot Art Gallery, Calcutta. Is part of the Festival of India concurrently in New York, Boston, Geneva, and Moscow.
1987
Is honoured with the Bangla Ratna award by the state government of West Bengal.
1988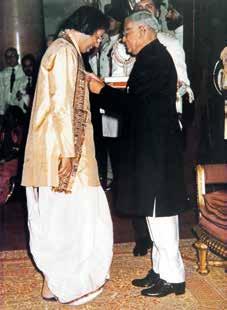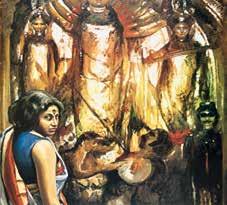 Awarded the Padma Shri by the Government of India. His Durga series portrays the divine goddess as a woman.
1991
His Homage series is exhibited at the Victoria Memorial, Calcutta.
1993
His Wounds series is exhibited at the National Gallery of Modern Art, New Delhi.
2000
Suffers a paralytic stroke that leaves him incapable of painting. Centre of International Modern Art, Kolkata, holds a month-long exhibition of his works to mark his sixtieth birthday.
2004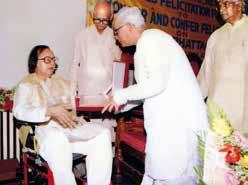 Is awarded the Lalit Kala Akademi fellowship, the highest honour of the country's national art academy.
2006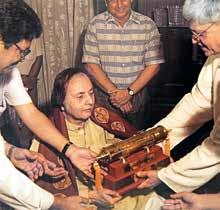 D.Litt. from Kalyani University, West Bengal. Passes away on December 18 in Kolkata. Close to Events: Works of Bikash Bhattacharjee by Manasij Majumder is published posthumously.
The 'Manifestation' series of 20th Century Indian Art, Editions VII, VIII, IX, X, XII
DAG galleries in New Delhi and Mumbai, 2012-14
'Indian Landscapes: The Changing Horizon'
DAG, New Delhi, 2012; Mumbai, 2014; New York, 2016
'Indian Portraits: The Face of a People'
DAG galleries in New Delhi and Mumbai, 2013-14
'Indian Abstracts: An Absence of Form'
DAG galleries in New Delhi, Mumbai and New York, 2014-15
'Indian Divine: Gods & Goddesses in 19th and 20th Century Modern Art'
DAG galleries in New Delhi and Mumbai, 2014
'India Modern: Narratives from 20th Century Indian Art'
DAG galleries in New York, New Delhi and Mumbai, 2015; Chandigarh, 2017
'Navrasa: The Nine Emotions of Art'
DAG galleries in New Delhi and Mumbai, 2020-21
'Ways of Seeing: Women Artists | Women as Muse'
'Iconic Masterpieces of Indian Modern Art'
National Gallery of Modern Art, New Delhi
Lalit Kala Akademi, New Delhi
Kiran Nadar Museum of Art, New Delhi
Jehangir Nicholson Art Foundation, Mumbai
Piramal Art Foundation, Mumbai
Government Museum and Art Gallery, Chandigarh
Roopankar Museum of Fine Arts, Bharat Bhavan, Bhopal
Kejriwal Museum, Karnataka Chitrakala Parishath, Bengaluru
Peabody Essex Museum, Salem, Massachusetts
Glenbarra Art Museum, Himeji
Jane and Kito de Boer Collection, Dubai and London