1907 - 1974
Sudhir Ranjan Khastgir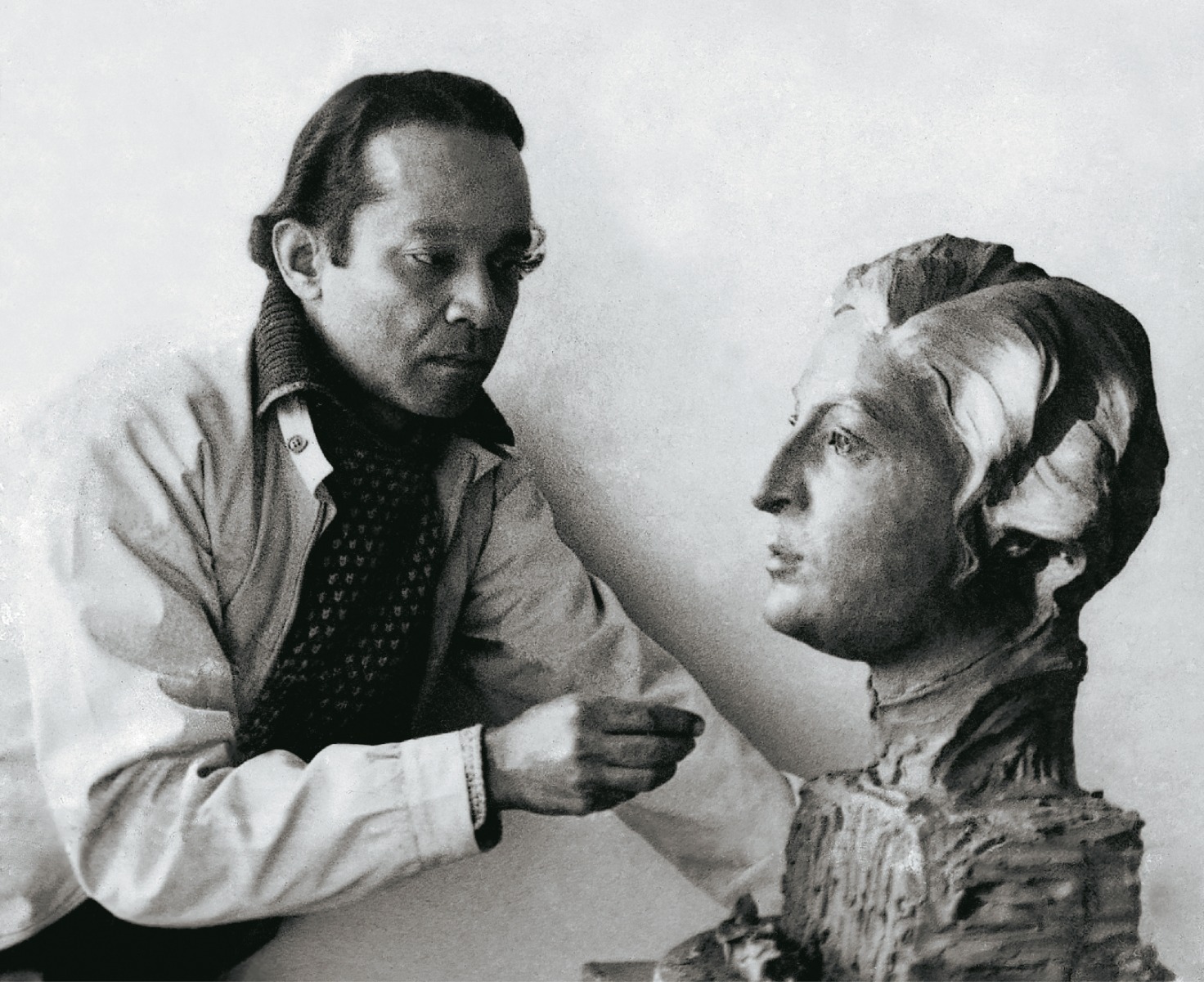 Sudhir Ranjan Khastgir was one of those modernists from Bengal who, despite being trained in Santiniketan, did not bear affinity to its artistic credos, nor to any other prevalent style.
Born on 24 September 1907 in Chittagong in present-day Bangladesh, he studied at Kala Bhavana, Santiniketan, under Nandalal Bose. Like his classmate, Ramkinkar Baij, he took up sculpture as a subject, continuing its pursuit in Lucknow under Hiranmoy Roychaudhuri in 1932, and under Ganpath Kashinath Mahatre, in Bombay, in 1933. The same year, he joined Scindia School, Gwalior, as a teacher and, later, Doon School in Dehradun.
While still a teacher, Khastgir went to Deutsch Academy, Munich, in 1937, for his postgraduation. In 1947, his solo exhibition in London at Imperial Institute was opened by eminent sculptor Eric Gill. In 1956, he became principal of Government College of Arts and Crafts, Lucknow, from where he retired in 1962.
Like Baij, Debi Prasad Roy Chowdhury, and Chintamoni Kar, Khastgir too was a painter-sculptor and did portraits of several eminent personalities, including Rabindranath Tagore and Jawaharlal Nehru. His sculptural compositions included themes from the real and the mythical world. In his paintings, he idealised the toilers of land and captured the beauty of landscapes, but also drew from a historical past.
In 1957, he was awarded the Padma Shri by the Government of India. Khastgir passed away on 6 June 1974, in Calcutta.
'Sudhir is in a class by himself and seems to owe very little to teachers or traditions'
T. S. DANDAPANI
'The Printed Picture: Four Centuries of Indian Printmaking'
DAG, New Delhi, 2012; Mumbai, 2016; alternate locations in Kolkata, 2013; Jaipur, 2017; Chandigarh, 2018
DAG, New Delhi, 2012; Mumbai, 2014; New York, 2016
'Indian Landscapes: The Changing Horizon'
'The Naked and the Nude: The Body in Indian Modern Art'
DAG, New Delhi, 2013; Mumbai, 2015
'Indian Portraits: The Face of a People'
DAG, New Delhi and Mumbai, 2014
'Indian Divine: Gods & Goddesses in 19th and 20th Century Modern Art'
DAG, New Delhi and Mumbai, 2014
'Navrasa: The Nine Emotions of Art'
DAG, New Delhi and Mumbai, 2020
'New Found Lands: The Indian Landscape from Empire to Freedom'
DAG,New York, 2021; Mumbai, 2021-22
'Ways of Seeing: Women Artists | Women as Muse'
Allahabad Municipal Museum, Prayagraj
Residence of the Governor of Uttar Pradesh, Lucknow
Lucknow University, Lucknow
The Orient Illustrated Weekly
The Orient Illustrated Weekly