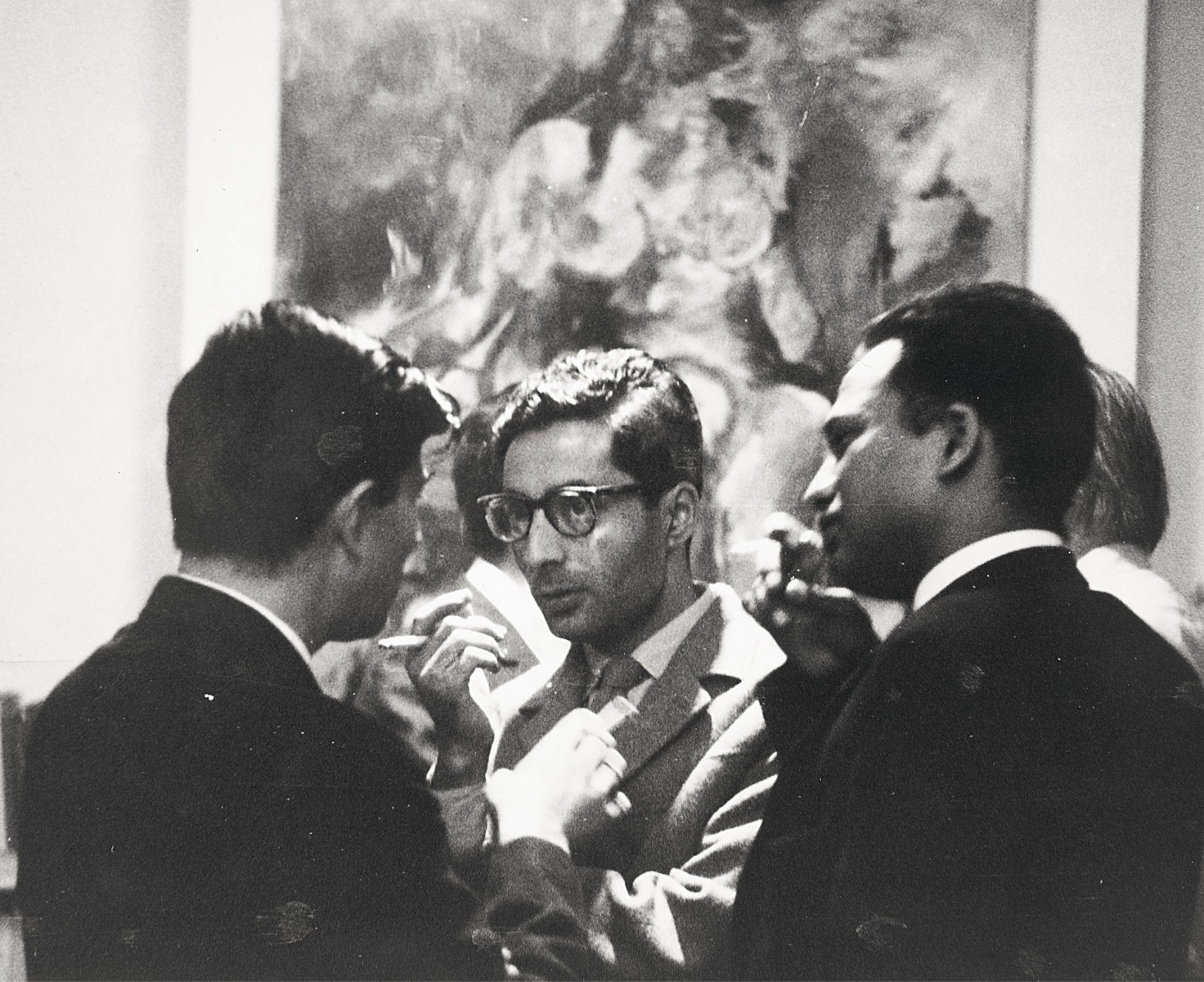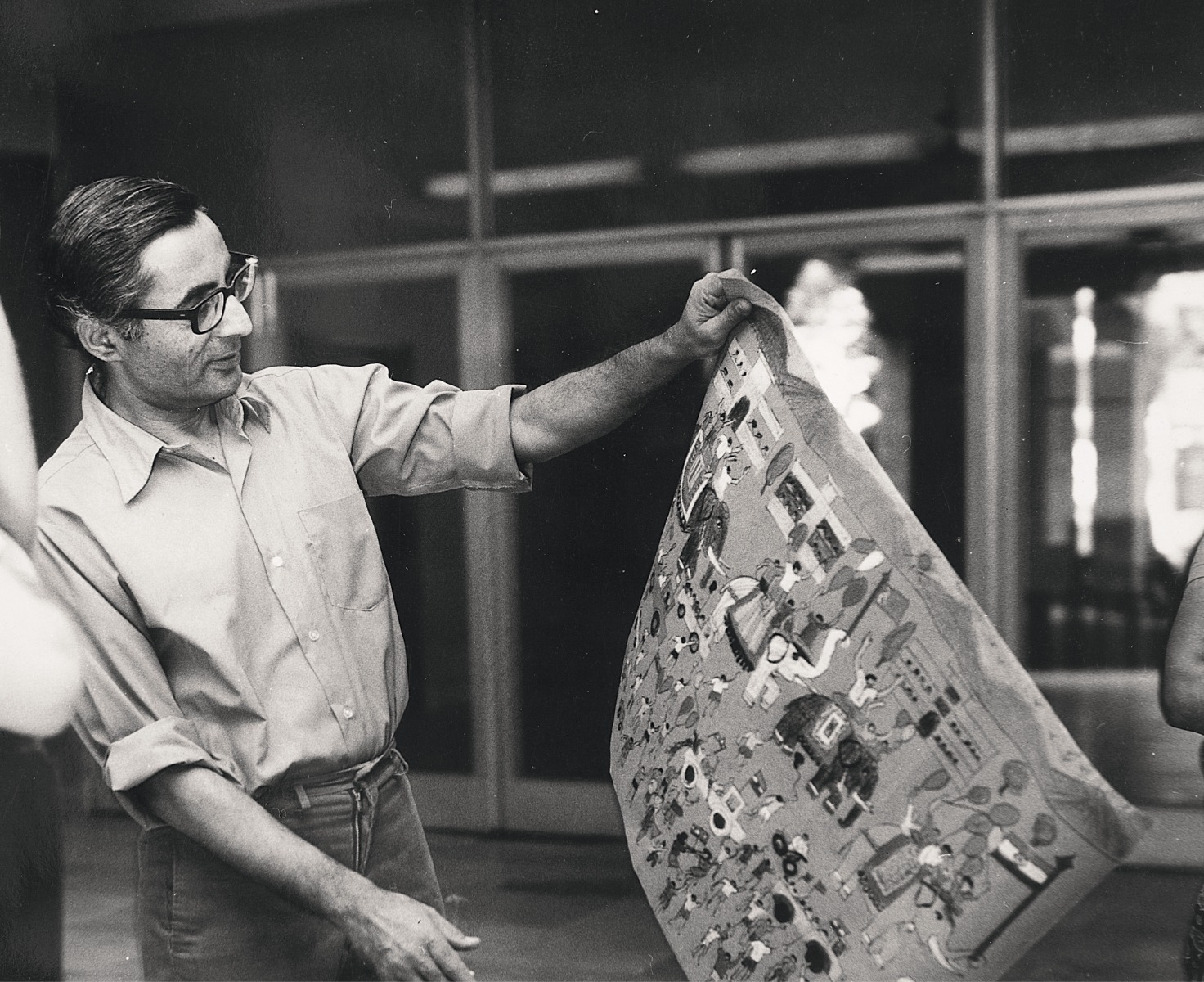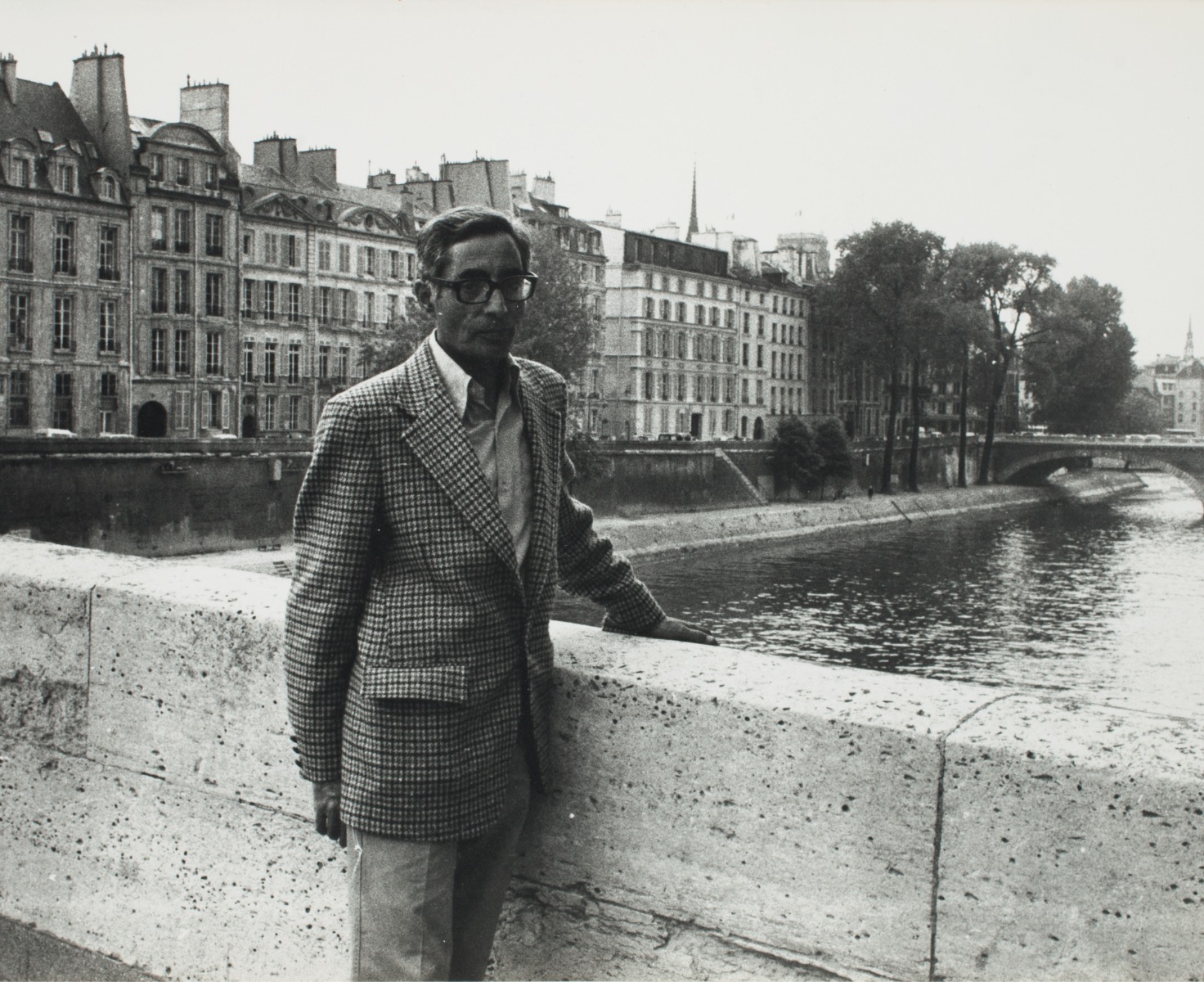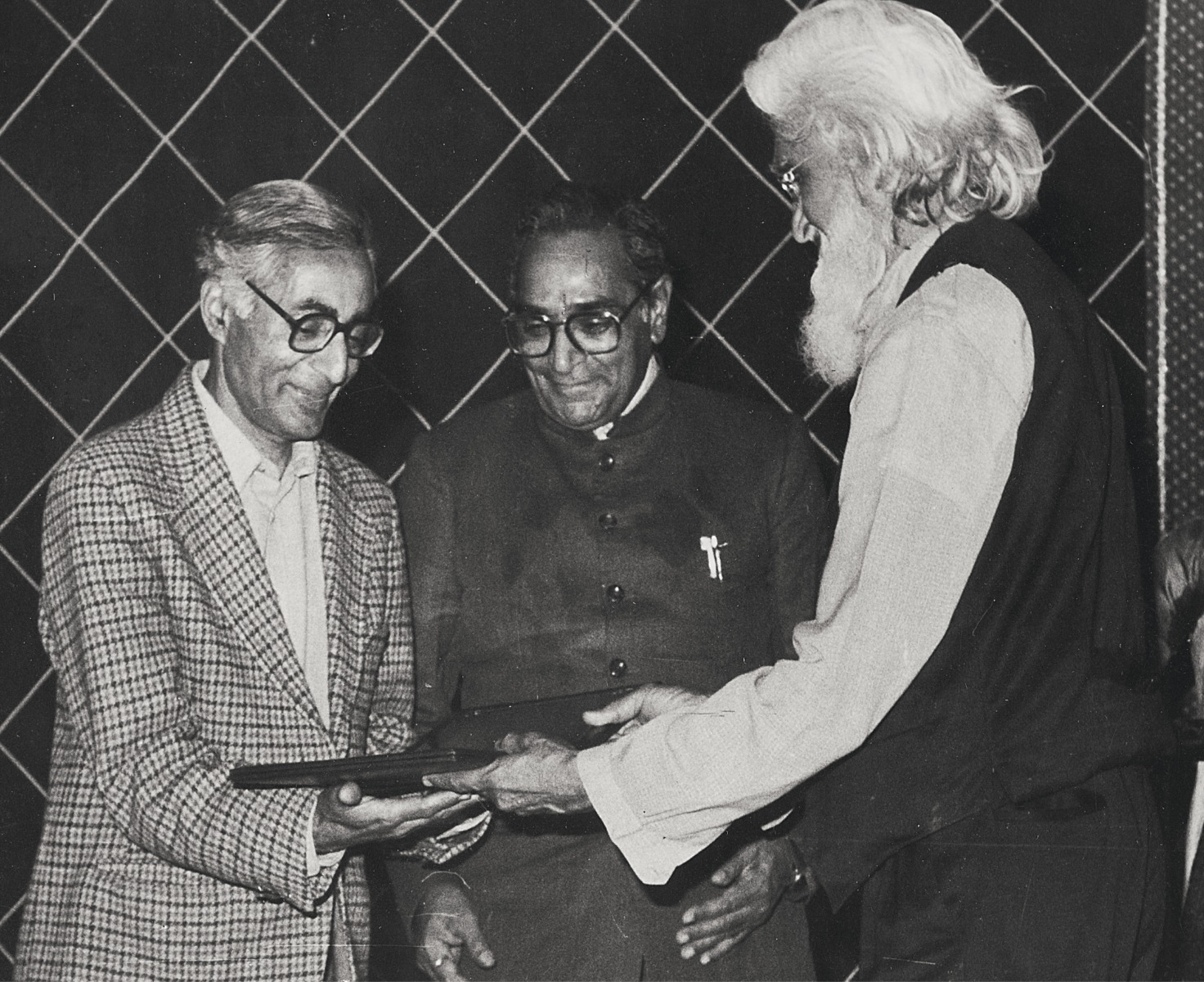 Though Ram Kumar created figurative works in his early years, he came to be known for his unique style of abstraction, a genre that he turned to, while in Varanasi, where he had gone to paint with friend and fellow artist M. F. Husain.
Born in Simla on 23 September 1924, Ram Kumar studied for his master's in economics at St. Stephen's College, Delhi University. While at college, Kumar attended evening classes at Sarada Ukil School of Art, where he learnt the 'Western style' of painting under Sailoz Mookherjea.
His unpeopled, abstract landscapes are devoid of the usual constituents of reality, only suggesting land, trees, sky, and water, through the intensity of colours.
Like several first-generation, post-colonial Indian artists, such as F. N. Souza, S. H. Raza, Akbar Padamsee, and Paritosh Sen, Ram Kumar combined a desire for global success with the need to belong emphatically to his homeland. In 1950, he left for Paris to study under André Lhote and Fernand Léger, where he became part of the communist circle of intelligentsia, attending meetings and demonstrations. Upon his return to India, he regularly exhibited with Delhi Silpi Chakra, becoming by the mid-1950s one of India's emerging young painters. He received the Lalit Kala Akademi's national award in 1956 and 1958, and the Government of India's Padma Shri in 1971. In addition to being a visual artist of repute, Kumar was also a prolific writer in Hindi.
One of India's foremost modernists, Kumar passed away on 14 April 2018.
'It is the human condition that leads me to art'
RAM KUMAR
artist timeline
1924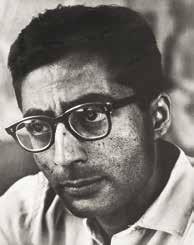 Born in Simla on September 23 in a large middle class family comprising eight brothers and sisters; father Nand Kumar Verma is a civil servant with the colonial British government. Late 1920s-Early 1930s Grows up in a literary atmosphere where the siblings read Leo Tolstoy, Anton Chekov and Virginia Woolf as well as Hindi literature. Attends Harcourt Butler School in Simla and Delhi.
1945
Pursues master's in Economics from St. Stephen's College, New Delhi; while visiting Connaught Place with friends one evening, comes across an art exhibition; highly influenced, enrolls himself at Sarada Ukil School of Art for its evening classes under Sailoz Mookherjea. His Hindi short stories appear in Hans and Prateek.
1946
Visits an exhibition of international artists at All India Fine Arts and Crafts Society, New Delhi, and is inspired by Henry Moore. Starts working in a bank.
1947
Quits banking and takes up part-time jobs to devote time to painting.
1948
Joins Hindustan as a journalism trainee, where J. Swaminathan too joins in six months. Though he leaves the newspaper soon to turn to a life of painting fulltime, he continues to write in Hindi, becoming an acclaimed writer in due course. Joins Delhi Silpi Chakra and participates in a few group exhibitions. Meets S. H. Raza at an exhibition, the two become good friends; Raza introduces him to F. N. Souza, K. H. Ara and other artists.
1949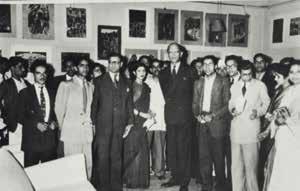 Has his first solo exhibition at Y. M. C. A., Simla, where the only painting sold is to Dr. Zakir Hussain, then vice-chancellor of Jamia Millia Islamia university, and future President of India (1967-69). A second exhibition at Delhi Town Hall follows. Convinces his father to send him to Paris; arrives in the French capital to study under André Lhote, an influential French writer and painter known for his figurative art, portraits, landscapes and still-lifes.
1950-51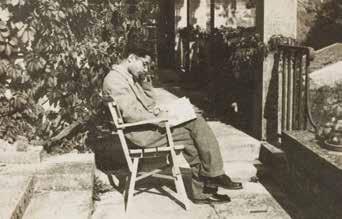 Studies under Fernand Léger, a French painter, sculptor and filmmaker, considered a pioneer of pop art. 1949 Joins the Communist Party's cultural wing, spending time with intellectual radicals like Louis Aragon, Roger Garaudy and Paul Éluard. Has a solo exhibition at Gallery Barbizon, Paris. To support himself, he does some freelance journalistic work and also gives tuitions in Hindi language. Travels across Italy and also visits Prague, Berlin and Warsaw.
1952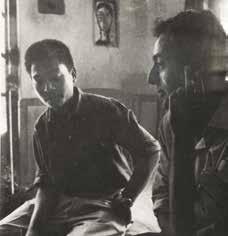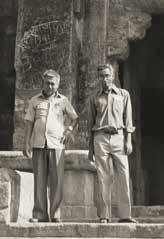 His involvement in political cells leads to a raid on his apartment by Paris police, and he is forced to leave for India. Back in India, he paints urban life as his subject, representing the alienation and loneliness of life in cities. Forms a lifelong friendship with art critic Richard Bartholomew.
1953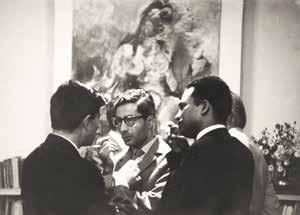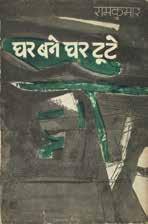 Has a solo show at Alliance Française in Bombay where he meets meets M. F. Husain; the two become close friends. Publishes his first novel, Ghar Bane, Ghar Toote, influenced by post- Partition refugees.
1954
Noted Urdu poet Josh Malihabadi inaugurates his exhibition in New Delhi.
1954-58
Figures disappear entirely from his canvas and he now paints landscapes—that of Sanjoli and Banaras—marking his early abstract phase, which lasts until 1961.
1955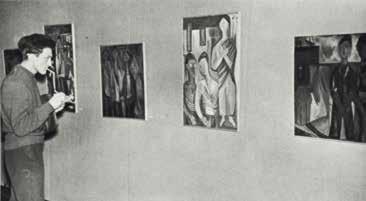 Returns to Europe, attends the Peace Conference in Helsinki. Accompanied by Husain, he also visits Moscow and Leningrad in Russia. In Prague, he exhibits works at the National Museum, and a painting is acquired for its collection. Spends four months in Paris.
1956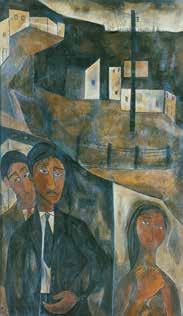 His Sad Town wins the Lalit Kala Akademi's national award. Holds a solo show in Colombo, Ceylon (Sri Lanka).
1957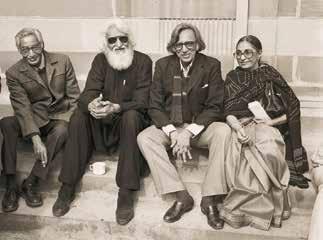 Is co-founder of Shilalekh Group in Bombay with M. F. Husain, Tyeb Mehta, and V. S. Gaitonde. Participates in Tokyo Biennale. Has a solo show at Alliance Françiase, New Delhi.
1958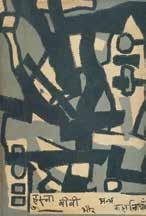 Is featured in the group show, 'Seven Indian Painters', at Graham Gallery, London. Experiments with lithography, producing prints like Untitled (Mother and Child) and Two Sisters. Participates in an exhibition in Bombay organised by the Shilalekh Group, along with Husain, Tyeb Mehta, and Gaitonde. Holds solo exhibitions in Warsaw and Krakow, Poland. Wins his second national award from Lalit Kala Akademi for Woman. Travels to Paris again, staying there for six months, visit Greece and the Venice Biennale. Publishes Husna Bibi, a collection of short stories in Hindi.
1959-60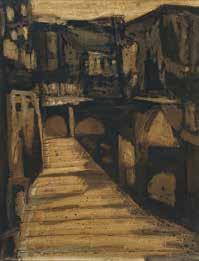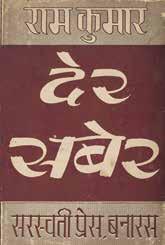 Spends eight months each in Simla and Ranikhet moving towards an abstract phase in landscape painting. Is part of 'Trends in Contemporary Paintings from India', held at Graham Gallery, New York, featuring Husain, Raza, and Souza. Participates in the Tokyo Biennale. Holds a solo show at Kumar Gallery, New Delhi. Arrives in Benaras with Husain and makes sketches of the ghats without figures, one of which is acquired by Indira Gandhi. The lifechanging visit triggers a response that results in a series on the city, titled Benaras, a turning point in his career, marking his strongest identification with abstract landscapes. Participates in Sao Paulo Biennale and receives an honour mention. Publishes his second novel, Der Saber.
1960
Exhibits at Bombay's Gallery 59 along with painters such as Raza, Padamsee, Gaitonde, Husain, and Krishen Khanna.
1963
Is part of '8 Contemporary Painters from India: Interaction of East and West' in the U.S. organised by the India-America League.
1964
Has a solo exhibition at Gallery Chemould, Bombay. Is part of 'Ten Indian Artists', a touring exhibition in the U.S.
1965
Participates in Sao Paulo Biennale again.
1966
Visits East Berlin and continues his experiments with lithography. Has a solo show at Grosvenor Gallery, London.
1968
Lalit Kala Akademi produces a pocket book on the artist for its series on contemporary Indian art. Attends Documenta in Kassel, Germany, as part of a delegation of Indian artists. Holds an exhibition of paintings at Dhoomimal Gallery, New Delhi. Samudra (The Sea), a collection of short stories, is published.
1970
Is awarded the John D. Rockefeller III Fund grant and spends a year in New York.
1972
Honoured with the Padma Shri award.
1976
Visits Ladakh and makes a series of paintings inspired by its rugged landscape.
1977
Visits Jaisalmer in Rajasthan and is inspired by its sand dunes.
1978
Eminent writer Geeta Kapur devotes a chapter of her landmark book, Contemporary Indian Artists, to Ram Kumar's life and work.
1980
Exhibits six works at the Sao Paulo Biennale and travels to Brazil and Peru, visiting Machu Picchu. Birla Academy of Art and Culture, Calcutta, hosts a retrospective of his works from 1953 to '80. Is part of group show, 'Contemporary Asian Artists', at Fukuoka Art Museum, Japan.
1982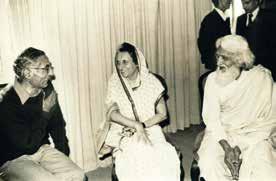 Attends opening of Bharat Bhavan, Bhopal. Ram Kumar's work is part of an exhibition of contemporary Indian art in a six-month long celebration of Indian art and culture in England.
1985
Patrick Cazals shoots a film on Ram Kumar, in which fellow artists S. H. Raza, Akbar Padamsee and Krishna Reddy are also featured. Participates in the show, 'Indian Artists in France', as part of the Festival of India in France.
1986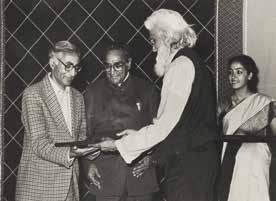 Receives the Kalidas Samman by the Madhya Pradesh government in Bhopal.
1988
Holds an exhibition of works on paper at Alliance Française de Delhi. 1986 Travels to Iraq for the Biennale. Is part of the show, 'Three Indian Artists', in Karachi, Pakistan.
1990
The Centre for Contemporary Art, New Delhi, holds an exhibition of his acrylic and ink works on paper.
1993
A retrospective of his works is held at National Gallery of Modern Art, New Delhi. The exhibition then travels to Jehangir Art Gallery, Bombay.
1995
Holds an exhibition of paintings with Jogen Chowdhury at Gallery Raku, Japan.
1997
The artist has a solo show at Arks Gallery, London.
2003
Is conferred the title of Officier des Arts et des lettres by the French government.
2008
His work, Vagabond, 1956, is sold for $1,161,000 at a Christie's auction in New York.
2009
His works are included in the exhibition, 'Indian Art After Independence: Selected works from the collections of Virginia and Ravi Akhoury and Shelley and Donald Rubin' at the Emily Lowe Gallery, Hampstead, London.
2010
Receives the Padma Bhushan from the Indian government. Is part of the group show, 'The Progressives and Associates', at Grosvenor Gallery, London.
2011
Is made fellow of the Lalit Kala Akademi. French filmmaker Laurent Brégeat is commissioned to make a film on the artist: Ram Kumar: Nostalgic Longing.
2014
An exhibition of his drawings from Benaras, 'Ram Kumar: Drawings from the 60s', is shown in Delhi and Kolkata.
2018
Passes away on April 14 in New Delhi.
The 'Manifestations' series of 20th Century Indian Art, Editions VI, VII, VIII, IX, X, XI
DAG, New Delhi and Mumbai, 2011-14
'Indian Landscapes: The Changing Horizon'
'The Printed Picture: Four Centuries of Indian Printmaking'
DAG, New Delhi, 2012; Mumbai, 2016; alternate locations in Kolkata, 2013; Jaipur, 2017; Chandigarh, 2018
'Mumbai Modern: Progressive Artists' Group, 1947-2013'
'Indian Abstracts: An Absence of Form'
DAG, New Delhi, 2014; Mumbai and New York, 2015
'India Modern: Narratives from 20th Century Indian Art'
DAG, New York, Mumbai, New Delhi, 2015; Chandigarh, 2017
'India's Rockefeller Artists: An Indo-US Cultural Saga'
DAG, New York, 2017; Mumbai, 2018
'India's French Connection: Indian Artists in France'
DAG, New Delhi and New York, 2018
DAG, New Delhi and Mumbai, 2020
'Iconic Masterpieces of Indian Modern Art'
National Gallery of Modern Art, New Delhi
Kiran Nadar Museum of Art, New Delhi
Piramal Art Foundation, Mumbai
Roopankar Museum of Fine Arts, Bharat Bhavan, Bhopal
Government Museum and Art Gallery, Chandigarh