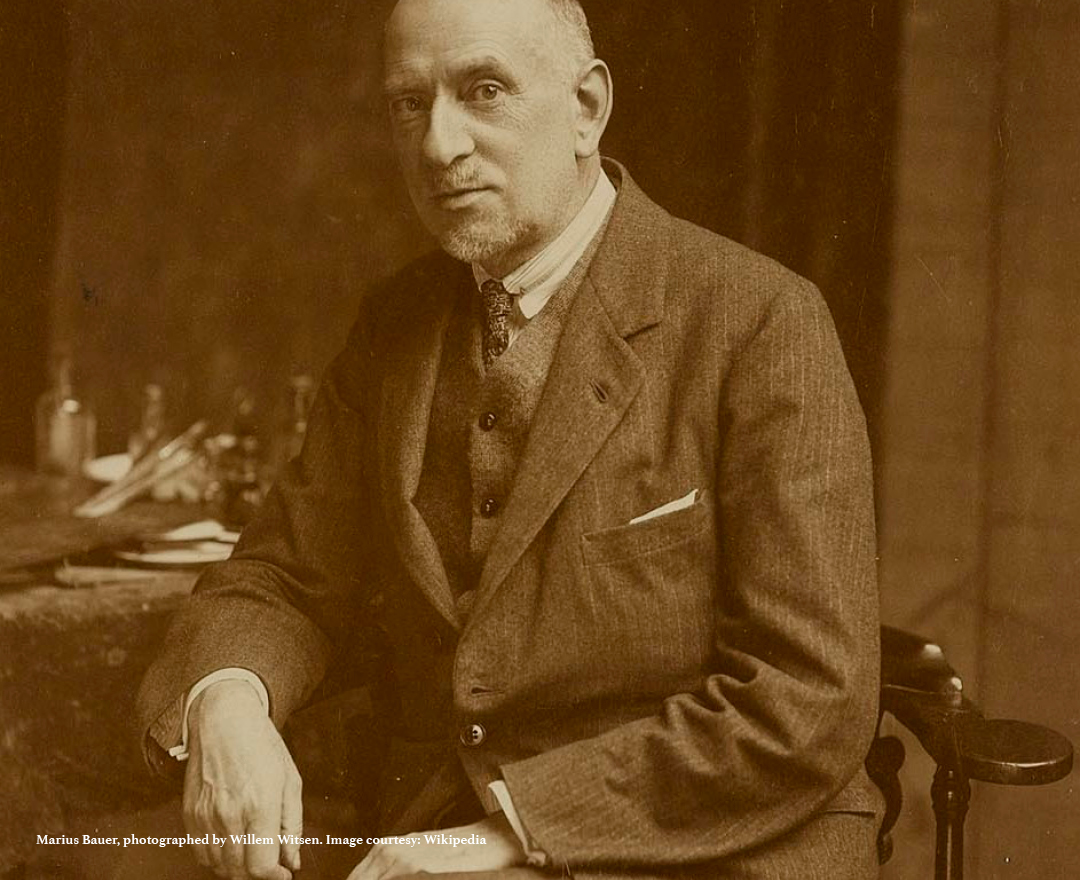 The Dutch artist Marius Bauer was born on 25 January 1867 at The Hague, the Netherlands, to a stage painter who encouraged his son's early interest in drawing.
Bauer went on to study at The Hague's Royal Academy of Art under the direction of Jan Phillip Koelman but left without graduating as he found the teaching approach too conservative. However, he continued to study independently as he won several medals at the academy that earned him a stipend from King William III.
Besides painting, Bauer also learnt etching and the Dutch master Rembrandt is often considered the inspiration for his etchings. With an active interest in the East largely due to the prevalent trend among the Dutch artists, Bauer decided to make orientalism his principal subject towards the end of 1880s, and made numerous trips to Morocco, Algeria, Egypt, India, Ceylon and the Dutch East Indies (present day Indonesia).
Bauer first travelled to India in 1897-98 and arrived in Bombay, from where he travelled to Benaras, Agra, Gwalior, Mathura, Delhi, Bharatpur, Jaipur, Udaipur, Ajmer, Palitana, Baroda and Hyderabad. He visited India again in 1924-25 by when he had become a celebrated artist with exhibitions across European cities, and even in the U.S.A.
In 1900, he was named a Ridder (a title of nobility in Belgium, Denmark and the Netherlands) in the Order of the Orange Nassau (the reigning house of the Netherlands). King Albert I of Belgium awarded him the Order of the Crown in 1911 while in 1927, he was made a Ridder in the Order of the Netherlands. Bauer passed away in Amsterdam on 18 July 1932.
'It cannot be too 'far away' for my taste! And the stranger and more wondrous everything is, the more I enjoy it'
MARIUS BAUER
'Iconic Masterpieces of Indian Modern Art'
Dordrechts Museum, Dordrecht
Kröller-Müller Museum, Otterlo
Kunsthandel Bies, Netherlands
Mesdag Collectie, Den Haag
Museum Boijmans van Beuningen, Rotterdam
National Gallery of Canada, Ottawa
Stedelijk Museum, Amsterdam
University Museum, Leiden, Netherlands
Washington County Museum of Fine Arts, Hagerstown