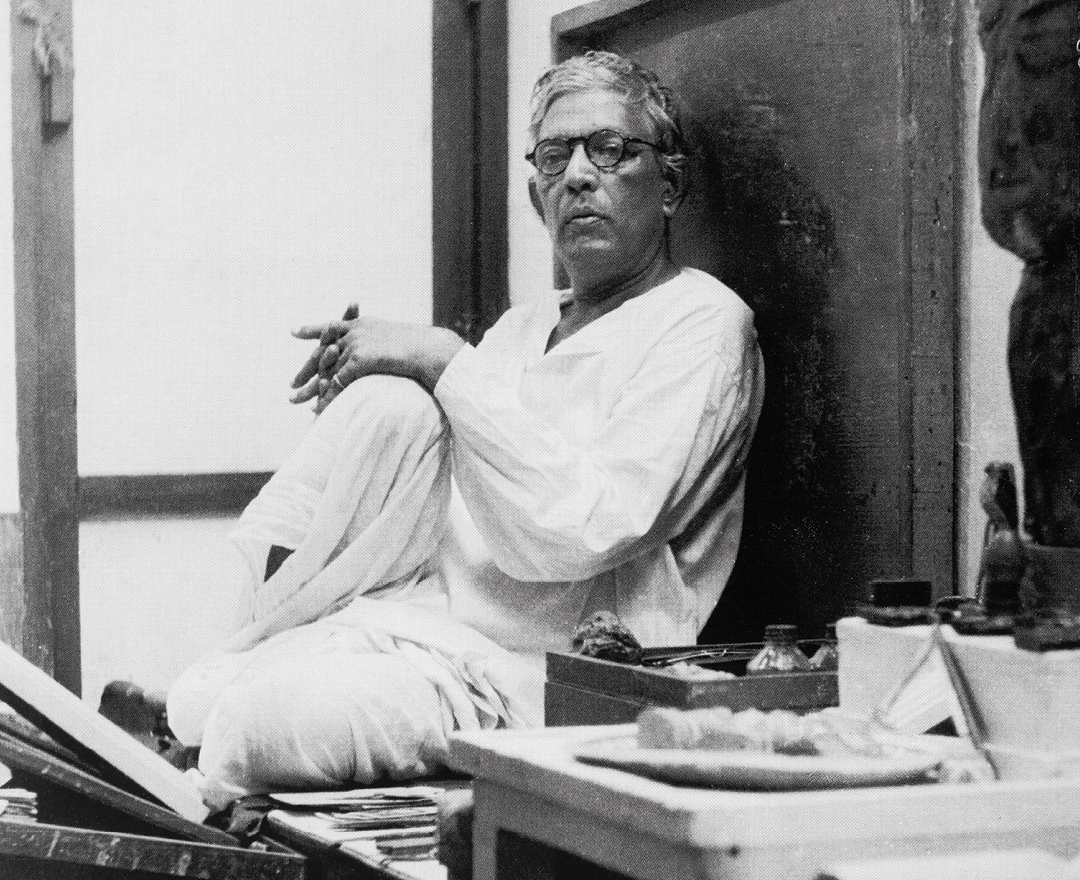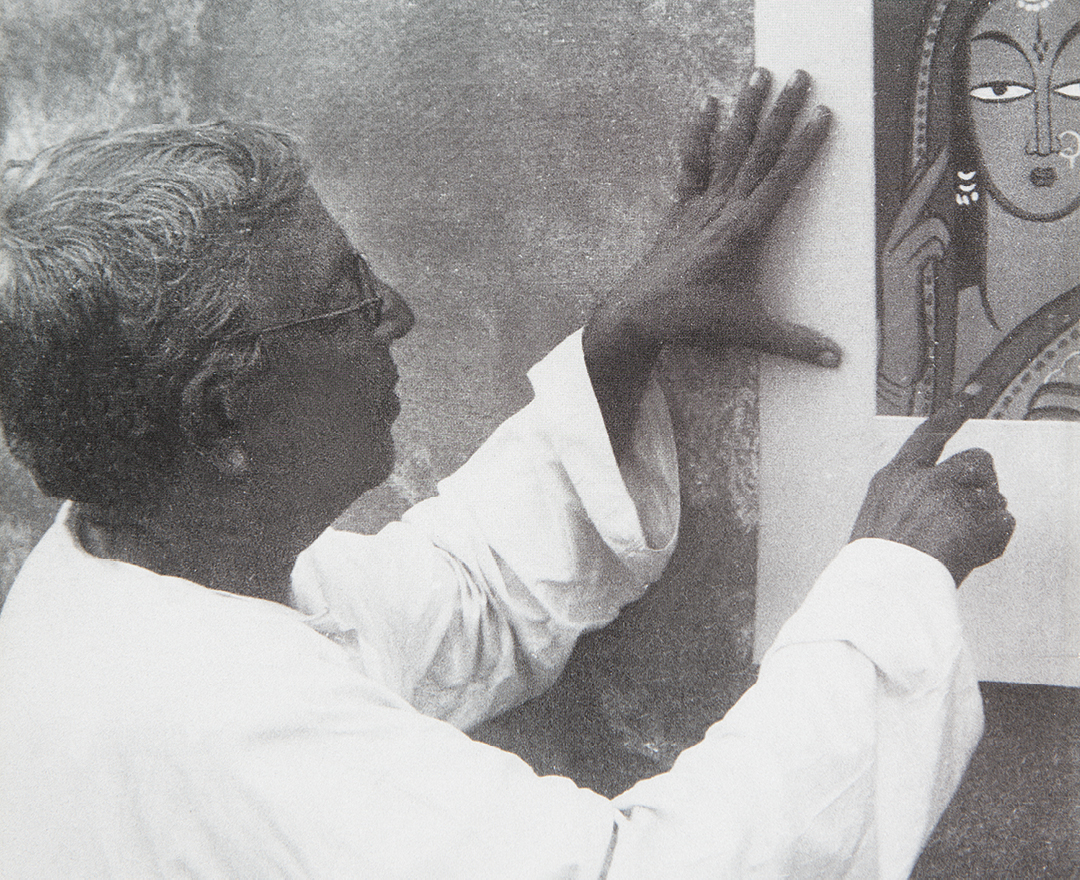 One of India's most loved artists, Jamini Roy is remembered for forging a unique Indian aesthetic for modern art by bringing together elements of traditional Bengali folk art and Kalighat patachitras, rendered in clean lines and earthy colours.
Born on 11 April 1887 in a landowning family in Bankura district of Bengal, Roy trained in European academic-realist painting at the Government College of Arts and Crafts, Calcutta, and began his career painting landscapes and portraits.
Soon, moving away from these, he started experimenting with a more indigenous visual vocabulary. Level surfaces, flattening of design in depth, and the use of dissonant primary colours were aspects of folk painting that Roy incorporated in his work. Also, he took up the volumetric forms of the Kalighat patachitras. However, unlike the spontaneous brushwork of the traditional patuas, Roy's lines were more restrained and precisely delineated.
Roy would paint several versions of a subject, breaking and reforming the theme over months. Turning his family into a production unit, he tried to emulate a craft-guild mode of artistic production. He painted on a wide range of themes—common people, mythological tales, Christian iconography, as well as visual characteristics of home-sewn Bengal quilts and Byzantine icons.
Roy was awarded the Viceroy's gold medal in 1935, the Padma Bhushan in 1955, and elected a fellow of the Lalit Kala Akademi in 1956. Declared a National Treasure artist in 1976, his works cannot be exported. He passed away on 24 April 1972.
'Jamini Roy paints in timelessness. His pursuit, so undauntedly followed, has been after pure form'
SHAHID SUHRAWARDY
artist timeline
1887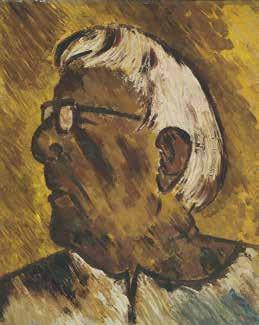 Born in Beliatore village in West Bengal's Bankura district.
1919
Artists Jamini Roy, Hemen Mazumdar, J. C. Seal, B. C. Law and Atul Bose found the Academy of Fine Arts, Calcutta.
Early 1920s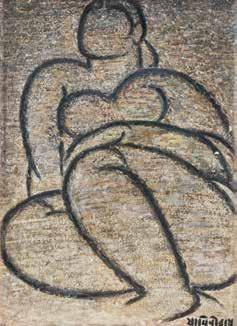 Is inspired by Gandhi's Satyagraha movement. Reads Rabindranath Tagore's Tapoban, an essay on the restitution of rural heritage. Moves away from his impressionistic style of landscapes and portraits to begin experimenting along the lines of popular Kalighat pat paintings.
1930s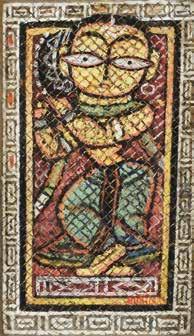 Makes a complete switch to indigenous materials to paint on woven mats, cloth and wood coated with lime. Begins to paint scenes from tribal Santhal life. Also paints scenes from the Ramayana and Mahabharata.
1934
Receives the Viceroy's Medal in an all-India exhibition for his painting Mother Helping the Child to Cross the Pond.
1938
His folk-style works are exhibited for the first time in Calcutta's British Indian Street, and in the next decade his works achieve great heights of popularity.
1940s

Starts painting scenes from Christ's life. His works are shown abroad, including London.
1944
Indian Society of Oriental Art publishes his biography, written by John Conran Irwin and Bishnu Dey.
1946
Creates his magnum Ramayana series for Sarada Charan Das consisting of seventeen canvases.
1947-48
Participates in 'The Arts of India and Pakistan' exhibition at Burlington House, London.
1950s
His popularity continues to rise with the middle-class; Victoria and Albert Museum, London, collects his works.
1952
Art collector Austin Coates remarks that 'nearly everything in his pictures has a reason and a meaning' about the painting Bride and Two Companions painted in this year.
1953
Is exhibited in New York.
1955
Is conferred the Padma Bhushan by Government of India.
1956
Is elected the first fellow by the national Lalit Kala Akademi.
1968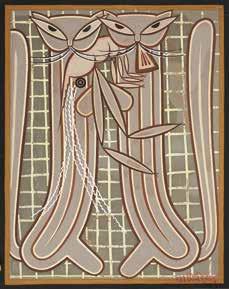 Austin Coates says about Dual Cats With One Crayfish painted in this year, 'Yet another new style, colours reduced in number and very restrained, an almost overwhelming sense of formality'; cats were a favourite subject for Roy.
1972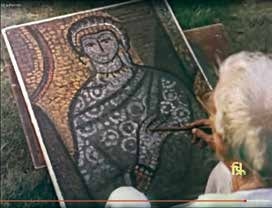 Debabrata Roy's documentary film, Portrait of a Painter, dedicated to Jamini Roy's extraordinary practice, was produced by the Films Division in 1989 and is one of the finest records of the artist's career consisting of material filmed before the artist's death in 1972. Featured in the film is a segment where he is seen working on this painting in his Calcutta studio. Passes away in Calcutta on 24 April; The Times, in its obituary, notes: 'His studio was a place of pilgrimage for all interested in the artistic heritage of Bengal and in his own delightful person he typified a generation and a culture.'
1976
Government of India declares Jamini Roy, Rabindranath Tagore and Nandalal Bose 'National Treasures', whose works cannot be exported.
1978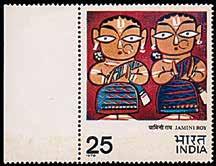 A postage stamp featuring Jamini Roy's work is released by India Post Office; later, more postage stamps featuring his work continue to be released.
2011-12
'The Body Unbound' at Rubin Museum of Art, New York, includes his works.
2015
'Jamini Roy. From Tradition to Modernity. The Kumar Collection' is shown at Museo delle Culture di Lugano, Switzerland.
2017
The artist's birth anniversary is celebrated with a Google Doodle.
The 'Manifestations' series of 20th Century Indian Art, Editions V, VI, VII, VIII, IX, X, XI
DAG, New Delhi and Mumbai, 2011-14
'The Printed Picture: Four Centuries of Indian Printmaking'
DAG, New Delhi, 2012; Mumbai, 2016; alternate locations in Kolkata, 2013; Jaipur, 2017; Chandigarh, 2018
'Indian Landscapes: The Changing Horizon'
DAG, New Delhi, 2012; Mumbai, 2014; New York, 2016
'Indian Divine: Gods & Goddesses in 19th and 20th Century Modern Art'
DAG, New Delhi and Mumbai, 2014
'Indian Portraits: The Face of a People'
DAG, New Delhi, 2013; Mumbai, 2014
'The Naked and The Nude: The Body in Indian Modern Art'
DAG, New Delhi, 2013; Mumbai, 2014
'Primitivism and Modern Indian Art'
DAG, Mumbai, 2019; New York, 2020; New Delhi, 2021-22
'Navrasa: The Nine Emotions of Art'
DAG, Mumbai and New Delhi, 2020
'Ways of Seeing: Women Artists | Women as Muse'
'The Wonder of India: Explorations through 19th and 20th Century Art'
'Home is a Place: Interiority in Indian Art'
'Indian Blue: From Realism to Abstraction'
'Iconic Masterpieces of Indian Modern Art'
'Living Traditions & The Art of Jamini Roy'
National Gallery of Modern Art, New Delhi
Lalit Kala Akademi, New Delhi
Jehangir Nicholson Art Foundation, Mumbai
Piramal Art Foundation, Mumbai
Tata Institute of Fundamental Research Art Collection, Mumbai
Government Museum and Art Gallery, Chandigarh
Kejriwal Museum, Karnataka Chitrakala Parishath, Bengaluru
CITI India Corporate Collection
Victoria and Albert Museum, London
The Harn Museum of Art, Florida