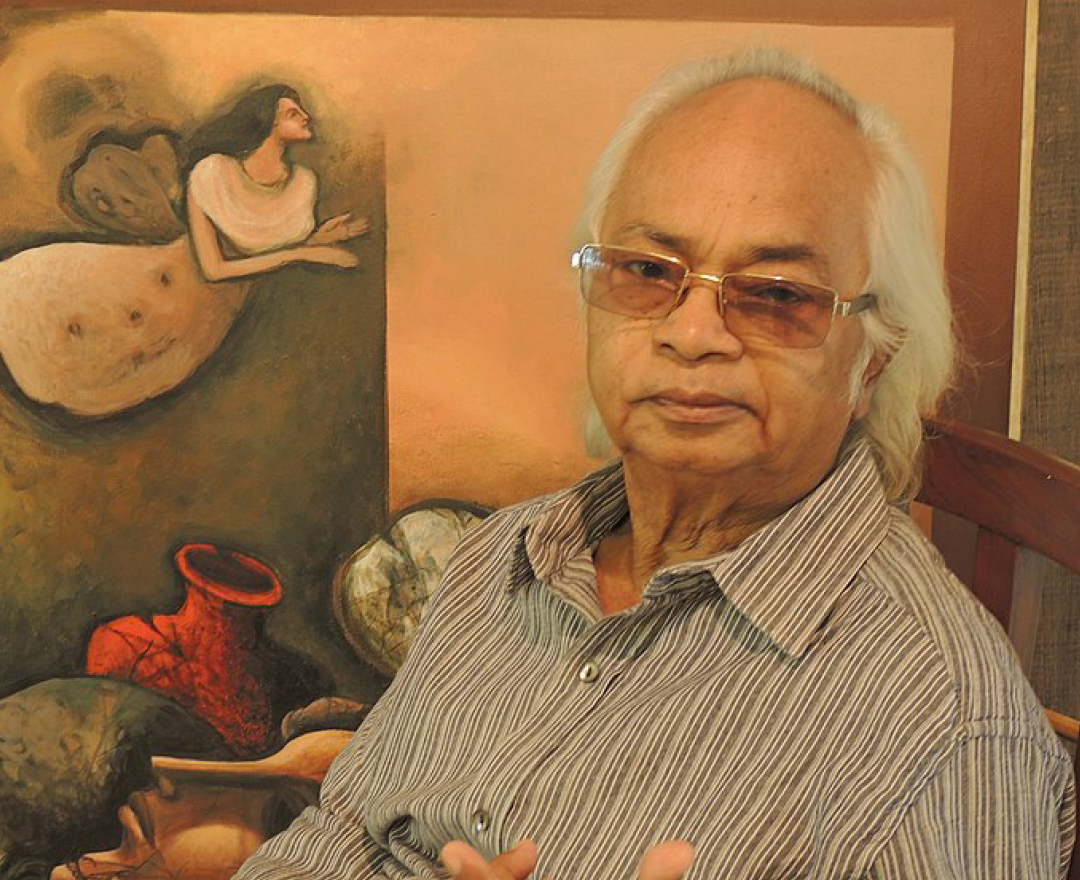 Born in Sylhet in present-day Bangladesh, painter and graphic artist Jagadish Dey graduated from Delhi Polytechnic in 1963. 
Dey has been the co-founder of several artist collectives such as Group 8, The Six, and Gallery 26. Like other Group 8 artists, he practiced printmaking at the workshop set up by pioneering printmaker Jagmohan Chopra in his living room for the benefit of his students. It was a space frequented by other printmakers such as Anupam Sud. In the early years of their career, these artists often used the inexpensive, cardboard-based collography technique instead of the more expensive etching process.
Dey's early paintings can be classified as transformed landscapes, almost surreal in execution. He later moved to figurative works, where too the subtext remained surrealist. A common trope in his works is the representation of women, solitary or in groups, in contemplative situations, often accompanied by a peacock.
In 1965, Dey joined the College of Art, New Delhi, as a lecturer, from where he retired in 2002.  He participated in several print exhibitions, such as the 1985 All India Prints Exhibition organised at the Lalit Kala Akademi, New Delhi, and the Inter Asia Graphics exhibition in Manila, the Philippines, in 1968. He participated in various printmaking workshops run by Paul Lingren and Krishna Reddy, a lithography camp at Lalit Kala Akademi, New Delhi, and another at Bharat Bhavan, Bhopal, in 1995.
The New Delhi-based artist has won several awards in his career such as the All India Fine Arts and Crafts Society award thrice, the Kala Shree award in 1997, and the Lalit Kala Akademi's national award in 2000.
'The application of colours, landscapes and figures in the work of Paul Klee, Piet Mondrian, Henri de Toulouse-Lautrec, Gustav Klimt and Sailoz Mukherjea attracted me a lot'
JAGADISH DEY
'Navrasa: The Nine Emotions of Art'
DAG, Mumbai, New Delhi, 2020
'Ways of Seeing: Women Artists | Women as Muse'
'Home is a Place: Interiority in Indian Art'
Rashtrapati Bhawan, New Delhi
National Gallery of Modern Art, New Delhi
Lalit Kala Akademi, New Delhi
Sahitya Kala Parishad, New Delhi
Birla Academy of Art and Culture, Kolkata
Glenbarra Art Museum, Himeji
Smithsonian Institute, Washington, D.C.