1931 - 1991
Avinash Chandra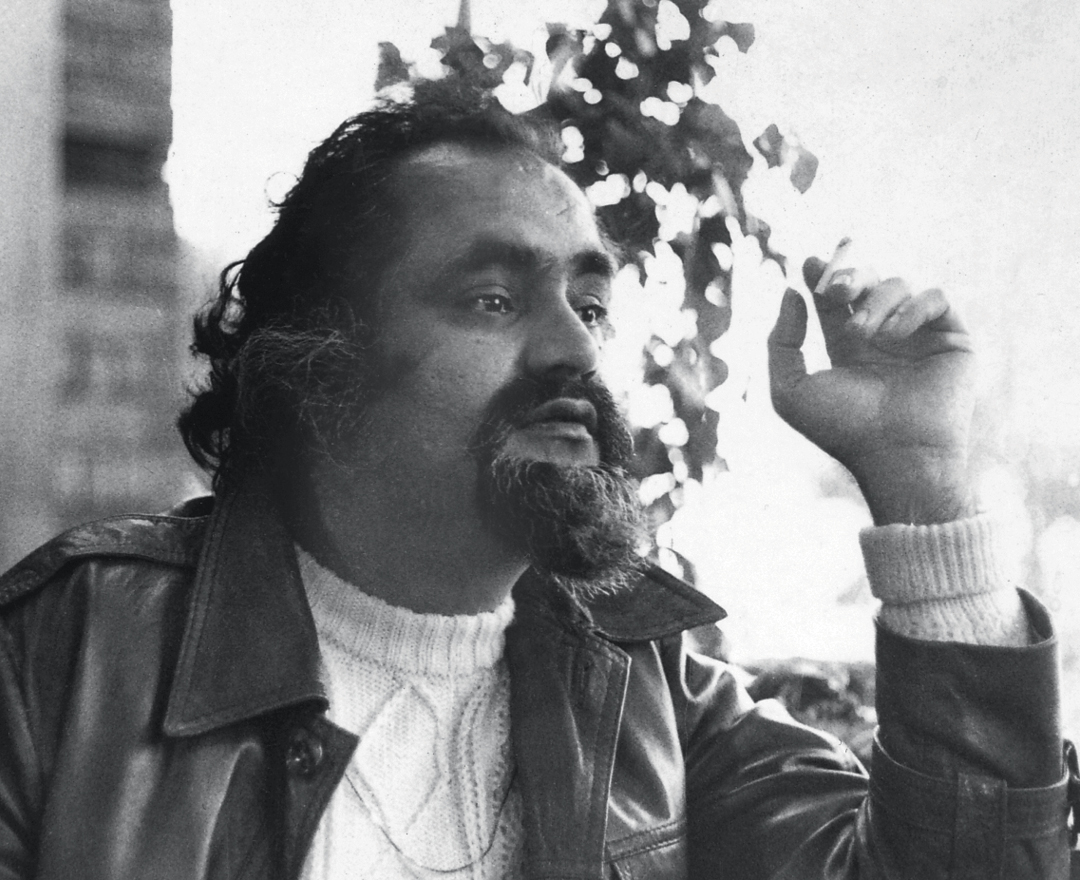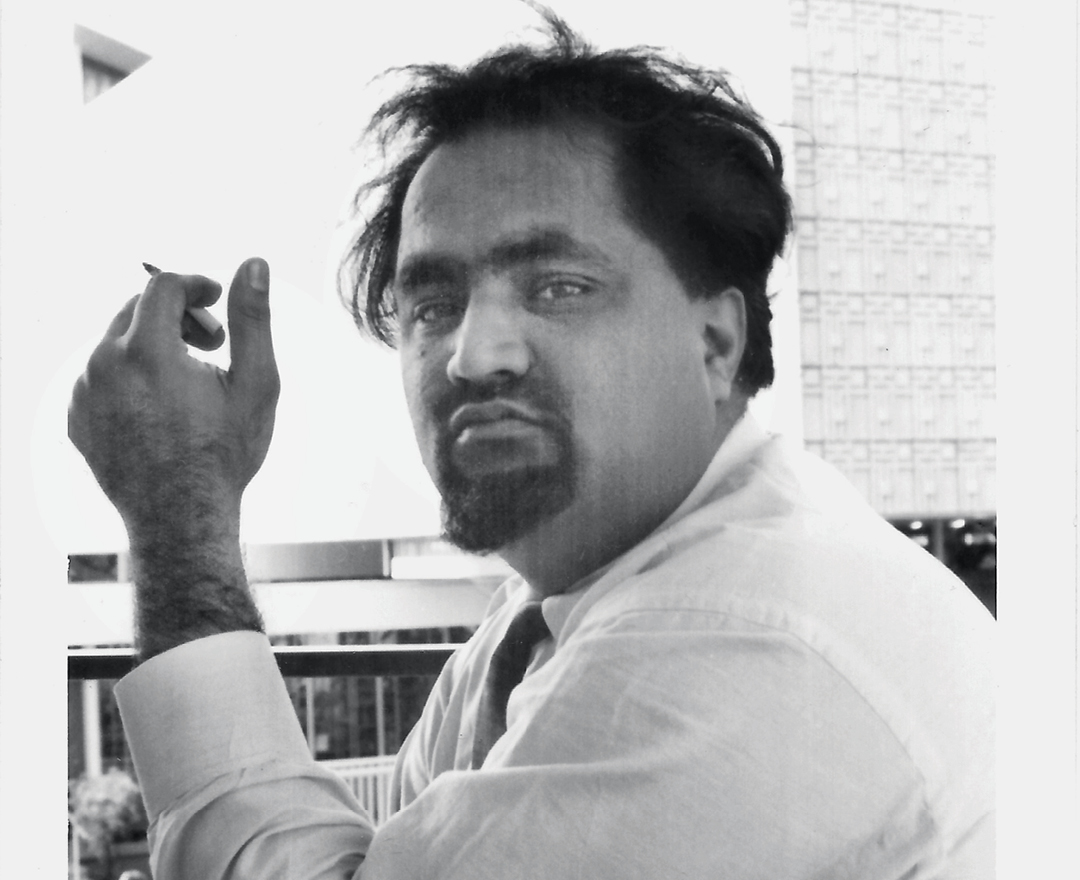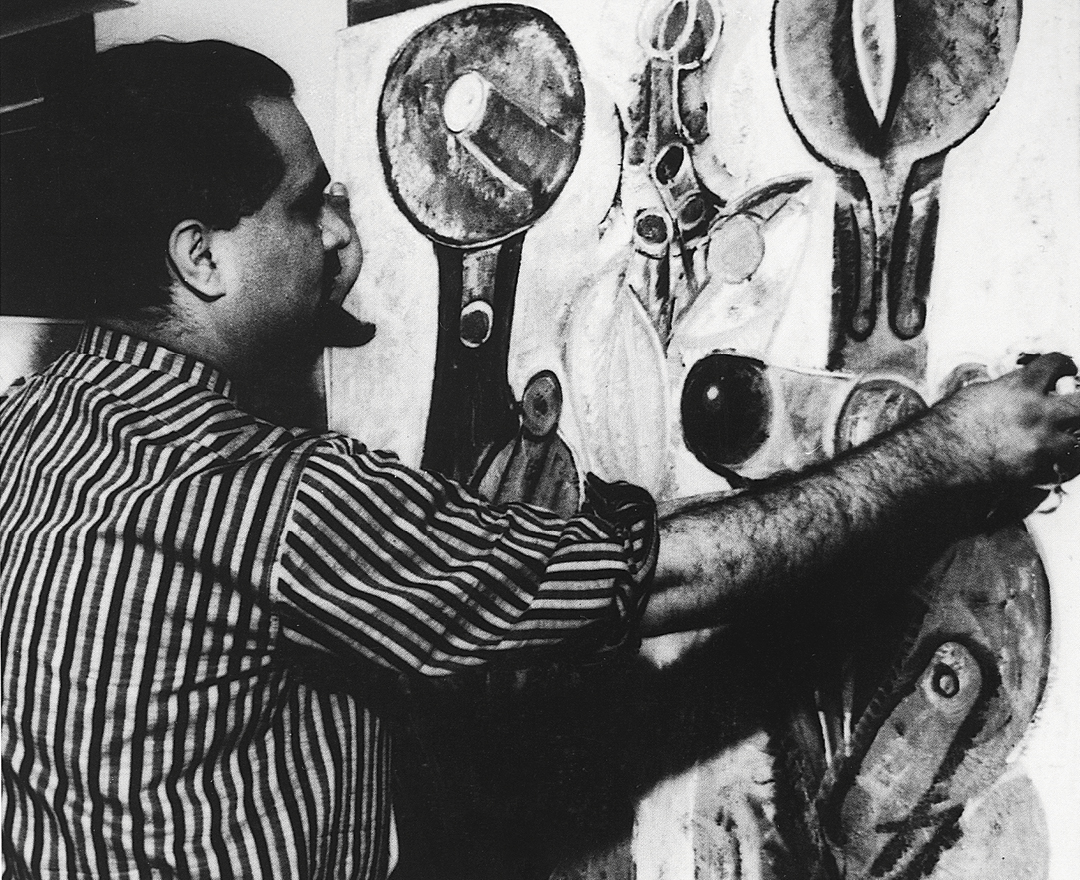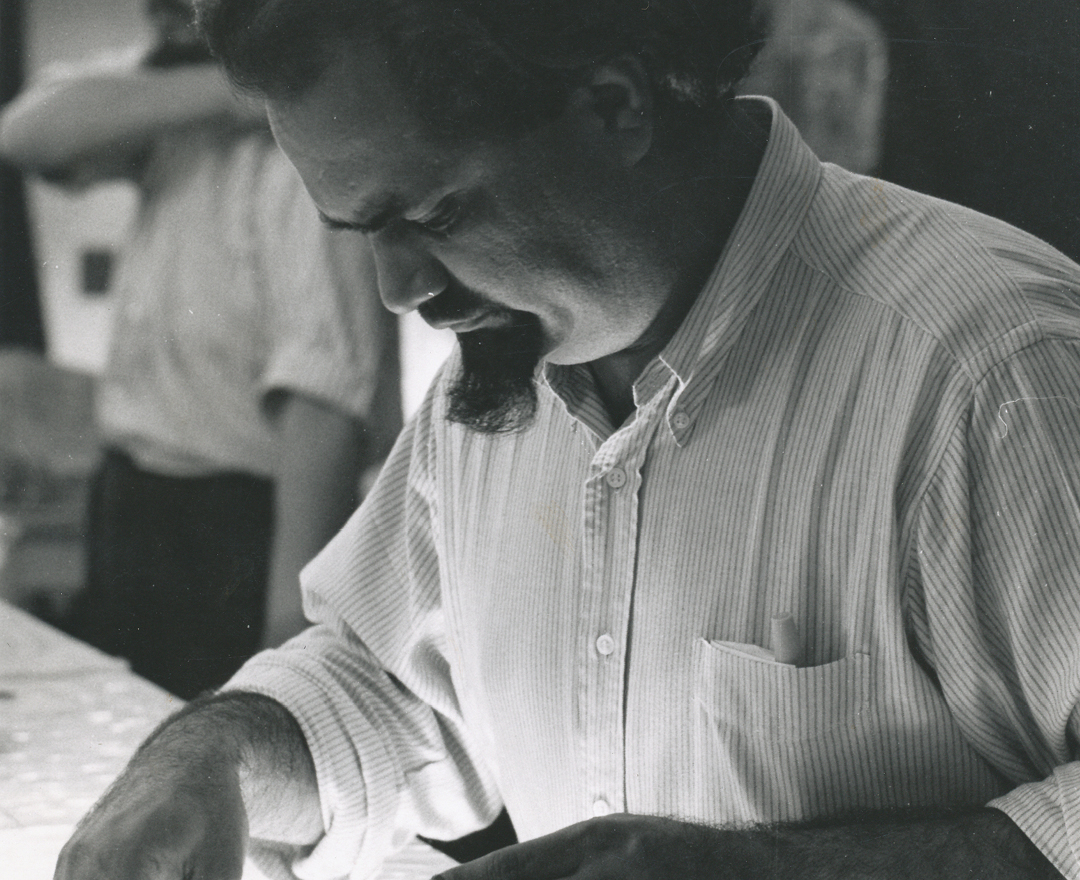 Born in Simla on 28 August 1931, Avinash Chandra studied painting at Delhi Polytechnic, where he also taught for a few years; his students included Paramjit Singh and Arpita Singh, who would go on to make a name for themselves in later years. .
Despite two successful shows in India, Chandra was dissatisfied with the art scene in the country, and in 1956 moved to the United Kingdom, following his artist wife, Prem Lata, who was studying there on a scholarship. Before settling in London, he travelled widely through the U.S. and Europe, studying the language and technique of Vincent van Gogh and Chaïme Soutine, and drawing inspiration from European city landscapes.
Throughout his career, Chandra's recurrent theme remained the female body. He began with elegant line drawings which evolved through the 1970s into implicit, erotic, coloured drawings. Sexual imagery may have played a vital role in his art but was introduced as part of a much larger experience in a wider context. Employing the primitivist trope, Chandra often reduced female anatomy to shapes as though suspended in a space invaded by phallocentric forms.
Chandra was the first Indian artist to exhibit at one of the most important art events worldwide—Documenta in Kassel, West Germany, in 1964. Widely collected, especially by museums in the U.K., Chandra won fellowships in the 1960s from the John D. Rockefeller III Fund and the Fairfield Foundation. He passed away in London on 15 September 1991.
'If I was to tell you there are ninety thousand ways to draw a straight line, would you believe me? Oh, no! Because most people cannot draw a line—straight or otherwise'
AVINASH CHANDRA
artist timeline
1931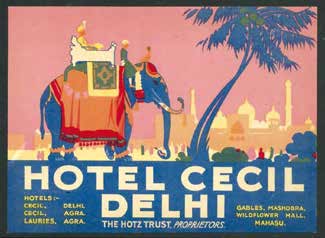 Is born in Simla on 28 August, is brought up in Simla and Delhi; his father manages Cecil Hotel in Civil Lines, Delhi.
1951
Holds his first solo show at Hotel Nedou's, Srinagar.
1953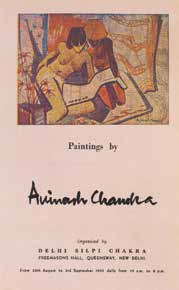 Presents his first solo show as a trained artist with Delhi Silpi Chakra, New Delhi.
1954
Joins the faculty of his alma mater, where he teaches until 1956; his students include Paramjit Singh, Arpita Singh and Gopi Gajwani. Wins the Lalit Kala Akademi prize for his painting, Trees; the painting is acquired by the National Gallery of Modern Art.
1955
Marries Prem Lata, a fellow student at Delhi Polytechnic and an artist.
1956
Moves to London to join his wife Prem Lata, where she is offered scholarship to study art. In subsequent years, he travels through Europe and America, eventually settling in London where the true flowering of his individual idiom begins. Palpable influence of Picasso and Paul Klee in his work; studies the techniques and language of Vincent van Gogh and Chaïm Soutine; finds inspiration in European city landscapes.
1957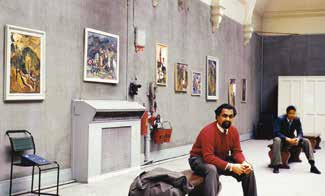 Holds his first exhibition in London, at the Imperial Institute.
1960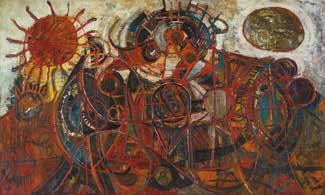 The Guardian's art critic George Butcher pronounces him 'a new painter of great ability' and attributes it to 'the glowing sensuality of Chandra's colour, and the symbolic sexual references inherent in the imagery of Hinduism'; in a later issue of the same paper, Eric Newton indicates that 'Chandra's nearest counterpart in Western art is to be found in the work of Paul Klee'.
1961
In an essay in Studio, former Indian Civil Services officer and art historian W. G. Archer hails the artist 'as one of the most significant modern Indian artists since Independence'.
1962
Wins Prix Européen, Ostend, Belgium. Is featured in a BBC documentary, The Art of Avinash Chandra, part of its Monitor series, with narration by W. G. Archer.
1963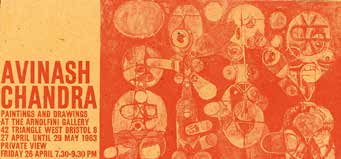 Exhibition in West Bristol. Travels to India.
1964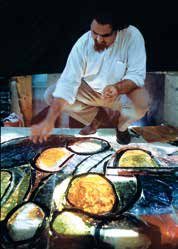 Becomes the first Indian artist to exhibit at Documenta in Kassel, West Germany. Is commissioned a glass mural for the new building of glass manufacturers Pilkington Brothers, designed by Maxwell Fry, featuring 15 other artists. Chandra's mural measures 37 ft by 9 ft.
1965
Is awarded the John D. Rockefeller III Fund fellowship and arrives in New York. Becomes the first Indian artist to be shown at Tate Britain, London.
1967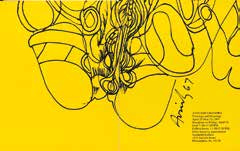 Wins a fellowship by the Fairfield Foundation, U.S.A., to travel and study in the country. Holds his first exhibition in the U.S., in Philadelphia. Completes a glass mural for Chappell Music Publishing Company, London.
1970s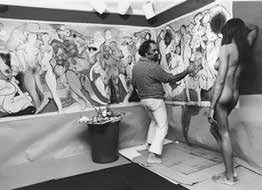 Female body remains a recurrent theme throughout his career, which begins with elegant line drawings, evolving into implicit, erotic drawings in the Seventies, and making way for female anatomy reduced to shapes suspended in a space invaded by phallocentric forms later on.
1973
Returns to London to live and work.
1975
His wife Prem Lata passes away.
1975-79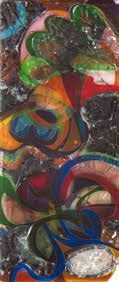 Makes glass sculptures.
1977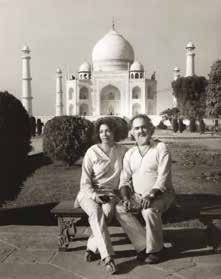 Marries Jamaican actor Valerie Murray.
1978
Joins Indian Artists UK, a collective of Indian artists living and working in London, which was formed as the Indian Painters Collective in London in 1963.
1981
Works shown at October Gallery, London.
1982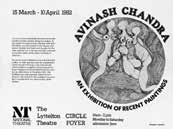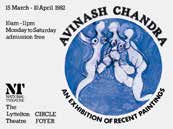 Exhibits at National Theatre, London.
1983
Lalit Kala Akademi, New Delhi, hosts an exhibition of his paintings.
1985-91
Works become more floral, inspired by his travels to Jamaica.
1987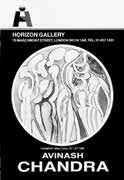 Hamilton Galleries as well as Hayward Gallery, both in London, host solo exhibitions.
1989-90
His last show is at Hayward Gallery, London, in November 1989 that tours Wolverhampton Art Gallery (March 1990) and Manchester Art Gallery (May-June 1990); the landmark exhibition is titled The Other Story: Afro-Asian artists in post-war Britain.
1991
Passes away on 15 September in London.
2006
An exhibition of his works is held at Samuel Osborne Gallery, London; in the catalogue, Dr. Rachel Garfield observes: 'Chandra's work is inflected with the concerns of the modern movement'.
2015
DAG's retrospective on the artist, Humanscapes, opens at its gallery in New York. The show travels to New Delhi and Mumbai.
2018
Is featured in a BBC documentary, Whoever Heard of a Black Artist?
The 'Manifestations' series of 20th Century Indian Art, Editions V, VI, VIII, IX, X
DAG, New Delhi and Mumbai, 2011-14
'Indian Landscapes: The Changing Horizon'
'The Naked and The Nude: The Body in Indian Modern Art'
DAG, New Delhi, 2013; Mumbai, 2015
'Indian Abstracts: An Absence of Form'
DAG, New Delhi, Mumbai, and New York, 2014-15
'India Modern: Narratives from 20th Century Indian Art'
DAG, New York, New Delhi, and Mumbai, 2015; Chandigarh, 2017
'Humanscapes: Avinash Chandra, A Retrospective'
DAG, New York and New Delhi, 2015
'Memory & Identity: Indian Artists Abroad'
DAG, New Delhi, Mumbai, and New York, 2016
'India's Rockefeller Artists: An Indo-US Cultural Saga'
DAG, New York, 2017; Mumbai, 2018
'Ways of Seeing: Women Artists | Women as Muse'
'Home is a Place / Interiority in Indian Art'
'New Found Lands: The Indian Landscape from Empire to Freedom'
DAG, New York, 2021; Mumbai, 2021-22
'Indian Blue: From Realism to Abstraction'
'Iconic Masterpieces of Indian Modern Art'
National Gallery of Modern Art, New Delhi
Kiran Nadar Museum of Art, New Delhi
Government Museum and Art Gallery, Chandigarh
Victoria & Albert Museum, London
Musée d'Art Moderne, Paris
Jane and Kito de Boer Collection, Dubai and London