The Art of Bengal
Early 18th century
As the Mughal Empire crumbles, its court painters disperse. Some of them come to the capital of Bengal province, Murshidabad. Drawing inspiration from the Mughal style of painting, they form the Murshidabad School. These painters receive patronage from the Bengal nawabs.
1769
The first of the European artist-travellers, portraitist Tilly Kettle arrives in Calcutta.
1784
Asiatic Society of Bengal is founded.
1788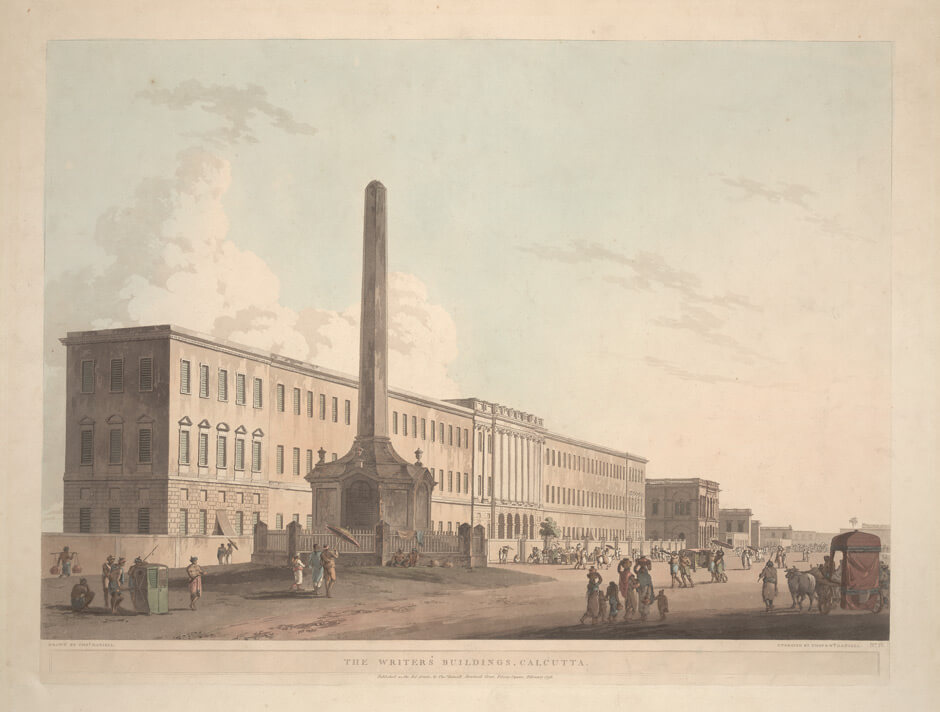 Thomas and William Daniell publish their Twelve Views of Calcutta 1786-88.
1793
William Hodges publishes his Select Views in India 1785-88 in England.
Late 1700s to c. 1830s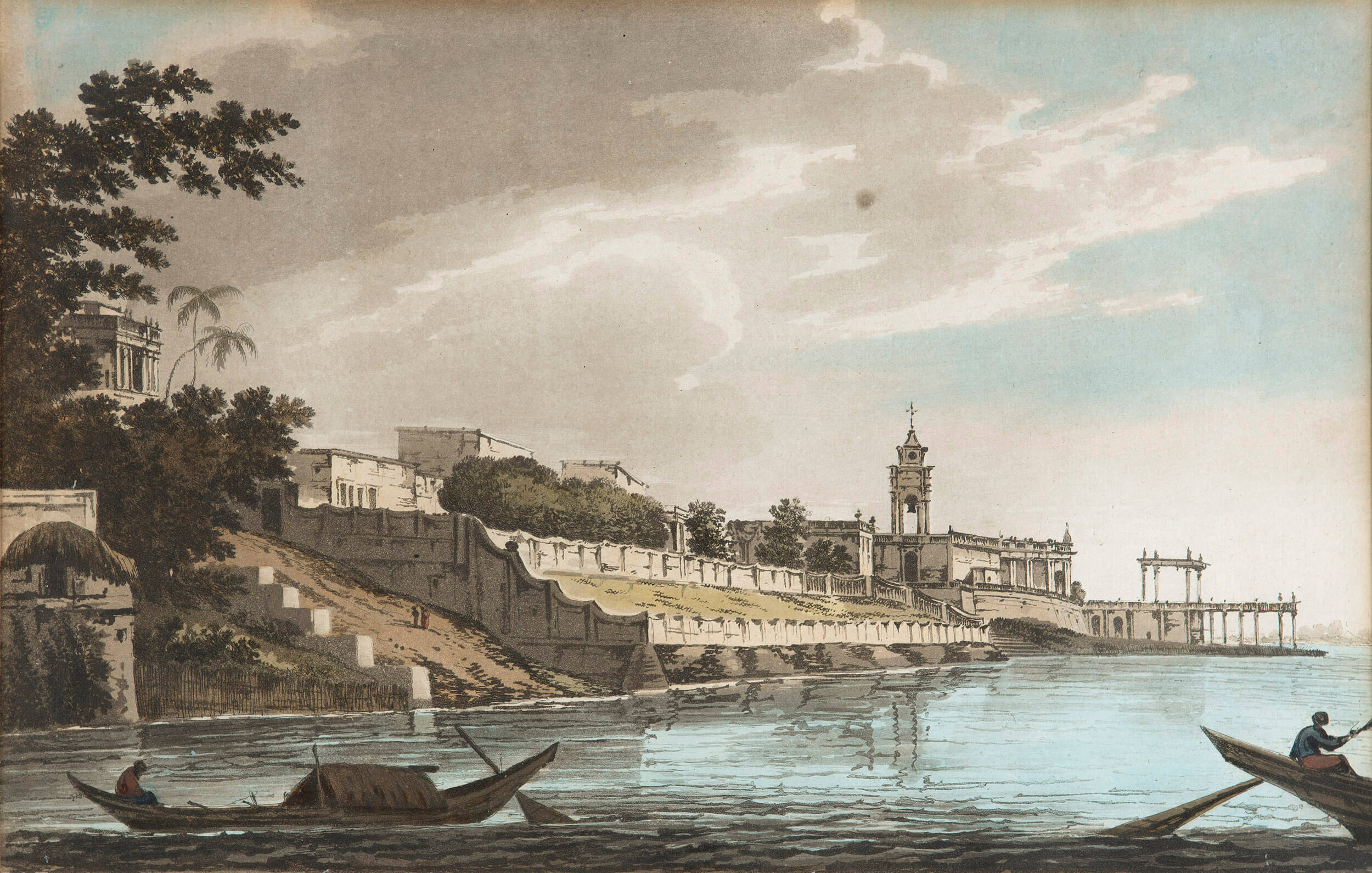 A series of European artists travel through India, painting and documenting its landscape, forests, rivers and mountains, among them William Hodges, the Daniells, George Chinnery, Charles D'Oyly and James Fraser.
1795-1808
The Daniells publish their Oriental Scenery in six parts, consisting of 144 coloured aquatints.
Late 18th century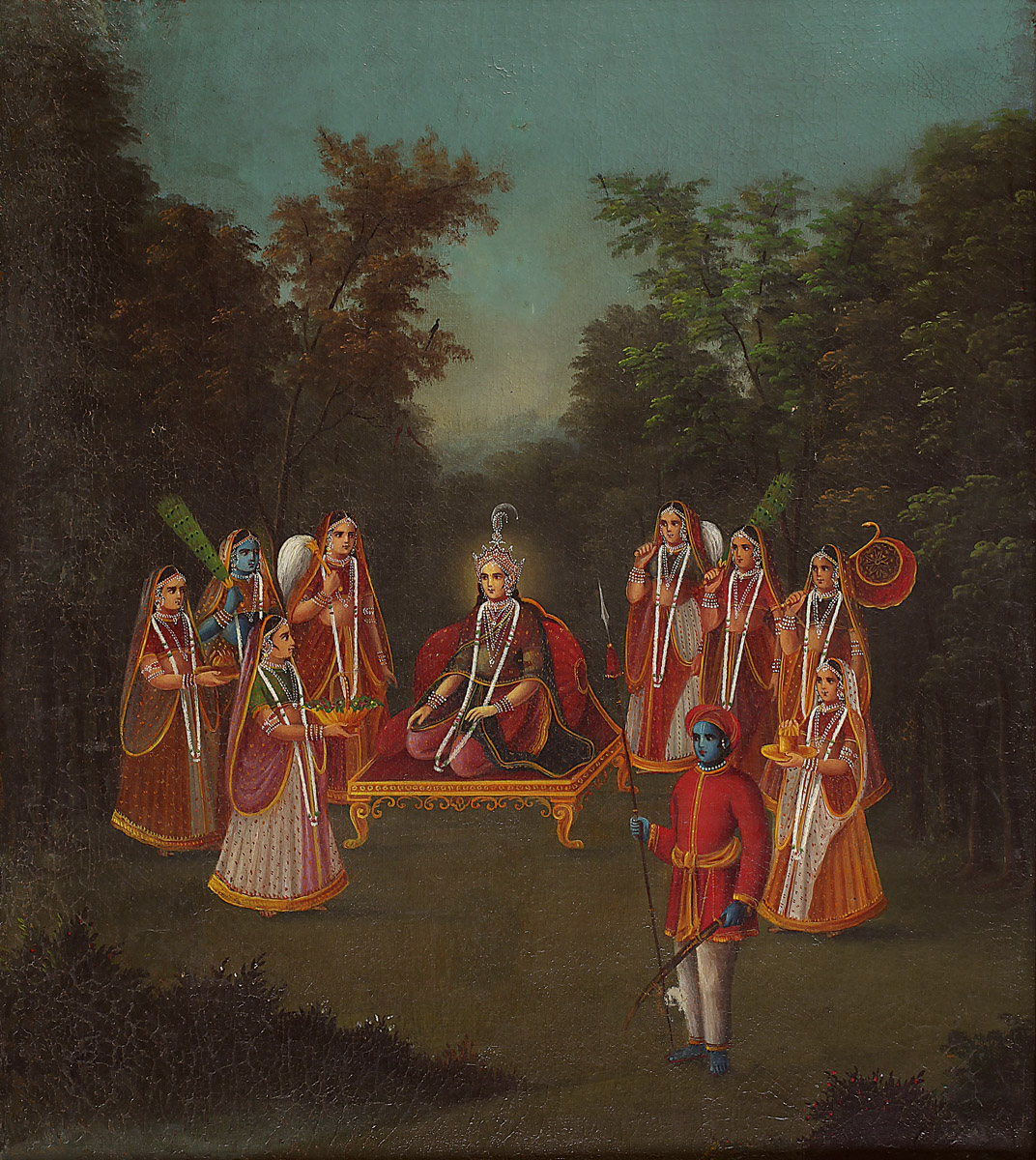 Advent of Company Painting in Calcutta, with an influx of traditional painters from declining provincial courts like Lucknow, Murshidabad and Patna, who now emulate European painting.
1818
The first Bengali press is established in Calcutta by Biswanath Dev.
1820
Lithographic process comes to India. Within a decade, Sura, an Indian lithography press begins to print images of gods, goddesses, animals and maps.
1824-26
James Fraser publishes Views of Calcutta.
1830s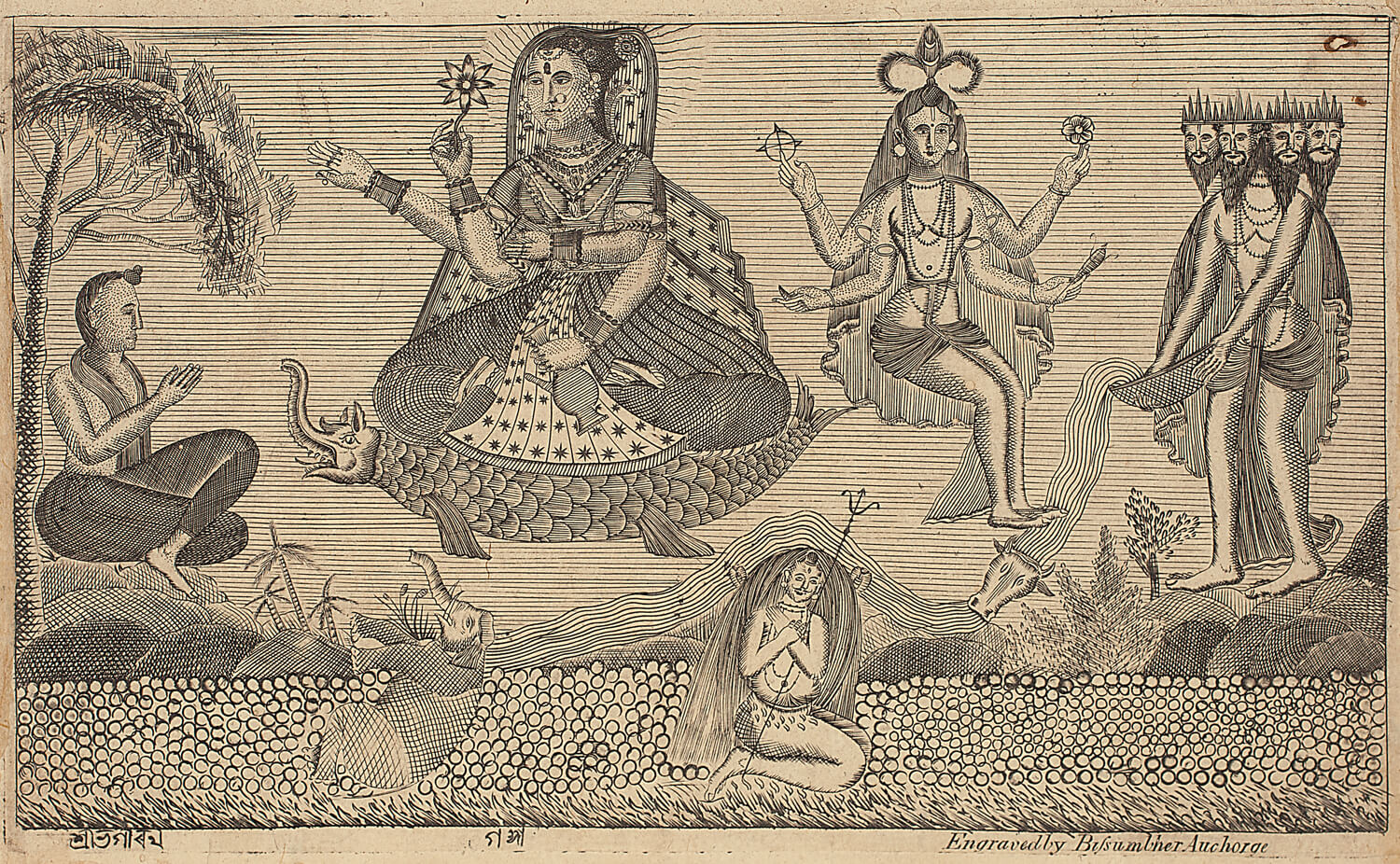 The area around Bat-tala emerges as the hub of Bengali printing and publishing with several small presses mushrooming at Shobha Bazaar, Dorjitola, Ahiritola, Kumartuli, Garanhata, Simulia and Baghbazar. Print becomes a major instrument in the dissemination of art.
1839
Formal art training begins in India with the establishment of the Mechanical Institute in Calcutta.
1854
Industrial Art Society established by Rajendralal Mitra, Jatindramohan Tagore and Justice Pratt. School of Industrial Art (later called Government School of Art) is established. The first location of the art school is in Raja Pratap Chandra Singha's house in Garanhata.
1857
The first indigenous lithography press in Bengal, Royal Lithography Press, is set up by Deenanath Das, Nabin Chandra Ghosh, Hiralal Das and Teenkari Majumdar.
1876
Calcutta Art Studio is established by Annada Prasad Bagchi and his associates.
1886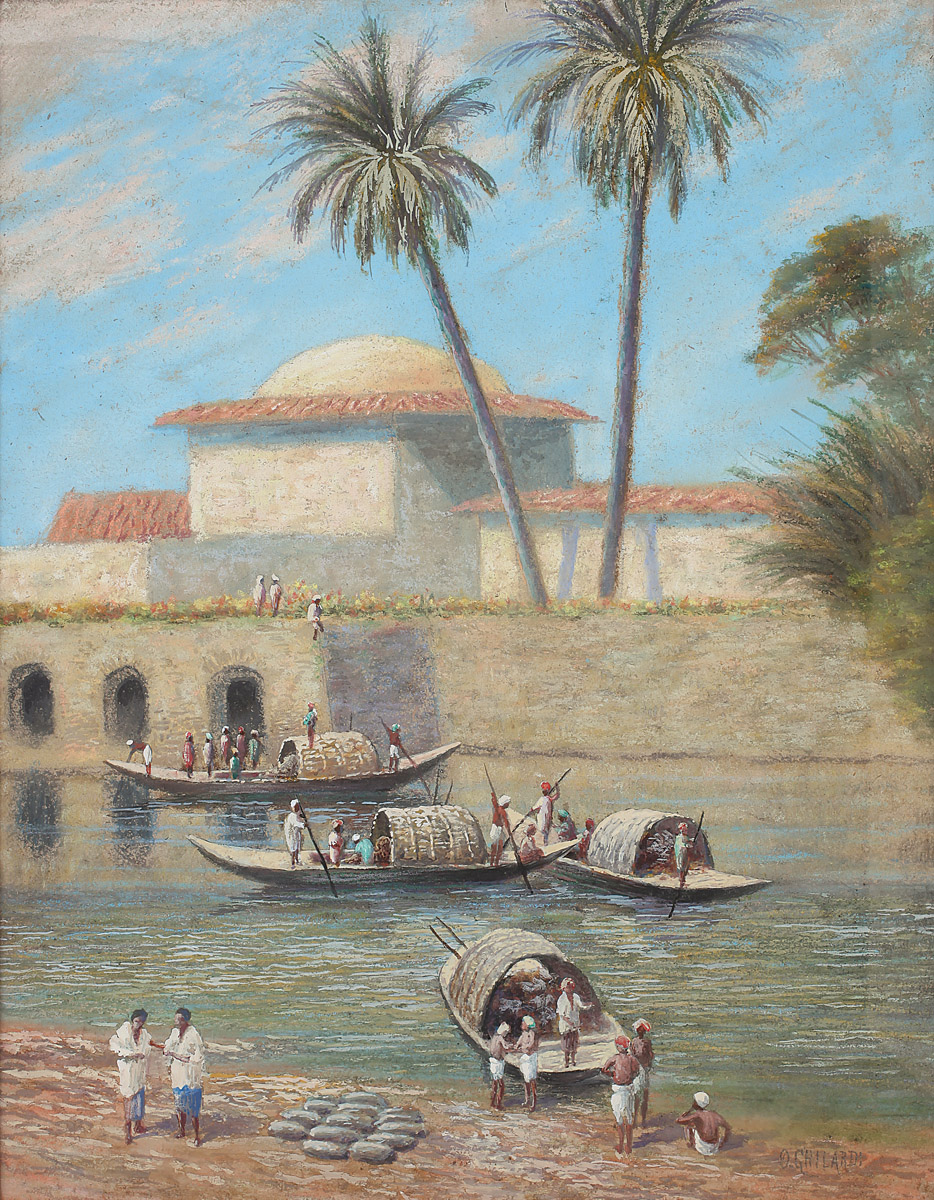 Olinto Ghilardi arrives in Calcutta and teaches Italian and Western art to Indian students.
1893
Bharatiya Shilpa Samiti is founded with Annada Prasad Bagchi, J. P. Gangooly and Abanindranath Tagore as key members.
1896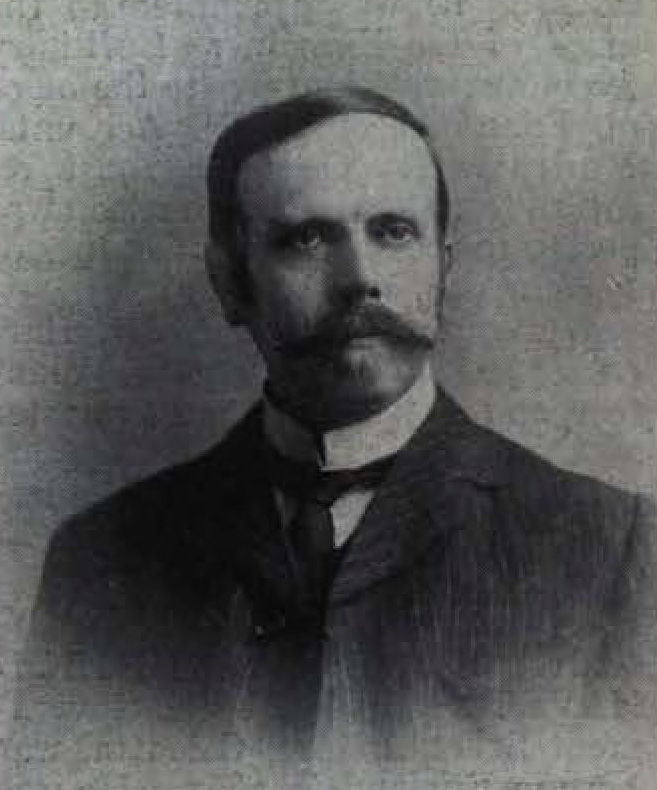 Art historian and educator E. B. Havell becomes principal of the Government School of Art, Calcutta.
Jubliee Art Academy is formed by Ranada Prasad Gupta.
Photographer Manmathanath Chakravarty laid the foundation to the Indian Art School, Calcutta with only three students.
1902-03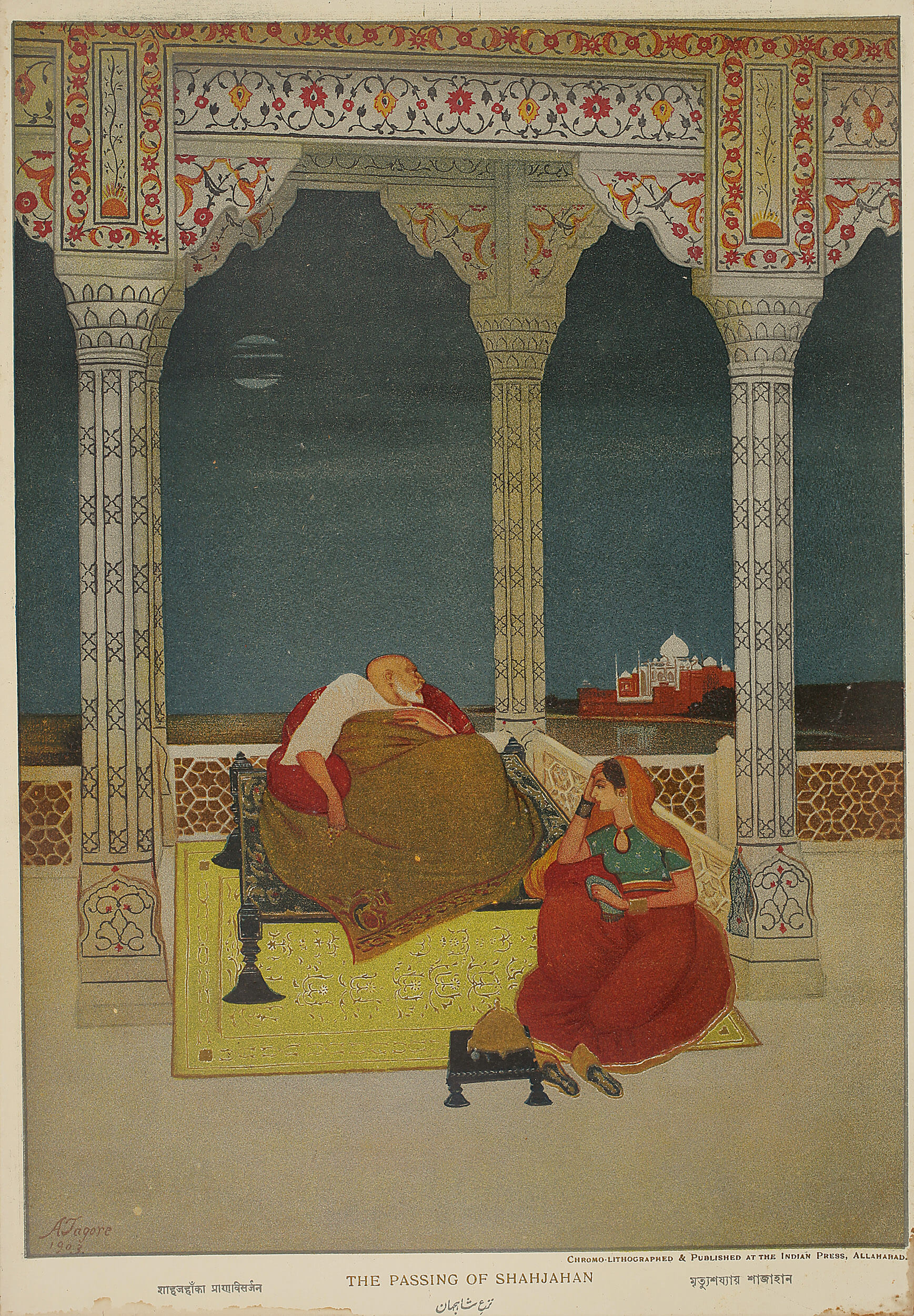 E. B. Havell inspires Abanindranath Tagore to make three paintings from the Delhi Durbar, among which The Passing of Shah Jahan wins him a silver medal and wide recognition.
1903
Art critic Okakura Kakuzo's work, 'Ideals of the East', is published with an introduction by Sister Nivedita. Okakura sends Japanese artists, Yokoyama Taikan and Hishida Shunso, to reside at the Tagore mansion in Kolkata. Abanindranath learns the 'wash' technique from them.
1903-04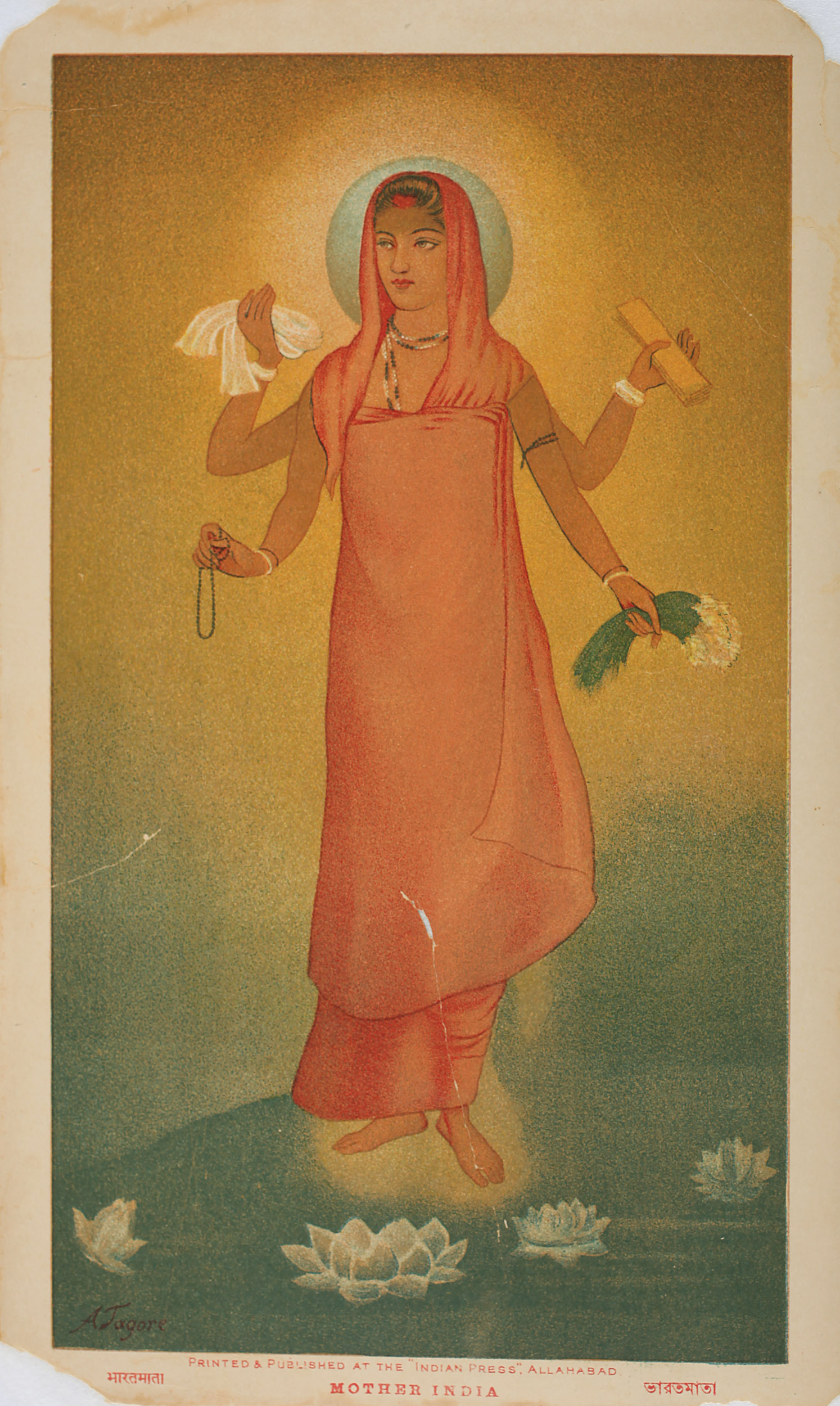 Abanindranath Tagore creates his famous work Bharat Mata
1905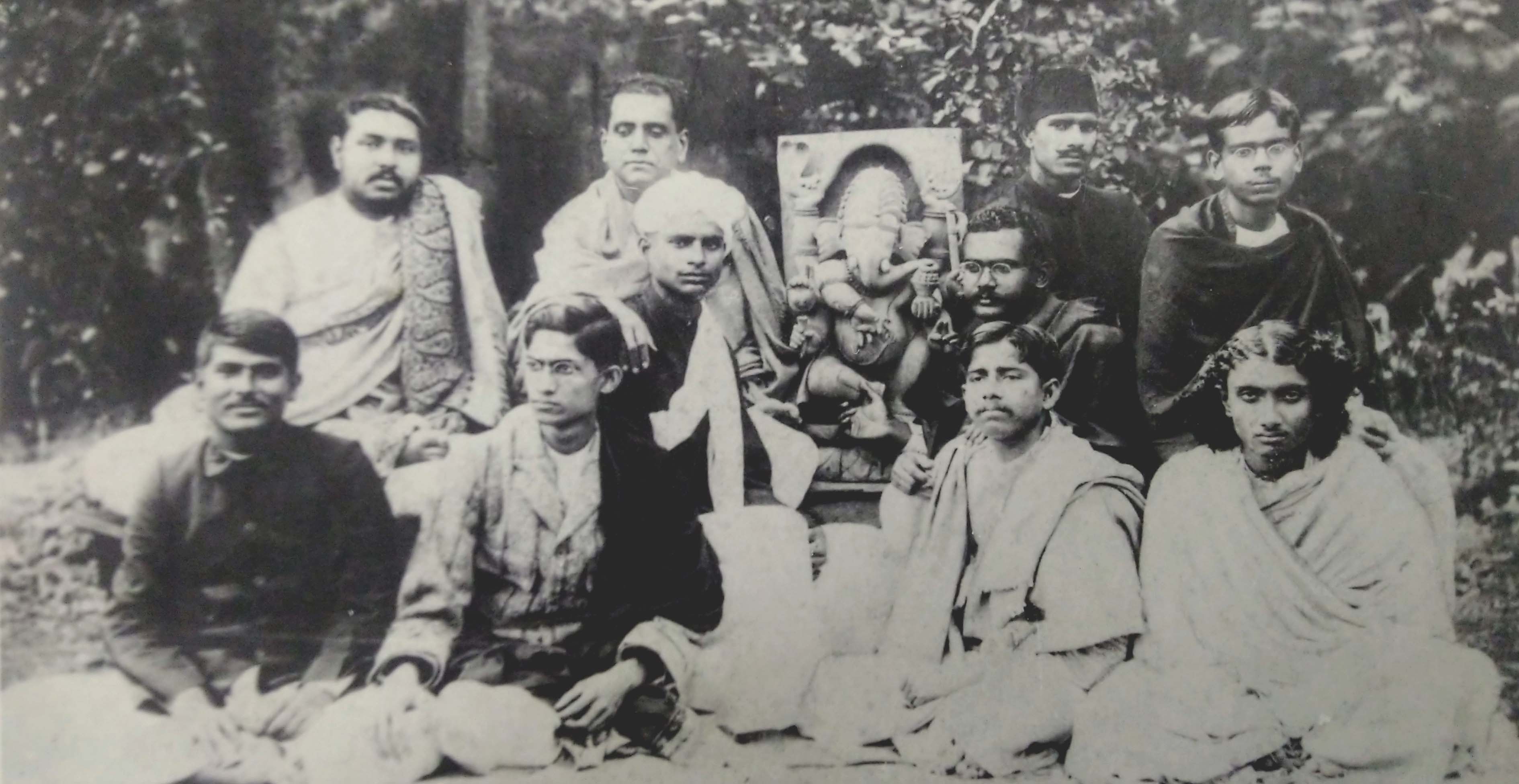 The Partition of Bengal under Curzon's administration triggers a series of protests. The Swadeshi movement, which rejects foreign goods and culture in favour of the local, launches formally in Calcutta on 7 August.
Abanindranath Tagore is appointed vice-principal at the Government School of Art. His disciples include stalwarts like Nandalal Bose, Suren Ganguly, Krishnappa Venkatappa, Asit Kumar Haldar, Sailen De, Kshitindranath Majumdar, Surendranath Kar, Samarendra Gupta and others.
1907
Indian Society of Oriental Art is founded with Sir John Woodroffe as one of its founder members.
1908
Art historian and critic, A. K. Coomaraswamy, delivers a series of lectures on Indian art at National College, Calcutta.
1909-12
Nandalal Bose, Asit Haldar, Venkatappa and Samendranath Gupta join Lady Herringham's team of copyists to document the Ajanta murals.
1911
Atul Bose, with Ranada Prasad Gupta and others, set up Indian Academy of Art to encourage European realistic style, as a counter to the Bengal School.
1912
Kshitindranath Majumdar joins Indian Society of Oriental Art as a teacher.
1914
Six works of Gaganendranath Tagore are sent to London and then to the exhibition at Pavilion Marson, Paris.
The first exhibition of Indian modern art is held at Victoria and Albert Museum, London
1915
Surendranath Kar joins Jorasanko's Bichitra as a teacher in painting.
1916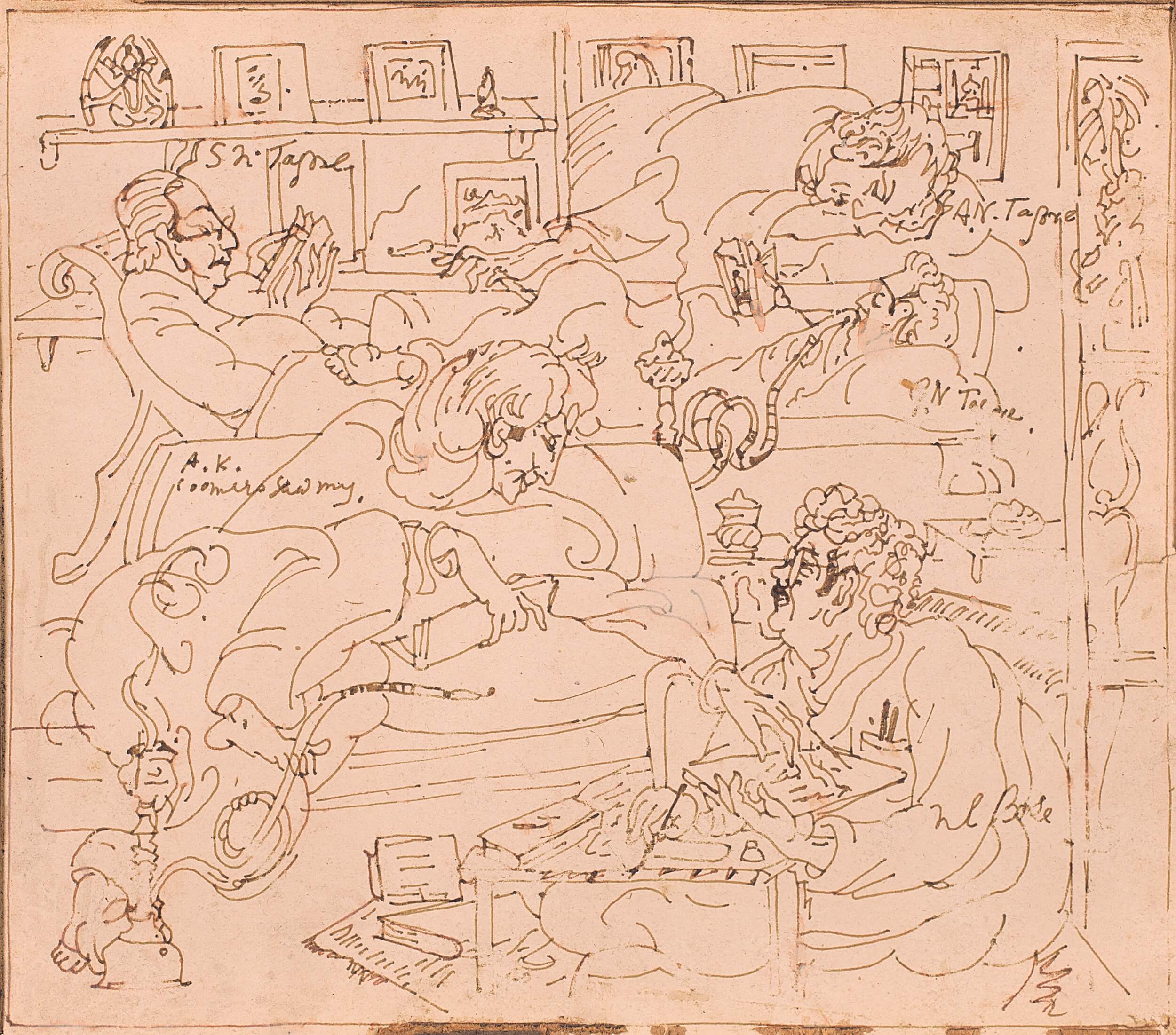 Rabindranath Tagore establishes Bichitra formally at his Jorasanko residence in Calcutta, a cultural centre formed to promote Indian art, music, dance and drama.
Gaganendranath Tagore's interest in lithographs leads to a litho press being added to the Bichitra club. In the same year, he publishes his colour lithographic cartoon album in Bengali, Adbhut Lok, printed at this press.
1919
The visual arts department, Kala Bhavana, is established in Santiniketan: Nandalal Bose is its head.
Benode Behari Mukherjee enrols as a student at Kala Bhavan.
1919
The Indian Academy of Art is launched by a group of artists, all of them adherents of the Western style of art; these include Hemendranath Majumdar, B. C. Law, Jogesh Chander Seal, Anadi Sanyal, Dhirendranath Ganguli and Atul Bose.
1921
Society of Fine Arts is formed by founder-secretary B. C. Law along with Atul Bose, Percy Brown, J. P. Gangooly, R. N. Mukherjee, Jagadindranath Roy, Maharaja Prodyot Kumar Tagore.
Hemendranath Majumdar holds his first exhibition at the Society of Oriental Art.
1922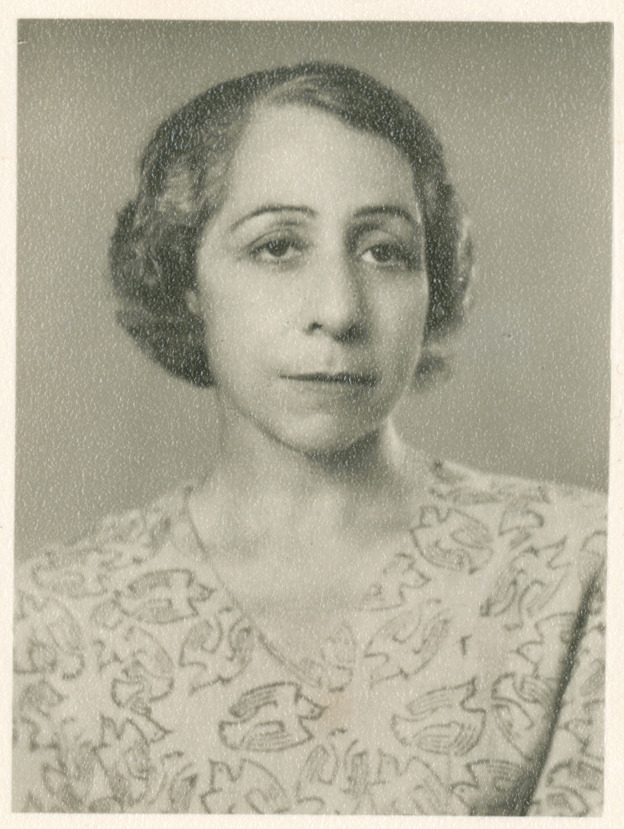 Bauhaus exhibition comes to Calcutta, showing the works of Paul Klee, Kandinsky and others, bringing European modernism to India.
European art historian Stella Kramrisch visits Santiniketan on Rabindranath Tagore's invitation and her lectures on contemporary European art trends and techniques prove highly influential in shaping Indian modernism emerging from Santiniketan.
Members of Indian Society of Oriental Art of Calcutta organise an exhibition of the works of the German Expressionist Group.
1926-30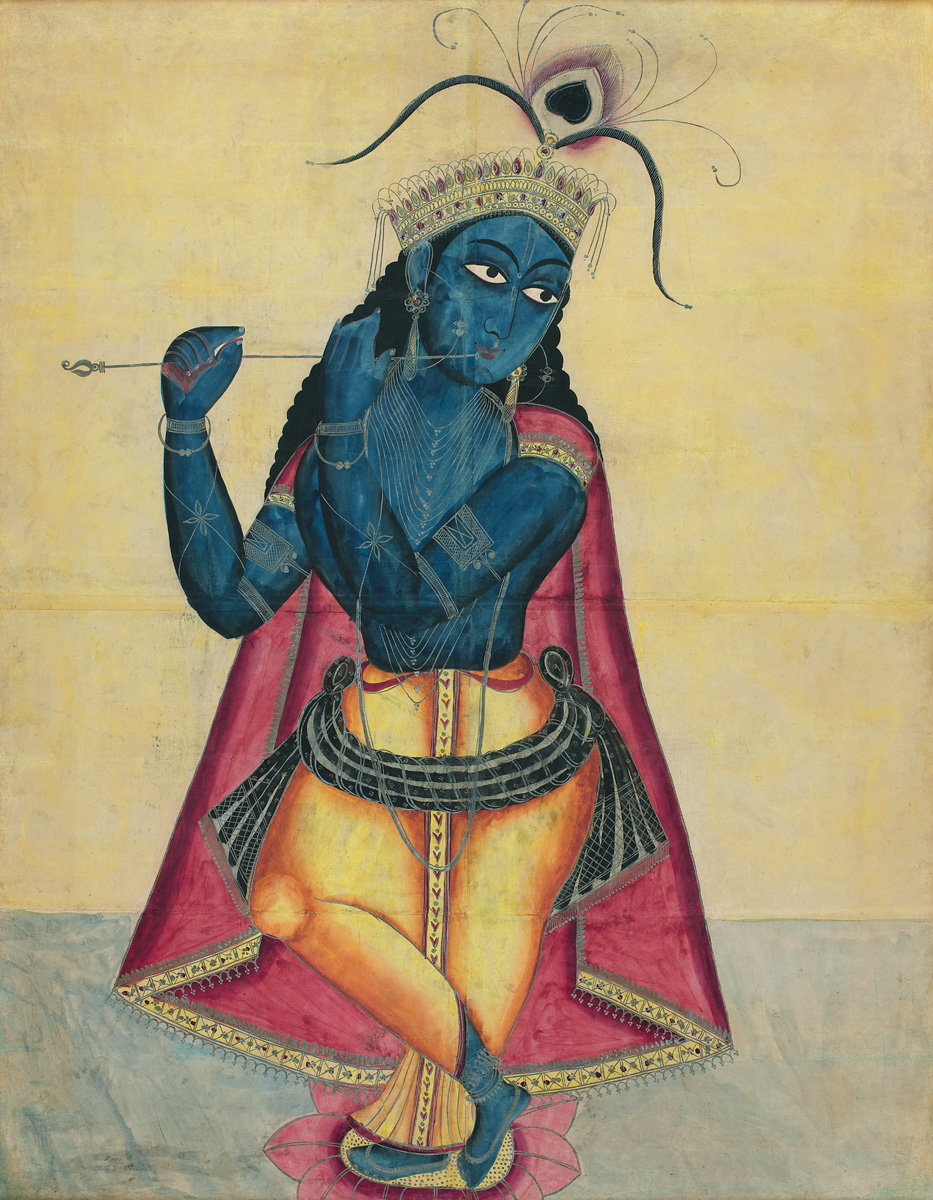 The last of Kalighat pats available in the market.
1927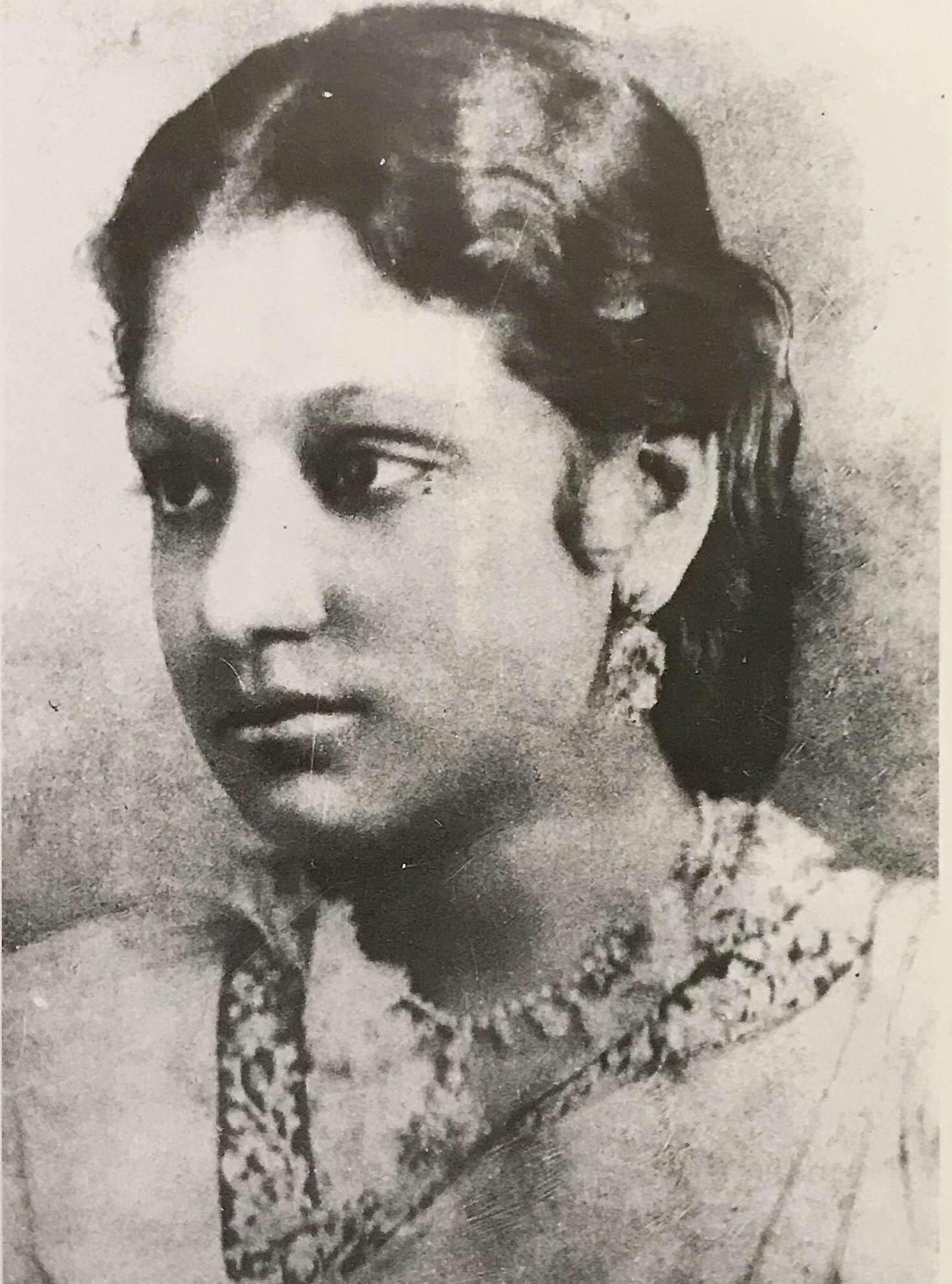 Sunayani Devi's artworks are displayed at the exhibition held by Women's International Art Club, London.
Surendranath Kar visits Bali and learns the batik technique.
1927-31
M. A. R. Chughtai tours Europe, holding several solo shows.
1928
Nandalal Bose does his first major mural, commemorating the Halakrarshana Utsava, in Sriniketan, on a freestanding wall.
1929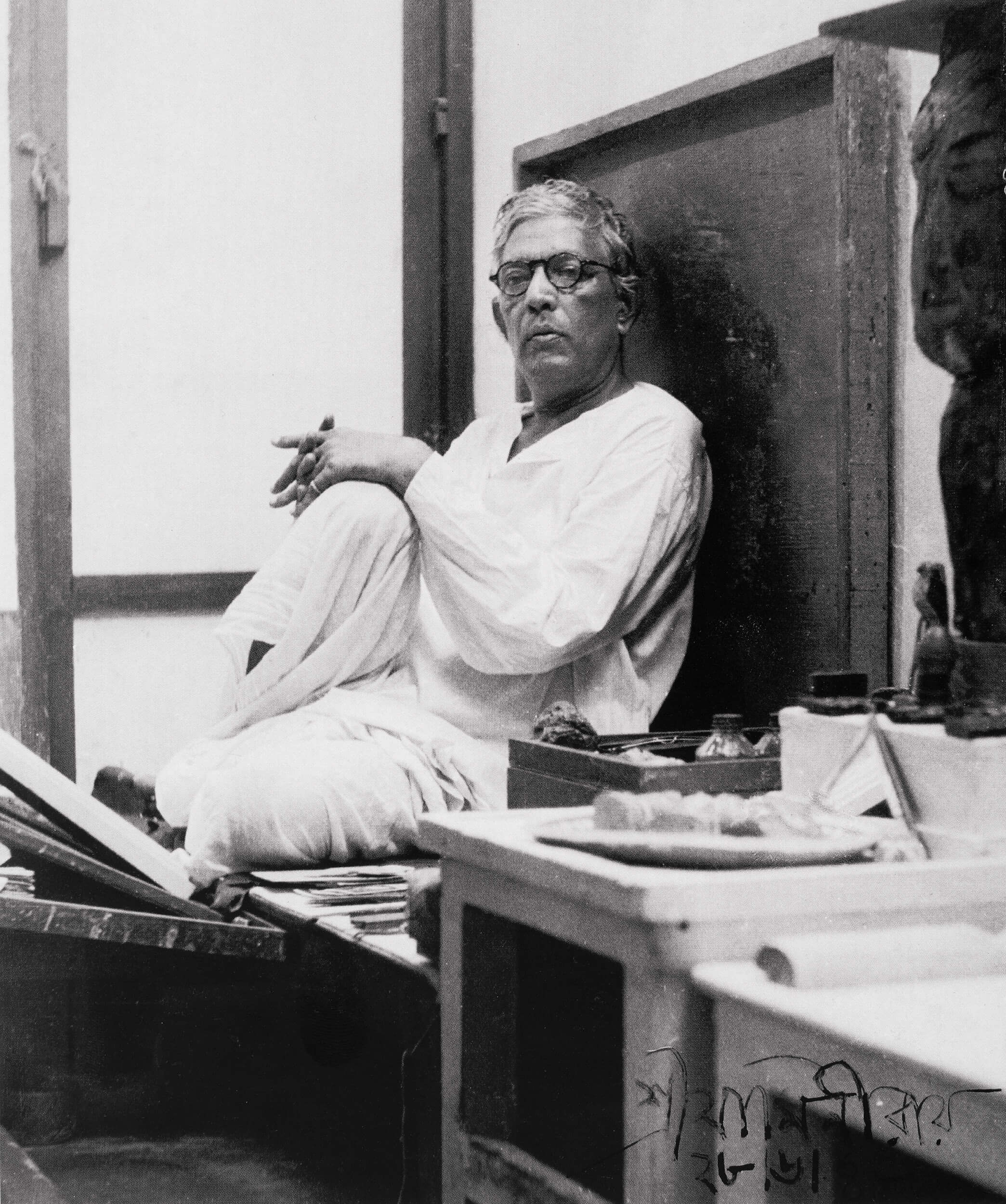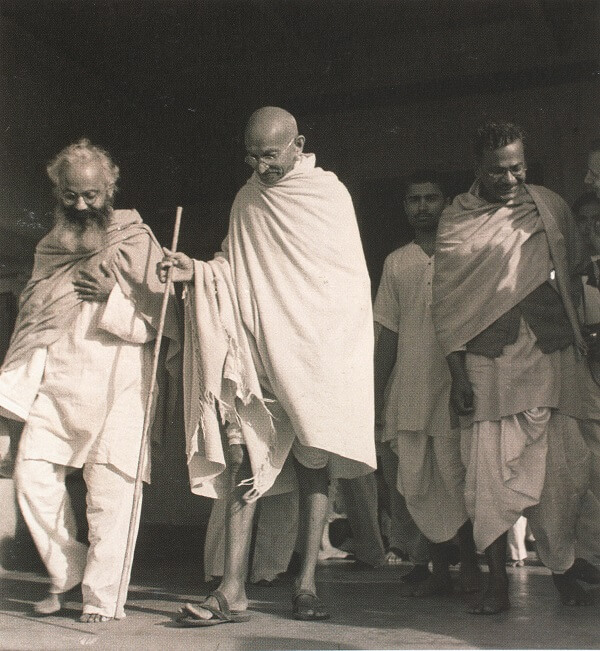 Jamini Roy's first solo exhibition at the Government School of Art.
Nandalal Bose illustrates Rabindranath Tagore's book for children, 'Sahaj Path', with his linocuts, choosing linocut as easily comprehensible to children with its solid black and white markings.
Kalighat painters, for most part, are anonymous; W. G. Archer records the deaths, in 1930, of two of them, Nabin Chandra Ghosh and Kali Charan Ghosh.
Atul Bose is commissioned by the Government of India to go to England to copy portraits of Queen Mary and King Edward VII.
Gandhi launches his famous Dandi Salt March. Nandalal makes a linocut on the occasion.
A bulk of Mukul Dey's priceless Kalighat painting collection is acquired by W. G. Archer. Many find their way to the Victoria and Albert Museum, London.
1930-31
Rabindranath Tagore's drawings and paintings are exhibited for the first time in 1930 in Europe, and subsequently in India in 1931.
1931
Abanindranath Tagore completes his work Arabian Nights.
1933
The Academy of Fine Arts is founded in Kolkata by Lady Ranu Mukherjee in a room loaned from the Indian Museum.
1934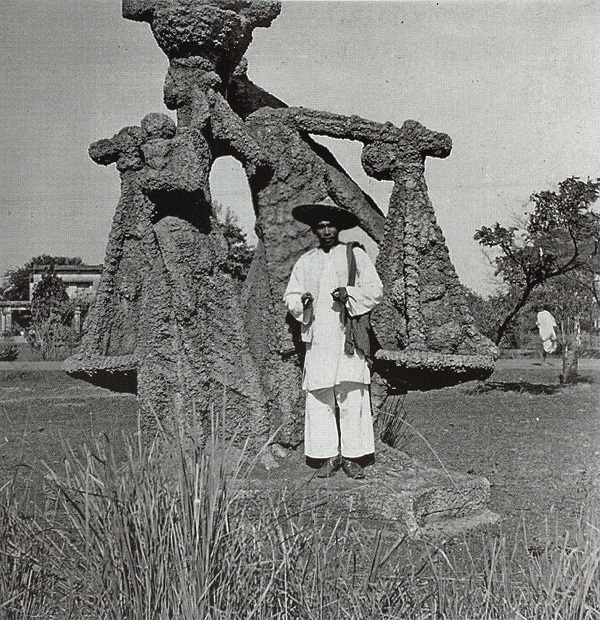 Ramkinkar Baij joins Kala Bhavana, Santiniketan, as faculty in the sculpture department.
Ramkinkar Baij creates his first critically acclaimed sculpture called Sujata. Sculpture is brought under the purview of the contemporary understanding of art.
1936-56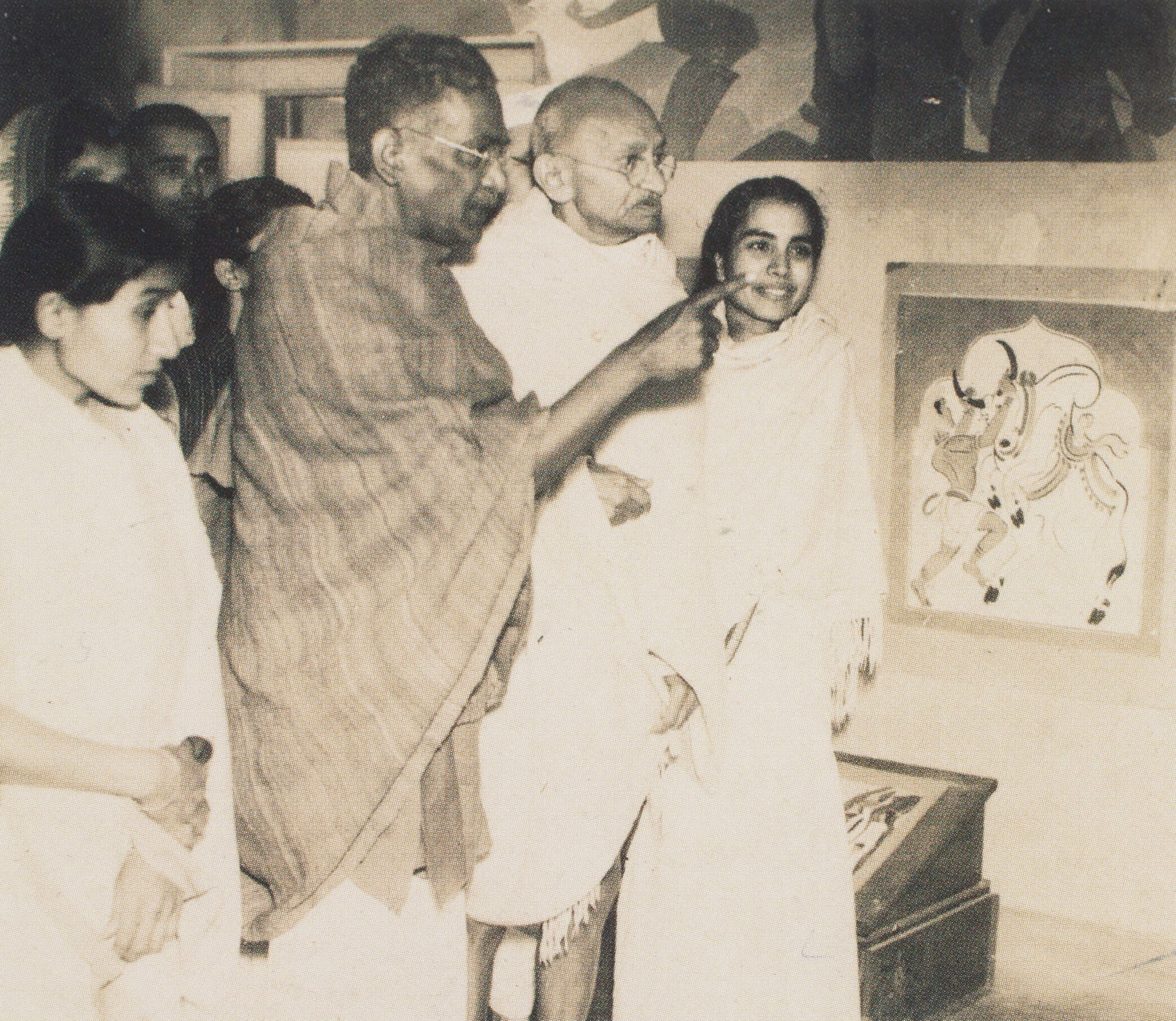 Nandalal Bose designs the Indian National Congress pavilions at the sessions at Lucknow, Faizpur and Haripura. In 1938, he creates eighty posters and a mural for the Haripura Congress meet.
In 1939, 48 and 56, Indra Dugar is commissioned to decorate annual Congress sessions at Ramgarh, Jaipur and Amritsar respectively.
1942
Mukul Dey starts a women's department at the Government School of Art, Calcutta.
1943-44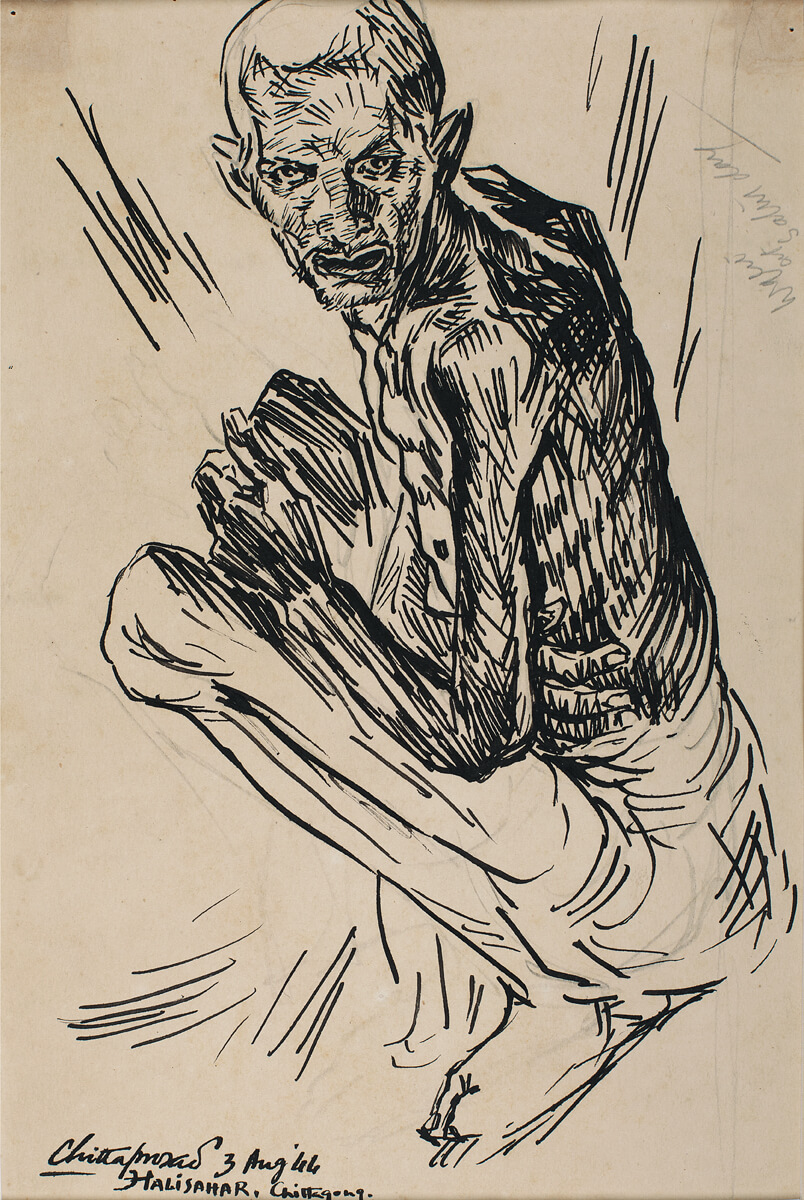 Somnath Hore, Chittaprosad and other artists travel through famine-hit Bengal and document the suffering through their drawings and etchings. The Calcutta Group is formed by artists Paritosh Sen, Gopal Ghosh, Prodosh Das Gupta, Gobardhan Ash, Subho Tagore, Rathin Maitra and Rabin Mondal, with an inaugural exhibition. The group's guiding slogan is 'Man is supreme, there is none above him'; it creates a great stir in the Indian art community. Ramendranath Chakravorty becomes principal of Government School of Art, Calcutta, and introduces graphic art to the art curriculum.
1945
Sankho Chaudhuri accompanies Ramkinkar Baij to Nepal and learns Nepali metal casting.
1947
India becomes an independent nation on 15 August. The Partition and violence surrounding it cast a dark shadow on this defining moment, haunting many artists who witness it.
Benode Behari Mukherjee creates his mural Medieval Saints at Hindi Bhavana, Santiniketan, assisted by students such as K. G. Subramanyan.
1949
Biswanath Mukerji creates four murals for the Human Rights Exhibition at UNESCO, Paris.
1953
Gobardhan Ash joins the Indian School of Art and Draughtsmanship as a teacher at Atul Bose's invitation.
Prodosh Das Gupta wins the International Sculpture Competition, London, for his sculpture Unknown Political Prisoner.
1954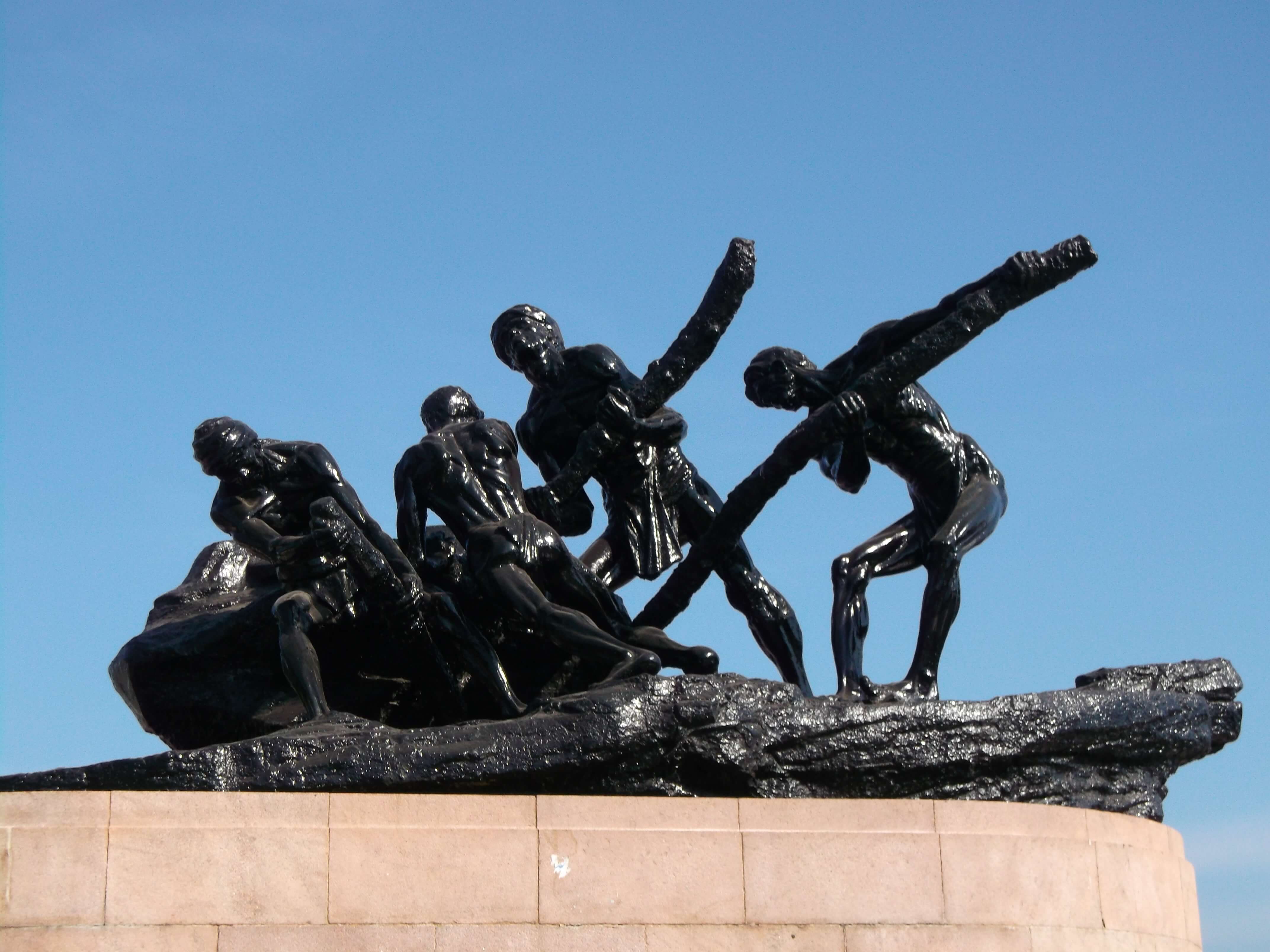 D. P. Roy Chowdhury creates his famous public sculpture Triumph of Labour, at Marina beach in Madras.
Ramkinkar Baij creates his large, multiple-figured sculpture Mill Call.
1956-57
Ramkinkar Baij is commissioned by the Reserve Bank of India to create two monumental sculptures reflecting classic Indian sculpture, Yaksha and Yakshi.
1956-58
Mukul Dey works as curator, National Gallery of Modern Art, New Delhi.
1957-63
Ganesh Haloi joins the Archaeological Survey of India as resident artist and documents the cave paintings of Ajanta following in the footsteps of artists before him.
1960
Nikhil Biswas, Somnath Hore, Sanat Kar, Bijan Chowdhury, Shyamal Dutta Ray, Sunil Das and others form the Society of Contemporary Artists in 1960.
1964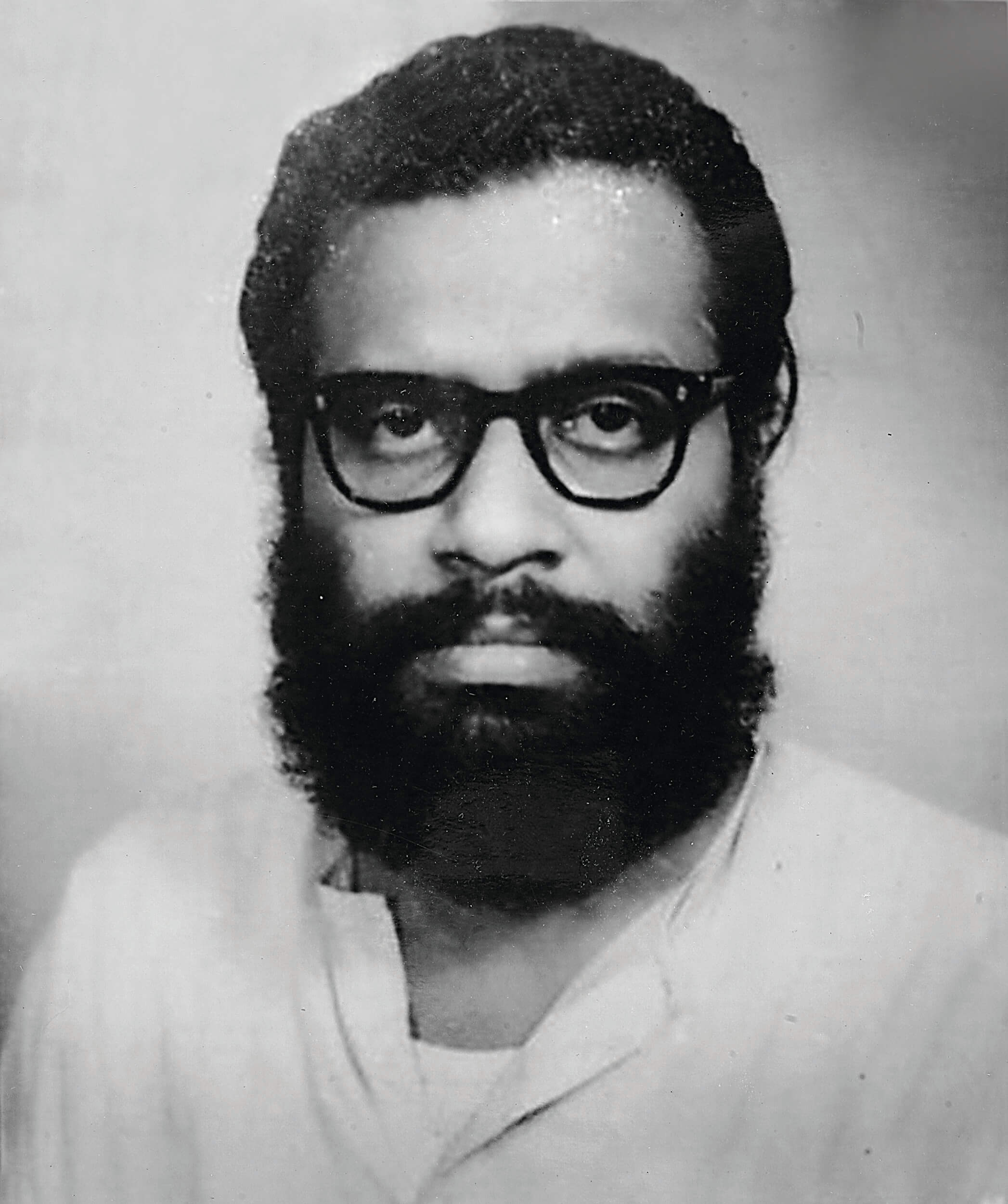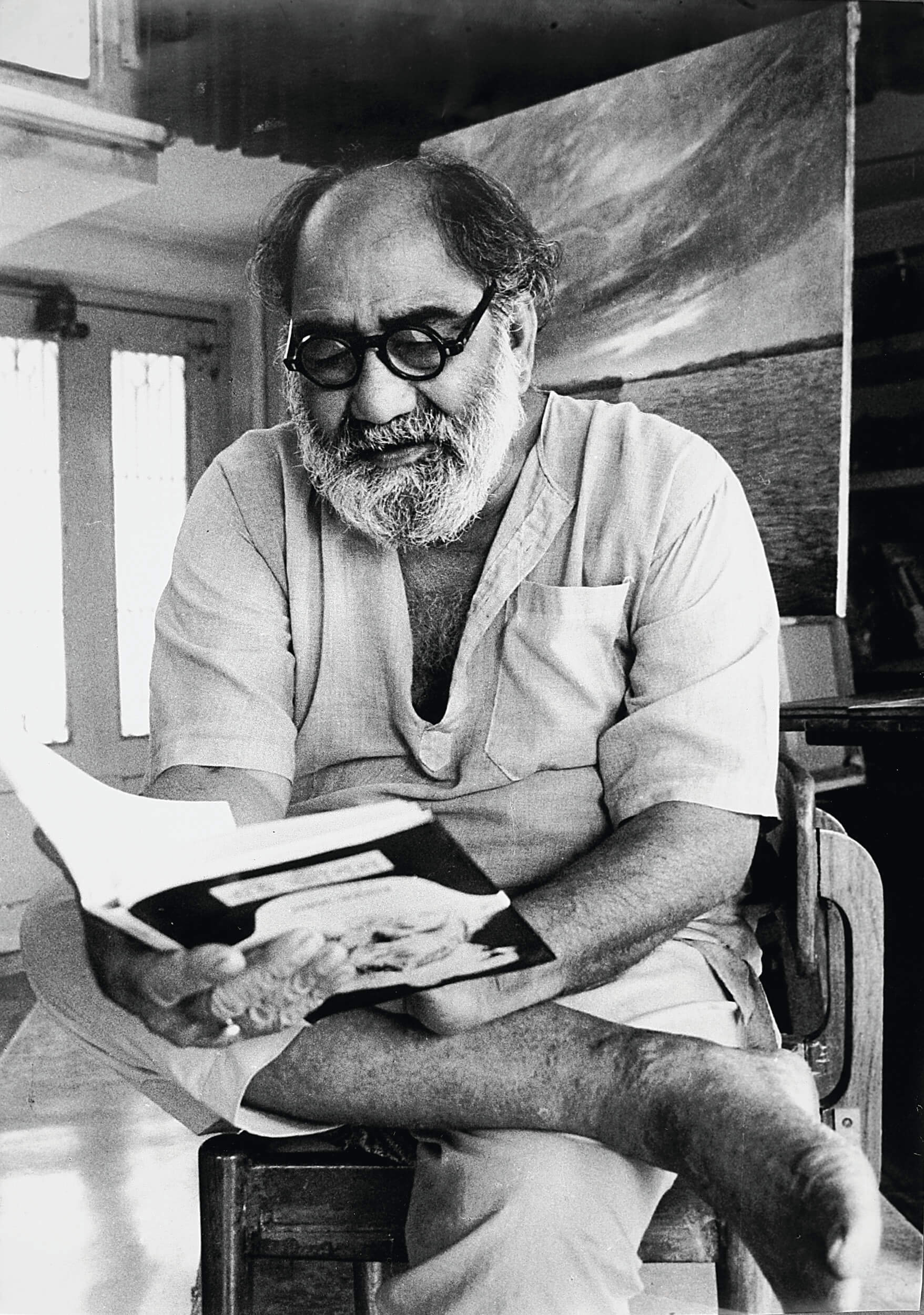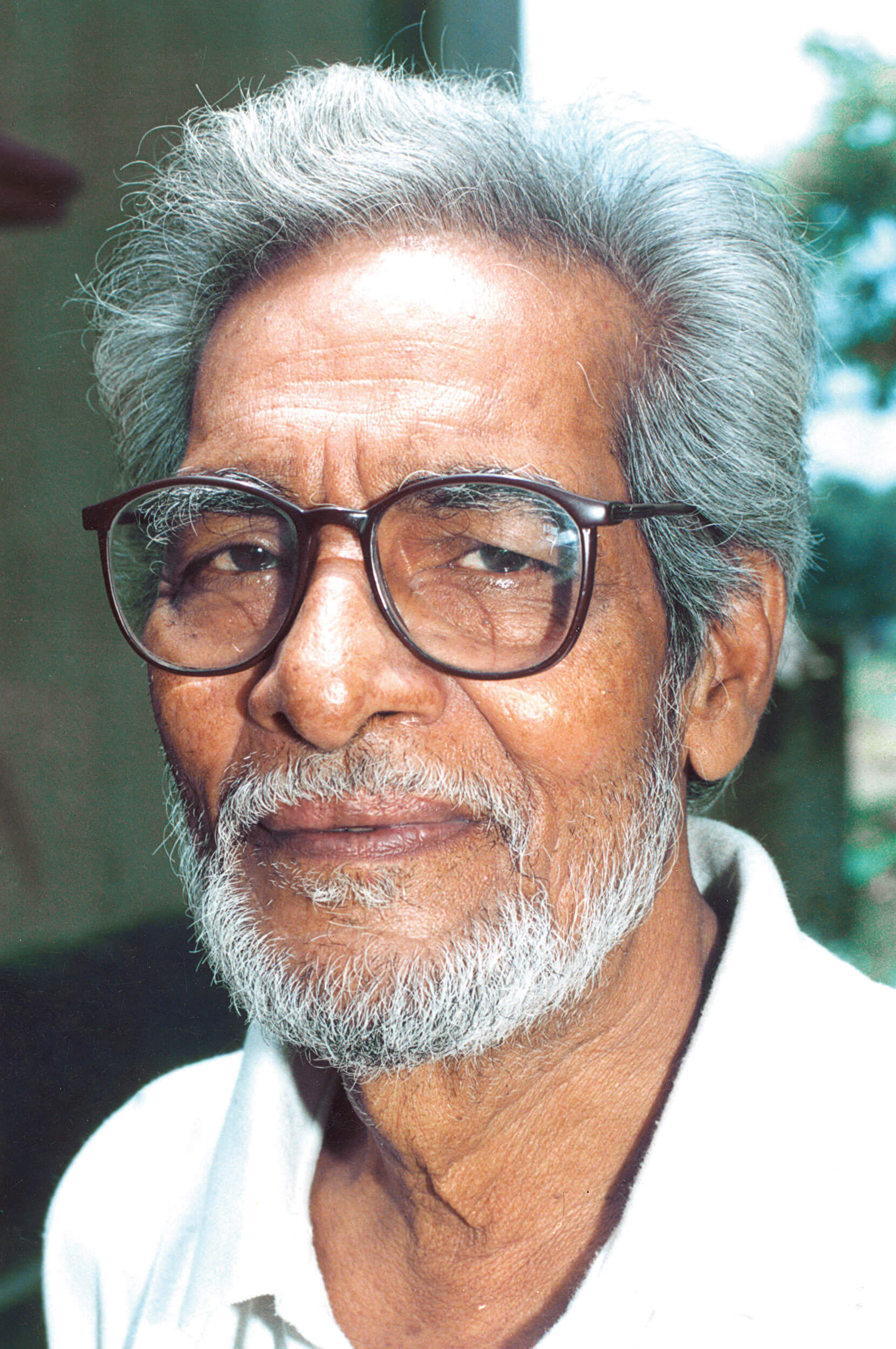 Some Calcutta artists—Rabin Mondal, Prokash Karmakar, Bijan Chowdhury, Nikhil Biswas, Gopal Sanyal, Mahim Roodra, Gunbritt Roodra and Bimal Banerjee— form a group, first named Calcutta 8 and then renamed Calcutta Painters.
1965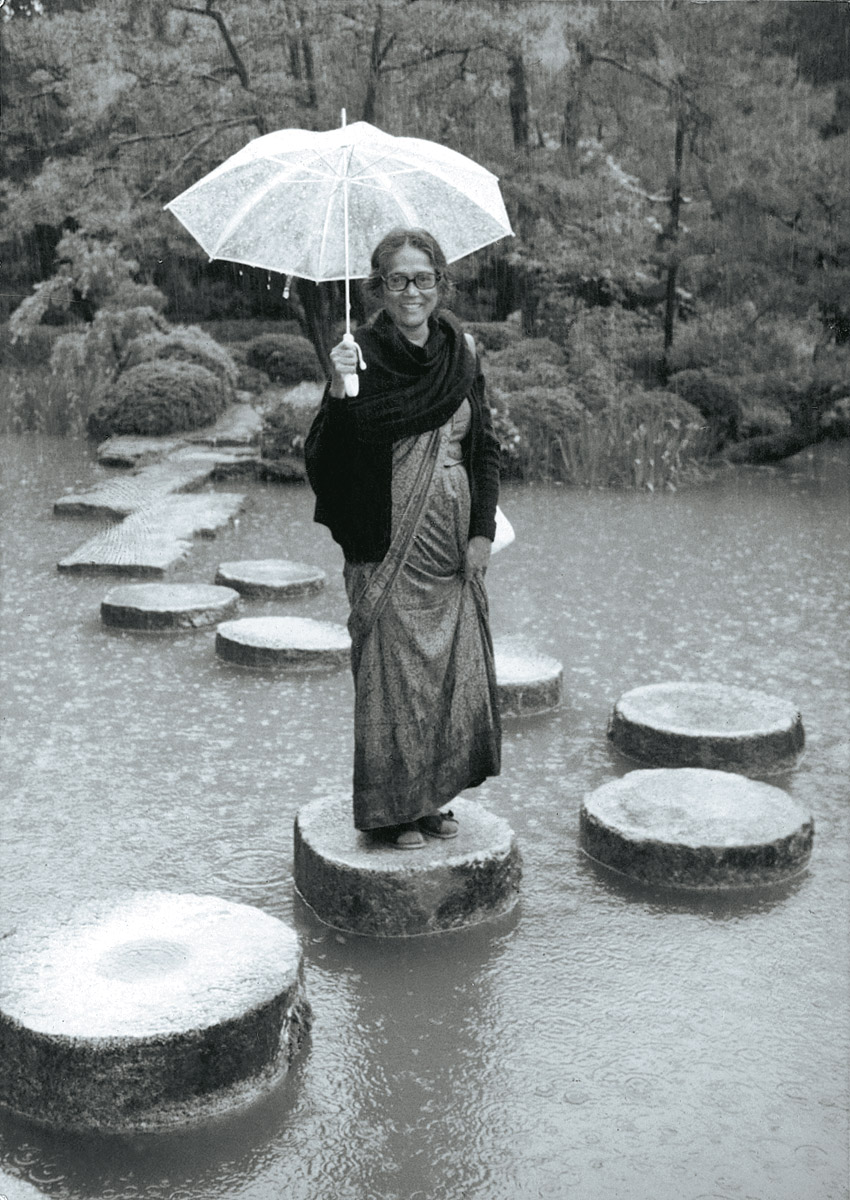 Meera Mukherjee receives a research fellowship from Anthropological Survey of India to conduct a survey of indigenous metal artisans in India.
1983
Karuna Saha, Shanu Lahiri, Meera Mukherjee, Santosh Rohatgi, and Shyamasree Basu form The Group in 1983. Exhibitions of their works travel across the country.
Bipin Behari Goswami is commissioned by Government of India to restore and cast Ramkinkar Baij's Santhal Family in bronze.
1984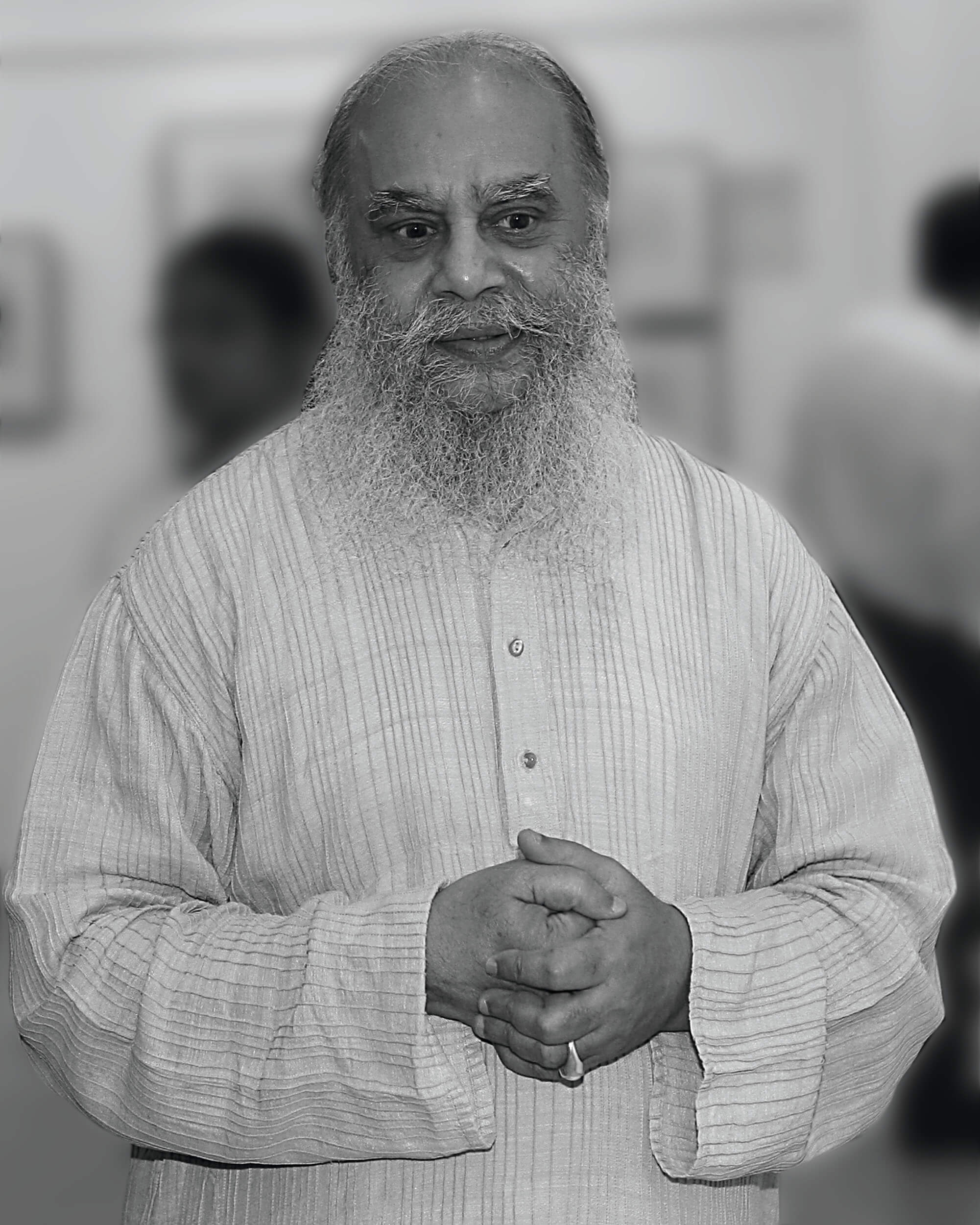 Artist Shuvaprasanna founds Arts Acre, an artists' village in Calcutta.
2001
The exhibition 'Art of Bengal, Past and Present, 1850-2000' is held in Mumbai and Kolkata, organised by NGMA, New Delhi.
2020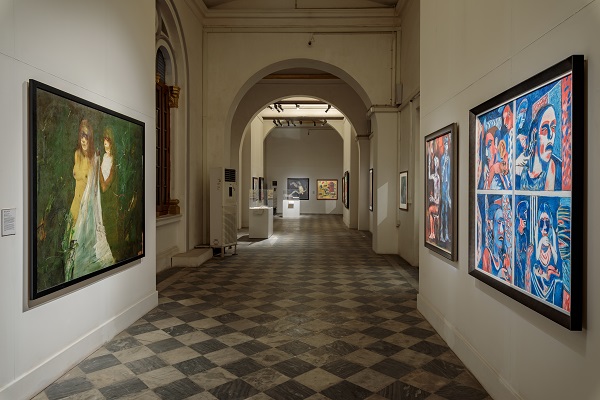 Opening of Ghare Baire museum-exhibition in Kolkata. A collaboration between the Archaeological Survey of India, NGMA, and DAG, and commissioned by the Ministry of Culture, Government of India, it is the largest showcase of Bengal art across three centuries under one roof.