collection stories
SYNCRETISM IN BENGAL ART
OUR WORLD THROUGH ART
As a region that is home to many religions and cultures, South Asia has been a fertile ground for art that blends different styles, ideas, and influences. Conquest, migration, or friendly exchange of cultural ideas and values—be it in the visual arts, food, or politics—all played a part in shaping the region as a melting pot of civilisations. Explore artworks that showcase this syncretic legacy from DAG's museum collection—starting with the early encounters with European realism, the pan-Asian influences on the Bengal School, and beyond.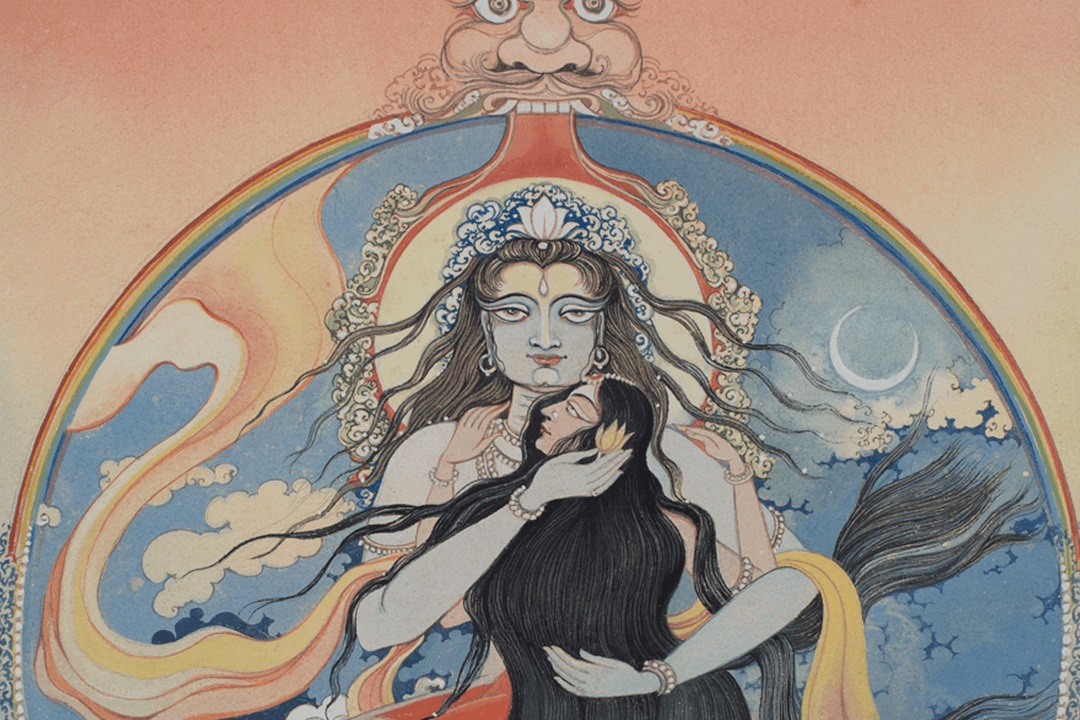 Sanat Chatterjee
Untitled
Watercolour on handmade paper
RE-IMAGINING HINDU MYTHS
Among Hindu elites who collaborated and competed with Europeans in the nineteenth century, oil paintings—associated with Western art—became a cultural marker of social status. There was a demand for re-casting the Hindu epics and myths using new artistic techniques, moving away from traditional forms of representation. The artists who rose to meet this demand included some who were trained in miniature painting in the Mughal courts, and others who received academic training in the colonial art institutes in India. The coming together of religions and diverse visual cultures led to intriguing hybrids, some of which we explore in this section.
Early Bengal (Anonymous)
Untitled (Draupadi Vastraharan)
Oil on canvas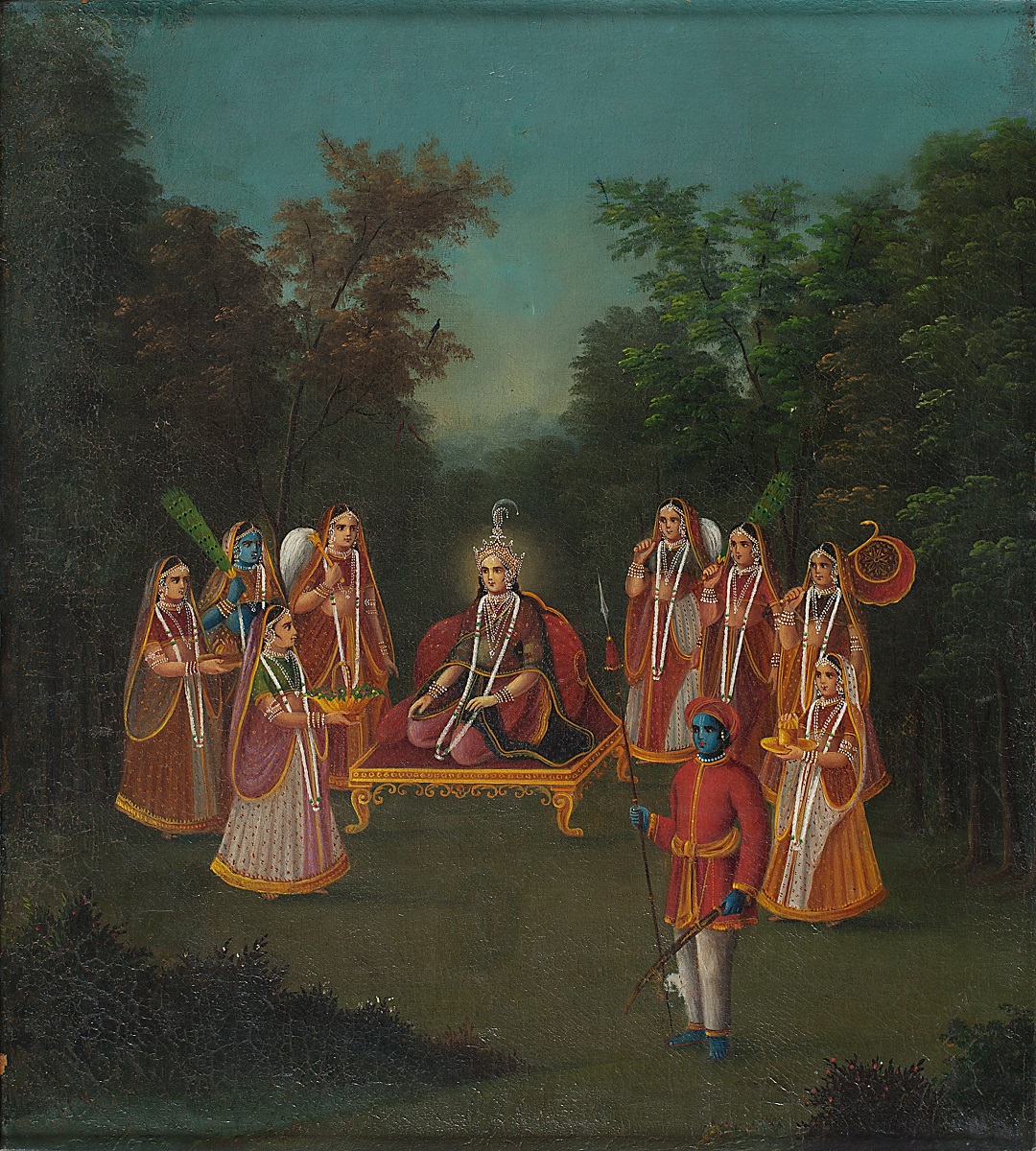 Early Bengal (Anonymous)
Untitled (Radha as Queen)
Oil on canvas
This Untitled work by an anonymous artist shows Radha as a queen, surrounded by her Gopis (cowherds and companions) and Krishna—her divine consort and an incarnation of one of the Hindu trinity—dressed as a sentinel. In the background is a forest, painted in the manner of European landscapes. Note the exquisite detailing of the crown, the clothes, and jewellery that are executed to perfection, in all likelihood by a trained miniaturist. Radha, depicted as a Mughal queen, looks almost superimposed on the background, making the fault-lines between the different traditions visible in this remarkable work.
F.C. Lewis
The Dussorah Durbar of His Highness Maharaja of Mysore – 1848 -1849
Early Bengal (Anonymous)
Untitled (Draupadi Vastraharan)
IN SEARCH OF A NEW 'INDIAN' ART 
In the early twentieth century, Bengal witnessed a cultural movement that tried to distance itself from the conventions of European academic art. Led by Abanindranath Tagore, and synchronous with the Swadeshi movement, it tried to envision a new 'Indian' art that would be inspired by pan-Asianism. Artists assimilated visual traditions that spanned from Japan to Persia, bringing together myths, legends, and stories to create a new syncretic visual language.
Prosanto Roy
Untitled (Arabian Nights Series)
Watercolour wash on paper
Abanindranath Tagore
The Passing of Shah Jahan
Prosanto Roy
Untitled (Arabian Nights Series)
M. A. R. Chughtai
Untitled
REVISITING THE MURALS OF AJANTA  
At the behest of spiritual leader and reformer Sister Nivedita,  Abanindranath Tagore sent some of his students, including Nandalal Bose and Asit Kumar Haldar, to assist indologist, Lady Christiana Herringham as she documented the murals in the Ajanta caves in 1909-11. These ancient paintings representing different Buddhist traditions left a lasting impact on the Bengal School's aesthetics, visible in their muted use of warm colours, architectural features, and elements of the human anatomy—such as elongated limbs, half-closed eyes, and graceful forms. Later artists, like Sanat Chatterjee, even incorporated the visual language of Tibetan thangka to fuse different spiritual philosophies. 
Ramgopal Vijaivargiya
Untitled (Draupadi and the Five Pandavas)
Watercolour, gouache and gold paint on paper
Ramgopal Vijaivargiya
Untitled (Draupadi and the Five Pandavas)
Asit Kumar Haldar
Untitled (Queen Prabhavati)
Sanat Chatterjee
Untitled
LOOKING EASTWARD  
Apart from the Persianate and ancient Buddhist traditions, artists of the Bengal School also came in contact with Japanese art. Rabindranath Tagore's friendship with Okakura Kakuzō led to the arrival of several artists like Hishida Shunsō, Katsuta Shōkin, and Yokoyama Taikan. As Abanindranath Tagore, Nandalal Bose, and others took to their style of brushwork, the use of the wash technique, and printing technologies, these artists found inspiration in the Hindu epics. Take a closer look at an exquisite scroll painting by Katsuta Shōkin, based on an episode of the Ramayana. 
Nandalal Bose
Untitled
Ink on postcard

RAM AND SITA DEPARTING FROM AYODHYA
Katsuta Shōkin
Collection: DAG
Katsuta Shōkin (1879-1963) was among the Japanese artists who visited Bengal in the early decades of the twentieth century. Although most of his works from his two years in India are now lost, a few spectacular examples like the one seen here remain as a testament to the rich cultural exchange.

A close look at the silk scroll reveals a moment of great pathos as the prince Ram, his wife Sita, and his brother Lakshman depart from Ayodhya. Ram's father, King Dasharatha cuts a sorrowful figure, his head in his hands. At the time, with Raja Ravi Varma's realistic depictions of Hindu myths dominating the popular imagination, it was unusual to find an artist drawing out the quieter, emotive aspects of the epics. Perhaps it was Katsuta's exchanges with the Bengal School that prompted him to interpret the story in this light.
Explore
SEARCHING FOR ROOTS
Bengal in the 1920s witnessed a counter-reaction to Abanindranath Tagore's vision of Indian art, which was seen to be rooted in revivalism and classicism. Writers, artists, and collectors turned their attention to regional traditions that were identified as 'folk' art. One of the key figures, who used the bold colours and rhythms of Bengal's Patachitra tradition to develop a Modernist visual idiom, was Jamini Roy. His depictions of religious narratives using folk styles from around the world seem to suggest that true faith is to be found among the people, and not in the pomp of organised religion.
Jamini Roy
Untitled (Hanuman and Jatayu)
Gouache on paper pasted on mountboard
Jamini Roy
Untitled (Hanuman and Jatayu)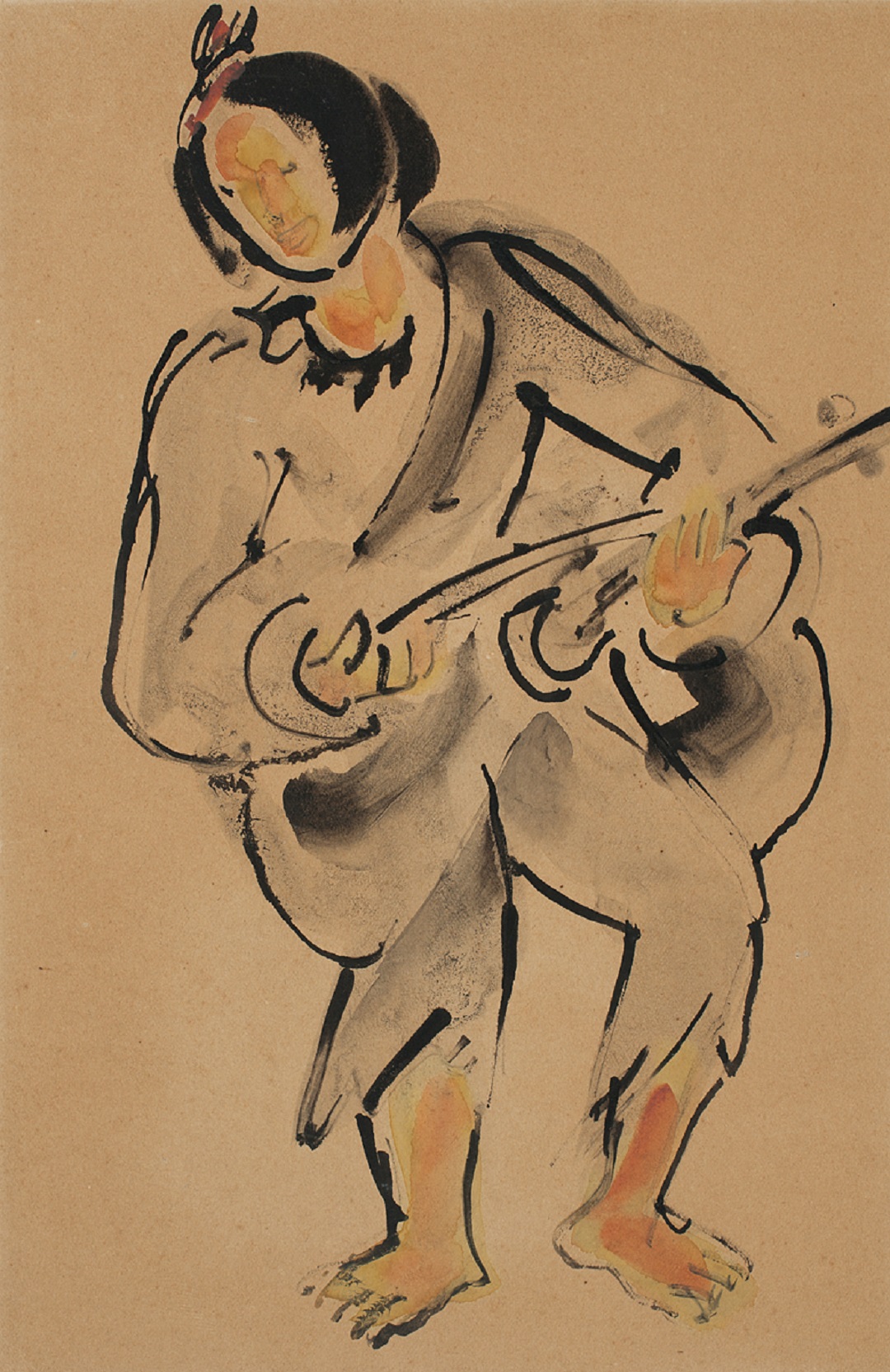 Ramkinkar Baij
Untitled (Musician)
Watercolour and ink on paper
SYNCRETISM IN EVERYDAY LIFE
Whether we think of the fifteenth century saint and mystic poet, Sant Kabir or Chaitanya Mahaprabhu, the ideals of syncretism that, very simply, call for equality among human beings irrespective of caste or religion, have not been restricted to visual art practices. Similar beliefs feature in the earthy tunes of the Bauls of Bengal, in Patachitra scrolls, and in Sufi and Bhakti poetry. Do you feel these ideas could have resonance today across the world? 
Credits
Written by Sourjyo Sinha & Sujaan Mukherjee
Your Views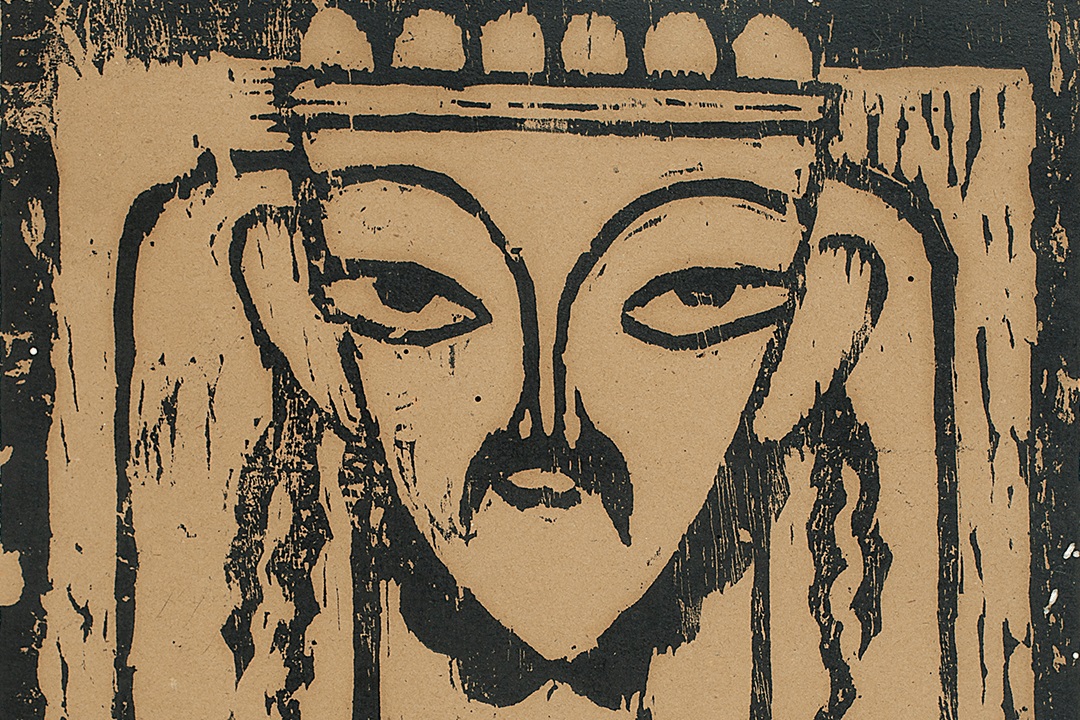 We are always interested in learning more about our collection from viewers like you. If you have any information or interpretation you would like to share, please let us know below.
Do you know of other Indian or South Asian artworks that deal with Christian themes?