- Till Now
Studio of Raja Ravi Varma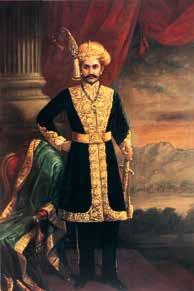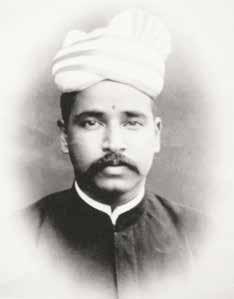 An artist whose eponymously named art institution groomed some important Indian modern artists such as Ram Kumar and J. Swaminathan, Sarada Charan Ukil was an early pioneer of the Bengal School. Born on 14 November 1888 in Bikrampur near present-day Dhaka, Ukil shifted later to Calcutta with his family and studied at the city's Government Art School under Abanindranath Tagore.
artist timeline
1906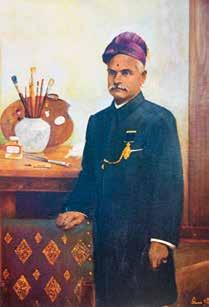 His daughter, the eleven-year-old Setu Lakshmi Bayi, marries into the Travancore royal family where she will become Senior Rani.
1848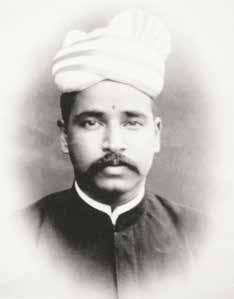 Birth of the artist in Kilimanoor, Travancore, on April 29. His mother, Uma Amba Bai Thampuratty, is related to the royal family.
1862
Largely self-taught, he receives painting lessons from his uncle Raja Raja Varma, who also introduces him to the maharaja of Travancore. Ravi Varma takes up residence at the family's palace in Trivandrum.
1870
First paid commission of his career, a portrait of the family of Kizhakke Palat Krishna Menon, a sub-judge of the Calicut court.
1874
Nair Woman at her Toilette is entered at the Fine Art Exhibition in Madras and wins a gold medal.
1875
The Maharaja of Travancore gifts the Prince of Wales three paintings by the artist on his visit to Madras.
1876
Shakuntala's Love Letter to Dushyanta gets a gold medal at the Fine Art Exhibition, Madras. The work is subsequently acquired by the governor-general of Madras Presidency.
1878
Is commissioned to paint a life-size portrait of Duke of Buckingham, governor-general of Madras, to be placed in Government House. It still hangs at Raj Bhavan in Ooty. Starts travelling professionally accompanied by his brother, Raja Varma, acting as his secretary and, later, co-painter.
1881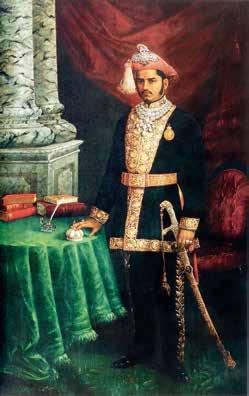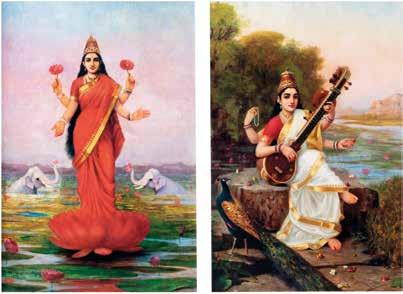 Ravi Varma and Raja Varma are invited as guests of the state to participate in the investiture ceremony of Maharaja Sayaji Rao III ascending the gaddi of Gaekwad of Baroda.The artist is commissioned to do portraits of the royal family and paint Puranic and religious themes, including Lakshmi, Saraswati, Nala Damayanti, Sairandhri, Sita Bhoopravesam and Sita Siddhi.
1884
The artist's uncle, his first teacher, Raja Raja Varma, passes away.
1885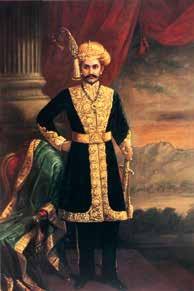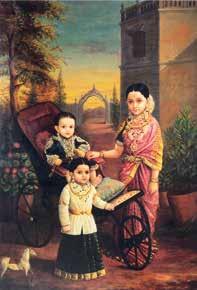 The artist and his brother go to Mysore at the invitation of Maharaj, Chamarajendra Wodeyar to make royal portraits. Over time, he paints a number of works based on mythological tales for the Mysore royal family.
Early 1890s
Recognition comes from Indian luminaries like Swami Vivekananda and Rabindranath Tagore who write letters to friends and acquaintances praising the artist.
1893
Enters ten of his paintings in Chicago's World Columbian Commission set up by the government of U.S.A.; is awarded two medals along with a diploma for each of his works and gets recognised in Indian newspapers.
1894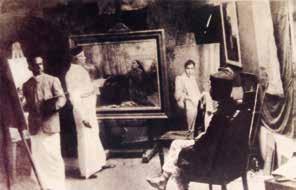 Establishes a printing press on the outskirts of Bombay, the Ravi Varma Fine Arts Lithographic press, and his prints and oleographs soon become immensely popular all over India, including Bengal; The Birth of Sakuntala is the first picture to come out of the press.Artists are commissioned by Ravi Varma and his brother Raja Varma to paint or copy works for the press, heralding what scholars have since described as the Studio of Ravi Varma. It is possible that some of these 'Studio' paintings have been made by Ravi Varma himself.
1895-1905
Maintains a diary in which he records his observations of his travels, people, and interests—a record that has helped scholars understand the man behind the artist.
1899
Relocates the Ravi Varma press to Lonavala after a plague ravages Bombay.
1901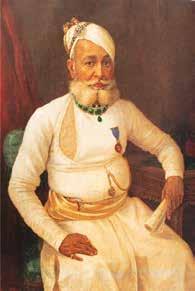 Travels to Udaipur where he paints portraits of Dewan Pannalal Mehta, scenes from the city, and a few portraits of the ancestors of the royal family based on previous miniature portraits.
1902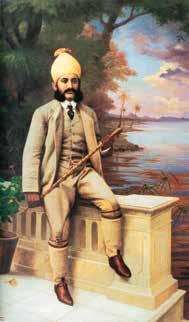 Travels to Hyderabad hoping to meet the nizam and paint his portrait but has to make do with painting from his photographs.
1903
The first biography of the artist, Ravi Varma: The Indian Artist, is published.
The Kaiser-i-Hind medal is awarded by the government. The award refers to the artist as 'Raja' Ravi Varma. Though an inadvertent affixation by the British, the artist tells detractors he's adopting part of his uncle's name, hence Raja Ravi Varma.
1904
His brother, Raja Varma, his companion and confidant, passes away.