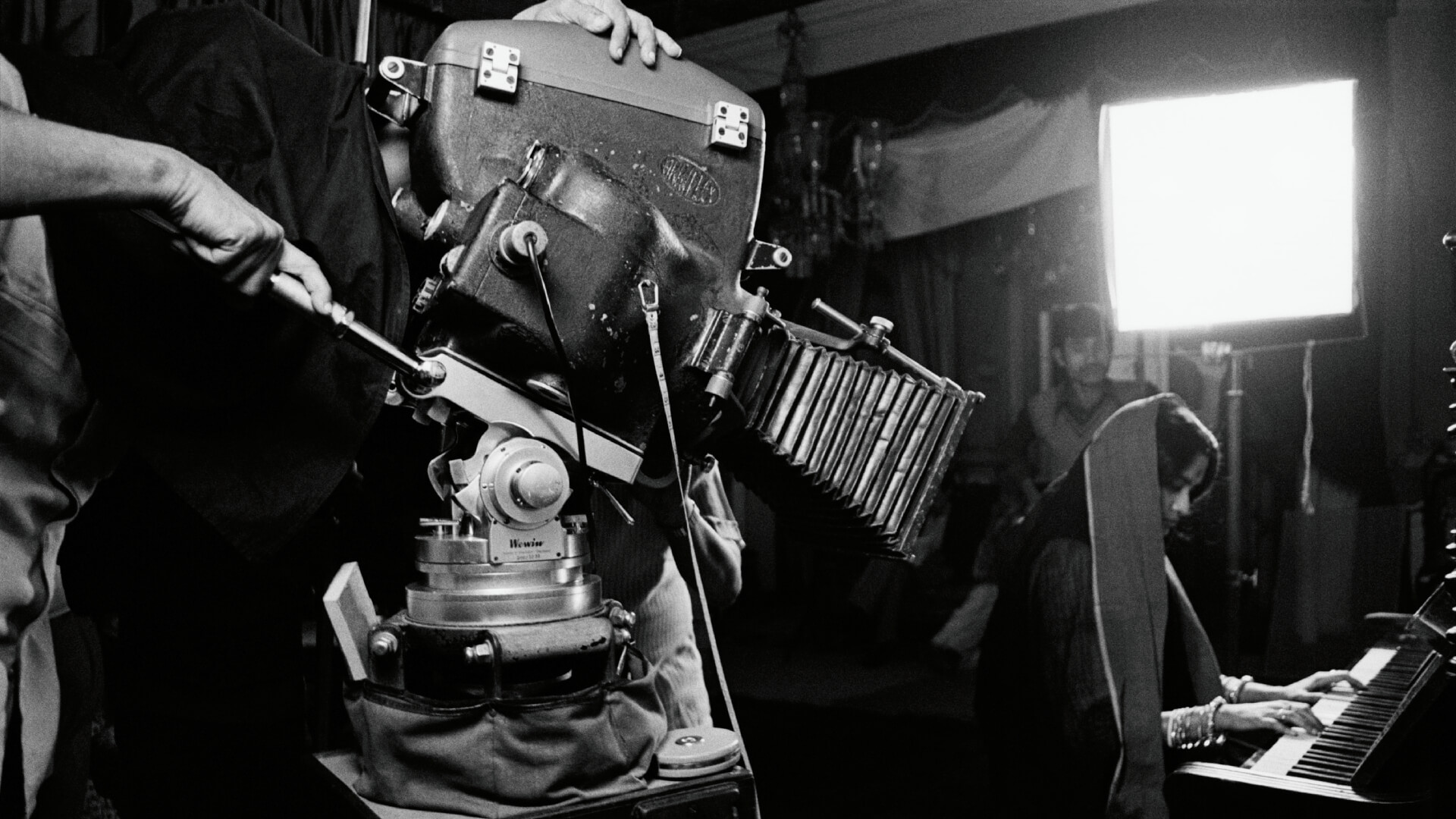 Nemai Ghosh: Satyajit Ray and Beyond
Dr. Bhau Daji Lad Mumbai City Museum
Mumbai, 9 Oct - 3 Nov 2015
The Nehru Memorial & Library
Delhi , 8 Jan - 2 Feb 2013
An exhibition by DAG
Curated by Pramod Kumar K. G.
Nemai Ghosh (1934-2020) is primarily remembered today as the photographer who, through his lens, composed a visual biography of Indian filmmaker, Satyajit Ray, for a period spanning close to three decades. This exhibition draws from DAG's extensive collection of Nemai Ghosh's ouevre to explore his work with Ray, while also exploring his contribution to documenting and immortalising the best of Indian cinema. 
The exhibition is a testament to Ghosh's intuitive understanding of the visual potential of a moment, even in a form like cinema where the narrative unfolds through time. His photographs reveal the versatility of his vision and offer testament to his popularity across a wide spectrum of artists and practitioners working in Indian cinema and theatre, whom he captured in his frames.
Asani Sanket (Distant Thunder)
1973, 123
SATYAJIT RAY
It was in 1967 or '68 that Nemai Ghosh held a camera for the first time, when a friend gave him one as repayment for an overdue loan. The next year he found himself on the sets of Satyajit Ray's film Goopy Gyne Bagha Byne at Rampurhat, in Birbhum district, where he took his first tentative shots of the master auteur. Since then, for close to thirty years, Ghosh documented Ray's work—the faces of the actors, the director's many moods, and the details of every aspect of filmmaking that he was involved in. Sometimes we find Ray designing the cover of the children's magazine, Sandesh, or posters for his own films. On other occasions we see him hunched at the back of an Ambassador, shooting a scene through the bustling streets of Calcutta. Sometimes pensive, at others magisterial, Ray comes across as Ghosh's primary muse, towering over his actors and contemporaries.
Satyajit Ray directs a scene from behind the camera
1977, 72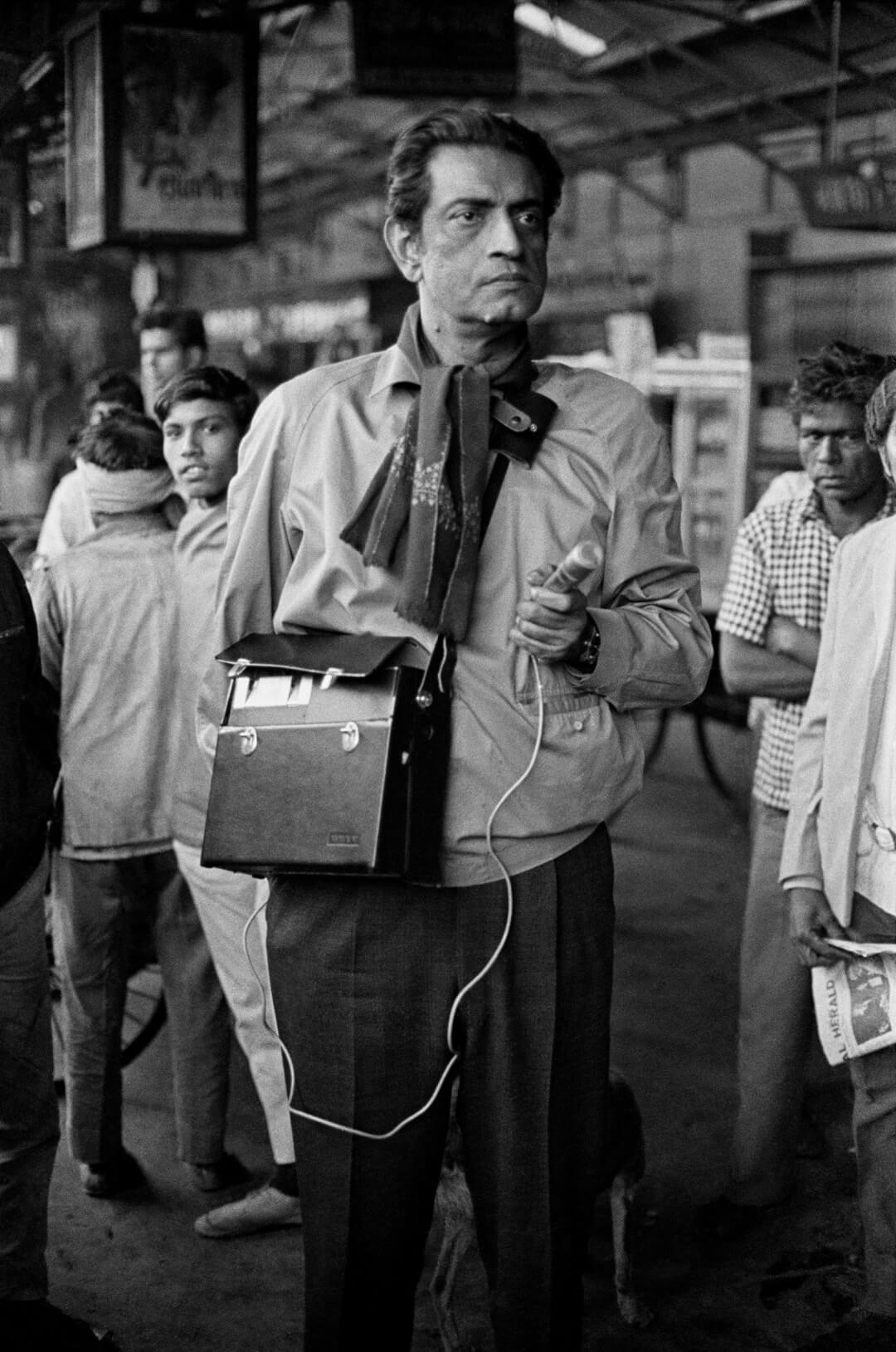 Ray at Howrah Railway Station with a Recorder
118
Ray behind the Camera 
104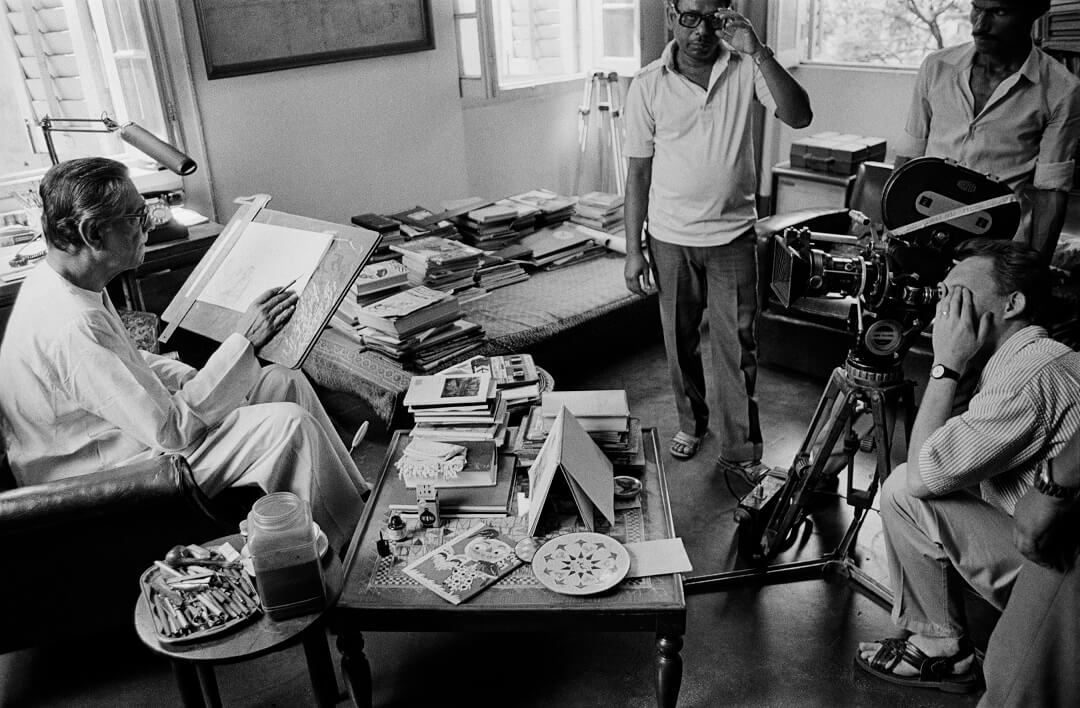 Ray in His Study at Bishop Lefroy Road, Calcutta
1988, 87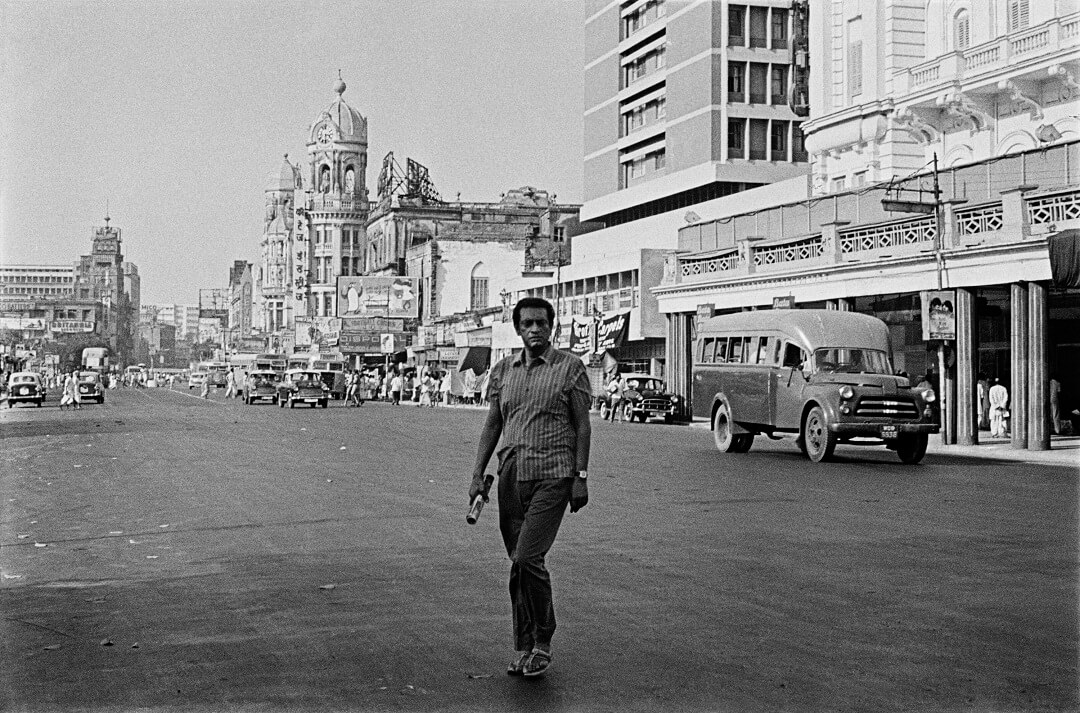 Cinema's Ray
1971, 83
'I first met Manikda (Satyajit Ray) in Rampurhat,  a sleepy little town in West Bengal, where he was  shooting Goopy Gyne Bagha Byne (The Adventures  of Goopy and Bagha) in 1968. We clicked immediately. The way he walked, talked and  handled his cast, crew and equipment—in fact  everything about him—intrigued me. I was so mesmerised by the man that I forgot to take any  photographs of the shooting. My two rolls of black and white film were finished in no time. Manikda never said a word to me; he just kept watching  from the corner of his eye. But that was all the  encouragement I needed. Today his spell is still upon me, even though he is no more.'
– Nemai Ghosh
First shot of Ray taken by Nemai Ghosh
Ganashatru (Enemy of the People)
Ray sketching costume design
Jana Aranya (The Middleman)
SATYAJIT RAY'S CINEMA
From fairy-tales for children to gritty representations of Bengal's troubled decades, from popular detective stories to the music Awadhi culture, Satyajit Ray's oeuvre exhibits an unparalleled range of themes, subjects, and emotions. Ghosh's lens had the unique ability to remain true to the master filmmaker's own visual language, while adding an extra perspective to the cinematic moments that he borrowed and froze in time. In some, we see actors preparing, perhaps sharing a lighter moment over lunch, at others, we notice them during performance, entirely lost in their commitment to their characters.
Sonar Kella (The Golden Fortress)
1974, 186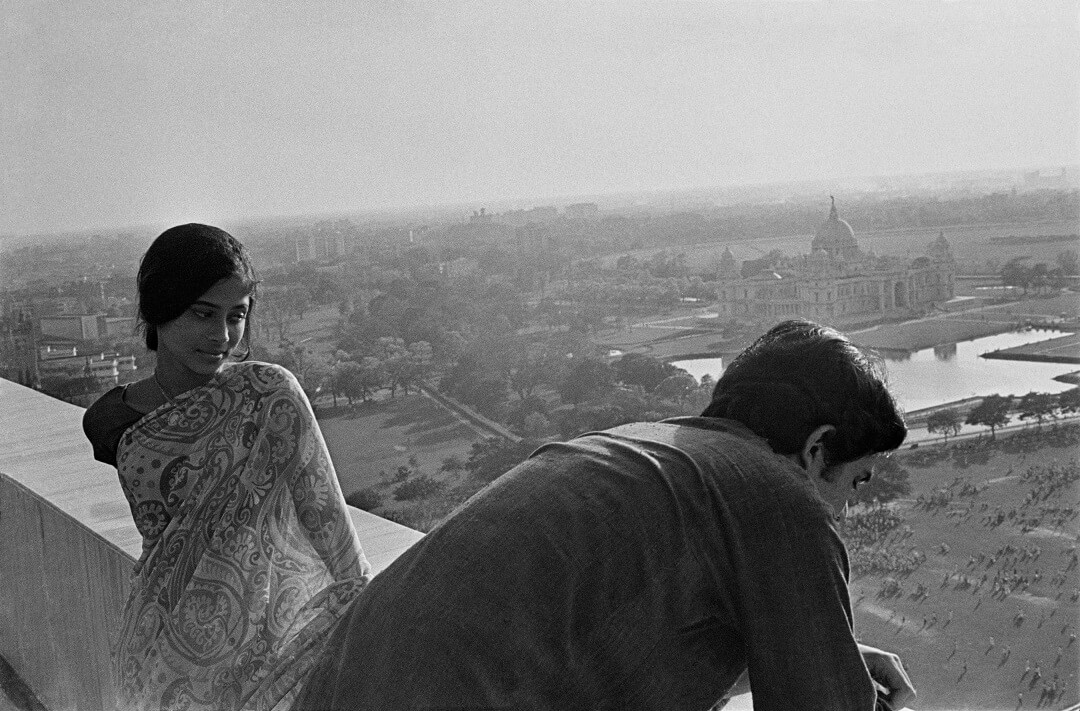 Pratidwandi (The Adversary)
1970, 146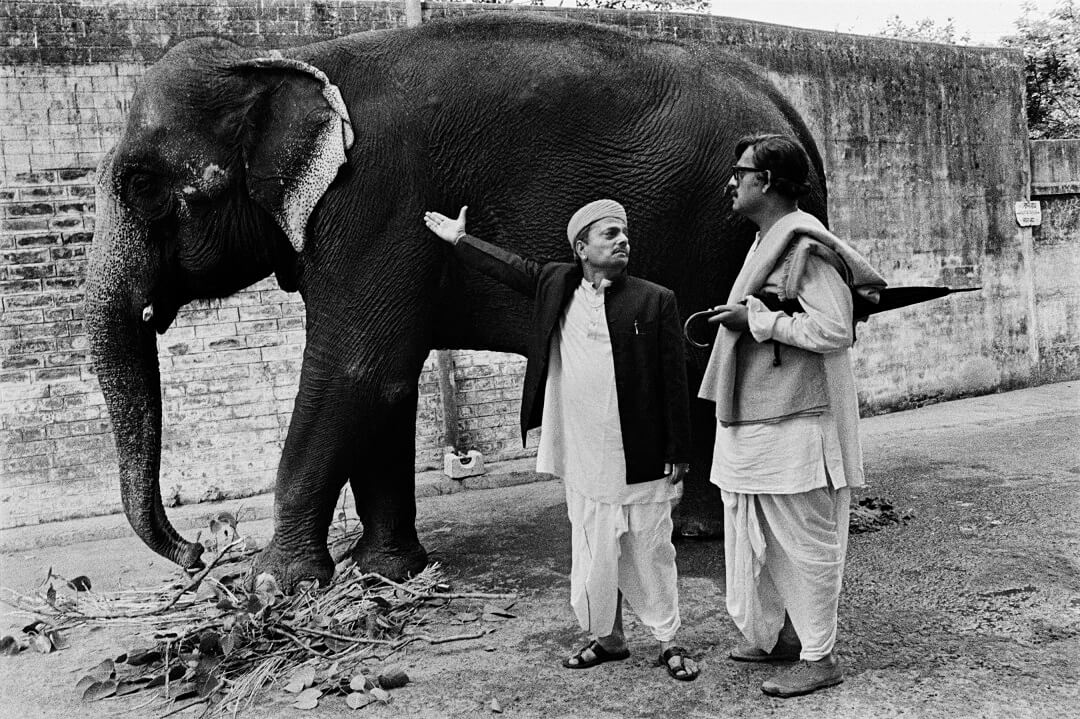 Jana Aranya (The Middleman)
1975, 157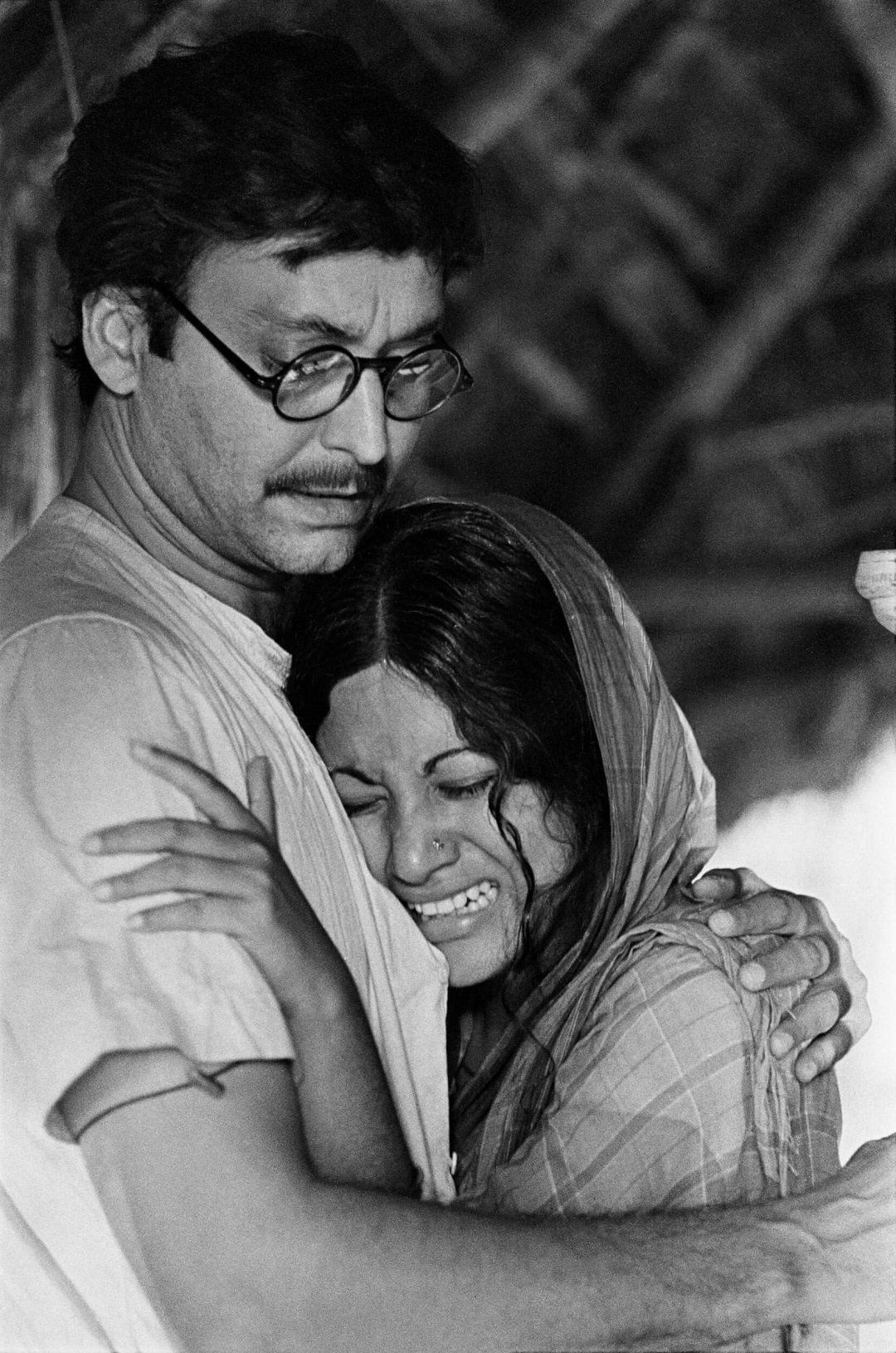 Asani Sanket (Distant Thunder)
1973, 169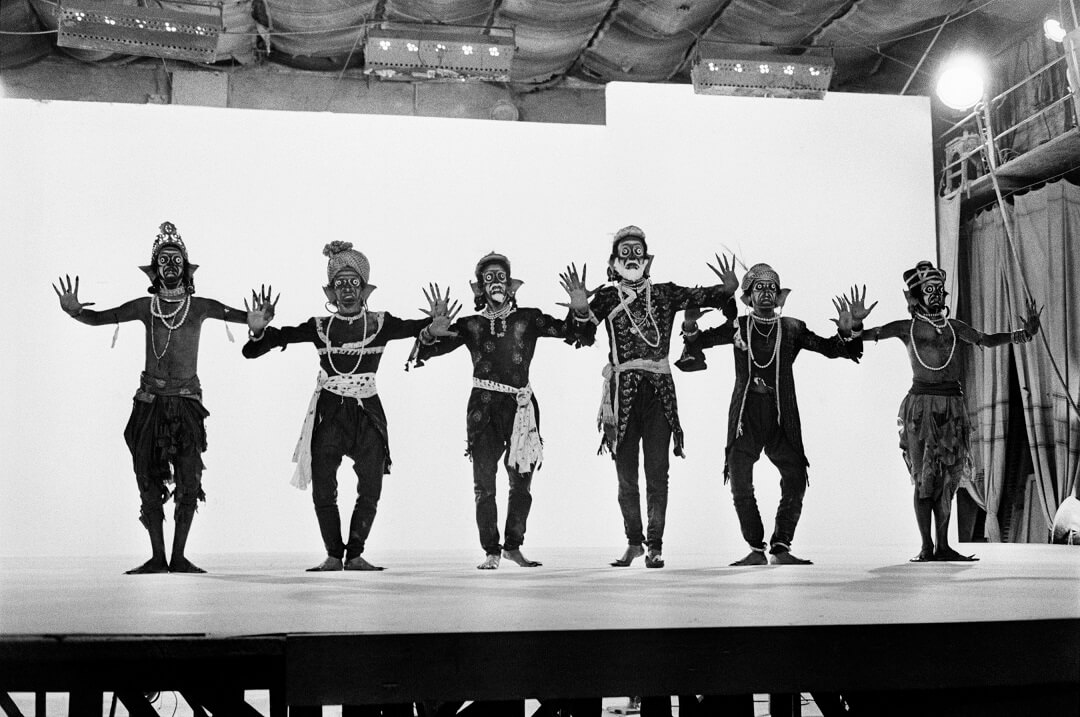 Goopy Gyne Bagha Byne (The Adventures of Goopy and Bagha)
1968, 176
'There is a richness of confusion when an intelligent photographer shoots the shooting of a film. What we are made to look at are not film stills but film-making stills—a bewildering transformation of the staging of cinematic fiction into a real event that "actually happened"... In this topsy-turvy world of shooting a shooting, especially when it is done in black-and-white, those who are outside the story and those who are inside become indistinguishable from one another. They are all held within a single frame, a single world of bright lights and constructed sets.'
– Aveek Sen
Aranyer Din Ratri (Days and Nights in the Forest)
Shatranj ke Khiladi (The Chess Players) 
ACTOR PORTRAITS
Nemai Ghosh encountered several actors during his work on Satyajit Ray's sets, many of whose faces he was able to capture with compelling effect. But beyond Ray's films, Ghosh also worked independently in Mumbai and beyond, interacting with actors, dancers and musicians. He caught them occasionally in their jovial moments, and sometimes when they looked pensive or momentarily let their guards down. What emerges from his archive is a beautifully sensitive series of portraits that reveal the intersections between the performers and the human beings.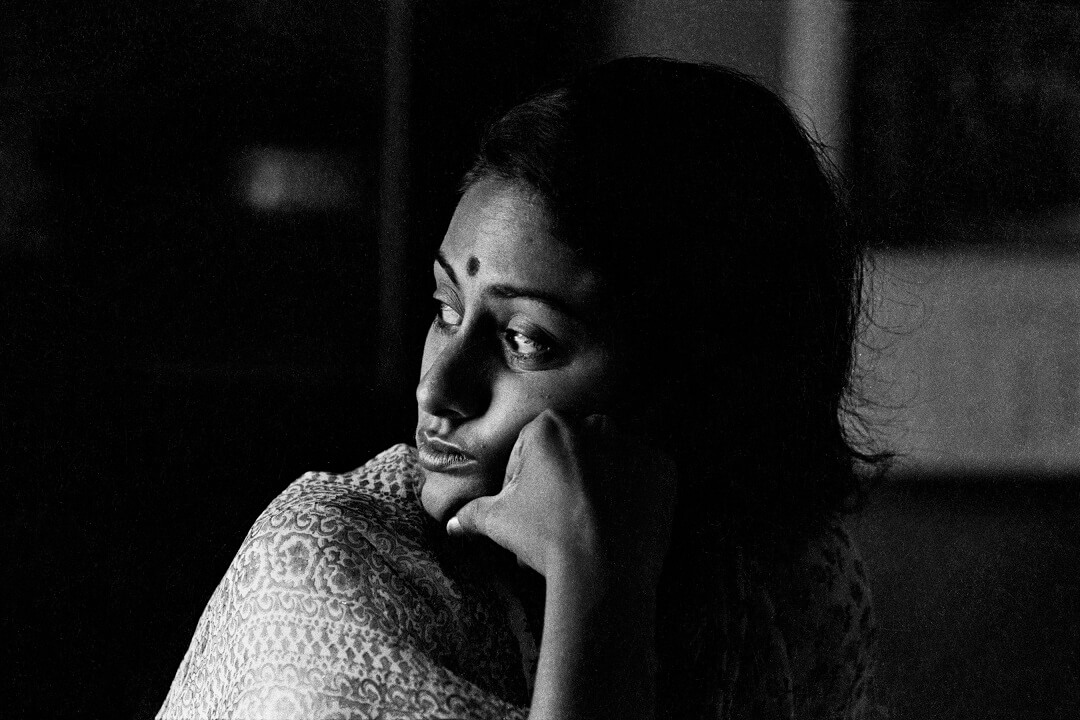 Jaya Bhaduri
271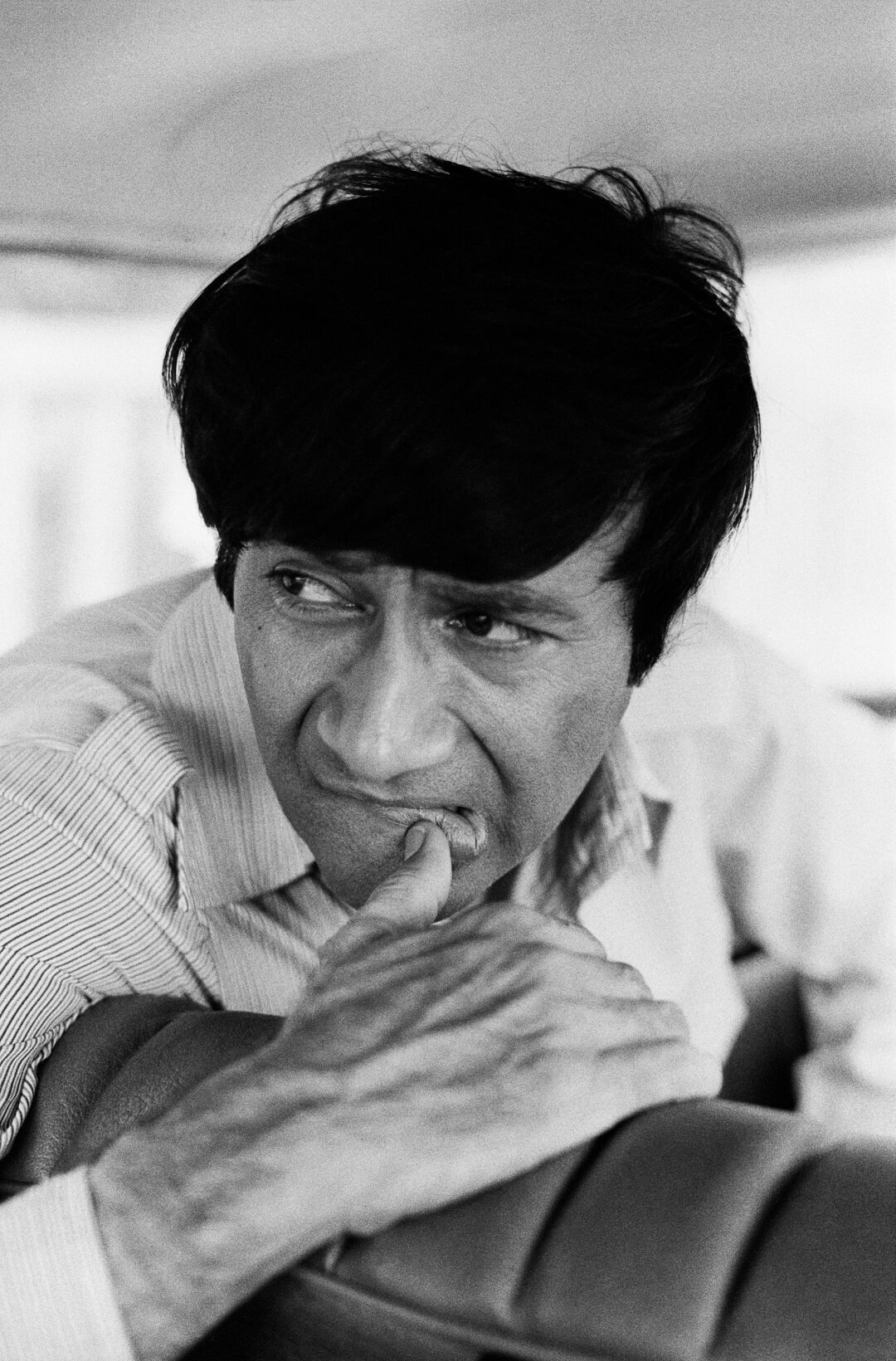 Dev Anand
274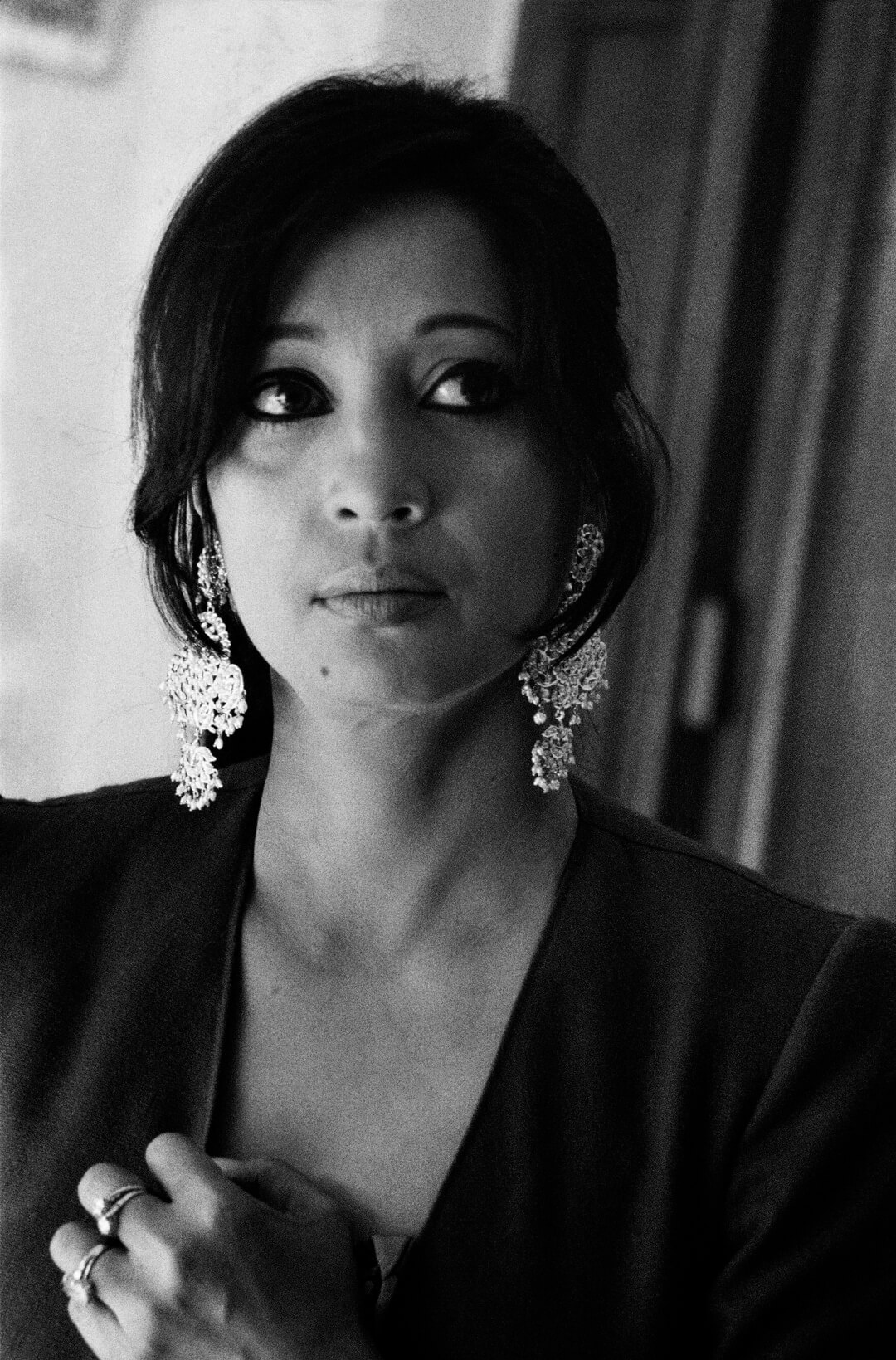 Suchitra Sen
267
'These candid portraits could be seen to reflect some continuity but also ruptures with the films. Ghosh's archive also becomes a way of recalling many actors outside of Ray's films as it pays tribute to other kinds of Bengali cinema and its iconic stars.'
– Sabeena Gadihoke
WORK WITH OTHER DIRECTORS
'Single-minded in his documentary pursuit of the moving image, Ghosh produced some of the most important stills of Indian cinema, allowing us hitherto unseen insights into the movie-making process, best exemplified by work in progress on the sets of Satyajit Ray and other leading contemporary filmmakers... With no experience in photography or movie-making, Nemai Ghosh nevertheless created a persuasive case for himself as India's best-known and most prodigious archivist of the movie business, one that provided celluloid fantasies for millions of Indians.'
Pramod Kumar KG
Padma Nadir Majhi (Boatmen of the River Padma)
1993, 324
Phatikchand (Phatik and the Juggler)
Although the figure of Satyajit Ray looms over the cinematic landscape of Bengal in the second half of the twentieth century, other directors like Mrinal Sen and Goutam Ghose produced sharp critiques of contemporary society. Nemai Ghosh worked alongside some of the finest film-makers of his generation, documenting the makings of landmarks like Phatikchand, City of Joy, Paar, and Calcutta '71.
'The stunning black and white photographs reaffirm Nemai Ghosh as the ultimate documentarian, a diarist with an archival essence who has given the world of photography an enchanting album of Indian aesthetics filled with vintage vitality.'
– 'Step inside Nemai Ghosh's cinematic photographs at DAG New Delhi', Uma Nair, Architectural Digest, 21 May 2018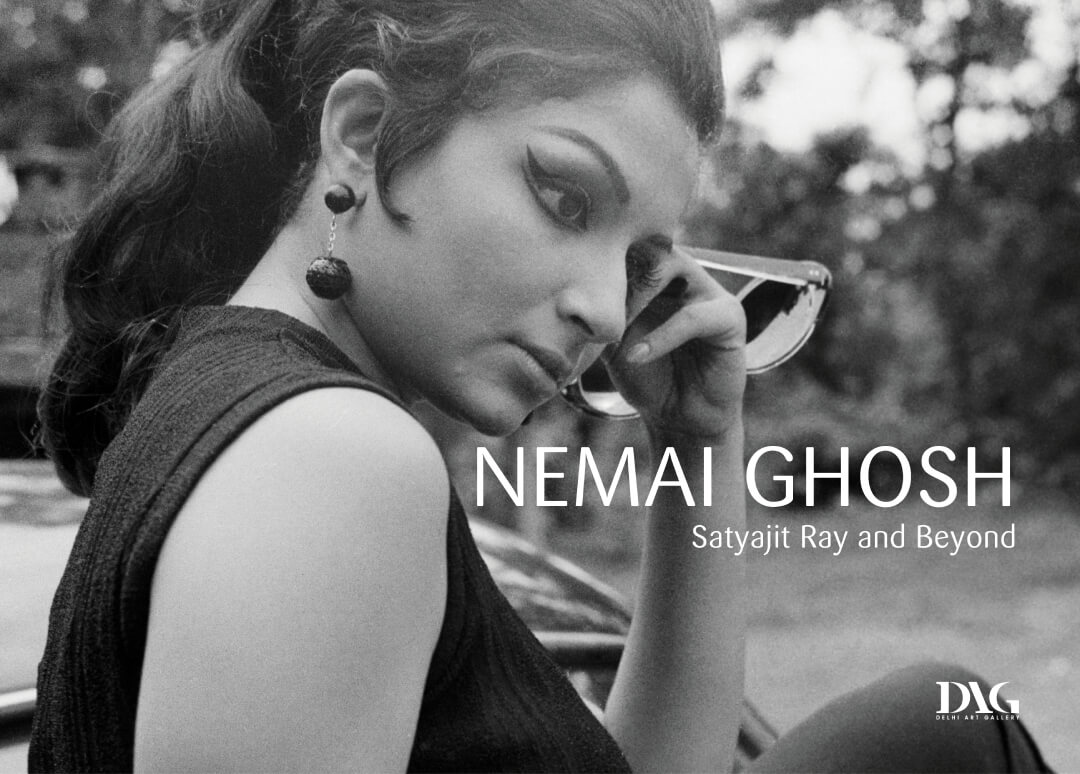 Presented by