Milestones In Indian Modern Art
18th c.
The decline of Mughal rule in India and the ascendance of the British East India Company marks a shift in, among other things, the system of patronage in the arts. Skilled painters begin to look for new channels of work, adapting to European traditions when the need arose.
c. 1769
The first of the European artist-travellers, portraitist Tilly Kettle arrives in Calcutta.
Late 1700s to c. 1830s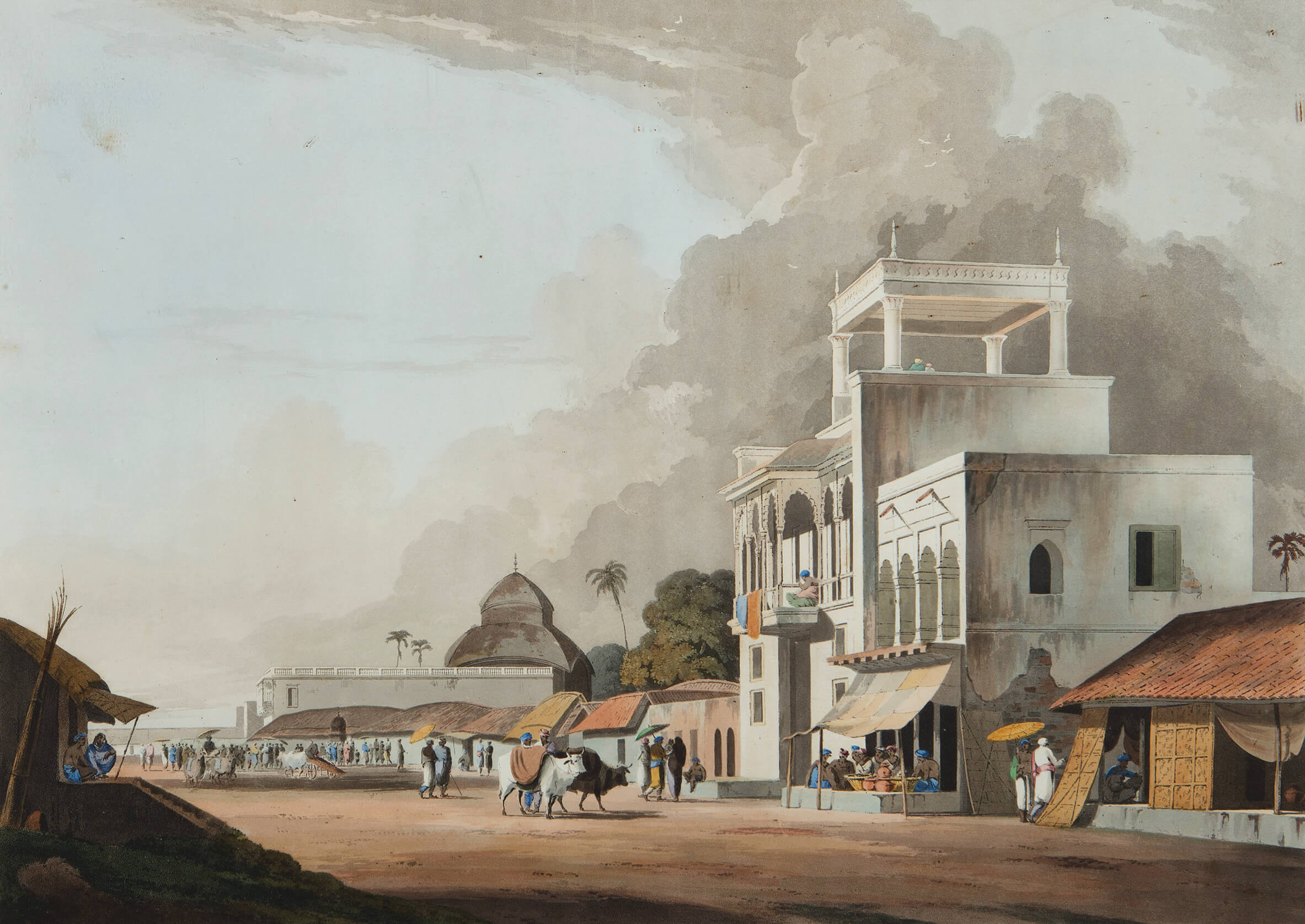 A series of European artists travel through the length and breadth of India, painting and documenting its landscape, forests, rivers and mountains – large parts of which were undocumented until then by any native ruler. The artists include names that acquired considerable fame, such as William Hodges, Thomas and William Daniell, George Chinnery, Charles D'Oyly, and James Fraser, friend to Urdu poet Mirza Ghalib.
Late 18th c.
The style known as Company Painting arrives in Calcutta, with an influx of traditional painters from declining provincial courts like Lucknow, Murshidabad and Patna to the city, who now emulate European painting.
1819
British officer, John Smith becomes the first European to record his encounter with the Ajanta caves as he stumbles upon them during a tiger hunt.
1820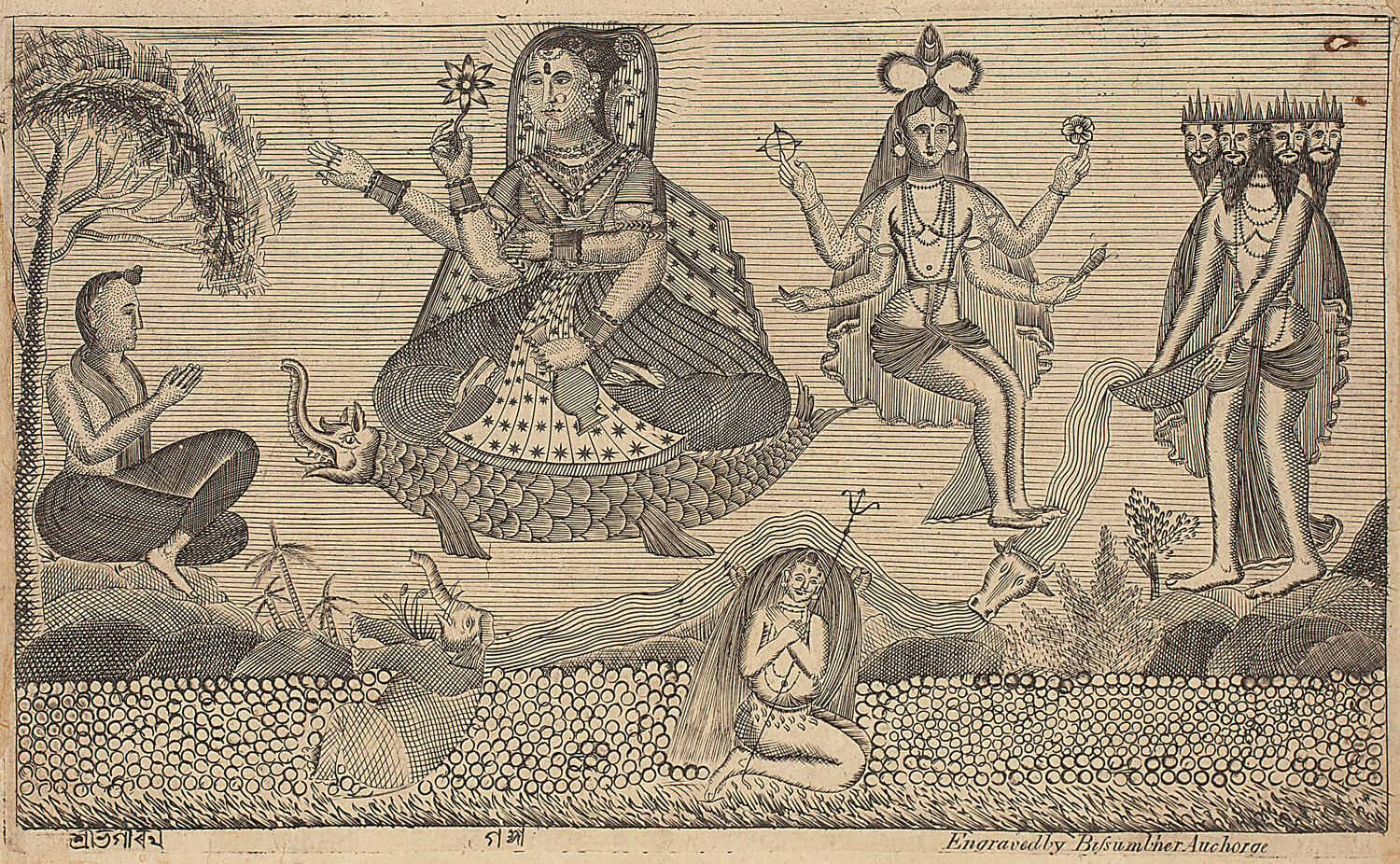 The lithographic process comes to India. Within the next three decades, several British-run printing presses open in Calcutta, and simultaneously in other regional centres, like Bombay, Delhi, Poona, Tanjore, Cochin and Ludhiana.
1839
Formal art education begins in India with the setting up of the Mechanical Institute in Calcutta.
1840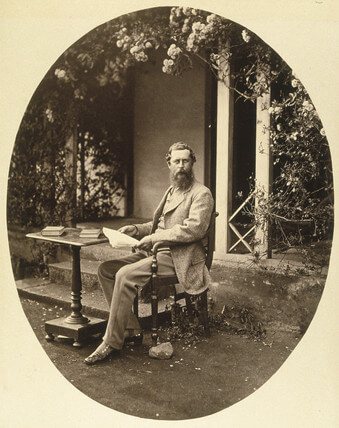 Photography arrives in India, a year after it is invented in the West. Over the next half-century, popular photography begins to challenge high art, as several photo studios come up all over the country. These studios use imaginative props, dramatic/theatrical set ups of draperies and lighting against which people pose for formal portraits. With its ability to create life-like images, photographs replace the painted commissioned portraits.
1857
Prominent Parsi industrialist Sir Jamsetjee Jeejebhoy donates one lakh rupees to start an art institute and thus Sir J. J. School of Art is born. Housed initially at the Elphinstone Institution, it is moved to Abdul Rehman street to accommodate additional facilities before moving to its current location on Dr. D. N. Road in Fort, Mumbai.
1860
Chromolithography reaches India and becomes an immediate success.
1864
The Industrial Art Society is converted to the School of Arts, Calcutta, later renamed Government College of Art & Craft.
1872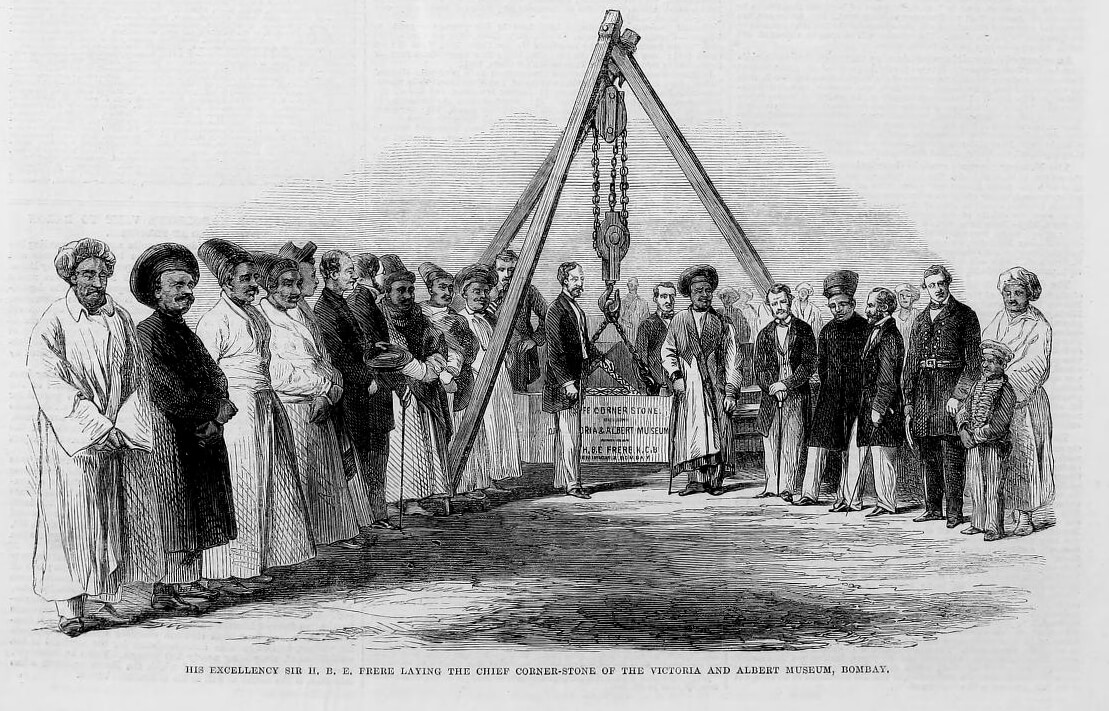 Bombay's first museum, The Victoria & Albert Museum, opens. In 1975, it is renamed the Dr. Bhau Daji Lad Museum.
1873
Raja Ravi Varma holds the first exhibition of his paintings at Madras.
1875
The Mayo School of Art is founded in Lahore 'to encourage and promote good design, decoration and construction, in all decorative and applied arts amongst the artisans and craft workers'.
1888
Bombay Art Society is formed.
1894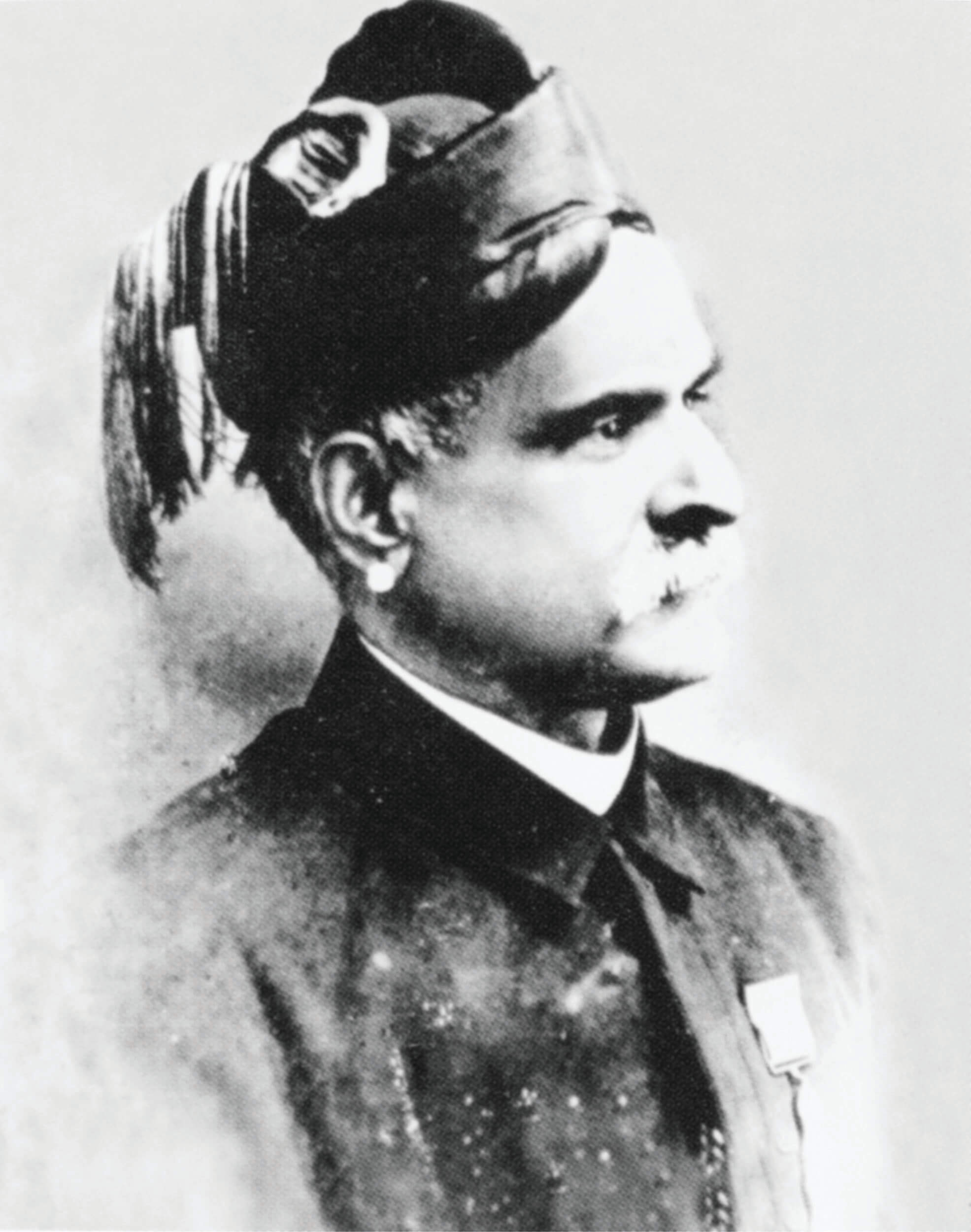 Raja Ravi Varma establishes his own lithography press near Lonavla in Maharashtra and his prints and oleographs soon become immensely popular all over India.
1901
Rabindranath Tagore sets up the Brahmacharya Ashrama, known later as Patha Bhavana, an institution for primary and secondary education at the site of Santiniketan in Bolpur, West Bengal, that was founded by his father, Maharishi Debendranath Tagore in the late 1860s as a meditation retreat. With its philosophy of education in an atmosphere of freedom, Patha Bhavana grows eventually into the university Visva-Bharati.
1902-03
Art critic Kakuzo Okakura sends his pupils, Yokoyama Taikan and Hishida Shunso to reside at the Tagore mansion in Calcutta. They introduce Abanindranath Tagore to Japanese aesthetics and techniques.
1903-04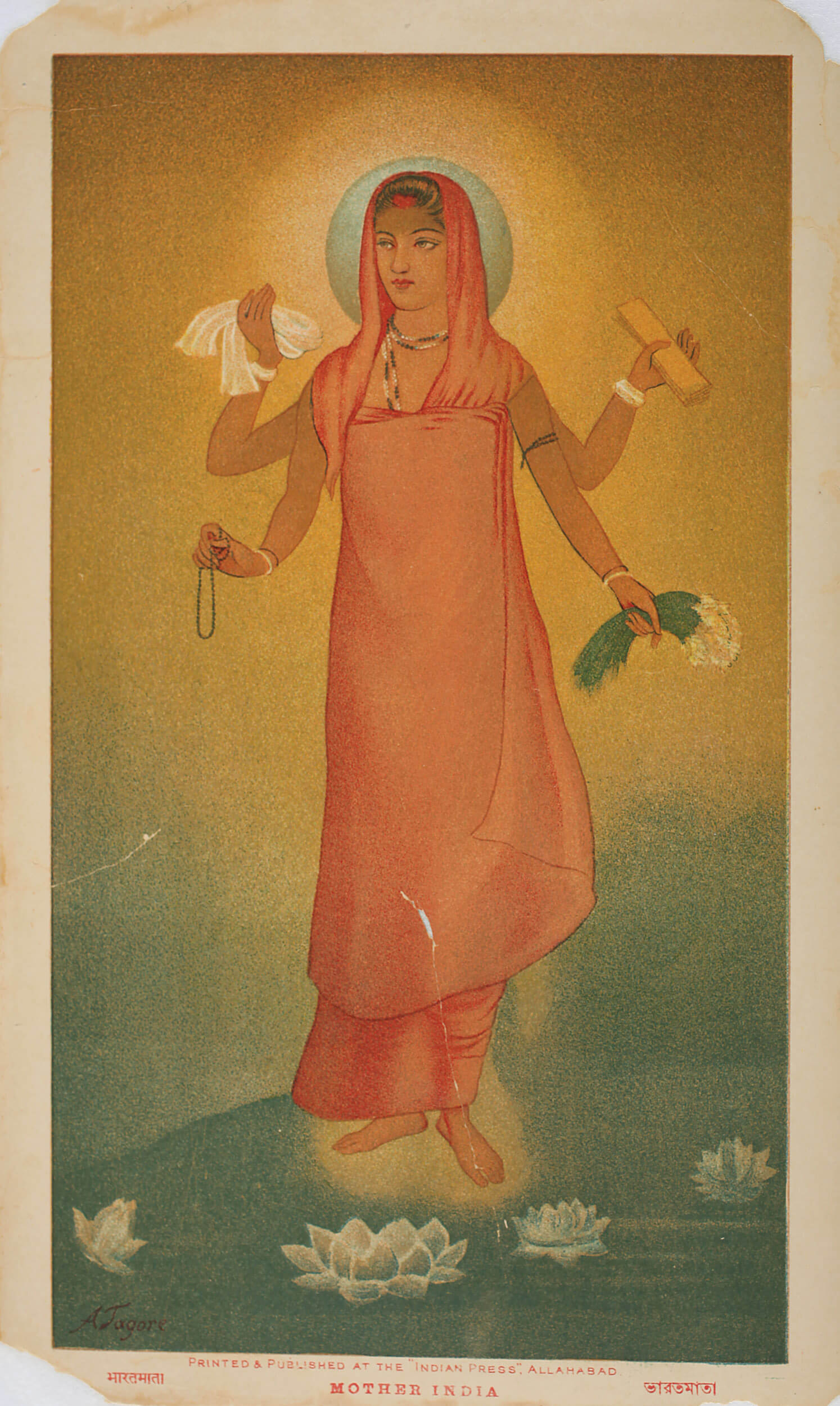 Abanindranath Tagore creates his famous work Bharat Mata that depicts Mother India as a Hindu ascetic, yet maternal figure.
1907
Indian Society of Oriental Art is founded, with Sir John Woodroffe as one of the founder members.
1909-12
Indian artists such as Nandalal Bose, Asit Haldar, Venkatappa and Samendranath Gupta join Lady Herringham's team of copyists of the Ajanta Murals.
1911
King George announces at the Durbar that Delhi will be the new capital of India. Artists debate about the best style for decorating the public buildings of Delhi.
Atul Bose, with Ranadaprasad Gupta and others, set up the Indian Academy of Art to encourage the European realistic style as a counter to the Bengal School.
1914
The first exhibition of Indian modern art is held at the Victoria & Albert Museum, London.
1915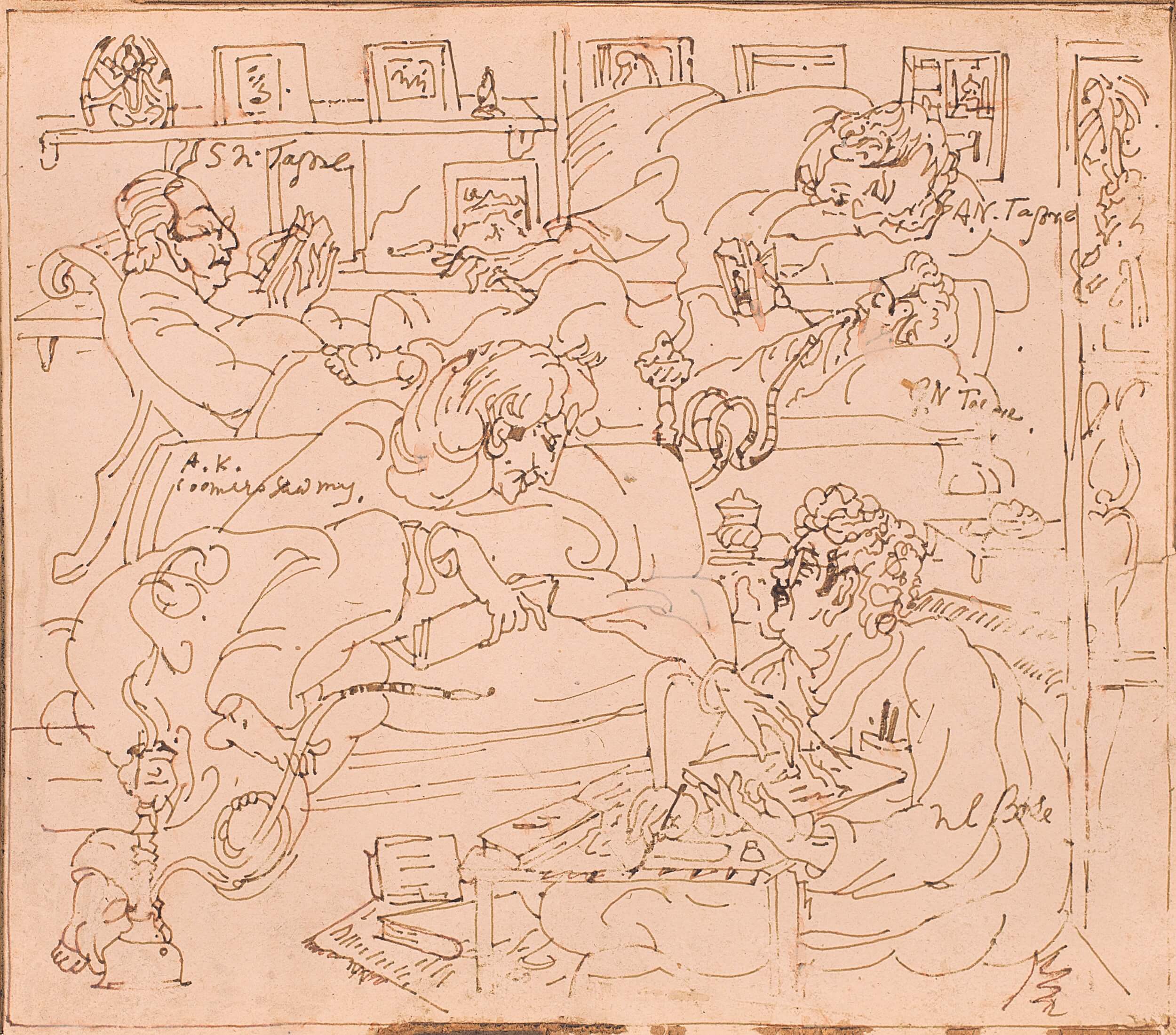 The Tagore family establishes the Bichitra club at their residence in Jorasanko, Calcutta, as a cultural centre to promote Indian art, music, dance and drama.
1916-17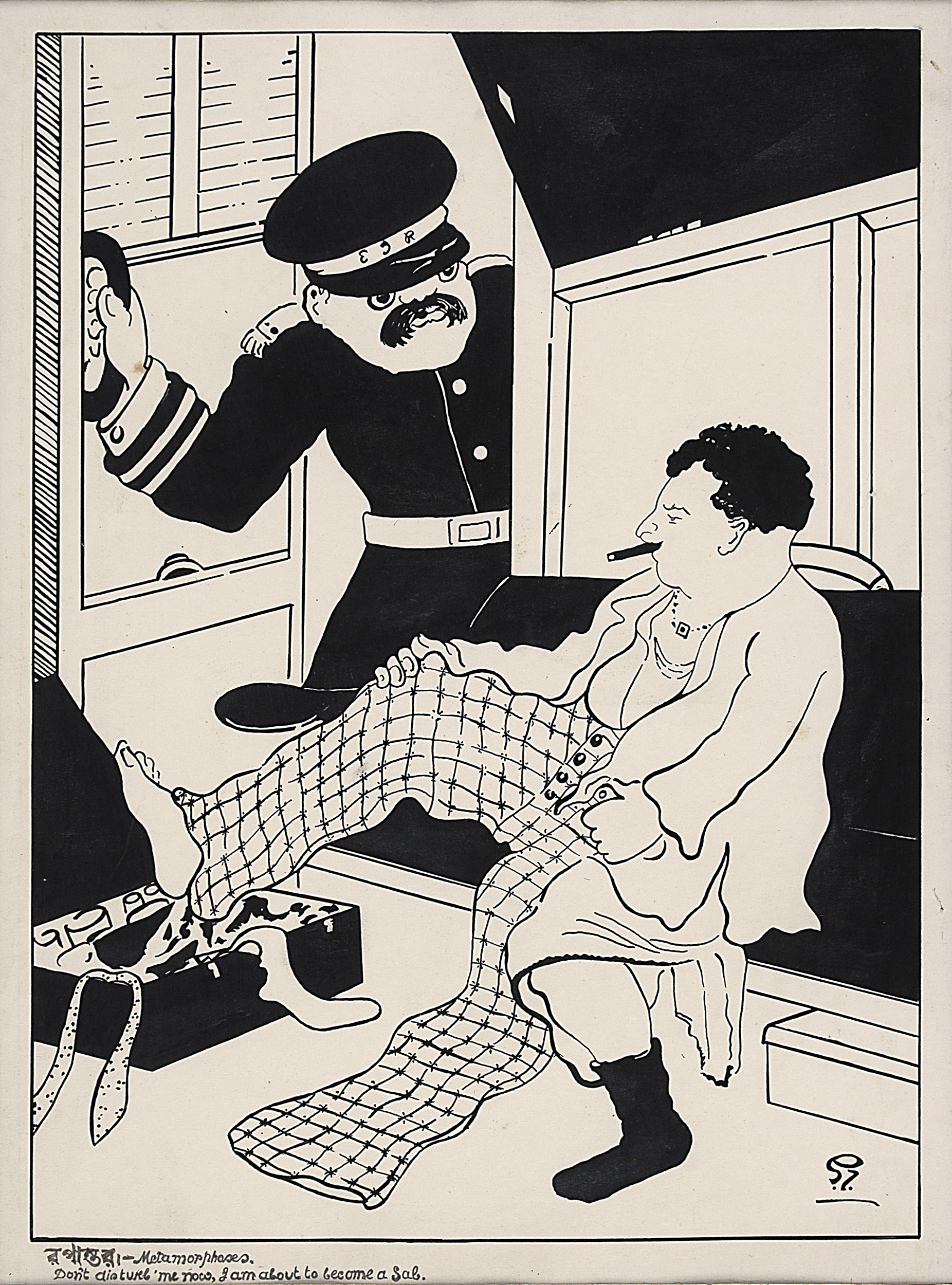 Gaganendranath's interest in lithographs leads to a litho press being added to the Bichitra club. In the same year. His lithographic cartoon albums satirising Bengal's society appear 1917 onward in three volumes – Birupa Bajra, Adbhut Lok and Naba Hullod.
1919
The visual arts department is established in Santiniketan under the name Kala Bhavana that Nandalal Bose joins as the head.
Academy of Fine Arts is founded in Calcutta by several artists, and it goes on to become the premier space where modern artists show their works over the 20th century.
1921
Artists such as B. C. Law, Atul Bose, Percy Brown and J. P. Gangooly form Society of Fine Arts.
1922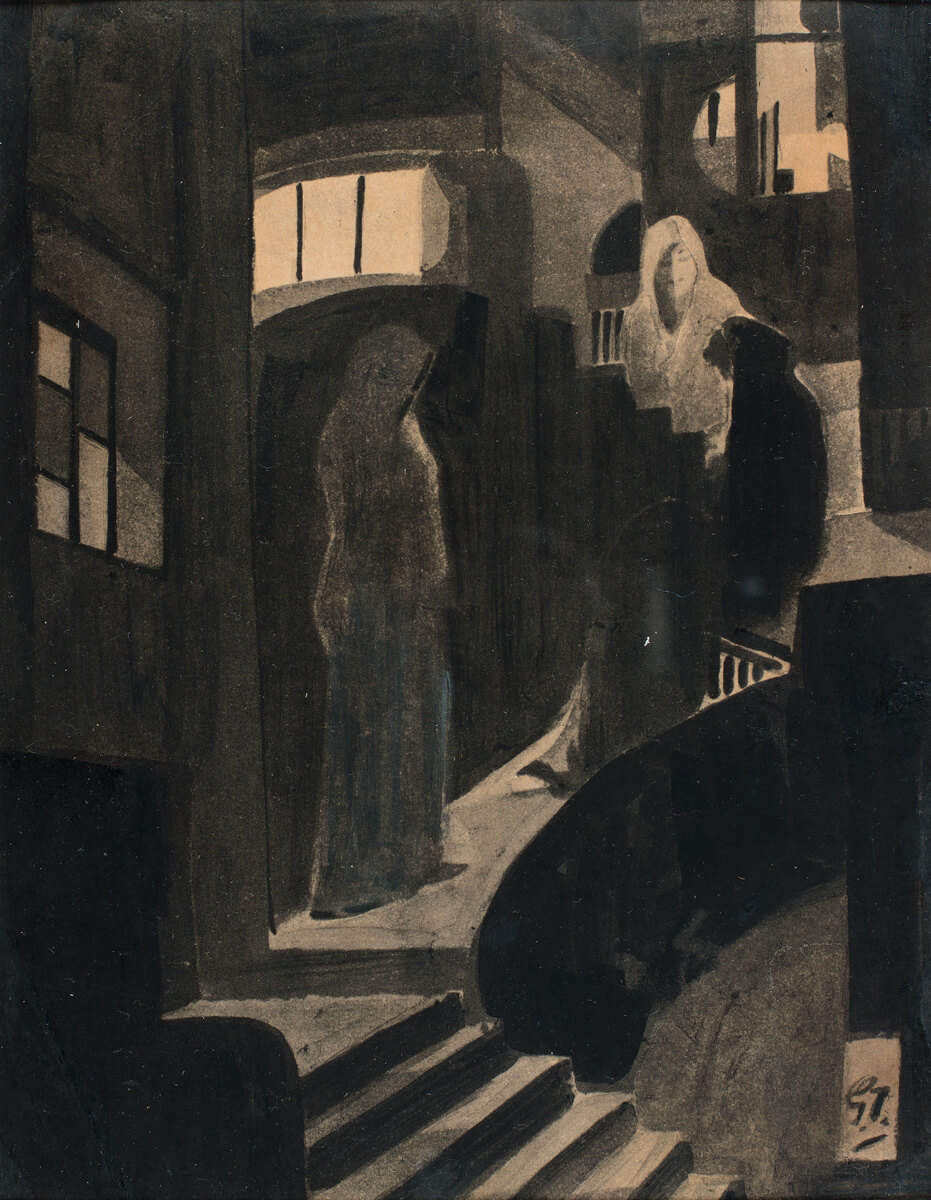 The Bauhaus exhibition comes to Calcutta, showing the works of international artists such as Paul Klee and Wassily Kandinsky, bringing European modernism to India.
Gaganendranath Tagore begins working with cubism, the pioneer of the style in India. European art historian Stella Kramrisch visits Santiniketan on Rabindranath Tagore's invitation and her lectures on contemporary European art trends and techniques.
1926-30
The last of Kalighat pats are available in the market, becoming collectors' items among art-lovers and connoisseurs in Calcutta.
1927
Sunayani Devi participates in the exhibition held by the Women's International Art Club in London.
1928
Nandalal Bose does his first major mural, commemorating the Halakarshana Utsava in Sriniketan on a freestanding wall. Rendered in the Italian fresco technique, it shows Rabindranath Tagore driving a plough drawn by a pair of oxen amongst a group of singers, dancers and drummers.
1929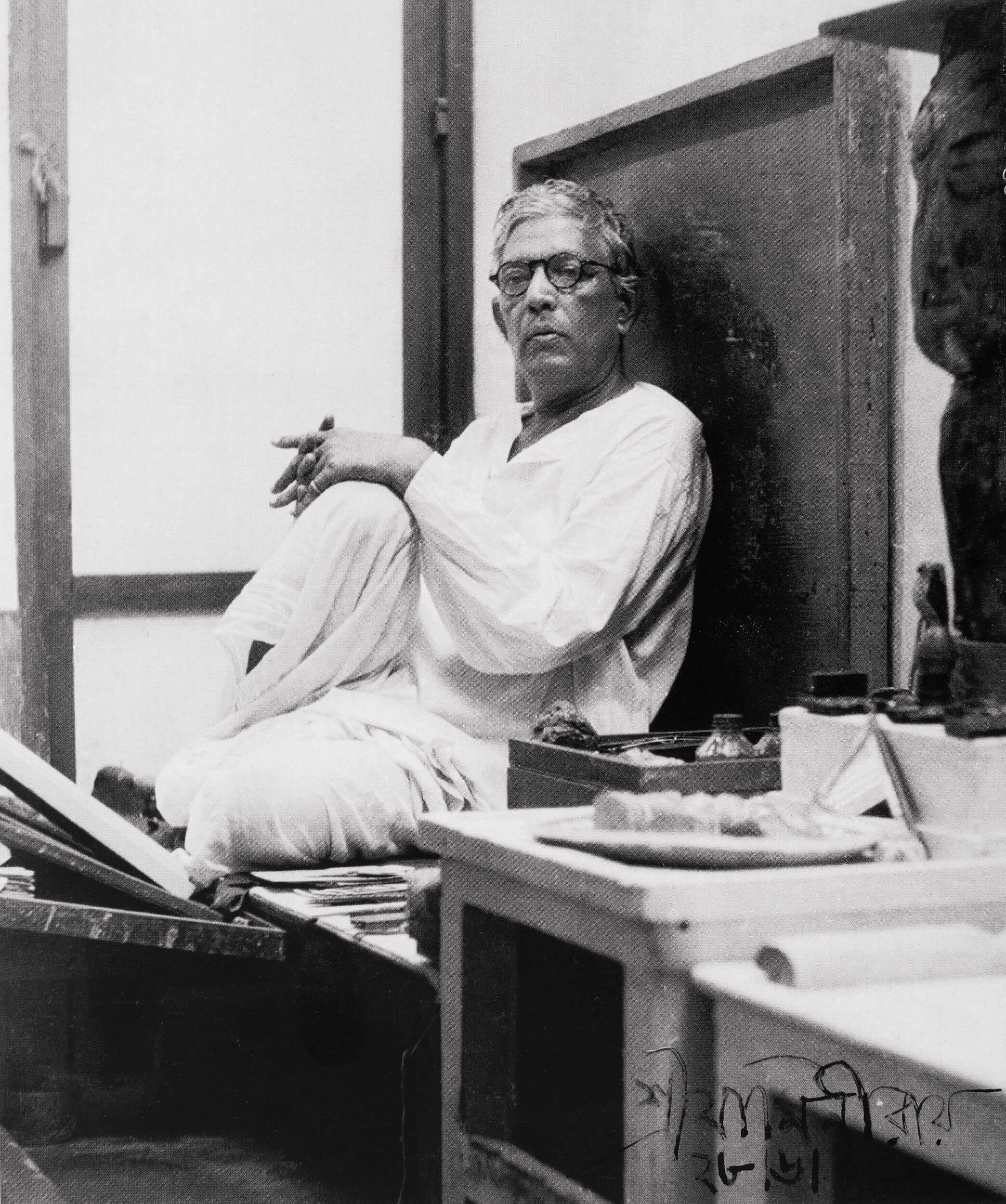 Jamini Roy's first exhibition is held at the premises of the Government School of Art in Calcutta.
1930
Biswarup Bose, a skilled printmaker, visits Japan to learn the Japanese multicolour woodcut technique. Upon his return, he makes colour reproductions of Indian themes with this technique under Nandalal Bose's guidance and ushers a new chapter in the printmaking history of Kala Bhavana.
1920s-30s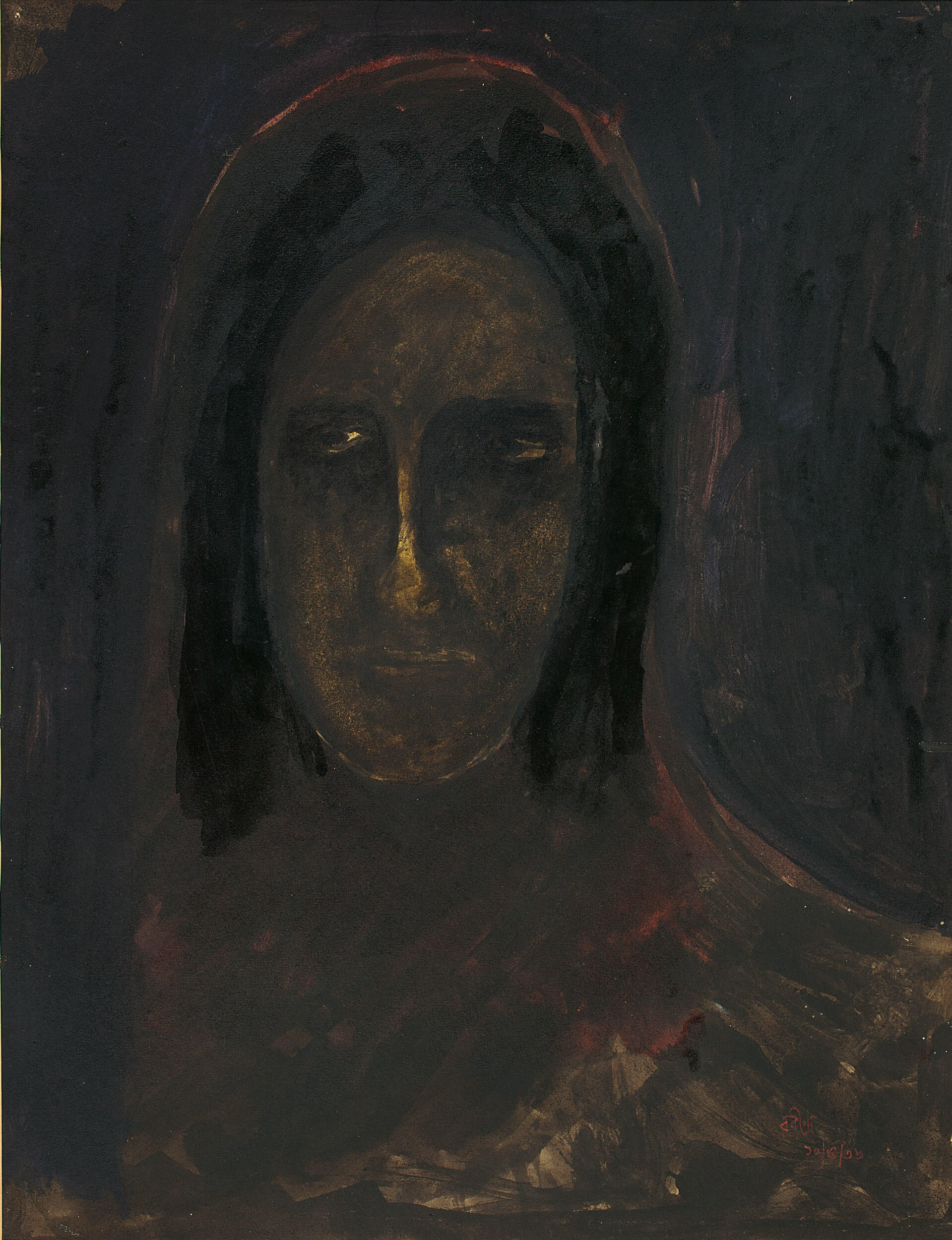 Rabindranath Tagore starts painting and creates intense, haunting works consisting of his dream visions and the outpourings of his extraordinary imagination.
1920s-70s
Through the late 1920s and 1930s, the local art teacher Master Mulye of a village school in Maharashtra's Konkan region, the Devrukh Shikshan Prasarak Mandal, builds up a teaching collection of over ninety priceless works by the leading realist artists of the time from Maharashtra – M. V. Dhurandhar, M. R. Achrekar, Pestonji Bomanji, L. N. Taskar, A. H. Muller and others, who gift their works to the school's art gallery. The school continues to build on that collection till the 1970s, on display till date.
1932
Bireswar Sen meets Nicholas Roerich, a momentous event in his personal and professional life, that leads to his innovation of rendering majestic Himalayan landscapes in the miniature size of 2.5 x 3.5 inches.
1934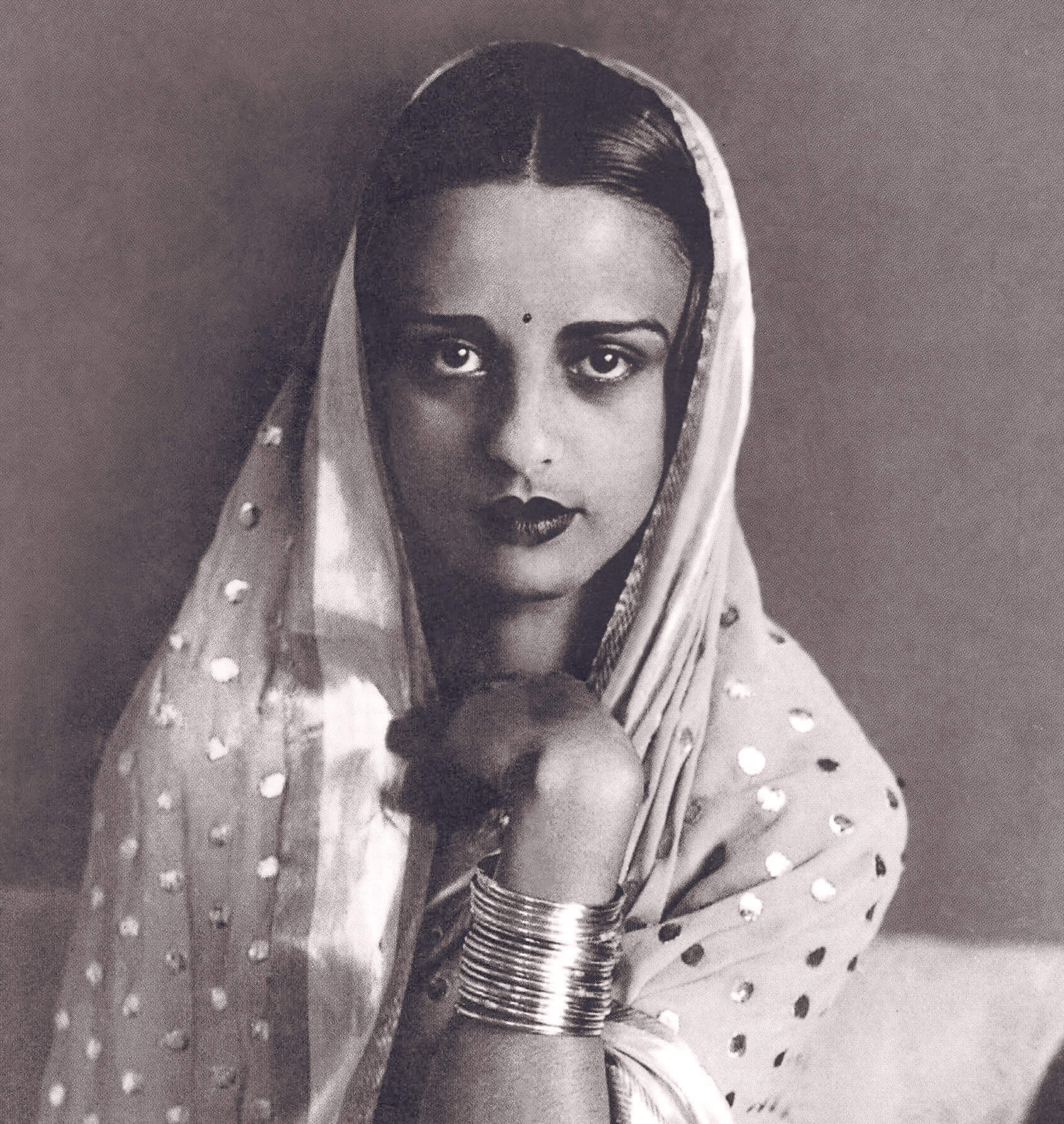 Amrita Sher-Gil returns to India from Europe where she has trained and painted, declaring she wants to see India produce something vital connected to the soil.
1935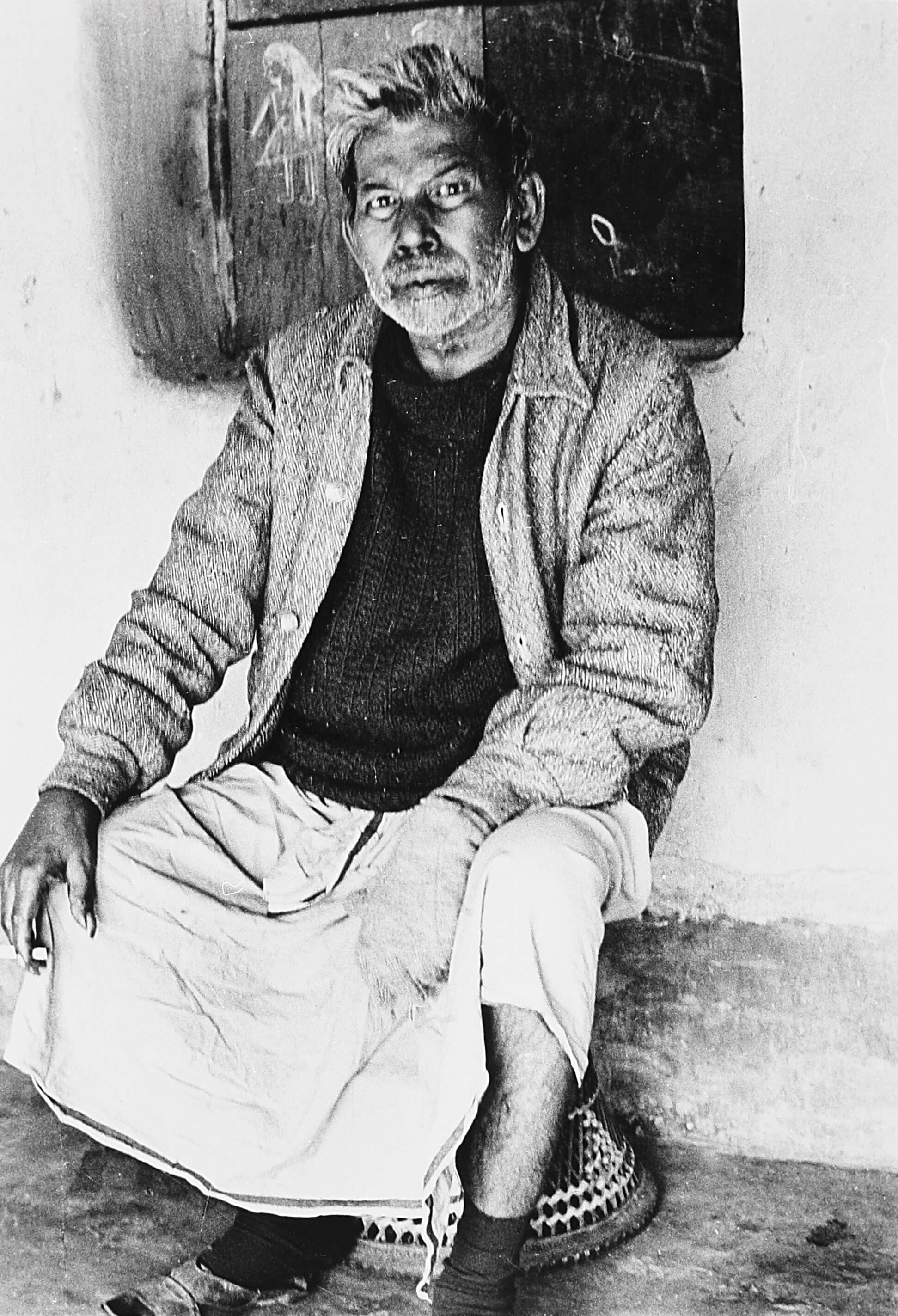 Considered India's first truly modernist sculptor, Ramkinkar Baij creates Sujata, in cement-concrete. It is modelled on his student, later to be an eminent art critic, Jaya Appasamy.
1936
Charles Gerrard takes over as Sir J. J. School of Art's principal. Under his guidance, the school ushers in 'modern' painting practices, with students encouraged to use a thick impasto of colour and to apply paint with a palette knife. Post-impressionism and expressionism are the major styles emulated.
1936-38
Nandalal Bose designs the Indian National Congress pavilions at the sessions at Lucknow, Faizpur and Haripur. In 1938, he creates 85 posters and a mural for the Haripur Congress meet at Mahatma Gandhi's request.
1938-41
1938-41 In her last paintings from 1938 onward, Amrita Sher-Gil's focus shifts to form, colour and composition even as her subject matter changes, as seen in works like The Ancient Story Teller, The Swing, Woman Resting on a Charpoy and Woman at Bath, paintings characterised by her dominant and striking use of a brilliant red, and drawing strongly on the Indian miniature tradition. They are noted for the change in Sher-Gil's rendering and understanding of the female form, for what's been called her 'bodily enactment of a mood'. This emphasis is visible up until her last, unfinished work of 1941 where we see her move towards a greater abstraction.
1941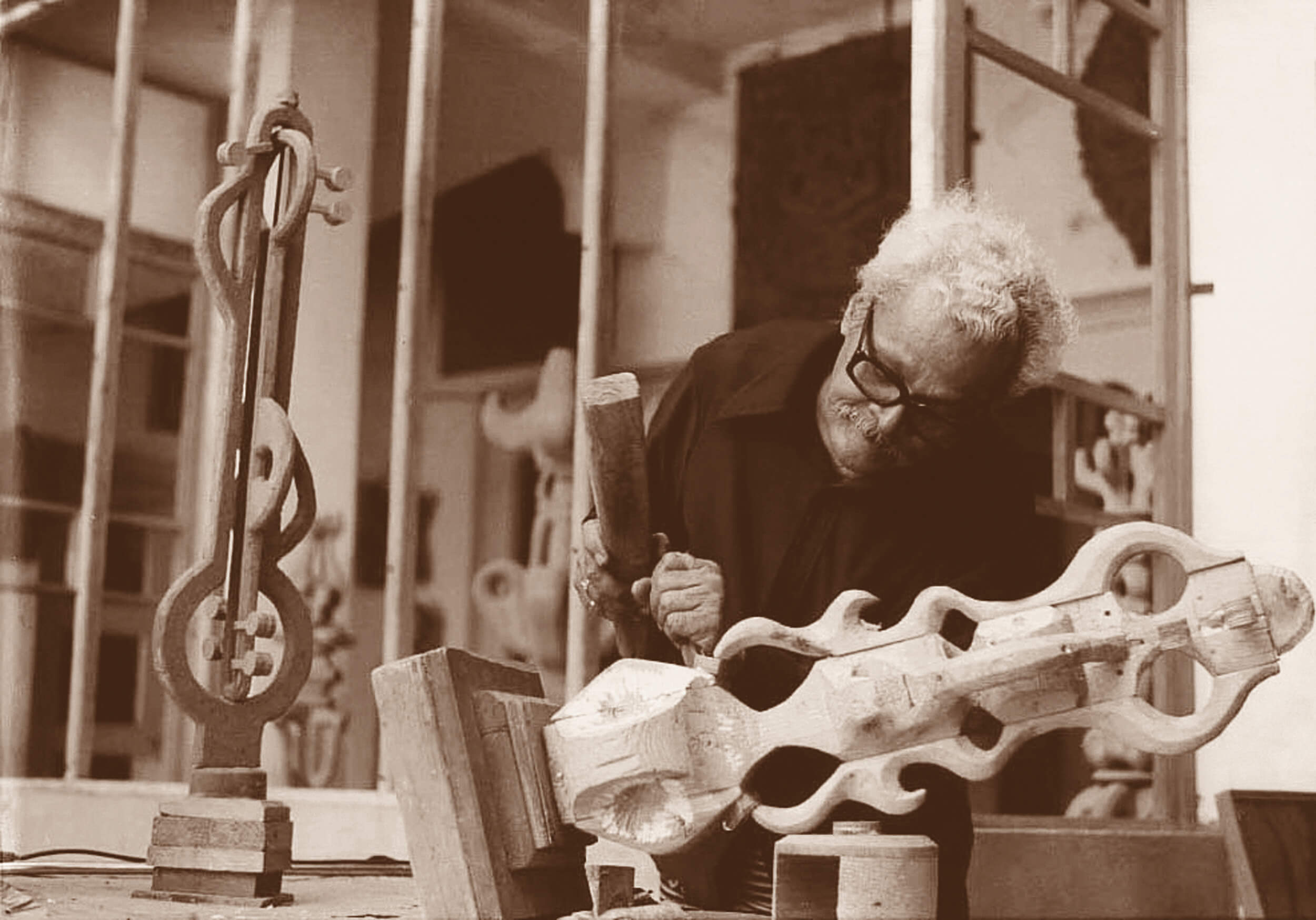 Rabindranath Tagore and Amrita Sher-Gil, both pass away, the latter leaving unfinished her last painting. Artists such as P. T. Reddy, Clement Bapista, Bhople, Moghul and A. Majid form a group in Bombay, Contemporary Painters of Bombay, They come to be known as the Young Turks.
Nandalal Bose visits Banaras and makes detailed ink drawings and sketches of the city on postcards which he then posts to his friends and family.
1942
Mukul Dey starts a women's department at the Government College of Art, Calcutta.
1943
The Bengal famine breaks out. Somnath Hore, Chittaprosad and other artists travel through famine-hit Bengal and document the suffering through their drawings and etchings, several of which are published in communist newspapers like People's War and Janayuddha.
Calcutta Group, the first Indian modernist artist collective that consciously draws on European modernism, is formed by artists Paritosh Sen, Gopal Ghosh, Prodosh Das Gupta, Gobardhan Ash, Subho Tagore, Rathin Maitra and Rabin Mondal, and others.
1944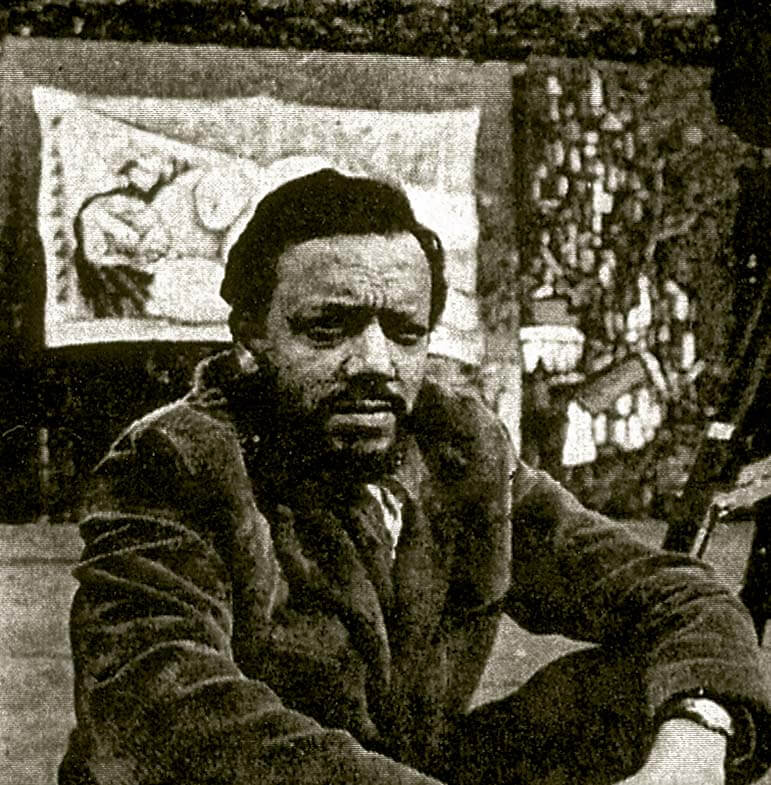 F. N. Souza is expelled from Sir J. J. School of Art for participating in the Quit India movement.
Sankho Chaudhuri accompanies Ramkinkar Baij to Nepal and learns Nepali metal casting.
1946
The magazine Marg, devoted to culture, is launched in Bombay, with writer Mulk Raj Anand as founding editor and initial funding by industrialist J. R. D. Tata. The magazine takes its cue from Jawaharlal Nehru's vision of the 'modern' in a newly resurgent India, looking at new architecture, visual, literary and performing art forms.
1947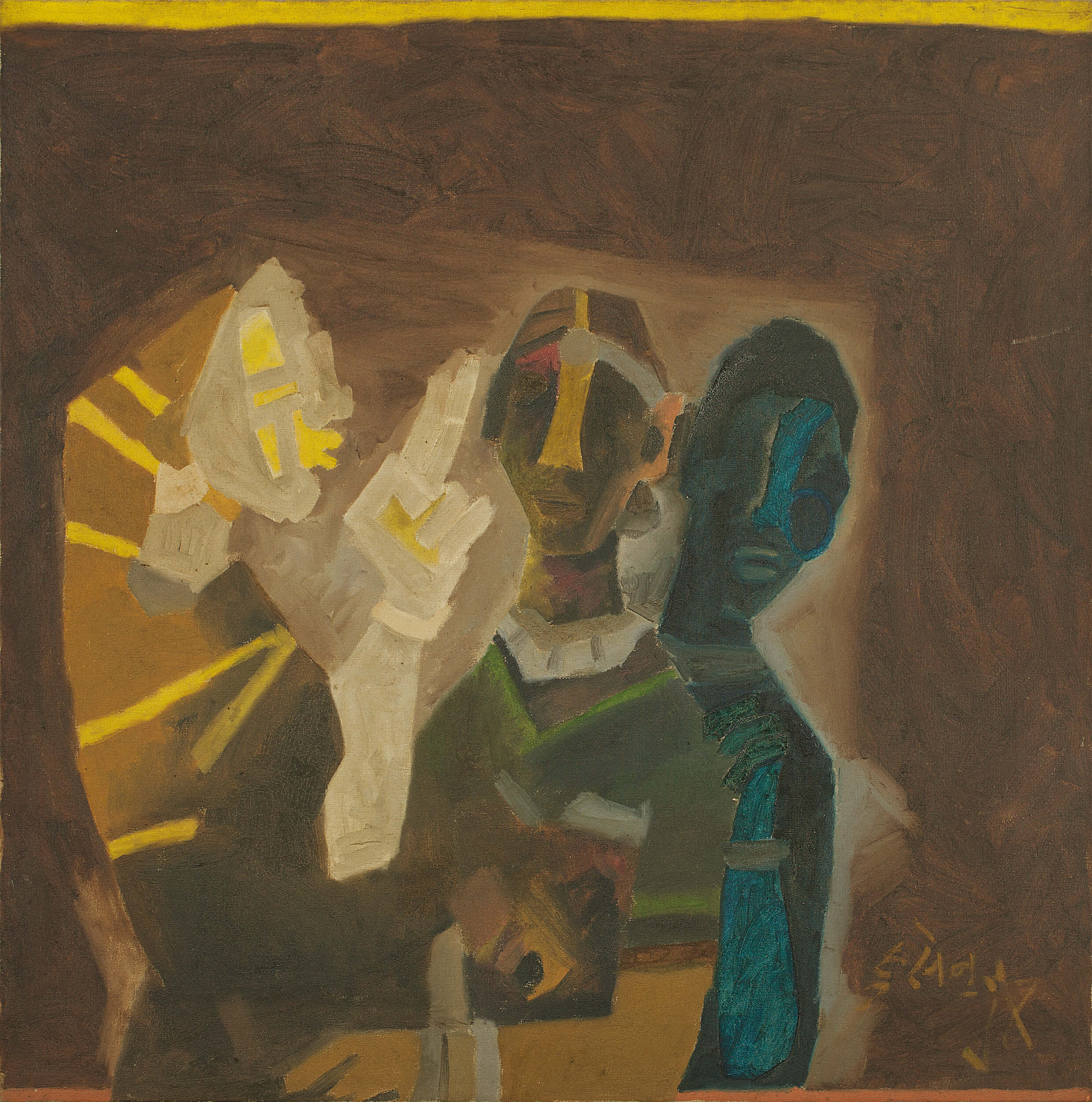 The Progressive Artists' Group is formed with founding members F. N. Souza and S. H. Raza, who invite the others, K. H. Ara, S. K. Bakre, H. A. Gade and M. F. Husain. The group is formed to evolve a unique Indian modernist language, rejecting both the prevalent academic realist style as well as the Orientalist revivalist Bengal School. Akbar Padamsee and Tyeb Mehta are early members, while V. S. Gaitonde, Krishen Khanna and Mohan Samant join in 1950.
M. F. Husain participates for the first time in Bombay Art Society's annual show. His work at the time is based on Indian mythology and shows an intense use of vivid crimsons.
1948
H. A. Gade, the quintessential Indian landscape artist, paints his early landscape Omkareshwar.
1949-51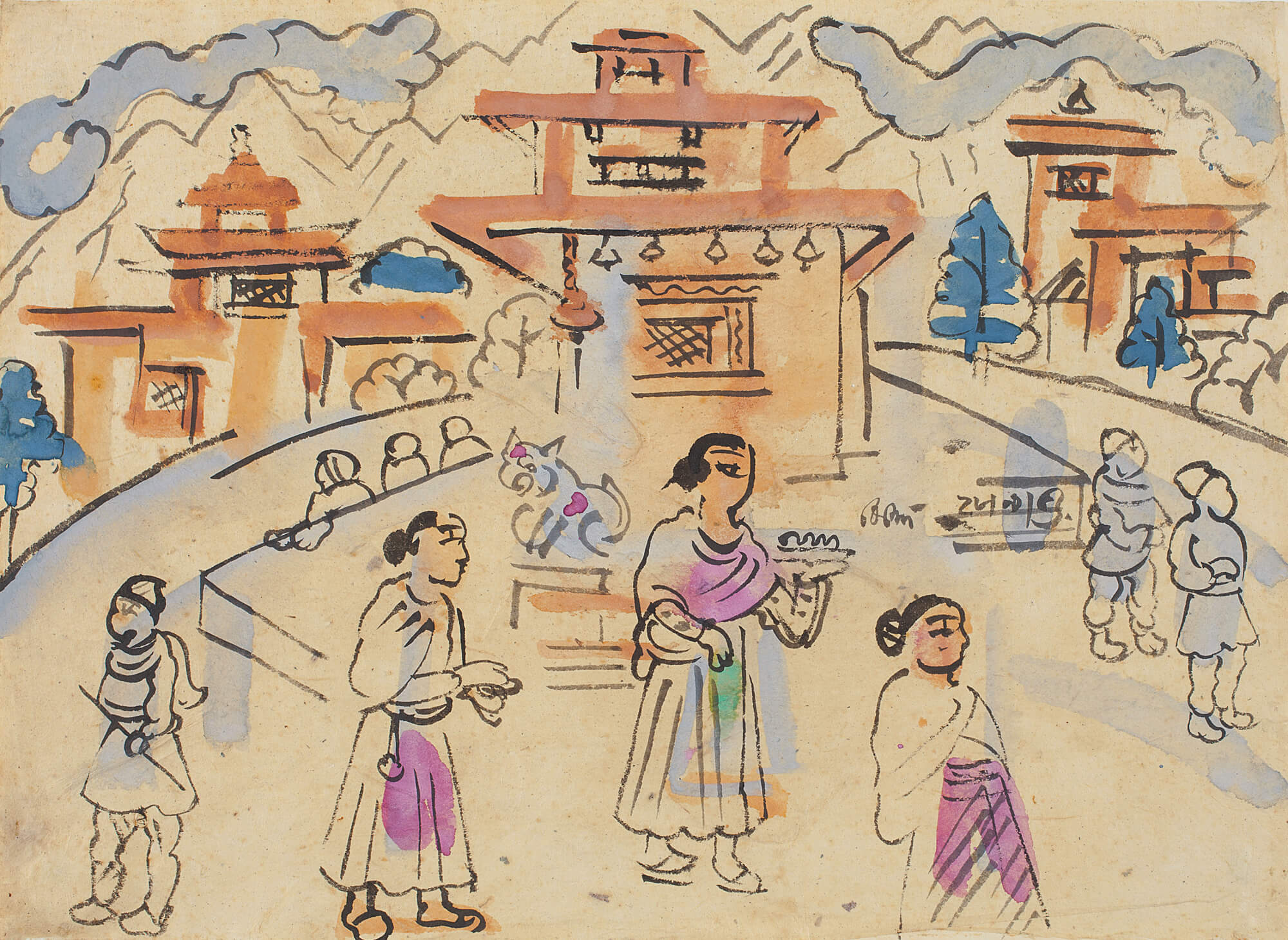 Benode Behari Mukherjee works as the curator of the Nepal Museum, a period when he makes scores of landscapes.
Artists such as Ram Kumar, F. N. Souza, Akbar Padamsee, S. H. Raza and Laxman Pai train and paint in Europe, the European influence expanding and maturing their visual vocabularies
1952
Sculptor-teacher B. C. Sanyal establishes the Delhi Polytechnic of Art.
Akbar Padamsee holds his first exhibition in Paris, winning recognition for his oil painting, Woman with a Bird.
Satish Gujral travels to Mexico and works with the well-known muralist Diego Rivera, learning mural making.
1953
Gobardhan Ash joins the Indian School of Art and Draughtsmanship in Calcutta as a teacher at Atul Bose's invitation.
Prodosh Das Gupta wins the International Sculpture Competition held at the Tate Gallery, London, for his sculpture Unknown Political Prisoner.
1954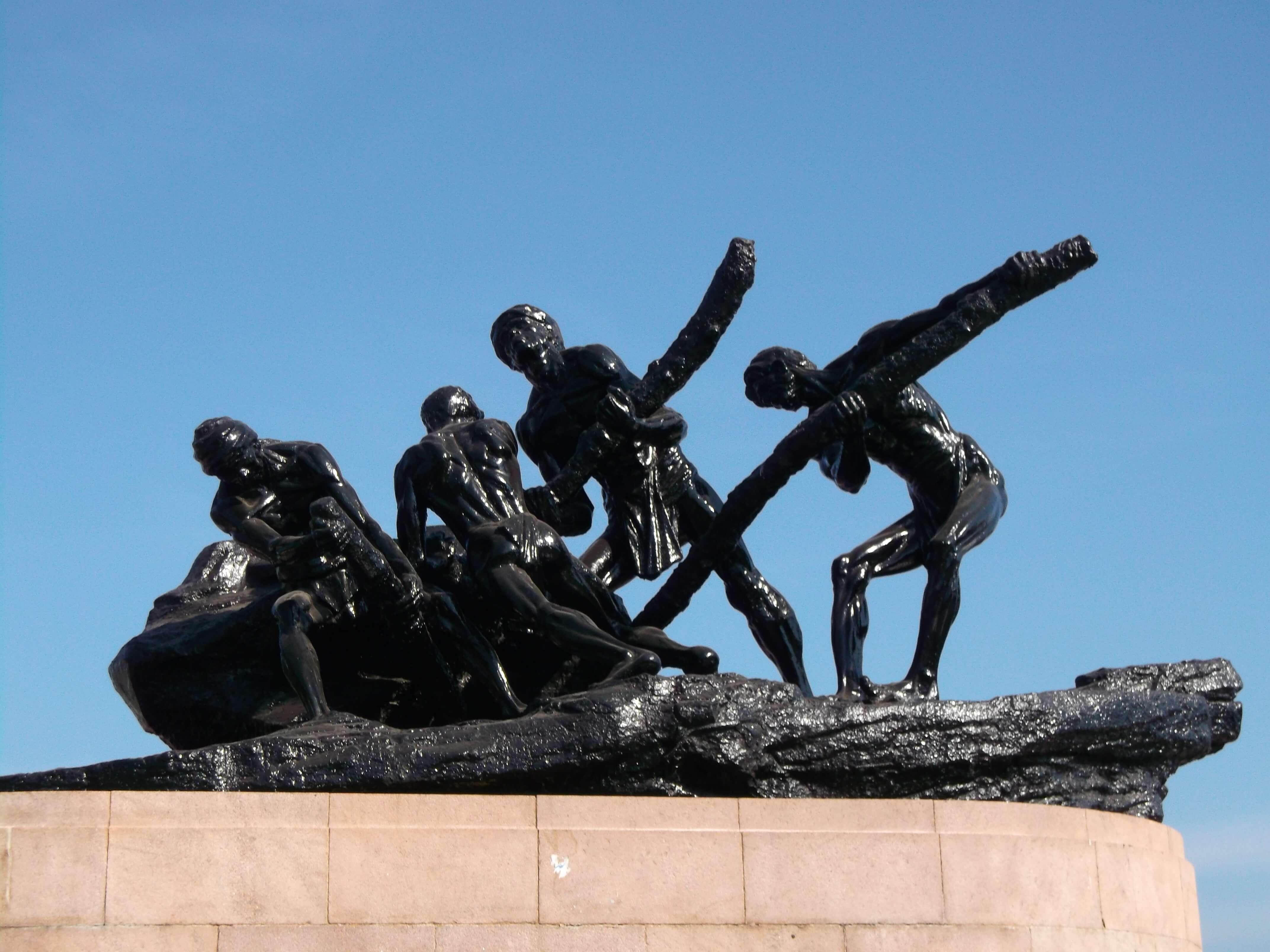 D. P. Roy Chowdhury creates his famous public sculpture Triumph of Labour, erected on Madras's Marina beach.
Lalit Kala Akademi, a national level arts institution, is instituted in New Delhi as part of Jawaharlal Nehru's vision for the arts.
National Gallery of Modern Art is established in New Delhi in the same year, to be a repository of artworks from 1857. An exhibition of sculptures marks the inauguration, with participation by prominent modern sculptors, such as D. P. Roy Chowdhury, Ramkinkar Baij, Sankho Chaudhuri and Dhanraj Bhagat.
1956
Ramkinkar Baij creates his celebrated, multiple-figured sculpture, Mill Call.
Husain makes the landmark painting, Between the Spider and the Lamp.
1956-59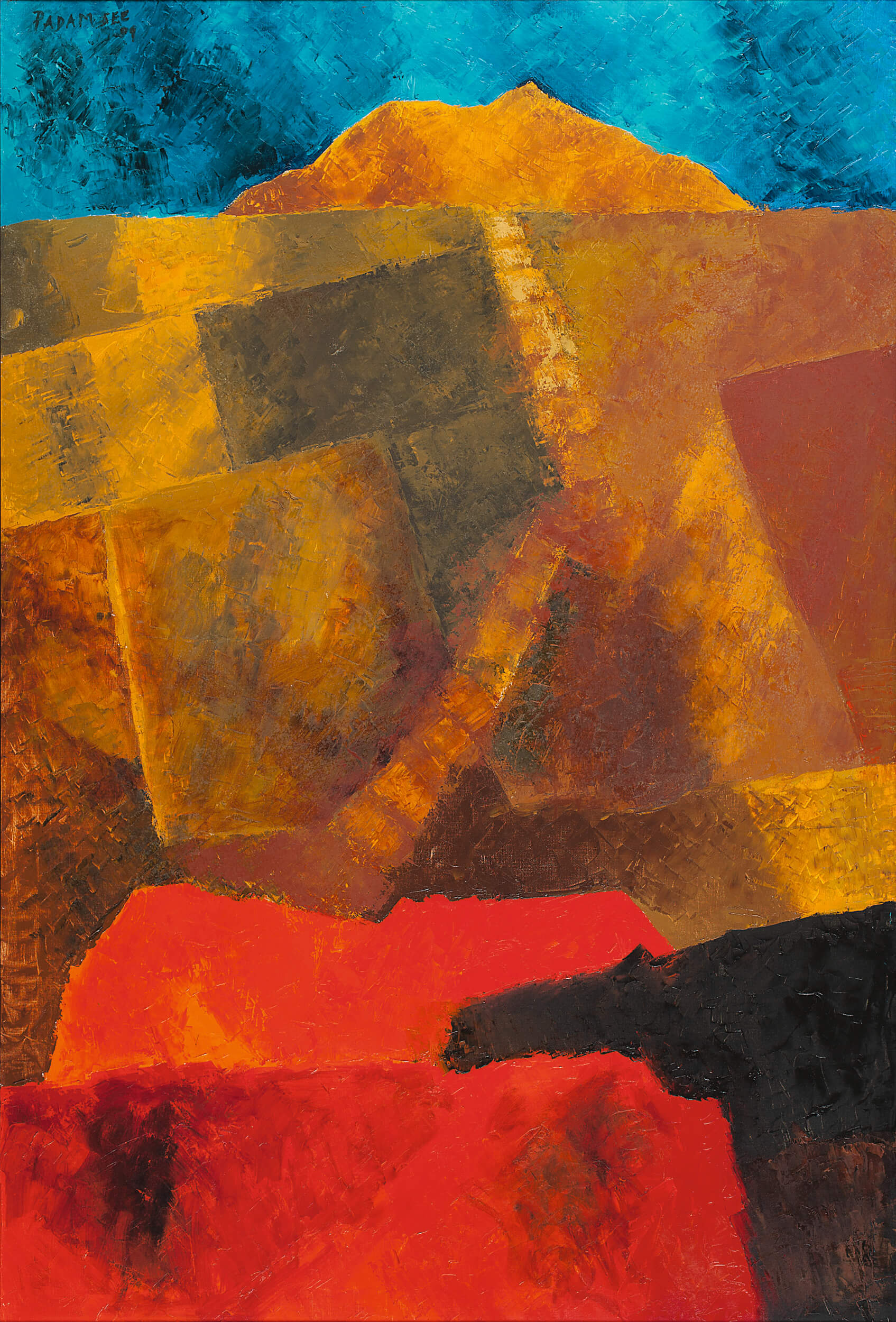 Akbar Padamsee begins to be fascinated with landscapes and his cityscapes now feature motifs of loose, geometric jigsaw puzzles.
1957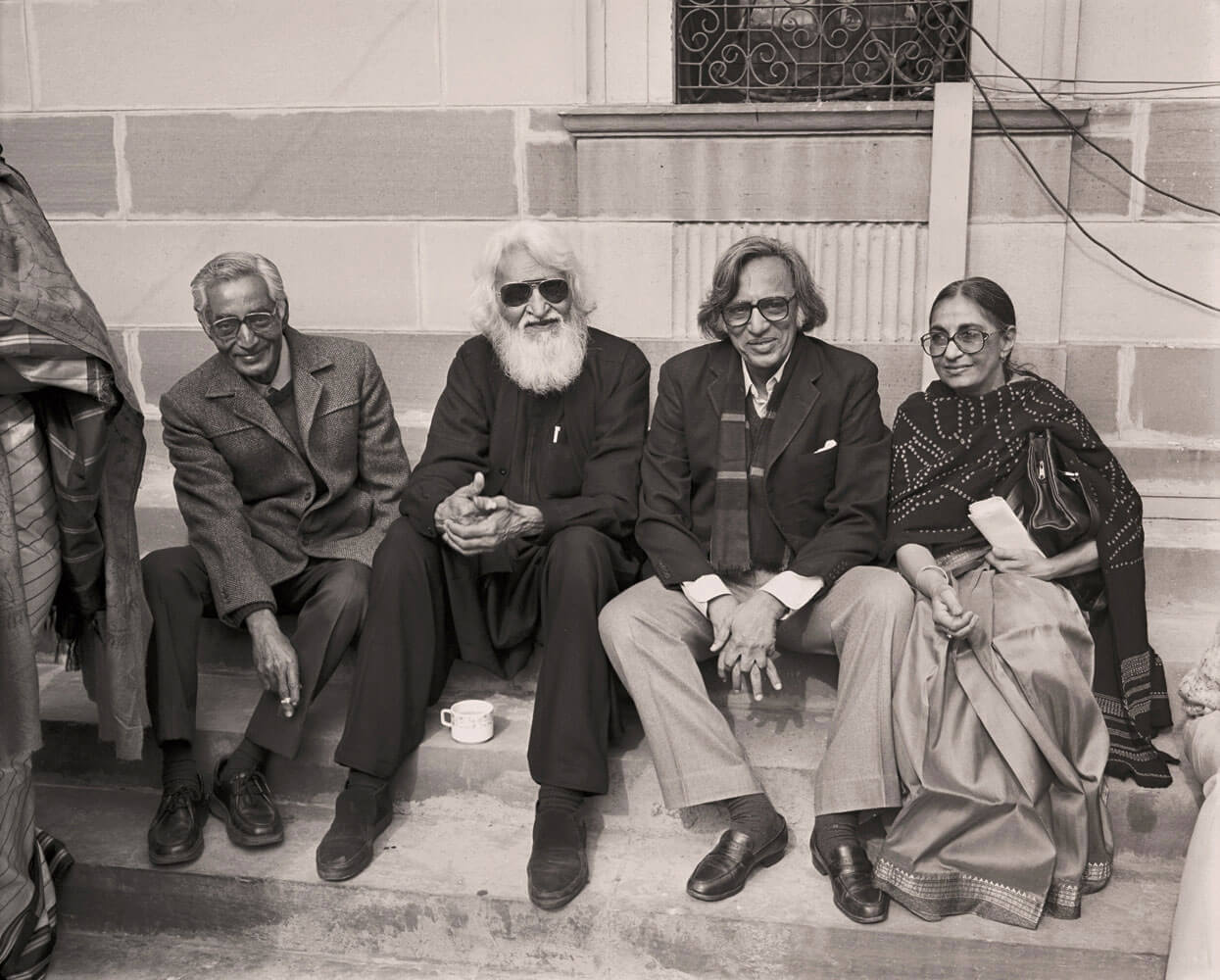 An exhibition is held in Calcutta to mark the centenary celebrations of the 1857 Sepoy Mutiny, also known as First War of Indian Independence.
The Shilalekh Group is established in Bombay by M. F. Husain, Ram Kumar, Tyeb Mehta and V. S. Gaitonde. Emulating the highly successful example of Raja Ravi Varma, they begin to make lithographs, offering original works of art at affordable prices. This effort is, unfortunately, short-lived.
1957-63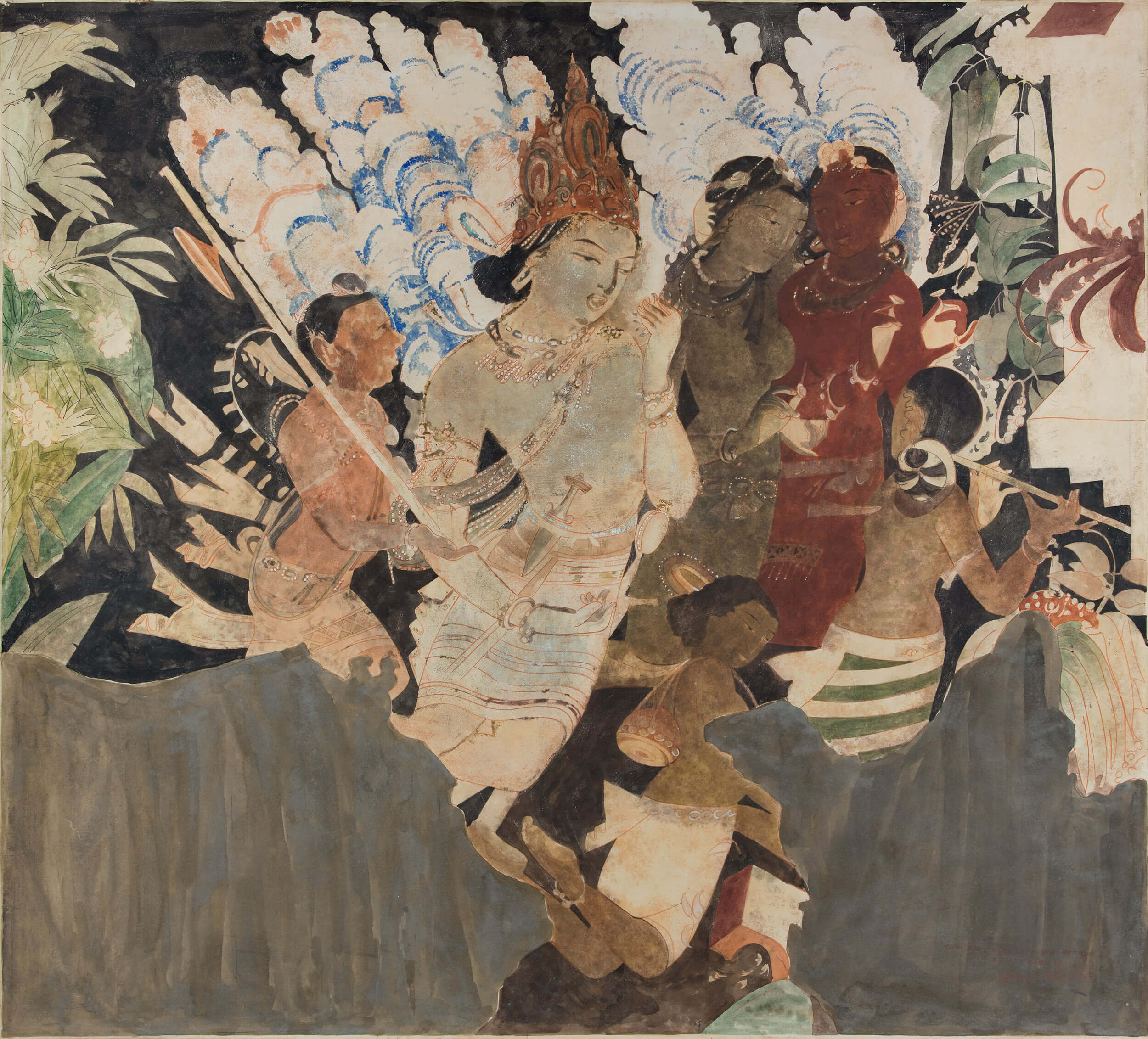 Ganesh Haloi joins the Archaeological Survey of India as a resident artist, documenting the cave paintings of Ajanta following in the footsteps of the early Bengal School painters.
1957-70
Sankho Chaudhuri heads the department of sculpture at M. S. University, Baroda, and his tenure ushers a great emphasis on innovation.
1962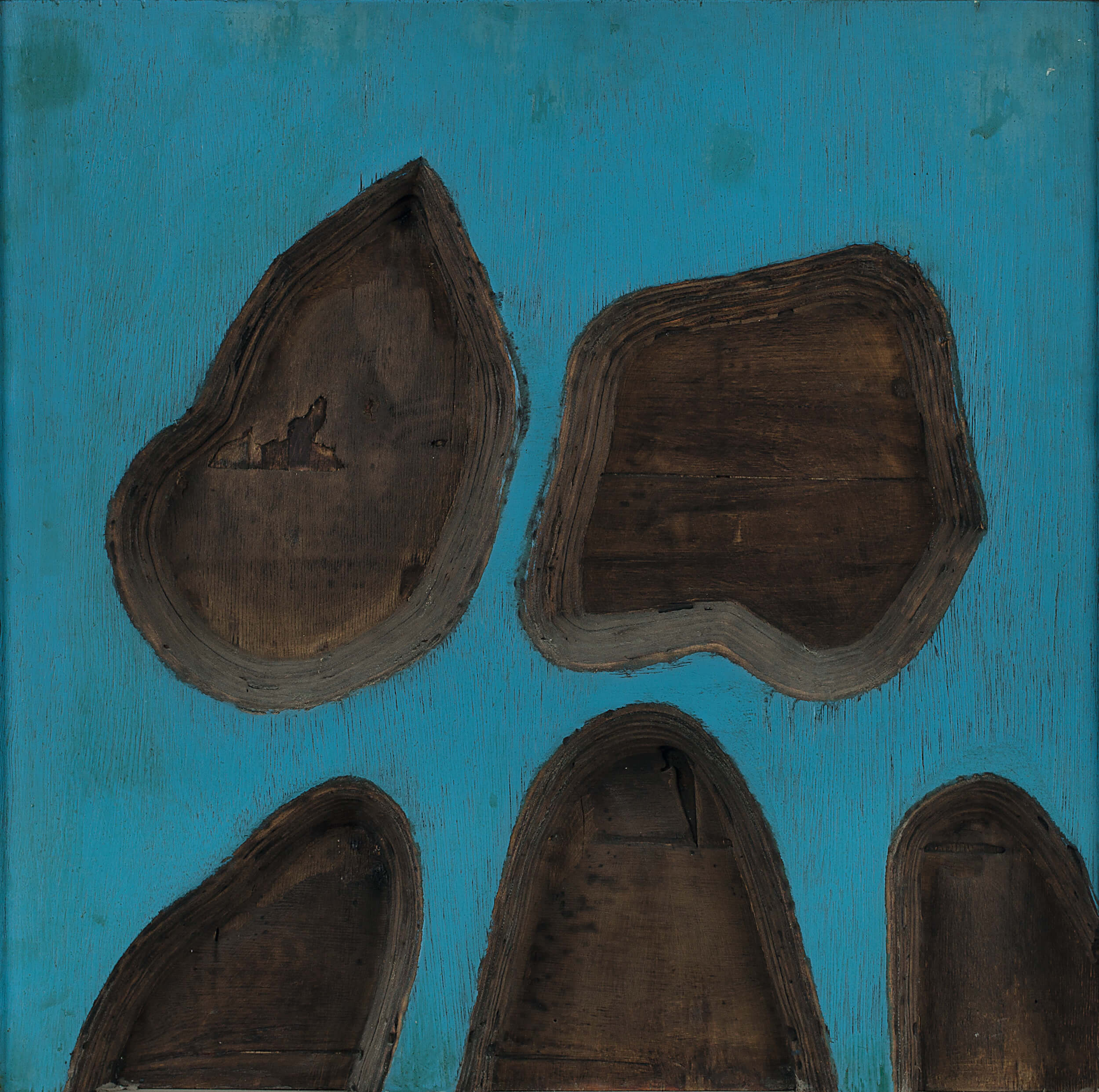 J. Swaminathan co-founds the artists' collective Group 1890 in Gujarat, with fellow artists Ambadas, Himmat Shah, Jeram Patel, Raghav Kaneria, Gulammohammed Sheikh, Jyoti Bhatt, Eric Bowen and others. The group's stated aim is to evolve an 'authentic' Indian modern art in recognition of diverse visual art traditions, and not a mere derivative of Western modernism, which it finds stilted.
Late 1960s-80s
Naxalite movement breaks out in Bengal, Andhra Pradesh, Bihar, Kerala – a movement that several, if not all artists of Bengal support on ideological grounds or take part in owing to their left-leaning political beliefs.
1970s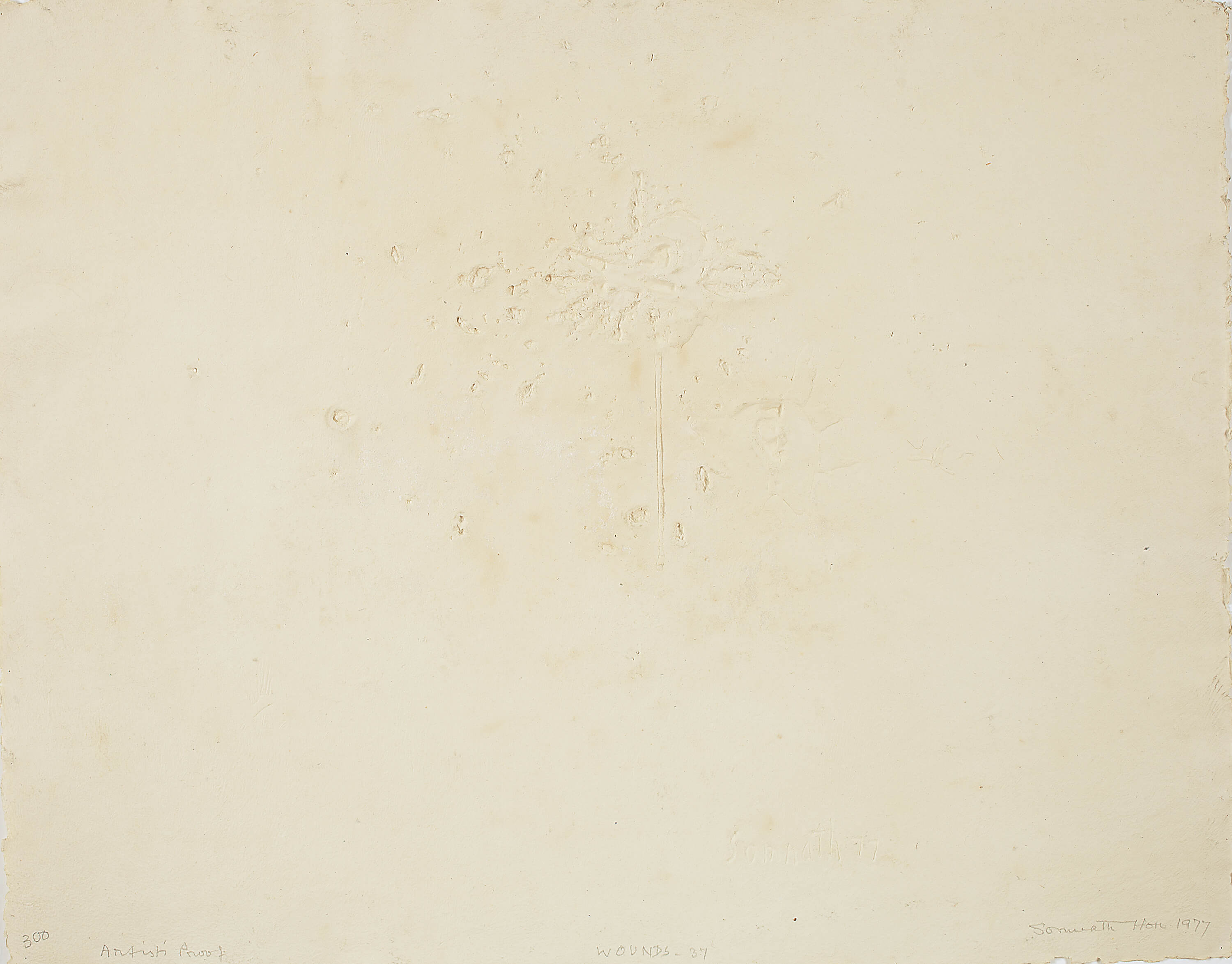 Printmaking in India receives a boost with American printmaker Paul Lingren conducting his first four-month workshop for printmakers in New Delhi.
Somnath Hore starts experimenting in his self-styled printing medium with cement plate and paper pulp, producing his famous series, wounds, that brings him national recognition.
Tyeb Mehta begins the Diagonal series, when, in a moment of creative frustration in the previous year, he flung a streak of black paint across his canvas.
1970s-80s
A growing emphasis on 'Indianness' is seen in modern Indian art, aided by official support to art from the establishment, through the state-run National Gallery of Modern Art and Lalit Kala Akademi, both in New Delhi. Artists such as Vivan Sundaram, Jogen Chowdhury, Gulammohammed Sheikh, Bhupen Khakkar, Nalini Malani, Sudhir Patwardhan look at other influences in art, such as Mexican muralism and German New Objectivity which move away from late modernist art formalism.
1972
Nasreen Mohammedi holds a solo show of her abstract works of lines on paper, works marked by an austere grace and minimalism.
1975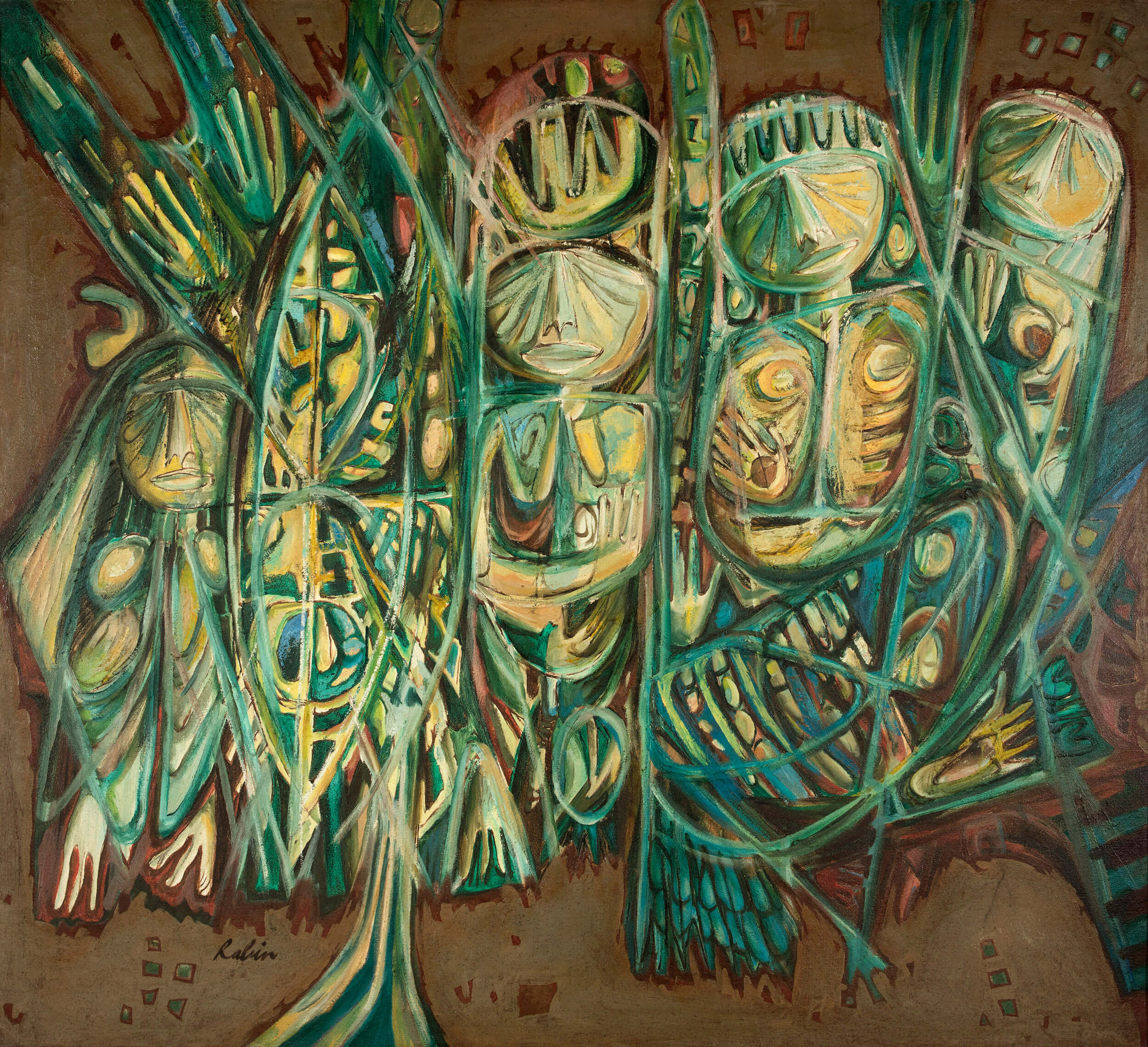 Zainul Abedin founds the Folk Art Museum at Sonargaon near Dhaka, Bangladesh.
K. G. Subramanyan is elected to the World Craft Council.
Rabin Mondal does innumerable sketches, drawings and oil paintings in the small format exploring the themes of power and authority, through the symbolic authority figure, the king, and examines his condition. They culminate into his King and Queen series.
1976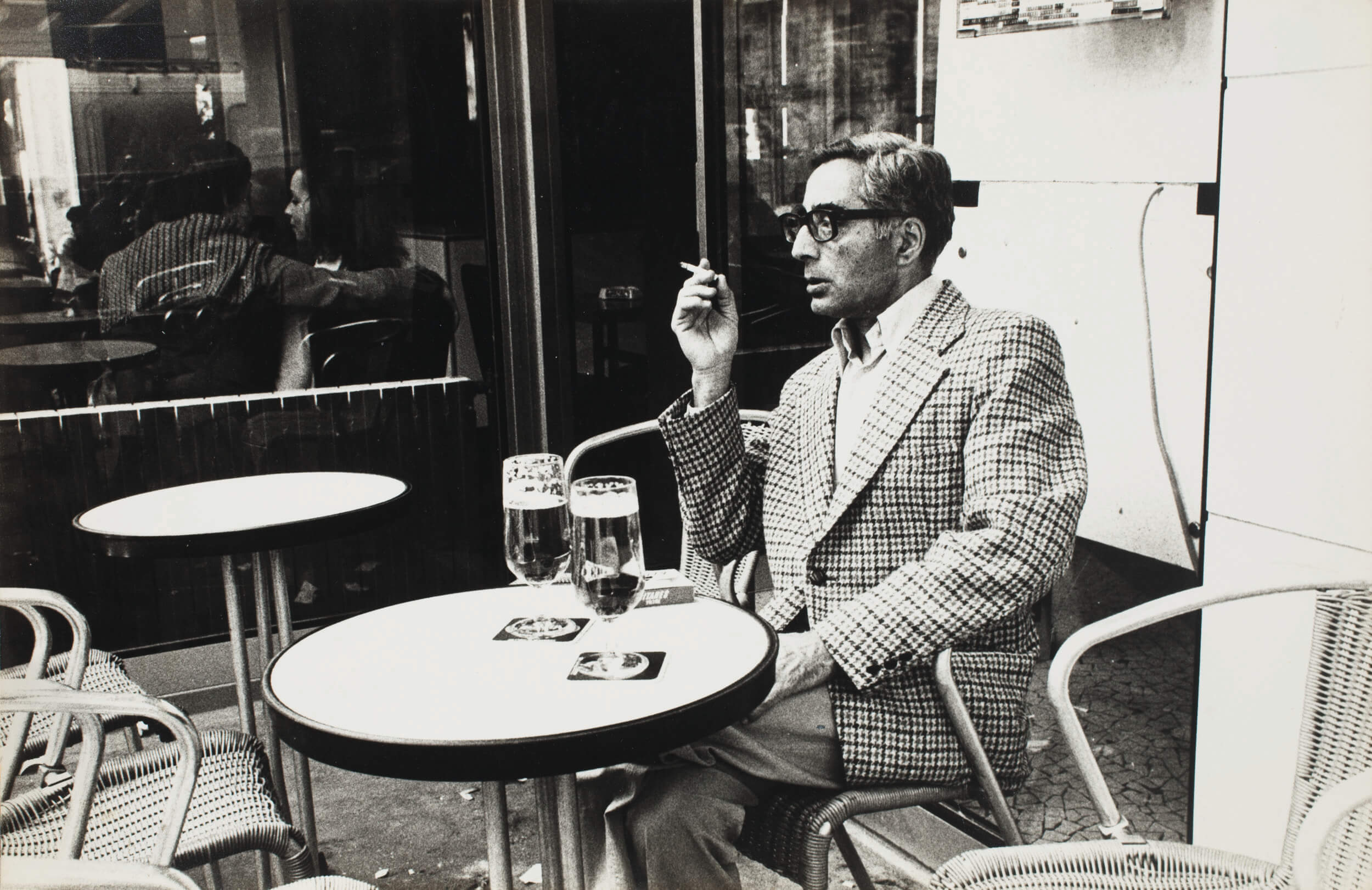 Ram Kumar visits Ladakh and makes a series of paintings inspired by its rugged locale and complete lack of colour.
1980s
A new group of women artists come to the fore – Nilima Sheikh, Madhvi Parekh and Rekha Rodwittiya.
1980-81
Faculty of Fine Arts, M. S. University, the centre of the modernist art practices emerging from Baroda and for long seen as the bastion of figurative art, witnesses a debate between figurative and non-figurative art.
The exhibition, Place for People, is held in Bombay and Delhi where the new pictorialists, Sudhir Patwardhan, Bhupen Khakhar, Vivan Sundaram, and others, consciously reject non-figurative modernism as playing up to Western capitalism.
1981
J. Swaminathan discovers a young Gond artist, Jangarh Singh Shyam, painting on the mud walls of his house. Recognising his talent, Swaminathan organises exhibitions of his works in cities and helps promote traditional tribal art as a legitimate form of 'modern' artistic expression.
In the same year, Swaminathan sets up the art museum, Rupankar, at Bharat Bhavan in Bhopal. The museum houses a permanent collection of the best tribal art from across India, and works towards according tribal and folk art forms the legitimacy of 'high art'.
1983
Women artists in Bengal form an artist collective called simply, The Group.
1984
Artist Shuvaprasanna founds Arts Acre, an artists' village in Calcutta.
In November, Sikhs are targeted in horrific riots in the wake of the assassination of Prime Minister Indira Gandhi. The violence finds expression in the work of several artists, notably Arpana Caur and Manjit Bawa.
1986-87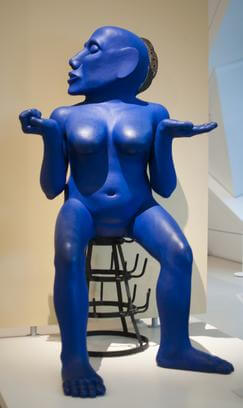 Navjot's works Confrontations (1986-87), Palani's Daughter ('95) and Rethinking Stereotypes ('97) all articulate her feminist concerns. Of these, Blue Lady is considered one of her major pieces, emerging from her interactions with the Adivasi community in Bastar.
1994
Navjot becomes a pioneer of video art in India. In response to the Babri Masjid demolition, she makes an installation of collage, photography, screen-printing and sculpture called Links Destroyed and Rediscovered.
1995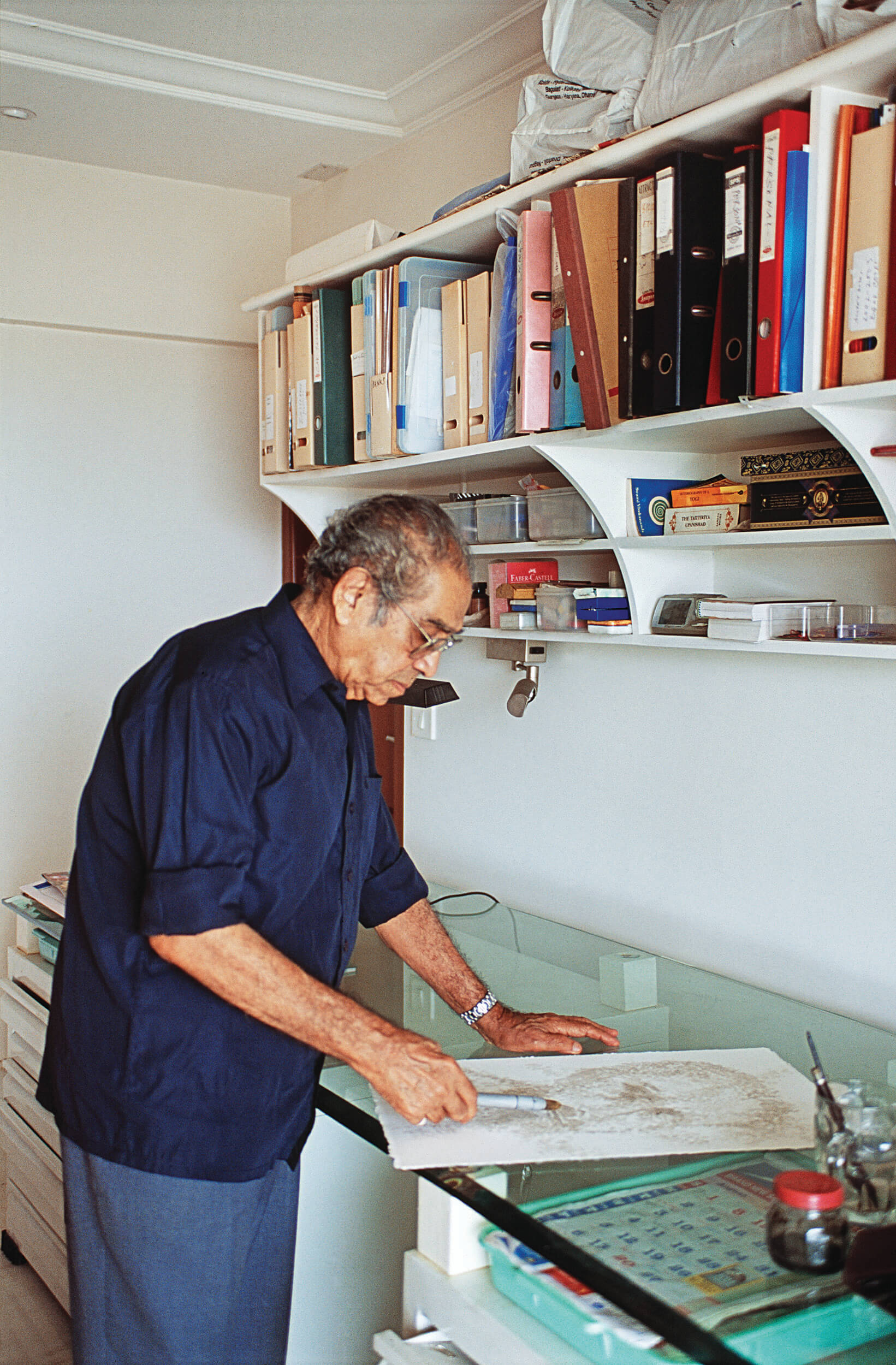 Akbar Padamsee begins to experiment with new media in his art practice, including computer graphics.
1996-97
Gulammohammed Sheikh creates the massive mural, Tree of Life, for the Vidhan Sabha, Bhopal.
1997
Compiling over two decades of sustained examination and thinking on South Asian art practices of the 20th century, Geeta Kapur publishes her seminal work When was Modernism? She attempts to look at the signifying space within artworks for their articulation of the 'modern'.
2001-04
Gulammohammed Sheikh creates a series of digital collages using elements like Google Earth images to create his Mappamundi series.
2005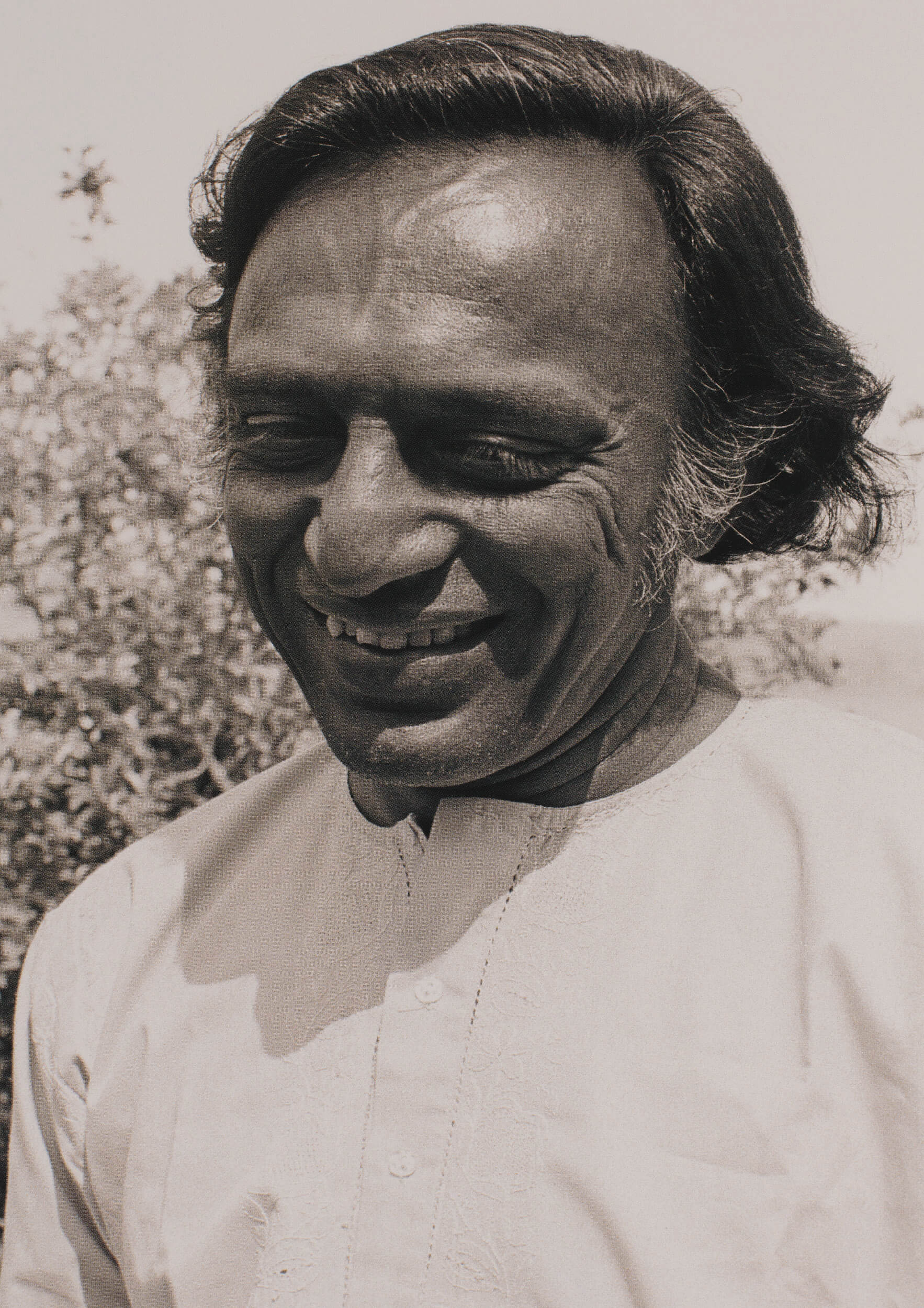 Tyeb Mehta's painting Gesture is sold to an Indian buyer for approximately $700,000 at an auction – the highest price ever paid until then by an Indian for a work of contemporary Indian art.
2013
The exhibition The Bauhaus in Calcutta: An Encounter of the Cosmopolitan Avant-Garde is organised by the Bauhaus institution in Germany, commemorating the Bauhaus exhibition of 1922 held in Calcutta.
2015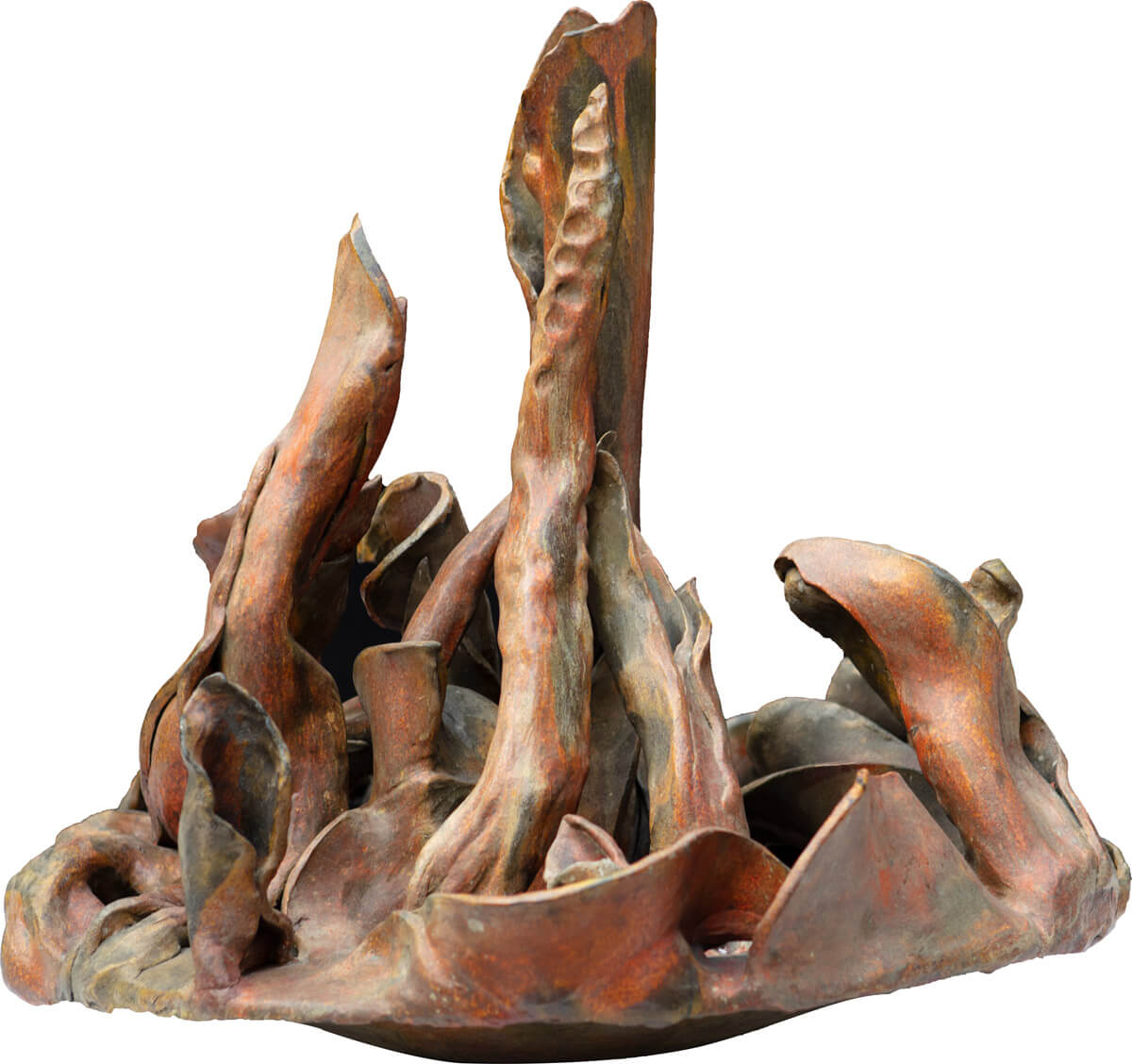 National Gallery of Modern Art, New Delhi, holds a retrospective of the sculptor Mrinalini Mukherjee who worked with unusual materials like hemp rope, besides terracotta, ceramics and bronzes.