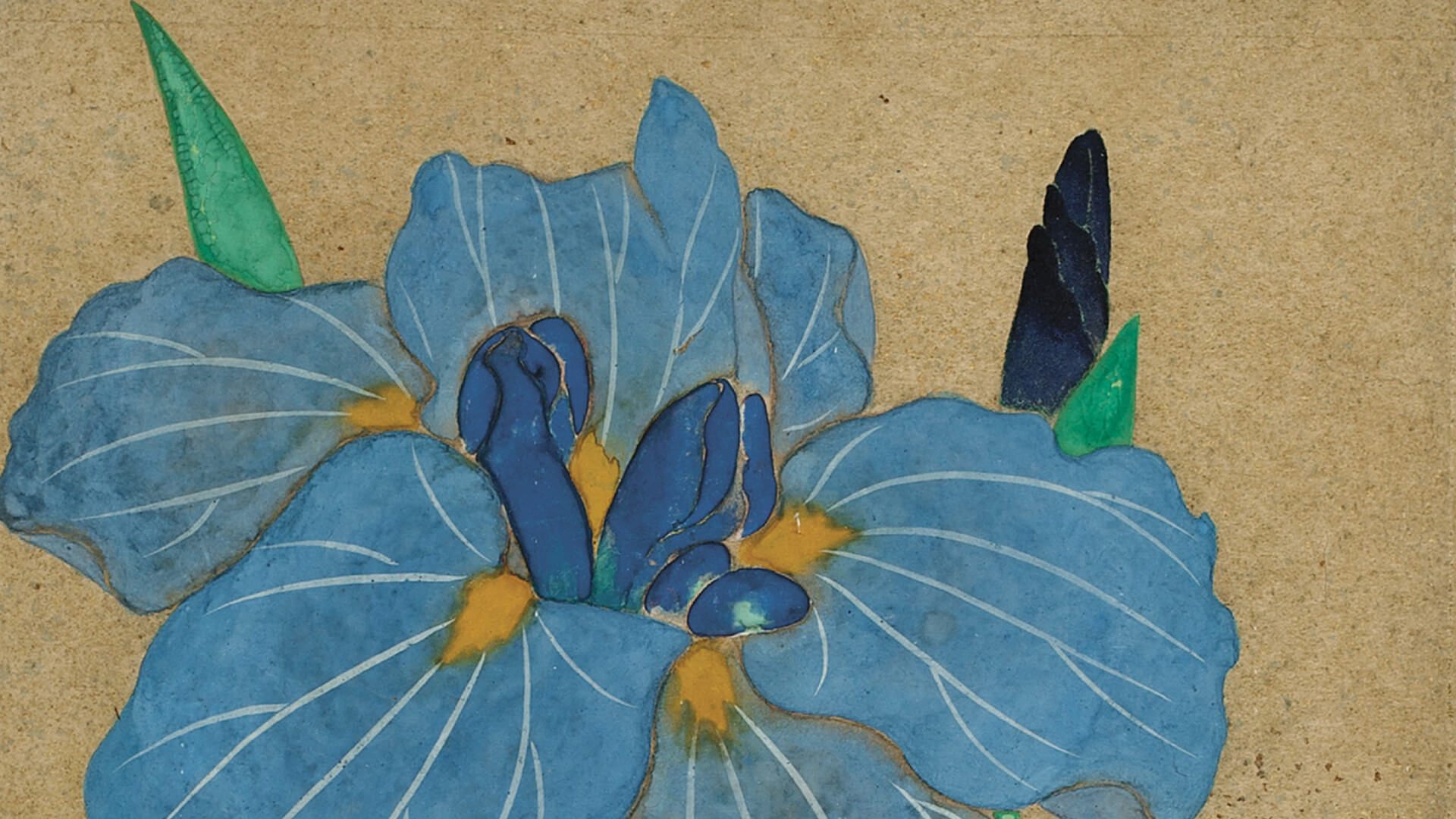 Kripal: The Art of Kripal Singh Shekhawat
Museum of Legacies
Jaipur, 21 Dec 2018 – 21 Jun 2019
Indian Ceramics Triennale at Jawahar Kala Kendra
Jaipur, 31 Aug – 18 Nov 2018
An exhibition by DAG
Curated by Kristine Michael
Untitled
Water colour and gold paint on Japanese Shikishi board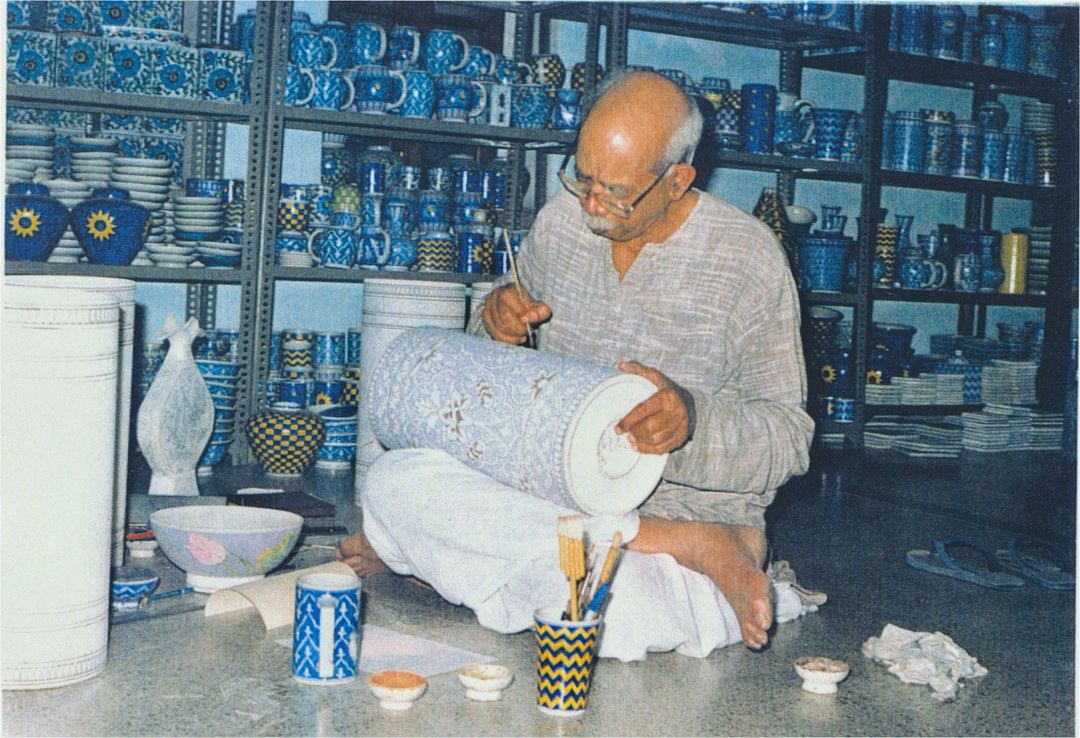 THE PAINTER WHO BECAME A POTTER
Kripal Singh Shekhawat of Jaipur worked his entire life to bridge the gap between the vernacular and the contemporary, combining what was considered the craft of a kumhar—potter—with the fine art of miniature painting. He paved a new path for a pioneering social and aesthetic mode of life in twentieth century India. 
This landmark exhibition traces his journey from the early folk influences in Shekhawati, Rajasthan to his experiments with traditional painting techniques in Santiniketan, Japan, and Delhi, following him back to Jaipur where he took on the challenge of reviving the state's now iconic blue pottery.
Pabuji Rathore on Horseback
Wash and tempera on paper
Courtesy: National Gallery of Modern Art, New Delhi
ROOTS IN AN EARLY ARTISTIC LIFE
Kripal Singh Shekhawat was born in Mau in the Shekhawati district of Rajasthan on 11 December 1922 in a zamindari Rajput Thakur family. As a child, he keenly watched and absorbed influences, processes and ideas from the local village crafts such as meenakari and lac crafts, beaten metal works, and frescoes. His first experience of formal art training was as a young man, learning naturalistic academic style painting at evening art classes by Bhoor Singh Shekhawat. Bhoor Singh had studied at Bombay's Sir J. J. School of Art and was supported by the influential Birla family.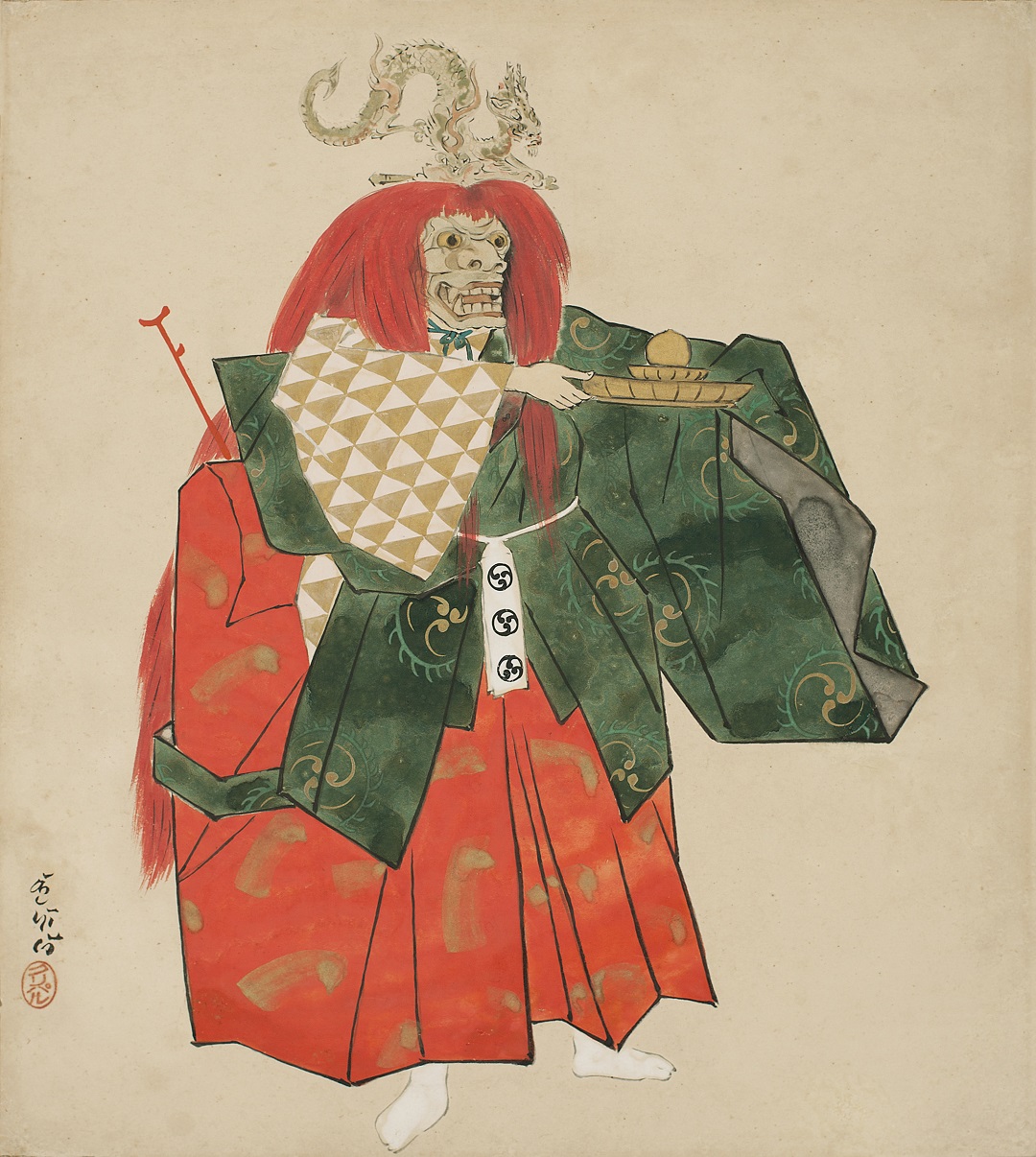 Dragon Dancer Ink
Watercolour and gold paint on Japanese Shikishi board
INFLUENCE OF SANTINIKETAN AND TOKYO
From 1943 to 1947, Kripal Singh studied at Kala Bhavana, the path breaking art school in Santiniketan, West Bengal, and later taught there till 1951. It was in Santiniketan that Kripal Singh moved away from European naturalism and deepened his interest in folk traditions and craft.
In 1951, with the support of industrialist Ghanshyam Das Birla, he joined the Tokyo National University of Fine Arts for a two-year training in traditional oriental painting and decoration, continuing a long lineage of exchange between Bengal and Japan.

He was taught by revivalist nihonga artists like Kawabata Ryūshi and Mayeda Renzō, and studied the classical works of artists like Toba Sōjō Kakuyū  (1053–1140) and Ogata Kōrin (1658-1716). 
'Lovers of art will surely appreciate his technique and the wealth and grace of his colours. He has shown a special aptitude for the characteristic technique of medieval Indian art. His brush and miniature work, wood engraving and graphic art claim special admiration of connoisseurs.'
Nandalal Bose
Untitled
Watercolour on paper
Collection: Vinay Sharma, Jaipur
Untitled (Sawai Jai Singh's son, Ishwar Singh leading the official Mata Gangaur Sawari)
Natural pigments on Arayesh plaster
Collection: ITC Rajputana, Jaipur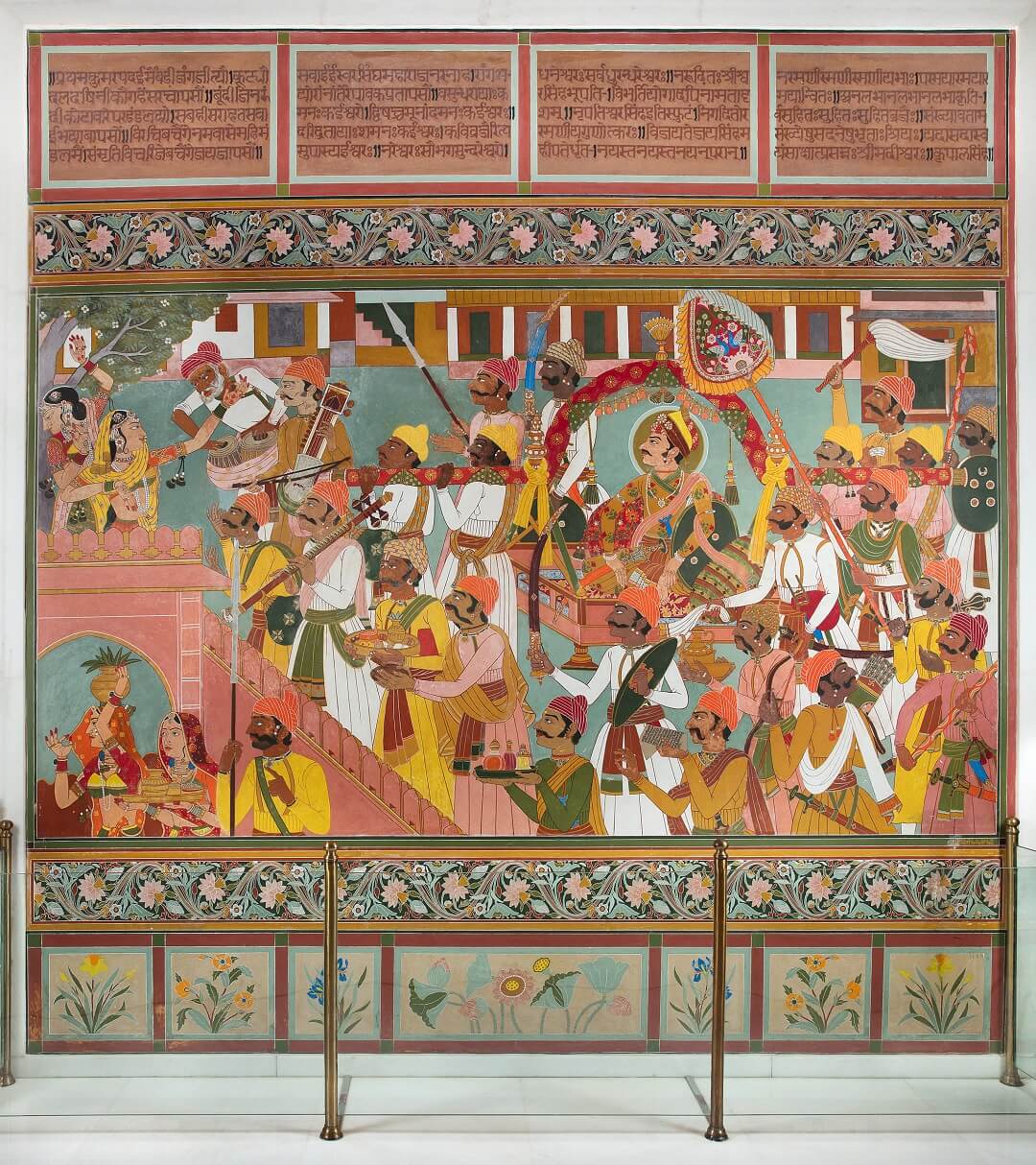 Untitled (Sawai Jai Singh II Astride a Horse)
Natural pigments on Arayesh plaster
Collection: ITC Rajputana, Jaipur
SEARCH FOR AN INTEGRATION OF THE TRADITIONAL AND THE CONTEMPORARY
Kripal Singh lived in Delhi from 1955 to 1958, and then moved back to Rajasthan, settling in Jaipur to teach miniature painting at the Shilp Kala Mandir. He continued to travel, studying and documenting paintings at historical sites across the continent. This was a period where he received a series of important commissions, including several frescoes and paintings by Lalit Kala Akademi, City Palace Museum, Jaipur and the ISKCON Temple at San Francisco. His work remained rooted in historical or mythological themes, with figurative works in the style of miniature paintings, inspired by Japanese aesthetic ideals.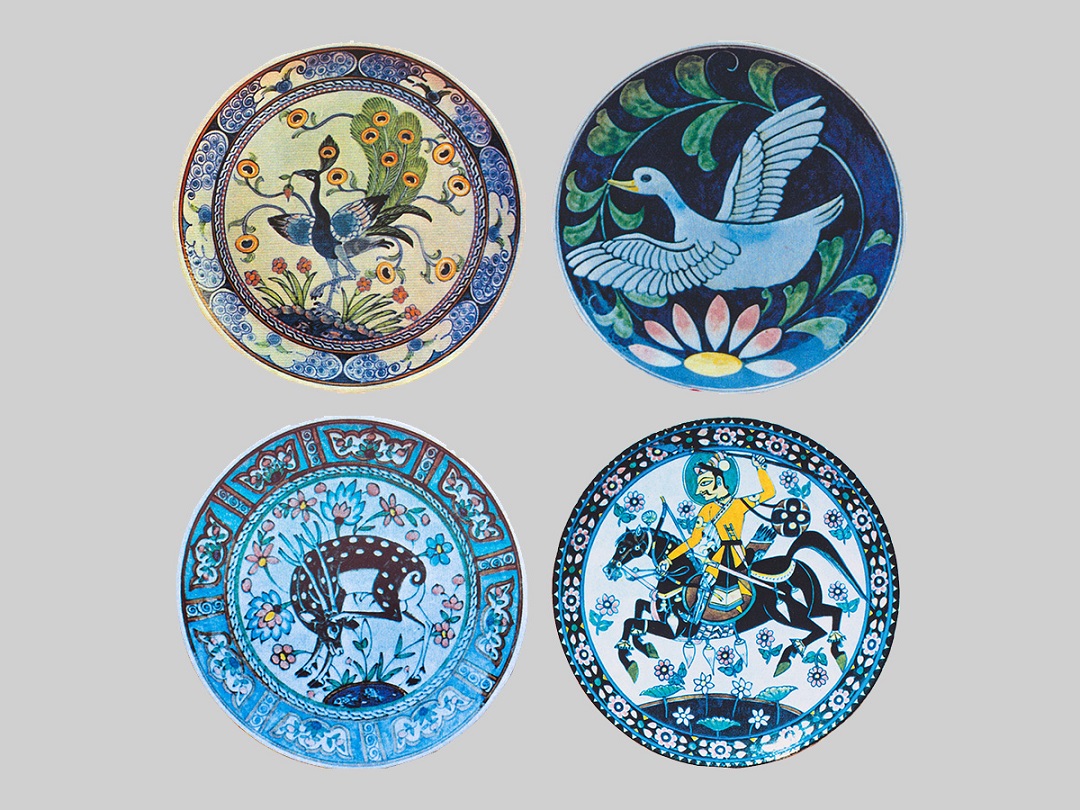 Untitled (Miscellaneous Plates)
Quartz stone paste body with transparent glaze and underglaze
Collection: Kristine Michael, New Delhi
CRAFT REVIVAL IN A NEW MEDIUM
Kripal Singh had been exposed to the need of crafts revival from his days in Santiniketan and Japan. Encouraged by Kamaladevi Chattopadhyay, a prominent social reformer, he took on the challenge of reviving the local blue pottery tradition in Jaipur. It is here that Kripal Singh discovered the painted surface of the vessel as a perfect foil for the amalgamation of the Rajput, fresco, and Japanese art styles that he was experimenting with.
Kripal Singh Shekhawat was awarded the Padma Shree by the Indian government in 1974. He stood largely unacknowledged, at the edge of the contemporary studio pottery movement in India initiated by Gurcharan Singh, Devi Prasad and others. His critics viewed him either as a craft revivalist, a painter who only used the pottery surface as his canvas, and one whose works did not reflect contemporary forms of expression in ceramics. His paintings too were decried by some as overly nostalgic. However, it can also be argued that he effortlessly straddled the worlds of the artist and the craftsman, ably confounding the Indian art historian's narrow view of the growth of Indian modernism.
Untitled
Quartz stone paste body with transparent glaze and underglaze
Collection: Anuradha Ravindranath, New Delhi
\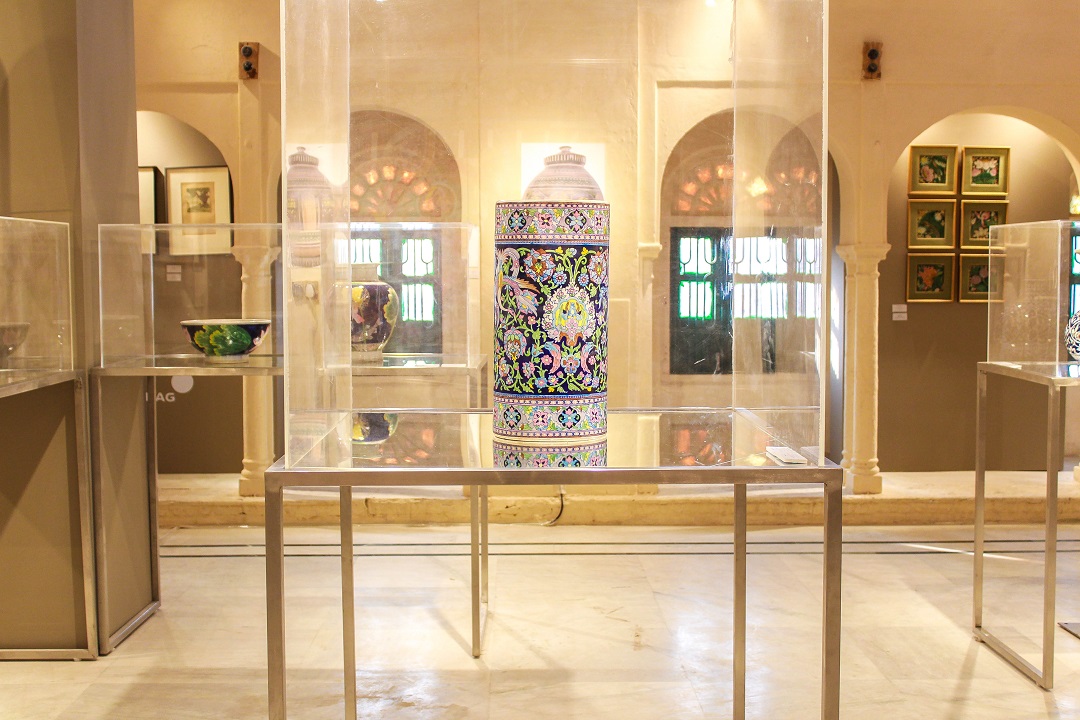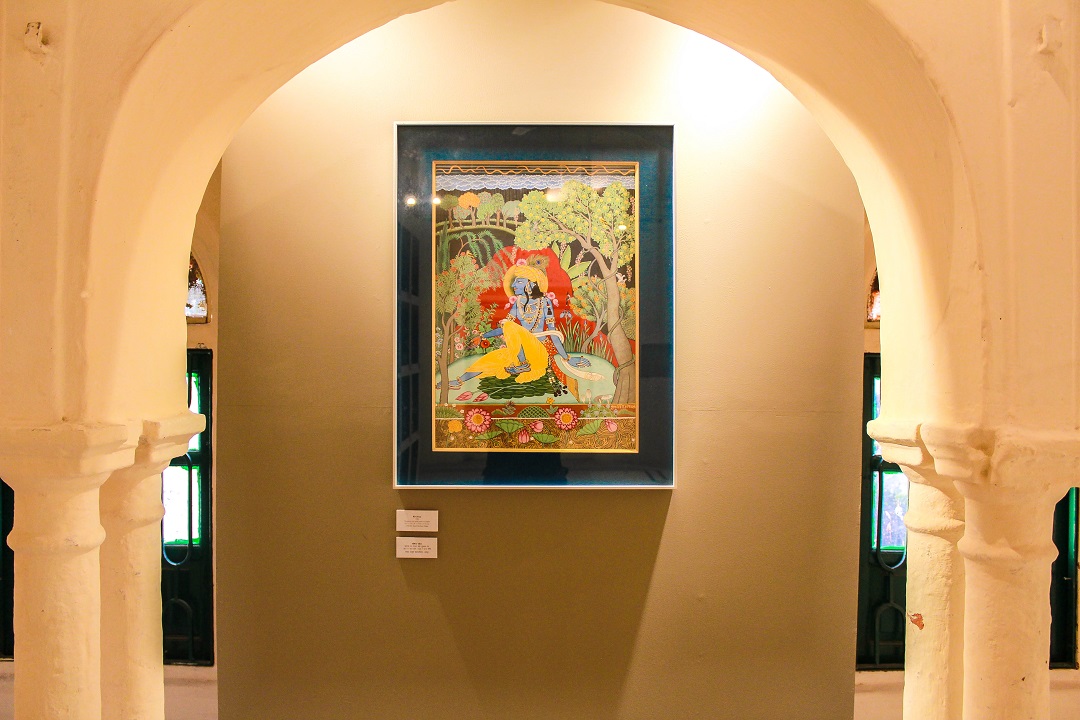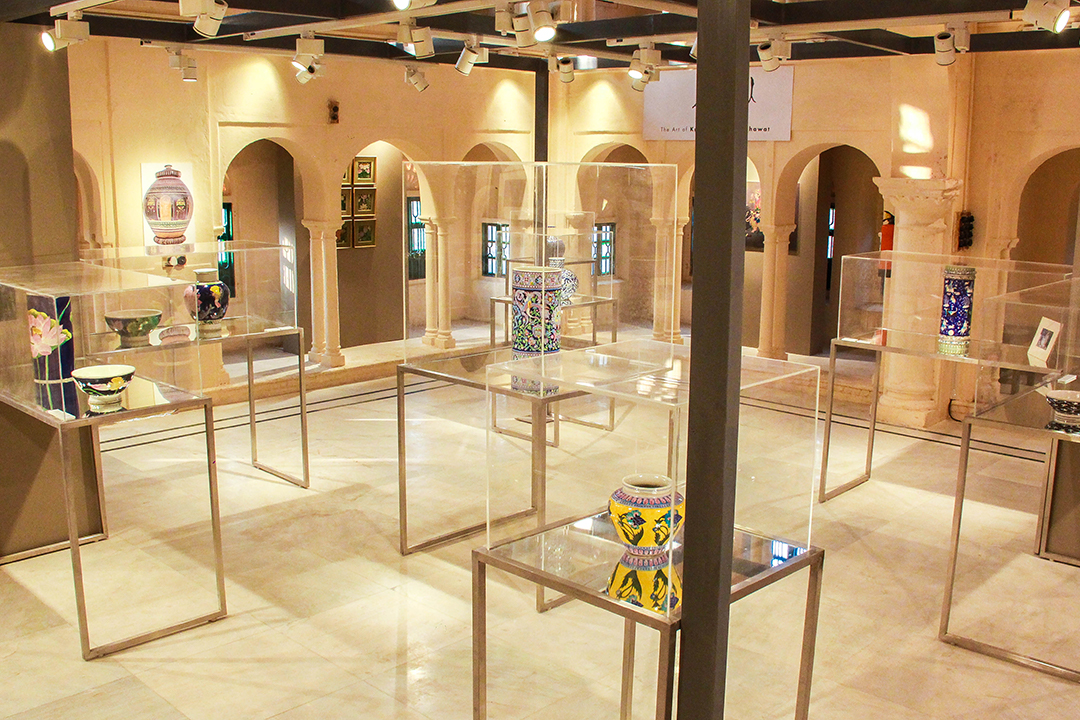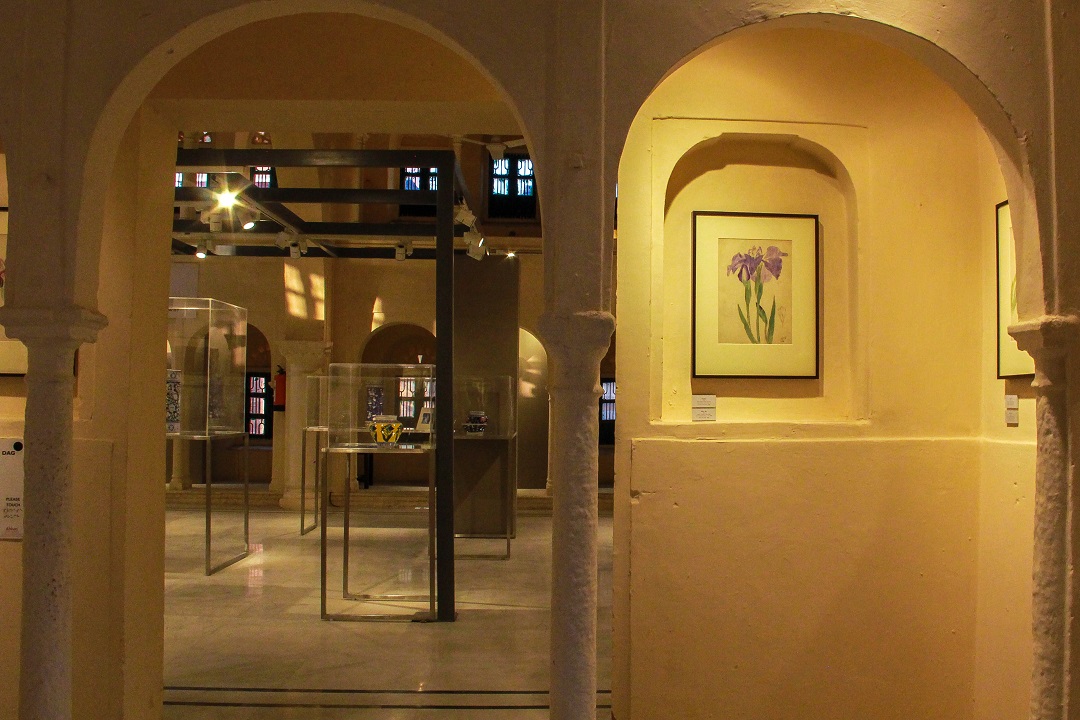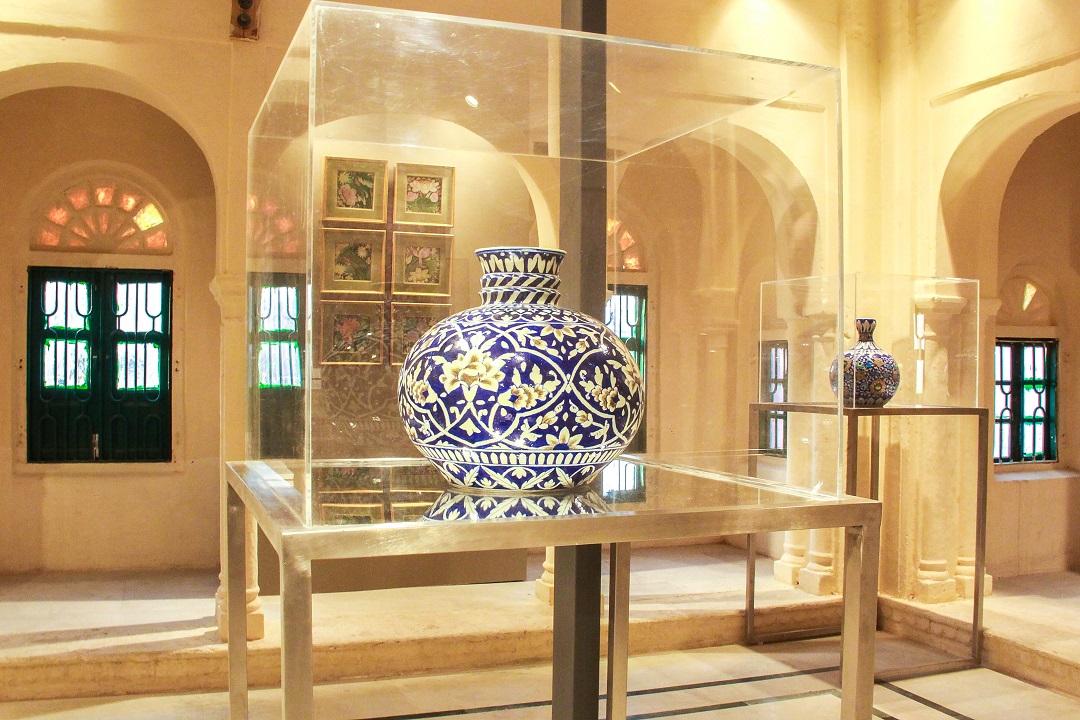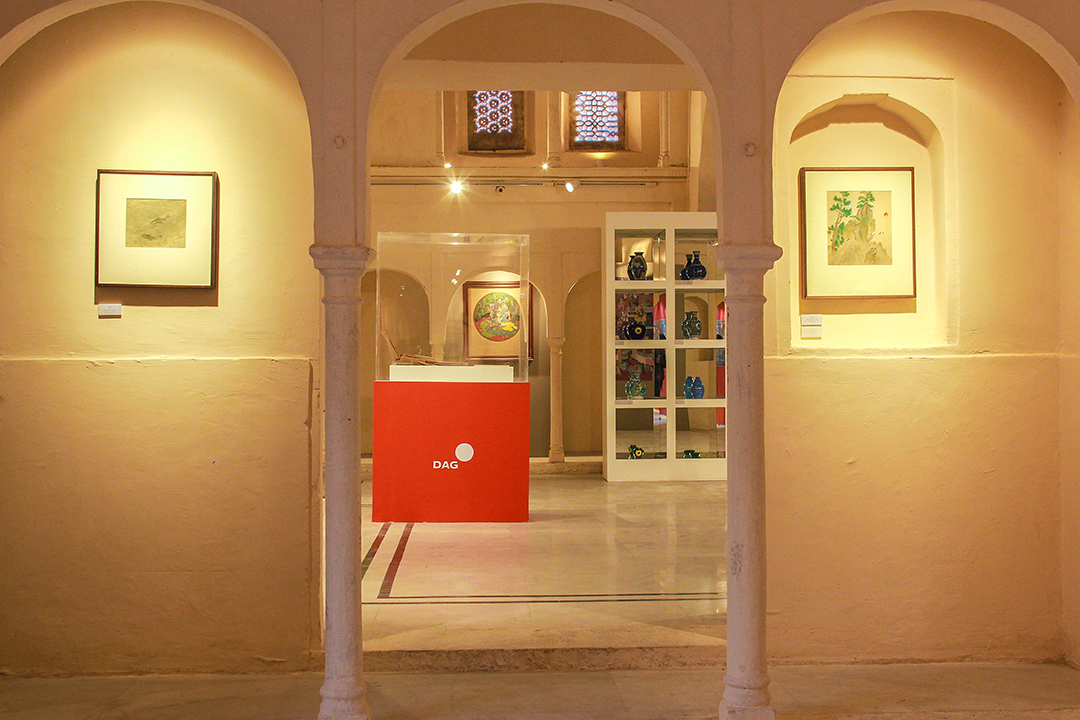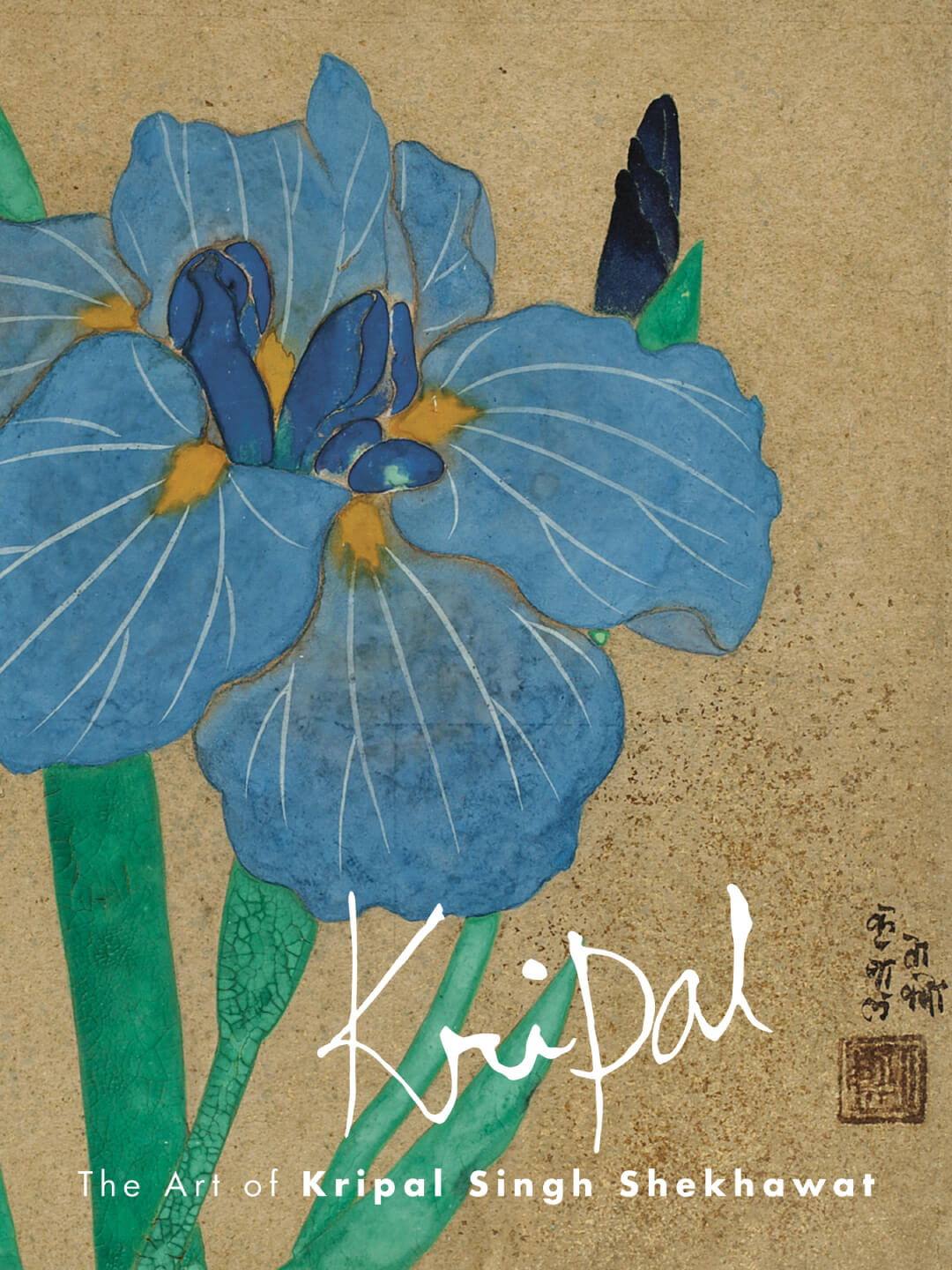 Presented by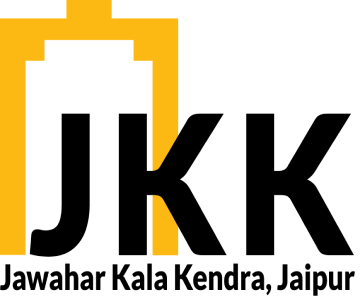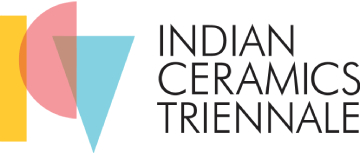 Museum of Legacies
Jaipur, Rajasthan