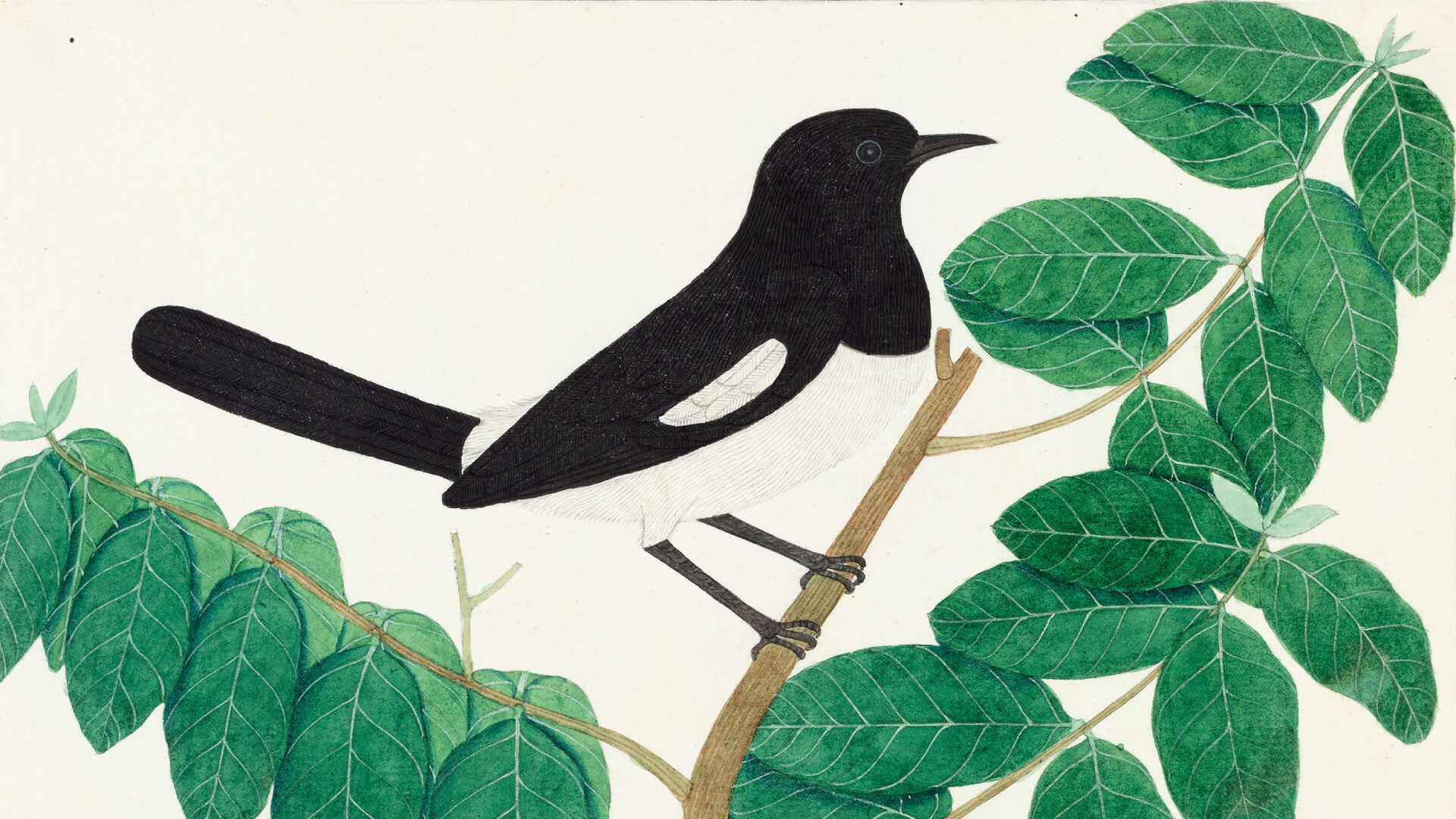 Birds of India: Company Paintings c. 1800 to 1835
Dr. Bhau Daji Lad Mumbai City Museum
Mumbai, 27 Nov 2021 – 8 Mar 2022
An exhibition by DAG
Curated by Giles Tillotson
Oriental Magpie Robin (Copsychus saularis)
Watercolour on paper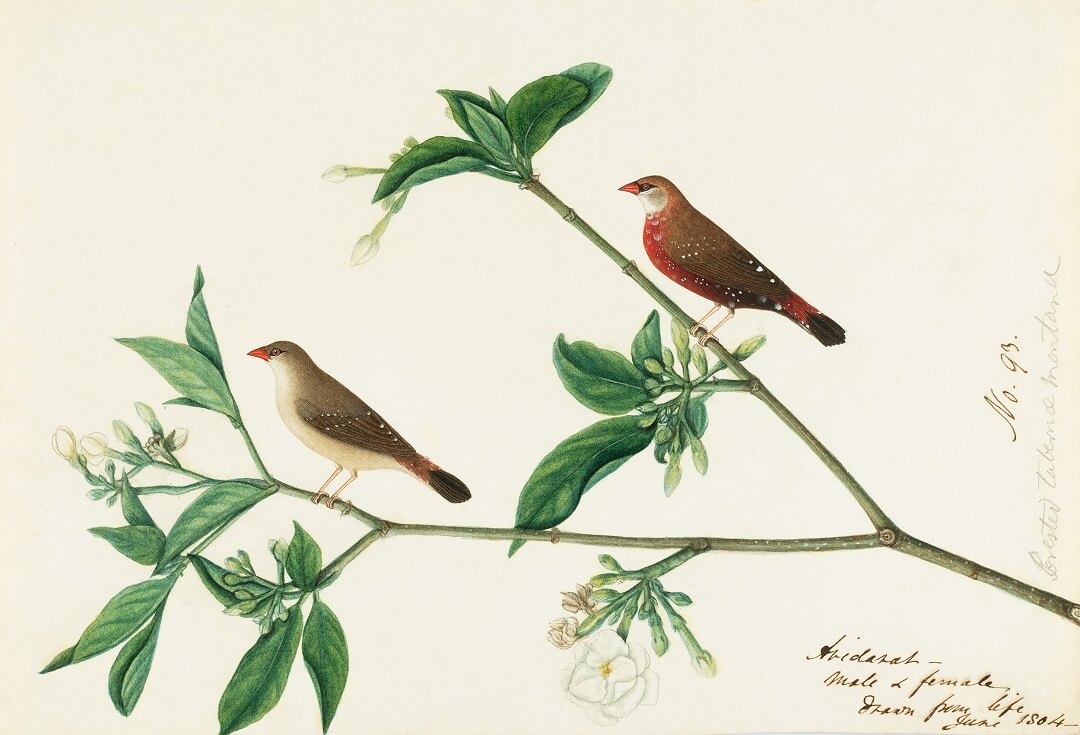 Red Avadavat (Amandava amandava)
Watercolour on paper
In celebration of birds and the long relationship art has shared with the winged creatures, this exhibition brings together four folios to present portraits of Indian birds made in the early nineteenth century. While representations of birds date back to the Ajanta murals, naturalistic imagery reached its peak in Mughal art under Emperor Jahangir. In the late 18th century two connected developments emerged in Lucknow and Calcutta. While General Claude Martin provided imported European paper to the artists in Lucknow to prepare botanical studies and other natural history works, in Calcutta Mary, Lady Impey (wife of Chief Justice of the Supreme Court in Bengal, Elijah Impey) had a menagerie where she employed artists to portray a variety of animals and birds. Dr. William Roxburgh, superintendent of Calcutta Botanical Garden from 1793, also added to the discourse of natural history by appointing local artists to make botanical studies of the specimens in his charge. The efforts of Martin, Impey, Roxburgh and their artists gave rise to a large body of Company Paintings dedicated to natural history.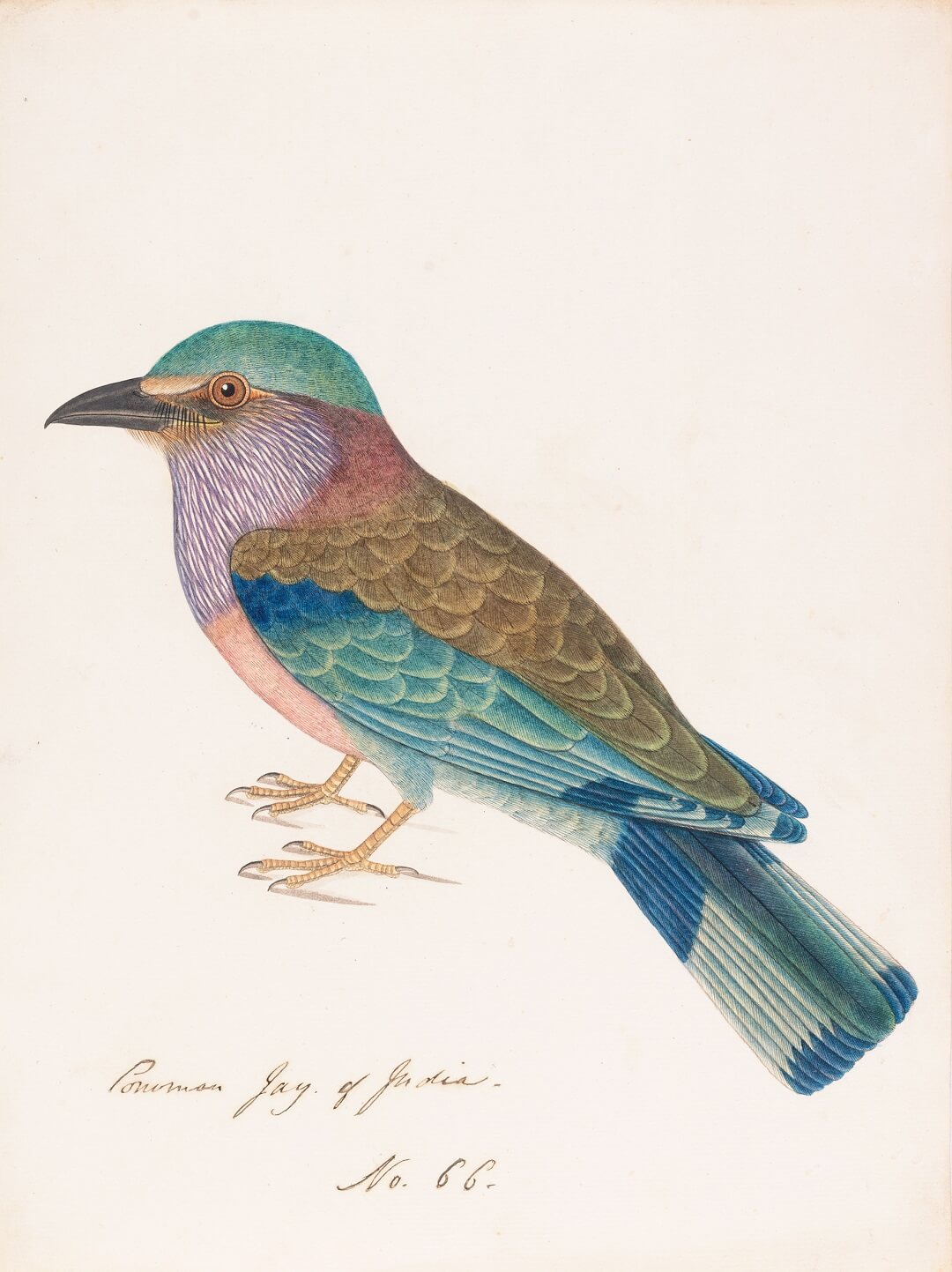 Indian Roller (Coracias benghalensis)
Watercolour on paper
'Adbhut kushal shikaari pakshi, Bichuchhu tak kha jaata. Aur kabhi khaakar saanpon ko, Neelkanth ban jata.'

Parshuram Shukla
[wonderful, skillful hunting bird, who eats even scorpions. And sometimes after eating snakes becomes Bluethroat]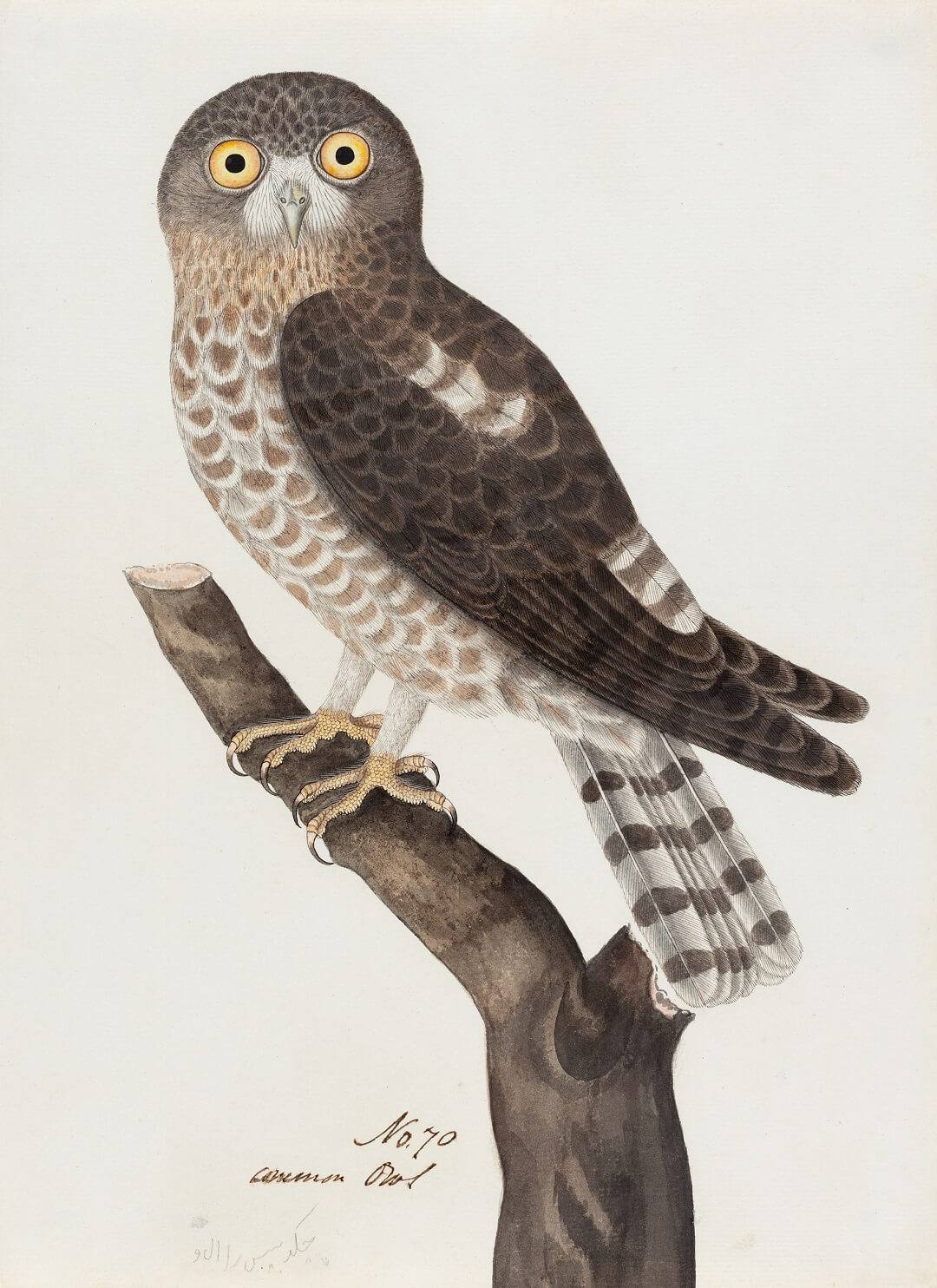 Spotted Owlet (Athene brama)
Watercolour on paper
'Works of art made by Indian artists for Western patrons in the early colonial period are what we now call Company Paintings. The artists, who might otherwise have worked for an Indian court, sought new markets among those employed in various capacities by the European trading companies, especially the British East India Company. Some patrons supplied the artists with new materials such as European-made paper and transparent watercolour pigments, and expressed preferences regarding subject matter, leading to new departures in both style and substance in Indian art. One of the most delightful genres of Company Painting was Natural History: images of India's plants, animals and birds.'
Giles Tillotson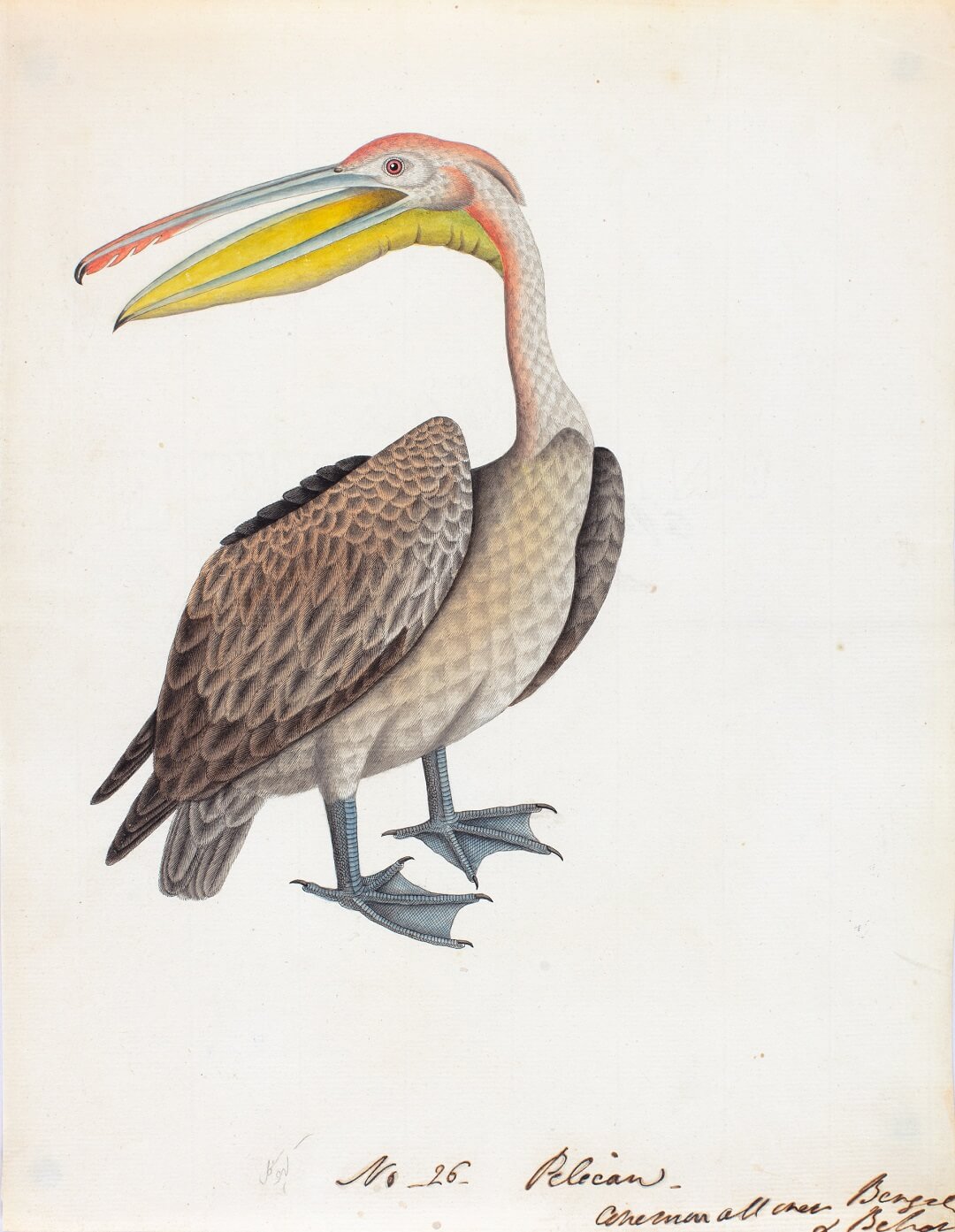 Spot-billed or Grey Pelican (Pelecanus philippensis)
Watercolour on paper
'A wonderful bird is the Pelican
His bill will hold more than his belican
He can take in his beak
Enough food for a week
But I am damned if I see how the helican.'
Dixon Lanier Merritt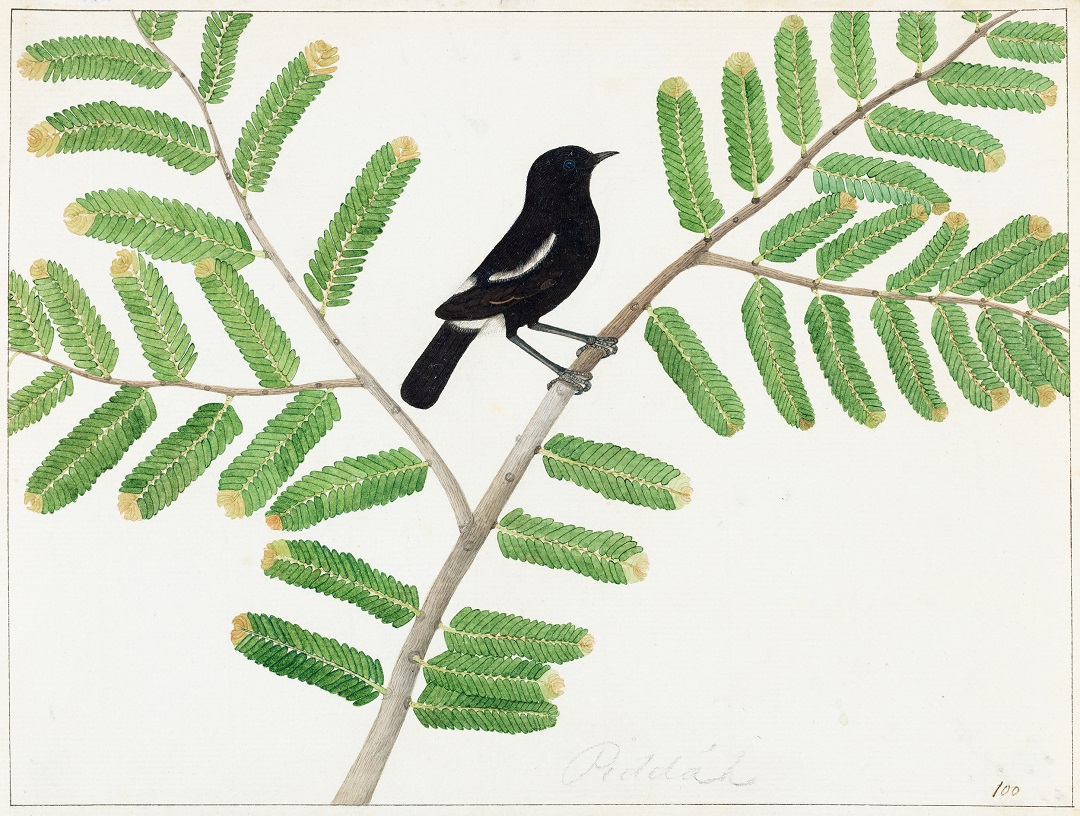 Pied Bushchat (Saxicola caprata)
Watercolour on paper
The Cunninghame Graham Album, Calcutta, 1800-1804
The core of this exhibition is an album of ninety nine paintings of birds, painted by unknown hands, in Bengal around 1800. Sadly, we do not know the names of artists, or even that of the original collector, though the flyleaf has notes indicating that for a long period the album belonged to a family called Cunninghame Graham. The birds depicted include raptors, game birds, coastal waders and many woodland and forest birds, some very familiar and several that are now scarce.
Wood Sandpiper (Tringa glareola)
Terek Sandpiper (Xenus cinerius)
Green Sandpiper (Tringa ochropus)
Small Minivet (Pericrocotus pallidus)
Oriental Magpie Robin (Copsychus saularis)
Bank Myna (Acridotheres ginginianus)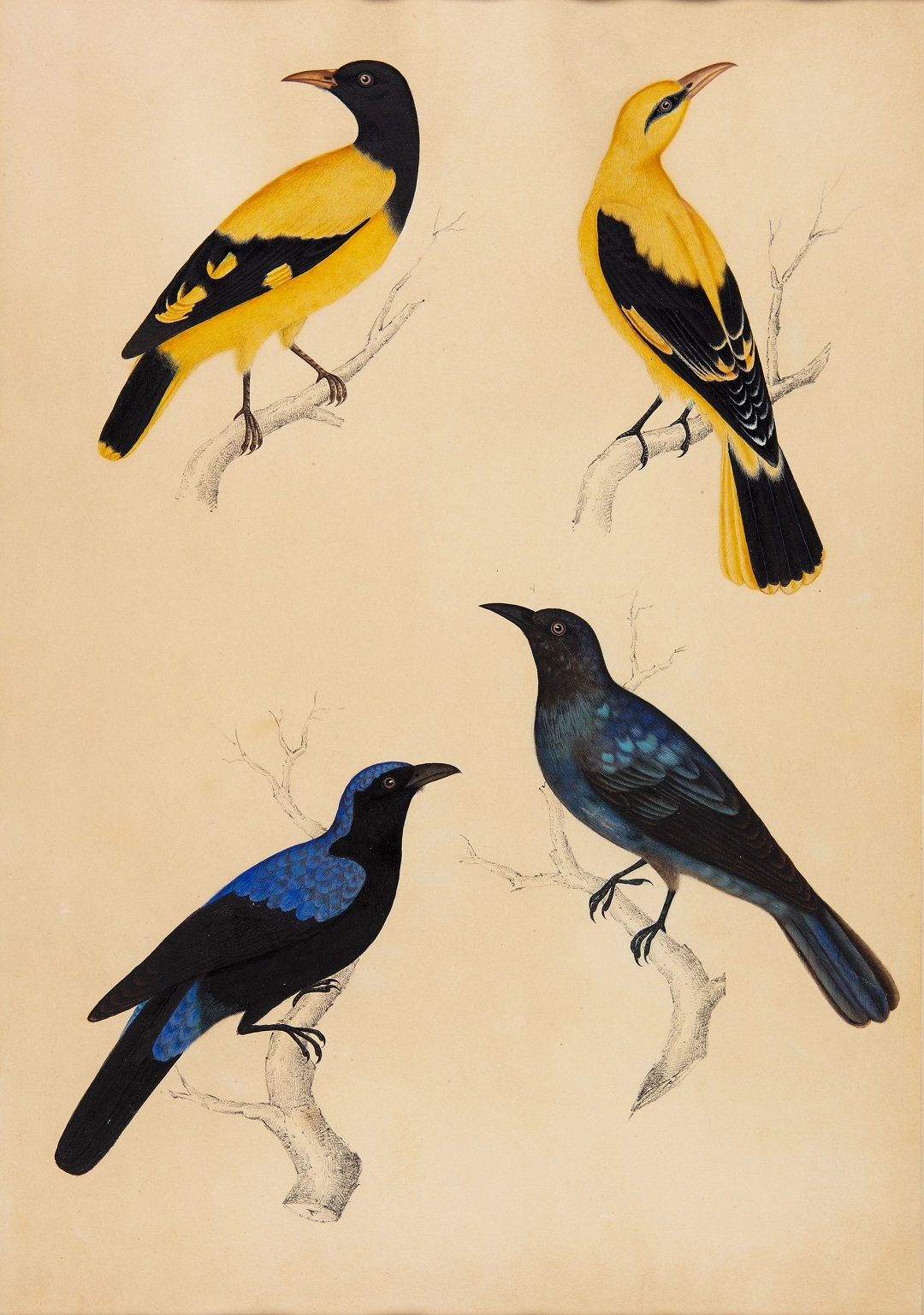 Asian Fairy Bluebird (Irena puella), male and female
Watercolour on paper
Eight Folios, Calcutta, c. 1810
The group from the Cunninghame Graham album is supplemented by three smaller sets dating between 1810 and 1835.
One of these sets, containing eight folios painted in Calcutta around 1810 are among the finest works on natural history produced in India.
Indian Grey Hornbill (Ocyceros birostris)
Above: Indian Roller (Coracias benghalensis), Below: Southern Grey Shrike (Lanius meridionalis)
Above: Orange-breasted Green Pigeon (Treron bicintus), male and female on one branch, Below: Yellow-footed Green Pigeon (Treron Phoenicopterus)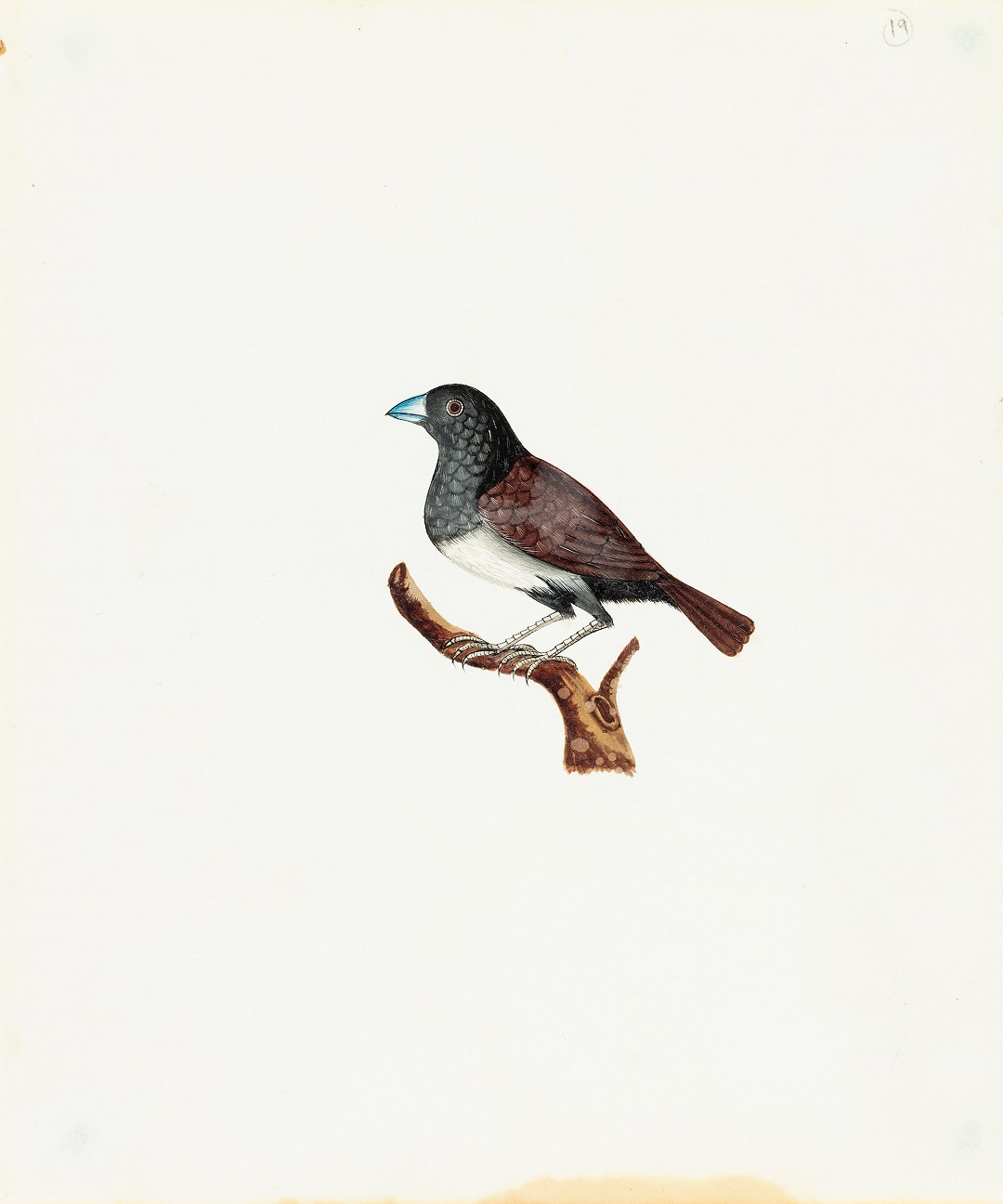 Black-headed Munia (Lonchura Malacca)
Watercolour on paper
Fourteen Folios from the Faber Album, c. 1830
Following the Calcutta folios, we find fourteen works from the Faber Album, which are dated to c. 1830.
Red-vented Bulbul (Pycnonotus cafer)
Yellow-footed Green Pigeon (Treron Phoenicopterus)
Chestnut-bellied Sandgrouse (Pterocles exustus)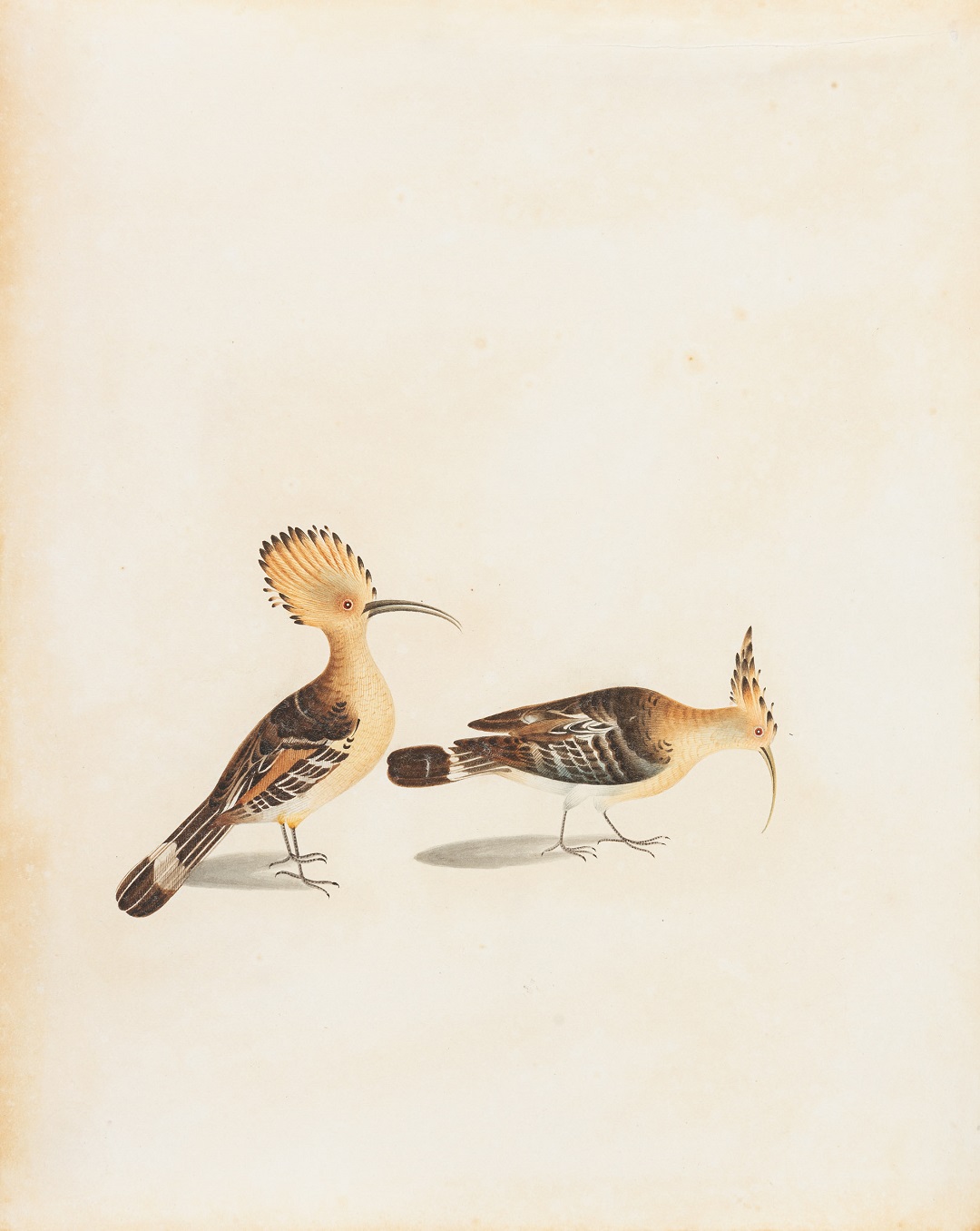 Hoopoe (Upapa epos)
Watercolour on paper
Four Folios by Chuni Lal of Patna c.1835
The final four folios are by a named artist—Chuni Lal of Patna—and come from the Inge album of c. 1835. Together, the four groups illustrate the development of Company Painting in a single genre. The artists capture not just the appearance but the character of the birds, and the images will surely appeal to lovers of nature as well as of art.
Eurasian Woodcock (Scolopax rusticola)
Black Drongo (Dicrurus macrocercus),
\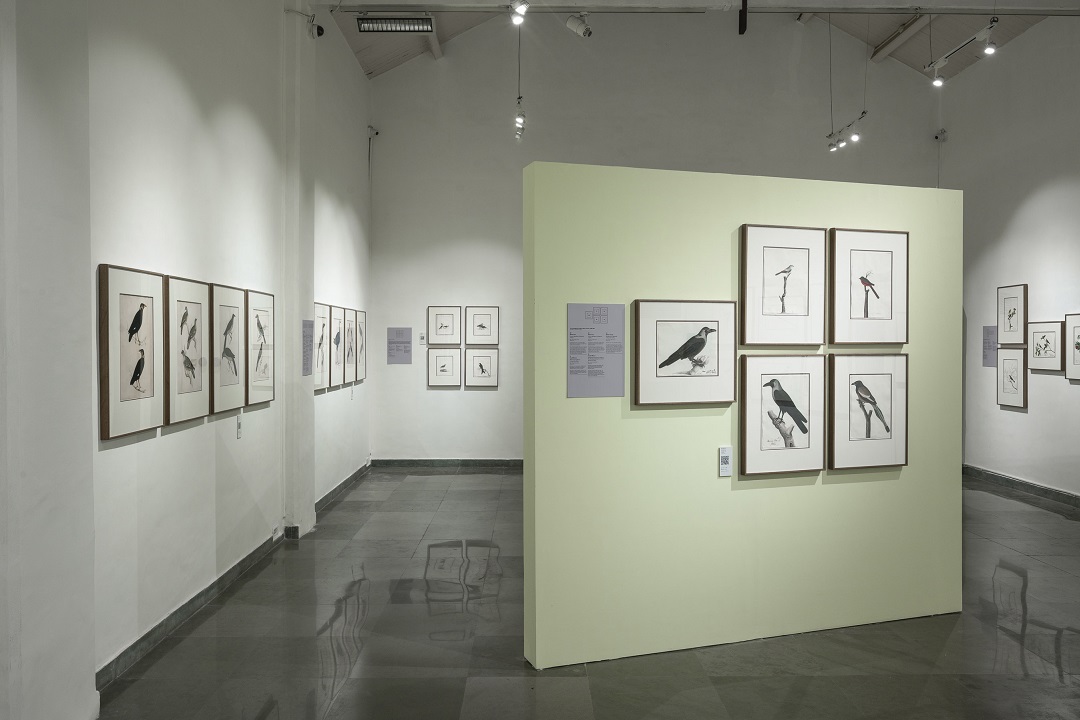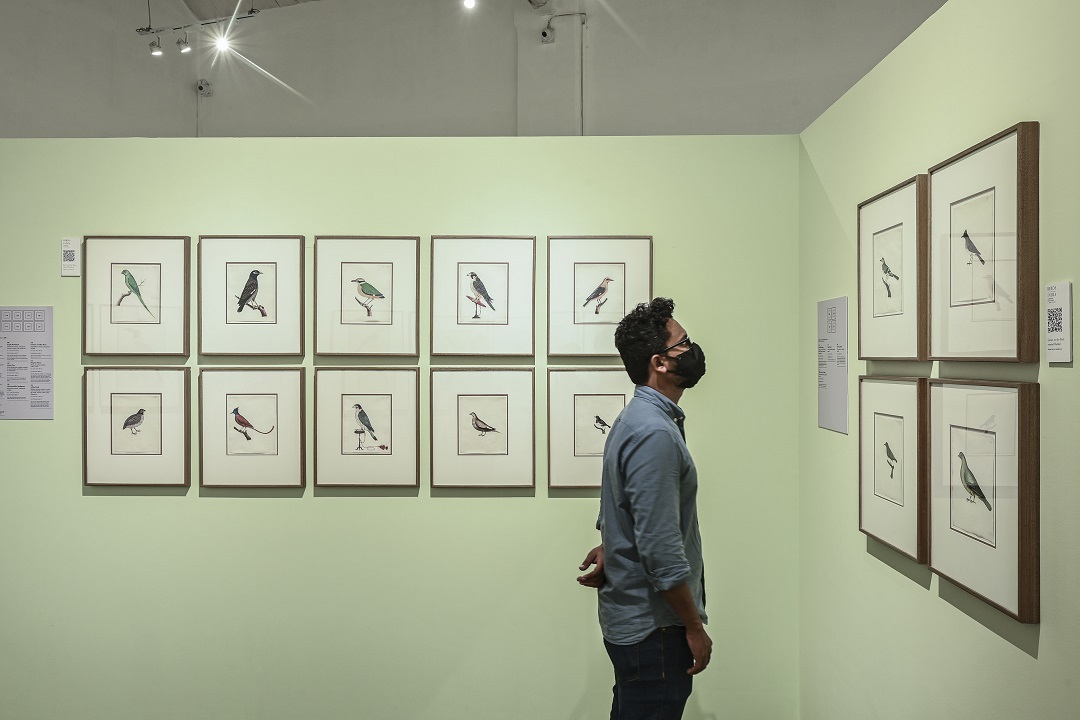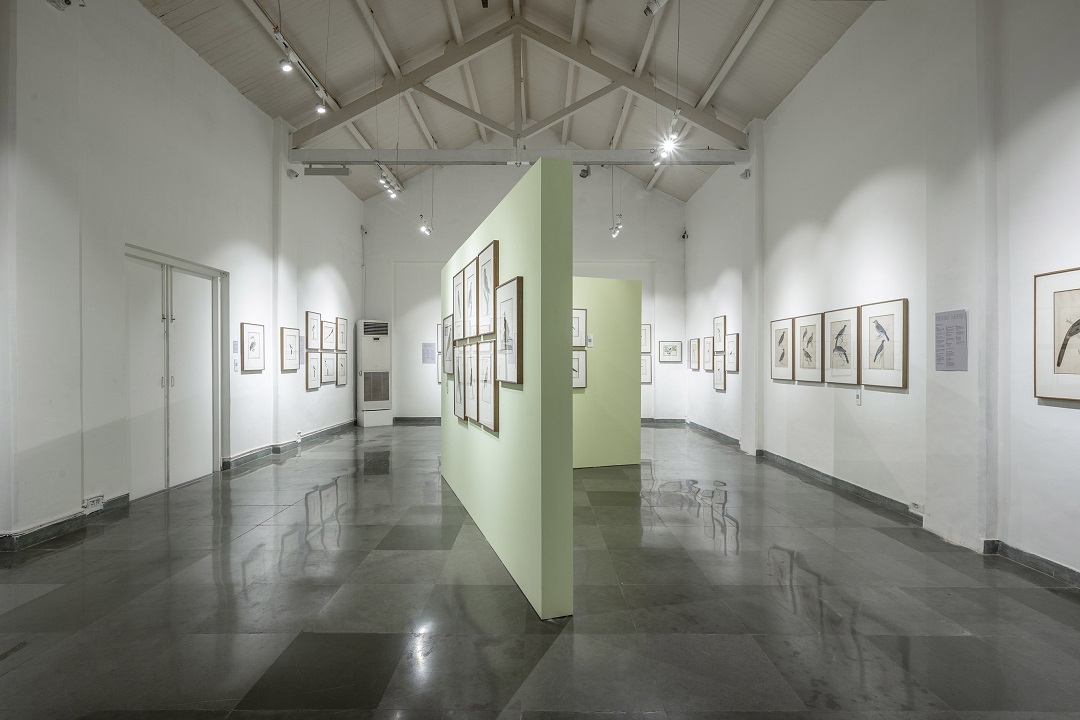 '…the 125 extraordinary paintings standing out not only for the incredible detailing but also for tracing the evolution of the genre, from patronage to popular art, through one theme.'
'DAG's popular exhibition, Birds of India, travels to Mumbai', Mint Lounge, 29 November 2021
'Birds of India, the first-ever exhibition in the country dedicated to an extraordinary selection of Company Paintings of Indian birds, combines the delicacy and details of Mughal atelier-trained artists with the refinement and rationalisation of European art featuring works that signify a hybrid Indian art of rare and exceptional beauty...'
'DAG announces opening of "Birds of India" and "New Found Lands" in Mumbai', The Economic Times, 3 December 2021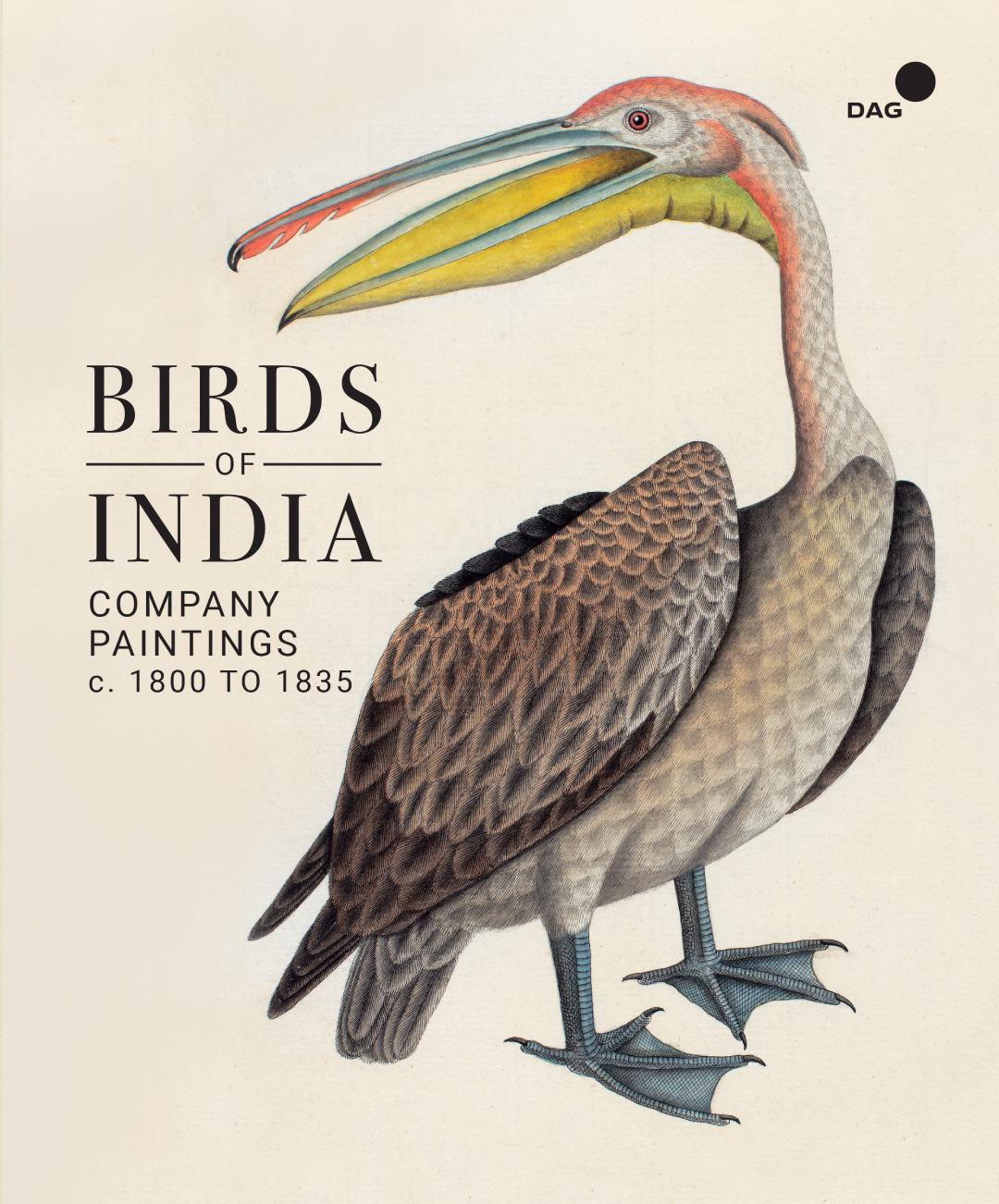 In association with